The Ultimate Guide about Lab Grown Diamonds
About Lab Grown Diamonds
Lab-grown diamonds have been around since the 1950s. These revolutionary diamonds made a grand entry and reshaped the whole diamond market in one go. Many people at first doubted whether investing in these man-made diamonds would be worth it or not? But these loose diamonds have proven their worth, and which can clearly be seen by how abundantly they are available in the market, and competing against natural diamonds.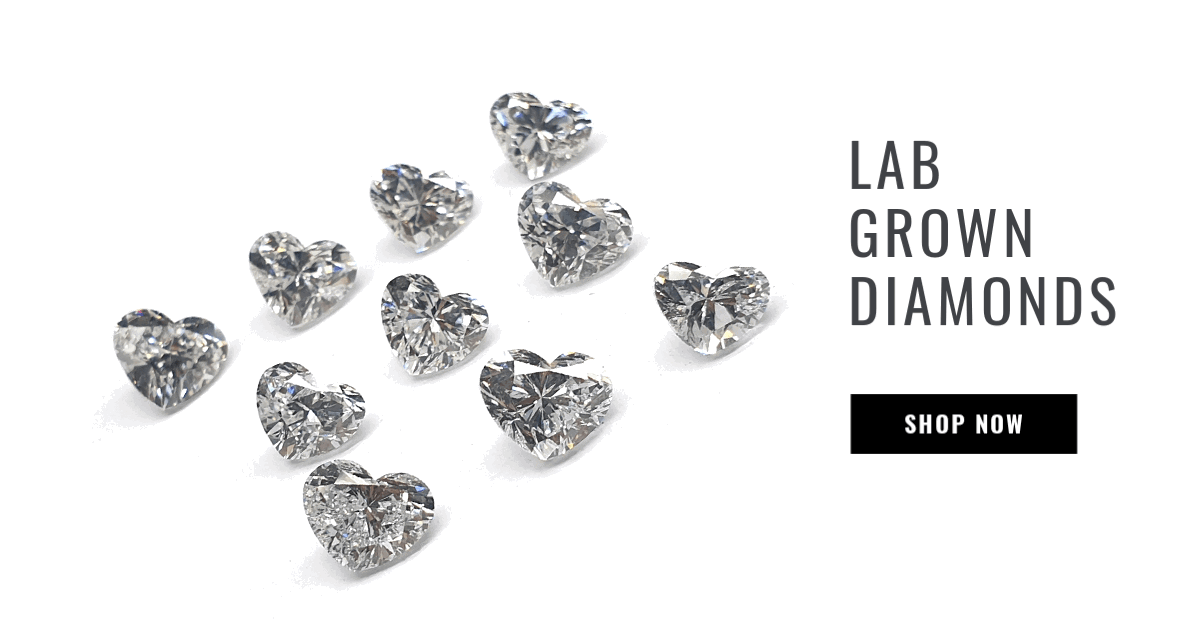 What are Man-Made Diamonds?
Natural diamonds are formed under high pressure and temperature, but for man-made diamonds, these same conditions are created. Man-made diamonds are cultured and formed under a scientifically engineered environment that recreates the same conditions. These loose diamonds comprise of carbon atoms that have been arranged in the same way, diamond crystal lattices of natural diamonds are arranged.
As these man-made diamonds have such a high resemblance to the characteristics of natural diamonds they can be seen displaying the same chemical and optical properties. These man-made diamonds are available in both colorless and colorful ranges. This very fact is a plus point of why one should purchase these loose diamonds. These man-made diamonds make it possible for buyers to get their hands on rare colors, like vivid fancy yellow hues or fancy blue diamonds, at more reasonable prices.
Also Read: Lab grown Engagement Ring Trends Of The Past, Present, And Future
Why Lab Grown Diamonds?

Mining Free
"NO MINING" is required for Lab created diamonds. Elevate your jewelry with mining free Lab Growm Diamonds

Quality
Lab created diamonds have the same
quality and optical properties as natural diamonds.

Valuation
Lab created diamonds contribute excellent value,
and are more affordable than natural diamonds
How are Lab Diamonds Made?
There are various methods that can be used to create synthetic diamonds. One such method is CVD (Chemical Vapour Decomposition) which enables the formation of man-made diamonds, by creating a carbon plasma over the substance onto which the carbon atoms deposit to form diamonds. Another method is HPHT (High-Pressure High Temperature), which is used to create HPHT synthetic diamonds. In this method extreme pressure and temperature are applied on pre-existing carbon seeds of diamonds this, in turn, forms various layers and results in an overall formation of HPHT synthetic diamond.
Fancy diamonds that are of various colors are created by the insertion of small amounts of specific trace elements within the diamond crystal lattice. The insertion of different trace elements leads to different colors, and it has to be done during the growing phase to maintain quality.
After the CVD diamond or man-made diamond has been formed, a naked eye won't be able to distinguish between them. Only specialized types of equipment will be able to tell you the difference between them, which will occur as minor differences in their crystal lattice and difference in trace elements.
Man-Made Diamond vs Natural Diamond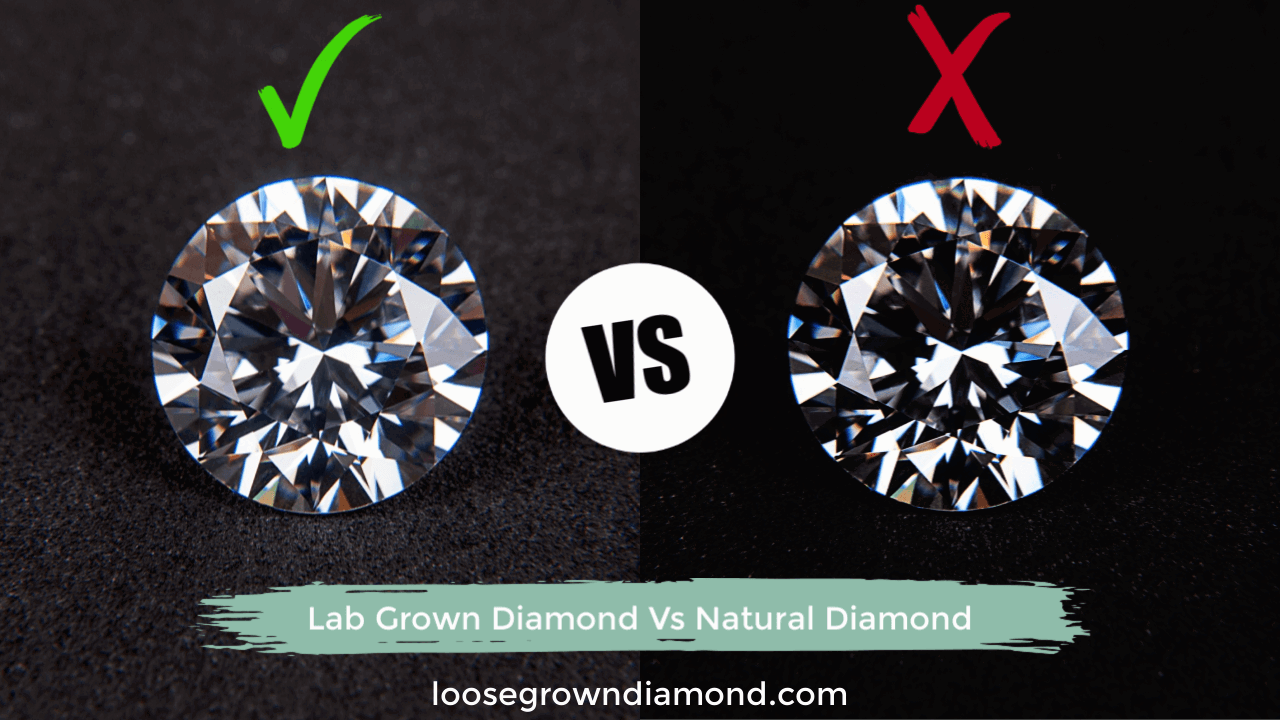 CVD diamonds and HPHT synthetic diamonds when fully formed have the same chemical, optical and physical characteristics as natural diamonds. These man-made diamonds resemble a relatively same amount of shine, sparkle as that of natural diamonds. Such resemblance makes it difficult for individuals to distinguish between these man-made diamonds and natural diamonds. CVD diamonds may have different trace elements inserted in them in comparison to natural diamonds, which in no way affects the appearance of a diamond. CVD diamonds and HPHT diamonds are nearly impossible to be differentiated by just a simple jewelry loupe, only a few specialized types of equipment can do the job.
Also Read: Difference between Synthetic and Mined Diamonds
Man-Made Diamond vs Diamond Simulants 
CVD diamonds and HPHT synthetic diamonds are referred to as man-made diamonds. There also exists another thing known as diamond simulants, and it is crucial you understand the difference between the two.
There are many types of lab grown diamonds, I recommend you to read the detailed guide on types of lab grown diamonds
A diamond simulant is an object or material which has the same gemological characteristics as that of diamonds. Diamond simulants are also referred to as diamond imitations. Some diamond simulants like cubic zirconia and moissanite, have a similar resemblance to diamonds but are not true diamond crystals. These diamond simulants though have similar physical properties but do not possess the same chemical and optical properties as diamonds. Due to this diamond simulants are sold at a lower rate than man-made diamonds.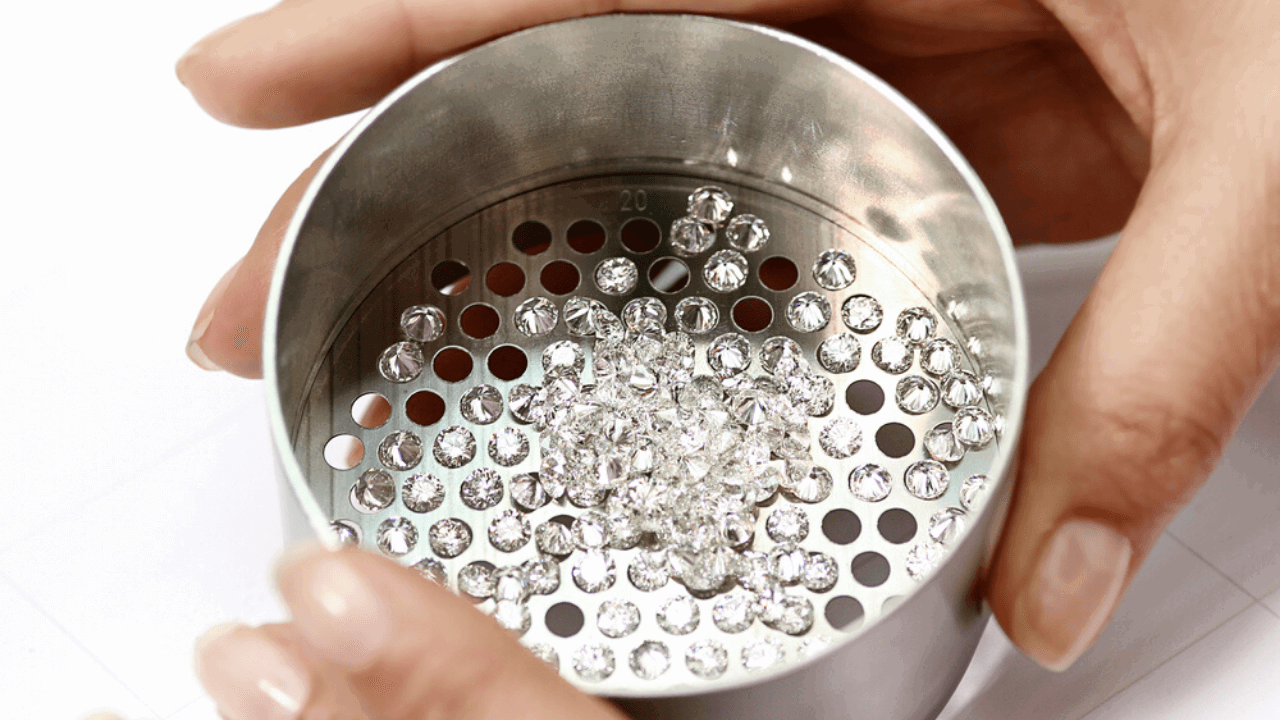 CVD diamonds and HPHT synthetic diamonds can be easily distinguished with the naked eye. Another difference is that natural diamonds and man-made diamonds have thermal conductivity properties which are different from diamond simulants. A contrast between cubic zirconia and a CVD diamond can be found out with the help of a handheld diamond tester.
These tests aren't completely perfect as sometimes few man-made diamonds and few natural colored diamonds may be recognized as a diamond simulant (Moissanite), by a diamond tester. But if you were to get these diamonds inspected by a professional gemmologist, they could positively distinguish between a diamond simulant, a natural diamond, and a man-made diamond.
Also Read: Certified Lab Grown Diamond Stud Earring Buying Guide
The Benefits of Buying Man-Made Diamonds
What is the benefit of buying man-made diamonds, you ask? Well here are some of them.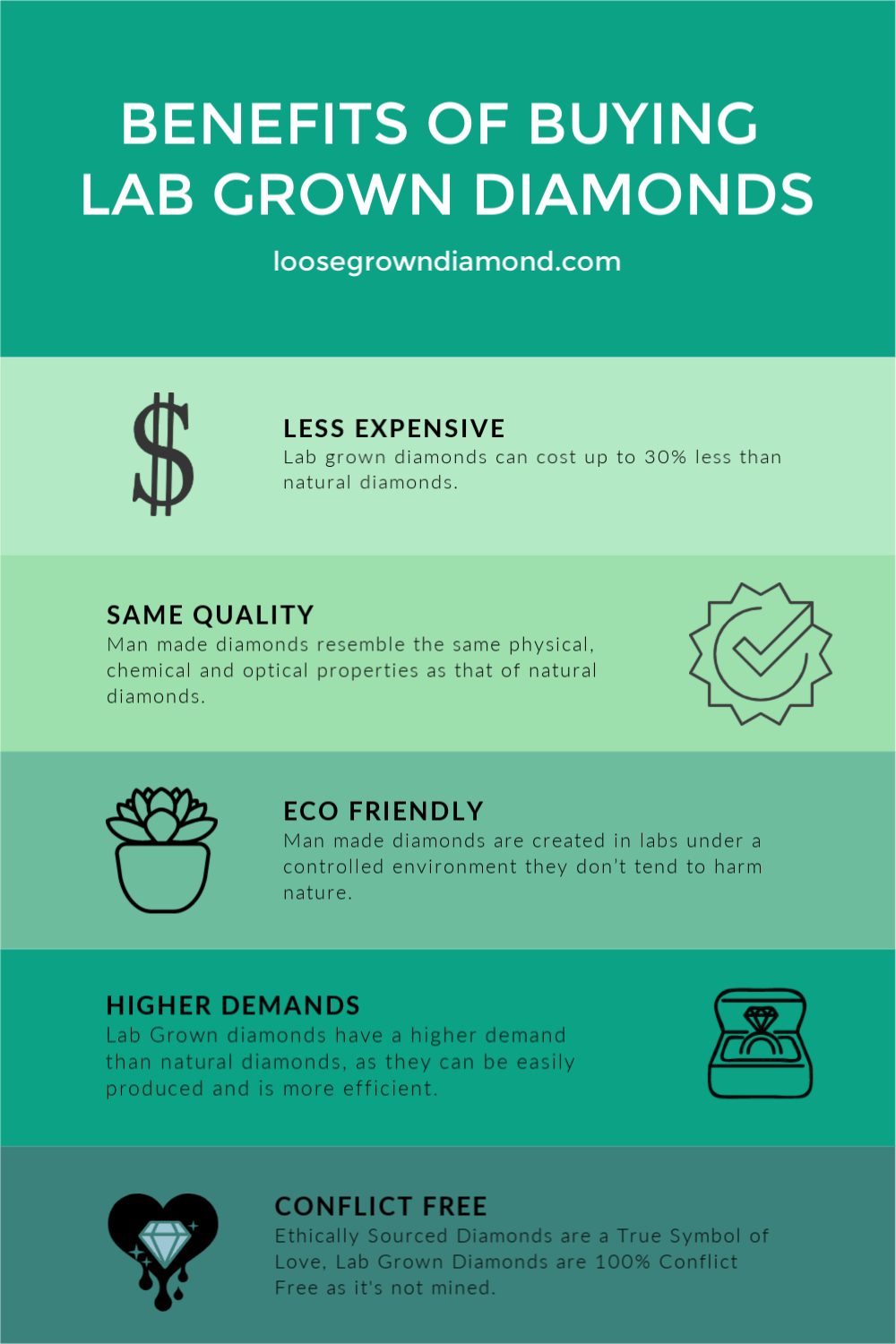 Firstly man-made diamonds are cheaper in comparison to natural diamonds. These diamonds can replace natural diamonds easily, without hindering the look. These man-made diamonds resemble the same physical, chemical, and optical properties as that of natural diamonds. So you get the same quality but at a reasonable price!
Secondly, these loose diamonds are environmentally friendly. As man-made diamonds are created in labs under a controlled environment they don't tend to harm nature. Natural diamonds, on the other hand, have to be extracted from diamond mines, which are located deep under the earth's crust. To reach there vigorous mining is done this, in turn, causes that area of land to become useless, it also increases pollution of air and water in the nearby region. So basically, Lab-grown diamonds contribute to preserving greenery!
Lastly, lab-grown diamonds have a higher demand than natural diamonds, as they can be easily produced and is more efficient. Lab-grown diamonds have a bright future in the diamond market. Countries like the USA, Israel, and Russia have seen a rapid increase in the demand for lab-grown diamonds.
Conclusion:
There are two types of man-made diamonds; CVD diamonds and HPHT synthetic diamonds. There are also objects known as diamond simulants, which are not true diamonds but just look like natural diamonds. And with the proper tools, you can easily differentiate between CVD diamonds, HPHT diamonds, diamond simulants, and natural diamonds. Lab-grown diamonds have seen a sudden rise in their popularity, so it would be wise to purchase one now!