All About 3 Carat Lab Grown Diamond Rings
For customers who believe in the idea of 'bigger the diamond shinier the bling', a 3-carat diamond ring will fit perfectly with their preferences since these particular carat diamonds are large and also are as brilliant and astonishing as the best diamond out there.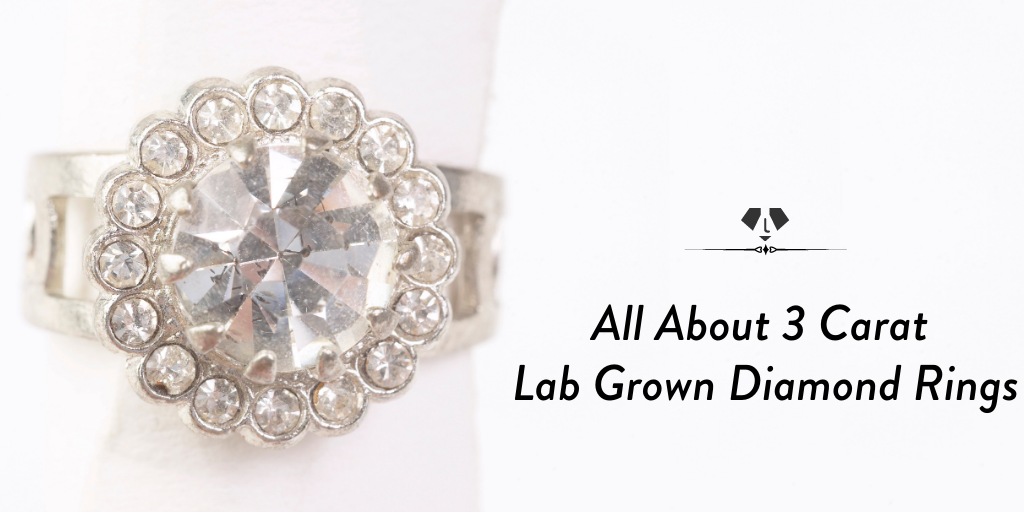 Generally larger carats and sizes of diamonds do not guarantee it to look as stunning as expected. However, if a customer can get their hands on the perfect well-cut 3-carat diamond ring then their search for a big stunning gem is over. It is important to keep in mind that a 3-carat diamond ring will only exude its extraordinary brilliance, sparkle, and fire if it has been cut well and has a remarkable clarity grade. 
With its display on fingers being grand enough to catch as many eyes and attention as possible, this diamond is the perfect opportunity to make the best out of someone's money and time. 
Before discussing the 3-carat diamond rings, it is imperative to be aware of the difference between a diamond's size and carat weight since they are generally confused to be the same by many customers. Which could lead to them making a poor choice while purchasing any jewelry studded with diamonds.
This difference must be specially highlighted when it comes to diamonds since many of these precious stones of the same carat weight still differ drastically in their overall appeal and brilliance. 
Also Read: Real Man-made diamonds vs Cubic Zirconia (CZ)
Difference between Diamond's Size and Carat Weight 
Approved in 1907 at the General Conference on Weight and Measure, a diamond's carat weight is a unique form of measurement which specifically describes the physical weight of a diamond. 
Equating to 200 milligrams or 0.2 grams, each carat weight is subdivided into 100 'points' wherein the diamond can be measured to the one hundredth decimal place by a gemologist or jeweler and a highly precise estimation can take place which further on allows a definitive price to be fixed on the diamond according to its carat weight. 
Carat weight, therefore, is only a measurement of the weight of the diamond, not the size. 
Since on the other hand is a term related to the stone's appearance which could include the measurements of the diamond's dimensions. More carat weight does not guarantee that the diamond will appear larger. 
A diamond appearing large with less carat weight is very much possible since this means that the dimensions of the stone make it look bigger, much like how an iceberg could appear huge from the top and other key proportions even if it does not weigh too much. Diamond too, like an iceberg, is assessed based on the area that is visible. 
What is special about the 3-carat diamond is that it appears large enough in respect of both forms of measurement, its carat weight, and size and thus stands out and attracts attention while also retaining its manageability for daily use as a ring. 
However, the 3-carat diamond is a category more focused on the carat weight than the size as suggested through the name. 
Weighing 600 milligrams or 0.6 grams, the 3-carat diamond's weight is almost the same as a raisin and while this may not seem as much, in the diamond industry it is a sizable value that can be purchased only at relatively higher prices. 
Since the pricing of diamonds depends on their carat weight, the price will increase when the carat does. 
A 2.50-carat diamond, if priced at $12,280 per carat will equate to $12,280 x 2.50 totaling up to $30,700. While for lower weight categories like 2 carats, the diamond could be available at $8,380 per carat but a similar 3-carat diamond will not be any lesser than $10,900.
This exponential increase in price with carat weight is mainly due to the diamond's higher weight value and higher price per carat within the weight category. 
Many customers plan on saving some bucks by approaching diamonds that are just below a new weight category like the 2.90-2.99 carat diamonds. However, this method has become much less useful now than it was before since the popularity of this approach increased and many people began purchasing diamonds a few decimals points lesser than the big values leading to an increase in the price of such diamonds which in turn just makes the cost savings very minimal. 
Additionally, limiting one's search to this range also limits the variety and designs so people might not discover the perfect combination of diamond and setting they are looking for since diamond cutters have developed their skills and become much more efficient making it extremely difficult to find, for example, a well-cut 2.90 carat diamond.  
This is why it is said that diamond prices are more often than not driven more by emotion than reason. Customers could also try searching for a 2.90+ carat diamond but even then it is advised to just invest one's time and energy into finding the perfect 3-carat diamond. Certain tips and points for customers to remember while searching are mentioned below.  
Factors Affecting the 3 Carat Diamond Rings 
The 4Cs of a diamond (cut, color, clarity, and carat weight) along with its shape has a great impact on the stone's beauty and brilliance and hence. All these are important factors that a customer should keep in mind while looking for the perfect diamond. 
These dimensions aid experts at developing a holistic view of the value of a diamond which clearly states that carat weight only increases the price of a diamond if the remaining of the 4Cs also fall in the better ranges. 
Also read: Shape Series: How Emerald Cut Diamond Look Elegant
Clarity Rating 
The clarity of a diamond talks about the number of impurities and inclusions that are present in the diamond which could affect the manner in which light gets reflected and in turn determining its brilliance and sparkle. Any kind of surface defects, blemishes, and extra facets are also assessed. It is essential to settle on a diamond that has been certified by the GIA. 
The clarity grades are scaled from a range of best to worst with the labels of Internally Flawless (IF), Very Very Small Inclusions 1 (VVS1), Very Very Small Inclusions 2 (VVS2), Very Small Inclusions 1 (VS1), Very Small Inclusions 2 (VS2), Small Inclusions 1 (SI1), Small Inclusions 2 (SI2), Inclusions 1 (I1), Inclusions 2 (I2).
The price of a diamond will increase if it has a higher clarity rating, however, it is important to note that there is usually noct much difference between diamonds of some adjacent clarity ratings leading to both the samples appearing eye-clean even though their prices show a huge difference. 
Hence it is always advised for customers to choose an eye-clean diamond over an internally flawless one since the price for the latter will be much higher even if both the categories appear the same.  
A minimum of VS2 is needed for clarity when it comes to diamonds so customers can save a lot of money even if they go for a diamond with a rating of VVS2 or VS1. Even a diamond with an S1 rating would have inclusions near the edges which would eventually get hidden in a setting, making the diamond look as eye-clean as the others. 
Color Rating 
Color rating is a method to grade the whiteness of a white diamond and how colorless it appears. The color rating grades fall between the range of D to Z with D indicating the most "colorless" white diamond and Z the label for the most "yellow" white diamond. 
The choice of purchasing a diamond based on this factor depends differently from person to person as some might prefer the yellowish tint while others are completely against it. The different grades of colors are caused due to the reflection of every bit of light including the wearer's skin tone and metal of the setting, that falls on the surfaces and angles of the diamond. 
For a cost-effective purchase, customers must choose a diamond in the range of G-I on the color-grade scale as they will appear white and cost a lot less than the diamonds which are graded in the range of D-F. Even a diamond with the grade of K that has a noticeable yellow tint will appear radiant and white with jewelry of contrasting shades in the darker colored range. 
Shapes 
All sorts of shapes are found in the wide variety of 3-carat diamond rings, from round brilliant and princess cut to emerald, marquise, and trillion diamond. 
This factor is primarily focused on personal preference and style and is often the first decision the customer makes when purchasing a ring. For customers who consider the dimension of size to be essential, it may be helpful to be aware of the surface area difference amongst the 3-carat diamonds of different shapes. Certain shapes are also known to appear larger depending on the table size, i.e., the top, flat surface of a diamond. 
The table surface area is generally smaller for cuts like the round brilliant, princess and emerald, and for diamonds of the categories of an oval-shaped, heart-shaped, pear-shaped, marquise, and trillion, the table surface area is quite large. 
Lab-Grown Diamond Rings
Lab-grown diamonds are another category of diamonds that are developed in labs from simple diamond seeds with the use of advanced and unique technology and artificially creating conditions imitating those that the earth provided for the mined diamonds to be created. 
Are lab-grown diamonds real diamonds?
Since the conditions are the same, the lab-grown diamonds have all components and the same structure as the mined diamonds do. The optical, physical, and chemical properties of mined and lab-grown diamonds show no difference and so the lab-grown diamonds are not any less a diamond than the mined ones. 
How are lab-grown diamonds created?
The only major difference between the two is the source of their origin with mined diamonds being extracted from the earth's crust and harming the planet in the process while lab-grown diamonds do not have these adverse side effects on the earth.
Lab-grown diamonds are created without the ethical and humanitarian consequences which is the perfect choice for many who wish to practice eco-friendliness while also thoroughly enjoying the experience of wearing a diamond ring. 
These diamonds are not just friendly to the planet but are also to the pockets of buyers since they are a lot less costly than the mined diamonds. The investment that people pour into lab-grown diamonds also indirectly funds the research and development of advanced technology used for lab diamond applications with the additional advantage being the uniqueness and style that is exuded by lab-grown diamonds since they can be easily customized. 
Price of 3 Carat Lab Grown Diamond Rings
A ring embedded with a 3-carat diamond falls on the range of higher prices since this carat weight is a respectable size and cannot be purchased at rates lesser than several thousand dollars. 
With conventionally mined diamonds costing anywhere between $35,000 – $100,000 and even more, customers are opting for lab-grown diamond rings because as mentioned before these diamonds are beneficial for both the environment and the budget of the customer. 
A lab-grown 3-carat diamond ring can be bought at a price range of $10,000 to $18,000 and hence, it is evident that lab-grown diamonds are a much better option since they are a pure replica of the mined diamonds with all the similarities in cut, color, clarity and carat weight but available at prices much lower and affordable for the people. 
Also read: The ABC of Engagement Rings
Conclusion Thoughts
A 3-carat diamond ring is an excellent choice for customers looking for that extra bling and sparkle to adorn their hands but because of its exceptionally high prices would have been unavailable for many. Thanks to technology and modern equipment the obstacle of finances can be easily battled with the purchase of lab-grown diamond rings since these diamonds cost a lot lesser than the mined ones while being available in as exceptional quality and brilliance as are the nature-made diamonds. Customers can hence take complete advantage of this and get their hands on the perfect 3-carat diamond ring.