Must-Know Things About The Artistic Emerald Cut Diamond
An emerald cut diamond brings outclass strength and the latest trends. Modern boss ladies like Beyoncé adore the shape, with many ladies respecting its capacity to show quality more than other fancy shaped diamonds.
Uncommon, emotional, and unmistakable, an emerald cut diamond is for a person with a magnificent personality. Whether man or woman, no one can deny its charm. Here we will provide you with some important points to be considered while buying emerald cut diamonds.
SIGNIFICANCE OF EMERALD-CUT DIAMONDS
A formation of a stair-like structure within the diamond shape signifies the strength and its elongated appearance while delivering a sense of clarity. Emerald cut diamonds are precisely the oldest diamond shape that was discovered in the 14th century which later became a vintage collection for today's generation, radiating a fashionable and classy look. 
An Emerald-Cut Diamond is an elongated, rectangular-shaped diamond with an open table allowing the light falling on it to pass through and reflect the clarity. Its cuts are formed in a layered structure with perfect clearance, whereas the corners are compromised and given a curvy look to allow each layer to bring its margin in a better and unique way.
These diamonds emphasize a colorless look in an elegant manner that seems appealing due to their long structure within a good price range. The aesthetic and vintage sense of traction can be found in these diamond cuts which are the perfection of reflection, color variation, and show-stopping look. Emerald-Cut is considered as the first choice for engagement rings mostly preferred by the women as it offers more qualities and signifies purity, open heart, subtle but empowering look and brings the sense of eternity due to its long survival aspect, since more than 100 years. 
ORIGIN AND HISTORY OF EMERALD-CUT DIAMONDS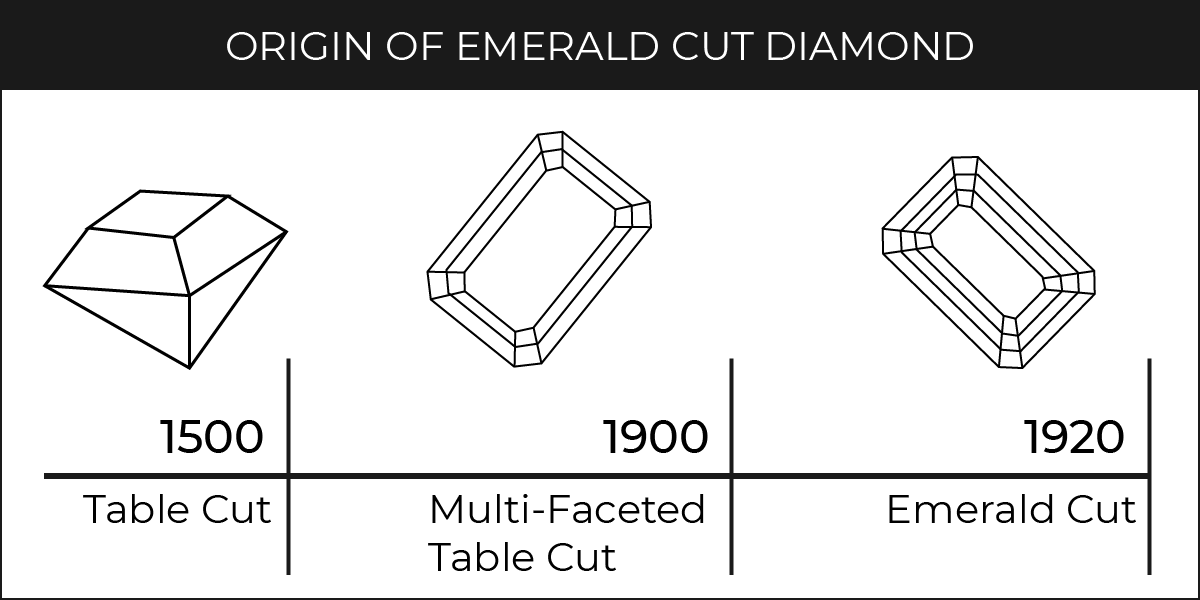 Each layer defines varied ideologies reflecting the perfect light throughout, delivering a glassy as well as classy look to the elegance of Emerald Cut Diamonds.
"Emerald" is the name that originated from the gemstone emerald due to its similarities such as shape and clarity. The diamond was found during the 14th century and was polished to bring out the perfect look of emerald cuts but due to the incompetence of technology, it remained roughly structured. 
Later then, people knew less about it but either way, it was considered the most precious diamond during that time. It held a lot of intricacy within it which led to a liberating growth in the upcoming future.
During the era of art deco, once again, Emerald-cut diamonds were glorified and nurtured. This official term "emerald-cut" was used in the 1920s for the first time. It was the emergence of newness and styling. 
The Art Deco era was a symbolism of geometric and linear designing which was enabled in every element of the fashion industry, that is now a vintage collection for most people and seems like a never-ending proposal of designs. Identically, emerald-cut diamonds were given the same exposure of designs and structure which can be seen in their formation. 
These diamonds have a step-cut structure that brings layers to them, over the top is a plain surface delivering clarity and an open-hearted look that flawlessly allows the light reflection making its appearance glassy and shimmery. 
Earlier, during the 15th-century people preferred colorful gemstones just like paintings, which made their choices differ grandly. The choices reflected the downfall of emerald cut diamonds during that period, which slowly came into discovery during the end of the 18th century, grasping its position in the industry for a lifetime. 
This exuding glance of diamonds was not gifted, it was created after proper experimentation and technological developments. Its intricacy is one quality that usually tempts people and it still perceives the same characteristics. 
DEFINITION OF EMERALD-CUT DIAMONDS
A human being's personality has many layers defining them variedly, just like the step cut layering style of emerald cut diamonds possessing the perfection in each layer. 
The emerald-cut diamond is a rectangular-shaped diamond formed in a long structure prevailing a curvy cornered look with several facets and layering, allowing the quick as well as an easy reflection of light that delivers a shiny and fancy look. 
According to the GIA, emerald-cut diamond is not assigned under the cut grade category due to its fancy and several faceting looks but it's considered only for polish and symmetry grading. 
Under the depth category, 72%-58% is the enormous variation for excellence which reflects the light falling on it as well as signifies the openness inside the core. 
Under the table category, the calculation of the top surface of the emerald which is plain like a slate is excellent with the variety of choices from 72%-62% in the table. It is abided by the inclusion of the step-cut layering that leaves a bow-tie effect over the top but, commonly, some people consider it as an advantageous factor of emerald-cut diamonds. There is no room for imperfection as it might be visible in the stone, which makes it a symbolism of perfection.
4C's OF EMERALD CUT DIAMONDS 
CUT: It is a step-cut diamond shape divided into many layers with in-depth formation, where each cut is proportionate and perfectly smoothened which leaves a reflecting effect.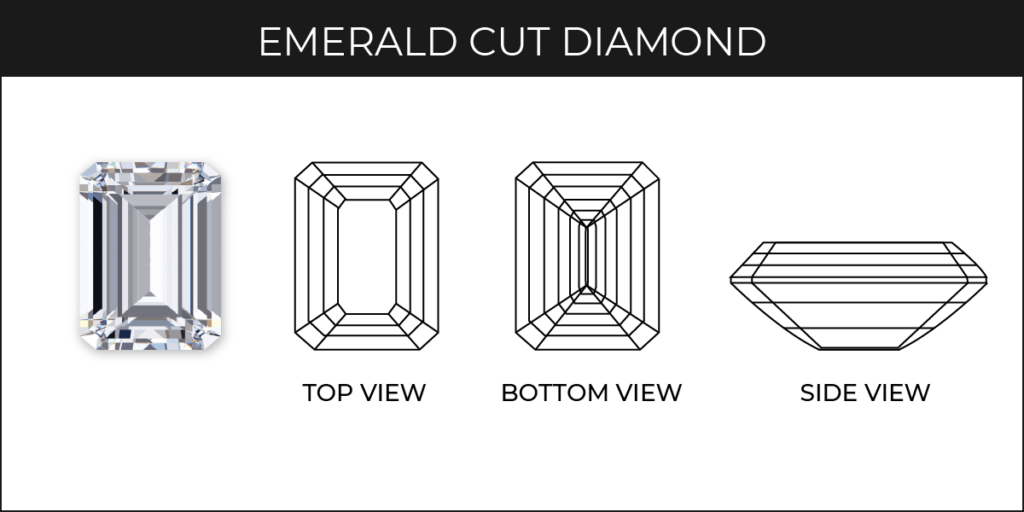 CARAT: The usual weight of the stone is 0.2 grams in the calculation.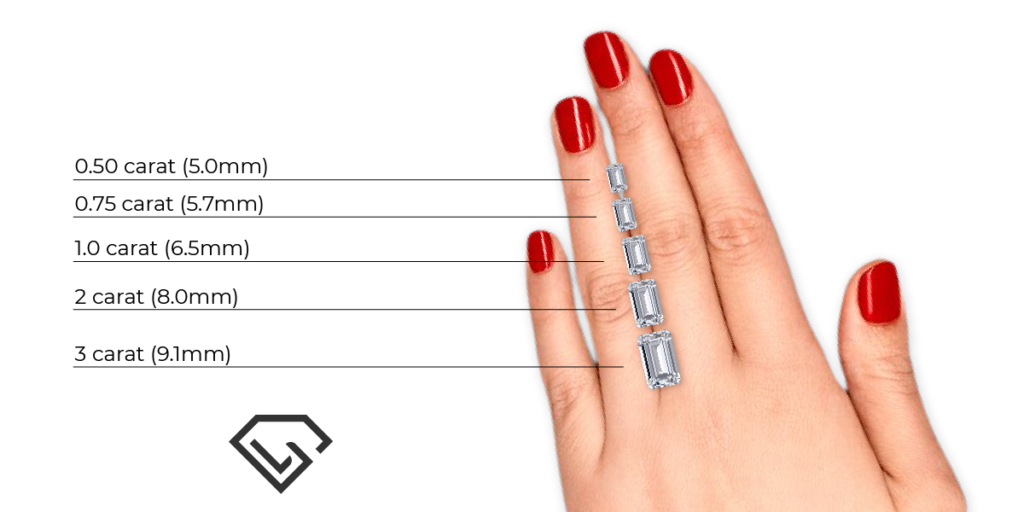 COLOR: It seems like the color of champagne, somewhat white or colorless to yellowish hue glowing inside the diamond.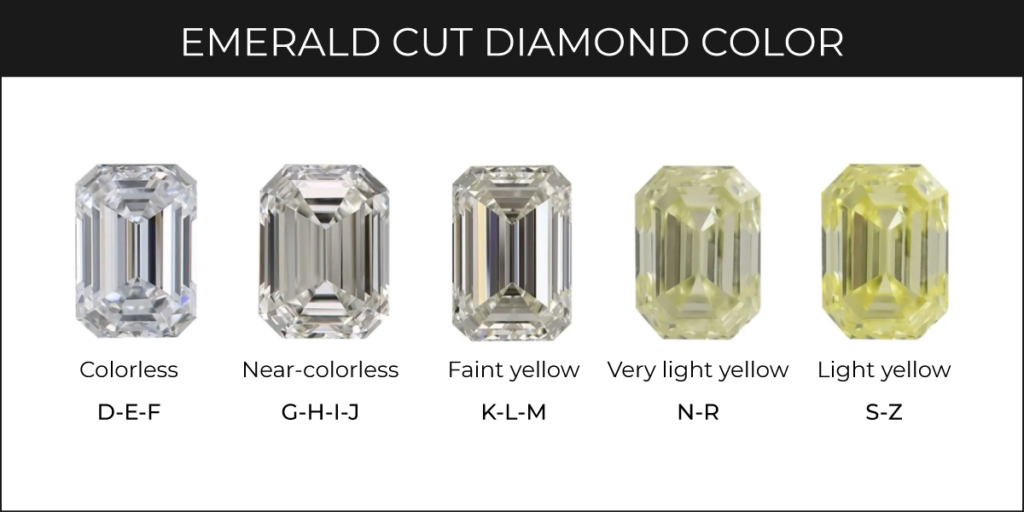 CLARITY: This diamond is constructed precisely by undermining each cut perfectly, which leaves no space for imperfect cuts and this resembles the least inclusions in the diamond delivering the utmost clarity, throughout.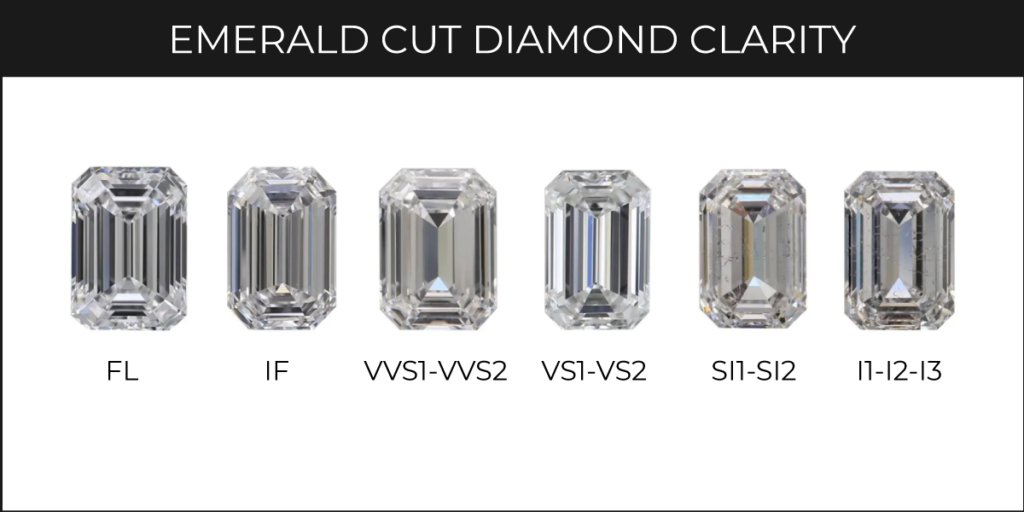 These characteristics of emerald cut diamond make it more valuable than usual. It becomes more appealing and forms a different image in the eyes of the people after knowing more about its qualities widely. 
What is the benefit of buying an emerald cut diamond?
This is a question that has been asked a lot by many diamond enthusiasts, right after "Why are Emerald Cut Diamonds cheaper?". To answer the benefit let us take you to a list of pros and cons, it may help you get a clearer picture. 
PROS & CONS
Factors that are advantageous or committing towards loss, both play a vital role in the decision making process for each element in the universe.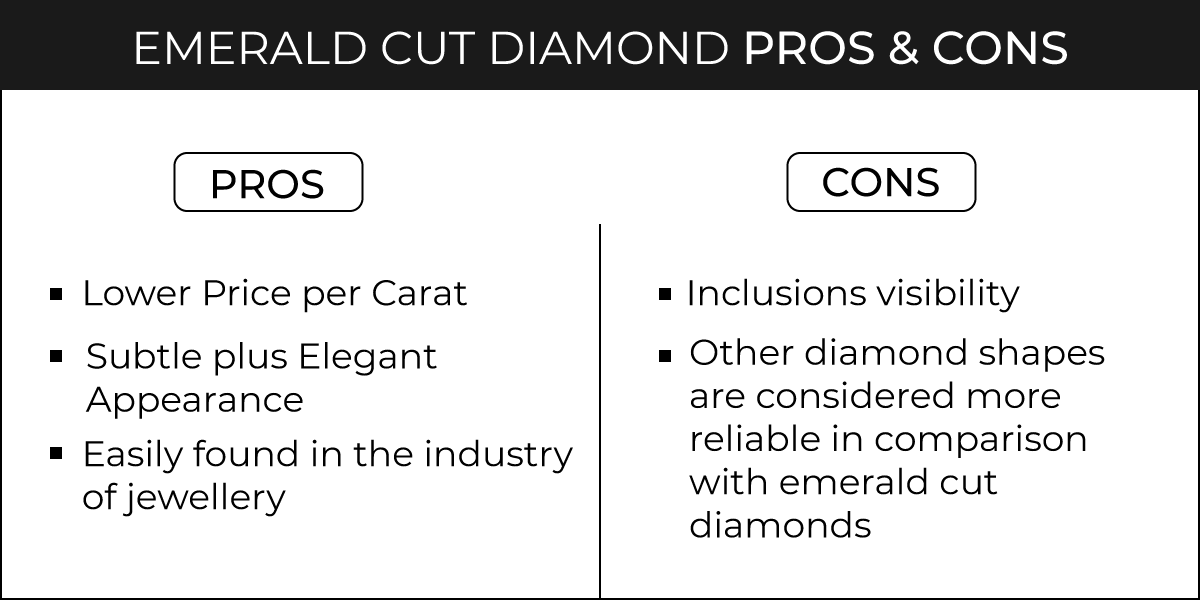 PROS
Lower Price per Carat: In the comparison with other diamond shapes, Emerald cut diamond is preferably lower in cost whereas its size is quite compelling. It's cheaper due to its less demand in the industry and high yield of cutting which reduces its weight. These two factors make this diamond cheaper than others.

Subtle plus Elegant Appearance: The cuts, proportion, layering, color, clarity, and glassy look, all together makes it the most subtle and suitable diamond, prevailing an elegant as well as a classy glance.

Easy to find: Emerald Cut Diamond is a popular diamond that can be easily found in the industry of jewelry. It is considered as one of the topmost choices of people which assures its availability in the market.

Emerald cut bow tie effect: As many diamond cuts the "Bow Tie" effect happens in Emerald cuts. If a polisher places the facets incorrectly, the light doesn't reflect in the proper way.
CONS  
Inclusions visibility: As we know, emerald cut diamonds are glassy which gives it a shiny effect but that comes at a disadvantage as well, that is, inclusions in the diamonds are quite noticeable at 10x if it is not of a higher clarity grading.

Comparison: Other diamond shapes are considered more reliable and commendable in comparison with emerald cut diamonds, due to their long existence and vintage look.
How to Choose an Ideal Emerald Cut Diamond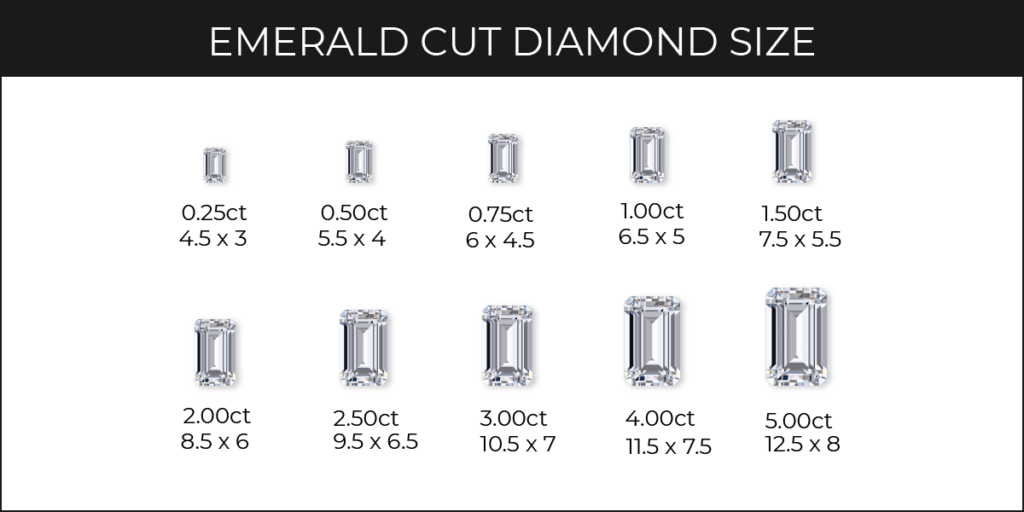 Emerald cut diamonds can be judged on few definite factors for considering them as an ideal diamond for purchase and utilization.
Due to its inclusions and layering, emerald cut diamond prevails a bow-tie effect in the middle of the diamond which increases its darkness in the color and the quality seems to deteriorate due to less light reflection through the diamond. 
For an ideal shape and size of the diamond, approx. 1.30 – 1.50 ratio must be chosen or a ratio of 1.40 is considered as best which also provides a good square shape likewise. For a rectangular and elongated shape, the ratio can be increased accordingly, which will meet the requirements as necessary.  
Emerald cut diamond is an open table with a layering style whereas Cushion cut Diamond is larger in size and shape as compared with emerald cut, and has a dense structure with confusing incisions in it. Emerald cut diamonds are less expensive as well as better for the hand due to their usual size and better quality. Cushion-cut diamonds are slowly getting the pace of popularity but still need to be reviewed before purchase due to their mystifying structuring. 
Similarly, Asscher Cut Diamond is laborious to find due to its aesthetic nature from the Art Deco era, which made it more of a vintage diamond and has less popularity as well. Showing off inclusions under the open table is one of the most similar characteristics adored by both the diamonds in their unique ways. Both of them have their personality which makes them a little different from each other and increases their value variously.
These few factors must be considered as the biggest factors for considering the best and ideal emerald cut diamond. 
PRICES OF EMERALD-CUT DIAMONDS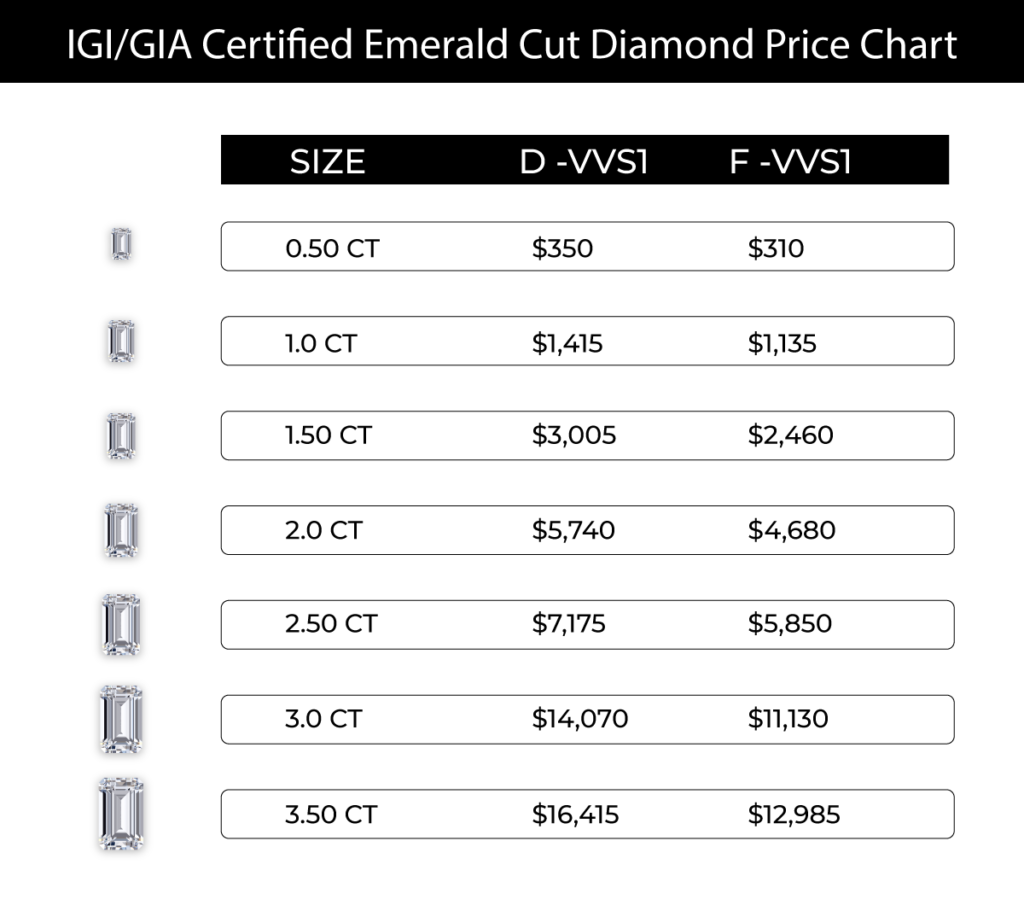 Emerald-Cut Diamond Rings are cheaper than other diamonds even when they are quite valuable. It's due to two factors: decreasing demand in the market and a higher yield on cutting.
The emerald cut diamonds are not so popular in the market these days due to their vintage look and origination era. 
Over that, during the cutting or shaping of diamond, most of its particles are converted into fine dust which gives the diamond a particular shape and lighter weight which makes it flimsy and reduces the cost value. 
While buying an emerald cut, one must be a little careful due to its glassy nature which doesn't allow it to hide most of its inclusions and makes it appear darker in color, and reduces the effect of light reflection. 
These small characteristics of diamonds must not be neglected and should get more attention for better and efficient purchases.
Emerald cuts are not a bad choice due to their inclusions but their clarity makes it valuable which also reduces the money value in the market by per Carat. It is anyhow a good deal for engagement or casual rings. 
EMERALD CUT DIAMONDS FOR ENGAGEMENT RINGS 
Just like rings in engagements are considered a partner, similarly Emerald Cut Diamond Ring form a brilliant partnership. 
The emerald-cut diamonds are made for rings that need outstanding and exploratory glances in the eyes of people. It is the symbolism of strength and empowerment in the life of a person. 
Most women prefer a large plus elegant diamond ring on their engagements, which can highly describe their hand and be the crown of their ring finger, and that makes the Emerald Cut Diamonds be the most appropriate choice for engagement rings.
It is adored much more than the other diamonds because of its increment in diameter that makes it look bigger and fascinating. Affordability is also not an issue, as due to its lightweight and lesser demand it remains cheaper in the market which makes it a quite reasonable purchase.  
If you are a person who deliberately wants to stand out in the crowd, grab the opportunity to ensure that the emerald-cut diamond's prevailing most captivating look becomes your choice as it is the symbolism of showing strength. It is a vintage-inspired look that emphasizes the fact of elegance and comfortability that distinctively brings out the stunning look of the diamond ring.
VARIOUS SETTINGS FOR EMERALD CUT DIAMOND RING 
Emerald-Cut Diamond is the most fascinating diamond cut which can uniquely fit in different settings. The settings must be reliable and advantageous to you which can remain secure and protected for the long term. 
In reality, emerald cuts are not very brilliant but their beauty and magnificence lie in their formation where light and shadow are in contrast with each other, creating an effect of a "hall of mirrors". Each set has its uniqueness and vulnerability which precisely glorifies each characteristic within the engagement rings.
Different settings for Emerald Cut Diamond Engagement Rings are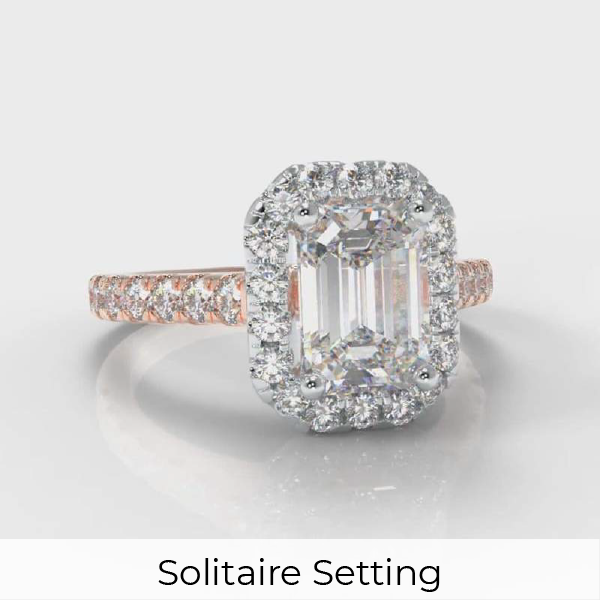 "Solitaire" means "alone", which signifies how an emerald cut diamond is alone on the metal band of the engagement ring and symbolizes the strength of one person in the crowd. In this setting, an emerald cut diamond is rested upon the center of the metal band that seems to be the most preferable setting due to its elegance and symbolism. It is extremely secure and protected, always comfortable as well. It is a ring that stands out itself and the owner becomes the entity of power and strength. It also brings eternal love to the life of the couples who adore their relationship by creating a safe and healthy bond between the two people.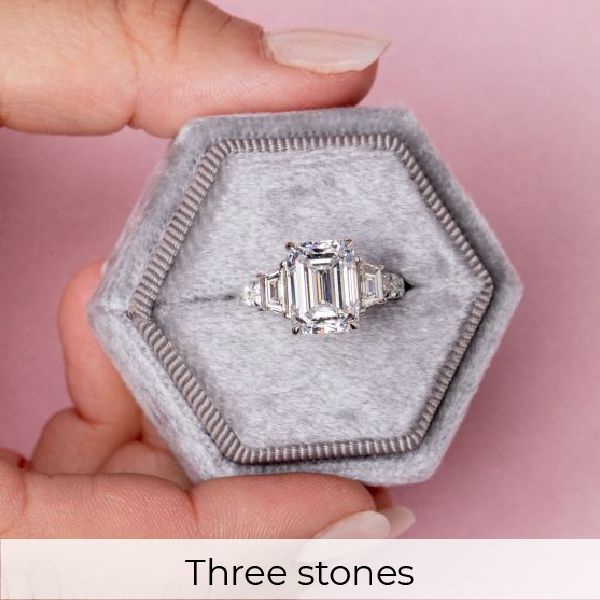 As the name defines itself, over a metal band three stones are set where an emerald cut diamond is in the center of the band and the other two stones are set on each side of the band horizontally. This setting exclusively enlightens the mood as the two stones help in the reflection of the light over the center stone which brings a sparkling effect. This setting also brightens up the hands, magnanimously. It helps in showing the emerald cut diamond in-between which increases its worth. Moreover, these two stones help in holding the diamond in the center which keeps it safer and secure for the rest of its life. It is the symbolism of holding each other in a relationship, forever.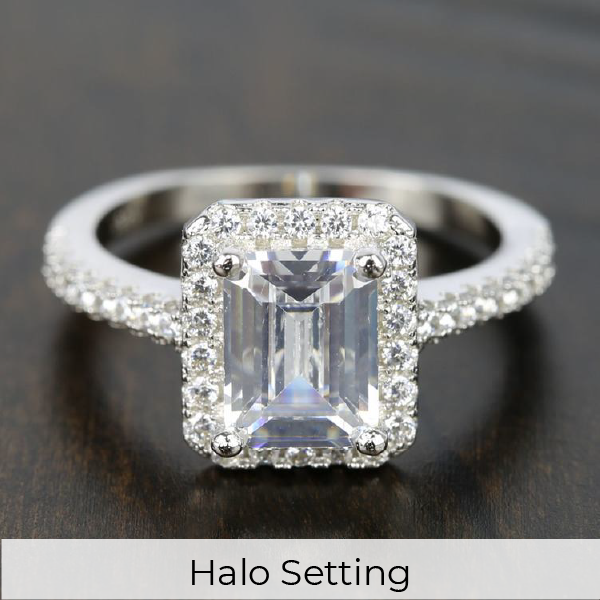 In this setting, many stones are a part of the effective emergence of an elegant look. In the center, an emerald cut diamond is placed and over the other two sides, a chain-like structure is followed where stones are placed over the whole band in a motion. This ensures the diamond's protection and makes it look more shimmery and glorious. It is a little tricky to clean the ring. The diamond set in the center seems larger and more appealing than usual. It symbolizes the future connection between two families getting joined together by two people for eternal love amongst them. 
All of these settings are unique in their manner and have various specialized characteristics. One must keep in mind to identify their symbolism towards life, love, and family while choosing the engagement ring.
Also Read:  10 CUSHION CUT DIAMOND ENGAGEMENT RINGS STYLES
Emerald Cut Diamond Jewelry 
Emerald cut diamond is associated with different jewelry pieces in various styles and formations. 
Different engagement ring settings can be structured and formulated with the characteristics of this one diamond which is shaped and set with sophistication. As mentioned above, many ring settings can be adapted with the emerald cut diamond for the engagement rings.
Necklaces have a remarkable gesture explicitly depicted by the pendants and Solitaire diamond set neckpieces. This hall of mirrors-like characteristic makes the necklaces bring brilliance and light reflection to the pieces which adorn the neckline of the wearer and deliver elegance in the look. 
Studs in the category of earrings are the most preferred option for the emerald cut diamond due to its shape and structure which makes the ears and earring look and make its presence more vulnerable and optimistic. 
Bracelets could be a good choice with emerald cut diamonds in-between being solitaire but not the best choice due to its efficient nature of depicting elegance. 
All the jewelry pieces can be structured uniquely by utilizing the emerald cut diamond in its precise way which is delicate and perfect as the diamond is worthy in its manner to a great extent.
Celebrity With Emerald Cut Diamond Jewelry
Emerald cut diamonds have always been popular amongst celebrities or known personalities due to their ethnicity, grace, and outstanding nature in the environment of thousands. This all makes it more valuable and worth valuing which is also celebrated as a symbol of power amongst the well-known people.
One of the most famous actresses, Angelina Jolie has adored this 16 Carat Emerald cut diamond ring which shows her character exclusively. 

Jennifer Lopez also wore a ring of 15 carts which was gifted by her dearest boyfriend. She presented it elegantly.

Beyoncé occupied a stunning 18 Carat diamond ring set in platinum metal, offering a sporty but precise look.

Kate Hudson was proposed by a 9 Carat diamond set in a platinum ring.

Elizabeth Taylor received a 29.4 Carat ring by her husband which she also names and dignified as her "ice skating ring" which seems to be the highest Carat ring of all the times.
These beautiful actresses have received the different Carat holding rings of various styles which are exclusively made for them and it pleasantly glorifies their characteristics.
CONCLUSION
Emerald cut diamonds are the oldest diamonds ever discovered. They precisely fulfill most of the needs of the customers who are interested in a collection of jewelry. These diamonds are also used in different jewelry pieces such as earrings and necklaces as Solitaire or different merged settings. It is the identity of an open-hearted soul and a prosperous future. The main symbolism of strength conjoined with its name defines its empowerment and standards in the fashion industry. People buy it less frequently due to the differentiation in the choices, but overall it is a wise selection for experiencing newness in the jewelry inspired by the vintage collection.