Briolette Cut Diamonds: Everything You Need to Know in 2022
There are many diamond cuts available in the market today, some of which are very popular and common while others are quite uncommon. One such uncommon cut amongst diamonds is the briolette cut. If you have never heard about this diamond before, then you must read this article to know why you should think about buying a beautiful Briolette.
What is a Briolette Cut Diamond?
The white rough briolette diamond is a drop-shaped stone with triangular or diamond-shaped facets situated on it all the way around. There is no table, crown, or pavilion. The more number of facets makes the diamond even more mesmerizing. All the facets reflect light and make the diamond appear quite shiny when looked at. As there is an absence of the diamond table in the diamond, the flow of light is continuous throughout the diamond.
The facets on a briolette are all triangular, entirely covering the circular cross-section of the stone. It is one of the antique diamond cuts, which was discovered long back before the 19th century. The Briolette diamond is a somewhat teardrop-shaped stone with elongated triangular facets.
The briolette diamond may either have a  rounded or angular form; it is pear or oval-shaped. In which the upper "hemisphere" is typically much taller than the lower.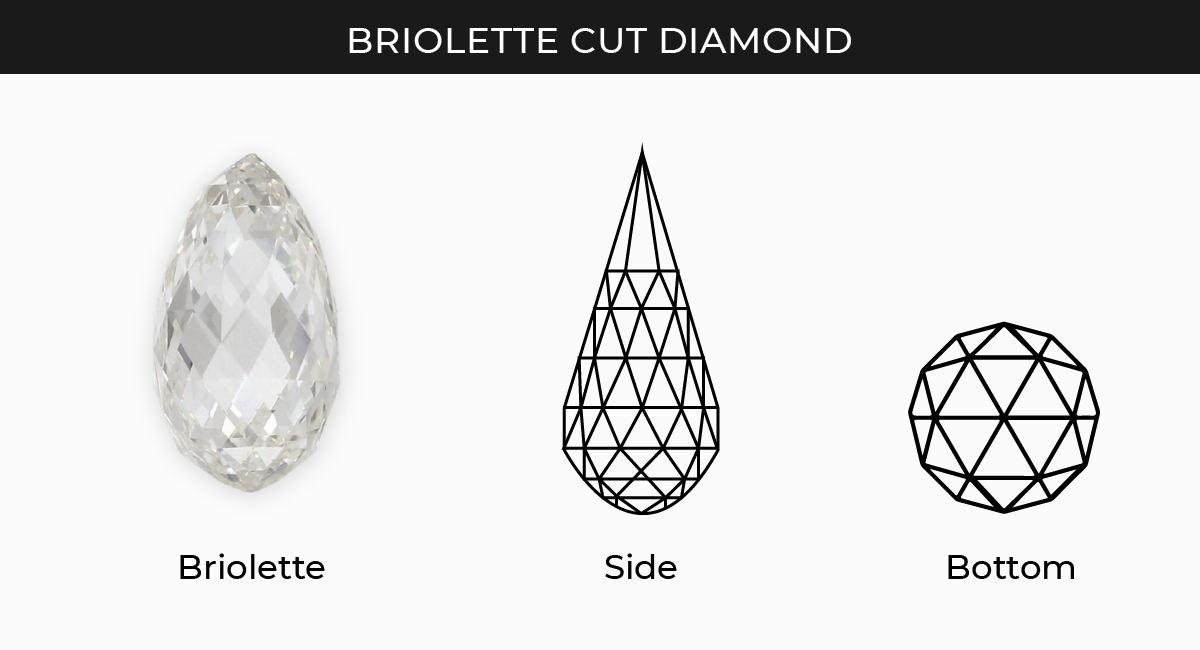 The briolette cut diamond has no girdle, thus it is not used very aptly in jewelry. We sometimes see a briolette with a small hole drilled close to the tip. This hole enables the diamond to be used as pendants. 
Whereas some diamond cuts, especially modern cuts, have a strict number of facets. There appears to be no specific rule for how many facets a briolette should have – and in old times when the briolette was popular, the number of facets was determined by the size of the stone.
An advantage of the briolette cut diamond is that the entire stone is visible in one view. This precious stone cut does cost more because of how rare the cut is. Diamond manufacturers report that the maintenance cost of making a briolette cut diamond is much higher, In contrast to traditional diamond cuts. 
Why Briolette Cut Diamonds are so Unique?
Briolette Cut Diamond is mostly highlighted in Antique and vintage diamond plans. They are particularly fit for Tiaras. Moving openly, their intelligent development adds show to jewelry.
The most celebrated model is likely the 'Briolette of India,' tipping the scales at 90.38 carats. Since this diamond shape suspends from a wire string, there is a similarity to chandelier diamonds.
The alluring 360 degrees sparkle effect: One major feature which stands out in the Briolette diamond is the continued faceting all over the diamond to give it a 360-degree facet intact look. Interestingly, Briolette jewels show features all around their breathtaking tear-drop shape. They are a phenomenal diamond for drop stud styles, as we have effectively examined.
History of Briolette Cut Diamond
The briolette diamond emerged in the 1600s in India. They are still considered an antique design because they are one of the most ancient diamond cuts. It is said that the diamond was sold to the royalty of that time as an exquisite piece of art. 
 
King Louis XIV is said to have bought the diamonds from a tradesman. Many historians and gemologists have concluded that the briolette cut seems to have evolved along the lines of the rose-cut diamond.
Throughout the decades the briolette diamond has been showcased by many brands like Cartier, Van Cleef, David Morris, and Busatti just to name a few. The briolette diamond from its emergence was seen as a sign of luxury jewelry and beauty. It is and always has been a rare cut diamond that has royal origins too.
What to look for in a Briolette Cut Diamond?
You must be eager to buy one for yourself! But before you jump into buying a briolette diamond there is something you should keep in mind. Not to worry, we have prepared a list of things that any consumer should keep in mind before buying a briolette diamond.
1. the 4C Rule
The most basic thing to consider and check is the 4C's of a briolette diamond.  The cut should be perfectly symmetrical. The clarity should be of a good/higher grade. The color of the diamond should be as close to white and the carat should be the best you can get in your price range. 
2. 2nd Opinion
Briolette diamonds are super rare and you want to make sure that you buy the right one. Before making such an expensive purchase, get it checked by an external gemologist. Take their opinion on the authenticity and price of the diamond.  Make sure you get the right diamond for the right price. Choose an independent gemologist and preferably someone who is either personal contact or a reference from someone trusted. 
3. Credentials
Make sure you run a thorough check on your retailer. Your buyer should be approved by a national-level authority or an international-level authority. Cross-check for all of their certifications. The diamonds need to be hallmarked and ensure to keep a copy of the seller's certification 
4. Tiny Hole
You must've heard that a princess cut diamond or a brilliant-cut diamond should never have a hole present in their cut, which is true, this might make them a low-quality diamond. However the same is not true for a briolette cut diamond, they sometimes need to have a tiny hole at the top so that they can be used in larger pieces. This does not in any way affect their quality of cut.
What Are the Pros and Cons of Buying Briolette Diamonds?
Pros
We can view the entire stone from any angle, as opposed to the brilliant-cut diamond, which is viewed from above and is often set in such a manner as much of the stone is invisible. However, this also means that anyone can see any flaw in the Briolette cut diamond more readily.

Briolette diamonds styled as pear-shaped diamonds look extraordinary. Women love to adore jewelry in the briolette cut especially women looking for premium pieces for a special event.

The brilliance of a Briolette cut diamond is much higher than many other cuts because it does not have a table and possesses many facets. This increases the flow of light and the reflections of light as well.

If you are someone who loves luxury fashion and trends, then this is the diamond for you. It is a fashion and status icon which reflects great style.
Cons
If you have a tight budget, we would not suggest you buy a briolette cut diamond. The cut is extremely expensive and will cost you some serious money. You can rather choose a different and cheaper alternative like a pear-shaped diamond or a marquise cut diamond. 

A briolette cut is best suitable for earrings and pendants. The cut of the diamond is such that it cannot be set into engagement rings, so if you are looking for an engagement ring diamond, briolette is not for you. 

Briolette Diamonds are more fragile than other diamond cuts. They are an extremely complicated cut which means they can't be worn daily. They are strictly for special occasions otherwise they might be subjected to harsh conditions for which they are not made. 
List of Famous Briolette Diamonds

Wrapping Up
A Briolette cut diamond is bound to easily get the attention of anyone with its immense sparkle and elegant look. It has been around for centuries and has recently regained a place on the world stage due to it being considered an antique diamond. When selecting a Briolette cut diamond, be attentive enough to check all the 4C's vividly and make sure a diamond certificate from either GIA or IGI is provided to guarantee its authenticity.
We at Loose Grown Diamond make all our commissions through inside and out bespoke plan administration. As a component of this service, we give our customers point-by-point statements, representations, or CAD plans about their diamond, its design, and its progress report.
We have labs all around the world and we are extremely proud of the fact that we even have our showrooms in all the prominent trading hubs of diamonds.