How Lab Grown Diamonds are Certified and Graded
All you need to know about the ifs and how's of whether lab grown diamonds are acknowledged and certified by international diamond certification bodies. 
Lab grown diamonds have caused quite a stir in the diamond industry over the past decade. These lab diamonds are created in a controlled environment using high heat and pressure to remove carbon, which produces an unpolished gemstone.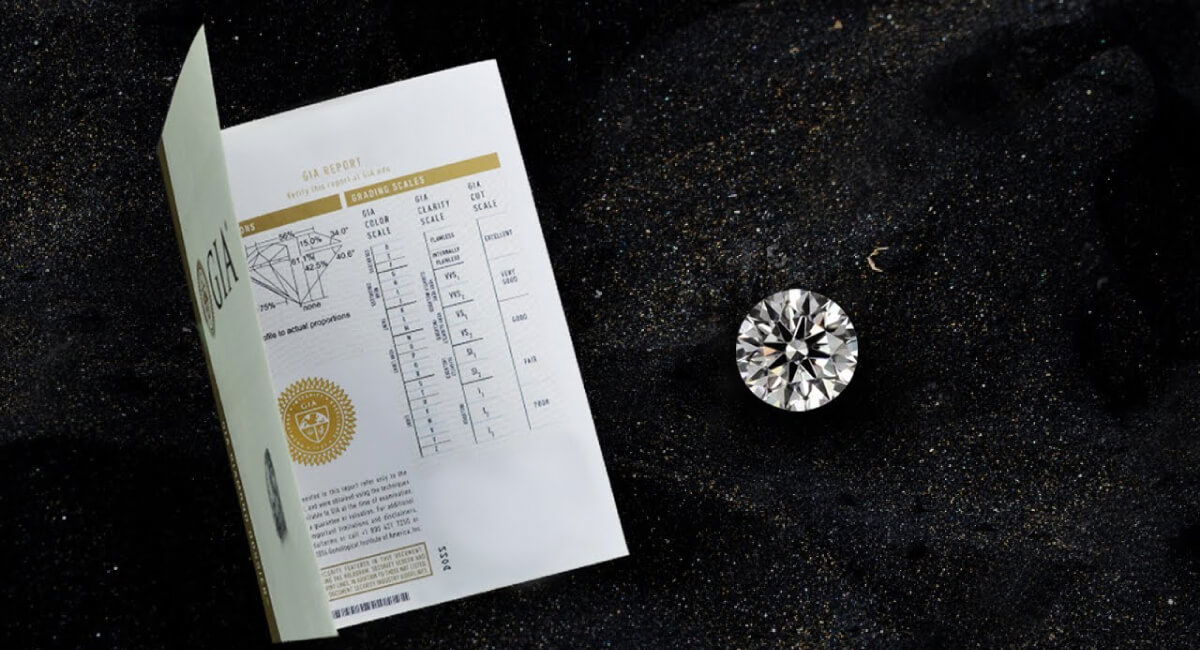 The stone goes through a manufacturing cycle which lies in accordance with strict diamond processing guidelines to bring forth its inherent brightness, luster, and radiance.
This guarantees that lab grown diamonds fulfill quite the same quality standards as their mined counterparts. To understand in detail what a lab grown diamond is, refer to our previous blog, which covers the same.
Understanding the certification procedure is essential to appreciating these diamonds' worth. An independent lab/institute with no stake in the diamond's sale issues a diamond certificate, which is a vital document. These labs assess every stone according to certain merits and rules.
IGI, GIA, and GCAL are three of the top certification bodies for lab grown diamonds, and they have all certified the diamond present on our website. This blog explores in great detail how lab-grown diamonds are certified and graded.
What are the Quality Parameters that a Diamond is Measured Against?
There are four basic parameters that a diamond must measure up to and it is graded accordingly. It must be noted that these standards are universally recognised by all jeweler's/companies/retailers and accepted across the globe.  They are Cut, Clarity, Color, Carat, popularly known as the 4Cs.
Cut

: This parameter grades the refraction of light from the various facets of the diamond's surface. The stone must be cut such that it reflects light at the maximum possible angles, giving it an infinite sparkle.

Clarity

: Simply put, this parameter measures the purity of the diamond. The inspection done under a high-precision microscope determines the degree of impurities and damages or visual flaws along with the depth of the stone.

Color

: As the name suggests, color indicates the degree of "whiteness" of the diamond. The closer it is to purely colorless, the superior its quality is and the more it is priced at. D, E, F are the grades given to stones that are closer to being white.

Carat

: It indicates the weight of the diamond. 
How are Lab Grown Diamonds Certified?
Lab sourced diamonds are certified by some of the most internationally acclaimed institutes that grade mined diamonds as well. They are the Gemological Institute of America and the International Gemological Institute. 
The IGI entered the foray of certifying lab diamonds very early while GIA followed soon in 2006. Their unbiased and in-depth analysis has come to be trusted around the world.
Another certifying institute is GCAL (Gem Certification & Assurance Lab), which was founded in 2001 in the diamond district of New York City.
GCAL is committed to preventing consumer fraud by offering accurate information on gemstones and diamonds.
To summarize, predominantly there are three types of recognised certification i.e., GIA lab grown diamond certificate, IGI lab grown diamond certificate and GCAL lab grown diamond certificate.
These specialized organizations are able to differentiate lab grown diamonds from their mined counterparts through the use of state-of-the-art laboratories that are equipped to examine minute structural and molecular changes.
The 4Cs—cut, color, clarity, and carat weight—are taken into account by both IGI or GIA in their assessments. They also provide thorough reports that include information about the diamond's provenance.
For each of these four criteria, lab diamonds are given unique ratings, and a certificate is given to jewelers for each diamond. GCAL presents a new grading system for diamond cuts that takes into account factors including polish, optical accuracy, and proportions.
Although various institutes may assign somewhat different numbers and ratings to each diamond quality, it is important to understand the meaning behind each rating when reading the certificate.
The Rapaport Scale is used to determine lab diamond prices along with data from these institutes. The certificates guarantee correct information about the origin and properties of the diamond, which helps to protect consumers in addition to offering insightful information about the quality of the stone.
How to Read a GIA or IGI Certificate?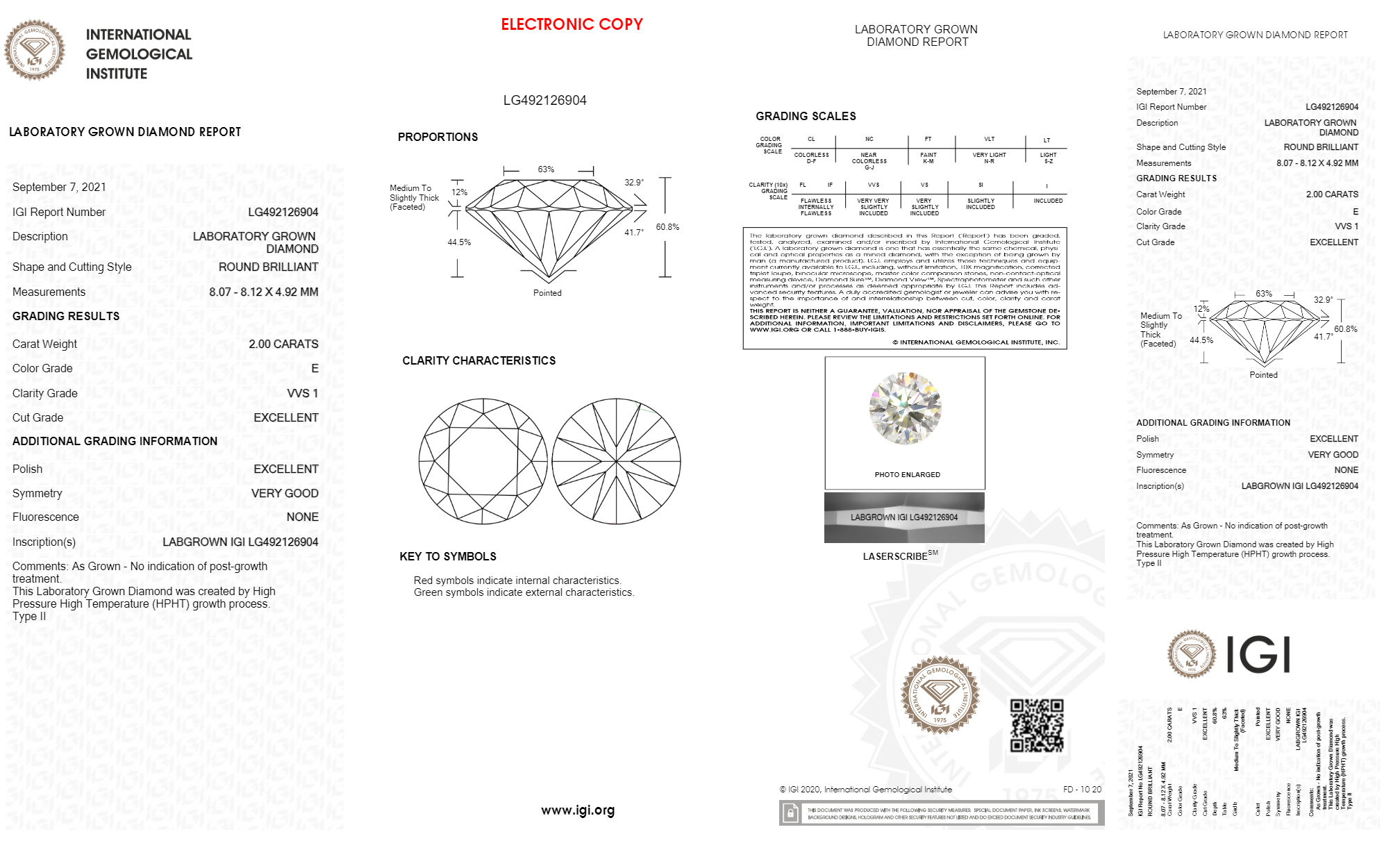 Let's take an example where a lab diamond weighs 2.00 carats, with a clarity of VVS1, color of E and polish excellent and symmetry of very good. On interpreting the findings, we read that this lab grown diamond achieves remarkable colorlessness, approaching colorless or white (D) on the color scale; as denoted by the color F.
With minimal imperfections denoted by a VVS1 clarity grade, the diamond weighs 2.00 carats and boasts a double excellent grade for its cut, ensuring exceptional shine and symmetry for optimal light refraction.
The comprehensive results cover aspects such as shape, cutting style, the 4Cs, and additional details like polish, symmetry, fluorescence, providing a thorough understanding of this diamond's characteristics.
While purchasing a lab sourced diamond, have this checklist ready!
There are certain key considerations that need to be kept in mind before making any lab sourced diamond purchases. These are as follows;
Has the diamond been certified by a well-acclaimed certification body?
Has the diamond been priced justly based on the certificate?
Has it been stamped on the girdle indicating that it is lab grown?
Do your research while buying a lab-sourced diamond and reap the benefits of making the ideal purchase decision!
Please note that at Loose Grown Diamonds, we exclusively offer certified lab grown diamonds that have attained the pinnacle of purity, aesthetics, color, and elegance.

Conclusion
In conclusion, knowing how lab grown diamonds are certified and graded becomes increasingly important as demand for them develops. Organizations such as GIA, IGI, and GCAL guarantee rigorous analyses that are consistent with their evaluations of diamonds that are mined.
The 4Cs—cut, clarity, color, and carat—remain essential, and customers can make more informed decisions by consulting certificates from these respected organizations. These certifications' accuracy and openness protect consumers in addition to verifying lab grown diamonds.
Keeping important factors in mind when making a purchase guarantees that the choice is well-informed. The purity, beauty, and timeless elegance of certified lab grown diamonds are highlighted by LGD's dedication to providing them.
FAQs
Are lab grown diamonds certified?
Yes, all our lab grown diamonds are certified and rated high by institutions like GIA, IGI and GCAL. In general, most companies certify their lab grown diamonds.
Why should I buy a certified diamond?
Purchasing a certified diamond ensures authenticity, quality, and adherence to industry standards, providing confidence in your investment.
What is an IGI certificate for lab grown diamonds?
The International Gemological Institute does an unbiased and in-depth analysis of the stones that are submitted to them. They check to see the purity, carat, color, origin and much more.
What is a lab grown diamond certification?
A lab grown diamond certification is an official document from recognized institutes like IGI or GIA, confirming the diamond's authenticity, quality, and specific characteristics.
Why do lab grown diamonds need certification?
Certification for lab grown diamonds verifies their quality, origin, and attributes, offering transparency and assurance to consumers.
Is IGI or GIA better for lab diamonds?
Both IGI or GIA are reputable for certifying lab diamonds, but GIA is often considered the industry standard for its strict grading and widespread recognition.
Which certification is best for diamonds?
GIA (Gemological Institute of America) is widely regarded as the best certification for diamonds due to its stringent grading standards and global recognition.
How do I check my diamond certificate?
To check your diamond certificate, review the document's details such as the 4Cs (cut, clarity, color, carat), and ensure it comes from a reputable certification institute like GIA or IGI.