Difference between Synthetic and Mined Diamonds
If you go to a jewelry shop and try to differentiate between a man made diamond (synthetic diamond) and a natural diamond, you won't be able to tell them apart. Even the jeweler might hesitate in distinguishing them.

This happens, because man made diamonds look exactly like natural diamonds and have the same chemical and optical properties. The new cutting-edge technology and advanced machinery make lab grown diamonds look exactly like natural diamonds.
However, there are some differences between synthetic diamonds and mined diamonds.
The difference in the way they are created
Natural diamonds or mined diamonds are formed under the earth's surface. The high pressure and temperature, convert carbon into diamonds. The whole process takes about 2-3 billion years. It is afterward that they are dug out, sorted, cut, polished and then sold.
Synthetic diamonds are cultured in labs and made by two different processes. CVD diamond & HPHT synthetic diamond making process are used to create lab grown fancy diamonds. In these methods, a tiny diamond seed is put inside a chamber, under a controlled environment. The process takes place for about 10-12 weeks, after which a man made diamond is formed.

The difference in the identification of a diamond's origin
Natural diamonds are mined, cut & polished, and sold away to diamond merchants, sellers, and retailers. It is at times, kind of hard to determine the origin of a diamond. Buyers and sellers both should be aware of the origin, to make sure they're buying the right diamond.
Many natural diamonds are considered as blood diamonds because they fund conflicts and encourage war. Conscious customers are against the purchase of blood diamonds and want to know what the origin of the diamond they are buying.
Man made diamonds, on the other hand, are easier to track. Firstly, man made diamonds have an inscription (grading mark) on the girdle made by a diamond grading institution. GIA or Gemological Institute of America is one of the topmost diamond grading institutions which grade and deem diamonds fit for sale.
Secondly, all man made diamonds come with a particular set of certificates and documents which determine their origin. These documents are provided by sellers to the consumers, for authenticity. Before purchasing a lab grown diamond, be sure to check the certificate; if not provided with one, demand for a certificate.
Difference in Clarity
95%-98% of all mined diamonds are of type 1a, this is the least pure form of a diamond. Only 2% of mined diamonds are of type 2a; the purest, rarest, and pure white diamonds. Mined diamonds have many impurities and inclusions in them, making most of these mined diamonds have less clarity.
Synthetic diamonds or lab grown fancy diamonds, on the other hand, are flawless and have negligible impurities & inclusions. As they are created by man made methods (CVD diamond& HPHT synthetic diamond making method) their level of clarity can be controlled. Almost all man made diamonds are of type 2a (white diamonds or colorless diamonds).
Price difference
Man made diamonds are 20%-30% cheaper than natural diamonds. The reason being for years mined diamonds were considered real diamonds and synthetic diamonds were considered fake. But that is not true, as both have the same physical, chemical and optical properties.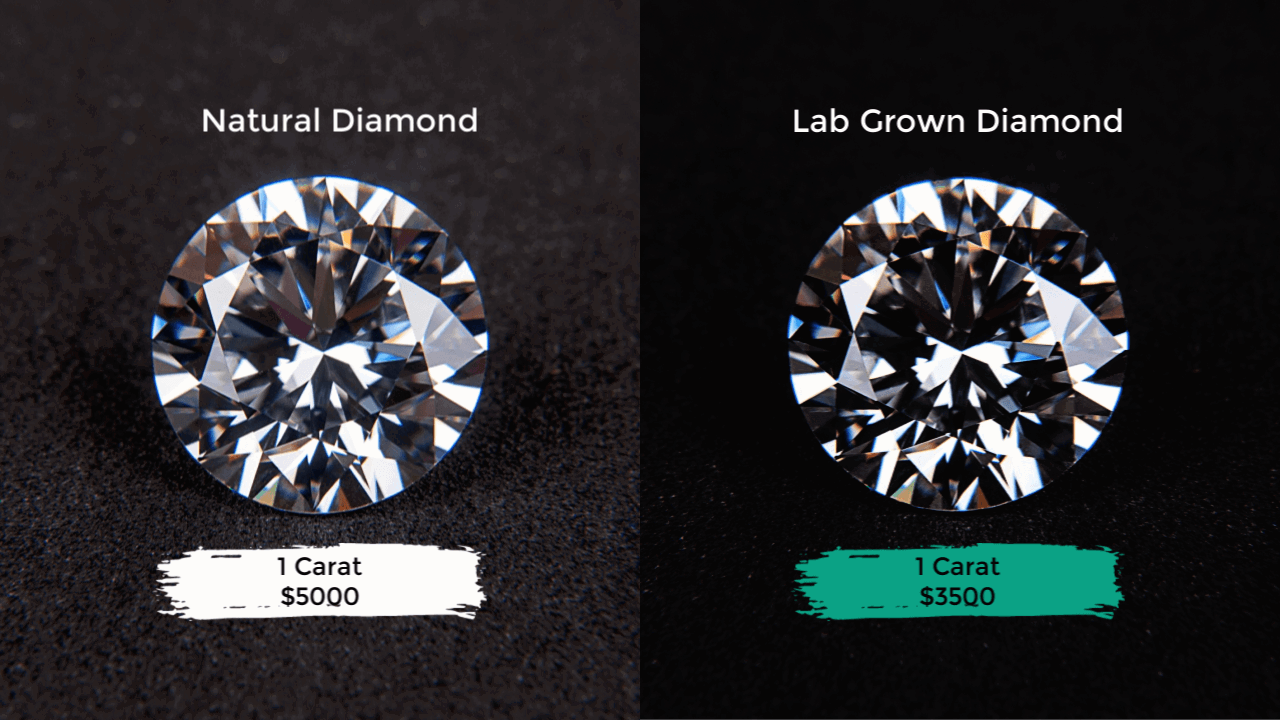 Lab grown fancy diamonds and loose diamonds don't incorporate mining and digging of the earth's surface, which increases the price of obtaining diamonds naturally; making natural diamonds more expensive.
Diamond Ethics
Diamond ethics refers to whether the purchase of a particular type of diamond is ethical or not. Natural diamonds are mined from the earth and their origin is hard to track. Many cases have arisen where consumers got to know the fancy diamond they purchased, turned out to be a blood diamond. Blood diamonds or conflict diamonds are those fancy diamonds, which have been used to fund wars and encourage conflicts.
Synthetic diamonds are conflict-free and obey human rights. As these diamonds are created in labs and are graded by authentic institutions, they can be tracked and their origin found out. Lab grown diamonds, in no way employee unethical labor. They also do not incorporate mining and are considered eco-friendly.
Can synthetic and mined diamonds be customized?
Mined diamonds are created by nature, under specific conditions and cannot be customized. Synthetic diamonds are created in labs by certain technologies that can alter a few properties and be customized. These lab grown diamonds can be customized to certain shapes, sizes, and colors. Resulting in a variety of loose diamonds, fancy diamonds, white diamonds, and colored diamonds to choose from.
In the end, it is all about your preference, do you want a bigger diamond for a cheaper cost which is eco-friendly, as well as, conflict-free? Then go buy synthetic diamonds! Here is a quick overview of the benefits of lab grown diamonds.