Engagement Ring vs Wedding Ring: All You Should Know About
Engagement Rings and Wedding Rings are the sentiments towards making a relationship stronger and more validating, around the globe. Getting engaged or married are both very exciting as well as challenging facts of life that bring a change to you and your surroundings in plenty of ways. Typically, both the rings stand for the "promise" made by the partners with and for each other considering their well-being and togetherness till eternity. 
Differentiating rings and their usage highly depends on the culture and personal beliefs of the people being involved in the matter which restrains us from saying much on the matter. In most traditions, wedding rings are considered more of value which solidifies their importance in the hands of the married couple whereas engagement rings could be removed, if willing. 
What is an Engagement ring?
"Engagement" is a proposal of a promise to get married soon in the upcoming future and show the intent of living together forever. With this representation, an engagement ring is offered to the other halves which is worn by them if the consent towards marriage is similar and approving.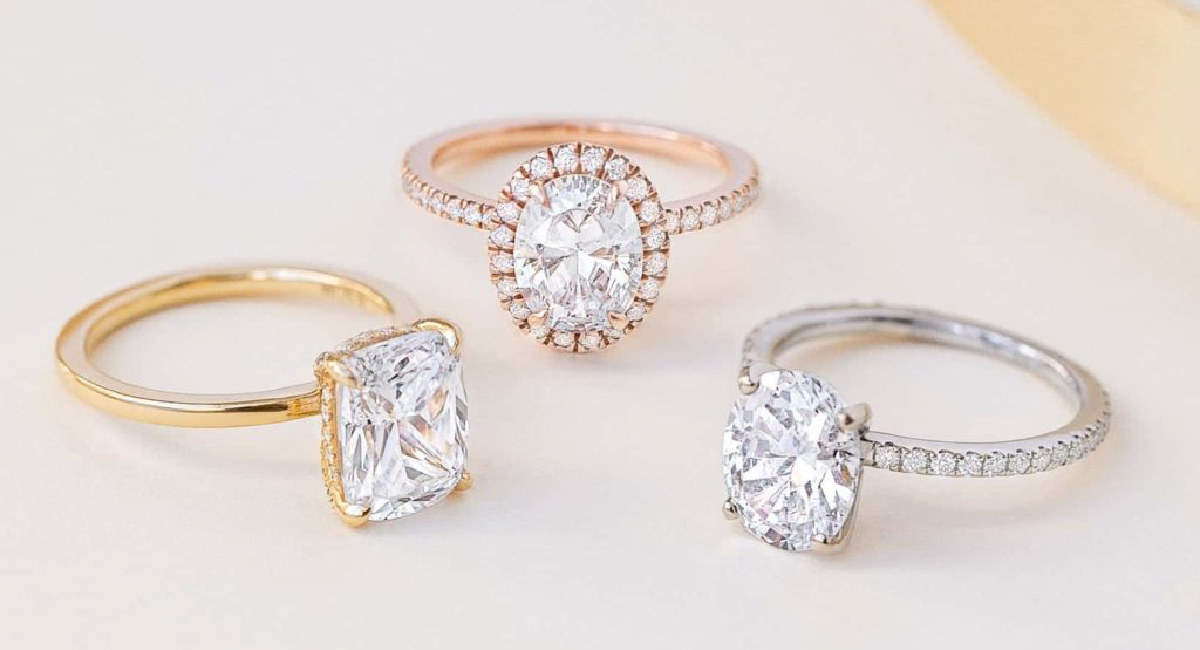 Since ancient times, engagement rings were in the tradition but with a different gesture of "receiving dowry by the bride" but the emotions and definitions have been changed during all this time, signifying it as a language of love and commitment. 
Also Read: How much you should spend on an Engagement ring in 2022?
How to wear engagement rings?
Engagement rings are a widespread sentiment around the world, regardless of caste, religion, or nationality in any manner. It is an indication of wishing to get married and tie a bond with the families and friends, all together. The design is a little different from that of the wedding band, it is a metal band with one diamond over the top and some additional stones around it; a little extra show of love. 
It's all up to preferences however the couple wishes to adorn the rings in the nearest future after the wedding, some wish to follow the traditions, whereas others tend to go out of the way.  
What are wedding rings?
Wedding Rings are extra solidified with the epitome of promises and carry the exponential power of commitment. It is like a final "call" for the wedding that is going to be held by the people engaging in it for many years and ages.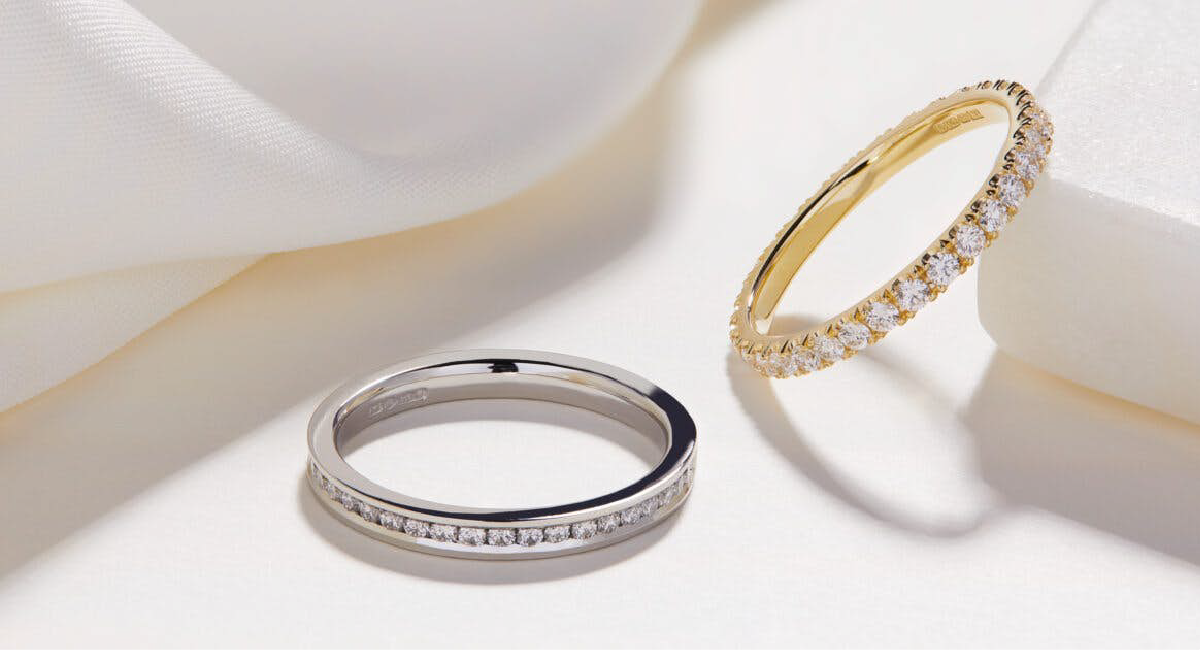 The culture of adorning wedding rings was initiated by the Rome and Greece People, the popularly known countries of love and admiration, but it was just a price of the wedding ring, and later the symbolism transversed to the concept of fidelity. 
How to wear wedding rings?
It is a little confusing statement to portray how and when the wedding ring should and could be worn. Typically, wedding rings need to be worn as per the traditions and culture, as it is the indication of "being committed or married", that is, it is worn all time.
Then again, it depends on every person and their preferences, however, they wish to keep it. Moreover, the controversy begins with engagement rings vs wedding rings, which to wear and how. 
Simply, people tend to wear just their wedding rings but some wear both the rings, however they like to. Some adorn them with the left hand's fourth finger and like to keep both the rings "on", which feels like keeping them closer to their hearts.
Also Read: What Hand Does a Wedding Ring Go On? – A Guide to Wearing Wedding and Engagement Ring
Engagement and Wedding Jewelry History 
History Abides All, It Creates and Breaks the World's Future and Existence. Jewelry Has Been the Inception of Art for Ages, Whereas for Weddings and Occasional Purposes Jewelry Has Always Served the Best Aesthetic of Being Presentable and Ethnic. 
Let's Travel Back to Rome, Where It All Started. Roman Women Used to Wear Rings of Ivory, Copper, and Iron, and Later Gold Was Discovered but This All Was Just the Sign of Prosperity on The Outer Terms in The Society. No Such Tradition or Culture Was Engraved with It. 
Later After the Era of 1850, Rings Were Given the Importance and Official Symbolism of Marriage by The People of Betrothal. Slowly, Things Developed Around the World, and Diamonds Also Came into The Formation of Rings with Their Sign and Features. 
Way Back Then, Jewelry Was Also Invented in Its Unique Way and Will Remain in Existence for Eternity. 
Conclusion
Both the Engagement vs Wedding Rings Have Their Essence in Every Other Relationship as A Material Doesn't Decide the Worth of Any Bond yet People Do. Their Preferences and Connection Are the Main as Well as A Sensical Matter to Be Thought About. 
Engagement or Wedding Rings Are Highly Important for The Commitment but In the End, It Depends on The Person Receiving It and The Person Granting It, as It's the Decision of Their Lifetime, Their Promises, and Their Family.
FAQs for Wedding Ring vs Engagement Ring 
1. Do I Wear My Engagement Ring on My Wedding Day?
The Absolute Truth About This Situation Is "Whatever You Like Doing". the Decision Is Totally Up To You and Your Comfort, if You Want to Wear the Engagement Ring You Can, or If You Wish to Leave It Home, that Also Feels Right to Be Done. Traditionally, One Must Wear It in The Right Hand and The Wedding Ring Is Later Placed in The Left Hand. 
2. What Is Wedding Stack Soldering?
Wedding Stack Soldering Is About the Formation of All Your Wedding Bands Into One Ring. It Is a Very Unique Process that Allows the Person to Adorn All the Wedding Rings without Choosing One Amongst the Others. It Is a Way of Bonding All the Wedding Rings Into a Set.
3. Are Engagement Rings and Wedding Rings Different?
Basically, an Engagement Ring Is a "proposal" Sort of Ring that Is Given During an Early Point of the Wedding Proposal Time but The Wedding Rings Are Exchanged on The Wedding Day when The Couple Also Exchange Their Vows for Eternity. 
4. Why Are Engagement Rings More Expensive than Wedding Rings?
The Highly Intricate Design Requires Better Craftsmanship and That Seems to Be the Costlier Part. Engagement Rings Are More Expensive in Comparison with Wedding Rings Due to This Obvious Reason of Intricate Design Structure, Whereas Wedding Bands Are Plain and Simple.
5. Do You Wear Your Wedding Ring and Engagement Ring Together?
Traditionally, people tend to wear their engagement ring and wedding ring together on the fourth finger of the left hand but in the end, it is again a choice that is given. However one wishes to adorn their rings, they can do this way.