Half Carat Diamond Ring: The Perfect Blend of Elegance and Affordability
If you have a tight budget but are still planning to propose to your loved one, then a half-carat diamond ring can be the best option. A half-carat diamond ring can cost you almost half the amount one might imagine a diamond ring to cost. Now you must be wondering, "Are half-carat diamonds trending?"
Generally, across the United States, one-carat diamonds are in demand for engagement rings. But nowadays, the European and Asian trends of cutting the budget on size and investing in other aspects like cut, color, and clarity are gaining more popularity. thus giving a huge rise in the purchase of 0.5-carat diamond rings.
According to recent studies in Europe and other Eastern countries, a half-carat diamond engagement ring falls under the average size of an engagement ring.
This diamond ring is made to complement the finger in addition to being available at a reasonable cost.
In this article, you will learn more about the unique features of a ½ carat diamond and how to select the perfect one for you.
What Is a Half Carat Diamond?
A half-carat diamond ring is also known as a "0.5-carat diamond ring" because the ring is set with a diamond that quantitatively calculates to 0.5 carats in weight.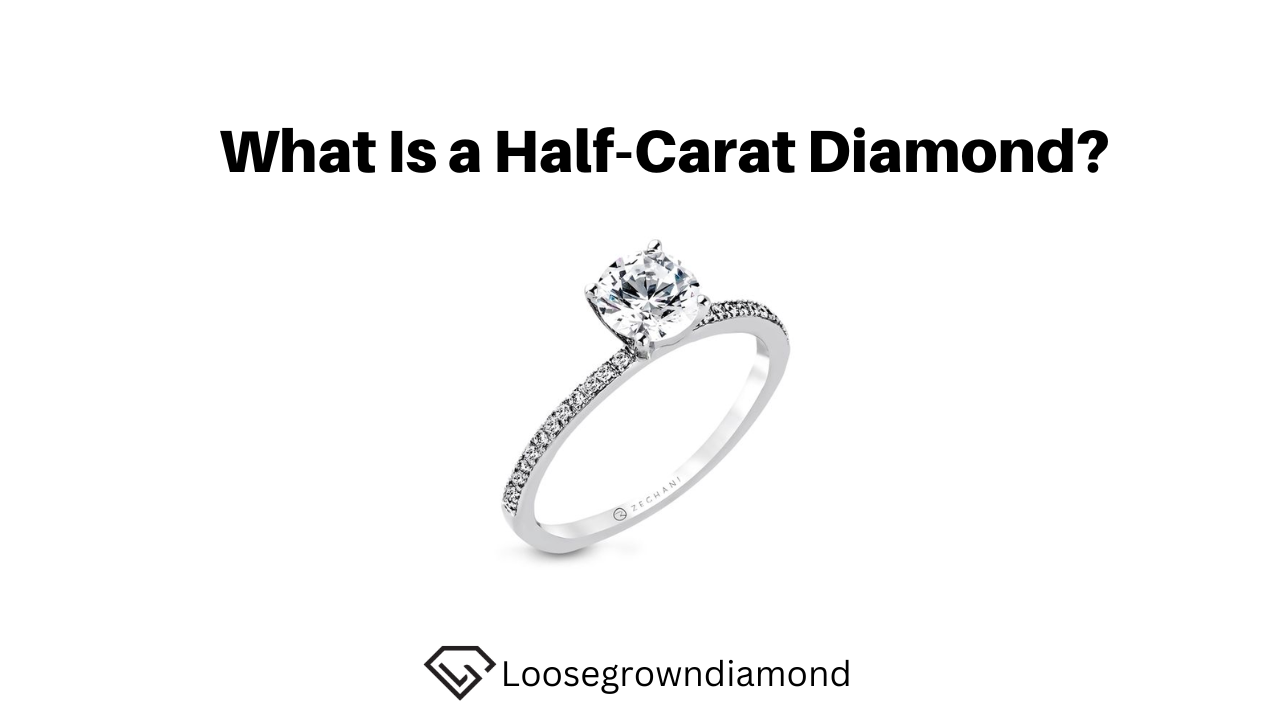 The carat is a half-carat diamond and is the diamond's weight unit. One carat equals 0.2 grams or 200 milligrams. Therefore, a 0.5-carat diamond weighs almost 0.1 grams or 100 milligrams.
A half-carat diamond ring can also be referred to as 0.5 carats, 5 carats, 12 carats, or even 50 points.
One more important thing to remember while shopping for a half-carat diamond is that the carat always refers to the weight of a diamond and not its size. A higher-carat diamond doesn't need to always appear bigger and be a better diamond.
The cut quality of a diamond is the main thing that influences its size. The shine and brilliance of a diamond also depend on the cut. It helps optimize the light arrangement to bring the diamond to life and infuse it with intelligence.
A big diamond with a dull shine is not worth it, but a smaller diamond with a perfect cut will look bigger and more beautiful.
How Much Does a Half Carat Diamond Cost?
When we talk about a half-carat diamond ring price, the major pricing factor for the ring would be the carat weight of the diamond. particularly for the price of a single carat and the weight value for its weight category.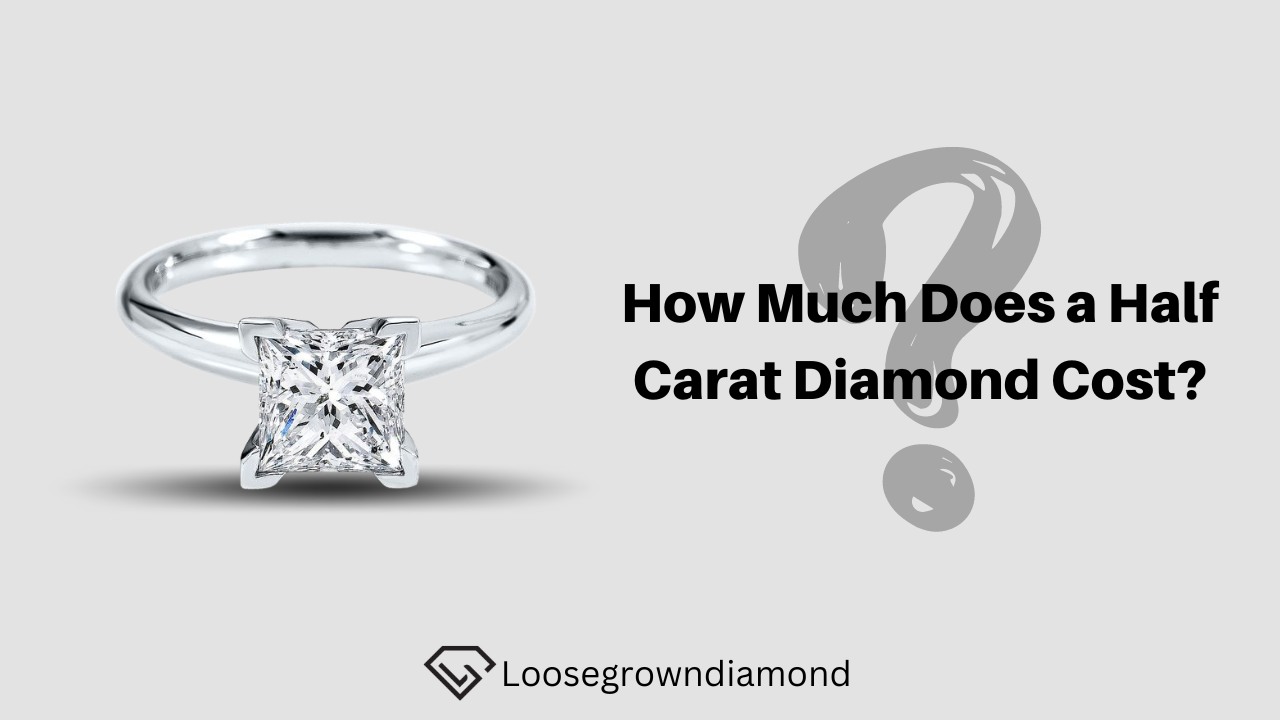 To get the price per carat, divide the total price of the diamond by its given weight. For example, if we take 1 carat, it costs about $3,000, so its price per carat would be $3,000. Same as above, if we consider a half carat, it costs about $1,800, and then by doing calculations, we get $900 as its price per carat.
Like all other carat diamonds, the 0.5-carat diamond will get a price tag based on its color, cut, and clarity grades. If we talk about a 0.5-carat diamond with a good cut, VVSI clarity grade, and E color grade, it will cost around or above $900.
On the other hand, if we look at a half-carat diamond with a similar cut and clarity grade but a little lower grade for color (H), its price could fall by $100 to $150. Additionally, we have an online diamond price calculator for you.
From the example, we can understand that a single factor can affect the price tag heavily. However, if we balance all three Cs—clarity, cut, and color—the two diamonds can have a similar price.
Half Carat Diamond Shape
Half-carat diamond engagement rings are pretty popular in the engagement ring category. Generally, they are considered average-sized diamonds, but the right shape or cut can make the diamond appear much more lively, shinier, and bigger.
Below are some types of diamond shapes for a 0.5-carat diamond ring:
Should You Buy a Half Carat Diamond Ring?
Yes, you should go for a half-carat diamond ring without a doubt. The stone has an executive appeal in terms of unique rings; it lies on the sweet spot of size, neither too big nor too small.
A large proportion of engagement rings lie in the half-carat to one-carat range. If you want a decent-sized engagement ring, you can go for a 0.5-carat diamond ring without hesitation, as it looks big enough to complement your hand.
If you choose a high-quality cut and a bigger-appearing shape, then the great combination of sparkle and the elongated shape will make the diamond look bigger and sparkle more.
However, you should be alert when selecting the color and clarity. Make sure you are not paying too much extra for something that could come at a cheaper cost.
Tips for Buying a Half Carat Diamond Ring?
Use a halo setting: We recommend you use a halo setting to increase the size of your 0.5-carat diamond ring. By encircling small diamonds around the center stone, you can create the illusion of a single big diamond when seen from a distance.
As diamond prices increase after every half-carat, you will save money by using this method. And also obtaining a ring that appears to be larger than it is.
Select lower color and clarity grades: The advantage you have when buying a half-carat diamond ring is that you can choose a lower grade for color and clarity. This is because it is tough for the naked eye to detect any color or flaw in such a small stone. By doing this, you can save money and invest it in other factors, such as the ring's metal, to make it look more beautiful.
Choose a fancy diamond shape: A diamond that looks bigger for its carat weight is made in fancy shapes like an oval, a heart, a pear, or a marquise. The elongated outline makes the table/face of the diamond appear larger. Besides looking bigger than the classic round diamond, the fancy shapes also have a lower price per carat. A reduced percentage of rough materials is wasted during the cutting process. Besides all this, fancy shapes tend to stand out and make the ring look unique.
Thing prongs for solitaire: In a solitaire setting, use thinner prongs to make the central stone appear larger. To achieve this effect, the prong size should be greater than 1.6 mm and less than 1.8 mm. The main stone will look bigger in a four-prong setting with such thin prongs.
0.5 ct diamonds over 1-carat diamonds: If you choose a ½-carat diamond ring over a 1-carat ring, you can get two half-carat diamonds on your ring for the same or even a lower price than 1 carat. This is all because when you reach whole numbers in carats (1 ct, 2 ct, 3 ct, etc.), the demand for these carat weights is high, and thus, their prices are also high.
Where to Buy a Half Carat Diamond Ring?
A half-carat diamond ring is the best way to represent your commitment to your significant other, along with your determination to be together always and forever. So there are many things to pay attention to when buying a 0.5-carat engagement ring.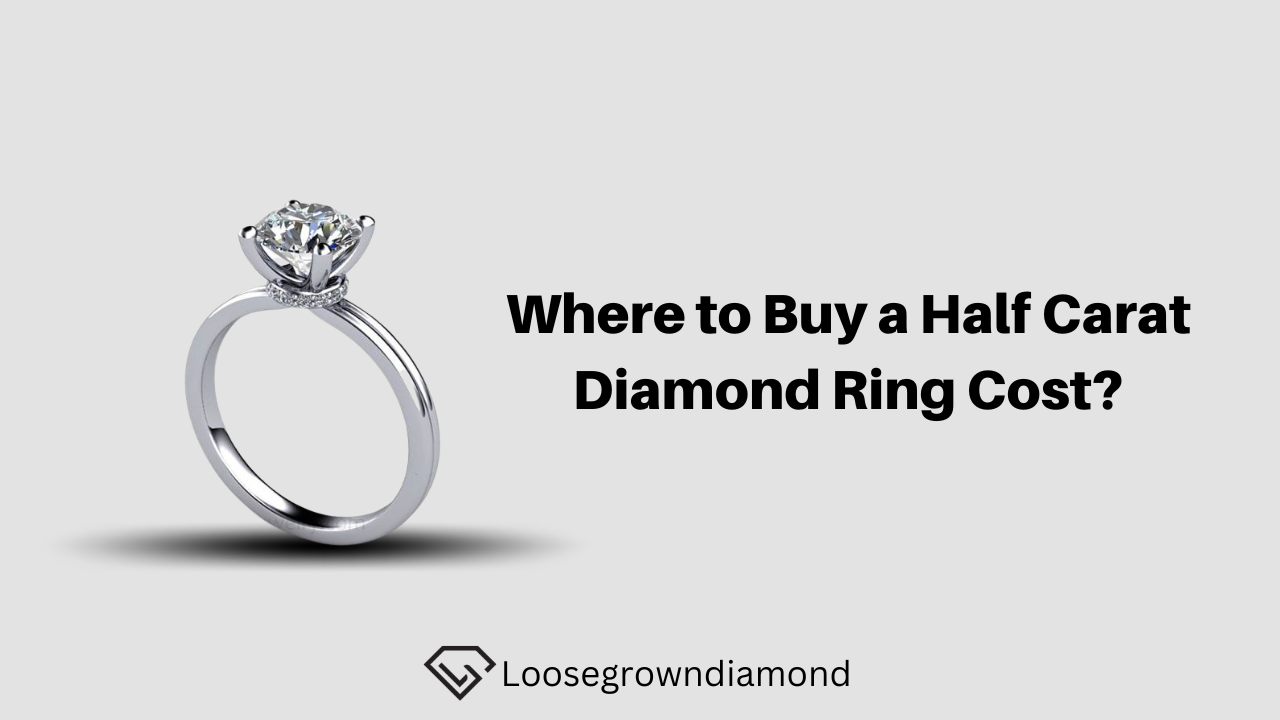 Commonly, there are two ways to buy a ½ carat diamond ring. The first is to buy from standard retailers or jewelry shops, and the second option and most preferred is to buy online.
If you have decided to visit a jewelry store to buy a diamond, you first converse professionally with the diamond seller. They can advise you in a good way, give you information, and help you find the perfect diamond ring. Choose the diamond based on color, carat, clarity, and cut grades. After agreeing on the choice and the price, go through with the necessary details.
If you go to online diamond stores to get your diamond, make sure that the online jewelry store is real and reputable. You can get half-carat diamond rings at a lower price in online stores as they don't include diamond retailers and diamond broker channels; hence their price has been cut off.
You can also evaluate their service by reading all of their previous customers' reviews. Make sure, wherever you buy diamonds from, the company and their diamonds are certified by reputable labs (GIA, IGI, etc).
We at Loose Grown Diamond offer the best-in-class half-carat diamond rings and other diamond jewelry at the lowest price in the market. Be sure to check out our inventory.
Best Half Carat Diamond Engagement Rings
Half-carat diamonds are a splendid choice, but which style will go best with your right hand? Though a half-carat diamond engagement ring will look perfect in almost all designs, some will look more stunning on certain fingers.
Some people like to show the diamond area more, while others like to line the diamond with metal. The design of your engagement ring depends on your taste and personality. You can add color, metal, and different types of settings as per your choice.
Below are some of our best half-carat diamond ring designs. You can get an idea from them.
Halo Half-Carat Diamond Ring: If you have a vintage-style taste for rings, this setting is definitely the perfect choice. Halo settings gained popularity in the 1830s and are still going strong. The setting has small diamonds, called melee diamonds, on the band around the center.
This will add an extra shine to your 0.5-carat diamond ring while making the diamond appear significantly larger.
Cluster half-carat diamond ring: This setting is similar to the one above, as it has a big central diamond surrounded by multiple small stones.
The main attribute is that the small diamonds should follow the same shape as a central diamond to be termed a true cluster ring.
Solitaire Half-Carat Diamond Ring: The solitaire setting would be perfect for your diamond engagement ring to highlight the beauty of the half-carat diamond ring.
A 0.5-carat solitaire diamond ring is the best of both traditional and modern looks. It goes with all kinds of aesthetics.
Bezel-Set Half-Carat Diamond Ring: This setting is mainly used to hold the diamond in place. Bezel settings have a slight metal overlap with the edges of the stone. This setting is perfect for keeping your diamond safe.
This setting will make the diamond appear a little bigger for a half-carat diamond ring due to the metal overlap.
Three-Stone Half-Carat Diamond Ring: Three-stone rings are one of the most classy and elegant engagement rings. But a little carelessness can spoil the look of your ring.
Make sure to know the shape of the center and side stones; they should either be similar or work well with each other.
Conclusion
A half-carat diamond ring is a pretty good size for an admirable and good-looking engagement ring. As a buyer, the most important thing you should prioritize is the cut and shape of the diamond when it comes to a half-carat diamond.
Due to the small size, it is hard to see any tint or inclusion flaws with the naked eye, so you can save money by choosing lower grades for these factors. Also, if you want your diamond to appear bigger, smart choices in shape can fulfill such demands.
Frequently Asked Questions (FAQs)
Is a 0.5-Carat Diamond Ring Good?
Yes. If you have a low budget but are still planning to get a diamond ring for your loved one, then a 0.5-carat diamond ring is one of the best choices. A half-carat diamond ring can cost you relatively less than a one-carat diamond and offer you a decent shine.
Is a 0.5-Carat Ring Too Small?
It's not too small; the 0.5-carat diamond ring is considered the average size in the engagement ring category. For a bigger look, you can opt for a halo setting.
Is 0.5-Carat Good for An Engagement Ring?
Yes, you should go for a half-carat diamond ring as your engagement ring. It is a good size for engagement rings; it lies in the popular spot in terms of size, neither too big nor too small.
How Big Is a 0.5-Carat Ring?
The carat is a half-carat diamond and is the diamond's weight unit. Because one carat equals 0.2 grams or 200 milligrams, a 0.5-carat diamond will weigh approximately 0.1 grams or 100 milligrams.