What are SI Diamonds? – An Incredibly Valuable Guide For You
There are so many factors to judge a diamond, but one of the important factors is its clarity. SI diamond clarity is one of the main factors that can change your buying decision. Sometimes this factor can hamper your decision and due to this, you might do a bad purchase. 
So, in this blog, we are going to tell you how you can judge an SI diamond and its SI clarity. These factors are going to help you a lot when you are going to buy one.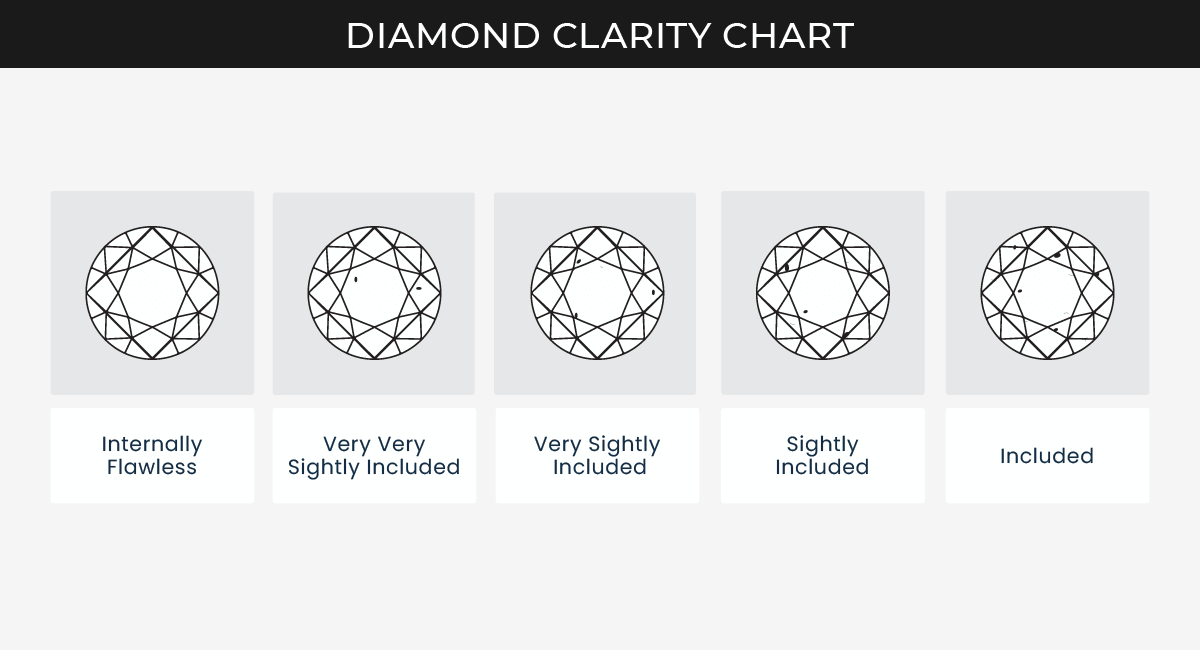 There are some cons if you are buying a diamond online. You cannot see the actual view of a diamond, which means you will not be able to find out impurities and imperfections in the diamond that can be examined by magnifying glasses.
So, make sure that you pick a trusted brand and website where you are going to purchase a diamond.
What Is SI Diamond?
SI Clarity Diamonds are the easiest on-pocket yet quality-worth diamond for a large customer base. It is a fact that all diamonds have flaws, even Flawless ones. 
However, these imperfections seldom come to the notice of normal scrutiny of a consumer. It is only certified experts that get into the nitty-gritty of diamond clarity that has minimal variations. 
For people with a tight budget, SI diamonds are the ideal choice as they appear the same as Very Slightly Included diamonds but usually vary by a great margin in terms of price. 
The question is: do you buy the first thing in sight or do you want to contemplate and get the fundamentals to bang on with every purchase? 
The point worth keeping in mind is, whatever the choice might be, will it have a big impact on your own or people's perception of it, both limited by appeal and your perception? 
SI diamonds will definitely get you the brownie points of making a selection with no visible flaws and save an extra buck. 
The only thing to be wary of is to make sure the diamond's fingerprint does not have markings that obstruct light to the point of splitting the appearance with a rock or being noticeable from a considerable difference. 
SI diamonds are the best seller of the bunch since they are eye-clean and economical.
Types of SI Diamonds: Here, SI stands for Slightly Inclusive. In this range of clarity, some inclusions can be seen by the naked eye but are hard to find. These SI diamonds are classified into two kinds. The first is slightly inclusive 1 (SI1). These diamonds have small inclusions which can only be seen by magnification, and the second is slightly inclusive 2 (SI2). These diamonds have larger inclusions that can be seen by the naked eye.
Si1 vs Si2 Diamond Clarity: SI diamonds vary from SI1 and SI2, wherein the first one has considerably less concentrated and lighter inclusions compared to the first one. Although the size of these inclusions does not cross-medium throughout the range, this variation can be located anywhere, from the table of the diamond to the girdle.
The smallest infliction in this location can have a huge impact on the overall look of the diamond, and hence the purchaser must have a keen eye for spotting these infirmities and judging their impact.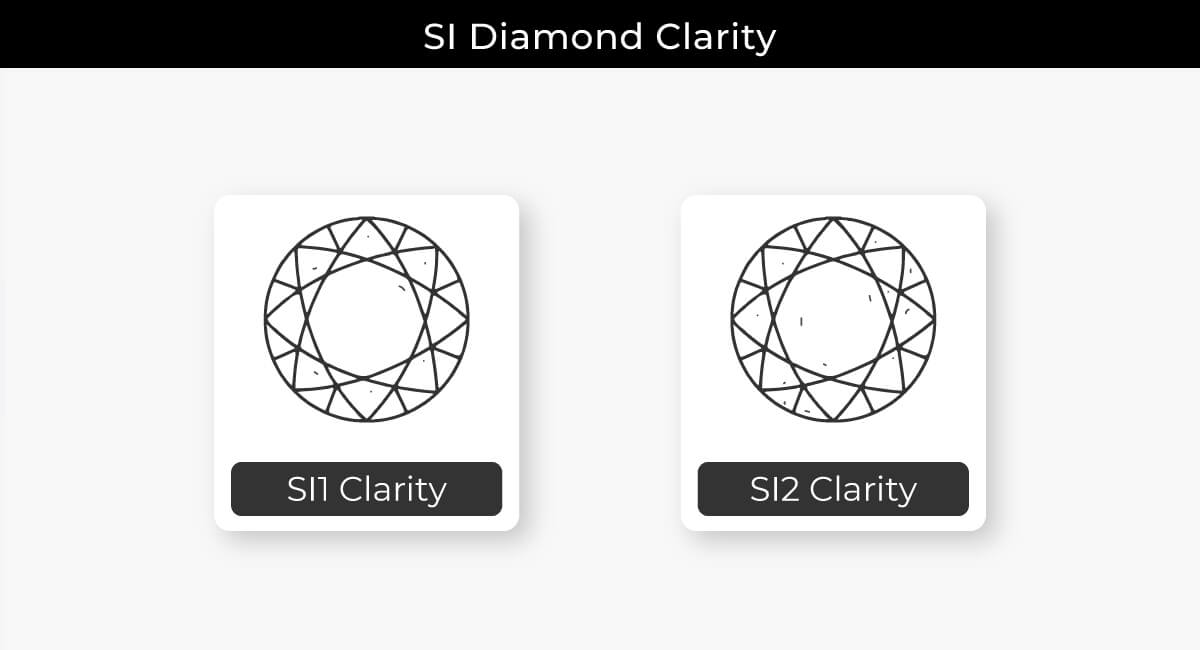 Technically, both SI1 and SI2 clarity have inclusions that the naked eye might catch, however, there are key differences between both SI diamond clarity that make the SI clarity a clearly better selection.
SI1 vs SI2 diamonds debate usually centers around the moot point of the amount and type of inclusions these stones have. SI1 diamonds typically tend to have lesser and less contrasting inclusions than SI2.
Although the difference between any two adjacent clarity grades is virtually impossible to pinpoint. SI2 can have a relatively hazy appearance when looked at closely. With respect to price, SI1 is priced 10-20% lesser than VS diamonds and delivers more or less the same quality.
In such circumstances, it is always beneficial to choose SI1 diamonds as a budget-friendly yet affordable option. 
Clarity Features to Look Out For
The inclusions listed above can be in any number, size, or even color. For instance, white or translucent inclusions affect the appearance far lesser than dark-colored inclusions do. As mentioned earlier, the location of these flaws has far-reaching consequences too. 
If the inclusion is situated smack in the middle of the stone or near the table will have a larger impact on the brilliance of the diamond than the ones on the surface or edges will. 
It must also be remembered that the inclusions on the edges can be alleviated with a cover-up through cutting or prongs, but the interiors of the diamond cannot be touched and will remain out of the control of both the jeweler and the consumer.
Factors to Consider When You are Buying an SI Diamond
Here are the four most important factors you should know before buying a SI diamond:
Diamond 4C's:

You may have heard of 4C quality diamonds. These "4Cs" simply denote color, carat, cut, and clarity. 4Cs is a popular way to understand diamonds. However, you can lower the price a bit by focusing on the color and clarity rating of a diamond that, when seen by the naked eye, appears as a clear diamond.

Shape: The diamond shape is the starting point for ring design. Every shape is unique in its way. Round diamonds are the most commonly used diamond form for engagement rings and are the prettiest. For SI diamonds, fancy shapes are preferred, like oval, cushion, radiant, or even heart shaped diamonds.
Certification of diamonds: We always recommend buying certified diamonds issued by a reputable gemstone lab. It is the safest way. The Gemological Institute of America (GIA) and the International Gemological Institute (IGI) are the two most trustworthy geological laboratories. A certificate guarantees the quality of a diamond by listing its cut, color, clarity, and weight. This protects a buyer's investment by making sure that gems keep their value over time.
Lab grown diamonds or natural:

Natural and lab grown diamonds are real with the same molecular formula and the same chemical composition. Some people might think that lab grown diamonds will have no inclusions because they are lab grown under controlled conditions, but that's not the case. They are just as eye-clean. The price of lab-grown diamonds is much less than that of natural diamonds because lab grown diamonds are not rare.
| | | | | | | |
| --- | --- | --- | --- | --- | --- | --- |
| Shape | Carat | Cut | Color | Clarity | Price | |
| round | 2.59 | Ideal | F | SI1 | $1020 $867 | View |
| round | 2.50 | Excellent | F | SI3 | $1039 $883 | View |
| oval | 2.50 | Ideal | G | SI1 | $2004 $1503 | View |
| pear | 2.50 | Ideal | H | SI1 | $1553 $1165 | View |
| round | 2.51 | Excellent | F | SI1 | $1455 $1237 | View |
| cushion | 2.57 | Ideal | F | SI3 | $1380 $1035 | View |
| round | 2.50 | Ideal | G | SI1 | $973 $827 | View |
| round | 2.50 | Ideal | G | SI1 | $1056 $898 | View |
| round | 2.52 | Ideal | F | SI1 | $1073 $912 | View |
| round | 2.57 | Ideal | F | SI1 | $1092 $928 | View |
| round | 2.50 | Excellent | G | SI1 | $1186 $1008 | View |
| round | 2.54 | Excellent | I | SI1 | $1044 $887 | View |
| oval | 2.60 | Ideal | F | SI3 | $1656 $1242 | View |
| oval | 2.50 | Excellent | H | SI1 | $61804 $46353 | View |
| round | 2.56 | Excellent | D | SI1 | $2896 $2462 | View |
| cushion | 2.50 | Ideal | H | SI1 | $4720 $3540 | View |
| round | 2.50 | Ideal | H | SI1 | $1207 $1026 | View |
| oval | 2.59 | Ideal | G | SI1 | $1613 $1210 | View |
| round | 2.59 | Ideal | G | SI1 | $935 $795 | View |
| round | 2.51 | Excellent | G | SI1 | $1191 $1012 | View |
What Are SI Diamonds Types Of Inclusions Or Blemishes Found In Them?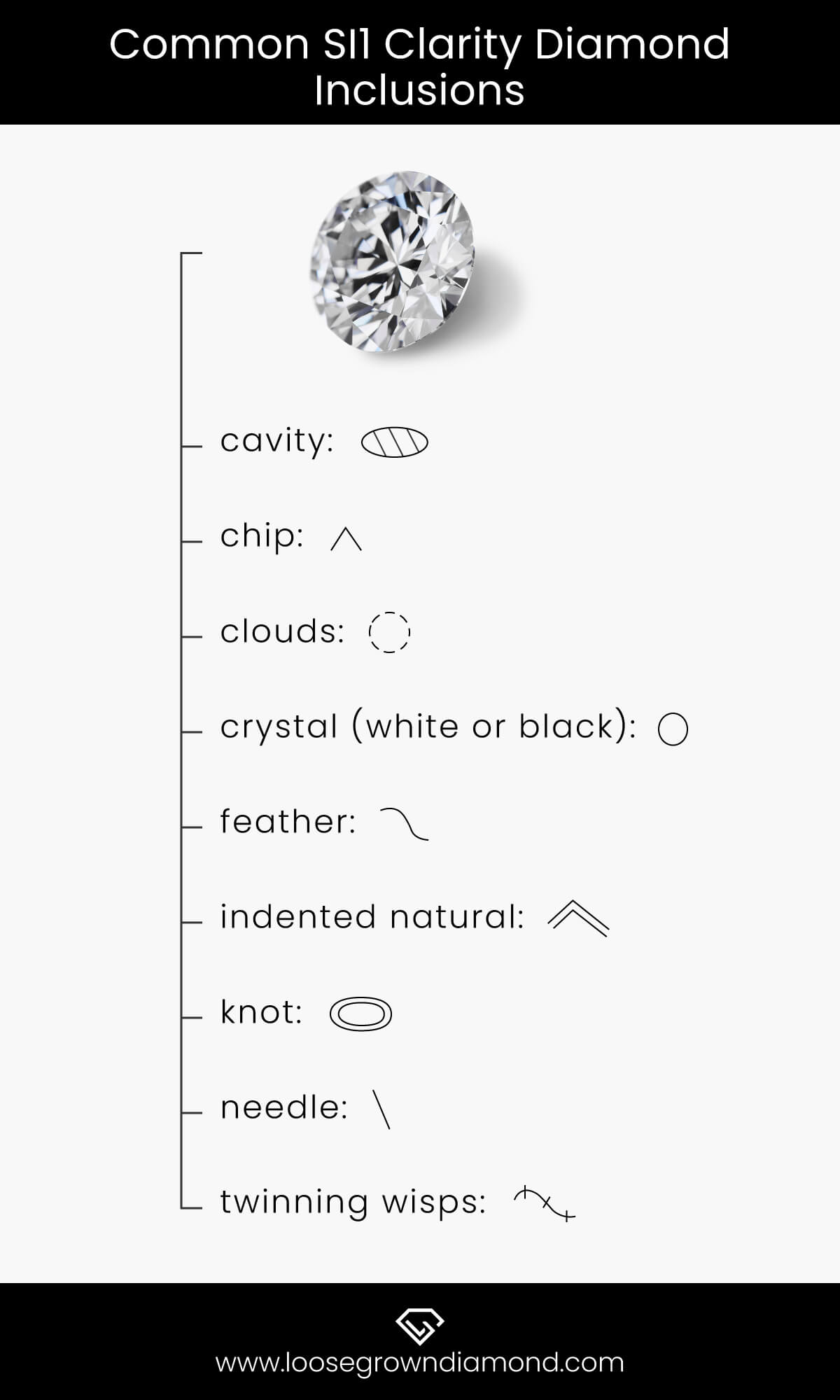 Common SI1 inclusions are pinpoints (small black dots at the table of the diamond), needle (small white crystalline), knots (crystal inclusion that reaches the surface), crystals (mineral deposits in the interior), cavities (small holes on the surface), chips (daily wear and tear), clouds (cluster of pinpoints) and feathers (tiny cracks on the exterior that may compromise the structure of the diamond).
Is An SI Clarity Diamond Considered A Good Choice For An Engagement Ring?
Yes. Although a SI diamond's clarity will not be flawless, it will look lovely and retain its value. Anyone would be hard-pressed to find any inclusions if they looked closely enough. That is, assuming you stay away from diamonds with visible imperfections.
A brilliant round-cut diamond under 2 carats is the most acceptable diamond shape for SI diamond.
Like other high-quality diamonds, both SI diamonds are expected to appreciate in value over time. To protect yourself, I urge that you always buy a diamond that has been graded by a respected institution such as the Gemological Institute of America (GIA).
To get the best gem, you must examine the diamond closely. You'll be able to see if that SI diamond is eye-clean this way. Having close-up photos will give you peace of mind while purchasing SI clarity diamonds.
Conclusion
A few questions that you will need to ask yourself before choosing among SI diamonds are whether the diamonds are eye-clean, whether their inclusions are deep in the interiors, will the inclusions cause chipping or breakage, and whether the same can be controlled with, say, polishing or prongs.
A holistic analysis of the diamond's blueprint as well as a very naive yet equally important test of the normal appearance of the stone will help you make the right judgment. 
So, it depends upon your preferences on how and what you want to buy. If you want to save money then you have more options or if you want to buy other diamonds then you have more options. We at Loose Grown Diamonds manufacture and sell lab grown diamonds to customers directly without any involvement of a middleman.
Fequently Asked Questions (FAQs)
Are SI diamonds real diamonds?
SI clarity grade diamonds are real. It can be a little tough for an inexperienced person to tell the difference between real and fake diamonds. However, looking under 10x magnification will get you an answer. You can find SI diamonds at a lower price than other diamonds, but that doesn't mean they have lost their value or are not real diamonds. They just have low clarity; other than that, they are good for jewelry.
What's better, SI or VVS?
Speaking in terms of clarity and brilliance, VVS is the best diamond. However, both diamonds are the best, depending on what criteria you want to fulfill. The key difference between VVS and SI diamonds is that VVS diamonds generally have fewer impurities. This results in VVS diamonds looking cleaner and selling for more than those graded as SI clarity diamonds. As VVS diamonds have fewer inclusions, they are said to be more durable than SI diamonds.
What are SI diamonds worth?
One of the best reasons for buying SI diamonds is their low prices. They can be 40–50% less expensive than other flawless diamonds. The price of an SI clarity diamond is determined by many additional factors. SI2 diamonds can be even cheaper than SI1 diamonds. The cost of a 1 carat SI diamond can range between $1800 and $3000.
Will SI diamonds pass the diamond tester?
Yes, it will pass the diamond tester. A diamond tester is a device used to check whether a gem is a diamond or not. SI diamonds are real diamonds, so they are tested as authentic by a diamond tester. It's not the highest quality diamond because of the inclusions, but it's undoubtedly real.