Secrets To Keep Lab Grown Diamond Twinkling
Diamonds are a beautiful thing. New diamonds are glowing and you of course want to keep them that way. Diamonds are a woman's best friend and taking care of them is a part of this friendship.
Diamonds are appealing and to maintain their sparkle, you need to take care of them. To keep your diamonds shining, you need to regularly clean them and make sure that they are not being subjected to harsh conditions. But how will you do this?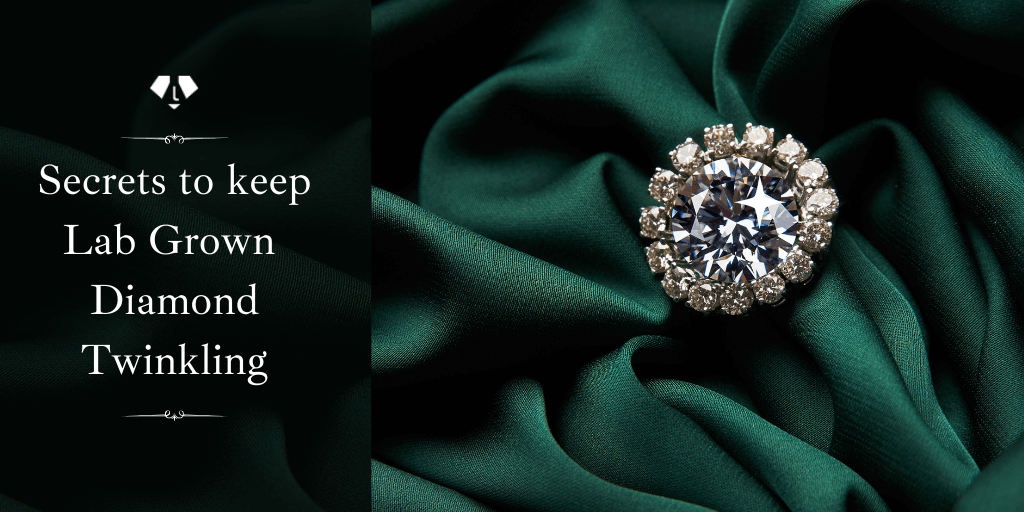 To help you out, we have created a specially curated guide for all lab grown diamond owners. We have incorporated all the do's and the don'ts that you need to know, A specially curated storage guide for lab grown diamond and detailed cleaning instructions to keep your sparkly friends in the best shape possible.
What makes diamonds grow dull?
To solve the problem, you must first know what is causing it. Diamonds lose their shine because of many reasons and it is essential that you identify what is making your diamonds lose their sparkle. We have a list of reasons why your diamonds might be getting dull.
The daily wear and tear:
If you love to wear your diamonds daily and show off that gorgeous rock, well it might be affecting the shine of your diamonds. Wearing your diamonds daily exposes them to a variety of conditions, and some of them might not be ideal.
Harsh Surfaces:
Even though diamonds are the toughest surfaces on the planet, they can also be damaged. Many surfaces can cause scratches on your jewelry. Your diamonds are tough, but the metal is more prone to scuffing, especially by rough surfaces.
House Chemicals:
If you do household chores like washing clothes, or cleaning the dishes with your diamond ring on. It negatively impacts the metal surface and the diamonds. The chemicals in detergents and dish soap are actually harsh and cause chemical reactions and corrosion when in contact with jewelry.
Cosmetics:
Many lotions, shampoos or other beauty products can cause damage to the shine. Perfumes and other fragrances are also acidic in nature and can cause corrosion to the metal surfaces and sometimes prolonged exposure to them can even affect diamonds.
Bodily Secretions:
Our body produces natural oil and other secretions like sweat. The composition of our bodily secretions is good for our body but not so good for the jewelry we wear. If you have sweaty palms or you wear your jewelry while exercising or sleeping, it might be getting exposed to excessive sweat and other bodily secretions.
Natural Elements:
Exposure to the radiation in Ultraviolet rays emitted by the Sun is not good for any type of ornaments, even diamonds. Rainwater often has industrial vapor mixed into it, which is acidic which is also bad for diamond jewelry.
Improper storage:
If you store your diamond jewelry with other jewelry, or if you keep it in the open then chances are that your diamonds are starting to get dull. Diamond jewelry needs proper storage.
Dust and Dirt Buildup:
With time passes diamonds accumulate small first particles on them. Not just on the stone itself but also on the clasps, the metal and the curves of the jewelry. This dust buildup is one of the most common reasons why diamonds lose their shine.
Also Read: The ABC's Of Engagement Ring
Diamond Cleaning 101
Cleaning your diamonds ensures proper maintenance. There many different things to keep in mind when thinking about cleaning lab grown diamonds. We give you cleaning 101 to help you out with the process. Cleaning 101 is a carefully assembled guide for lab grown diamonds.
Daily Cleaning
A daily round of cleaning at home after wearing the ring the whole day is the first quick solution for not letting your ring dull. Everyday light care is great for lab grown diamond jewelry. When you clean your ring daily, it clears all the debris that collects on it, it also cleans all the chemicals and sweat the jewelry was exposed to the entire day.
All you need to do for cleaning at home is to use a warm water solution and a soft cloth. Soak your jewelry in the warm water solution, then rinse the diamond jewelry with clean water. Wipe the jewelry with a soft clean cloth.
Deep Cleaning
Daily cleaning does prevent dirt building up on the outside, but jewelry often gets exposed to harsh chemicals, cosmetics, sweat and many more. Dirt goes deep into the jewelry, inside the clasps and the curves of the piece.
Deep cleaning involves soaking your ring in a cleaning solution for about 20 minutes. After soaking, you need to take a scrub solution and a toothbrush, and gently brush the jewelry. Remember to scrub the jewelry with a soft light hand. If you want to do deep cleaning carefully and the best way, you can even take your jewelry to a jeweler. Deep cleaning needs to be done a minimum once a month.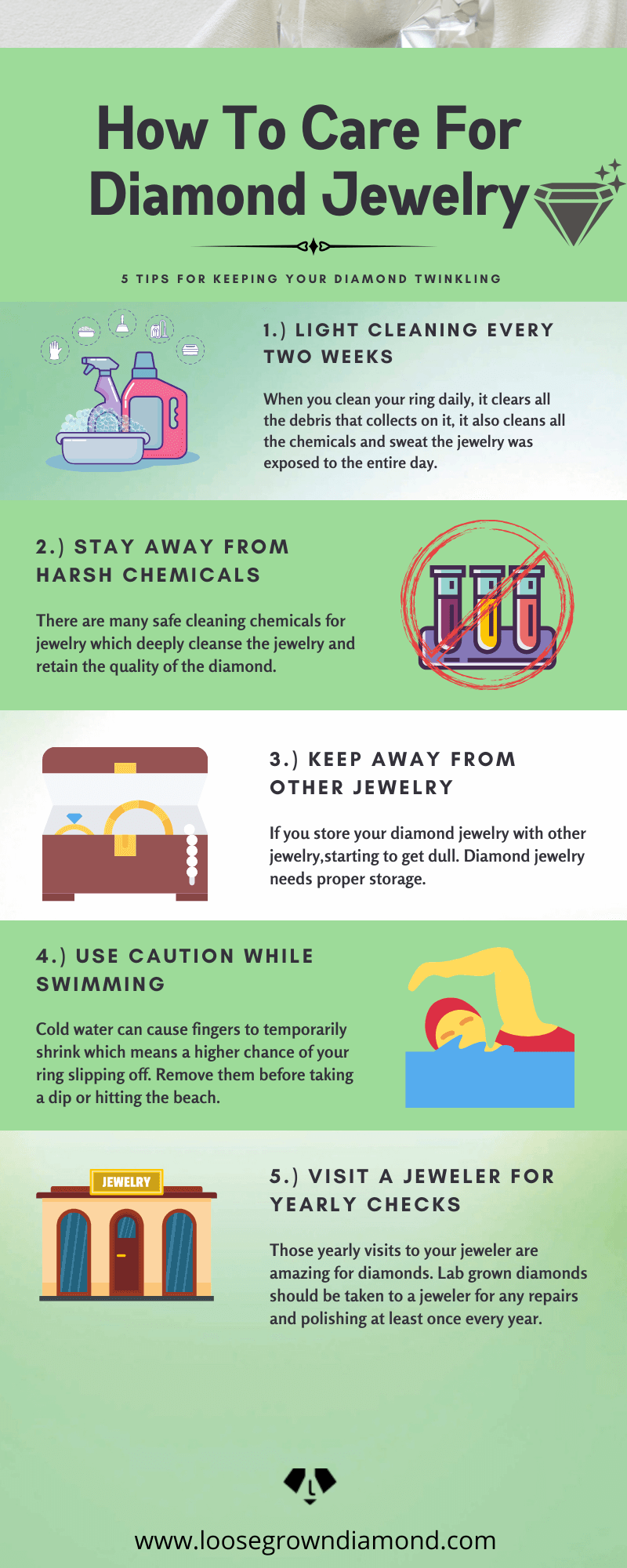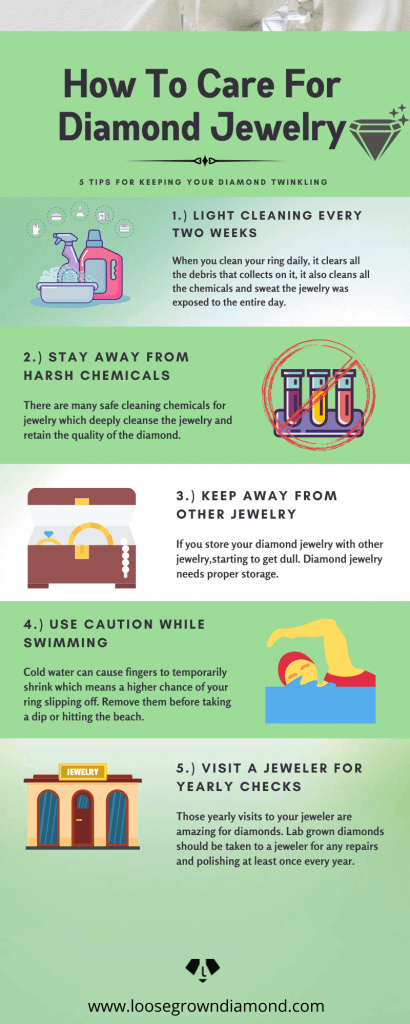 Different kinds of cleaning you can choose from
You can opt for home cleaning or you can also choose from different forms of jewelry cleaning great for lab grown diamonds.
Chemical cleaning:
There are many safe cleaning chemicals for jewelry that deeply cleanse the jewelry and retain the quality of the diamond.
Steam cleaning:
Steam cleaning is one of the best ways of cleaning lab grown diamonds. Diamonds are given steam which cleans out all the oils and dirt build up.
Professional cleaning:
As mentioned before professional cleaning is if you want to be extra careful, then taking your jewels to a professional is your best net.
2.Diamond Storage Guide
Storing your diamonds the right way can go a long way in preserving their quality and increasing their longevity.
What to store in
Store your diamonds in a soft cloth and clean jewelry box.
Store the jewelry in a cool dry place.
Store your jewelry in an airtight and leak proof box to protect it from chemicals and water.
What to avoid
Avoid storing in an area frequently exposed to sunlight or chemicals.
Avoid storing with other jewelry items
3.Prevention is better than a cure.
The best thing to keep your jewels as good as new is to keep the don'ts in mind. If you keep all of the below mentioned pointers in my mind, the diamonds will be in great condition.
Do not expose your diamond to harsh cleaners like detergents or floor cleaning chemicals.
Remember to take off your diamond jewelry while exercising.
Avoid doing tasks like moving heavy objects or working with harsh surfaces with your jewelry on.
Take off your diamond jewelry before sleeping or showing.
When applying make up, do it without wearing any diamond jewelry.
Do not leave your jewelry on surfaces which might be exposed to chemicals.
Avoid surfaces like bathroom sinks and kitchen sinks.
Also Read: Why CVD Diamond Pass Tester and HPHT Can't?
4.Insurance is the best way to go
Jewelry insurance is great incase you lose or break your diamonds. It is great for old jewelry or defected jewelry. Specified insurance for jewelry is always a great idea, especially for expensive jewels. Insurance takes care of repairs, accidents, expensive visits to the jeweler and some insurances even take care of wear and tear.
Visiting the jeweler
Those yearly visits to your jeweler are amazing for diamonds. Lab grown diamonds should be taken to a jeweler for any repairs and polishing at least once every year. Jewelers not only take care of any emergency repairs but also to bring the shine back to your diamonds.
Conclusion Thoughts
Taking care of jewelry is important. Following the right cleaning instruction, giving proper storage to your jewelry. Diamonds can add glamour to any outfit. They look stunning and are great for every look, be it formal or festive. Diamonds are the strongest known material but they need to be maintained as well. Having a nice clean necklace and a shiny ring on your finger is a great feeling and totally worth all the maintenance and effort.