Kite Shaped Diamonds: Most Fascinating Diamond With A Vibrant Cut
The kite shaped diamond is traditionally renowned because of its prolonged and angular structure. Without a question, the dark hue of this form has caught the attention of many since the stone appears to be stunning and unique.
The shape, the size and the colors, everything is so glorious that the kite shaped diamond is undoubtedly magnificent. It features a striking and distinctive aesthetic that highlights its notable and original shape.
A kite-shaped diamond emanates a vibrant, geometric, rhombus-like cut. It has a brilliant shape similar to a princess cut diamond and a step cut similar to an emerald cut diamond. 
Additionally, because of its narrow step cut, it sparkles less but yet has a peculiar aura of its own. This gem makes excellent decorative stones and is frequently used in earrings and necklace pendants. 
Additionally, a kite diamond may be used to create a design that, if they were fashioned in a manner to represent a single huge diamond, would be priceless. 
For illustration, you can create a star form by joining the tips of five distinct kite diamonds. Doesn't this make them fascinating? To know more about this shape of a diamond, read till the end because in this article we are going to cover every aspect of a kite shaped diamond.
Kite Shape Diamond
Since the Art Deco era, which was in the 1920s and 1930s, kite shaped diamonds have been a popular extravagant cut among those looking for an unconventional yet contemporary gem for their jewelry.
Regardless of the widespread use of dazzling white gems, kite-shaped diamonds are more widely available than other unusual gems like salt and pepper, gray, and black diamonds.
Colored kite-shaped diamonds can give you a celestial view as these gems seem to contain tiny cosmos inside their facets. They are the ideal option for kite diamonds due to their uniqueness and how they seem after this particular cut. They have a stunning quality that isn't overtly obvious in their beauty and originality.
Secondly, they might be utilized to make a structure that would be far more expensive if it were made of one enormous diamond. For instance, you might combine the points of five separate kite patterns to produce a star shape.
The form is starting to gain traction as a center stone. Due to its step-cut characteristics, the kite diamond still sparkles subtly, resembling stars in the night sky. People still use it as a side-stone by placing it on both sides of a round brilliant, cushion cut or princess cut diamond.
Price of Kite Shape Diamond
The kite shape has been referred to informally as "the diamond cut diamond" due to its elongated length and four prominent features. It mimics the shape that children frequently draw when attempting to relate to diamonds. 
Since the kite shape outshines other shaped diamonds, the price of this type of diamond will surely have a vast range. The price for a kite-shaped diamond ring starts at $1,200. 
Talking about the ceiling price of such kite shaped engagement rings tops out at $25,000+ per ring. So, for an average price which you should consider beforehand, a kite shaped diamond should be selling for $4,000 per carat. 
A traditional kite-shaped diamond engagement ring can serve as both a basic engagement ring and a wedding band. There are kite shaped diamonds that typically cost $20,000 in total. These gems feature a very precise cut making them a fantastic option if you want to go all out. 
Also, if you are looking for a rustic kite-shaped diamond, it will cost you roughly $2500 per carat, with the size being 2-10 mm (diameter). 
We hope you have gotten a rough estimate about the pricing of kite shape diamonds. For the exact details, it is advised to visit an online store's inventory so that you can compare the prices along with the designs and choose the best option available. 
We at Loose Grown Diamonds have a vast inventory of numerous lab grown diamonds. Have a look and if you need any help feel free to contact us.
Clarity of Kite Shaped Diamond
The GIA's qualitative metric called diamond clarity assigns a grade to each diamond's appearance. A diamond's clarity grade will be higher if it has fewer inclusions or blemishes. 
A small high-clarity diamond will shine and sparkle with greater intensity than a bigger lower clarity diamond. This goes for all diamonds including kite shape diamonds.
Regarding the kite form, a fancy-shaped black diamond is also an ideal choice for vintage jewelry. The grade of these exquisite natural black kite diamonds if high will make the ring look extraordinary. The majority of jewelry designers like black diamonds which are of exceptional AAA grade and are jet black. 
Compared to VS2 clarity, which is a lesser grade, VVS1 is a greater clarity rating. At VVS, the grade is determined by pin-like inclusions which are impossible to look at with the naked eye. The value of a kite-shaped diamond's clarity is influenced by its size and shape as well as other diamond qualities.
A Flawless (FL) grade diamond is without a doubt the clearest type of diamond, even for kite shape diamonds. Minor inclusions are more noticeable in VS diamond grades than in VVS diamond grades, although at 10X magnification, even they are visible. 
Under magnification, SI grade inclusions are bigger and easier to see, but if the diamond is eye-clean and the flaws are strategically placed, SI clarity grading may frequently be a buyer's greatest friend. These are some characteristics that will aid in your search for a kite-shaped diamond with the best clarity grade.
Should You Buy a Kite Shaped Diamond?
A diamond in the shape of a kite! Yes, a kite shape diamond ring may be the unique yet stunning engagement ring you are searching for. 
These gorgeous jewels have a heavenly appearance that is sometimes disregarded because of their imperfections. Despite the imperfections, kite-shaped diamonds are uncommon and may create a unique and beautiful engagement ring. 
These stones have a galaxy-like form, with each of their facets containing a distinct component of the galaxy. The pointy shape gives it an elongated look which makes it a preferred choice among buyers.
This stone fits people's design ideas despite not being a conventional shape. Simply because it makes a stunning setting for an engagement ring. 
A kite shape diamond has two sides, one which is flat and has a big table while the other has a step-cut. The jeweler typically chooses the step-cut side since it has a more geometric appearance. 
So, if you are searching for something different yet want a diamond, you can go out for a kite-shaped diamond because it is not mainstream but is still glamorous and surely it will add beauty to any piece of jewelry it is placed on.
Our Top 6 Kite Shape Engagement Ring Settings
This shape in itself has a unique design, but there are different settings available which can enhance the beauty of a kite shape diamond engagement ring. The choice of setting is vital to determine the vibe of the ring. Let's talk about the different settings a kite-shaped diamond can be placed in: 
Halo setting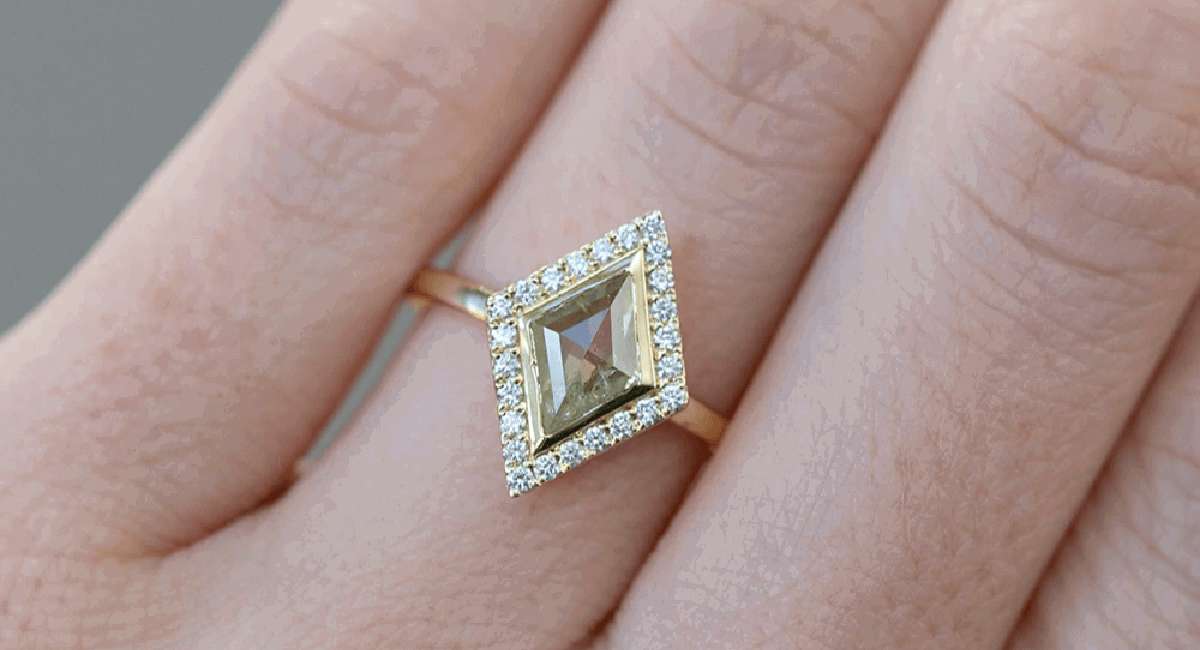 A ring type known as a halo setting has a central stone encircled by several side stones. Regarding the halo effect in a kite-shaped diamond, a single layer of extra stones on the halo setting can increase the appearance of the main diamond's size by up to a half carat.
It provides a less expensive alternative to a solitaire setting where the item's total carat weight (CTTW) is contained in a single diamond since it divides the CTTW of the piece across many jewels. 
The single, double, and triple halo effects are only a few of the variations available within the halo effect. In a single halo ring setting, a kite-shaped diamond will be encircled by one layer of stones.
The center diamond is surrounded by two layers of jewels in a double halo, which is comparable to a single halo. The triple halo effect goes the same. When choosing a type of halo effect for your kite-shaped diamond ring, you must first decide if you want the jewel levels to complement or contrast one another.
Pave setting
In a pave setting, small diamonds or gemstones are implanted into the base or circle of a ring and secured by tiny hooks or beads, giving the impression of a continuous line of sparkling. The stones will be positioned so tightly together that the metal below them won't be visible. 
This setting's ultimate objective is to give the impression that glittering, freestanding stones are covering the whole surface of the ring. Talking about the pave setting in a kite-shaped diamond ring, if you think your ring could ever need to be resized, the best option is a semi-pave band rather than a complete one. 
On a broader band, a thinner, more delicate band, a split shank, or even a crisscross pattern, diamonds can be placed in rows. Whatever pave you select will provide a field of glitter that is amplified.
Prong setting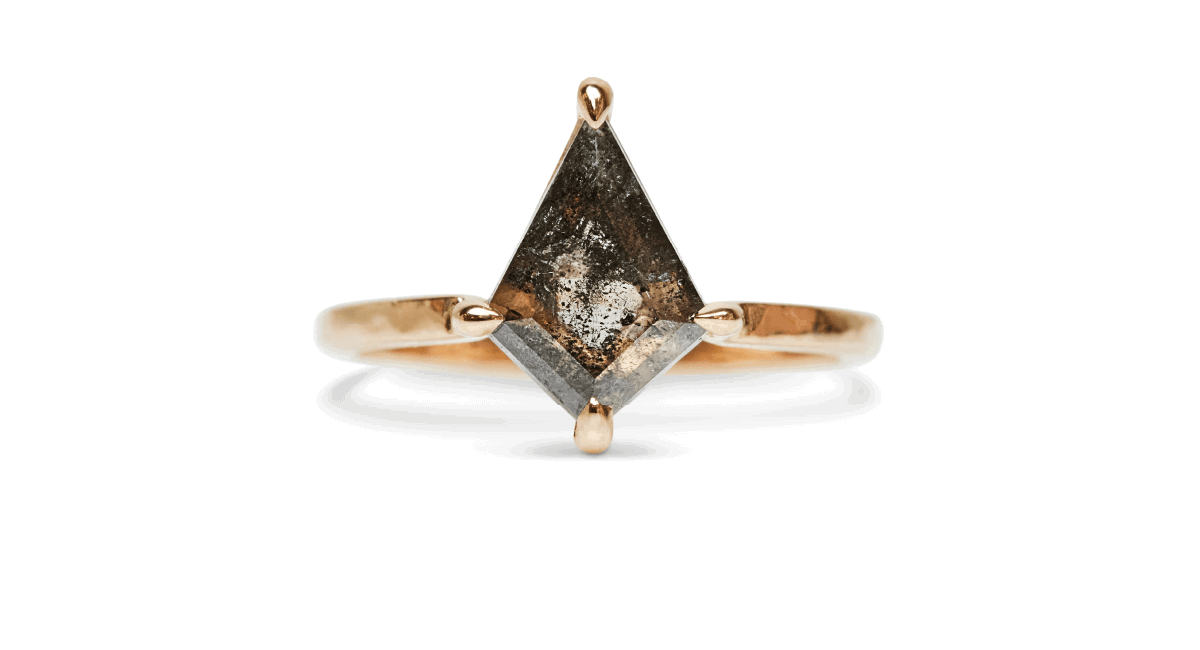 A prong setting secures the diamond while letting light easily travel through metal prongs that are used to keep it aloft. There are two alternatives for the number of prongs in a kite-shaped diamond ring: 4 or 6. The prongs can be flat, rounded, pointy, or v-shaped. Your gorgeous kite-shaped diamond's characteristics can be enhanced by using prong settings. 
The diamond's fire and brightness are increased by the prongs' large openings for light. On the other hand, you don't want prongs that are too big or thick since they would obscure the center's lovely kite form. In a perfect world, you would strike a balance between prongs that securely hold the diamond while yet allowing it to take center stage.
Bezel setting
It is referred to as a bezel setting when the diamond or gemstone is encircled by an arc with a thin metal rim. 
The gem is held in place by a metal collar that is formed around it. In addition to being useful, this setting gives the jewelry piece a touch of elegance. 
There are three bezel setting styles available for kite-shaped diamonds: complete, partial, or ornamental. 
For a kite-shaped diamond, the extra metal creates a streamlined form that looks good and goes well with the kite's central shape. The bezel offers outstanding protection, even though it could lessen brilliance. 
Light from the sides cannot enter the diamond since the bezel setting surrounds the gem's periphery. Bezel rings might cost more than other settings due to the weight of the metal and the difficulties of making the setting.
Three-stone setting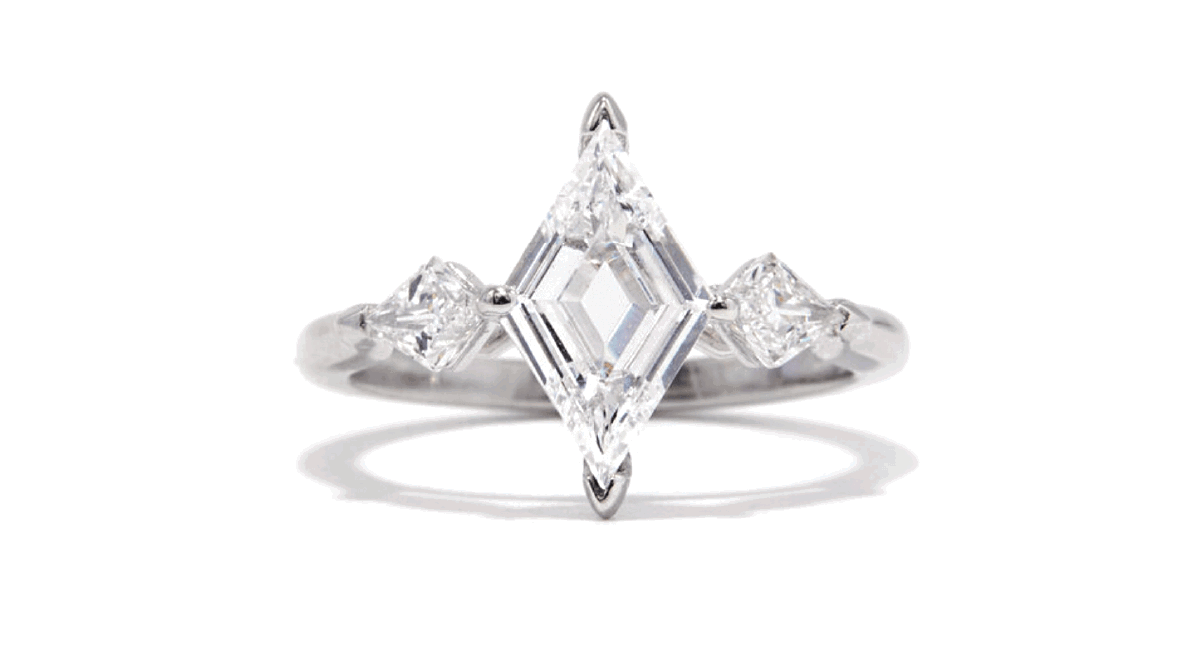 The three-stone setting, also known as the trilogy ring setting, is a well-liked option for a variety of events, particularly when purchasing engagement and anniversary rings. 
As you have undoubtedly guessed, there are three diamonds arranged side by side in this setting. As the three gemstones or diamonds stand for the kid and the parents, couples frequently purchase them for the birth of their first child. 
In essence, a three-stone kite-shaped diamond ring will just have three diamonds set one after the other in the center, giving the band this name. 
The three stones are frequently seen as a symbol of the past, present, and future, and this arrangement is considered romantic because of its eternal appeal. There is no doubt that the three-stone setting has exquisite symbolism, but how you choose to interpret it is all up to you.
To get all you want out of a three-stone engagement ring, you'll need to do a little more study and budgeting, but if you strike a balance, you'll love your brilliant trio for years to come!
Sunburst setting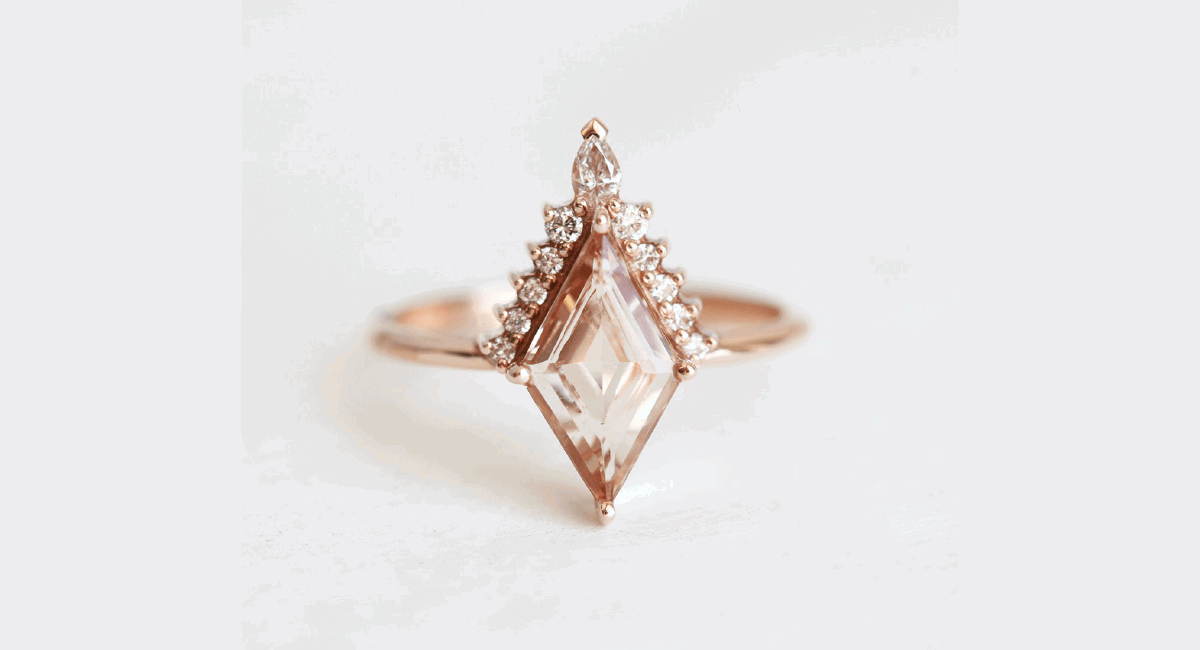 Smaller diamonds are arranged in a sunburst pattern so they look like one bigger diamond. A huge center stone or a collection of stones of different sizes can be found in a sunburst ring.
In a sunburst kite diamond ring, the diamonds frequently take the form of an original pattern, like a flower or starburst, or a geometric shape like a square.
Additionally, this setting looks wonderful with a kite shaped diamond. These rings often cost less than solitaire rings since they don't include as large of a diamond. The price of a ring is influenced by the precious metal, diamond grade, and carat weight.
Conclusion
Without a doubt, the kite-shaped diamond is a superstar in the diamond market. It shines into light more quickly than other cuts because of its expanded form, which would be greatly facilitated by four distinct lines. 
The final two columns, which are the longest, triumph at the end of the composition while the other two lines are angled to finally meet at their highest point. 
Most of us choose to keep things simple by calling it Kite Cuts instead of Diamonds since calling it Diamond might be deceptive. Have a look at kite shape diamond engagement rings today and select one for your significant other!
FAQs
Are kite diamonds rare?
Yes, kite-shaped diamonds are rare because of their shape and brilliance. Asymmetric cut along with different silhouettes is what makes it unique. Due to their distinctive hue, most kite-shaped diamond rings are in high demand yet rare.
Which diamond shape has the most sparkle?
Although theoretically, round diamonds will dazzle the brightest, various other elements might enhance a diamond's brilliance. 58 facets make up the facet design of the round brilliant cut, which guarantees that light can flow through it in a way that produces the ideal brilliance.
What is a kite-shaped diamond?
A well-known rhombus size and shape is the kite shape. The kite-shaped ring has an attractive appearance because of its elongated design, pointed four corners, and brilliant facets in shades of black or gray. It is also called "diamond cut diamond".