The most popular lab created diamond engagement rings
Everyone knows that diamonds are forever, which is why it is not surprising that it is such a popular stone for engagement rings. After all, when it comes to picking the right stone for the person you want to spend the rest of your life with, what can be more long-lasting than a diamond? But precisely because of this longevity of the diamond, you need to keep in mind that the diamond engagement ring that you buy for your fiance is going to stay with you for a very long time. This is why, it is important to pick a design that is not only appealing to your partner, but is also a classic that will look amazing for the years to come.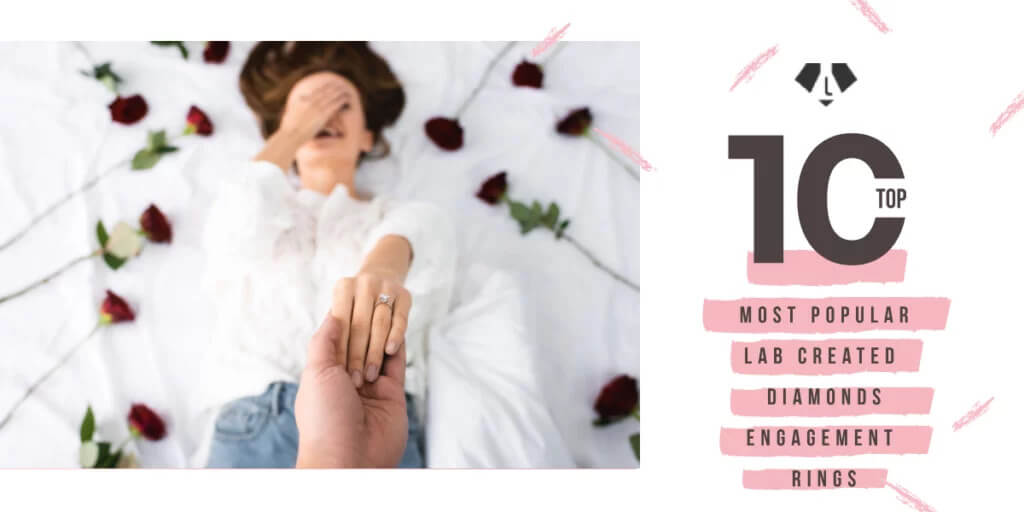 Therefore, it is important to remember that while picking an engagement ring, you should not be following a particular trend or fad. Because those ultimately fade away, and you're left with something that will start looking dated in a couple of years. Instead, focus on finding a timeless design that will look elegant for decades. Check out the best lab created diamond engagement rings designs listed below that will remain pleasing and looks sophisticated throughout your marriage:
1. Fancy cut lab created diamond engagement ring
A fancy cut diamond is defined as any shape of diamond that is not round brilliant, which is one of the most popular cuts. You can get a diamond in any shape and size, like oval shape which is the second most popular cut, to marquise cut and heart shaped diamonds that are less popular.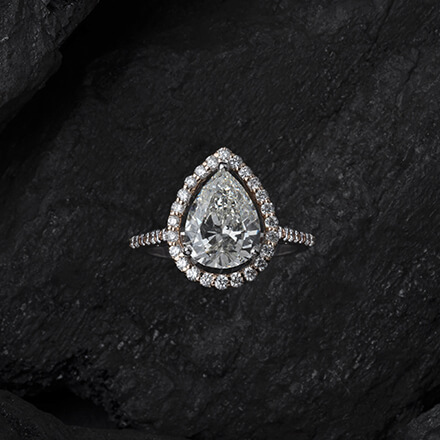 This trend is slowly gaining popularity because it is a great way to add some personality to your ring in an understated way. Moreover, fancy cut diamonds are usually less expensive than round brilliant cut diamonds, which makes these rings quite affordable. Mostly round cut diamonds are famous because it's look different and attractive.
2. Rose cut lab created diamond engagement ring
If you know anything about history, you will remember that these rings used to be extremely popular in the 16th century. Well, now they're making a comeback.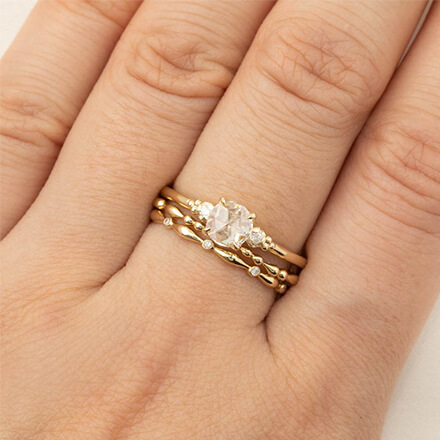 Rose cut lab created diamonds have a flat bottom and the top is domed in such a way that the diamond resembles the shape of the rosebud, hence the name. The lab created rose cut diamonds do not have as many facets as normal diamonds, and they also lack the pavilion, that is, the bottom of the diamond is not pointy. Due to this shape of the lab created diamond, they tend to look glasslike, and they are less brilliant than more complex cuts. However, for people who have a shared love of 16th century diamonds, this can be a great option. Additionally, rose cut diamonds also look bigger than their real carat weight. This is because the bottom of the diamond is usually flat. This is another reason why people prefer this diamond, because it usually looks like you spend more money than you actually did.
Also Read: The Prestigious 'Type IIa' Diamonds
3. Hidden halo lab created diamond engagement rings
People have been getting halo designs for their engagement rings for a very long time now, and this trend has been a hot one for a couple of decades. However, this new version of the halo engagement ring is more understated and is slowly gaining more popularity than the established halo engagement ring trend. A hidden halo setting consists of a sparkling halo of lab created melee diamonds that sit underneath the main stone.
When you look at the ring from the top, it usually looks like a classic solitaire ring, however, when seen from the sides, the intricate details and the sophistication of the ring becomes visible. The hidden halo lab created diamond engagement ring has an extra glam factor for those of you who do not want a traditional halo, or want a solitaire engagement ring but with a little extra twist.
4. Two stone lab created diamond engagement ring
Also known as Toi Et Moi rings in French, these engagement rings have two main stones that make them stand out from the rest of the designs. After all, what girl wouldn't love twice the glam and bling. However, that's not all these rings have to offer. Besides their megawatt sparkle and shine, 2 stone engagement rings also have a special meaning for the couple.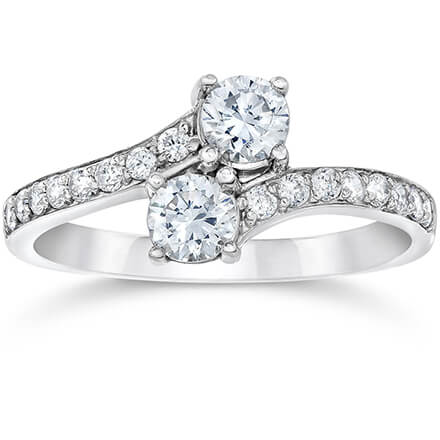 The two stones in the ring are placed in such a way that they sit side by side or very close to each other. This is a symbol of the two souls of the couple becoming one. Although this is a very new trend that is gaining popularity in 2020, the truth is that these two stone engagement rings have been around for a while. History buffs will know that Napoleon Bonaparte famously proposed to Josephine in 1796 with a 2 stone engagement ring that had a sapphire and diamond. In more recent memory, Sebastian Bear-McClard proposed to Emily Ratajkowski with a two stone diamond engagement ring that had one princess cut and one pear shaped diamond.
5. 3 stone lab created diamond engagement rings
Ever since Meghan Markle debuted her diamond engagement ring with cushion cut diamond surrounded by two round diamonds, this setting has gained popularity all over the world and it can easily be replicated with lab created diamonds as well. Just like the two stone lab created diamond engagement rings, these rings also have some very rich symbolism.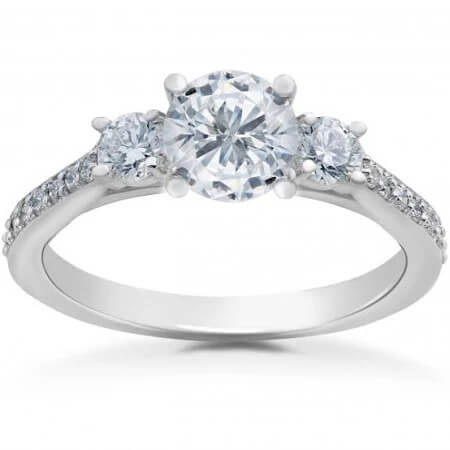 They are also known as a trilogy setting, and the three stones are representatives of the past, present and the future of the couple. It can also be a representative of the three values of a successful marriage, that is, fidelity, love, and trust. Moreover, it is very easy to incorporate a twist into this type of ring by changing the shapes and colors of the lab created diamonds.
6.  4 prong petite comfort lab created diamond rings
As the name indicates, the 4-prong petite comfort ring is extremely sophisticated and elegant in style, so much so that you will never have to worry about it going out of trend. This ring features a single solitaire diamond placed in the center and held in place by 4 prongs.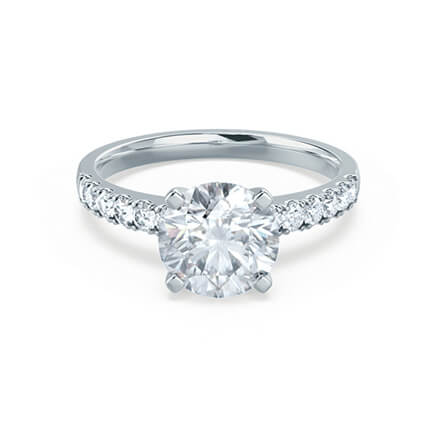 This is a very minimalistic ring and is suited for the couple that does not like too much flair. Although traditionally speaking, diamond engagement rings that stand out are preferred, but when it comes to minimalistic rings like this one, standing out means not overstating things. The ring features sleek lines, fewer facets, and very little extra ornamentation. This type of clean and modern look delivers a feeling of refinement and elegance. Additionally, these rings stack up beautifully with wedding rings too.
7. Petite twisted wine lab created diamond engagement ring
This is another one of minimalist designs. Along with the beautiful solitaire diamond that catches your eye, this ring also features a sparkling ribbon of melee diamonds wrapped around a ribbon of precious metal.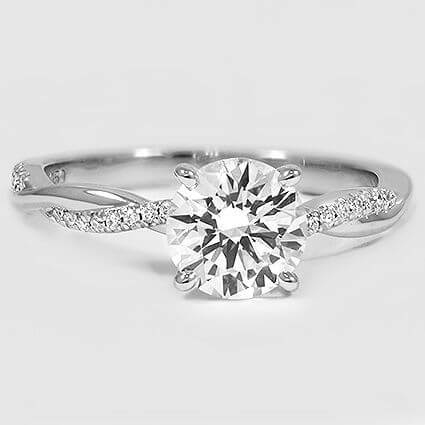 For those of you who want a more nature inspired ring, while still being clean and modern, this is the perfect lab created diamond engagement ring.
Also Read: Real Man-made diamonds vs Cubic Zirconia (CZ)
8. Rose gold lab created diamond ring
The sparkle, shine, and prominence of a diamond engagement ring can make a person focus on the stone itself more than anything else. But the truth is that there is more to a diamond engagement ring than just the stone in the center. The rings are made of various kinds of precious metals, and choosing the metal to go with the stone is a big part of the process.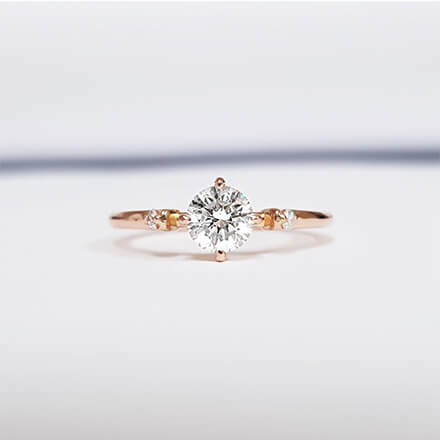 Most people these days prefer platinum or white gold engagement rings, however, rose gold engagement rings can add a flair of color to your ring. The combination of the sparkly diamond, with the yellow gold that has just a hint of pink, can be very complementary and look incredibly beautiful against most skin tones. One example of the rose gold diamond engagement ring is the poppy diamond ring which features an exquisite array of small diamond accents that run halfway across the band itself. This line-up of small diamonds paired with the rose gold metal and the beautiful central gem creates an elegant and sparkling ring that will remain timeless for years to come.
9. Willow lab created diamond engagement ring
This ring is inspired by nature and is extremely exquisite in its look. It features thin wisps of precious metal that are embedded with melee diamonds and open up into a beautiful central diamond with marquise diamonds at the edges.
This elegant-looking ring is not for the minimalist, as it has a wine-like design that will stand out no matter where you go.
10. Waverly lab created diamond engagement ring
For women who want nothing short of the most eye-catching engagement ring, the Waverly ring is perfect.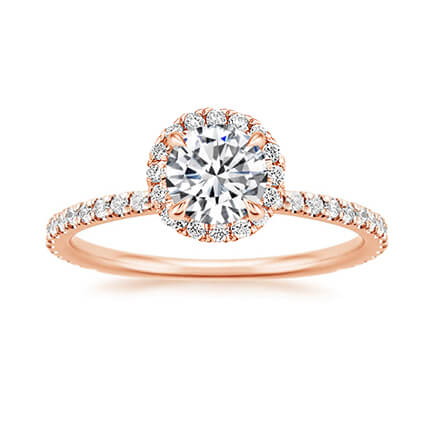 It has a halo of scalloped lab created pave diamonds that extend to half the length of the band and the central diamond is surrounded by a gallery of melee diamonds. The brilliant looking ring is not for the faint of the heart, as it will capture the attention of onlookers everywhere you go.
Closing thoughts
Trends will come and go but an engagement ring will remain with you through years. That is why it is essential that you choose a ring that stands the test of time. To get the best lab created diamond rings designed for your fiancé, choose Lab Grown Diamonds, the only place in the world where you can get lab created diamonds at wholesale rates.