Embrace The Lab Created Fancy Cut Diamonds
There are several diamond shapes, designs, and looks that a single person can have over 10 diamond rings in the wardrobe. But some people love to wear a single type of design and shape. If you are the person who prefers fancy diamonds more than other designs, then you are at the right place. 
Fancy diamonds are in demand in the current market. This type has an excellent design, and most of the buyers from the new generation prefer this design only. This very well means smooth and exemplary advanced cuts like Asscher, emerald or loaf, stretched shapes like marquise and oval, or current and particular pear and brilliant cuts.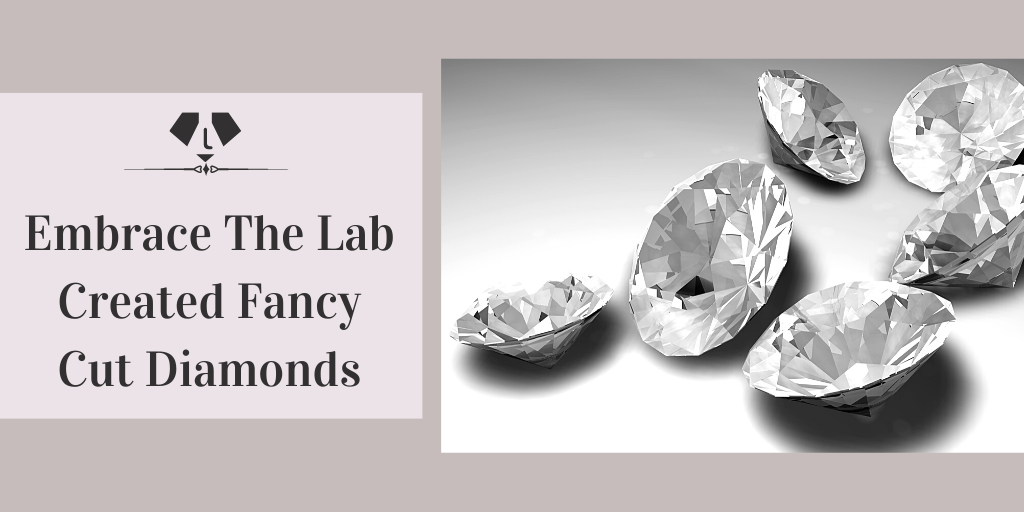 Whatever shape you pick, we love extravagant formed precious stones and think to offer a ravishing expression in any precious stone wedding band or fine adornments piece.
So without wasting more time, let's start the list and check what all we have on the list.
Marvelous Marquise
This design has a curving oblong shape that was originated in the court of King Louis XIV of France. We also know it as navette or little boat. You can pick this marquise-cut diamond for the gift.
This diamond was specially designed to get the people who love to eat only small and oval shape diamonds. At that time, women's parties were moving towards the new style and generation, so they decided to have some new designs for their jewelry too.
Along with their apparel, they want their ornaments to be redesigned. 
So, if you are one of the buyers who is looking for some oval shape diamond, then this is one kind of diamond option for you.
Scintillating Step Cut
There is a rectangular stone at the top of the ring and this thing is giving this ring a very elegant look. If we talk about its origination and the reason behind this shape, then we would find that this design was popular in the Art Deco era and it was also famous as a three-stone engagement ring and jewelry. 
According to some surveys and reports, is believed that the Step Cut is one of the diamond shapes that has more grip and long-lasting than others in the market. 
You can ask for this shape in various jewelry like earrings, rings, necklaces, and other wearable items. This shape is also known as emerald-cut diamond. 
Opulent Oval
This is another oval shape diamond on our list. Opulent has a longer shape and round edges. So, if you love to wear round edges jewelry then this could be your first choice. Take a look at the shape of the stone in the picture below. You will see that the ring is having an oval cut diamond.
Perfect Pears
The agile bends of pearl-molded gemstones make rings that are both ladylike and modern. Wedding of the stunning magnificence of the round, splendid with the unmistakable style of the marquise, the pear cut typifies the equilibrium of style and elegance. This is a pear-shaped diamond.
This diamond is a combination of the round and the marquise-shaped diamonds, as you can see in the images clearly. This aspect makes it more unique and desirable on its own.
This factor makes people stare and look after this diamond. . The various aspects which needed to be taken into account before buying the pear-shaped diamonds are.
Carat ratio
The perfect and most used length to width ratio of the pear-shaped diamonds lies in the range of 1:1.5 to 1:1.75. But all these ratios are one's personal choice and depend on the person buying them. If you want that the carat weight should look more, then you should opt for a little wider shape and that also looks quite royal and appealing.
All the blemishes and certain inclusions are also polished properly by the jeweler and should also be taken care of while buying these types of diamonds. All this gives the pear cut diamonds a subtle and gentle look. If in case one is opting for neckpieces, then the shape can be a bit enlarged with a general ratio of 1:2 making the neckpiece jaw-dropping gorgeous and elegant. All in all, you should always opt for the size which you love and feel will suit you the best despite all the sayings.
Also Read: Shape Series: A Dazzling Custom Cut Shaped That Will Stand Out
 Color
These shaped diamonds tend to hold in more color just as the marquise-shaped diamonds. They are very enticing even to the naked human eye. Just because of their cut and shape even the colorless ones look a bit yellowish and shine the brightest among the others and look very enriching and glittering. This shimmery look of there is the reason they are available in a variety of colors. They are also available in the rarest of all the colors and one can even have pink colored diamonds in such a shape making them the ideal choice of many brides.
Princess-Cut Diamond with more Popularity
As per the internet, this princess cut was first introduced by A. Nagy of London in 1960. This cut is round-up to the Round Brilliant in the current market. This cut has 23% of searches on the site that is why it is so popular. 
Diamond Manufacturer Dream
There are so many diamond manufacturers who want to cut a pyramid into two just to make a princess cut diamonds. It is a process where a princess cut manufacturer converts rough diamonds into a princess cut diamond with smooth edges. 
Now imagine just how much diamond material you would lose if you were to cut a Round Brilliant out of that piece of rough. The difference is quite stark.
Why Princess Cut is cheap
A Round Brilliant has a yield usually around 40% whereas a Princess cut yield in 80-90% range. This is one of the reasons why princess cut diamonds are cheaper than other diamonds in the queue. 
Also Read: Shape Series: Know Stunning Facts about Princess Cut Diamond
Another reason you can add is its shape and cuts. A princess-cut is made from a rough surface diamond. 
Clarity Grades
Every time you select a clarity grade for princess cut diamonds, they will be skewed to the high end. You are never going to get an extensive selection of SI2 and I1. 
Talking about the fact, one of our former employees was supplying the majority of the princess cut diamonds to the princess cut wholesaler. Most of the time he sticks in maintaining the princess cut diamonds' SI2 and I1.
Best Setting for Princess Cut Diamond Ring
Channel and four-prong are the best settings for a princess cut diamond. One of the most important things in a princess cut diamond is its edges because these are thin areas that are going to hold the ring inside its frame. If these edges are damaged and chipped then one cannot make such quality diamond engagement rings. 
Classic solitaire is the perfect example of this ring. This setting helps the princess cut diamonds to gain more and more light when it is placed in the center stage. 
If you want to secure your diamonds more, then ask the princess cut manufacturer to use channel settings. The gold channel setting is a good choice. 
This ring features smaller diamonds that have a center stone. 
Conclusion Thoughts
Coming to final words, we have discovered that buying a lab-created diamond is more convenient than a natural diamond. If you want multiple shapes, then you can ask the diamond wholesaler so that he can get what you want.
In the market, there are so many diamond designs and shapes. If you are a fancy design lover, then there are diamonds for you. Princess cut, Oval Cut, Marquise-Cut, and whatnot. You can pick any from this list.