Lab Diamonds V/S Natural Diamonds: How different are they?
Lab-grown diamonds, also known as synthetic diamond, cultured diamond, or laboratory-created diamonds, are man-made diamonds that are created via commercial ways to replicate the real, natural earth-mined diamonds. They are basically the test-tube babies of the diamond world.
Lab-grown diamonds are made with such accuracy that they look and feel exactly like real diamonds. It would be next to impossible to tell a synthetic diamond apart from a real diamond if the two are kept next to each other. These diamonds have a similar shape, size, and even a similar chemical structure to that of real diamonds.
Other than their appearance and structure, these lab diamonds are just as strong and durable as the authentic diamonds, with a similar brilliance and sparkle. Synthetic diamonds aren't fake diamonds. They are real diamonds.
Compared to the earth-mined diamonds that take millions of years to form, these diamonds are manufactured in just a few weeks to give the true diamonds a challenge. And instead of spending that time in cracks, fissures, and depths of the earth, they spend that time within a machine in a vacuum environment.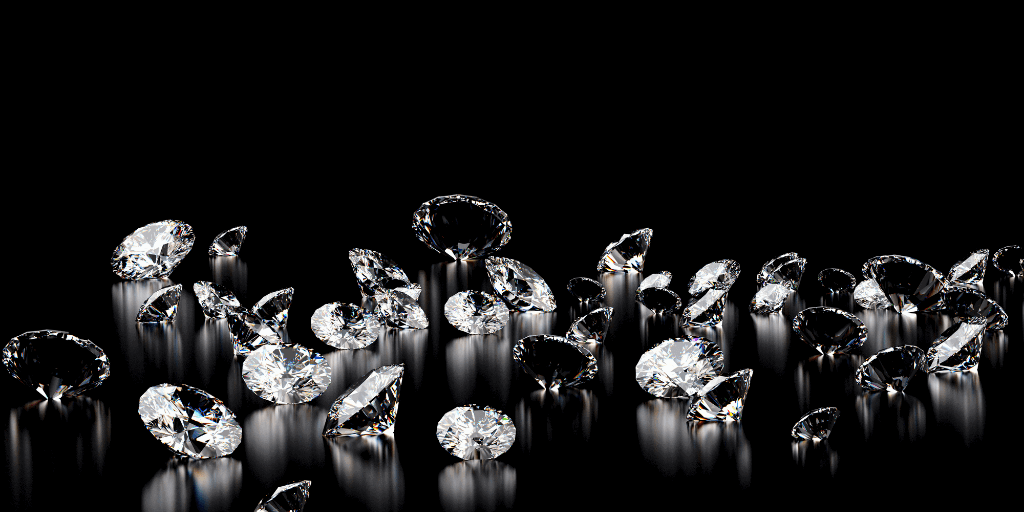 Earth-mined diamonds have minute inclusion within them that are introduced to the diamond when they are forming within the crust of the Earth. They also might have some extra chemical components like nitrogen, boron, iron, etc which results in the slight colors of diamonds. 
Because synthetic diamonds are made in human-controlled environments, they will lack such inclusions and components making them much clearer and brighter. 
These diamonds are produced via advanced technological processes in extremely supervised lab conditions.
In the last half of the century, lab-grown diamonds have come a long way from being used for industrial purposes in crude forms to being active replacements for natural diamonds for a fraction of their prices.
Not only are these lab-grown diamonds common within the households, but they have also hit the red carpet. Various celebrities like Nikki Reed, Meghan Markle, Lady Gaga, Emma Watson, Camilla Mendes have been spotted sporting jewelry made from lab-grown diamonds on the red carpet.
Penelope Cruz, one of the most vocal supporters of synthetic diamonds, collaborated with Atelier Swarovski and issued a collection of brilliant lab-grown, red-carpet-ready diamonds that have been worn by other celebrities as well as her herself over time. 
How were they developed?
Lab-grown diamonds were initially manufactured in the 1950s, exclusively for industrial purposes for the telecommunications and laser optics industry. It wasn't until 1971, that gem-quality synthetic diamonds were created. They quite resembled the mined diamonds and could have been used as healthy substitutes.
But these man-made diamonds first hit the established gem markets in the early 2010s when they actively became a perfect and cheap replacement for earth diamonds.
How Are They Manufactured?
There are two ways to create these synthetic diamonds:
– Chemical Vapor Deposition(CVD)
– High-Pressure High Temperature(HPHT)
CVD is a more preferred way of creating these synthetic diamonds than HPHT. 
In HPHT, a small diamond seed is introduced within pure carbon, followed by intense heat and pressure. This results in the carbon surrounding the diamond seed melting and the coat itself around the seed. Subsequently, the whole process is cooled down under pressure which causes the carbon to convert into a diamond. 
In CVD, carbon-based gases such as methane, etc. are piped inside a vacuum environment. It is then subjected to high temperatures, somewhere around 800 degrees Celsius. The gas is ionized, broken down from its molecules, and then allowed to bond and crystallize around the diamond seed to form a brand new diamond. 
A few weeks later, that diamond seed matures into fine laboratory-created diamonds. The size of these diamonds depends on how long they have spent inside these chambers and the quality of the conditions provided.
With the improvement in technology, it would be pretty soon that the diamonds made by the CVD method would start being similar to the diamonds made by the HPHT method. Despite these two renowned ways of producing diamonds in the lab, scientists are constantly improving the quality of these methods and the diamonds they produce.
In the last few years, the pursuit to make diamonds that would sparkle just as much as the natural diamonds but for a fraction of its price is quite close to being finished. With improvements in the last decade done to such machinery, synthetic diamonds have become a reality.
These diamonds can be further tweaked with other chemical components to give them various colors and even to improve their quality and clarity. HPHT can be also used to 'whiten' the existing diamonds and improve their overall grade. These tweaked diamonds are referred to as 'treated diamonds'.
How different are lab diamonds and real diamonds?
The visible difference between lab-grown diamonds and earth-mined diamonds is almost none. They appear so similar, it's usually hard for even an experienced person to tell the difference between them without high-quality pieces of equipment and even then it is hard.
Despite their very similar chemical structure, natural diamonds have very minute quantities of Nitrogen in them while synthetic diamonds have none of that. They are pure carbon, through and through.
Synthetic diamonds are produced in large quantities and hence have a uniform look whereas natural diamonds are individual loose diamonds and each diamond has one of a kind look to them, making each piece unique to itself.
But none of that can be identified easily. They tend to be so similar that the only difference is their certifications. Lab diamonds are graded the same as their real counterparts. Only that these certifications would also mention their synthetic background.
Synthetic diamonds, just like their natural counterparts, are graded according to the 4C's: Clarity, Color, Carat, and Cut.
Lab Diamond, Moissanite, And Cubic Zirconia
Despite a lot of people labeling lab-grown diamonds as fake diamonds, they are not. Their complete carbon-based structure and chemical composition make them as real as a natural diamond, unlike moissanite and cubic zirconia.
Moissanite is not a gemstone found on Earth but amongst the stars. It was originally discovered in meteors, but since their presence is so rare and few and far between, most moissanite are lab-grown.
Moissanite is not as hard as natural or lab-grown diamonds. Despite their final appearance and the fact that they are made in labs under controlled conditions, their brilliance is different from that of diamonds. Not only do they readily refract light within, but due to their high refractive index, they disperse the white light into seven colors resulting in a rainbow or a disco ball effect.
Even the most colorless moissanite might have little traces of yellow or grey but colorless lab-grown diamonds would be colorless with no traces of any color whatsoever.
While lab-made diamonds are way more affordable than natural diamonds, moissanite are cheaper than that too.
Cubic zirconia is a cheap pretender for a diamond, lab-grown or natural. They are made up of Zirconium Oxide rather than pure carbon structures within natural and synthetic diamonds. They are also softer than these diamonds.
Cubic zirconia has a varied brilliance as well. They do have a lower refractive index and do sparkle less bright than diamonds, but make the rainbow or disco ball effect better than diamonds.
They are incredibly inexpensive to produce and are vulnerable to dents, scratches, and a yellowing effect over time.
Why are lab-grown diamonds a better option than natural diamonds?
Despite a lot of similarities between the natural diamond and the synthetic diamond, there are benefits of buying a lab-grown diamond.
– Lab diamonds are produced in large quantities to meet the diamond requirement of the mainstream market. This large and ready supply of these stones easily lowers their price. According to a report by Bain & Company, in the last few years, the price of lab-grown diamonds has halved.
– Lab-grown diamonds are far more sustainable and economical. Since they not only reduce the damage done to nature due to mining but also make use of the waste diamond pieces that are thrown away after a diamond is cut. These pieces are used as seeds to cultivate brand-new synthetic diamonds.
– Lab-grown diamonds are ethically a better option. Natural diamonds are often called 'blood diamonds' as these mining grounds tend to destroy and ruin the nature surrounding the mine, along with the lives of people who live around these mines and those who lose their lives to mining accidents. Synthetic diamonds come free of all these issues and are a secure option for diamonds.
– If your preference is highly diamonds yet natural diamonds are not in your budget, then synthetic diamonds present themselves as a brilliant option. A dazzling diamond can be obtained on a budget without having to compromise the quality and clarity of the diamond.
– If it is hard for trained professionals to tell the difference between synthetic and authentic diamonds, then you bet no regular man can do the same without all the fancy types of equipment. They will give the same look as authentic earth-mined diamonds at a way affordable price range.
– Lab-grown diamonds are manufactured by professionals around high-tech pieces of equipment, hence there are no roles for slavery and/or child labor, making them ethically a better option. Also, you can know where your diamond came from. 
– Since these diamonds are manufactured in the lab, they are also available in colors, other than white colorless. Varying on the size and the amount of time they were left inside the chambers, they can be made in yellow, blue, orange, and pink.
– The longer the diamond seeds are left inside these compartments, the bigger the diamonds would be. This would mean that a big diamond, of more carat weight, would be manufactured quickly and for less price than that for a natural diamond of the same carat. Furthermore, this results in a wide variety of sizes, shapes, and styles to choose from for your jewelry to feature these lab-grown diamonds. 
– Lab-grown diamonds are something new that has been creating a buzz only in the last half of the decade. Despite their benefits, most people tend not to buy these due to a lack of awareness. So owning a lab-grown diamond yourself can make you quite a trendsetter and fashionista in your circle.
Lab-Grown Diamonds For Jewelry
Lab-grown diamonds have been giving natural diamonds a run for their money in the last few years. 
While earth-mined diamonds are anyone's first choice when it comes to diamond jewelry, it doesn't make such pieces of jewelry any superior.
Lately, more and more people have been going for lab-grown diamonds as an option for their accessories who are more environmentally, socially, and ethically conscious.
And because telling the difference between them is just plain absurd, lab-grown diamonds make perfect substitutes for natural diamonds in pieces of jewelry.
Also Read: Secrets To Keep Lab Grown Diamond Twinkling
When it comes to whether one should purchase lab-grown diamonds or not, it is totally upon them. What you need to decide is what kind of diamond grabs your attention and fulfills your preferences. And if that very diamond happened to be a synthetic one, all the better. 
Pairing lab-grown diamonds with recycled gold or platinum would make the ultimate jewelry that would cost-efficient, highly ethical, and sustainable to nature while also making your dream of diamond jewelry come true. 
Lab-grown diamonds are a higher-level option. They are quite the popular alternative to the earth-mined diamonds without all the stigmas and issues associated with them. If it is the quality that matters to you with no constraints over your budget, then you should opt for natural diamonds. 
But if you wish for the same level of appeal for a lesser amount on the price tag and without a low-grade quality, then lab-grown diamonds are there for you. This along with the fact that it is practically impossible to see differences between a real, natural, earth-mined diamond and a synthetic, man-made, lab diamond, makes a lot of things easier for people.