Certified Lab Grown Diamond Stud Earring Buying Guide
Lab-grown diamonds have become the talk of the town in the last few decades. There used to be a day when people could not even imagine that man could manufacture diamonds but today, owing to major advances in science and technology it has become possible to make diamonds. 
Lab-grown diamonds are a miracle of nature, science, and technology. They are very real and authentic diamonds that are much more sustainable than conventional diamonds. Lab-grown diamonds are the market's favorite at the moment because they are affordable, environment friendly, and have ethical origins.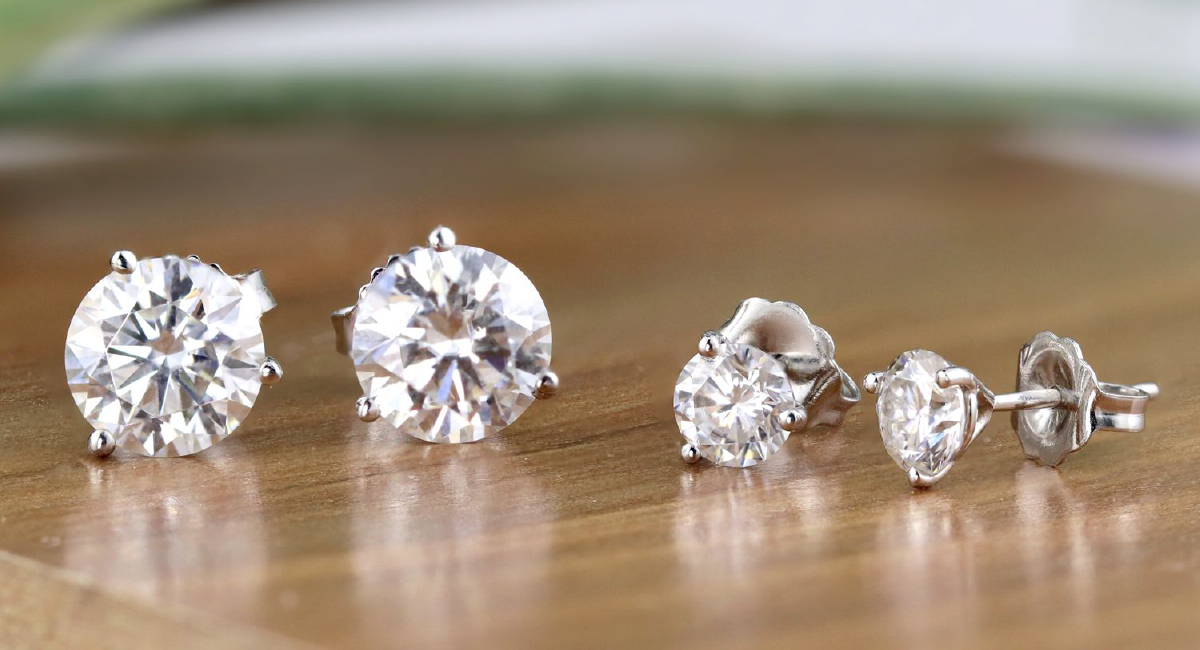 One of the most bought items in the diamond jewelry world is diamond stud earrings. Diamond stud earrings are extremely versatile and suitable for all types of occasions. They are also popular because they are a much more affordable buy.
Lab-created diamond studs have now become super popular and are high in demand due to being pocket-friendly and almost wearable on all occasions. Lab-grown diamond earrings are a great gift option to consider for any close loved one and we assure your lab-created diamond earrings are a gift that is going to be loved by everyone. 
What are lab-grown stud earrings?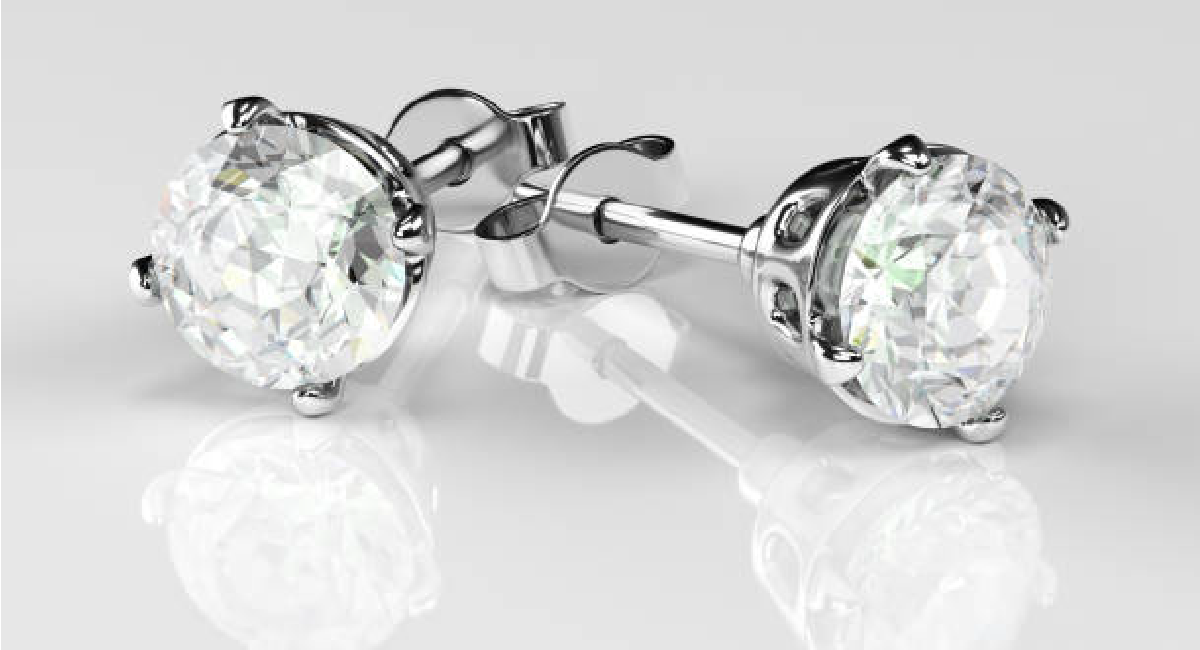 As we know that there are natural diamonds and lab-grown ones too. So lab-grown stud earrings are nothing but normal earrings that have lab-grown diamonds instead of natural diamonds. These earrings are called diamond stud earrings. So, if you want to give some precious and good-looking gifts to your loved ones, then you can go to these pieces of jewelry.
Factors that impact Diamond Price
The price of lab-created diamond studs can be influenced by many factors and before you go and buy your brand new lab-grown diamond earrings, we suggest you do thorough research as to what all factors impact the price of a diamond. 
The price of a diamond is mainly affected by the 4C's which are the diamond cut, clarity, carat, and color. These are the main driving forces that impact the diamond's price. Let us learn more about each of them
Cut:
The grading of any diamond cut of course affects the price of the diamond. There are various cuts you can opt for and different cuts have different prices. The diamond cuts in which most of the original diamond cut can be preserved cost less than diamond cuts which are more complicated. You can choose out of a variety of cuts, but remember to check out different cuts before selecting one for your lab-grown diamond earrings.
Clarity:
The Gemological Institute of America gives a clarity scale for diamonds. All diamonds have inclusions inside them, these are small cracks or impurities that exist inside a diamond. Less number of inclusions indicates higher clarity. The better the clarity of the diamond, the more the brilliance and the price of your lab-grown diamond earrings also increases. 
Here is the clarity scale in brief. The scale goes as follows: Flawless (F Grade), Internally Flawless (IF), Very Very Slightly Included (VVSI 1 & 2), Very Slightly Included 2 (VSI 1 & 2), Slightly Included (SI 1,2 & 3), and Included (I 1 & 2). We suggest you stick to the first three grades because inclusions in them are not visible to the naked eye and when smartly paired with a cut that is forgiving of inclusion your lab diamond earrings look almost flawless.
Carat:
The factor that steers the price the most is the carat weight. Carat weight as the name explains measures the weight of the diamond. The heavier the diamond, the more expensive the diamond. One thing which is great about lab-grown diamond earrings is the fact that you can buy a good carat weight when using lab-grown diamonds as compared to when you purchase the same carat weight diamond as a naturally occurring diamond. 
Color:
Like the clarity scale, the gemological institute of America also gives a scale for color. Lab-grown diamonds can have some faded tints in them. This happens due to the presence of extra elements in the gas changes. Excessive boron or aluminum can cause different tints to occur. Ideally, a diamond should be as close to colorless and the more colorless it is, the better the quality and more the price of your lab-created diamond studs.
Best Lab-Created Diamond Earrings
If you want multiple options in earrings, then you should check our product lineup. We have a long list of products that fall under the category of earrings only. We have the following types of earrings that you can purchase.
Unique
Handmade Diamond Pave Halo Earrings

Scroll Basket Diamond Stud Earrings
Classic
4 Prong Diamond Stud Earrings

6 Prong Scalloped Basket Earrings
Modern
Milgrain Bezel Diamond Stud Earrings

Bezel Diamond Earrings
Lab-Created Designs that you can Ask for
Here are some designs and options we have mentioned below for your reference that you can all get in the store that is made with only synthetic diamonds. 
Round lab-created Diamond Halo Earrings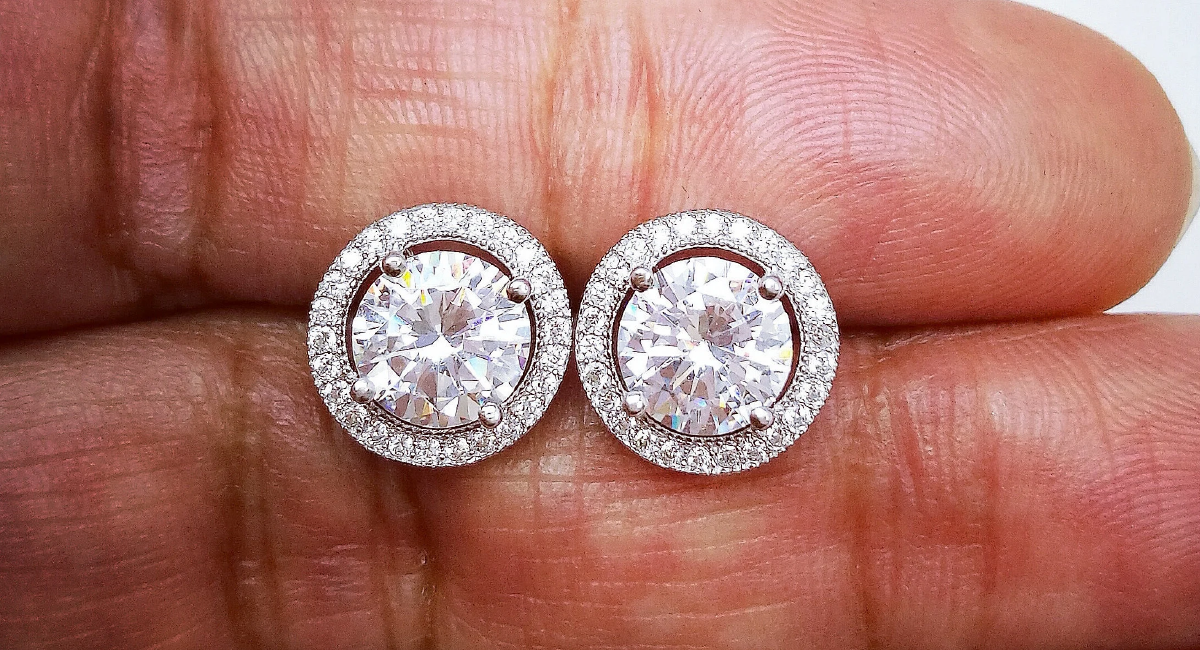 If you are looking for some round and circular earrings to gift or for yourself, then you can try this earring. This set offers a well-maintained shape and classic look of diamonds. The classic shape of these earrings makes them more special and famous. This earring is usually picked by both men and women because it has a feel that can satisfy all requirements.
A unique way of stud earrings cutting their edges into the perfect shapes gives it a more authentic look and the feel that every person wants. If you are looking for classic earrings, then you should pick this one only. 
Here are some fancy diamond shapes that you can consider or you can try customized shapes as well.
Star Lab-Created Diamond Cluster Earrings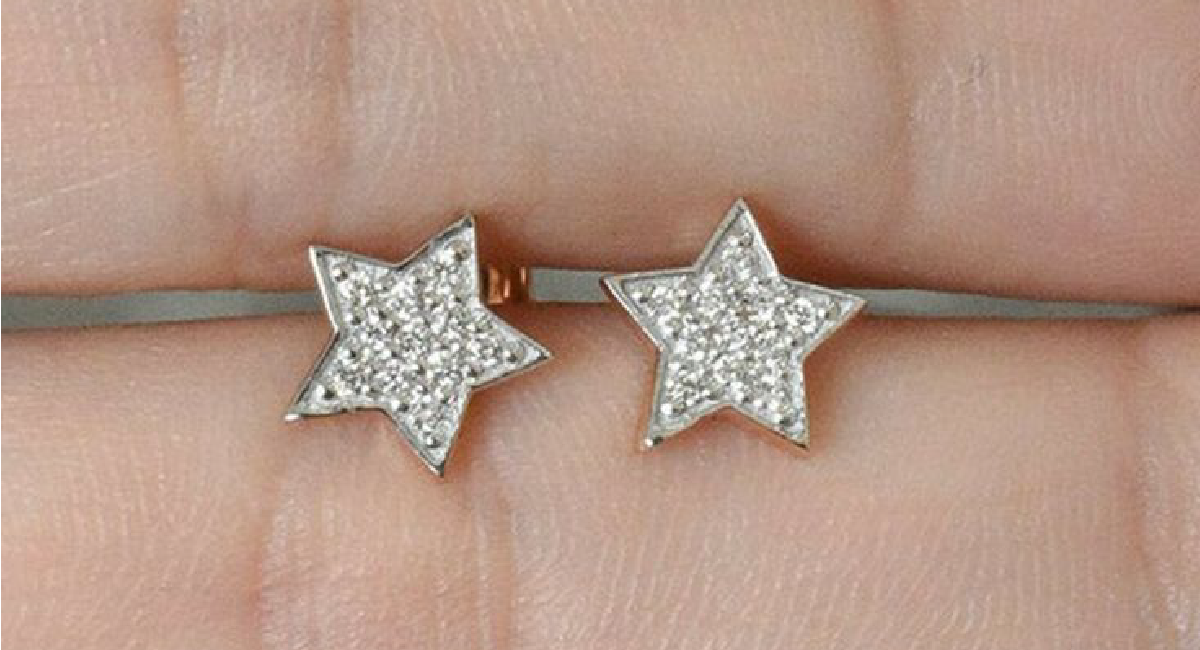 Modern earrings have their own market and own feel. If you are not a person who loves authentic and classic looks like 90s jewelry, then these earrings are going to make you happy. The wonderful focus stone is adjusted by six jewels that impeccably emphasize the piece's excellence.
Round Lab Diamond Two Stone Drop Earrings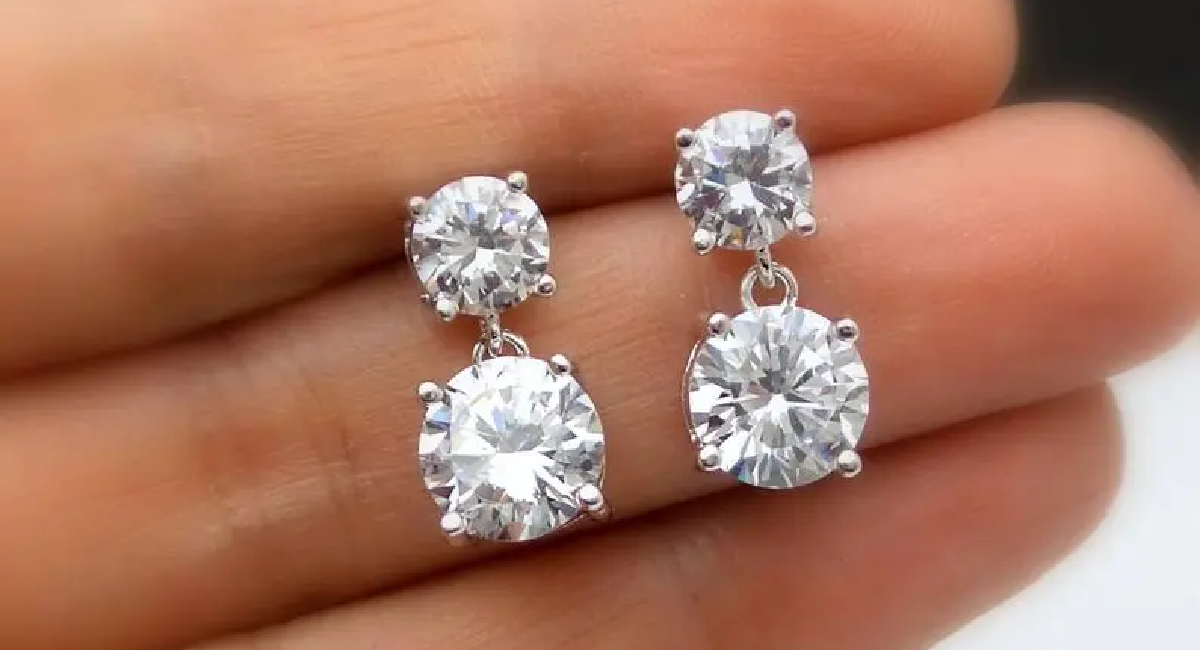 Some people love to wear long and hanging type earrings. For them, these earrings are the best ones. Two circular shapes are joined by two small circular rings. It looks so beautiful. If you look closely, then you will find that one dial is bigger than another one.
Lab Diamond Stud Earrings Shopping Guide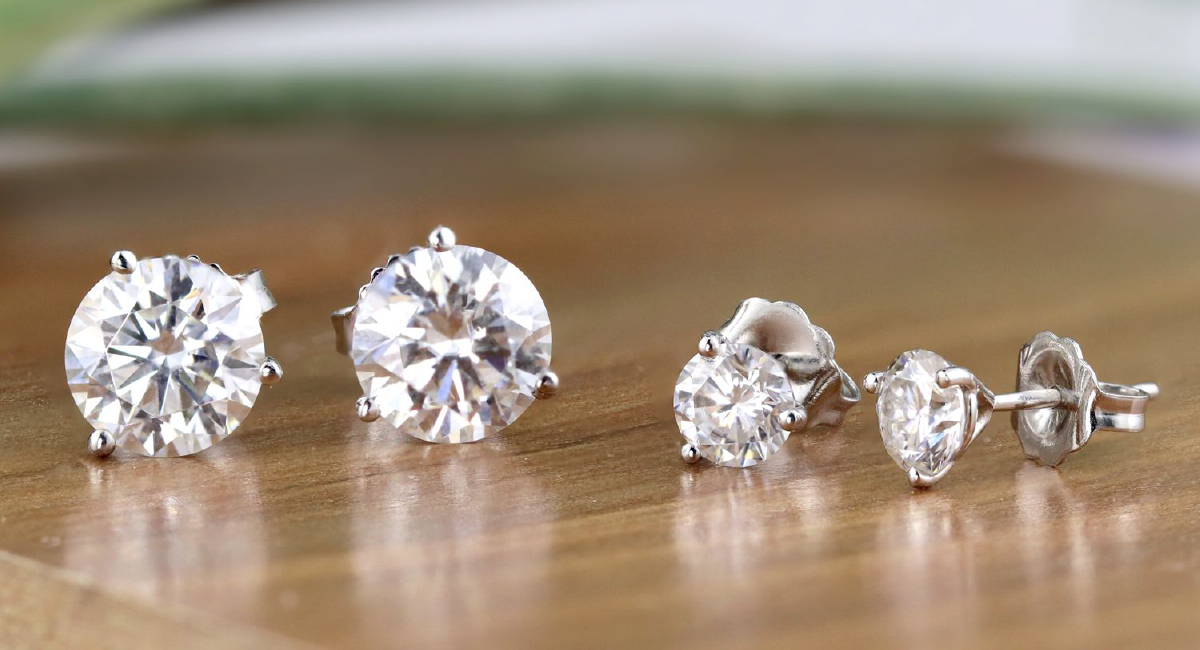 Yes, we know it is very hard to pick one from a long list but do not worry we are here to help you out. Our buying guide is going to help you a lot in this field. Here we are going to tell you facts and some tips that you can follow while buying a lab-grown stud earring for your loved ones or yourself.
Set your Budget – First of all, you have to set your budget. How much you are going to spend and how much you can spend at the max? You have to clear all these things then you can process any other step. Because there are multiple options available in the market.
You may find an earring at a very low price and might get an earring set double of your budget, so you have to be aware of all these things. Set your budget first and then look for a diamond. 
Scroll and Browse – If you are planning to buy earrings from online stores then you have to check multiple websites but at our site, you will get everything in one place so we would like to recommend you to check our store section where you can find our long range of products listed in a good manner.
Four C's – While buying lab-grown diamonds from the market, you should keep these 4 C's in your mind. These factors are going to help you a lot while buying any stone. Here 4 Cs means Cut, Carat, Color, and Clarity. So check all these factors in an earring one by one. Make sure that there is no ambiguity or false quality in the whole product.
So these are some quick tips and steps that you can follow before buying any diamond product.
Why Pick Stud Earrings?
You must be thinking that why should I pick these stud earrings where I can go for other earring products too, then why only these? Right? Then do not worry, we are going to clear your doubts now that why to pick Stud earring over other products.
Of all the earring styles out there, studs are presently the most mainstream. This truly isn't unexpected, because stud earrings are anything but very easy and simple to wear and go with pretty much everything. The simplicity of wear is a consequence of being worn writing material on the ear, albeit some stud styles may hang down a smidgen. 
Basically, the way that studs are near the ear makes it harder for them to get on apparel or hair. Thus, they can be worn with anything from high turtlenecks and hefty coats to lightweight cotton tees. 
Additionally, they're fitting for individuals of each age gathering. While you wouldn't give stud earrings made with a 2-carat lab-developed precious stone to five-year-old's, more modest variants/carat loads would look dear.
How to choose Lab-created stud earrings
You must be wondering as to how exactly you should plan your approach to choose a lab-created stud earring? In case you are, we have you covered. We have derived a step-by-step guide from a diamond manufacturer's perspective as to how you can choose a diamond stud earring that best suits you.
Choose the diamond setting-

Start off by sorting out 2-3 styles of diamond studs that you like and think can fit your purpose. Just pay attention to the styles and not the budget just yet. Got it? Now to the next step.

Select your metal-

The look of a diamond stud will vary from metal to metal. You can choose yellow gold, white gold, rose gold, platinum, and silver. These are the main metals that pair well with diamond studs. This will define your style hence choose wisely. 

Select the type of diamond-

This means with respect to the 4Cs choose a diamond that will fit well and make you look amazing. The 4Cs are Cut, Carat, Clarity, and Color. As it is a stud your primary focus should be on the carat and cut of the diamond. 

Select your lab-grown diamond- Lab-made diamonds are an ethical option and also cheaper. Compare your selected diamond with other retailers and you will get an idea. I would just like to say that we at Loose Grown Diamonds offer the most reasonable and economical rates for lab-grown diamonds any company can offer. Be sure to check out our homepage. 
Put them all together-

The metal + diamond will give you the final price and look. Within your 2-3 choices whichever one you consider looking the most dazzling and costs a reasonable amount just buy it! In case you are unsatisfied, you can start with step-1 again.
Conclusion
Lab diamond earrings are a great alternative to diamond studs with mined diamonds in them. Lab-created diamond studs are easier to afford, a sustainable product, and are ethically sourced. We hope all the information mentioned above helps you in making an informed decision when buying lab-grown diamond earrings. We assure you all the information is credible and specially curated for your convenience. Happy Shopping!