Oval vs Round Diamond: Which one to choose?
Choosing a specific cut can be quite a task when comparing different cuts in the diamond world. Each cut has its own uniqueness and beauty and is suitable for different occasions but still drawing a comparison between two cuts is especially difficult and even more, when both are as famous as the oval cut and the round cut.
These two cuts have been around for centuries and with the round one prevailing in the diamond market, but does that make it better or just more accessible?
 
It can be quite confusing when choosing between the two so we have brought you a detailed guide as to what's the difference between a round cut diamond and an oval cut diamond. Along with all you need to know about how similar, yet how different both of them are in comparison. Which one will suit your budget and which one will suit your style, let's find out!
What is a Round cut Diamond?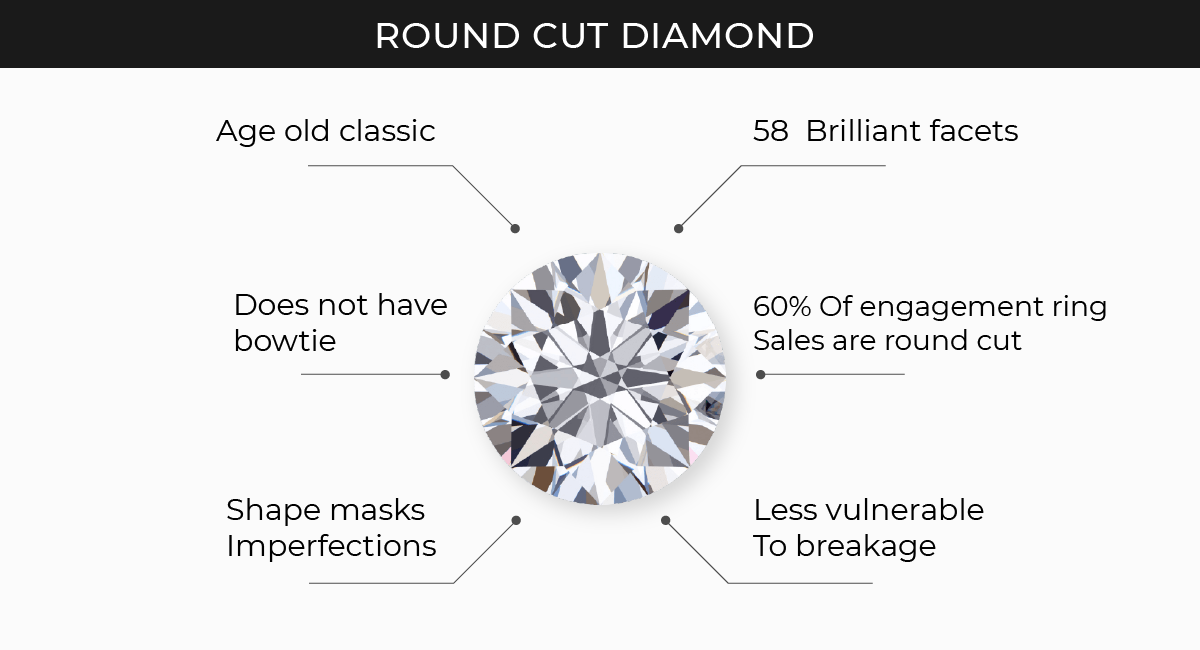 The round-cut diamond is the oldest and most popular diamond cut. It is the market's favorite diamond. The round-cut diamond is a classic cut that is extremely popular amongst engagement ring designs. The name round cut diamond of course suggests that the diamond has a round table and a conical pavilion.
What is an Oval Cut Diamond?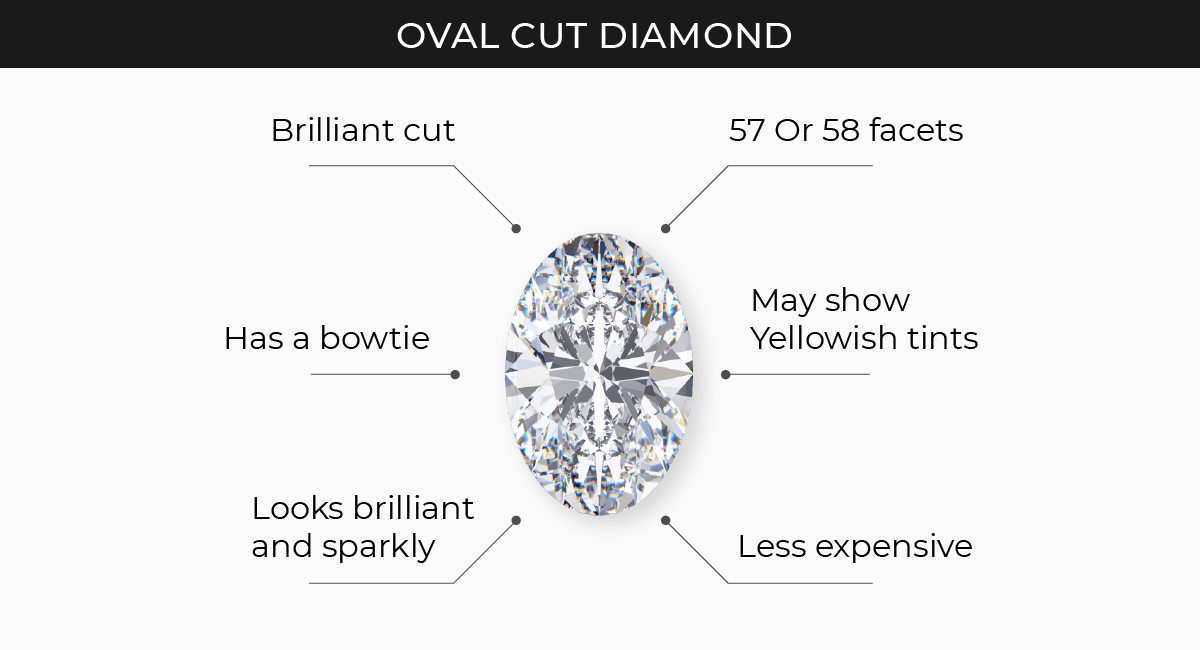 The Oval Cut diamond has now gained a lot of popularity because it definitely makes for a grand piece of jewelry be it a ring, a necklace, earring, or any other piece of jewelry. The oval table and the short pavilion makes for a flatter but a bigger-looking diamond.
Similarities in Round vs Oval Diamond
The Oval and Round cut diamonds have a similar finished look. You get a curvy appeal, along with great brilliance in both the diamonds. Both the diamond cuts make for exceptional pieces of jewelry, especially engagement rings. 
Round vs Oval Cut Diamond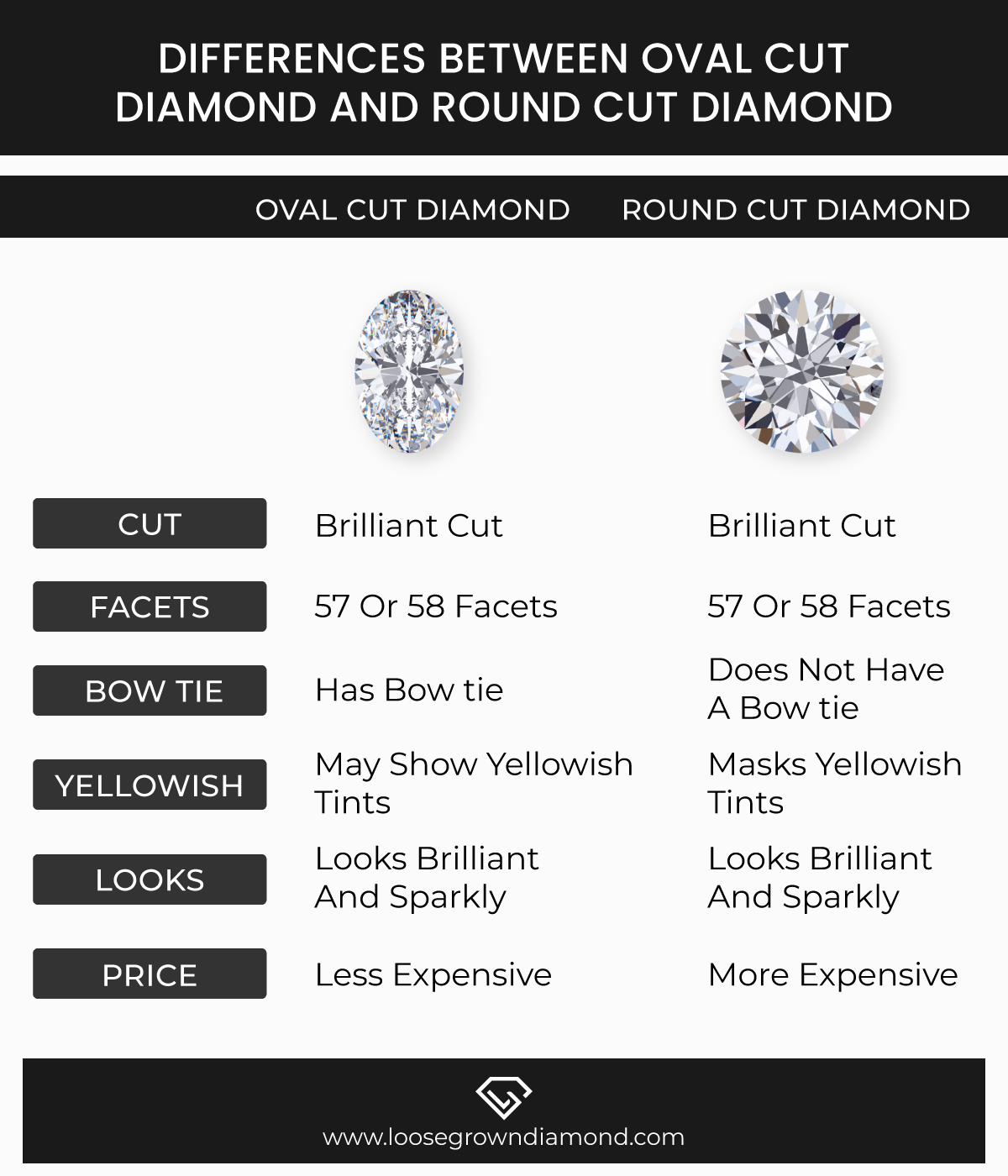 The round cut diamond has older origins than the oval cut diamond. It was used much more in the market today and hence is a more popular diamond but for the same reason, it might become a common choice if you choose to buy a round cut diamond.
In contrast to this, an oval cut diamond is much less in demand and hence makes purchasing an oval cut diamond a very unique choice. Only in the last few years have people started using the oval cut diamond for statement pieces. 
A round cut diamond has a higher brilliance than an oval cut diamond due to the depth of its pavilion and the internal refraction in the diamond. The oval cut diamond has a wider table and shallower pavilion, hence even though the brilliance comes second to the round cut diamond, an oval cut diamond has much more fire, that is colored reflection inside the diamond.
Round vs Oval Diamond – The Bow-Tie Effect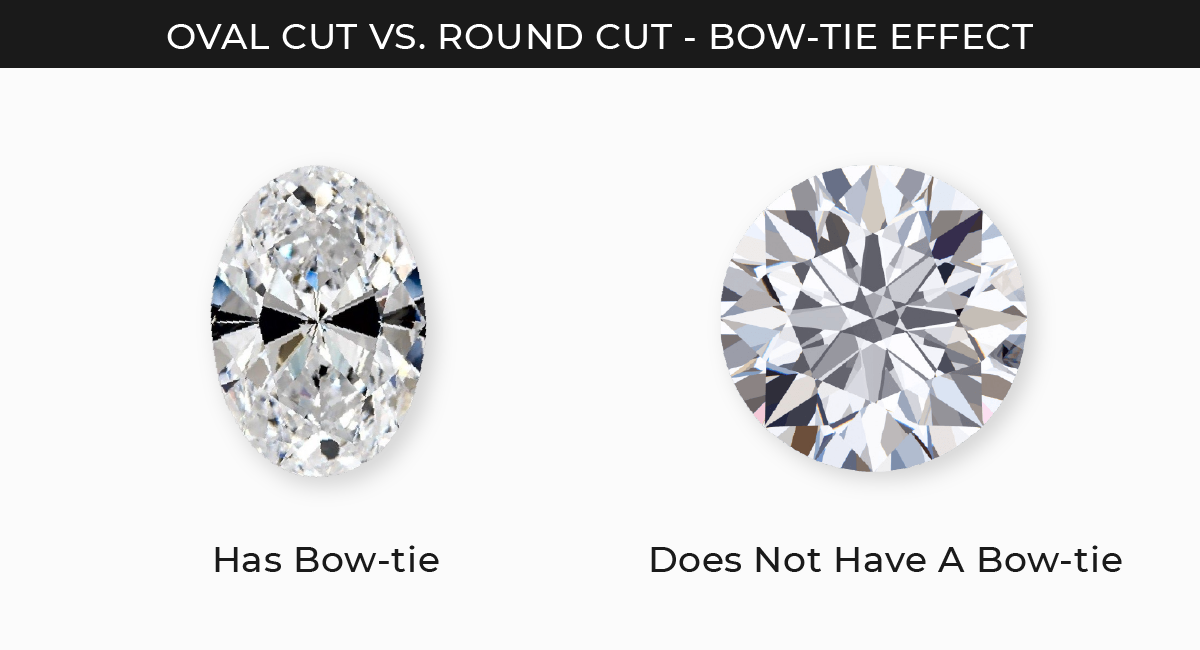 The bowtie effect is one of the biggest disadvantages of an oval-cut diamond. The diamond cut is fancy and hence authorities like the GIA do not give grading to these diamonds which often leads to poor cut diamonds being floated in the market.
The bow-tie effect happens when a diamond has been poorly cut and hence the light at several points exists the diamond creating a shadow inside a diamond which looks like a bow-tie, hence the name. If you do go ahead in choosing an oval cut diamond make sure you proof check it for the bow-tie effect. 
Which one is more expensive?
Round cut diamonds have a much higher demand than oval cut diamonds and hence their price range is relatively more than an oval cut diamond. An oval cut diamond is easier to cut. Even the making charges of both the diamonds differ, due to which the oval cut has a lower manufacturing rate. 
To put it in perspective when you go for a less clear diamond, round-cut diamonds can still be fairly expensive. But if you go for a less clear diamond in the Oval cut, you can get a pretty good deal on its price. If you are smart enough in choosing your diamond, you may be able to get a 'lesser grade diamond' at a lower price with inclusions and abnormalities which are not detectable by the naked eye. 
Round or Oval Diamond Cut Diamond Ring, Which style to choose?

Oval and round cut both are curved diamonds but one might be more suitable to your own personal style statement than the other. An Oval cut diamond is suitable for you if you like a more grand diamond and you prioritize fire over the brilliance of your diamond.
Designs You Should Consider Buying if you Prefer Oval-Cut Diamonds:
Oval Bezel ring 
A bezel diamond ring is a classical and evergreen design. A bezel setting places more focus on the central diamond and generally an oval cut diamond looks clean and almost perfect in the setting. We assure you, a bezel setting with a paves-cut diamond band never fails to amaze.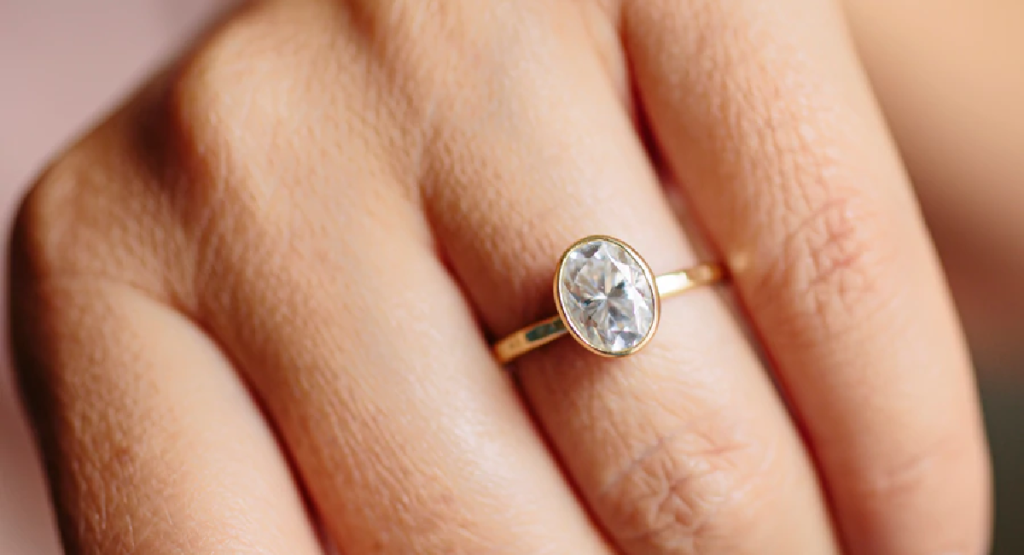 Oval Cluster Ring 
A cluster ring setting is an absolute head turner because the presence of multiple diamonds gives extra dazzle to the diamond. You can choose to go with the same size of smaller diamonds or go ahead with a big central diamond surrounded by multiple smaller diamonds, both designs are quite stunning.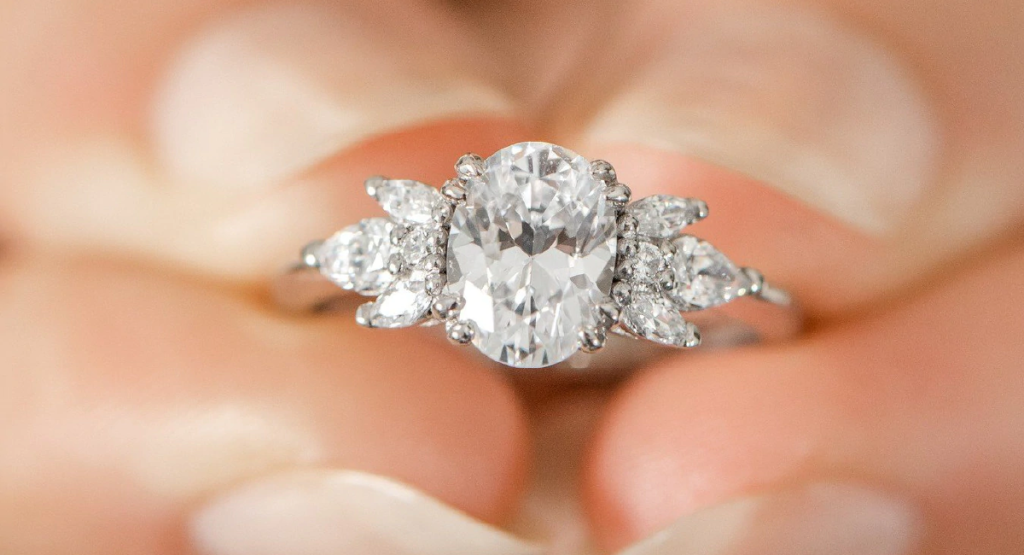 Oval Diamond Band Ring
This ring basically plays with the band of the diamond and you can go ahead with different prong settings or you can use different effects like the bow-tie effect to give grandeur to the ring. You can choose to go with white platinum pave set band if the simple look is a little underwhelming.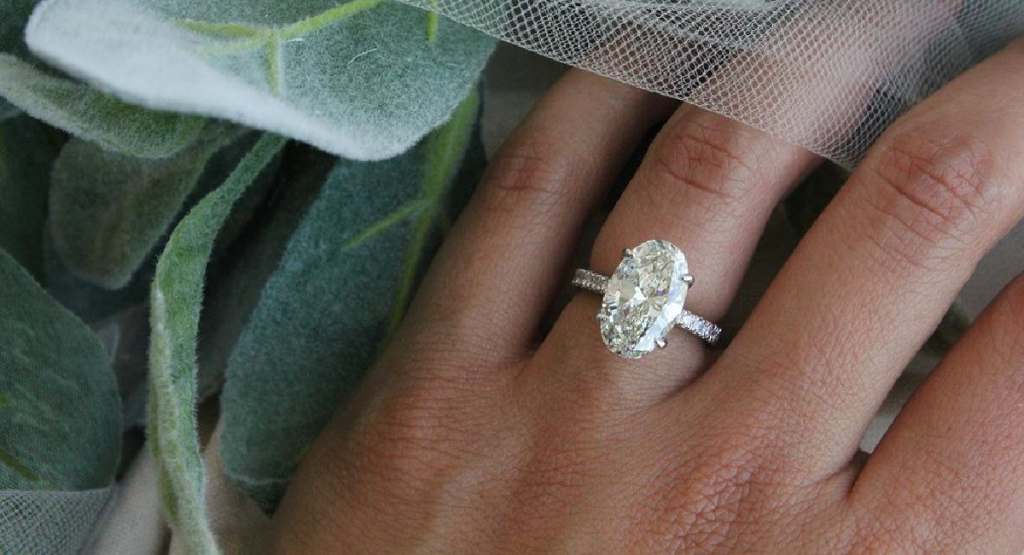 Oval Halo Ring
An Oval Halo Ring is a popular design because of the symmetry it offers. It adds extra drama to the central diamond by placing smaller diamond accents around the main central diamond. We suggest you go with a white platinum setting because it only adds to the brilliance of the whole design.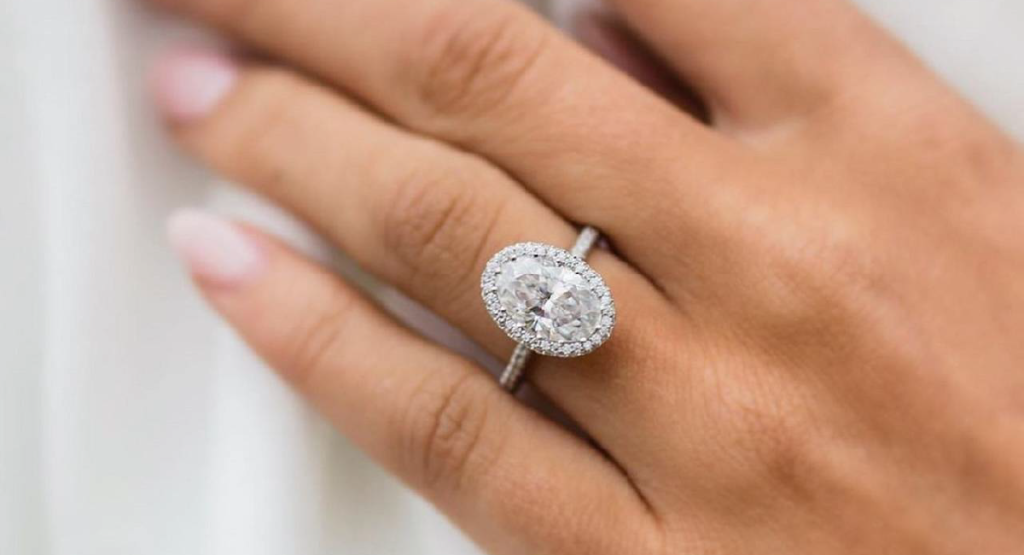 Oval Hidden Halo Ring 
The hidden halo ring is a new adaptation of the classic halo ring design. The hidden halo ring consists of a halo beneath the diamond and this makes the diamond appear bigger from the side because the halo adds height to the central diamond. The hidden halo ring all adds extra sparkle on the side.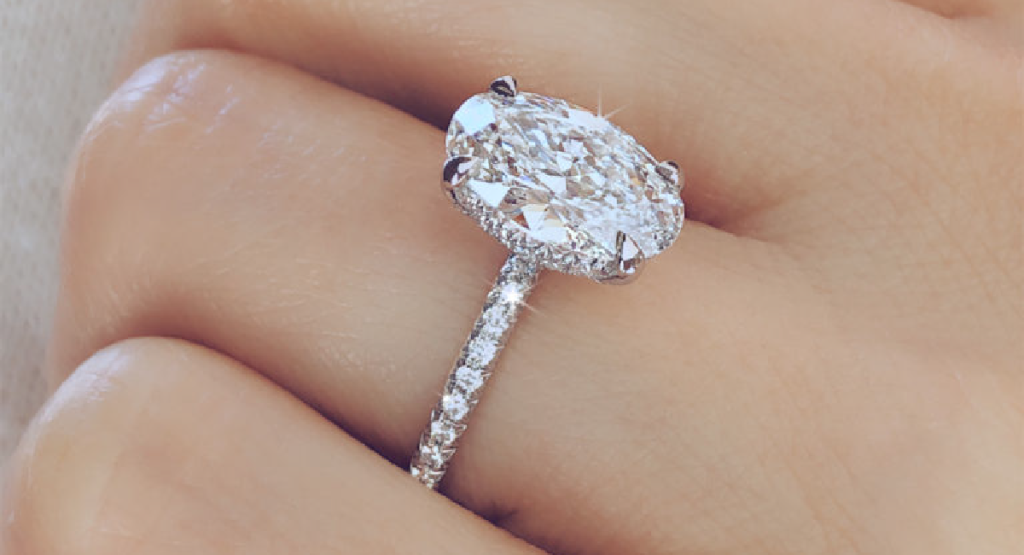 Oval Solitaire Ring 
The solitaire ring is the most widely bought engagement ring. It is one design that never goes out of fashion. The central oval diamond is the show stopper and if you have a higher carat diamond, then this design is the best to show it off.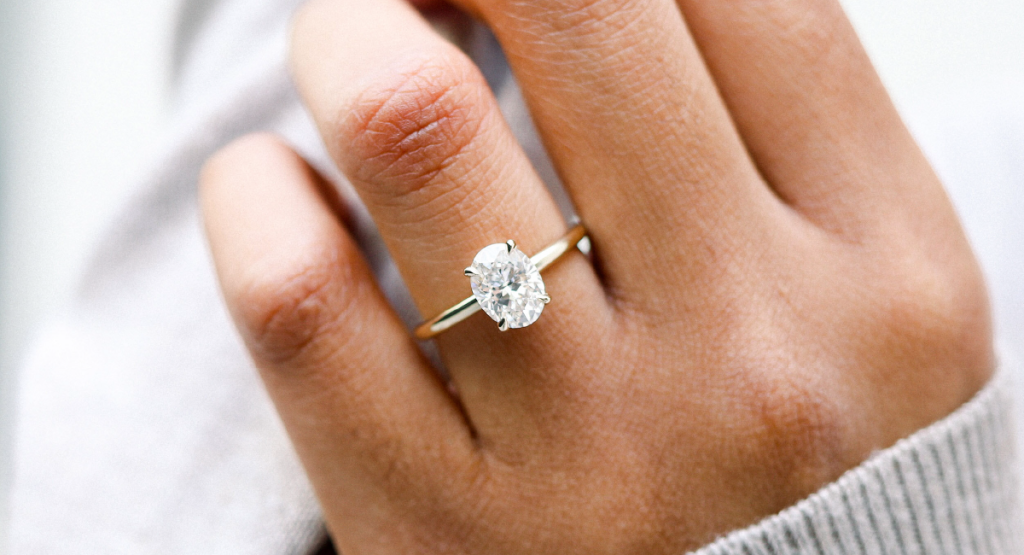 Oval Three Stone Ring 
A three-stone ring works best with a four-prong setting. We suggest that along with the beautiful central oval diamond you chose rhombus-shaped diamond accents because they add width to the central diamond making it look bigger. The design is quite brilliant and beautiful.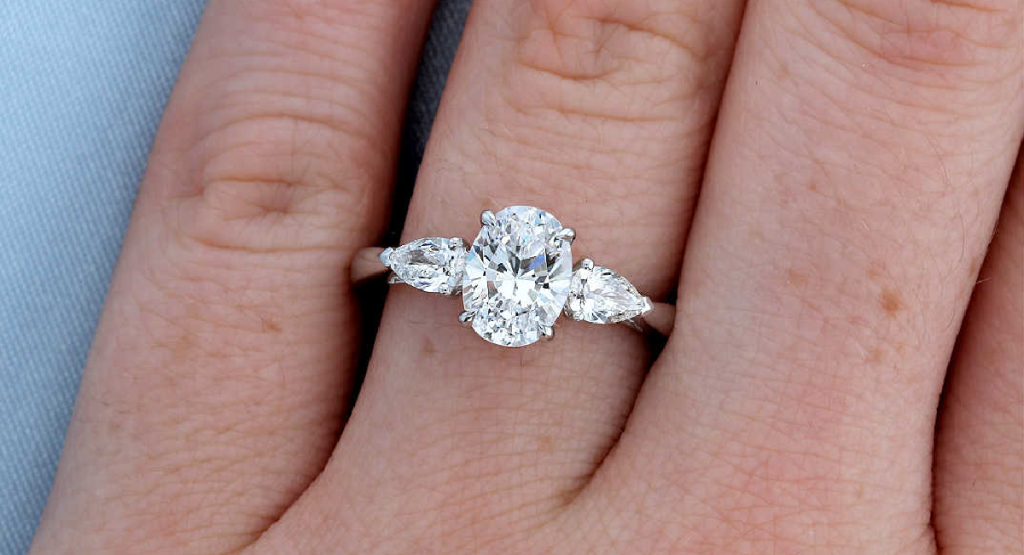 Oval Vintage Ring 
An Oval cut diamond is one of the best-suited diamonds for vintage and old designs. Vintage designs often had a pave set or dome set band with small milgrain details along with diamond accents complimenting the central diamond. Vintage rings also often sport minor nature-related details that look exquisite on a diamond ring.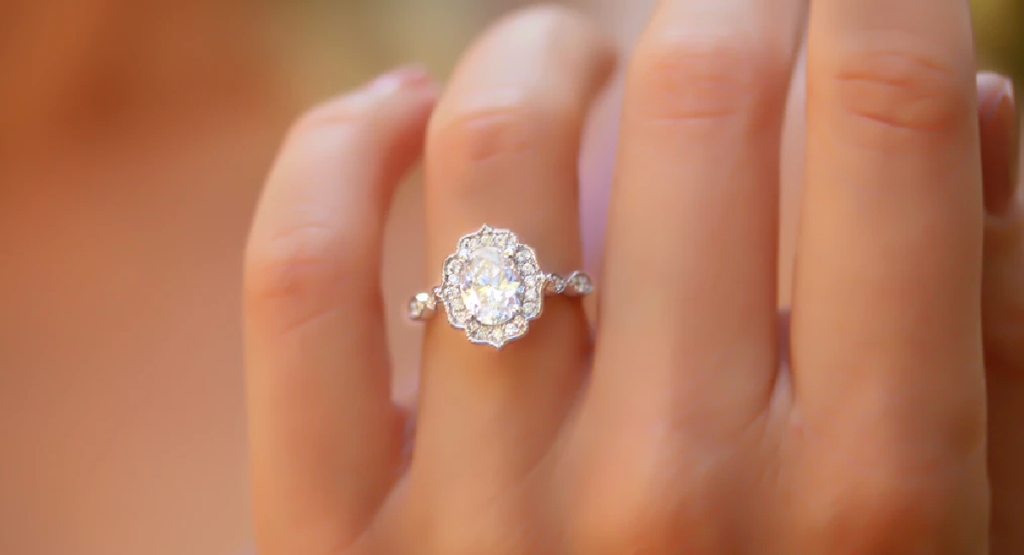 Designs You Should Consider Buying if you Prefer Round-Cut Diamonds:
Round Bezel Ring 
A round-cut bezel ring is suited for both men and women. It is one of the very few engagement ring designs which is unisex and looks great on both. The classical way to go about bezel diamond rings is a plain gold band with a round-cut diamond.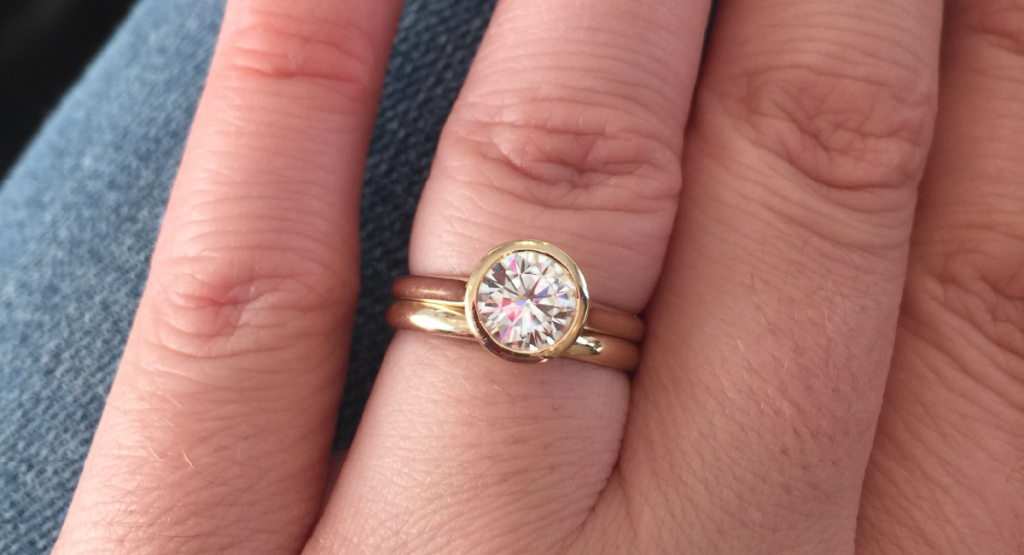 Round Cluster Ring 
A round cluster diamond ring comes in many variations. You can go with a single central large diamond or choose multiple colored diamonds along with a big central diamond. Cluster rings tend to have higher brilliance and fire due to the presence of multiple diamonds and you can choose other band designs. 
Round Diamond Band 
Round diamond bands are yet another design that is suitable for men and women. They are quite contemporary and offer many variations as well. The three most popular settings with this design are gypsy settings, channel settings, and pave cut settings. The metals to go with this design are white gold and platinum. 
Round Halo Ring 
The round halo ring is a simple clean design with a lot of dazzle and great diamond accents to add to that dazzle. It is often said to be one of the best designs there are for an engagement ring. You also can customize the design on your own by selecting a fancy band style.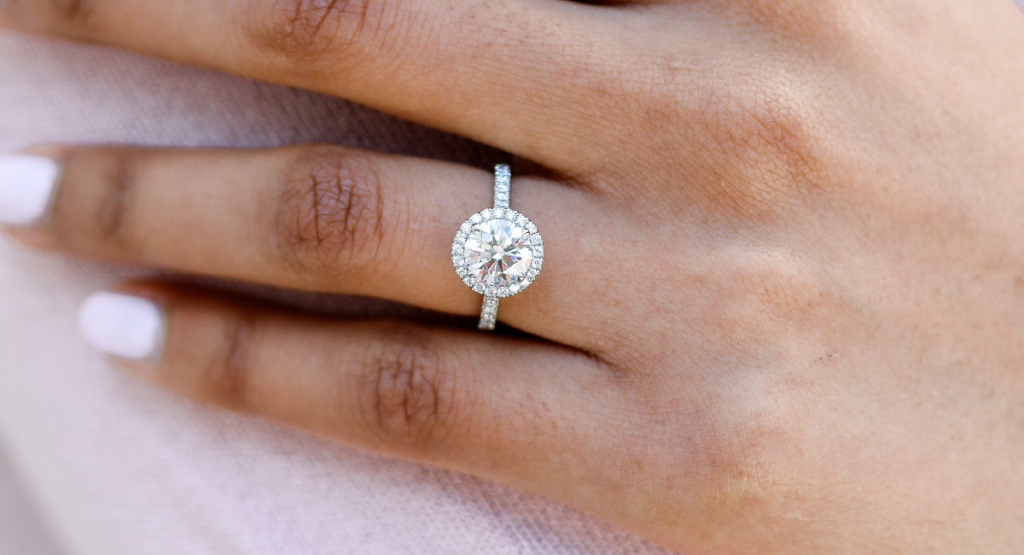 Round Hidden Halo Ring
The round hidden halo ring is a simple design that is not so simple. The design has a halo of diamonds beneath the main central diamond. The design is contemporary and it does have other variations in it. The design is quite versatile and multiple mental bands and band settings work with this design. 
Round Solitaire Ring
The round solitaire is the best-selling engagement ring design. You can choose between a four-prong or six-prong setting. Platinum is one of the best metals to go with a solitaire design. If you are going for a higher clarity grade then definitely this is the best design to show this off.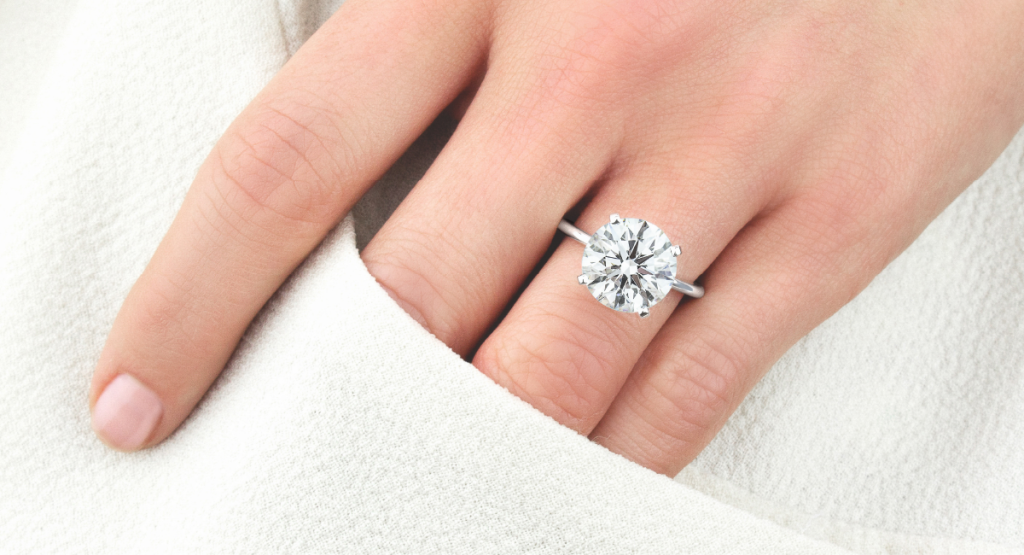 Round Three Stone Ring 
The three-stone diamond ring is another evergreen design. It looks great and especially if you pair it with two marquise diamonds. The brilliance of the central round cut diamond is further enhanced by the two diamonds. This is a great symmetrical and clean design. 
Round Vintage Ring 
Round vintage rings are often with a lot of details inspired by nature. Round vintage designs can also be inspired by the art deco period. The bands generally have milgrain details along with small diamond accents embedded in the band. Vintage designs never go out of style.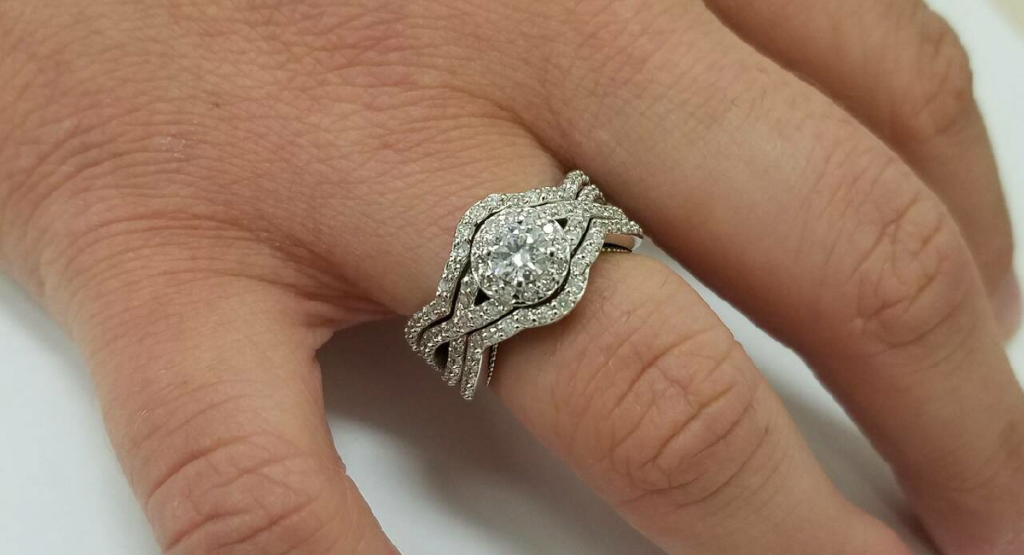 Conclusion
The diamond world is filled with beauty but at the same time, there are a lot of different specifications you need to keep in mind before you select a diamond. 
As not every beautiful diamond suits every occasion it is better if you choose one that suits you and your style. Before investing a lot of money in a diamond purchase you need to make sure that you thoroughly go through all your options and compare them so you end up choosing the best one.
In the end, the round cut diamond is considered the best type of diamond when ranked according to popularity and accessibility, this also leads to it being more expensive. While the oval cut diamond is considered to be more unique but equally risky to buy without proper certification.
We at Loose Grown Diamonds make sure each and every one of our diamonds is certified by reputed institutions like GIA and IGI. Each diamond is manufactured by us and put in front of the consumers to buy directly, without any involvement of a middle-man. Check out our store for more details.