Pear Cut Diamonds: Teardrops on Engagement Rings
Pear-shaped diamond, also known as teardrop-shaped diamond due to their cut, is one of the famous diamond shapes that are making a major comeback in the mainstream market with their unparalleled shine, sparkle, fire, and scintillation.
Pear cut diamond is a perfect combination of round brilliant cut diamond and marquise cut diamond. It is round at one base with the edges tapering towards a point on the opposite side. It is one of the hottest trends in the diamond market as of late.
Pear diamonds are an elegant and eye-catching choice of diamond. Not only do they appear longer but they are also extremely versatile and a timeless classic look when worn in the right way. It has a beautiful icy and feminine look at the same time.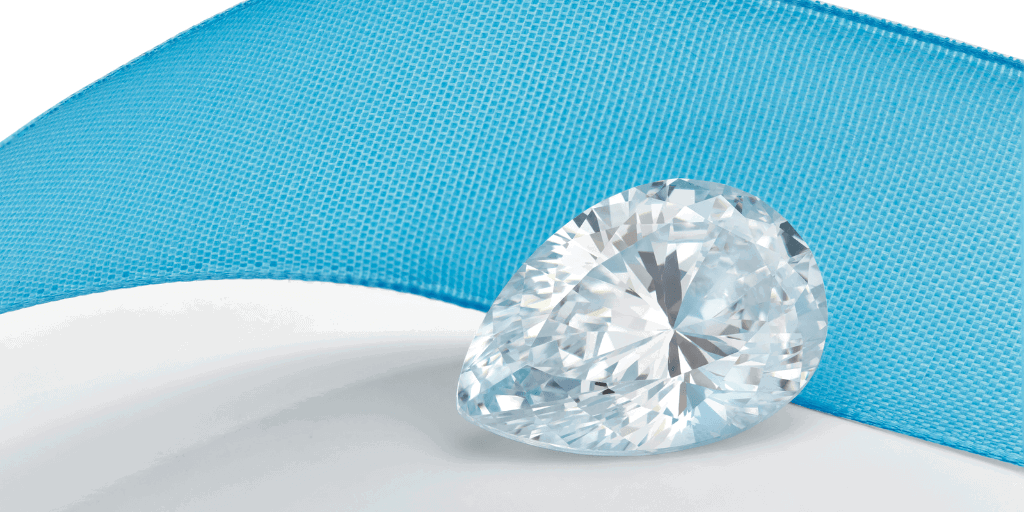 Pear cut diamond engagement rings make an ageless classic piece of jewelry that has a vintage, traditional air with a touch of modern to it, making it a perfect choice for many contemporary brides.
Elizabeth Taylor, Victoria Beckham, Paris Hilton, Cardi B, Sophie Turner, Kaley Cuoco are some of the noted celebrities who own gorgeous and show-stopping pear-shaped diamond rings.
History of Pear Shaped Diamonds
Pear-shaped diamonds have been around for a very long time. Despite their ups and downs in the diamond popularity, they are quite a classic look.
Pear-shaped diamonds made their first appearance in the late 15th century. This trend was started by Lodewyk van Berquem of Burges, a Flemish diamond cutter. While still being in and out of the spotlight, pear engagement rings exploded into popularity during the Renaissance Period.
This style became a lot more refined and polished in the 1900s when new ways of cutting diamonds became popular and effective. 
4Cs to keep in mind
Color, Clarity, Carat, and Cut are four factors that determine the quality of any stone. A perfect stone would check all these rubrics perfectly and make a lasting impression on any person. 
COLOR: Pear-shaped diamonds show color quite easily. Because of their tapered tip, the color seems to be concentrated there. So it is best if the diamond is to be chosen that complements the skin tone and your budget.
When it comes to the color in the pear cut diamond, it is best to go with grades H and above. 
Unless one prefers the warmer tones. Pear-shaped diamonds of Grade H and above look excellent with white gold or platinum setting as the white metal gives the diamonds a natural setting. If you are opting for warmer tones of diamond Grade J to K, then yellow gold or rose gold is a perfect choice.
CLARITY: Due to their one tapered end, it is hard to see inclusions inside a pear cut diamond. They are great at hiding those inclusions within those cuts.
Pear-shaped diamonds are cut in such an ornate way that the same level and inspection of clarity is not required. They are much more detailed than simple shapes like round cut and princess cut.
CUT: Ideal pear-shaped diamonds have a deep and symmetrical cut. Ideal-shaped diamonds also have an amazing length to width ratio lying between 1.55 and 1.75. Stones with an L-W ratio below 1.55 appear way too round and stubby. 
Stones that lie on the other extreme of the spectrum with an L-W ratio of more than 1.75 appear way too long and hence look round in their overall looks.
CARAT: Pear-shaped stones, especially diamonds, tend to look bigger for their average carat size. It is because of the way they are cut that the elongated shape makes the diamond appear bigger. This makes a Pear-shaped stone a great choice for an engagement ring. You can go for a smaller diamond to fit your budget, and it will still look bigger.
Despite these four universal rubrics for the quality of any stone, they do not define the 'perfect' gem. 
A stone that might be imperfect by the standard of these may be the one that actually caught your interest and the one you like. What matters is the stone that caught your eye and made its first impression on you. 
The Setting For The Pear Engagement Ring
Pear-shaped diamonds are so multifaceted and versatile that they go along with a ton of designs and settings. The most popular ones tend to be either the attenuated solitaire setting or the halo setting. The former setting enhances the pear-shaped stone's fire and brilliance while the latter enhances its excellent shape.
A pear-shaped ring has to be set in a way that not only makes the true beauty of the diamond speak for itself but also protects the pointy end from chipping and denting. If the pointed side is not protected properly, it may end up getting damaged.
Prong setting: The prong setting has 5-6 metal prongs holding down the stone to the ring. This is a favorable option as it maximizes the light entry into the stone, especially diamond, which in turn makes the stone sparkle a lot more. 
There usually is a prong at the pointed tip of the diamond as well, which protects the tip from damages. Or it may have two very close prongs near the tip. While that may not entirely cover the pointed end, it does make it secured and tight.
Bezel setting: The bezel setting has a metal strip surrounding the central stone. This is the safest option for Pear-cut stones. In this way, the pointy tip is protected and secured. The only downside of this particular setting is that it limits the light entry within the stone which reduces its overall brilliance. 
But even such a look is preferred by a lot of brides as of late. That subtle shimmery look is contemporary, minimalistic, and feasible for an active lifestyle.
Halo setting: The halo setting is where small gemstones are used as accent stones and placed around the central stone. You can go for a single halo setting or a double if you favor an extravagant look on your ring. Halo setting not only looks great but may also act as a shock absorber. This causes more protection to the central pear stone. 
Be it a simple row of accent diamonds or designer placement of accent stones, halos make a great addition to the pear engagement ring.
Tension setting: The tension setting makes the most excellent setting for a pear engagement ring. In this particular style, no prongs or metal strips are used. In fact, the ring itself is what holds it in place with pressure on the stone. In this setting, the stone is suspended freely with only the top and bottom attached to the ring. 
This causes the stone to interact with the light on all the sides and angles, making it sparkle to its utmost capacity. This setting also secures the pointed tip. The tension setting works great with pear-shaped stones as it makes them appear larger. On top of all that, they are one of the easiest settings to maintain and clean.
The solitaire setting is one of the most popular settings for pear-shaped rings. A single diamond on a band of white gold or platinum makes the entire look elegant and ethereal. Getting the same look on yellow gold gives a classic timeless look while rose gold offers a vintage, sophisticated and antique vibe.
Rose gold is one of the popular metals when it comes to the pear engagement ring as the romantic tinge of both the metal and the stone just compliment each other just right.
You can also take it a notch further and mix and match two metals to create a beautiful contrasting look. Using rose gold and platinum both in a single ring would make it ethereal and vintage at the same time and that would be amazing to have in an engagement ring.
Adding a halo makes the center diamond more emphasized and makes it appear larger and shinier. A 1-carat pear-shaped stone may look up to 1.5 carats just by adding a halo, all thanks to that extra dazzle.
Adding a pavement of diamonds on the band of the rings also enhances the look of the central diamond, making the already brilliant pear diamond look even more brilliant.
There are so many ways of experimenting with your ideal and exquisite engagement ring that you are bound to find one that suits your life and choices. Pear-shaped rings are brilliant. They are great standalone and better with some calculated designs that only intensify their overall glow. 
Also Read: How It Form: Diamond Jewelry Lost Wax Casting Step 1-Craving
Things to Keep In Mind When Buying A Pear-Shaped Engagement Ring
While pear-shaped rings make an exquisite ring style, it is hard to find the 'perfect' pear-shaped stone that has all the features.
It is very easy to mess up the pear cut in any stone, hence unskilled and poor cutting can be easily visible. The ideal pear-shaped stone would have a balanced shape, color, and L-W ratio.
The two-dimensional silhouette of the pear-shaped ring is one of a kind. An ideal stone will have a beautiful silhouette that would be instantly eye-catching. This is an important aspect to look for when buying a pear engagement ring.
The perfect pear stone would neither be too curvy nor too long. The edges should be curved just right to appear straight or distorted in any sense.
Another to look for when buying a pear-shaped diamond is the bow-tie effect. A cut with lower or sub-par quality can cause improper refraction of light within the diamond. This causes a black strip to appear at the rounded side of the diamond which looks like a bow-tie. This causes the diamond to lose its overall charm and degrades its quality. Pear cut diamonds are quite prone to this bow-tie effect. So better to choose a great quality diamond to avoid this kind of issue.
Choosing a great pear-cut stone matter a lot as the look of the entire ring is mostly dependent on it. In such a case, a diamond with inappropriate cuts or shapes can make it look uninteresting and lame. 
Why are pear-shaped rings a great option for an engagement ring?
Pear-shaped rings may not be extremely popular and famous but they do have a lot of plus points on why they are such a great design. 
Pear-shaped stones are uniquely asymmetrical making them a great ring that would stand out in the crowd with its charisma.

For the same amount of carat weight, a pear-shaped stone appears larger than a round-shaped stone. This bigger size can be easily enhanced further by adding a halo setting or a tension setting with the ring.

Despite appearing bigger than brilliant round diamonds, the price of pear stones is just a fraction of round stones, making them cost-efficient.

They are extremely brilliant and tend to draw attention to themselves very easily with their dazzling. This can be further improved by going for a tension setting.

If you have short and stubby hands, then pear-shaped diamonds are just for you. Their elongated shapes create an illusion that makes the fingers look long and thin.

Pear-cut diamonds have a traditional look with a hint of modern style. This is a great option if you want something vintage that would still give other modern styles of rings a run for their money.

Due to their popularity in the Renaissance era, pear-shaped engagement rings hold a romantic charm to them. They also have a feminine vibe and look great on any woman's fingers.
Also Read: Shape Series: Know Stunning Facts About Princess Cut Diamond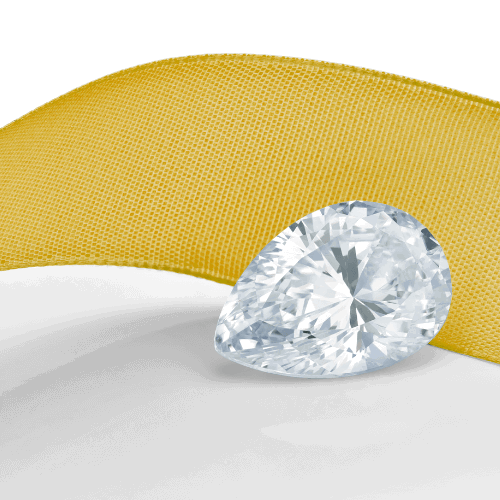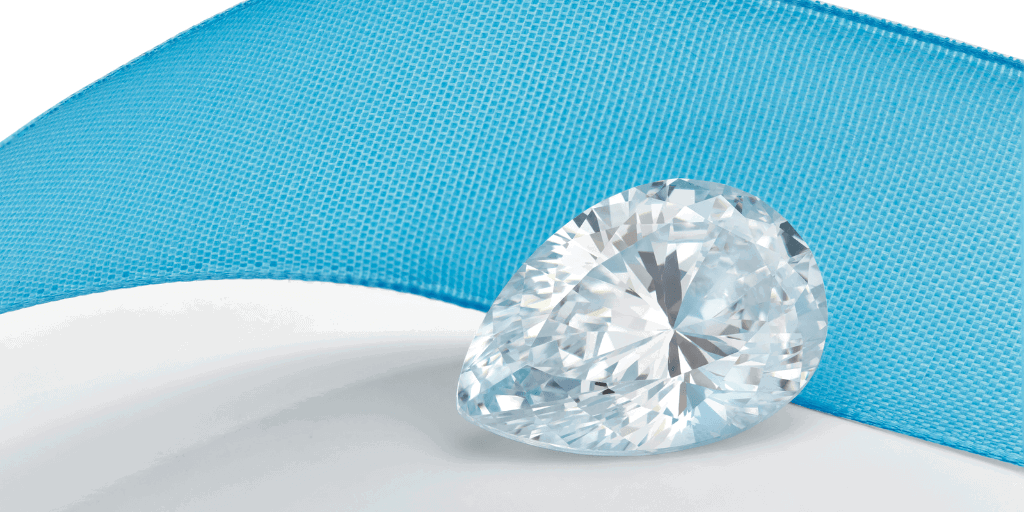 Conclusion Thoughts
Coming to an end, if you want an engagement ring that would speak volumes with its shape, brilliance, and fire, then pear-cut diamonds are the ones for you. They are budget-friendly, beautiful, and having a vintage and romantic aesthetic to themselves. They can be show-stopping with a gorgeous setting. Be it Solitaire setting or Halo setting or bezel setting or tension setting, pear-shaped diamonds would look great with everything and everyone. You cannot go wrong in any way with a pear-shaped engagement ring.