How To Get a Perfect Wedding Ring Match?
The hurry of matching engagement and wedding rings has been going all around. This has caused chaos in many brides and grooms-to-be. But, there is nothing to worry about because we have got your back. An a to z guide for matching and buying paired rings is given here.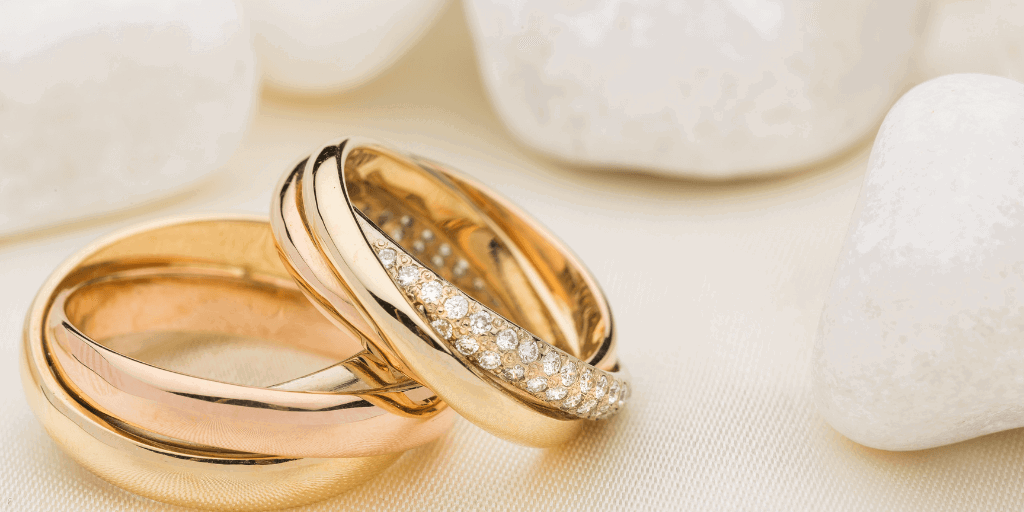 From answering all the frequently asked questions to providing some expert tips, we have listed it all. Thus, give your mind a good relax and go through the following.
Is wearing both an engagement and wedding ring necessary?
So, this would probably be the first question coming to your mind. The answer to this has two aspects- traditional and personal. The traditional aspect says that it is important to wear both rings on the same ring finger.
For ages, people have been wearing both of the rings to keep their memory of engagement and wedding intact. So, if you like to go by tradition, then wearing both of them is mandatory. And this is the point where matching engagement rings with wedding rings comes into the picture.
On the other hand, the personal aspect tells that it is your 'personal choice'. Yes, many brides or grooms nowadays choose to wear only one ring. Because for them, wearing one ring is more comfortable and less hectic. Whereas some even wear both the rings but in different ring fingers.
So, the final choice to wear both or anyone ring is entirely up to you.
Is Engagement and wedding rings pairing necessary?
For those who find both their engagement and wedding rings precious, pairing becomes a necessary concern. The variety of rings available in the market is large. Even in that if you look for some Unique Engagement rings, finding its equivalent match is difficult.
You cannot afford to have either two heavy or two thin and light rings on your ring finger. This is when it requires a bit of knowledge as to how to pair. You need to choose both your rings by keeping the compatibility factor in mind.
Ring Pairing Techniques
In this section, we have listed a few parameters that will help you to pair your
Unique Wedding rings
with engagement rings easily:-
Matching the rings based on the kind of metal
Pairing rings based on the type of metal is a good option. Most of the representational images of the paired ring on the internet show platinum rings. But, this can be applied to gold, silver rings too. Choose any metal you are comfortable with. And, then pick some contrasting designs. E.g., a pair of the platinum bar setting rings and a promise ring as the engagement ring and wedding band respectively. This is a simple technique and does not require much time.
Matching the rings based on metal band color
Well, this one is not a golden rule but can be applied if it suits your ring finger. The only catch here is either you pick the same color or the contrasting ones. There are multiple color variants available in gold such as rose, yellow, white, and green. You can even choose to pair a gold wedding ring with a silver engagement ring.
Matching the rings based on their style
For those who are new to the ring market, you are not aware of the massive variety of ring styles. They go from solitaire, eternity bands, side stone to pandora rings, and many more. This gives rise to another opportunity to pair rings. One can choose styles that feel comfortable when worn together. An example would be a thin eternity band and promise ring.
Matching the rings based on the type of diamond
A unique way of pairing your unique engagement rings with wedding rings is based on the type of diamond. You can pair a real diamond with salt and pepper solitaire rings. A colorful sapphire coupled with a bezel ring is also a great combination.
Using these tips as a reference, you can frame your own combo.
Also Read: How Lab Created Diamonds are made?
Wedding and Engagement Ring Pairing Styles
Keeping the popular trends in mind, we have elaborated the 3rd ring pairing technique a little further. The options listed here are tried, tested and open to customizations too. So, it will be easier for you to create a perfect pair of wedding and Unique Engagement rings. For every ring style, we have listed the possible combinations:-
Tension style

– Tension style rings are very delicate in design. The central diamond pinned between the metal ends elevates the beauty of your ring finger exponentially. We would suggest you to pair it with shoulder engagement rings or

pandora rings

. The hack involved here is to not pick a diamond-loaded ring as it could interfere with the charm of the tension ring.

Bezel

– Bezel rings are counted amongst the modern ring styles. This requires a ring that has less luster and high simplicity. Anything close to a contemporary ring would look fine with the bezel. The simplistic design and vibrant cut of this ring match with the aura of the bezel-style ring precisely.

Halo

– Halo-style rings usually have their diamonds placed slightly above the metal band surface. Thus, it is better to pair it with something inferior. It could be a simple band of the same color as that of the halo ring. This creates a dual-ring touch without affecting the shine of the halo diamond ring.

Vintage

– The vintage style has enough gloom in it. It can be paired with another vintage band of the same color with small diamond pellets over its surface. Otherwise, they look good with braided rings or eternity bands. You can also combine other band styles with it. But, the thickness of vintage is already heavy so it is recommended to go with thin bands only.

Solitaire

– Solitaires are usually thin in size with just a central diamond crowned over them. Finding a perfect match for them is not a difficult task. Solitaires have a bright shining, eye-catching diamond on them, then plain and uniform setting rings look perfectly with them. It could be a pave ring, plain platinum, or yellow gold band.
Do couples need to buy the same pair of rings?
While searching for ring pairing styles, this is one of the most asked questions. But the answer is simplistic and personal. Some couples like to have the same rings just the way they buy the same t-shirts, mugs, or other accessories. But when it comes to engagement or wedding rings, the choice is purely personal.
There is no such kind of compulsion that being a couple means buying identical rings. Because many rings are unisexual hence they may not be worn by both partners. So, do not go behind what others do. Make your own choice and enjoy the actual essence of the wedding.
Engraving- Best option to have Unique Wedding rings
While you pair your engagement ring with a wedding ring, it is highly advised to add some personal touch to it. Engraving is such a technique that allows you to do so.
It is a facility provided by many jewelry shops to make your rings unique. It could be a good way to amplify a simple metal band into your personalized special memory.
You can choose to engrave either your date of proposal or some good lovely quote on the ring. Apart from this, one can choose to have some unique textures on the ring such as lining or hatching. This is how it transforms a normal ring into your special engagement ring.
These kinds of engraved rings look cute and aesthetic without having a fancy diamond on them. So, by using this technique, you can have a simple yet special engagement ring to be paired with a wedding ring. And, the simplicity of an engraved ring will not even put much weight on your ring finger.
The 4 C's Rule for Buying Diamond Rings
This is an important section for all first-time ring buyers. For purchasing diamond rings, there is a set of specific rules to be followed which is called the 4 C's rule. This is basically a code of conduct for diamonds that defines their characteristics. The acronym 4C's stands for the following:-
Clarity

– The internal and external detailings of a diamond are a measure of its clarity. It is inclusive of blemishes and inclusions on the outer and inner surface of a diamond. More clarity guarantees fewer imperfections. So, if you are investing handsome money in a diamond, it is better to check its clarity.

Carat

– When asked a jewelry expert about the price of a diamond, he/she would say that it depends on the carat. This is how important a carat is. Apart from predicting prices, carats actually define the weight of a diamond. In terms of regular weighing units, 1 carat is equivalent to 200 milligrams.

Cut

– The way we have different embroidery patterns for dresses, there are unique details for diamonds too. These detailings are essentially called cut. A diamond comes with various kinds of cuts such as emerald, radial, cushion, pear, etc. These cuts play a very important role in deciding the glare of a diamond.

Color

– We cannot define a diamond's color randomly as cyan blue or leaf green. Because there is a standard color scale for that. For all the diamonds that exist on earth, the color is measured using a D-Z scale. It is also believed that the transparency or colorlessness of a diamond increases its price.
Also Read: Mistakes to Avoid when Buying a Lab Created Diamonds
Tips for Buying The Best Wedding or Engagement Ring
Even for pairing rings, you need to have a good understanding of how to pick the best rings. To help you deal with this like a pro, we have curated a list of tips for buying the best ring:-
Define a budget limit

– This is the best tip to trick your wandering mind. Before stepping into any ring store, set a strict budget constraint. While exploring rings, make sure that the filter is well stuck into your consciousness. This will prevent you from inclining towards an expensive deal.

 

Measure the finger size well

– Taking the size of your finger is the most obvious thing. But special care needs to be taken when you are shopping for your partner. Many couples like to buy rings for their partners by themselves. In such a case, size could go slightly up or down. To prevent such a mistake, make sure you get the right size for your partner's ring.

Buy both the rings together

– Since we are talking about pairing rings, it is better to buy both the rings together. Some stores might have a discount option for buying a pair. Hence it could be a time and money saver deal for you.

Shop from verified store

– Diamonds cost a lot and feel like a one-time investment thing. Any deceptiveness in this is not acceptable. Hence, it is always advised to buy diamond rings from verified stores only. The prices might be high but you will have the security of not getting cheated upon.

Ask for the diamond certificate

– Diamonds certificate is another sense of security that verifies the credentials of a diamond. It lists all the 4 C's i.e. cut, clarity, color, and carat of a diamond. These certificates are issued by renowned groups like GIA and AGS.

Proper research

– The Internet is a source of information and you should make the best use of it. Before going to any ring store, make sure to research and compare all the available options. Well, the article you are reading is a form of research itself. But we still recommend you to go through more such articles. This ensures that you will not become the puppet of any jewelry shop owner.
Conclusion Thoughts
Wearing both engagement and wedding rings is everyone's personal choice. But, for those who are looking forward to wearing both rings, ring pairing becomes a good concern. The pairing tips and styles listed above must have helped you in deciding your unique style. Your wedding engagement must be near. so go and buy the best pair for yours.