15 Most Popular Oval Engagement Ring Designs
Do you feel confused amidst the variety of rings? And do not know which one to choose. If yes, then you have come to the right place. This is a guide that will walk you through a series of the most popular oval cut engagement rings. In the end, there are some additional secret tips also that help you buy the best ring without any hassle.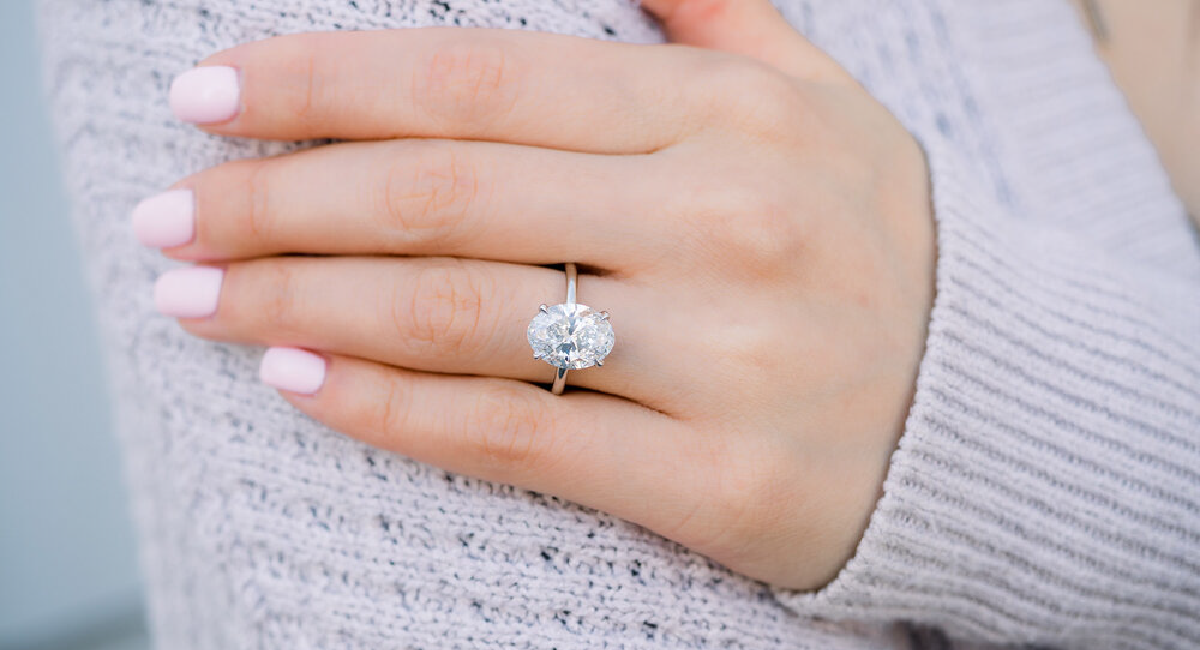 Oval-cut diamond engagement rings have gained some distinct popularity as these diamonds look way more unique, compassionate, and slender on the fingers even if the 4Cs of the diamond is near the lower scale. Just the appearance of these diamonds brings a lot of value to them and prospers their charm in various ways.
What are Oval-Cut Diamonds?
The brilliance of diamonds is signified through their extraordinary characteristics. Similarly, Oval Cut Diamonds are elongations of round-cut diamonds in shape and structure giving it a glamorous oval-like look that is itself a true charm.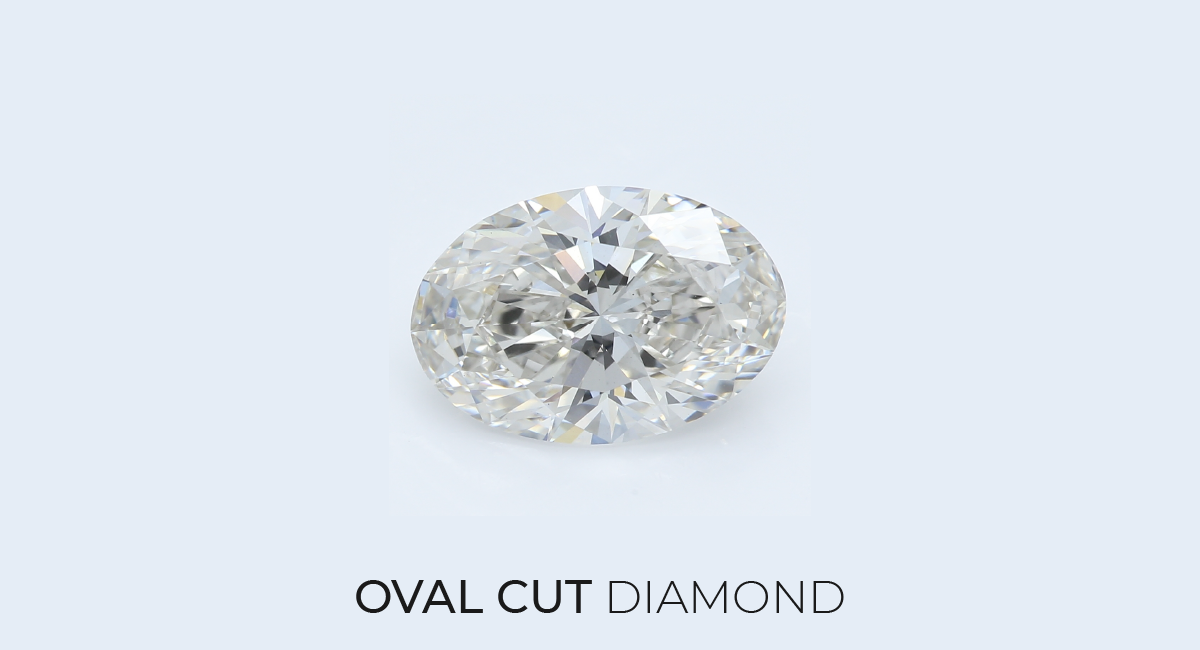 The most appreciating yet admiring fact about oval cut diamonds is their fancy look that makes these diamonds look slimmer and larger on the wearer's hands. It has its own power of shimmer that eventually attracts others' attention towards you!
Usually, oval-cut diamonds are not considered the optimal option by today's generation until and unless it's an heirloom for them. Due to its elongated style which is not a part of present fashion but as we all know fashion has always been unpredictable, we can't expect or predict when, what might get the limelight, and that goes for the oval-cut diamonds, as well. 
Oval Engagement Rings
To help you start with, let us first have a quick introduction to oval diamond engagement rings. Engagement is like a closer step towards a wedding and so does an oval ring has. An oval ring is found to have a glamor close to round-shaped rings.
Major celebrities have chosen the oval diamond ring for their D-day. By this, you can get an idea of how popular this category of rings must be. Also, we recommend this ring because it is both trending and affordable. Similar facts, tips, and benefits related to oval cut engagement rings are provided ahead. Make sure to have a look at them. Meanwhile, let us explore the ring styles first.
4 C's For Buying An Oval Shape Diamond Ring
This is a fundamental rule that applies to all kinds of diamond shopping. Be it a ring or some necklace, the 4C parameters should always be understood by the buyer. This one-word rule stands for the following characteristics:-
Carat– For diamonds, we use carat(s) instead of grams and pounds. The carat weight of a diamond decides its price and quality. A 1-carat diamond weighs around 200 milligrams. Other diamond sizes are measured as 0.5, 0.75 carats for representing half and a three-fourths portion of 1-carat respectively.
Clarity– A measure of clarity defines the measure of irregularities in a diamond. For a diamond of high clarity, the flaws such as blemishes and inclusions are negligible. It is even measured on a clarity scale that has grades such as FL, VS2, I2, etc. On this scale, FL is the best grade which means a flawless diamond.
Color– All kinds of diamonds available in the market are graded on the official GIA color scale. From colorless to colorful diamonds, a D-Z scale is defined. The D grade defines the most transparent and colorless diamond. And, as we proceed ahead towards Z-grade, the color starts appearing. And the last Z-grade has a light yellow or brown color.
Cut– The cut in an oval engagement ring defines how a diamond shines. It undertakes numerous important measurements such as star length, pavilion depth, culet, etc.
Benefits of Buying Oval Engagement Rings
There is a reason why we paid special attention to this class of rings. And that reasons share its roots with the following benefits: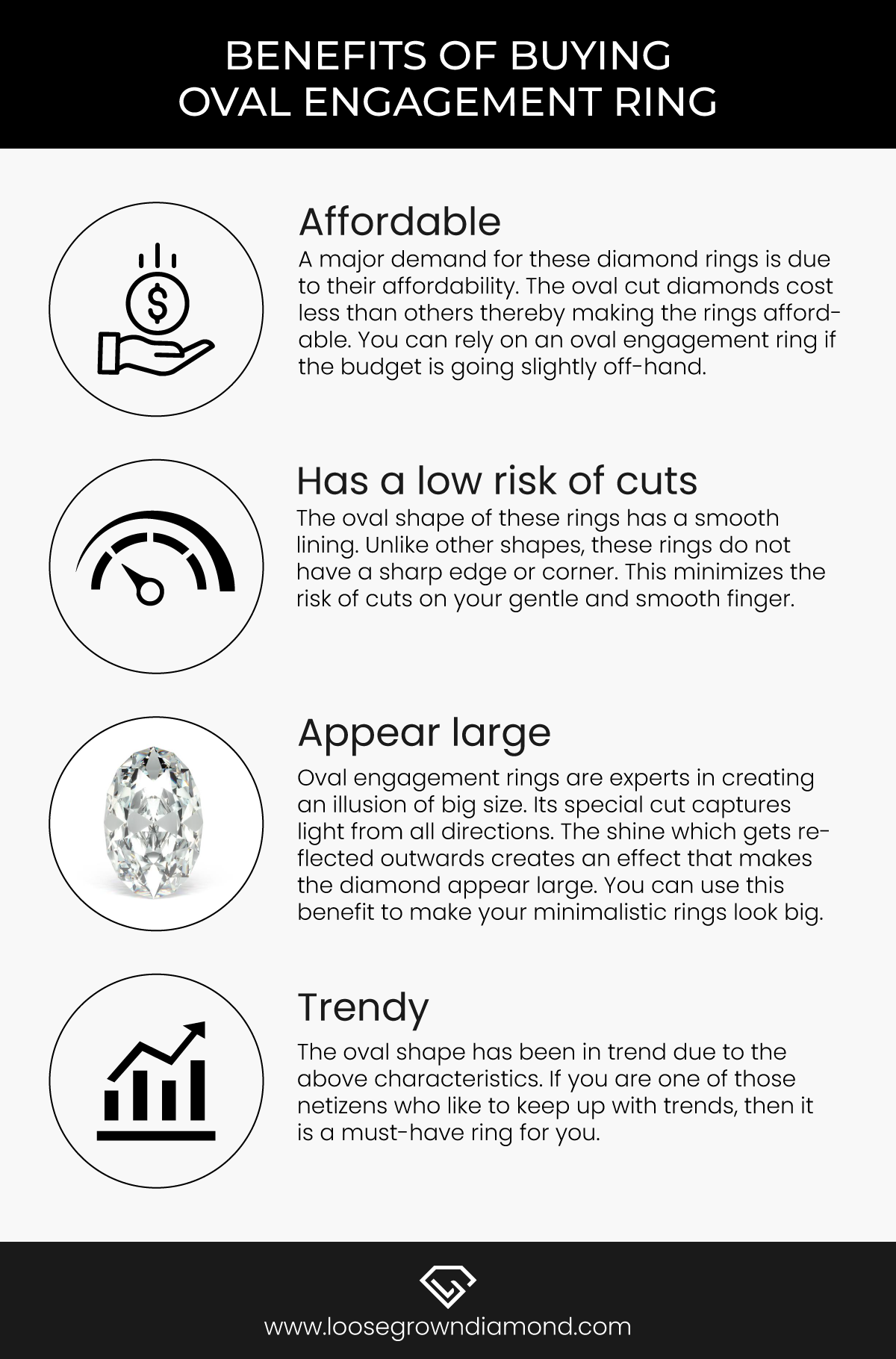 Affordable
Major demand for these diamond rings is due to their affordability. The oval cut diamonds cost less than others thereby making the rings affordable. You can rely on an oval engagement ring if the budget is going slightly off-hand.
Has a low risk of cuts
The oval shape of these rings has a smooth lining. Unlike other shapes, these rings do not have a sharp edge or corner. This minimizes the risk of cuts on your gentle and smooth finger.
Appear large
Oval engagement rings are experts in creating an illusion of big size. Its special cut captures light from all directions. The shine which gets reflected outwards creates an effect that makes the diamond appear large. You can use this benefit to make your minimalistic rings look big.
Trendy
The oval shape has been in trend due to the above characteristics. If you are one of those netizens who like to keep up with trends, then it is a must-have ring for you.
15 Best Styles For Oval Shape Diamond Rings
In the diamond market, we usually prefer to say settings over ring styles. Because how the style of a ring looks depends on its style. So, here are the top 15 styles or settings for an oval diamond ring: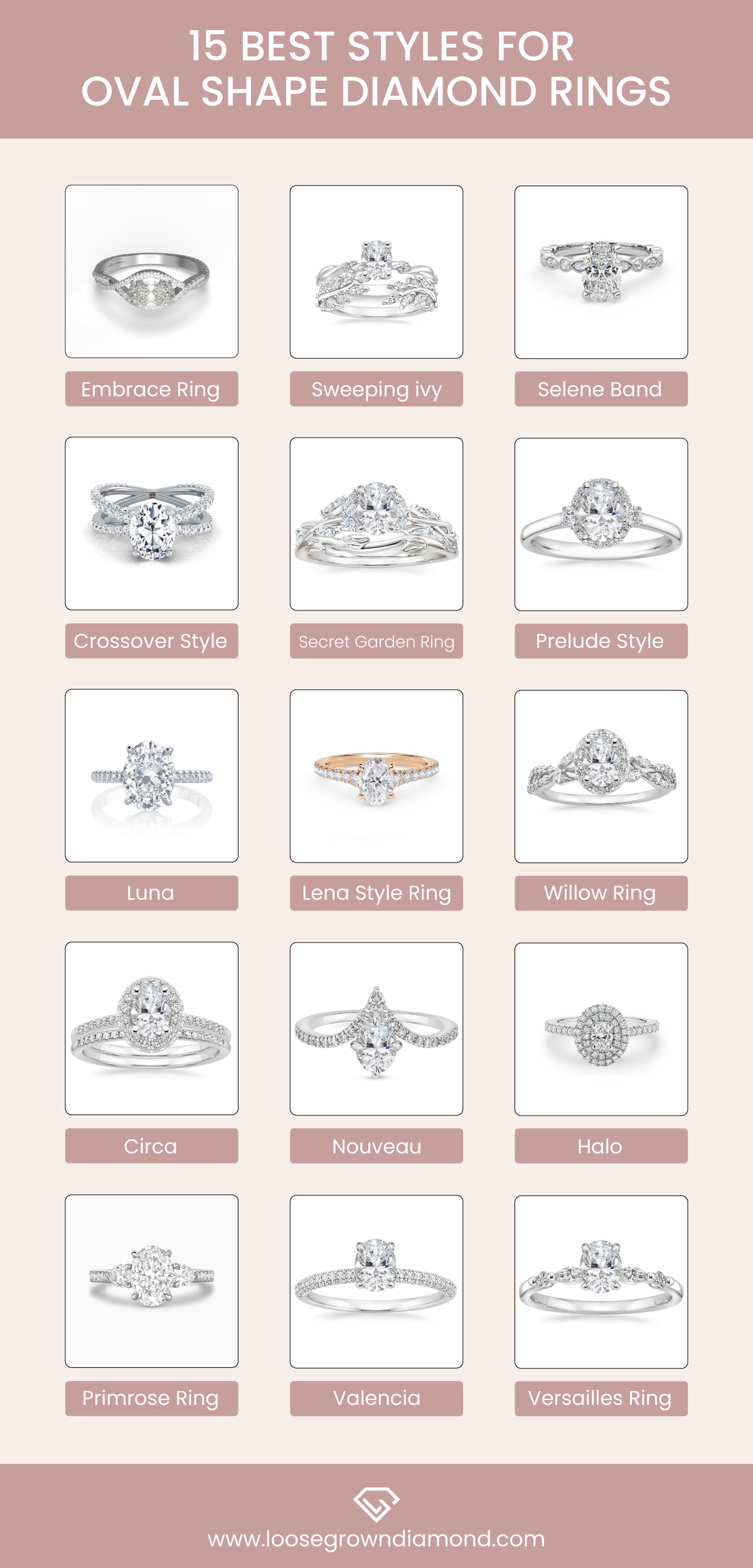 Embrace ring– The embrace ring setting has some unique emerald-style diamonds placed near the main oval diamond. These shiny vertical elements act as a shadow for the central diamond that amplifies the shine of the ring. Talking about grip, the embrace ring has the common 4-prong setting for the oval shape diamond.
Sweeping ivy

– The discontinuous curled ivy style rules the heart of ladies when it comes to engagement rings. What could be a better option than a unique sweeping ivy engagement ring? Its unique design will flood your Instagram pictures with beautiful compliments.

Selene band

– The perfect match is the Selene ring style for you. The gloomy rose gold band topped with oval stone and diamond pairs will fill your heart with awe. It is undoubtedly the best option if you are looking forward to a super shiny ring.

Crossover style

– Crossover style rings create an impression of dual rings. The metal band in this case is a combination of two threads fused in an overlapping manner. One of these threads has diamonds embedded in it whereas the other one contains smooth platinum only. To get a fine grip, a 4-prong setting is implemented in a crossover ring.

Secret garden ring

– As the name suggests, this ring set has both the metal band-ends coiled in a fashion of leaf branches. This adorable design has a depiction of nature which makes it look highly fashionable. On top of that, the oval-shaped diamond and adjacent threads of diamonds make it no less than a perfect engagement ring.

Prelude Style

– So, this ring has a beautiful

oval stone

resting on its groove. The diamond groove in this setting has tiny pellets of diamonds on its embankment. This simplifies the shine of this ring even more. Various band metal colors are available as choices. However, our favorite combo would be a transparent diamond crowned over a rose gold metal band.

Luna

– Unlike other styles, this is not a prong setting as the diamond is completely covered by the band metal only. It could be the best option for those who find wearing diamonds risky. The diamond grip of other rings is also strong. But the luna style gives extra security due to its special diamond packaging.

Lena Style ring

– The band in a Lena setting ring has its end differentiated while adjoining the diamond. It creates a broader base around the diamond but feels thin on the ventral side of the finger. Lena-style rings are highly comfortable due to their medium ring width.

Willow

– The willow ring style has a beautiful twirled band with a 4-prong setting. It looks extremely elegant. This ring style is versatile enough to suit all kinds of finger sizes. The best combination of willow styles that we recommend would be an

oval stone

diamond paired with a platinum band.

Circa

– If you like to have some big diamonds on your finger, then Circa ring style would be the best choice for you. Because it has a comparatively bigger oval diamond on its crown. This will surely make your finger shine and glorify the essence of your engagement.

Nouveau

– Whenever there is a demand for a royal and traditional ring, we call the nouveau ring setting first. It has an exclusive design in which the band metal ends join together to form a tiny pointed structure. The oval diamond is then stuck in between the gap of this inverted V-shaped groove.

Valencia

– A style similar to 4-prong solitaire with a series of diamonds embroidered over its boundary summarises a valencia. The complimentary diamonds glorify the dazzling shine of an oval diamond. Its price usually falls in the mid-range category. But, based on your choice and carat weight, you can decide whether it will be a good match for you or not.

Halo

– Halo style is one of those simple and minimalistic ring styles. On top of that, it even provides numerous variations like a fancy halo, luxe Siena halo, cadenza halo, etc. Several band color options are also available. This is why halo is a favorite style for both simplistic and heavy jewelry lovers.

Primrose ring

– We recommend primrose rings to customers who are obsessed with rose gold band color. It has a layer of diamond pins spawned all across the band uniformly. To add a mystic flavor, the metal thread is curved over the diamond layer equidistantly.

Versailles ring

– The word Versailles signifies anything that keeps 'turning over'. Hence, the band of this style is composed of multiple turns forming spaces in between. These spaces are accompanied by tiny diamond pieces in alternative positions. And, the main oval diamond is clipped to the band via a 4-prong setting.
Tips for Buying The Best Oval Diamond Ring
Apart from the variety in styles, many factors need to be taken care of. We suggest you the following tips that ensure a good buying experience: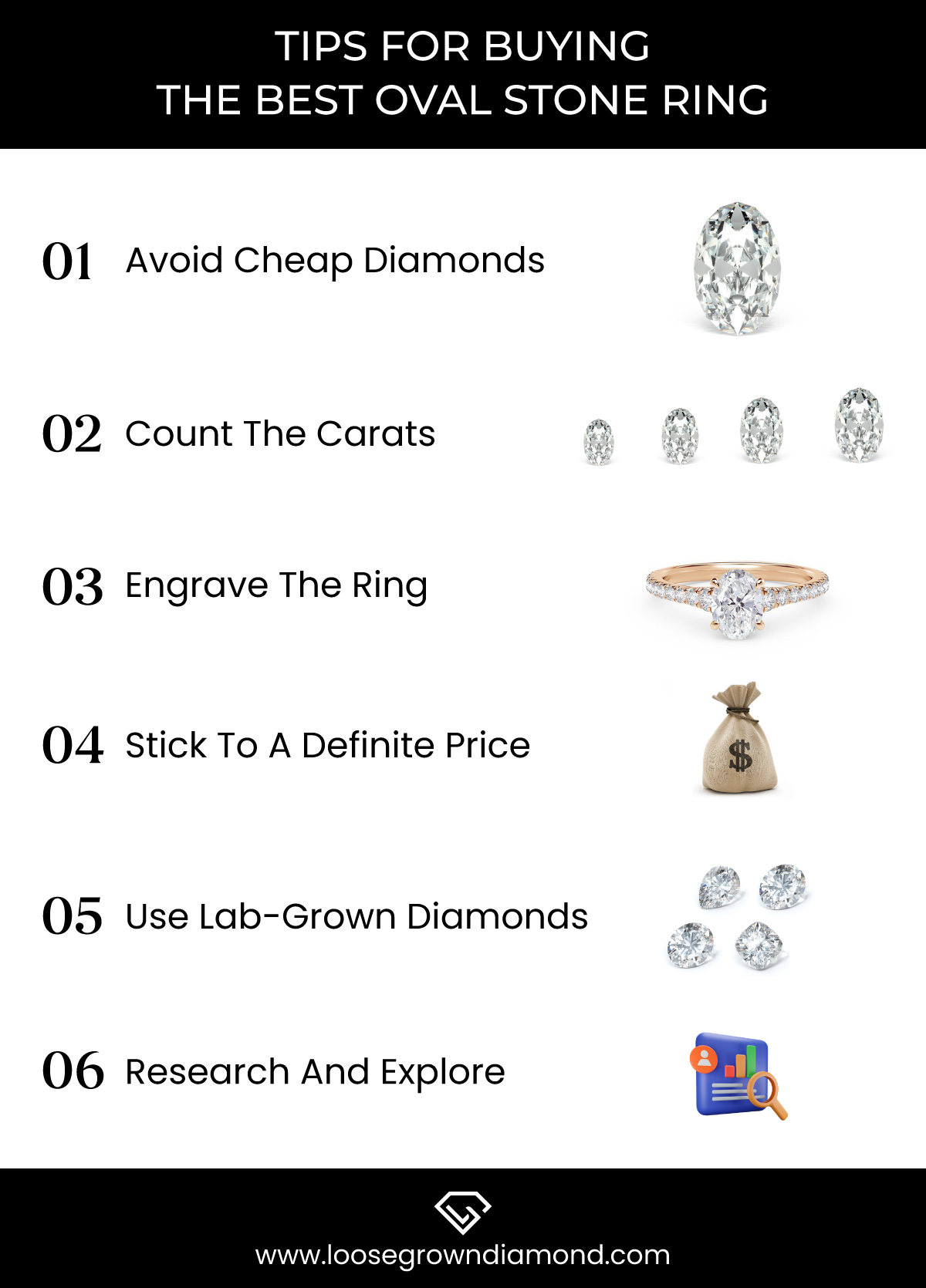 Avoid cheap diamonds

– You should avoid cheap diamonds just for the sake of low prices. Because it could be a case of fake diamonds i.e. fraud. Hence, always remember to ask for certificates whenever buying any diamond jewelry.

Count the Carats– Carat count as defined earlier is an important characteristic of a diamond. You should be aware of the price offered to you based on the carat count. Also, the diamond's shine is affected by its carat count. Hence, for a dazzling diamond, make sure you buy a high-carat diamond.
Engrave the ring

– Engraving is the process of writing or designing personalized bands for you. This thing is very popular nowadays as many people like to have their partner's name, a love quote, or any other thing embedded in their band.

Stick to a definite price

– A mistake that customers often do is falling for luster diamonds. No matter how good or attractive a ring is, you should stick to your budget limit. Going beyond that can affect your overall wedding budget.

Use Lab-grown diamonds– Natural diamonds are extracted by mining and involve other processing also. This makes them highly expensive. But, if you want the same shine and quality of a diamond at a low price, then you should look for lab-grown diamonds.
Research and explore

– The less you know, the higher will be the chances that you will fall for a bad deal. Buying a diamond ring requires expertise too. A better knowledge of styles, 4C's, prices is the key to a good buy. Thus, explore maximum options followed by good research to buy the best oval ring for you.
Conclusion
With utmost honesty, we have provided the best designs, benefits, and flaws of oval-cut engagement rings. The designs listed above are based on general opinions. Apart from them, you may also find other styles good as per your personal opinion. Ultimately, we hope that this guide helped you untangle all the confusion related to engagement rings shopping.