Princess Cut vs Cushion Cut: Which Diamond Cut is The Best?
When it comes to diamonds, each cut has its own charm and beauty that make them unique. No two diamond cuts are alike hence it all comes down to the diamond. Finding a diamond that not only suits your tastes but also your budget can be quite a hard task.
Princess cut and cushion-cut diamonds are two of the very famous and popular diamond cuts in the market. Princess cut and cushion cut both have a geometrical appearance that pleases a lot of minimalistic and contemporary people with varying differences.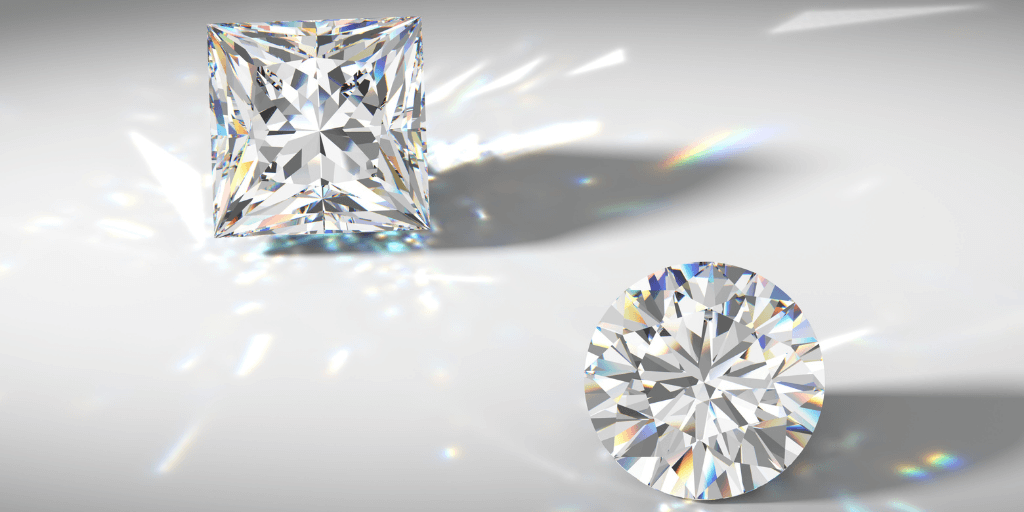 Each has a different fan following for different reasons.
Princess cut diamonds
Princess diamonds, or square-cut diamonds, are perfectly square diamond cuts that sparkle with brilliance and fire. The second most popular diamond cut, princess cuts diamonds feature straight edges with sharp corners. These square-cut diamonds are as brilliant as round brilliant diamonds.
Princess diamonds first made an appearance in 1961. They were also called 'square modified brilliant' and 'profile cuts' based on their cut and similarity to round brilliant diamonds. With up to 76 facets around them, princess cut diamonds are full of brilliance and sparkle that is bound to grab everyone's attention. 
Diamonds with Princess cuts have a very subjective beauty. They have an excellent inverted pyramid shape that helps them hide their flaws and inclusions much better than most of the cuts. Their rectilinear cut also makes them stand out in the crowd.
Since these diamonds are more about sparkle and brilliance, they make an excellent case in not showing their true colors. In fact, most of their colors are concentrated at the corners, making it hard to tell the difference between two diamonds of consecutively different grades when kept side by side. This also works in the favor of the buyer lower color grades are quite acceptable when it comes to princess cuts. 
Unless visible warmer tones are what you are going for, it is best to not go below I grade diamonds.
Since Princess cut diamonds have an inverted pyramidal shape, compared to their carat weight, they are quite smaller. Most of their carat goes into the pyramid rather than the surface.
Princess cut diamonds refract up to 70% of the light that enters within them. That percentage not only makes them highly refractive and reflective but also gives them an upper hand over Cushion cut diamonds.
Princess cut diamonds have a classic, geometric and contemporary look. This makes them work best with statement settings such as solitaire, halo, or 3 stone setting amongst others.
SOLITAIRE SETTING:
Due to its rectilinearity, solitaire settings work great with diamonds having Princess cuts as these diamonds shine bright all by themselves. Placing a square-cut diamond with white gold or Platinum will provide an utmost chic and sophisticated look that would be unrivaled.
HALO SETTING:
If you feel like enhancing the beauty of the princess cut diamond, then do get a halo around the center diamond. A halo has small accent diamonds in the periphery of the center stone. They refract and reflect part of their light into the center stone making it sparklier.
Halo settings are also great since they made the center diamond appear bigger in size by giving an illusion of increased surface area.
3 STONE SETTING:
Opting for side stones on either side of the center stone can make your diamond look gorgeous. Side stones can be half-moon diamonds, triangles, trillions, baguettes, and even small princess cut diamonds as well.
OTHER SETTINGS:
Princess cut diamonds are such a versatile piece of diamond that there are tonnes of designs they'd work great with. If none of the above three satisfies your thirst for a unique and brilliant piece of jewelry, you can opt for other settings such as engraved metalwork, filigree, pave bands, and many more.
You can also achieve an extravagant and lush look by opting for a double halo around the diamond. Prongs and bezel settings are the most preferred choices to go with Princess cut diamonds.
While Prong settings make sure that the princess cut diamond is sparkling to its brightest capacity, it doesn't really make the diamond secured at its spot. The four prongs on the vertices do allow the maximal amount of light to enter the diamond and get reflected and refracted. But despite this setting, Princess diamonds are still prone to get chipped or snagged into things due to their sharp corners.
In such a case, bezel settings are great. They secure the diamond quite well and form a shield of sorts around it. But due to their excellent side coverage, they minimize the amount of light that is supposed to enter inside which makes a brilliant diamond, like a Princess cut diamond to appear dimmer and dull.
Halo settings also act as protectors for the central diamonds when used with a princess cut diamond. Their shock-absorbant-like qualities make sure that the diamond doesn't suffer damages or chips and enhance its overall sparkle.
Of all the fancy shapes of diamond available, if you wish for a diamond that'd be a representative of a modern and chic vibe, then Princess cut diamonds are the ones that'd fit your bill. Opting for Lab-grown diamonds that are princess cut only makes these diamonds much more likable and affordable, compared to the other diamond cuts. Their unique symmetrical approach can be extremely pleasing.
Also Read: 10 Cushion Cut Diamond Engagement Ring Style
Cushion-Cut Diamonds
Cushion cut diamonds or old mine cut diamonds, are soft square or rectangle diamond cuts that sparkle with soft gleam and elegance. One of the most popular diamond cuts, cushion cuts diamonds has rounded edges with blunt curved corners. They might be as brilliant as princess cut diamonds but they do have an unparalleled sophistication that is highly unique.
Cushion diamonds first made their appearance in the 1700s. They were also called 'old mine cuts' due to it being the way old mined diamonds were cut. They are one of the oldest cuts of diamonds. In fact, they were the standard diamond cut until the 19th century when new and modified diamond cuts started making their appearance. Cushion cut diamonds have 58 facets which give these diamonds a less sparkly nature compared to princess cut diamonds. 
Instead, they have a very vintage and sophisticated elegance them. They are generally cut in square-like shapes but can be elongated and rectangle as well. 
These diamonds are a great mix of princess diamonds and round brilliant diamonds, which gives them their signature shape with rounded corners that resemble a pillow, or a cushion. Therefore, these diamonds are also called pillow cut diamonds. Cushion cut diamonds have subpar color retention, which makes colors within them quite visible. They retain their natural color best. Because of their comparatively less brilliance to princess cuts, it is easier to spot inclusions and blemishes inside a Pillow cut diamond.
Due to their rounded blunt corners, their color doesn't tend to accumulate at the corners. Hence it is not suggested to go for a lower grade of a diamond, not below H, when it comes to color. But these colored influences can be nullified if yellow gold or rose gold is chosen as the metal for the same. Cushion-cut diamonds come in a variety of designs. They can be near squares and symmetrical or they can be rectangular. It is also important to keep the length to width ratio in mind when it comes to cushion-cut diamonds. 
Due to their variety of sizes, choosing the wrong cushion cut diamond may either end up looking way similar to the round brilliant diamond or radiant cut diamond. The preferable ratio of L-W happens to be 1.00-1.30. Elongated cushion cuts have their own unrivaled charisma.
Cushion cut diamonds refract up to 60% of the light that enters within them, which makes them less brilliant compared to Princess cut diamonds.
Cushion-cut diamonds have a vintage, timeless and antique look. If set properly, they can also look like crushed ice, which makes them so much prettier. This makes them work best with a variety of settings making them highly versatile.
SOLITAIRE SETTING:
Due to its soft gleam on top of its symmetrical shape, solitaire settings work amazingly with pillow cut diamonds. Combining a warmer cushion cut diamond with yellow gold or rose gold gives it a very vintage vibe. Also using a combination of two metals can make it very unique and enhance its antique charm.
HALO SETTING:
If the vintage charm of the Cushion cut is not enough as it is, adding a halo around it may work for you. Since Cushion cut diamonds aren't the sparkliest diamond, the halo might just make the center diamond appear more dazzling and bolder.
SPLIT SHANK SETTING:
Going for a split shank setting might just give that extra something you've been looking for in your diamond ring. In this setting, several bands gracefully split when approaching the center stone. This setting may consist of two, three, four, or even more bands. Though the higher the number of bands the more expensive it will be.
OTHER SETTINGS:
Cushion-cut diamonds are known for their vintage and antique touch. Hence they can be fitted with many designs. If what you are looking for hasn't been found already, then there are so many ways you can further personalize it. Interwoven work, engraved metalwork, metal beads, pave bands, and many more can make your jewelry unique to you
Because of what is supposed to hold these stones down, prongs and bezel settings are the most preferred choices.   
Prong settings have four, or more, metal prongs holding onto the diamond. This setting does its excellent job by making sure that the diamond is at its sparklies self. Since Cushion cut diamonds aren't the sparkliest diamonds on their own, a prong setting can be the extra push-up that they need.
Bezel settings are also a great option. A metal ring envelops the diamonds on the sides and holds them down. But since this setting covers the sides of the diamond, they restrict the light entry. Cushion-Cut diamonds have a subtle glam about them and bezel setting reduces that even further.
But this kind of subtle finesse is preferred by a lot of women as it offers a minimalistic and neat charm to it.
Halo settings also act as buffers for the central diamonds when used with a Cushion cut diamond. That extra layer around the central diamond makes sure that the diamond doesn't suffer damages or chips and enhances its overall sparkle. Since cushion cut diamonds already have curved corners, their odds of chipping at the corners are less. But Halo setting does improve the overall look of the diamond.
The thing to keep in mind when it comes to cushion-cut diamonds is the girdle. A thick girdle makes the diamond stronger and more appealing while slim girdles make the diamond prone to damage and chipping even with the slightest force.
If your vibe is all vintage, antique with a hint of modern, then Cushion Cut diamond is right up your alley. They are more affordable than most of the other cuts, but if you want the price to be even lower, then going for lab-grown diamonds over natural earth-mined diamonds just sweetens the pot. Lab-grown diamonds are made in labs so they do not come with attached strings of pollution, slave labor, and harmful effects of mining.
Also Read: The Prestigious 'Type IIa' Diamonds
Conclusion Thoughts
When it comes to the argument of what is better: Princess cut or Cushion cut? There is no explicit winner. Neither is superior or finer than the other. It all comes down to personal choices; of what you like. Though if you are going for an overall charm of modern, then Princess cut diamonds are the best choice. But if it is a vintage and minimalistic look for you, then it is 
Cushion cut diamonds. And if you are still having issues with choosing between them, go for something that has both stones in it. It might be slightly expensive but it will look gorgeous with a perfect combination of modern and vintage.