Rose Cut Diamonds: A Guide That Contains Everything You Want to Know
When conveying love or affection for someone red roses and big diamonds have always been a go-to 'gift' for centuries. You put these two together and you will get the ultimate gift one can offer to their beloved, a rose cut diamond'.
Diamonds are an everlasting and ever-growing gem that will always manage to mark a place in the fashion world. Often you'd have heard your mothers and grandmothers fawn over that one ring or pendant fitted with a beautiful shiny rock. 
It is only fair for a woman to go gaga or crave a diamond her entire life. Trends come and go, however, when investing in jewelry choosing classic, antique pieces is the best.
Most of Y2K and 80s-90s fashion has hit the markets with a great impact. Hence, it is no surprise that antique cut diamonds are dominating the modern jewelry scenario. 
It is because antique diamonds provide a distinguishable visual treat with the impressive hand-cut facets playing with light. This is enough to attract lovers and collectors of vintage jewelry and pieces.
What Are Rose Cut Diamonds?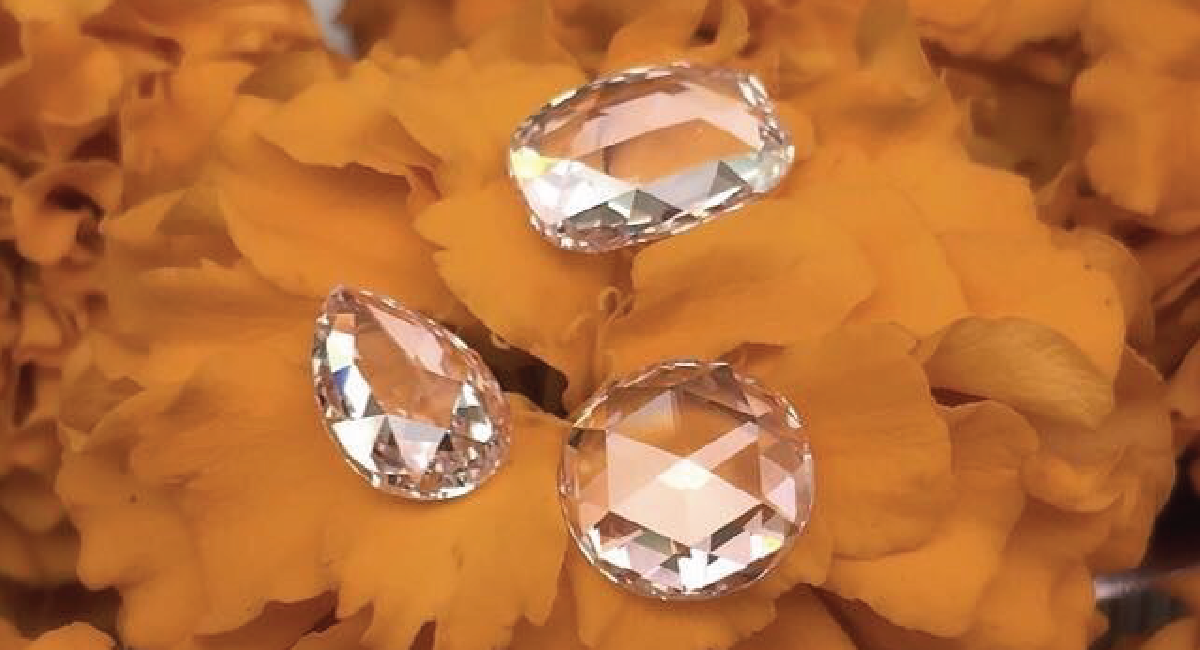 These diamonds are known for their triangular facets, impressive flat back, and domed top-covered style. The number of facets is not rigid and can go from three to more than twenty, either way, ending at the top in a singular peak.
The name 'rose cut diamond' is derived from the sense that the facets resemble the petals of a rose unfolding at the bud. This cut stands out because the gem is pretty much transparent due to no facets being present at the downside of the diamond which reflects light. 
Secondly, the rose cut diamond has an elegant, calm, and exquisite look as compared to a full-cut diamond in all its sparkle. Another feature is that rose cut diamonds carry the weight of the carat all the way to the top. It will be viewed as bigger than a full-cut diamond with the same carat from the top since it has a larger surface area with none of the carat weight stored below the girdle. 
Origin of Rose cut Diamond
The Victorian Era and Georgian Era marked the first instances of rose cut diamonds in the 1500s. They were cut by hand like other antique diamonds and meant to work exquisitely under low light conditions with their wide and large facets.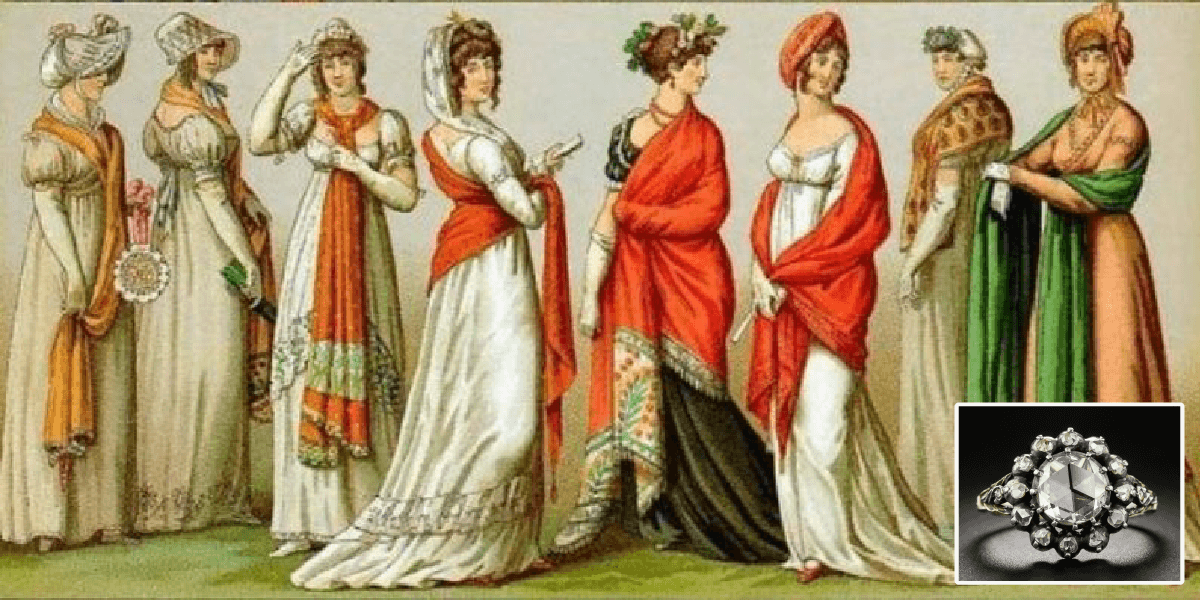 Love came to be symbolized with the rose cut diamond ring. As legend and tradition say, The third finger of the left hand contains a vein that runs directly to the heart. It truly makes for a beautiful diamond engagement ring on a wedding day for a partner symbolizing togetherness.
The rough diamond shape is a major determining factor for the final shape in which the diamond will be cut. However, the cutters try to retain as much original carat weight as possible. You might notice the perimeter following the diamond crystal instead of a perfectly round shape on an antique rose cut diamond. 
The narrow crystals are of great use as they are not extensive for other shapes due to their shallow height. With its rich history, it is only fair to bring in such an ethereal piece for a major event. Rose in itself translates to a symbol of love and romance. 
Hence, pop that question with this beautiful piece to make your moment even more special. Rose cut diamonds and their jewelry are now available as lab-grown diamonds and look/feel just the same. 
Lab-grown Rose Cut Diamond
In the early 1950s after many trials and errors diamonds in their raw form were created by scientists, however, their commercial sale came to be known in the 1980s when man was actually able to produce high-quality, refined raw diamonds. 
It was during that time that all diamond shapes and styles were replicated by chiseling and cutting lab-grown diamonds. Though they were considered to be man-made their properties possessed by them were identical to that of natural diamonds.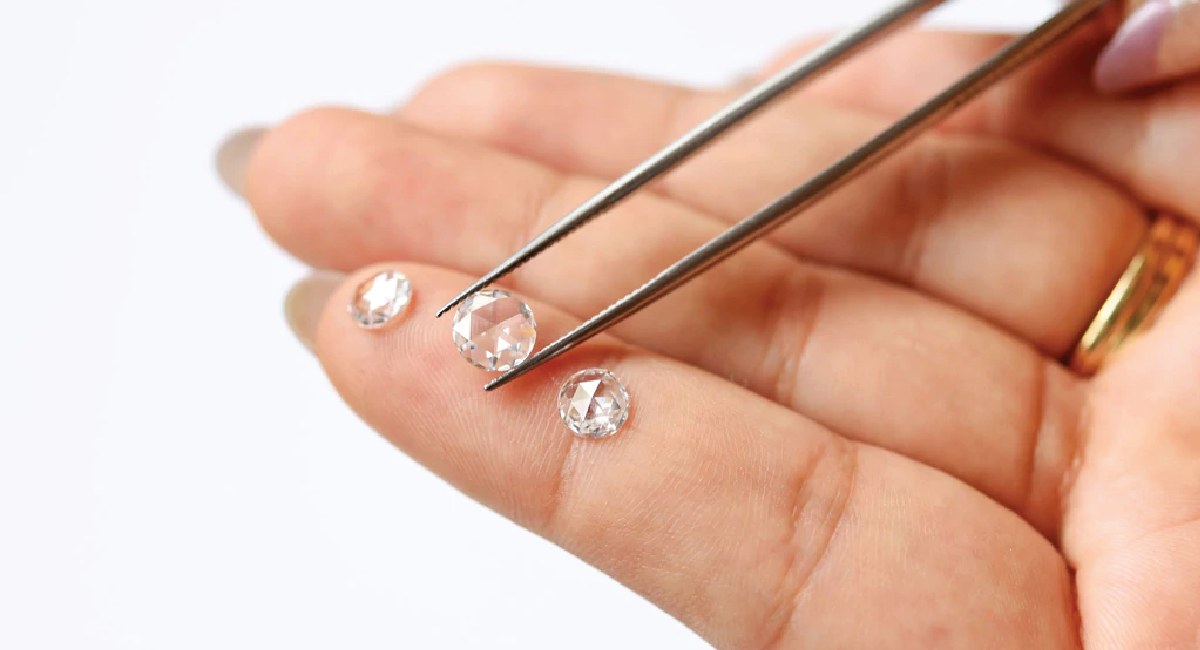 This marked the beginning of an era of 'affordable diamonds', however, it wasn't until the recent decade that these man-made diamonds were openly accepted by the public.
Coming to the technicalities a lab-grown diamond is created by two processes. The only difference is that these methods didn't follow the natural geological process but rather a man-made process to create a nice alluring Diamond ring.
Now, why should you buy a lab grown rose cut diamond? Or, why should you buy any lab-grown diamonds in general? Well, for starters it is affordable. To put it in perspective a man-made diamond will be 25-30% cheaper than a naturally mined diamond. But, a man-made diamond will be so identical to a natural diamond that you won't be able to tell them apart. 
Try thinking of it this way you can get around 1/3rd more of a diamond if you are buying a lab-grown diamond (figuratively speaking and in comparison to naturally mined diamonds).
4C's of Rose cut Diamond
Let's talk about the color and clarity of rose-cut diamonds! How colorless or the degree to which it is white are they? What is referred to by the color? 
The color of a diamond or a rose cut diamond in this case is graded from D (least or almost colorless) to Z (yellow or brownish tint) on the color grading scale. 
Amongst the 4C's of the diamonds: color, clarity, cut, and carat, color is where the rose cut diamonds compromise a bit. Flexibility with color is present with these types of diamonds.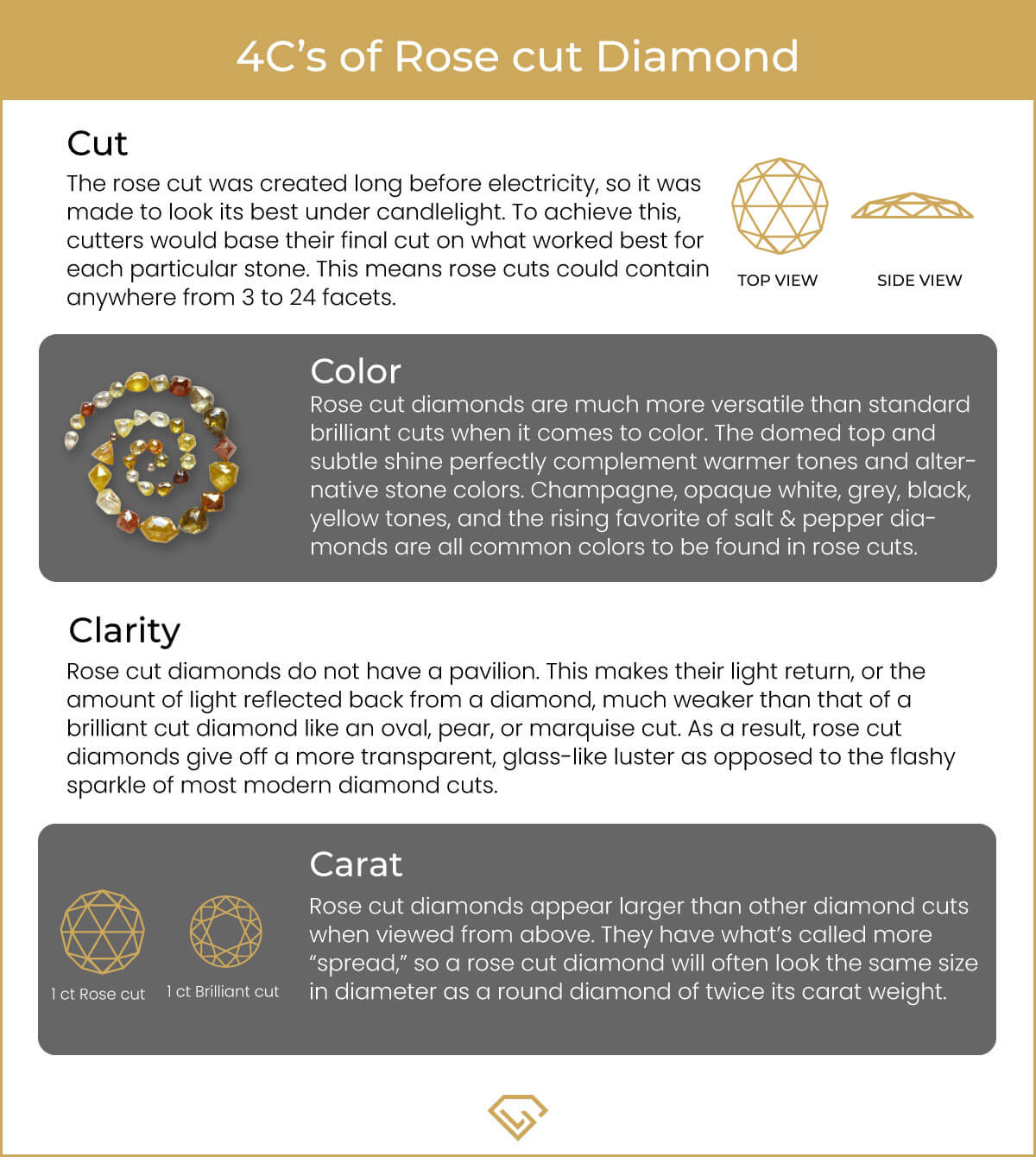 Since it has a domed top with a subtle shine, warm tones, and other colors this palette compliment it the best. Different colored diamonds like blue, pink, yellow, green, etc. also go great with rose cut diamonds. 
Such a cut brings out the diamond's color prominently without the distraction of an intense light that comes with other diamond cuts. 
Another imperative part is the clarity of rose cut diamonds. The case with rose cut diamonds is such that blemishes and inclusions are quite visible because of the transparency, high dome, and larger and flatter facets of the stone which can be seen thoroughly. 
Hence, if you are looking for something extremely flawless, look for a higher-grade diamond. However, the imperfections of the stone add to the vintage feel of the diamond. If that is your style, you can lose clarity.
The rose cut diamonds appear larger in size when viewed from above. It has more 'spread' which means a rose cut diamond will mostly look the same in diameter as a brilliant round diamond of twice its carat size. 
Why buy a Rose Cut Diamond?
There are multiple reasons to invest in a rose-cut diamond. They are modest in size and price, definitely considered a big gesture of love and romance. Are quite more transparent than most of the other diamond cuts.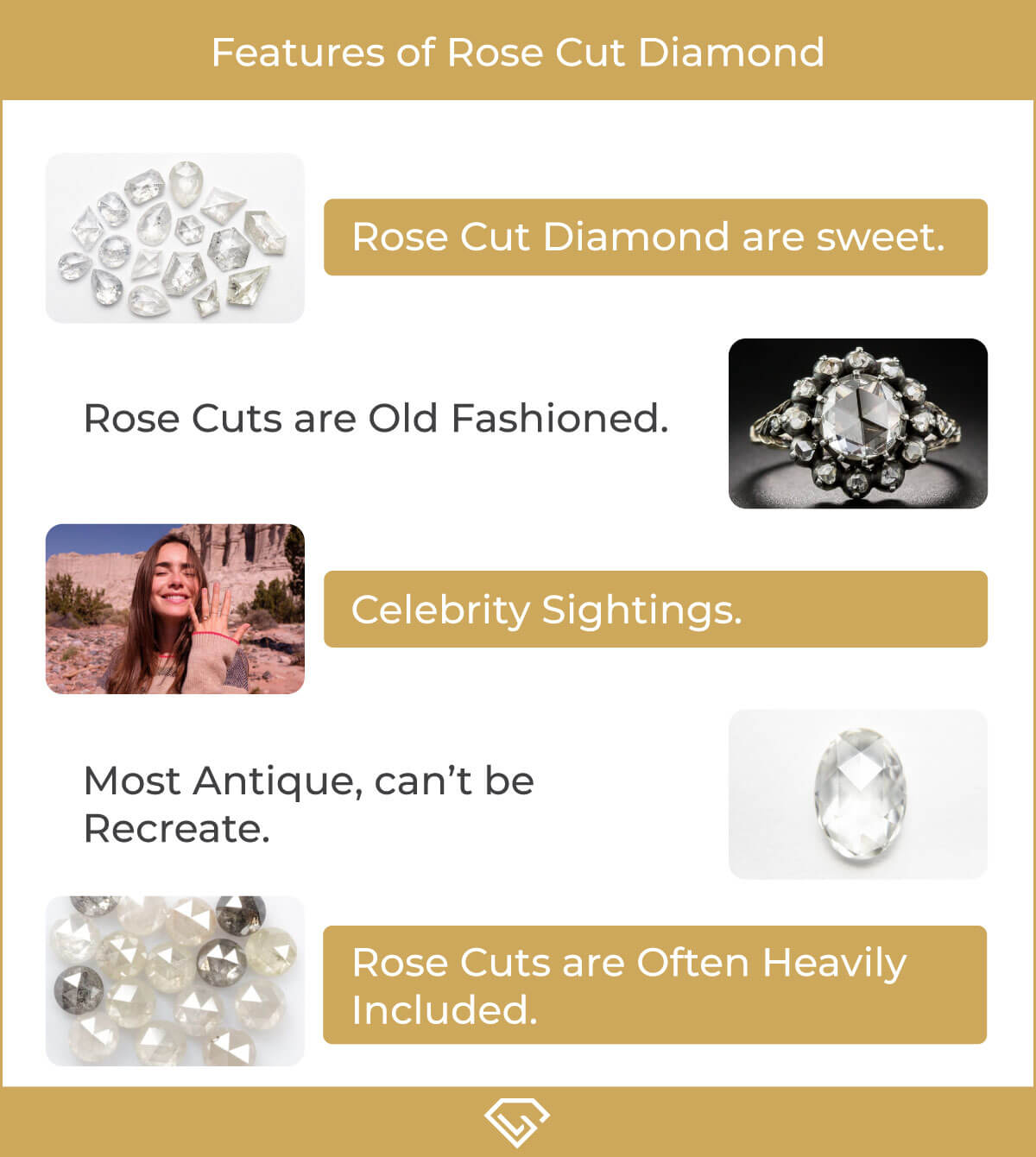 One major reason is that a rose cut diamond has a larger perceived size. They are more shallow in-depth, as in, the weight of the diamond shows on top. Hence, they appear bigger than the other cuts of the same carat. 
Secondly, the price is worth the diamond rather, than more diamonds than your money. It does not have a pointed bottom not and the carat weight is distributed making the diamond appear bigger without incurring any extra costs.
Another thing is that they are still popular however, they are relatively a rare find in modern diamond collections. This makes it a much anticipated find for a buyer or collector.
These rose cut diamonds represent a unique interaction between the light source and the diamond surface. The luster provided by the rose cut diamonds is more subtle than other cuts. It is romantic and elegant. It is not a rigid cut and can be customized into different shapes like oval shape, pears shape, round shape, hexagon shape, kite shape, etc. 
However, one drawback can be that they do not make for the most dramatic engagement ring. It translates for a sweet, elegant cut rather than a bold dramatic statement. 
Another point is that these rose cut diamonds fall flat. If you were to observe this diamond cut from the site it would look as if a diamond cutter had sliced a round brilliant diamond from its axis. Lastly, a rose cut diamond cannot be recut into anything else. 
While you can ensure flexibility with the shape of the diamond, not so much with re-cutting. The cut is such that it only stays true to the rose cut. 
Pros & Cons of Rose Cut Diamonds:
Pros:
The most important point that stays is that rose cut diamonds appear bigger in size than diamonds of the same carat. 

It is flexible in picking the shape of the diamond. 

You can easily customize it into a shape that you like without much thought. 

This cut is a rare find. Hence, it is truly eye-catching and sits well with the wearer. 

Since the diamond has a flat base, it sits close to the finger. People who live a life of hustle and vigor can opt for a diamond-like such. 

It is a versatile piece and will go with almost every outfit because of its elegance and simplicity. It stands out regardless. 
Cons:
A rose cut diamond sparkles less in comparison to a brilliant-cut diamond. This is a personal choice hence, if you are someone who likes to go off with their jewelry items then you should opt for something other than a rose cut diamond. 

While being a rare find is a pro but it at the same time acts as a con too. The rarity of the diamond makes it difficult to find in the markets. 

Since it is an antique hand-cut diamond, imperfections, bruises and asymmetries are visible along with the facets of the diamond. 

Although it is said that the pricing of the rose cut diamond is flexible, there is a wide disparity when it comes to the pricing all over to draw comparisons between different diamonds. 
Differences Between Brilliant Cut Diamonds & Rose Cut Diamond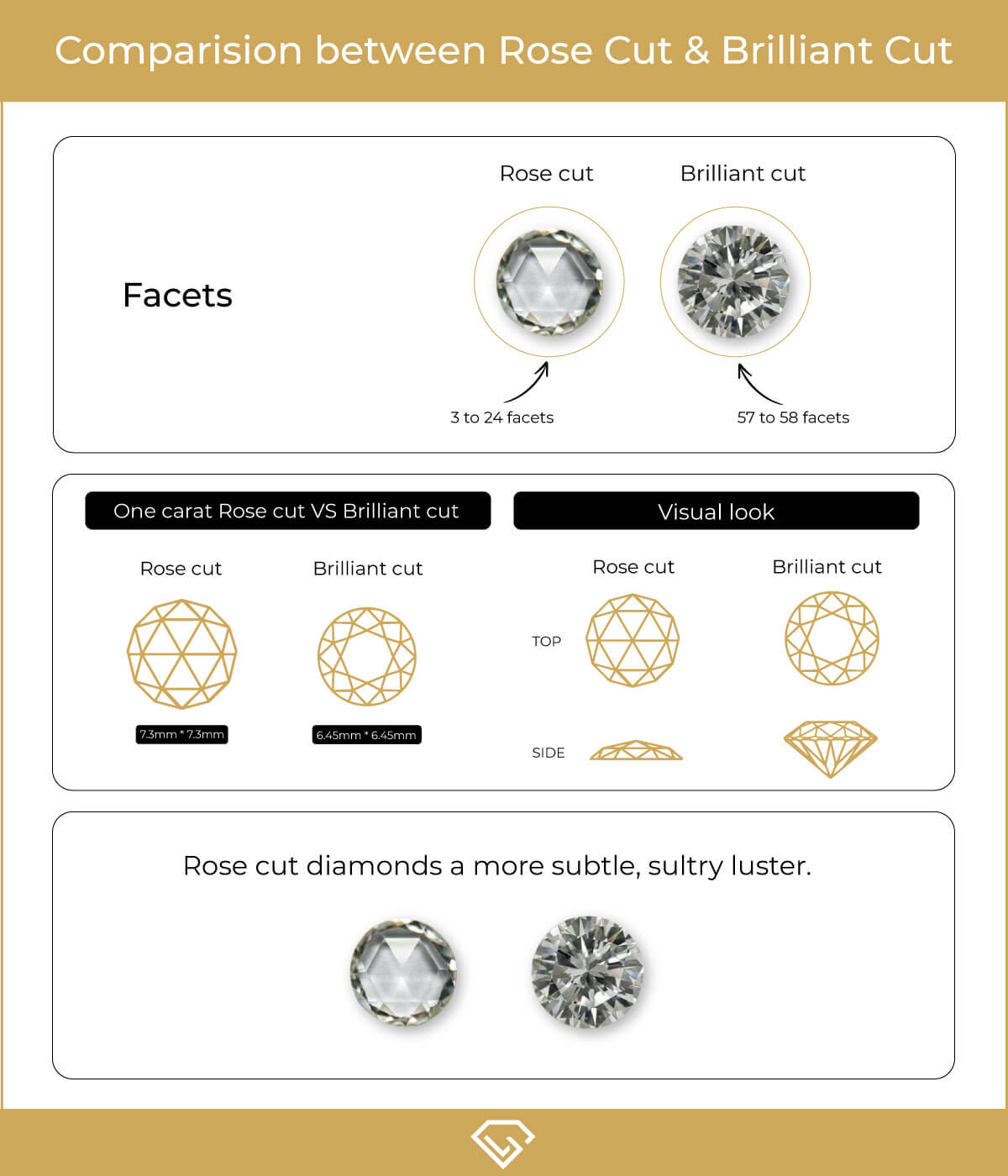 The flat individual surfaces of a diamond are called facets which are used to control the light reflecting the diamond. The fewer facets of a rose-cut diamond give off a subtle and elegant look resulting in a soft diffused lift (24 facets). 
The brilliant-cut diamond has around fifty-eight facets which give off a bold, bright and flashier sparkle. 
The brilliant-cut diamonds are weighty at the bottom owing to their pointed bottoms and tables. The diamond's brilliance is accentuated with depth. 
On the other hand, as mentioned previously, rose-cut diamonds have flat backs and dome-style crests. When viewed from the top, the rose-cut diamonds present a larger-than-life view in comparison to brilliant-cut diamonds with the same carat weight.
Rose cuts are set low on the finger due to the flat bottoms while the brilliant cut is the opposite. It sits higher on the finger. 
The rose-cut diamonds date back in time and have a glorious history with the Georgian and Victorian eras while the brilliant cuts were first visible in the 1919s using specifics of geometry and proportions. The brilliant cut is a mark of modernity in terms of diamond cutting and evolution over time in terms of this sector.
Conclusion
Rose-cut diamonds make up for a brilliant anniversary or wedding present. This diamond is a special way of making your partner elated with joy. The rarity factor makes the rose cut diamonds even more special adding the hint of mystery and topping with elegance.
Jewelry should be such that it tells a story. This diamond holds a rich heritage and history which endows a certain sense of beauty in this piece. Ask the question with this rose cut diamond and a rose, literally!
Also, You Can Check Out the Stunning infographic of Rose Cut Diamond, Follow the given link below: