The Engagement Ring Trends of 2021
2020 was not good for a lot of us. The global pandemic and the issues following that and the fact that we all were isolated in our houses made things worse for almost all of us. Weddings were halted and postponed and there were moments where people in relationships couldn't see each other for months.
2021 has been a new chapter we've all been waiting for and this year cannot stop love and relationships.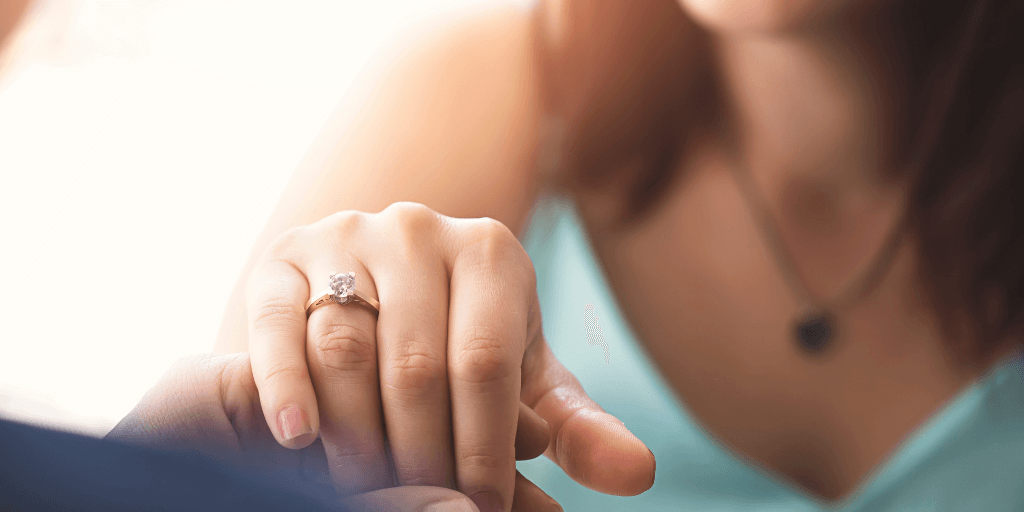 An engagement ring and wedding band are something that needs to be perfect in a relationship. Every person deserves the ring of their dream. The beauty of the ring should complement the wearer and should reflect their style and charm.
In recent times, people have been opting for a non-traditional approach towards engagement rings. Solitaires and rubies seem to be going out of trend and are getting replaced by classier and modern styles. These latest standalone sparkles are getting their popularity and preference over timeless jewelry.
Though it still is a hard job to choose the ring, people have been favoring unconventional and peculiar rather than symmetrical and traditional choices. Here are some of the major ring trends of 2021.
Custom Designs With A Hint Of Personalization
The rings that are getting the most spotlight are the ones that can not only be worn as engagement rings or wedding bands but can double as statement rings. These styles lean a little more towards gender neutrality and unisex flairs. The trend of bolder and luxurious engagement rings is getting famous.
This trend mostly lobbies for diamond-encrusted settings. Sparkly eternity band setting in a princess cut ring or round cut ring do give the rings a little modernity and luxuriousness.
As people have been opting for a non-traditional set, mix and matching diamonds and settings can offer a contemporary gleam to the wedding band.
People also opt for personalizing the rings with engravings and custom patterns. Such settings increase the sentimental value of the ring makes it more gorgeous as it comes straight from the heart.
Also Read: Embrace The Lab-Created Fancy Cut Diamond
Emeralds
Emeralds are going to be the new 'it' gemstone of this year. Surpassing other gemstones, these green stones are getting more and more popular. Emeralds are providing that touch of color, vibrancy, and freshness that many new couples are looking for regarding a wedding band.
Symbolizing serenity and new beginning emeralds are a gorgeous choice for an engagement ring for people who are looking for something to represent a vintage vibe with a modern air.
Emeralds are such a stunning stone that they suit almost everyone. Darker skin-toned people could opt for more vibrant emerald variants while lighter skin-toned people could choose darker emeralds to suit them best.
If you are looking for a way to make your emerald even brighter and intense, you could opt for diamonds to complement the emerald. The diamonds can make the emerald appear intense and brighter. Be it side accent stones or halos, diamonds with emeralds will give the diamond a glamorous air and a brilliant dazzle.
Old is gold
In this case, 'old' designer rings are getting their golden opportunity to get popular again.
With everything going on, vintage styles and designs have made a major comeback and they are here to stay for a while. These rings have an antique and timeless vibe to them.
These vintage rings usually reflect a flair from the Art Deco period with detailed intricacies of milgrain(metal beads) and filigree(metal wirework) adorning the stones. The ornate patterns of these rings tend to make such pieces of jewelry classic evergreen and timeless.
The vintage rings often have pearly accents and cluster settings with diamonds. Generally made of gold, the vintage style is getting popular among the modern crowd.
Be it old family heirloom rings that have been passing their own generation after generation or brand new rings that have a vintage theme to them, these rings are gorgeous and elegant and suit everyone.
Rose Cut Diamond
Rose-cut is one of the oldest cuts of diamonds. Featuring comparatively lesser facets and no pavilions, this cut has a flat bottom surface and a dome with facets in it. The cut is supposed to resemble the rosebud, which gives it its name.
Compared to cushion cut ring and princess cut ring that exude beautiful brilliance, rose cut ring has an alluring and subtle luster.
Rose-cut diamonds have a larger size for their carat weight compared to other diamond cuts and tend to look bigger too. When combined with metals like rose gold and yellow gold, these rings have a sultry and antique charm that remains unparalleled.
2 Stone rings
2 stone rings are also known as 'Toi et Moi', which is French for 'you and me'. If that beautiful name isn't pleasing enough, these rings are chic, sophisticated, and completely non-traditional.
These ring designs can feature two same stones, like 2 stone cushion cut rings or 2 stone round cut rings, or two similar stones, a princess and a trillion cut ring, or two very different stones, like sapphire and a diamond ring.
These rings are tasteful and offer a unique charm and bling.
3 stone rings
Also known as Trilogy rings, 3 stone wedding rings have been quite well known for a while and are getting more fame.
These rings symbolize past, present, and future or mind, body, and soul.
3 stone wedding rings do not have to feature the same stone cut. Combining different stones and cuts can spice up the wedding and make it look vibrant and gorgeous. Generally, this setting features round-cut or step cuts, but the designs are versatile and can be altered depending on the taste of the person.
3 stone ring settings enhance the brilliance of stones and give them a larger appearance. If colored stones are chosen to make a ring with diamonds, the contrast in their color would just make each stone appear intense and vivid.
Also Read: 2 Carat Diamond Ring, Understand Price And Buying Tips.
Blue Streak
If green is not your shade and emeralds are not your stone, then blue gemstones are regaining their spotlight once again. And it's not just sapphires.
A variety of blue stones including, but not limited to, sapphire, aquamarine, tourmaline, topaz, tanzanite, blue opals, are looking beautiful.
These blue gemstones are used with metals such as platinum, white gold, or yellow gold in a variety of settings.
Some of the popular designs feature a center of a blue stone, like aquamarine, surrounded by a halo of accent diamonds, diamond side stones in a 3 stone setting, diamond pave bands, diamonds, and other blue stones in a starburst style.
This combination of modernity with a hint of vintage due to the metalwork and setting are gorgeous and chic choices for a beautiful wedding band or engagement ring.
Alexandrite
Alexandrite is a special and unique stone that showcases more than one color depending on the lighting. These stones have not been popular in the past but with changing times, they are getting the spotlight for their unique appearance and light effect.
Alexandrite is available in a lot of colors; from blue to purple and orange. Based on the color of light it interacts with and the angle the light hits the stone, alexandrite can show a wide range of color variations. 
Purple stone will show accents of pink and fuchsia. Bluestones will show green accents and orange will show reddish accents.
These stones work beautifully with uniform and brilliant diamonds. An Alexandrite and princess cut diamond will make a magical and mystical ring that will make heads turn to take a second look.
Conclusion Thoughts
The year 2021 has been getting better for people. This year has also turned a new page for ring trends. This year's trends mainly focus on reviving the vintage designs and styles and giving them a modern revamp. Rings with milgrain and filigree patterns, featuring ornate styles and pearly accents are getting trendy.
Other than the designs, vintage rose cut diamonds have also made a bounce back and are getting the fame they deserve. 
The rose cut has a sultry gleam and matte sheen that attract people who prefer minimalism over the brilliance of cushion cut ring or round-cut ring.
If you are looking for an unconventional way, then a 2 stone setting and 3 stone setting ring featuring similar or altogether different stones can give you the required chic and modern vibe at the same time and appear uniquely appealing and rare.
Colored stones such as the blues and emeralds too are making it back to the active trends. While emeralds are suspected to be the 'it' stones that everyone should own in 2021, the blue stones are getting popular for their depth, dimension, and vividness. 
If neither of two of the colored stones you are looking for, then alexandrite might just be the one for you.  
All these colored stones can be enhanced and improved but adding additions of diamonds in the form of paved bands, single and double halos, side stones, 3 stone settings, and much more. 
This type of setting offers contrasts between the vivid colored stones and brilliant white diamonds which makes the rings beautiful, high-quality, and classic without looking too on the nose.
The trends of the jewelry world vary from time to time. What might be at the peak of fashion today, might not retain the top place in the next five or so years. 
But these trends tend to come back after some time to reclaim their spot and once again become popular. Hence, it is important to keep track of the changes in trends and keep yourself updating with time changes.