Why Real Synthetic Diamonds Are Cost-Effective
Diamonds are those precious gems that are pure, redefine elegance, and are wanted by many. Whether it be natural mined diamonds or lab grown loose diamonds, people tend to adore them. The market rate of synthetic diamonds is 20%-30% less than natural diamonds, does this mean man made diamonds aren't real or are of poor quality?
Absolutely not! Man made diamonds have the same intrinsic properties as natural diamonds. They hold the same emotional value and elegance that a natural diamond does. Diamonds were never considered valuable before, it was only after excessive marketing and advertising did they gain this high stature of being a 'Precious Gem'.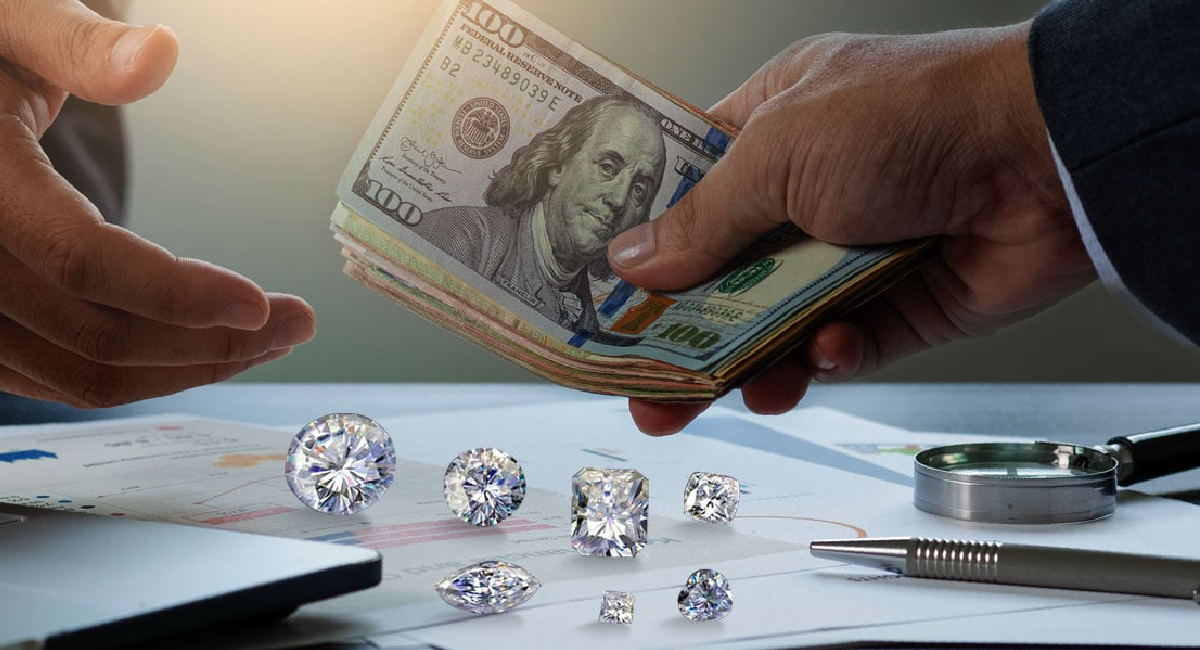 Many suggest that investing in a diamond is a myth, as mined diamonds do not have a high resale value. It was only after these diamond companies hyped the idea of diamonds' involvement in traditions and different functions that everyone fell madly in love with these fancy diamonds.
Whatever may be the history, at present diamonds are considered as a symbol of love, peace, elegance, gratitude, and much more. Natural diamonds ruled the market in the beginning, up till the 1950s when man made diamonds made an entry. As these diamonds had the same physical, chemical, and optical properties as natural diamonds, they gave tough competition. The only difference between natural diamonds and man made diamonds is that the latter has a lower price.
What Are Synthetic Diamonds?
Synthetic Diamonds are those diamonds that are simply manufactured and grown in a laboratory instead of being mined naturally. These diamonds are grown with the help of a seed implant from the naturally mined diamonds which also signifies that these diamonds have the same physical as well chemical properties as that of naturally occurring diamonds. 
The procedure of creating lab-grown diamonds has been in the process since the 1950s and in the past few years has started to gain some adaptation in the marketplace as well. 

Usually, when you try to differentiate between a lab-grown diamond and a natural diamond with unaided eyes, it might seem impossible to reach a conclusion. In such cases, only trained gemologists can differentiate between the following, that too by utilizing specialized diamond verifying instruments.
Steadily, lab-grown diamonds are also becoming the scintillation in the market as a new alternative for natural diamonds. These gems are basically an economical alternative to naturally mined diamonds. 
Factors that Affect Synthetic Diamonds Cost
1. Technologically Advanced Process
Synthetic diamonds are produced in labs under a controlled environment. Two methods are used to produce lab grown loose diamonds: the CVD diamond method and HPHT synthetic diamond method. These methods can produce a large number of loose diamonds, fancy diamonds, white diamonds, and even color diamonds repeatedly. Unlike natural diamonds, which need to be mined and then processed further. It is because of this reason man made diamonds are cheaper.
Along with this, new technology is being introduced frequently by experts. These new and advanced machineries make the job easy and the whole process efficient. There is new sophisticated diamond cutting machinery that uses computer applications to cut diamonds with precision. There is even laser-based cutting machinery that is used to cut and polish diamonds efficiently.
2. Synthetic Diamonds can Supply the Demand
Synthetic diamonds are made in labs (by HPHT synthetic diamond and CVD diamond method), inside chambers under controlled environments. These man-made diamonds take about 2-3 months to form completely. Natural diamonds, on the other hand, form after millions of years of being inside the earth's crust. This means that mined diamonds alone cannot supply the demand of the market.
Man made diamonds, on the other hand, can be produced in large amounts in less time, due to the advanced technology and machinery. Experts say that soon mined diamonds won't be able to meet the supply, as it is the slower production process. This issue will not arise with lab grown loose diamonds or fancy diamonds, making them cost-effective and a better choice.
The production of lab grown diamonds is increasing 15% every year. If you are looking for the best lab-created diamonds then Loose Grown Diamond is the world's leading lab created diamond manufacturer who shipped globally.
3. Stats: Synthetic Diamonds will Outgrow Natural Diamonds
A Forbes article stated that the rapid rise in production of man made diamonds, will soon disrupt the $80 billion mined diamond industry. The article further stated, that with man made diamonds being cheaper, it was preferred more by consumers, as the price was one of the top three priorities.
The article was backed by stats and surveys produced by Stax Inc. In which the consultancy firm surveyed 40,000 consumers and concluded with, "At $150 million in sales, the lab created diamond industry's sales are estimated to hit $1 billion by 2020".
4. Growing and Conscious Consumers
With the growing population of middle-class people, millennials, and conscious consumers sales of synthetic diamonds are ever-increasing. Middle-class people prefer cheaper rates and good quality, which is promised by man made diamonds with 20%-30% fewer prices. Only a fraction of the population would willingly pay 20%-30% more, for a mined diamond. Millennials and conscious consumers are worried about the environment, child labor, and other human factors. Due to this, they do not support the production of blood diamonds or natural diamonds; as the mining process causes environmental degradation.
While companies and producers are encouraging customers to buy mined diamonds by stating 'Real is Rare', man made diamonds have already gained popularity. Man made diamonds are also real diamonds, but available at a cheaper price. So, choose wisely: natural mined diamonds or cost-effective synthetic diamonds?
Benefits of Buying Synthetic Diamonds
Lab-grown Diamonds and Natural Diamonds are truly identical in the physical, optical as well as chemical essence. With the great qualifications and integration, lab-grown diamonds have proven to be more crystallized and clear which has mostly developed a good sensation amongst the youth who are aspiring to get married or wish to propose anytime soon. 
A question might strike in your heads are lab-grown diamonds worthy of buying and storing for a longer period or should one invest in the natural diamonds only for better redressal? It is of course a reliable deal if we start looking into the costs of both the diamonds.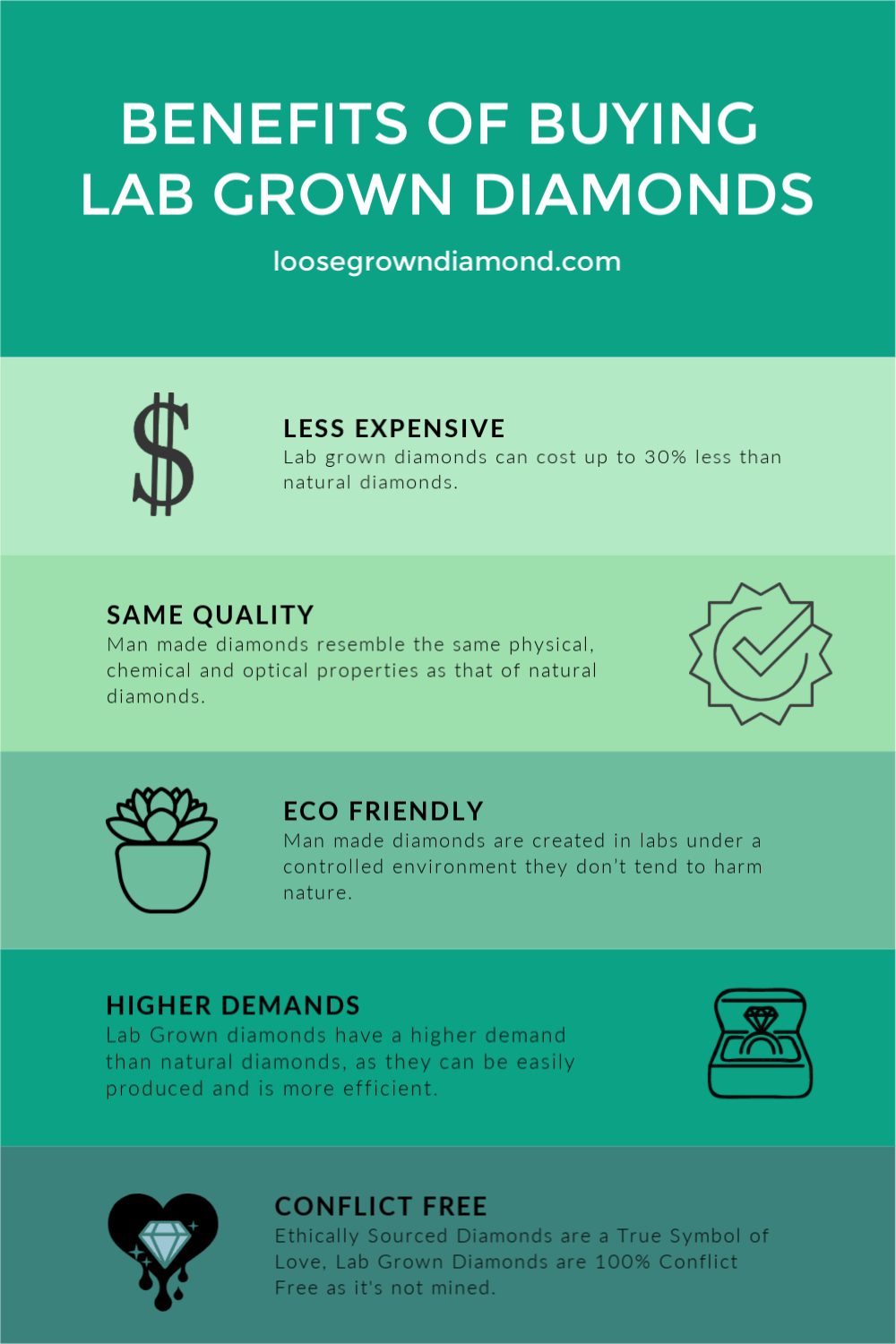 Less-Expensive

: Usually, lab-grown diamonds cost 30-40% less in comparison with natural diamonds of the same color, quality, and size. 

Quality

: Customers can easily demand various forms and structures of diamonds, which profoundly are available in general for them. Generally, natural diamonds can only be found in rare variations but synthetic diamonds can be found in various colors as well as formations. 

Eco-Friendly

: The first and foremost benefit of buying synthetic diamonds is related to nature. If we don't mine the diamonds, the earth won't spoil and that's a major point when we look out for the protection of Earth. Trying to maintain a sustainable earthly life would only be granted if we stop exfoliating the earth. Lab-grown Diamonds have made it possible for us to synthetically grow them into the best diamonds.

Higher Demand: As lab-grown diamonds are no different from natural diamonds simply other than the slight implications, their worth has been recently increasing over the past few years which ultimately transforms the value of Synthetic Diamonds. And, as we know, lab-grown diamonds are manufactured in the labs themselves, which brings out a more purified form of these diamonds.
Conflict-Free: At times, people prefer to know the origins of their diamonds, prominently jewelry, but in the case of natural diamonds, it seems a little vague to determine the mining location of the diamonds. Whereas Synthetic Diamonds are naturally grown in some specialized labs, which makes it easier to identify their origination. These diamonds are conflict-free and have not been fought over to reach the markets.

Conclusion
Lab-grown Diamonds have authentically managed to mark their valuable place in the market in the following years since the 70s era. The mining process got a pause and the world looked up to new implant techniques of diamonds which not only grant us with the ways of fabricated creation but also takes us towards a whole new set of variations in diamonds. Our reach was limited until a point, but now we can discover and explore various diamonds and their styles. 
With these man-made techniques, we got a new way of looking towards the creation of diamonds and accepting the sustainability of the earth. This advancement has brought an incrementing factor to our lives where we were able to protect the land from any harm and could benefit us to the best.