Stunning 8 Carat Diamond Ring that Set the Fashion Frenzy
A diamond ring represents a symbol of love and eternity. A wedding promise, a gift to celebrate a special milestone or achievement, or a special wedding anniversary celebration. Any occasion can be commemorated with a diamond.
There is nothing more perfect than a brilliant stone to celebrate your most important day than an 8 carat diamond, a rare and unique treasure.
The allure of an 8 carat diamond is limitless. Its size is robust, not only because it illuminates every room you enter, but because the number 8 itself is used to symbolize infinity. Many cultures believe that the number 8 embodies completeness and perfection, balance, and harmony. Wearing a diamond stone that is 8 carats will make you stand out.
This diamond size is capable of dazzling brilliance. It is a symbol of endless and perfect love that both individuals share.
For all these reasons, an 8 ct diamond ring is considered the perfect engagement ring. It shines alone, often with a simple band, without other diamonds.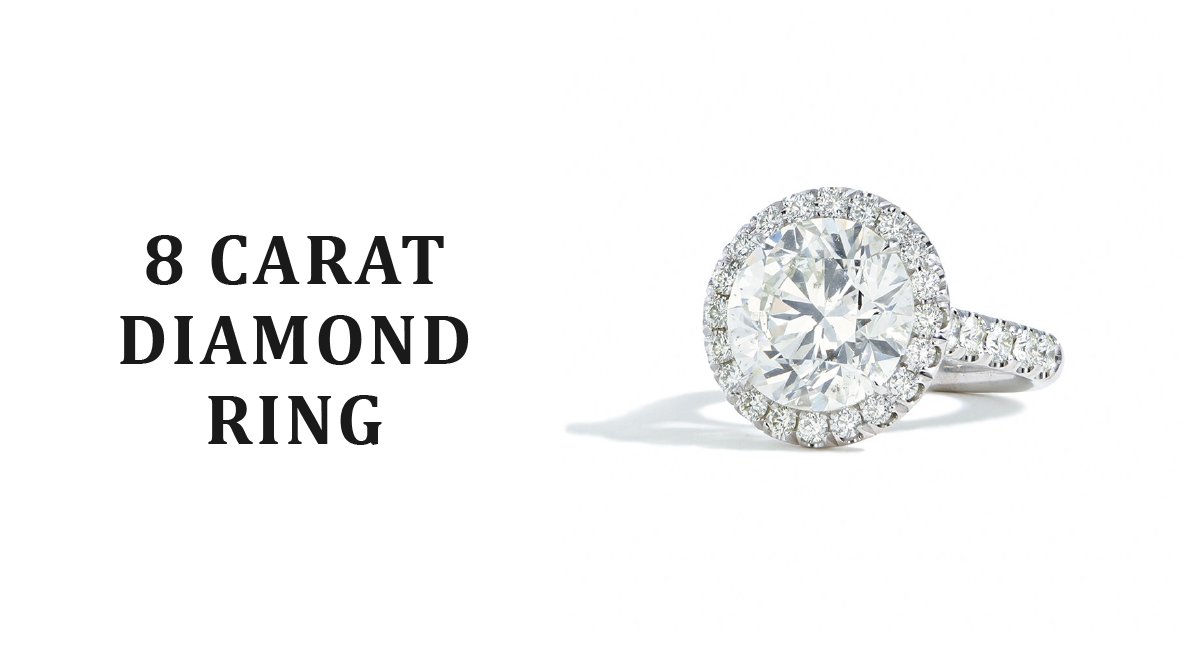 If you are looking for an optimal 8 carat diamond ring then we at LGD have you covered. Our in-depth guide to 8 carat diamonds includes all the information you should know before investing in such a significant asset.
Read ahead to get a good idea of the types of rings available. If you still feel you could use some assistance, our live chat is always open to help you out.
8 Carat Diamond Ring Price
Eight-carat diamonds are scarce, so this factor affects the price. Expect prices between $10,500 and $50,000 per carat for diamonds this large.
Thus, you will be paying around $100,000 to $500,000. However, the price can be much higher. A big-sized diamond ring, if perfectly cut, can have a price tag of one million dollars as well.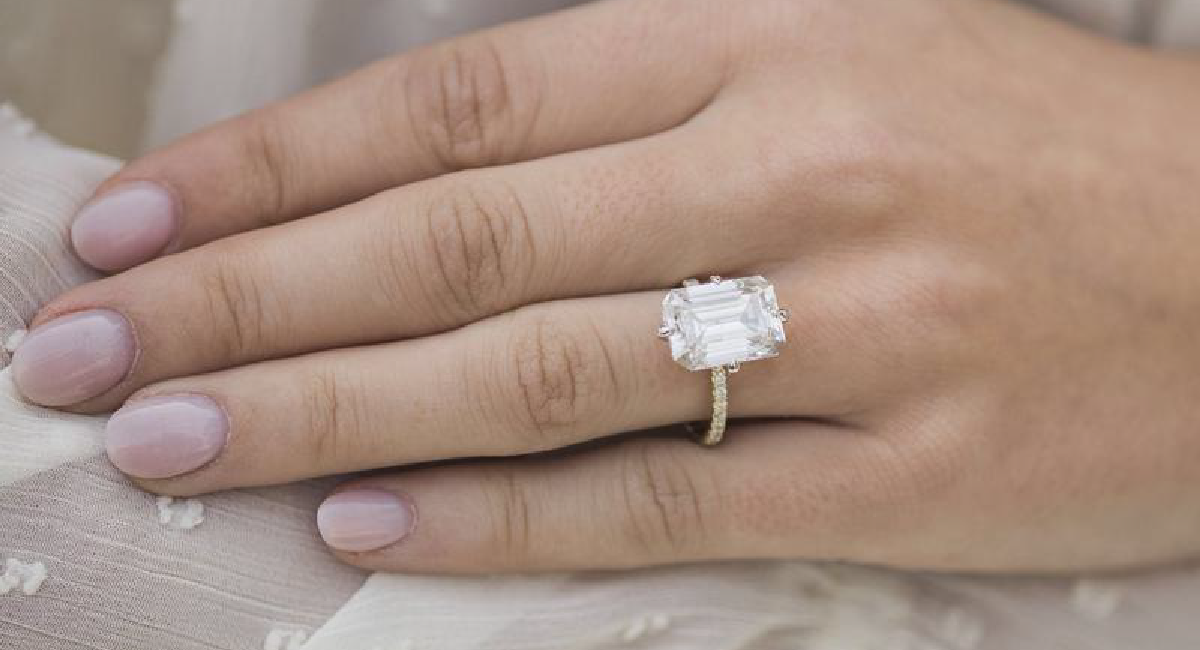 Buying an 8 carat diamond ring is not a piece of cake. It doesn't come cheap, and even hundreds of dollars can't get you one if you are looking for premium quality.
Firstly, carat weight is not the only factor affecting the diamond price. But the other 3Cs, clarity, color, and cut, also play a crucial role in determining the worth of a diamond. A single difference in grades of clarity or color can cost you hundreds of dollars more or less.
Another chief contributor to the price of an 8 carat diamond is its shape. An 8 carat diamond is already hard to find. If you try to get it in an exclusive shape, it will tend to cost you much more, such as marquise and heart-shaped diamonds.
Note: It is hard to get an "average" price for not-so-commonly-shaped diamonds as only a small number of them are available at a time in the market.
The price may differ depending on what is available if you are looking for an 8 carat diamond of a particular shape. For example, emerald cuts are less expensive than round brilliant cuts. FL grade 8 carat engagement rings are more costly than I2 grade ones. Blue diamond rings are more expensive than traditional white diamonds on the same gold band.
A flawless diamond weighing this carat would cost much more than one might expect. For example, an 8 carat round diamond can be worth around $600,000 because of its size, excellent D/VVS2 color, and clarity rating.
Do not expect diamond prices for these types of diamonds to be in the range of thousands. A slight decrease in color and sharpness makes a vast difference in price once this level of rarity is reached. However, that doesn't mean an 8 carat diamond ring will come cheap. It can cost you half a million dollars or less, depending on the 4Cs.
Basically, the higher the grades of the 4Cs, the more you will pay if you look for a mid-point where you can get both good quality and decent pricing. That is the segment you want your diamond to lie in.
8 Carat Diamond Ring Size
As a precious symbol of the future, it is essential to be satisfied with your purchase and understand how the sizing of 8 carat diamond rings works. It is important to know that the term "carat" is not used to define the size of a diamond but is used for its weight.
Naturally, larger diamonds are heavier. This is why a carat is often mistaken for a unit of size. Two diamonds can be of different sizes even though they have been cut similarly. This is due to the location that carries the weight.
Also, some diamonds can have deep pavilions or thick girdles. This, in turn, will not significantly impact the diamond's size, but its weight will see an abrupt change.
The weight of an 8-carat diamond is 1.6 grams. How this 1.6-gram stone will look on your hand or how big it will appear depends on its shape & ring setting.
When we talk about the effect of shape on the size of the diamond, we mean the surface area covered by a particular shape or the dimensions of the stone.
The most common diamond shape at this carat weight is the round brilliant. An 8 carat round diamond is about 12.7 mm in diameter. The average ring finger is between 16 and 20 mm wide. Thus, this 8 carat ring will cover 60–75% of your finger when placed.
Carat weight is one of the main 4Cs and provides a good benchmark for comparing diamonds, but you should also check their actual size and dimensions. The length, width, depth, size of the table, and angle of the crown give you a better idea of just how big a diamond is.
People generally talk about the diamond look. What they mean is the face-up size. Face up defines how a diamond looks when viewed from top to bottom.
The most important characteristics when analyzing how big a diamond will appear are:
Length x width – It is normal for round diamonds not to be perfectly round. Minor differences between measurements should not be a cause for concern. It is important in rectangular or square shapes like an emerald cut or cushion cut, respectively.
Depth percentage – This number represents the depth of the diamond. If the depth is higher, it will take most of the carat weight. Because of this, the diamond will appear smaller as the face-up size gets smaller.
If you observe an ideal cut diamond, the center of the 8 carat diamond has been cut precisely, neither too shallow nor at a high depth. To increase the brilliance and face-up size to a maximum level, all dimensions and angles are made perfect to complement each other.
8 Carat Diamonds on The Finger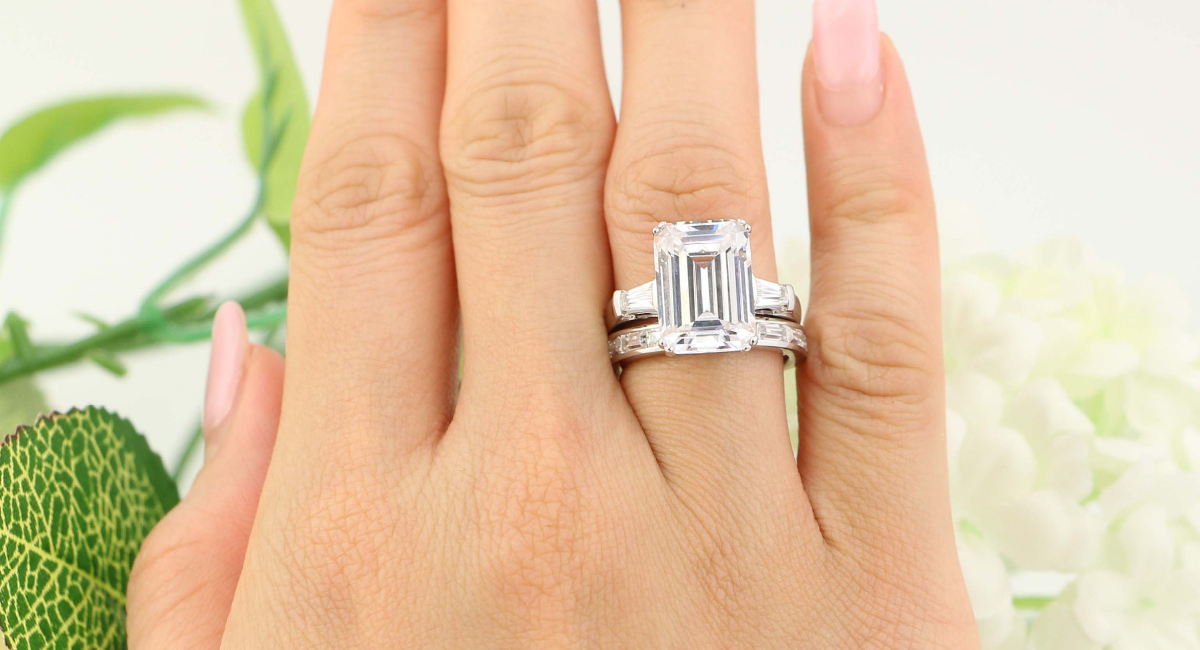 As we mentioned above, an 8 carat diamond has a diameter of about 12.5–13 mm. Hence, wearing an 8 carat diamond ring will cover 60–75% of your finger width.
The 8 carat diamond is a pure definition of beauty besides the large size. To give you an idea of what an 8 carat diamond looks like, the most common shapes that will look good on your fingers are listed below:
8 Carat Round Diamond Ring on The Finger – We recommend trying on an 8 carat round diamond to see if it looks good on the wearer's hand. A round diamond is considered to be the most traditional and common diamond shape you can opt for. Due to their bigger face-up size and less depth, these diamonds appear larger than other shapes.
8 Carat Cushion Diamond Ring on The Finger – A cushion cut has the unique feature of looking narrower at the same carat weight because a little weight gets used in the square corners of the diamond. This feature is responsible for your hand having a smaller appearance. A cushion cut 8 carat diamond ring will, however, look like an exclusive selection.
8 Carat Emerald Cut Diamond Ring on The Finger – The shape of the emerald can vary depending on the length-to-width ratio. Here, the narrow cut of the emerald is suitable for large-carat weights as it doesn't overpower your fingers and the length looks graceful.
8 Carat Oval Diamond Ring – An oval diamond shape is just an elongated round diamond. This diamond shape is slightly narrower and a little longer than a round brilliant. And because of this, it compliments your fingers without dominating them, even if it is an 8 carat diamond ring.
It is important to note that an 8 carat diamond weighs 8 times as much as a 1 carat diamond, but that's not the case with physical size. As an 8 carat diamond is only about double the diameter of a 1-carat diamond.
As we all know, an 8 carat engagement ring has a pretty big diamond sitting on its top. Because of its big size and high carat weight, it can look dominating on small fingers. Thus, selecting the one that will make your fingers look graceful and powerful is the way to go.
8 Carat Diamond Shape
When looking at ultra-rare 8 carat diamonds, the options regarding their shapes are a little more limited than usual.
And we know that you want to find a perfect diamond with a perfect shape and a beautiful setting that is going to complement any hand it is placed on.
We can somewhat help you out by giving you an idea of the diamond shapes that are available on the market when it comes to 8 carat diamonds.
As we choose a big diamond like 8 carats it is important to know that big diamonds show color flaws and inclusions easily. Therefore, it is important to look for color factors and clarity grades more precisely in the situation of buying an 8 carat diamond ring.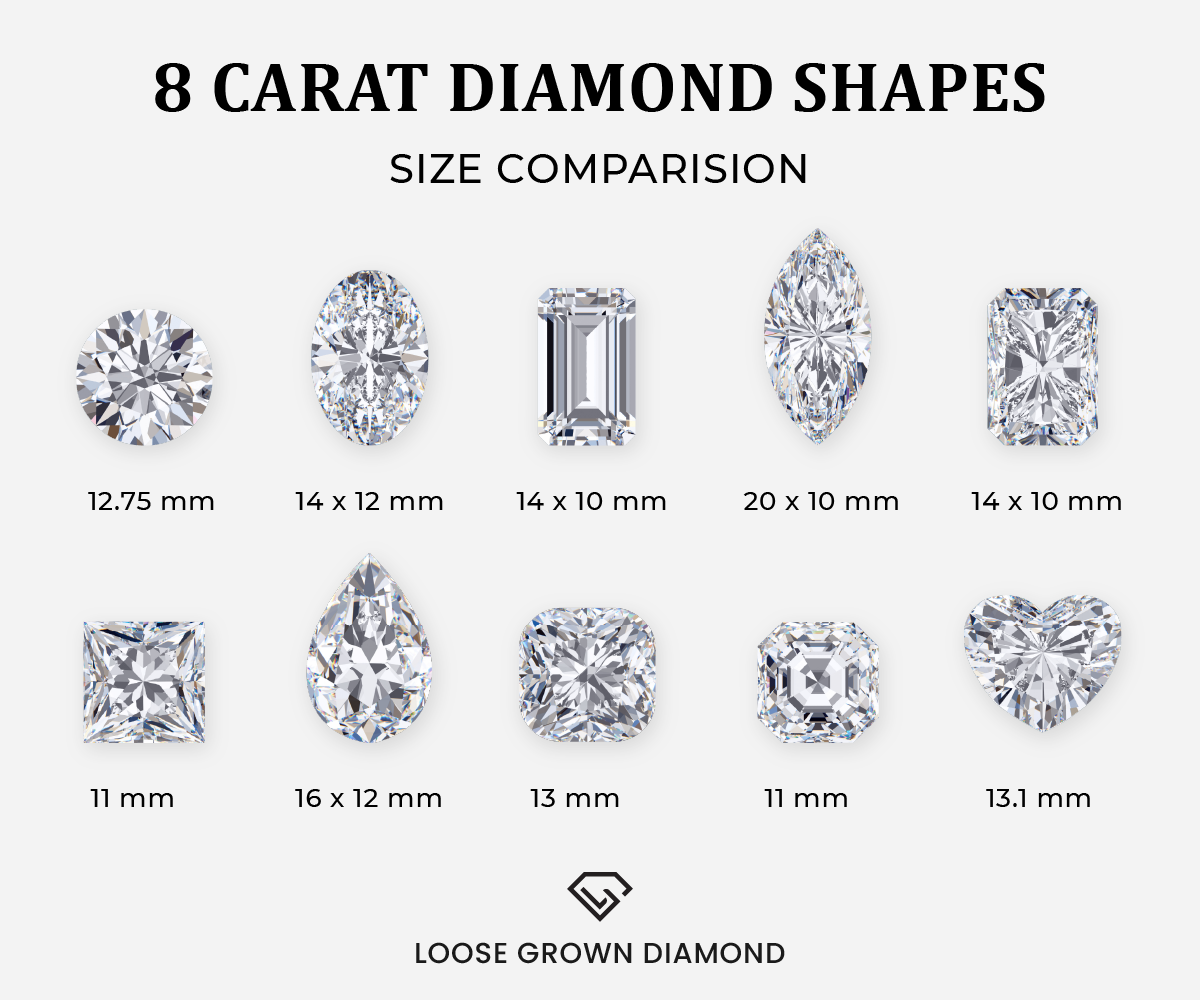 Oval Cuts: The oval cut is a classic and popular choice, while the elongated cut will make every woman's hand appear flattering. The reflection of light and spark of an 8 carat oval diamond is going to be much larger than another diamond shape. It will even cost you less than a round brilliant cut diamond, around 10%-30% less.
Radiant Cuts: Radiant is a max sparkle stone with 70 facets, 12 more than any other shape. This rectangular shape captivates women all over the world with its refraction and sparkle of fire. An 8 carat diamond ring that will have a radiant cut diamond on top will be considered a true work of art.
Emerald Cuts: There is nothing more timeless and elegant than the emerald cut. In the diamond industry, emerald cuts are known as "honest cuts" because they do not hide inclusions. The cut of the emerald is like a room of mirrors, and everything contained in the stone is magnified. Buying an 8 carat emerald cut diamond will require you to get a high clarity grade to avoid any visible inclusions.
Round Brilliant Cuts: Round brilliant diamonds are popular due to their perfect roundness and a high number of facets; 58 facets to be exact. This shape is given the "superb-trio" rating, which means the perfect trio: brightness, sparkle, and light reflection are all perfect. It will illuminate the room and catch everyone's eye.
Due to the brilliant cut, the 8 carat round diamond can be more tolerant of clarity, and the inclusions are well hidden. making it the optimal choice for a diamond shape.
Cushion Cuts: The elongated, square pillow shape is a timeless classic. No two cushion cuts are identical, and both are unique, despite what is stated in the certificate. A rectangular 8 carat cushion appears larger than a square cushion due to weight distribution.
However, cushions can be heavily bottomed. This means that the diamond is going to look a little smaller because the weight of the diamond is present at the bottom rather than the top.
Pear and Marquise Cuts: Pear and marquise cuts look great, but there are only 1 in 100 beautiful pear and marquise cut diamonds, so these stones must be obtained from a trusted brand. Pears and marquises work well to mask inclusions, so a lower clarity can bring the price down.
Princess Cut: Princess diamond that is cheaper than the round brilliant but can have the same number of facets, up to 58 (it can also have 50). This cut represents an upside-down pyramid and has maximum sparkle. It is a good choice for an 8 carat diamond ring if you are looking to save money.
Asscher & Heart Cut: Both these cuts are quite rare in general, and thus it will be harder to find them when it comes to 8 carat diamonds. If you do find them, you should know that these shapes are exclusive and thus can make the price of a diamond go up substantially.
The Best Grades for An 8 Carat Diamond Ring
An 8 carat diamond ring is very expensive and also hard to find because of its large size, brilliance, and impressive sparkle. However, you can lower the price a bit by focusing on the color and clarity ratings that are best seen with the naked eye.
The following guidelines will help you select a classic 8 carat diamond that will sparkle.
Cut: Consider only ideal or excellent-cut diamonds. Lower-cut grades are not recommended as they will show comparatively low brilliance and spark because of poor precision and are going to make your diamond look a little dull.
Color: It is not mandatory to go for a higher color grade for a colorless diamond. Look for a diamond in the G to I color grade range, which appears colorless, but saves you a high amount of money without making your diamond look any less attractive.
Clarity: VS1 or VS2 clarity makes diamonds eye-clean. A lower rating will reduce quality, and a higher rating may not make a noticeable difference in appearance. If you want you can also go for the VVS2 grade diamond, which will be much cleaner and less expensive than the FL and IF grades.
Shape: Select the diamond that is going to complement your fingers as well as your personality. Round diamond shapes are more common and offer more options, but elongated shapes like ovals or pears can give the impression of a larger diamond for less money.
In addition to the above, only buy diamonds with a certificate from a reputable institution. We recommend GIA , IGI or GCAL certified diamond, the most trusted grading agencies.
Clarity Rating for 8 Carat Diamond Rings
Experts use a microscope with a magnification of 10x or greater to view any diamond to determine its transparency or presence of inclusions. The five factors used to analyze the clarity rating of a diamond are size, number, nature, location, and topography of inclusions present.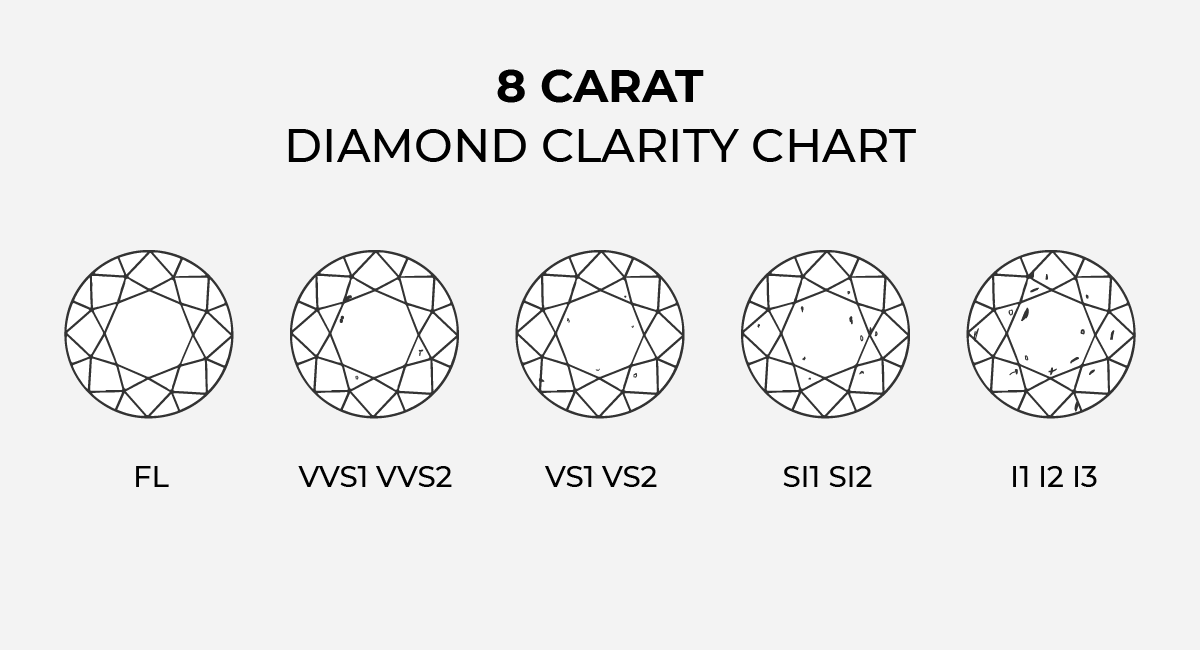 GIA's Clarity Scale:
Flawless (FL)
Internally Flawless (IF)
Very Very Small Inclusions (VVS1)
Very Very Small Inclusions (VVS2)
Very Small Inclusions 1 (VS1)
Very Small Inclusions 2 (VS2)
Small Inclusions 1 (SI1)
Small Inclusions 2 (SI2)
Inclusions 1 (I1)
Inclusions 2 (I2)
Inclusions 3 (I3)
You can find included diamonds easily, whereas a flawless diamond is hard to get. SI1 on the grading scale is an excellent starting point for finding the highest clarity in an 8 carat diamond.
All SI1 diamonds must be tested for inclusions, but finding a comfortable SI1 can have a significant impact on the value a diamond can bring. Eye-clean SI1 diamonds are rare, so if you want to eliminate visible inclusions, you should go for VS2, VS1, VVS2, or VVS1.
Wherein, VVS1 will make a dent in your pocket when it comes to 8 carat diamonds. The most optimal option is the VS1 clarity grade, as it will have inclusions that are not visible to the unaided eye.
Where to Buy 8 Carat Diamond Ring?
Finding a trustworthy and reputable seller is important if you want your purchase to go smoothly and avoid being scammed. Look for sellers with years of experience and great online reviews. You can also ask someone who has purchased an engagement ring in the past for recommendations.
Standard luxury diamond stores and online stores sell a variety of 8 carat diamonds. You can buy diamonds by looking at them online and checking their certifications. Also, online jewelers generally offer lower prices than brick-and-mortar store owners.
When you find a ring or loose diamond you like, ask for a certificate and documentation confirming its quality. All diamonds should be certified by reliable and reputable institutions like GIA, IGI or GCAL. You can also talk to the seller about the history of the diamond and whether it has been ethically sourced.
This means that the diamonds come from mines that comply with labor and environmental laws.
Do you prefer a low-clarity diamond ring or a high-clarity diamond ring? These different questions will best help you understand the type of 8 carat engagement ring you want.
If you are having confusion, just go for a diamond cut first. Generally, it's best to buy only a perfect cut. If you choose a level lower than this, you will lose fire and brilliance. When choosing a color, choose a color gradient from G to I. When choosing the right diamond shape, remember who will wear it and then make your decision.
We at Loose Grown Diamonds have a vast inventory of diamonds which are all GIA, IGI or GCAL certified. Have a look at our store and contact us if you need any help.
Conclusion
Buying an 8 carat diamond ring can be considered a big investment. And, as with any investment, you must conduct extensive research and analysis to determine exactly what you are looking for. The money invested here will last a lifetime; hence, you want to make an informed decision.
If you need any help or want to speak to an expert gemologist, contact us and we will guide you.
FAQs
What is a 8 carat lab diamond ring?
A 8 carat diamond ring features a lab grown diamond at its center, with a weight of approximately 8 carats.
How much is an 8 carat diamond?
The average cost of an 8 carat diamond is usually between $10,500 and $50,000.
What type of metal is suit for an 8 carat diamond ring setting?
Yellow gold is a popular choice for settings as it complement the brilliance of the diamond.
How do I determine the right ring size for the 8 carat diamond ring?
Accurately measuring the ring size is crucial to ensure a perfect fit. Ring size charts are also available for guidance.
Can I customize a 8 carat diamond ring?
Yes, LGD offers customization options, allowing you to choose the diamond type and add engraving for personal touch you can personalize the diamond ring based on your preference.