How Lab Created Diamonds are Made?
Natural diamonds are made by precise and perfectly bonded carbon crystal lattices. Due to this, they gain immense strength. According to scientists natural diamonds are created under extreme pressure and high temperature, they take about 1 billion to 3 billion years to form depending on the conditions.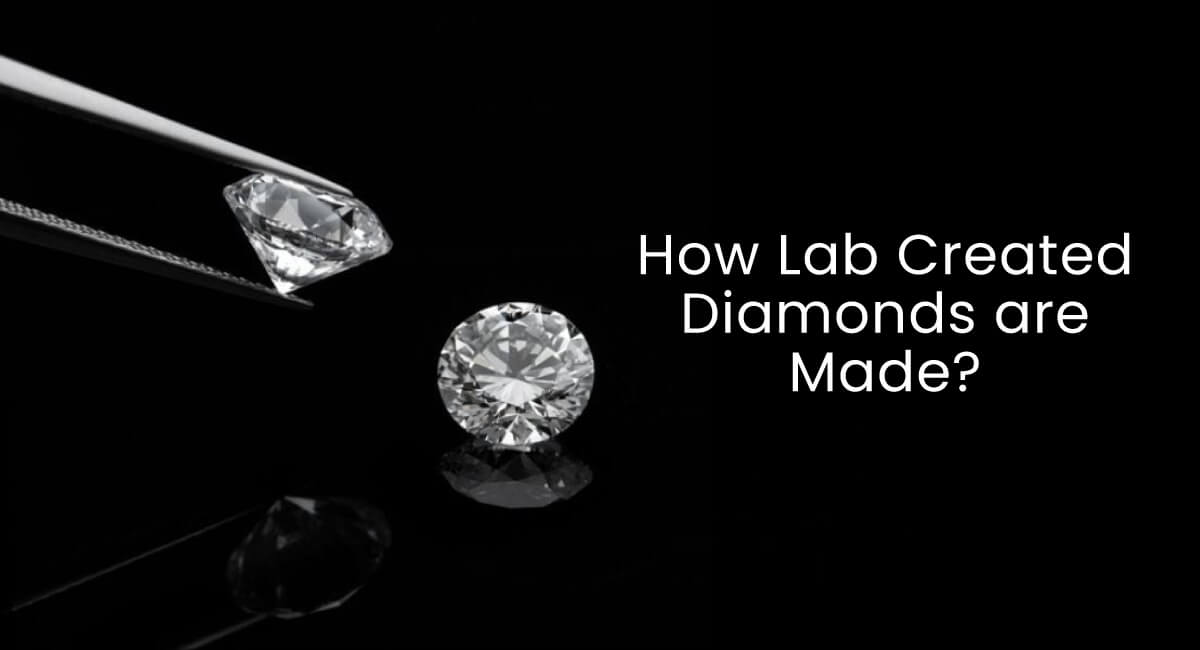 Man made diamonds, on the other hand, are created within six to eight weeks. These lab grown diamonds are created in a controlled environment, with the help of advanced technology. It is like a chamber in which the material is put which will later be converted into a loose diamond. The chamber replicates the conditions of the earth's crust, which are needed to create a man made diamond.
After a man made diamond is created it is cut into different shapes, polished, and graded just like a normal natural diamond. A man made diamond has the same physical, chemical, and optical properties as that of a natural loose diamond. Due to this it becomes nearly impossible to tell the difference between a lab grown diamond and a natural loose diamond, with the naked eye.
To tell the two apart special types of equipment and a professional is needed to inspect them. Man made diamonds are a revolutionary discovery that reshaped the whole diamond market. These loose diamonds have many benefits and somewhat more benefits than natural diamonds.
There are Mainly two Methods that are opted to Create Man made Diamonds:
1. CVD Diamond Method
2. HPHT Synthetic Diamond Method
Now let us give you a brief about both of these methods, and how they are used to create loose diamonds, white diamonds, and fancy diamonds.
CVD Diamond Method
CVD stands for Chemical Vapour Decomposition, it is used to create high-quality loose diamonds. In this method, a material is put inside a chamber in the presence of a pure rich carbon plasma. As soon as the process starts, carbon atoms get deposited on the material, and with time it forms a man made diamond.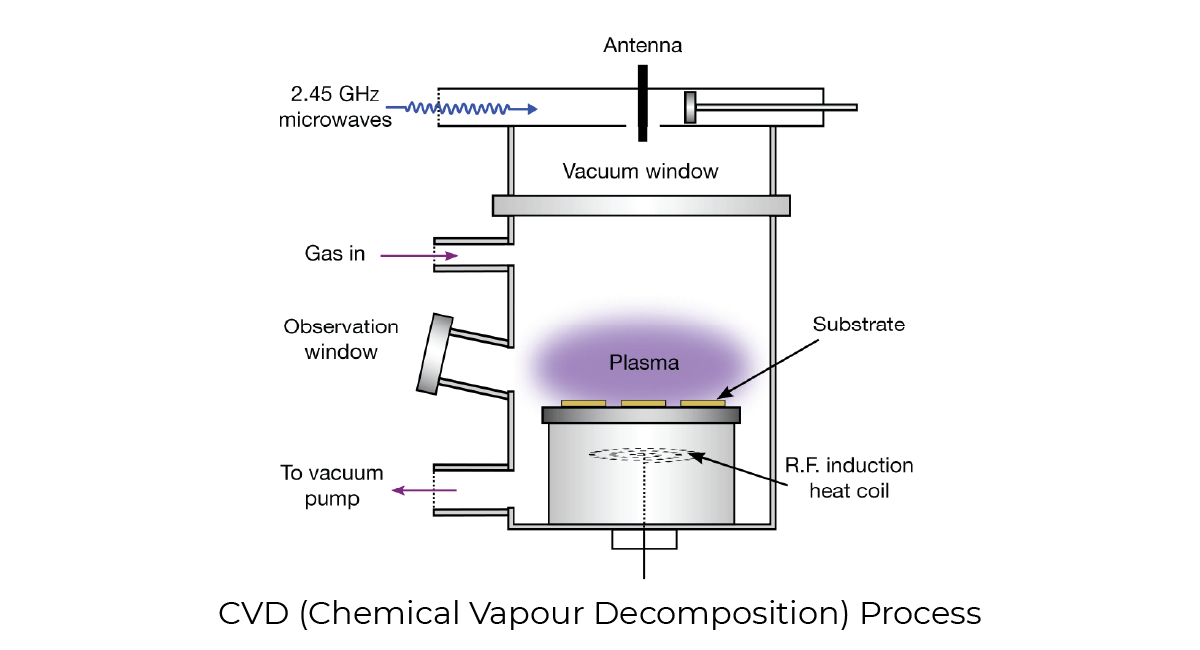 To get colored fancy diamonds, specific trace elements are inserted into the carbon crystal lattice during the growing phase. Depending on the amount of trace element and type of trace element inserted, does the fancy diamond get its color.
CVD Diamond method also has some types, which are:
• Plasma Enhanced Chemical Vapour Decomposition (PECVD)
• Microwave Plasma Chemical Vapour Decomposition (MPCVD)
• Low-pressure Chemical Vapour Decomposition (LPCVD)
• Ultra-High Vacuum Chemical Vapour Decomposition (UHVCVD)
HPHT Synthetic Diamond Method
HPHT stands for High-Pressure-High-Temperature, which is also the procedure used to create man made diamonds. An HPHT Synthetic Diamond making machine is able to generate 60,000 ATM (atmospheric pressure) and 2500°C temperature. Thus forming an environment similar to that under the earth's crust, which assists the formation of a man made diamond.
The elements and material used to create a lab-grown loose diamonds is:
A tiny diamond seed
Highly refined graphite
A high-quality catalyst mixture containing metals and powders
When the machine is turned on, due to high pressure and high temperature, the catalyst mixture turns into a molten form. Which then causes the refined graphite to dissolve in it, and form various layers over the diamond seed. Then after the cooling is done, an HPHT synthetic diamond has been formed.
To carry out the HPHT Synthetic Diamond making method, and apply the required conditions, two types of machines or press designs are used.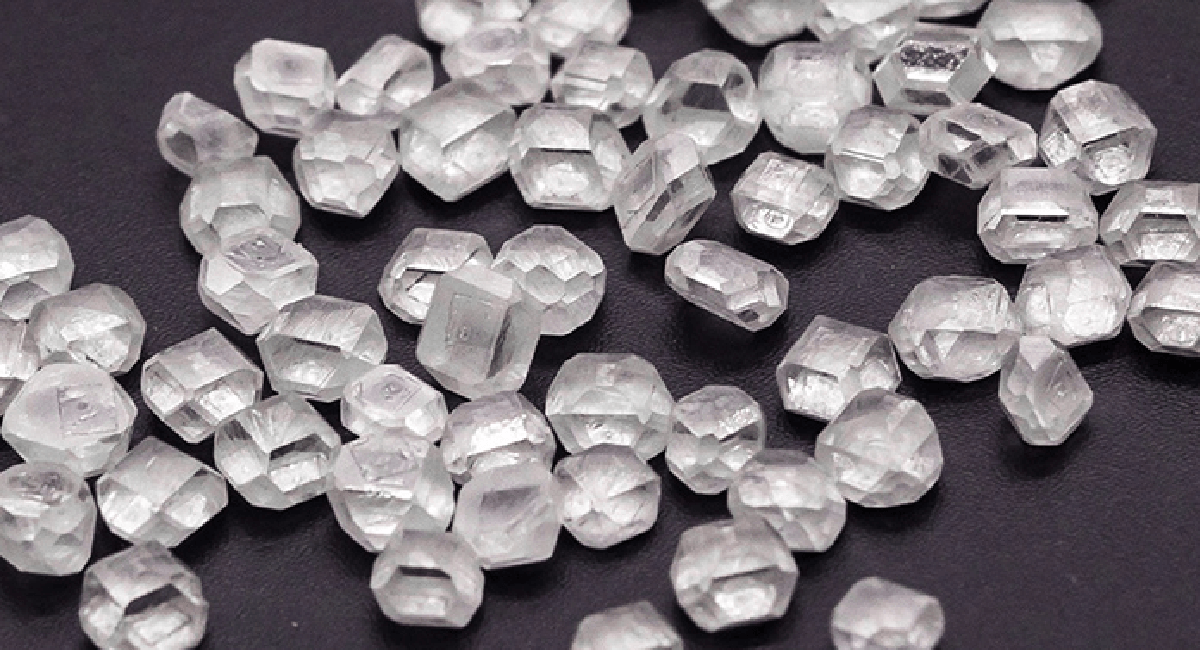 Cubic Press- Creates high temperature and pressure with the help of pistons, which are located throughout the machine and provide pressure from different directions.
Belt Press- In this machine high pressure is formed by two strength pistons. These pistons apply equal pressure in opposite directions.
Why Lab Grown Diamonds?
Mining Free
"NO MINING" is required for Lab created diamonds.
Elevate your jewelry with mining free Lab Grown Diamonds
Quality
Lab created diamonds have the same
quality and optical properties as natural diamonds.
Valuation
Lab created diamonds contribute excellent value,
and are more affordable than natural diamonds
Conclusion
Hence to create a man made diamond a controlled environment and specific conditions are needed. Lab grown diamonds are more eco-friendly than natural white diamonds or natural loose diamonds. Lab grown diamonds do not require intense mining, which degrades the environment, soil, and vegetation.
Lab grown diamonds are preferred over natural diamonds. And, with the ability to create any type of loose diamonds or fancy diamonds these man made diamonds have gained immense popularity.