Pear Shaped Diamond: Everything you need to Know
A cut of a diamond is the way a diamond has been shaped and formed to suit a particular variety of styles. When a diamond is cut, it is decided upon a form, which is the outline of the diamond. The cut of a diamond is the 3D form and the primary aspect that affects and determines the brilliance of the stone. 
The pear cut is a gorgeous cut diamond that is a replication of teardrop/pear shape, thus calling it either a 'pear cut diamond' or 'teardrop diamond'. The cut is a combination of a smooth round diamond with an extension of a pointed formation of the stone. This makes it a subtle flux of delicateness and strength, something which is represented by the respective combination.
The pear cut is a rather uncommon cut of the diamond, which is an elegant form. The elongated design of the pear gives a rather classy look when worn on the fingers. It is a vintage yet romantic style that gives a timeless look to the wearer of a pear cut diamond ring.
History of Pear Shaped Diamond
Despite having a modern look and touch in the pear cut diamond shape it is not that new in age. It ranges back to the fourteen hundreds. It was created by Lodewyk van Bercken nearly around the 1460s. The creator of these diamonds is a very famous name in the diamond industry even today as he was the one who introduced the concept of symmetry in diamonds and that the diamonds should be cut in a certain way in shape and size so as they yield us the best possible optimum results.
He also created the Scaife which is a type of wheel used to polish diamonds which is made with olive oil and the dust of the diamonds. It was a rebelling discovery that changed the entire diamond industry. Such was the greatness of this discovery that even to date the same Scaife is used for polishing the diamonds and making them even more beautiful and appealing. It was this invention that allowed Lodewyk to create and implement new cuts and designs and during one such experiment, he created the famous pear shaped diamond design which to date is loved and appreciated by many out there.
| | | | | | | |
| --- | --- | --- | --- | --- | --- | --- |
| Shape | Carat | Cut | Color | Clarity | Price | |
| pear | 2.04 | Ideal | E | VS1 | $3093 $2320 | View |
| pear | 2.07 | Ideal | H | VS1 | $1383 $1037 | View |
| pear | 2.00 | Ideal | G | SI3 | $1136 $852 | View |
| pear | 2.01 | Ideal | G | SI1 | $877 $658 | View |
| pear | 2.10 | Excellent | H | VVS2 | $1264 $948 | View |
| pear | 2.01 | Excellent | H | VVS2 | $1213 $910 | View |
| pear | 2.01 | Ideal | I | VS1 | $1447 $1085 | View |
| pear | 2.01 | Ideal | F | VS1 | $2724 $2043 | View |
| pear | 2.03 | Excellent | F | VS2 | $1389 $1042 | View |
| pear | 2.04 | Ideal | F | VS2 | $1384 $1038 | View |
| pear | 2.07 | Ideal | F | VVS2 | $86224 $64668 | View |
| pear | 2.00 | Ideal | E | VS1 | $1557 $1168 | View |
| pear | 2.01 | Ideal | F | VVS2 | $4891 $3668 | View |
| pear | 2.03 | Ideal | F | SI1 | $1437 $1078 | View |
| pear | 2.01 | Ideal | H | VS2 | $937 $703 | View |
| pear | 2.02 | Ideal | E | VS1 | $84151 $63113 | View |
| pear | 2.01 | Ideal | F | VS2 | $1583 $1187 | View |
| pear | 2.08 | Ideal | G | VS1 | $1571 $1178 | View |
| pear | 2.01 | Ideal | F | VVS2 | $4891 $3668 | View |
| pear | 2.09 | Ideal | E | VS1 | $1737 $1303 | View |
Things to Keep in Mind for Pear Shaped Diamond
The need to have a clear guide as to how to purchase a pear shaped diamond is quite vital to get the best stone worth your money. A few things that you need to keep in mind before buying the same are mentioned below.
Cut
If you're signing up for a pear shaped diamond, in the most flawless instance it should have perfect symmetry. The point and the rounded end's tip should be well aligned. On all sides of the diamond, the bottom and the top cut should have uniform cuts.
The top of the pear shaped diamond should be like a semi-circle and not be narrower than that. Many times the cutters add more weight to the diamond, and adding more unfinished stone to the final cut might make it look like a square rather than pear shaped, which should be avoided at all costs.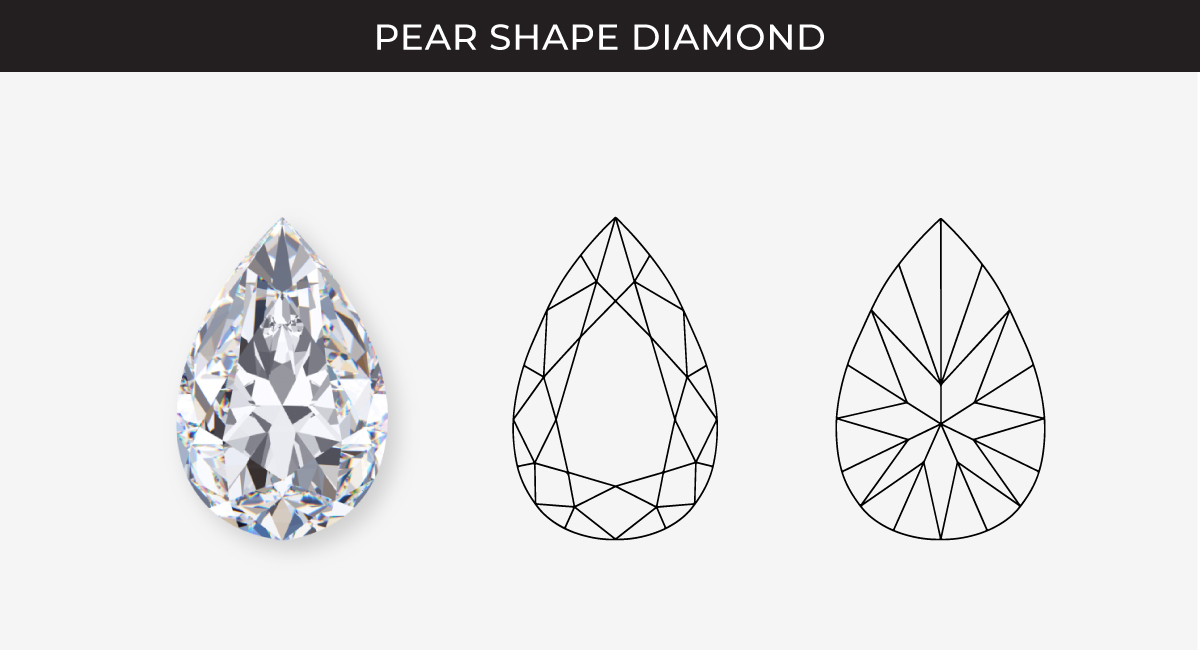 A prong should always be placed at the tip of the pear cut diamond because there is a high chance of chipping from this area. Natural flaws or extra facets also known as man-made flaws, or other inclusions may be found here since this point was formerly closest to the rough stones outside the border.
However, these imperfections will be hidden once the diamond is set because the tip is covered by a prong. The only remaining question is if the faults are large enough to compromise the diamond's stability, which happens very rarely. 
Clarity 
Clarity evaluation in pear diamonds is subjective, just like color evaluation. If you want to check clarity grades, Gemological Institute of America (GIA) reports on the same are very efficient. It's crucial to remember that everyone who is investing in a pear shaped diamond would have their ideal idea for clarity and hence its choice is subjective.
For some mixing in the diamond can be okay, as long as it can't be seen at all. Whereas, others might demand a technically flawless and clear appearing diamond. Sticking to Slightly Included (SI) chart, which is the chart for clarity for slightly included diamonds by the GIA, SI1 and SI2 clarity are for the best monetary value.  
Pear shaped diamonds are brilliant at concealing inclusions because of their inherent round character. At the circular end of the stone, the incorporations are shadowed because of the circular shape. On the other hand in the pointed tip, it is even better to hide inclusions due to its narrow appeal which makes it impossible to see any imperfections.
Even yet, a concentrated black SI2 in the stone's center will be apparent to the naked eye, so you shouldn't be believing a site/seller that states that there's nothing visible to the naked eye.
Color
Color assessment of pear shaped diamonds is again subjective like the clarity assessment. It may be so, that many customers could prefer the somewhat warmer tones on their diamond rather than a completely colorless diamond.
Actually, in the supply and demand drivers, the premium price is attached and paid by buyers to a warm-toned diamond rather than colorless ones. Looking for the authentic color difference is something that is practiced in the diamond market with the only color grading system that is available.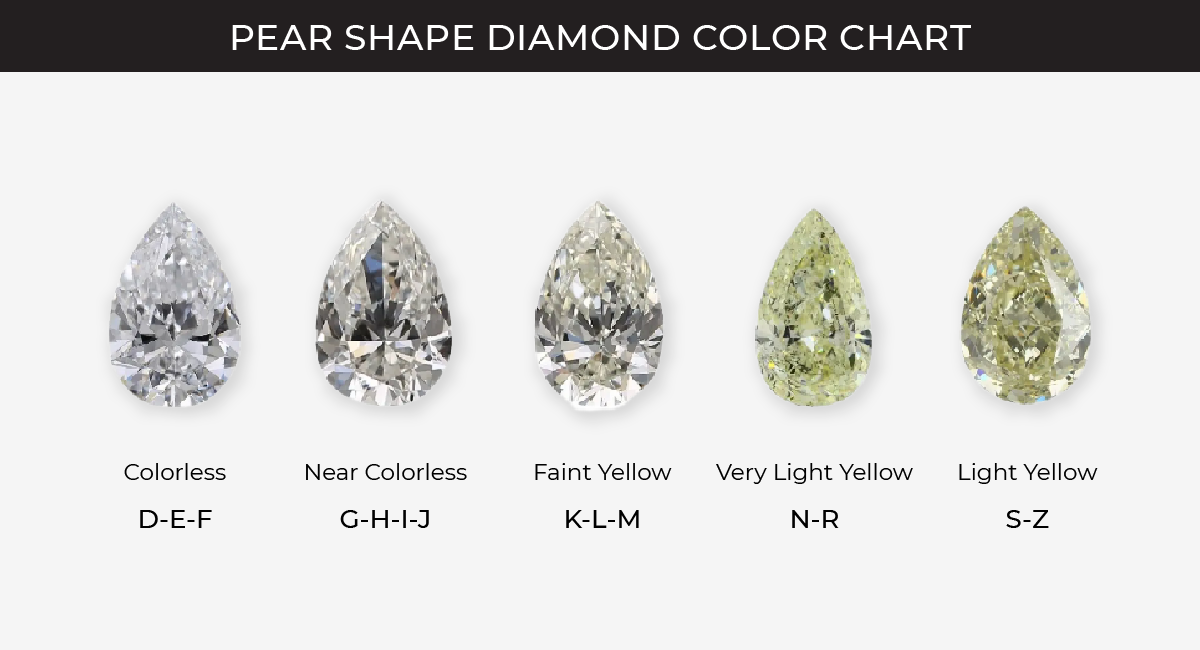 The color may appear significantly darker at the tip of larger pear shaped diamonds. Thus when in comparison to other diamonds people may choose to increase the color gradient in pear shaped diamonds.
Do not misunderstand this color of diamonds as 'fancy colored diamonds. These are two different things, the latter is an extensive range of diamond colors like blue, yellow, pink, green, brown, black, etc. The former is the tint and colorless scale of a diamond. 
Carat
The carat range that a pear shaped diamond can vary from is 0.50 Carat – 3 Carat, each one of which has its own beauty. But, yes larger the diamond gets more protection it would need, because of how it can nip or be damaged.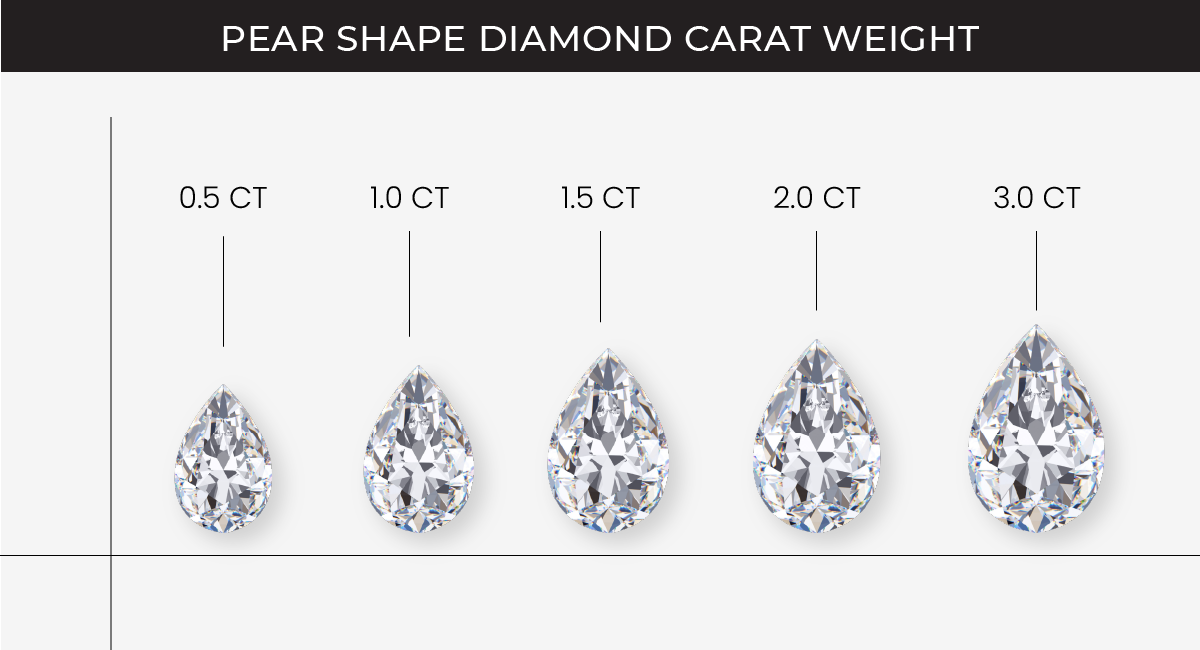 Choosing the carat size depends on a lot of things from budget to subjective choice as to what your loved one would like to wear. Rightly so, these notions should be kept in mind before making a decision.
Length to Width Ratio of Pear Shaped Diamonds
The length-to-width ratio of the pear cut diamond has a lot of influence on the elegance and the shape of the pear shaped diamond ring. And, a lot of times it depends on how one likes their diamond to look.
Some people like thicker pear shaped diamonds than thinner ones and vice versa are also applicable. To have the length and width of the pear shaped diamond between 1.50-1.75 is what most people find suitable and is also a good call to make. A pear diamond with an excessively high length-width ratio will resemble a malformed round diamond.
The length and the width of the diamond at the end depend upon individual decision-making. There are no incorrect or right answers when it comes to your preference regarding a thinner or stubbier stone. The pear's outline must speak to you and your loved one, in the end.
Pros and Cons of Pear Shaped Diamonds
Pros
Everything in this world has its own benefits and dis-benefits such as the case with pear shaped diamonds.
Price

: As compared to the other diamond shapes the pear shaped diamonds are very less expensive and are pocket-friendly to a level. At the same price we pay for the other diamond cuts, we will get a bigger and cooler size as in the case of the pear shaped diamonds.

Size

: Along with the benefit of the less cost the size of the pear shaped diamond also looks quite large and elongated as compared to the other diamond shapes. It is approximately 8 percent larger in size than the traditional round shaped diamonds.

Sophistication

: It is quite versatile in nature and can be worn as a neckpiece, ring, earrings, etc., and still look the best among its counterparts. This type of diamond cut can also be used as a side stone in various types of jewelry pieces despite being the main stone majorly.

Adaptability

: The unique and antique visual effects of the pear shaped diamond are loved and appreciated by many. If worn around the neck it compliments the collar bone, and if as a ring it makes the fingers look thin and long. And also gives a completely sophisticated and classy look in the case of earrings. This is the most elegant diamond cut out of all the others.

Antiqueness

: It is in the market for around many years now and is one of the evergreens and timeless classic cuts of diamonds. For women who prefer vintage and aesthetic shapes, it is the best choice.
Cons
If a certain thing has its positive sides there are negative aspects also same is applicable to pear shaped diamonds.
Expertise

: As mentioned above symmetry and polish is a must for pear shaped diamonds and so it should only be done by experts in the fields. The naive ones cannot efficiently carry out the process thus giving it a not-so-complementing look. They also have a bow-tie effect that is they at times tend to show a dark pattern similar to the bow and tie. But in the case of well cut diamonds, this effect is not that much.

Fragileness

: If we talk about the tip of the pear shaped diamonds it is very narrow and thus is prone to breakage and damage. Thus it becomes very important to carefully examine the tip of these diamonds before making a purchase.

Availability of fewer options:

The pear shaped diamond cuts are very much popular and in-demand but they are not that enriched if we look at the case of options and varieties
Pear Shaped Diamonds Ring Settings
To find the ideal pear shaped diamond and that being paired with the most appropriate setting is a task we shall guide you with as it is not as simple as it may seem. The setting of a ring is important because it portrays the true beauty of a diamond while preventing it from damage; particularly on the sharp tip. This tip is prone to chipping and catching on to items such as clothes. Hence, selecting the best setting for your style and how regularly you will wear it is important. 
Prong Settings

To put the pear shaped engagement rings in prong settings of either 5 or 6 prongs is a common phenomenon. The prong setting incorporates metal projections or blades, called prongs, to secure the diamond piece.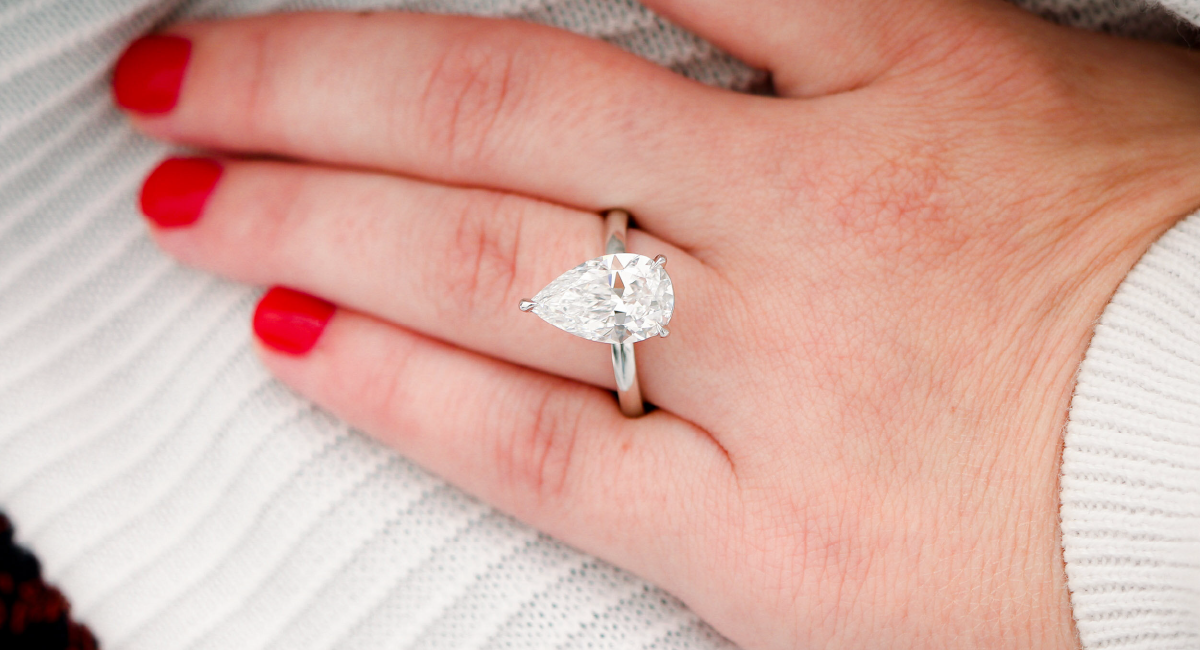 How do they protect the stone? The prong's job is to secure the stone without taking away from the diamond's shine and show, and one prong on the point of the diamond safeguard that too. You can choose the 5 prong setting for more protection, whereas the 6 prong setting protects the diamond a little less, but gives more space to let the diamond shine in its glory.
Bezel Setting
The Bezel setting makes sure that it provides maximum protection to the main diamond completely by enclosing the outer ring. What does the Bezel setting look like? It is a setting where the diamond is made to fit in the design completely. In this type of setting, the engagement rings metal runs along the entire edge of the gemstone to hold it in place.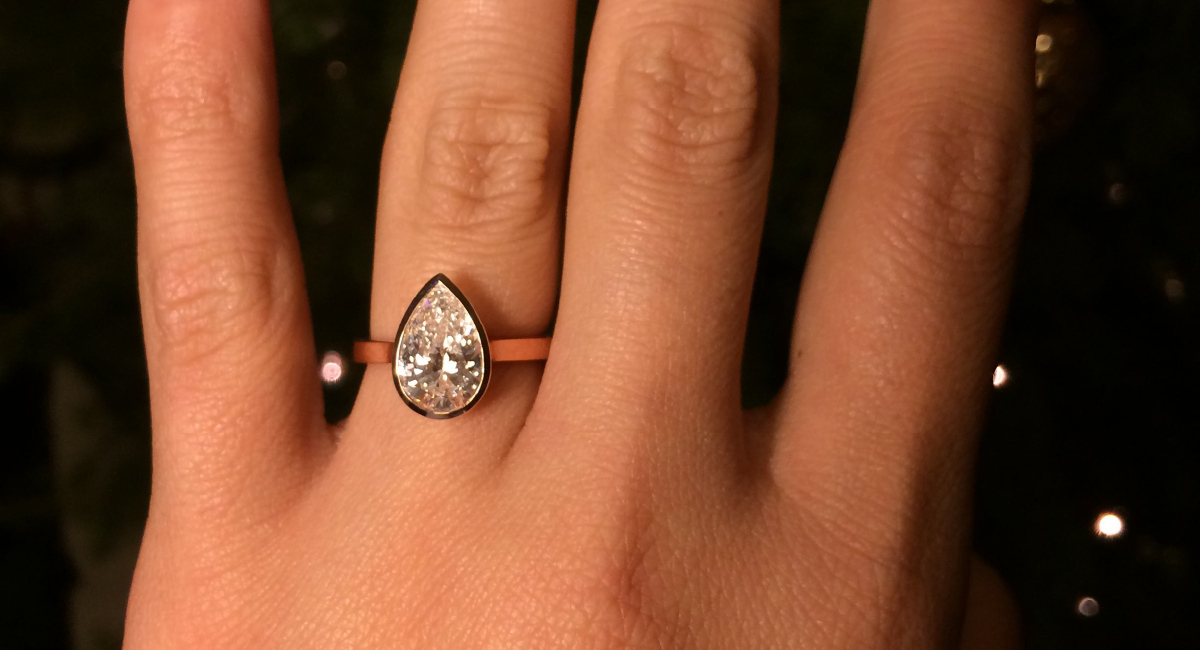 The bezel setting is sleek, classic, simple, and most importantly functional when you have to work wearing the ring every day.
Halo Setting
The halo-setting pear shaped engagement ring is made of smaller stones, which cover the diamond and enclose the center of the stone. This setting can be of the same shape as the pear shaped diamond or can be different too depending on how the buyer likes it.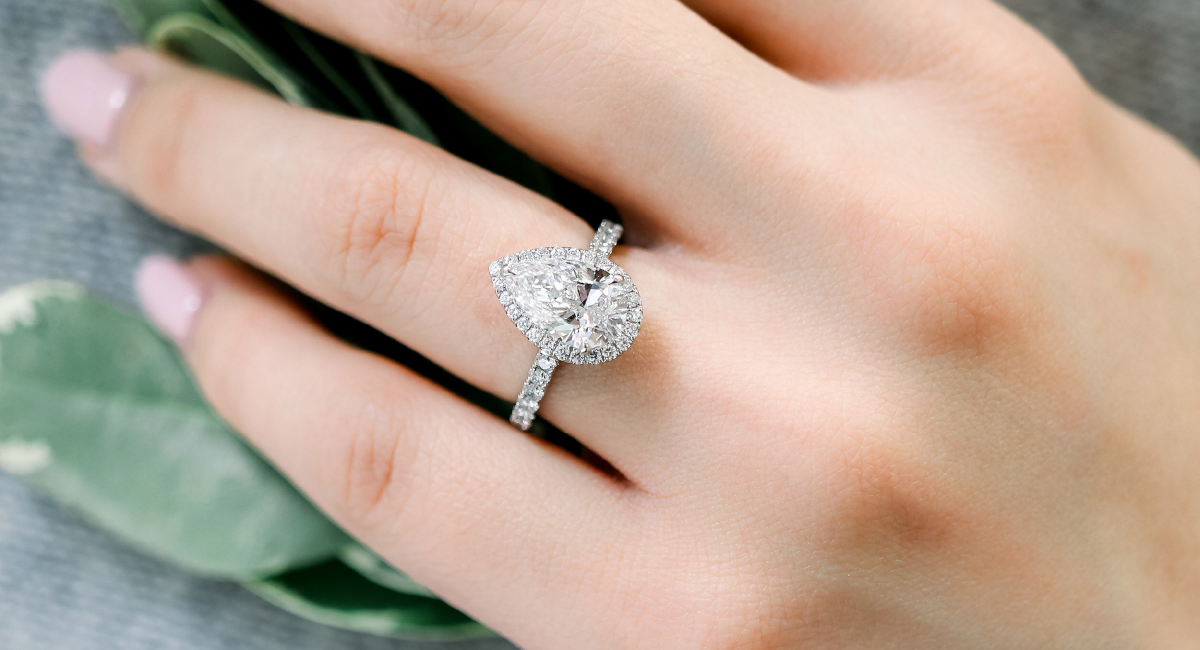 It creates a breathtaking all-around glitter by highlighting the diamond's distinctive shape as it constructs a ring around it with several smaller diamonds. The lesser diamonds make the center diamond appear larger, resulting in a stunning halo engagement ring.
Tension Settings
You can also use a tension setting which is another gemstone setting where the central diamond is held in the center via contact. In this setting, the central diamond seems to be hovering between the two pieces of the casting or metal, or can in the ring band itself. 
It creates a lovely, elegant, and stand-out design. As a part of the setting is used to curve around the sharp side of the diamond to protect it from any kind of damage. This setting is very ideal for pear shaped diamonds.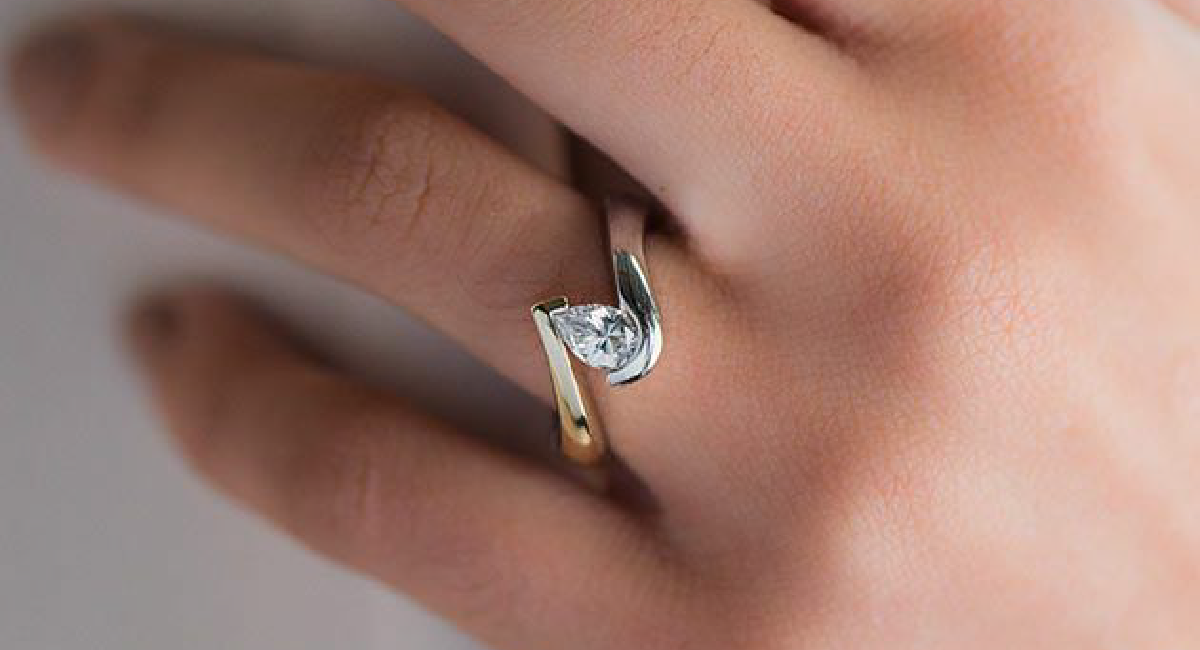 This setting brings the diamond front and center, allowing you to fully appreciate its brilliance and radiance. Tension settings are normally more expensive, but they are an option if you want to go all out on a magnificent ring. These settings can be modified along with the pear cut diamonds.
| | | | | | | |
| --- | --- | --- | --- | --- | --- | --- |
| Shape | Carat | Cut | Color | Clarity | Price | |
| pear | 2.57 | Ideal | H | VS1 | $953 $908 | View |
| pear | 0.96 | Ideal | E | VS2 | $318 $303 | View |
| pear | 0.31 | Excellent | D | VS1 | $211 $158 | View |
| pear | 0.91 | Ideal | F | VS1 | $527 $395 | View |
| pear | 0.82 | Ideal | D | VS1 | $477 $358 | View |
| pear | 0.71 | Ideal | F | VVS2 | $424 $318 | View |
| pear | 0.73 | Excellent | E | VS1 | $367 $275 | View |
| pear | 2.85 | Ideal | E | VS2 | $2313 $1735 | View |
| pear | 2.45 | Ideal | G | VS1 | $2129 $1597 | View |
| pear | 1.83 | Ideal | G | VS1 | $1296 $972 | View |
| pear | 0.57 | Ideal | E | VS1 | $389 $292 | View |
| pear | 0.43 | Ideal | E | VS1 | $351 $263 | View |
| pear | 4.01 | Ideal | G | VS2 | $2664 $1998 | View |
| pear | 2.50 | Ideal | G | VS1 | $5404 $4053 | View |
| pear | 4.02 | Ideal | F | VS1 | $5776 $4332 | View |
| pear | 2.50 | Excellent | H | VVS2 | $1387 $1040 | View |
| pear | 0.61 | Ideal | E | VS2 | $273 $205 | View |
| pear | 1.07 | Ideal | F | VS1 | $744 $558 | View |
| pear | 1.09 | Ideal | F | VS1 | $784 $588 | View |
| pear | 1.01 | Ideal | E | VS1 | $784 $588 | View |
Conclusion
2018 has undoubtedly been the year of pear shaped diamonds. From Paris Hilton to Ariana Grande, Cardi B, Kaley Cuoco, Zoe Saldana, Victoria Beckham, Margot Robbie, and Katherine Heigl all these celebs were seen flaunting this shape diamond out there in the public eye. Due to the large dimensions of these diamonds and a distinctive asymmetrical look more and more people are opting out of them these days.
The women who do not want to fit in the ordinary design and styles should definitely opt for them. They also have a personal touch in them with their shape being similar to teardrop and raindrops thus depicting tears of joy and sorrow and the various seasons of life accordingly along with its unique and elegant style which adds a statement to the look of the women wearing it. It makes all the heads turn towards her thus making her the most elegant and classy one out of all others.
We at Loose Grown Diamonds offer world-class modifications which you can attain by sending a request. Even the small-sized diamonds of this shape have a tendency to make a big impact due to their shape and size which looks enlarged which makes them look nearly 8 percent bigger on the top surface as compared to the other popular diamond shapes and sizes. Shining brightest among all, they are the classy and trendy choice for women these days.