Bring Your Ring to Life with our 3D Customization Tool
We will custom make it for 10-30% less
Start your custom order today! Here is the process:
Upload a picture, sketch, or link of the setting you'd like us to create. Start customizing with our free tool.
Within 48 hours, our designers will create four(4) views of 2D renderings with all the details FREE OF CHARGE.
We'll email it to you for your approval. Make any necessary edits and we will revise within 24 hours.
Once approved, we will price it at 10-30% less than any other jeweler.
If you like the design, we'll send you a payment link and your new ring will be ready within 8-10 business days.
Are you ready
to start the process?
Pay only after you approve the design.
Still thinking about it?
Watch the video to learn more.
Jewellery made by us
Here is the real life jewelry made by us for our international customers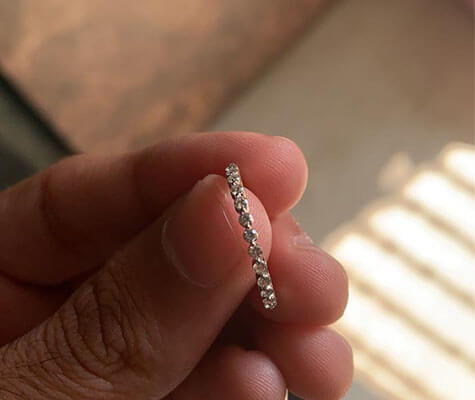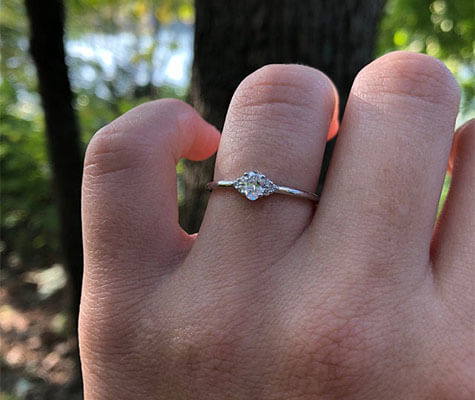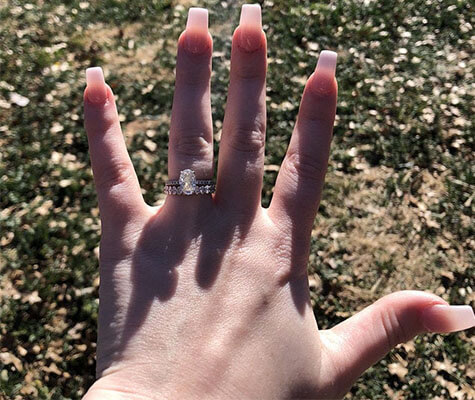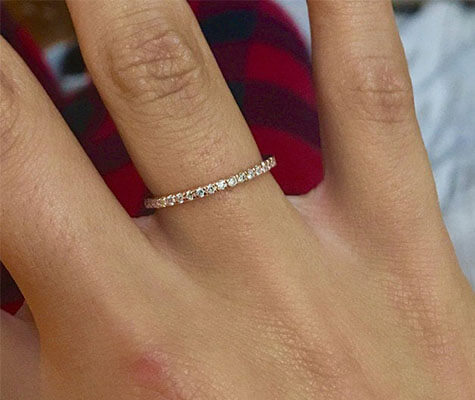 See what our customers are saying
Absolutely gorgeous lab diamond!
Absolutely gorgeous lab diamond!! you won't be disappointed I promise!! I was extremely scared to pick one online but it turned out absolutely amazing. 5/5!!

Mitchelle w
United States
Great purchase experience
I'm in Las Vegas and ordered lab grown diamonds from this company and got them fast and exactly as advertised.

Michael Montoya
United States
Amazing customer service and beautiful ring that I got so many compliments. I can't stop looking at my ring! Super happy, 5 star ⭐️ service

Maria Spiteri
South Korea
Are you ready
to start the process?
Pay only after you approve the design.
Why choose us for your custom engagement ring
Wide Range
of Collection
Price Match
Policy
Best Quality
Assuarance
24*7
Customer Support
100% Satisfaction
–

Can a Jeweler tell if a diamond is lab grown?

No, by sight alone, a jeweler cannot conclusively identify a diamond as being lab sourced or mined.

There are minute differences between a lab-grown diamond/synthetic diamond and its mined counterpart, to the naked eye of a jeweler or even an experienced gemologist, they both look exactly the same. 

Field experts need specialized equipment to decipher the physical and spectral differences between the mined and lab-sourced diamonds.
–

Lab Grown Diamond vs Diamond Simulant: Which one to choose?

When comparing lab-created diamonds with diamond simulants, it is crucial to keep in mind the fundamental distinctions.

Cubic zirconia and moissanite, which appear like diamond but aren't made of carbon crystals at all, Also the simulant lacks real diamond's chemical and physical properties.

To distinguish natural and lab-grown diamonds from cubic zirconia, one uses a portable diamond tester.
–

Do Lab diamonds look different?

No, to the naked eye, lab diamonds look the same as the mined ones to even the most trained and experienced jewelers and gemologists.

This is because lab and mined diamonds are both essentially the same chemical compound of carbon. The only difference is that mined diamonds are weathered under natural conditions while lab-grown diamonds are cultured under the same conditions within a laboratory.
–

What is high-pressure high-temperature (HPHT)?

Natural carbon transforms in nature under extremely high temperatures (approx. 2200 deg F) and high pressure (approx. 720k pounds/sq. inch) to form an unpolished diamond. 

Lab diamonds emulate the similar High Pressure and High Temperature (HPHT) settings from that of the earth's core within the closed and safe confines of a laboratory to transform from regular natural carbon.
–

What are the humanitarian benefits of CVD diamonds?

Lab sourced diamonds or Chemical Vapor Deposition diamonds are the most ecological and ethical sourced diamonds for reasons that are cited below
Eco-friendly and easily available, avoiding mining. 

Not a blood diamond.

No risk to miners or workers as chemical vapor deposition diamonds are created in labs.

Mining diamonds consume upwards of 120 gallons of water per carat as against lab diamonds' 18 gallons saving the world water.
–

Do Lab created diamonds get cloudy?

No, lab created diamonds, like mined diamonds do not ever get cloudy.

There could, however, be a buildup of dirt, dust, oil and other particles if the jewelry is not cleaned properly from time to time.

A frequent soak of the diamond in warm soapy water and cleaned with a mild toothbrush will ensure that the jewelry remains as sparkly as possible.
–

Are lab grown diamonds as good as natural diamonds?

Yes, lab grown diamonds are, in all certainty, as good if not better than natural diamonds.

Technically speaking, lab grown diamonds are natural diamonds. They are created from the carbon that is freely available in nature and treated to extremely high temperatures and high pressure to form an unpolished diamond.
–

Are lab diamonds GIA certified?

Yes, certainly. Lab diamonds are certified by GIA. 

The minute structural and molecular level differences that occur in mined and lab-sourced diamonds are studied in-depth and differentiated in the highly equipped laboratory at GIA.

The analysis and grading body has been grading lab-made diamonds since 2006. They evaluate based on the 4Cs.
–

What is Chemical Vapour Decomposition?

The process as the name suggests involves using chemical vapor deposits to grow diamonds. In a small chamber, a diamond seed is placed which is exposed to a combination of gasses. These gases are then subjected to an energy source that forces these gasses to condense and eventually deposit on the preexisting diamond seed. Thus, forming a raw diamond.
–

Are Lab grown Diamonds available in different colors?

Lab grown diamonds come in a variety of colors too. Apart from white, lab grown diamonds may have yellow, blue, green, pink, purple, dark grey, bright red colors.

Additionally, gemologists now have the technology to infuse color into lab diamonds. This makes for a deeper and richer color, making otherwise expensive colored diamonds affordable by a large margin.
---

Fill out the form or call to get started.