Square Emerald Cut Diamond: Everything you need to know
Diamonds have always been many people's favorite choice in gemstones. While many tend to settle for the flashy and brilliant variations in diamonds like the ones with round cut gems, many others prefer a subtle and sophisticated design like the one that can be observed through the emerald cut or Asscher cut diamonds. 
Two nearly identical cuts like the Emerald and Asscher diamonds, hence, make for a great choice for customers who are not attracted by gems that are too flamboyant but would still like to enjoy the radiance and beauty that diamonds exude. The only major difference between the cuts is the variation in the L: W ratio of the diamonds, wherein the length and width vary in such a way that the emerald cut diamond has a rectangular shape whereas the Asscher cut has a square one.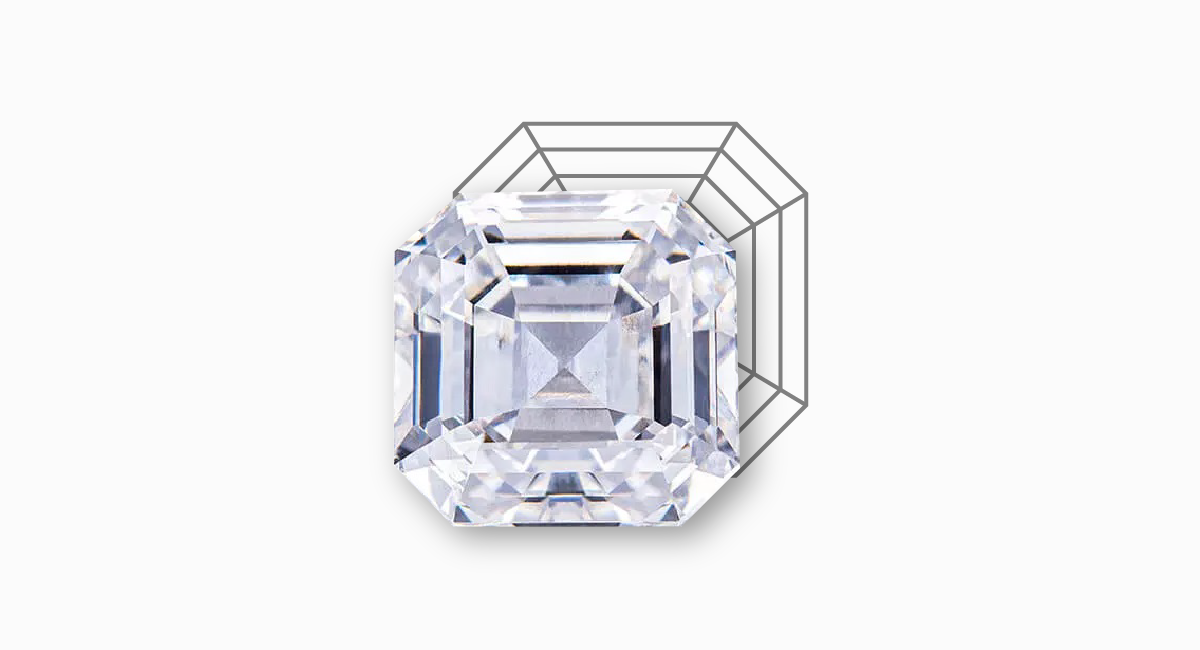 However, the square-shaped emerald cut diamonds sometimes manage to create a lot of confusion amongst customers since they resemble both types and are difficult to place within either of the categories. The square emerald-cut diamonds can still be included under the umbrella of emerald cuts because of their less truncated corners which are evidently more pronounced in a true Asscher cut diamond. Hence, square emerald-cut diamonds can easily be said to be the perfect combination of both worlds and prove to be an apt choice for customers whose personal preferences and styles complement the design exhibited by these diamonds. 
However, before making a decision on which cut to choose for one's jewelry, it is always advised to customers to first look into the general guidelines which must be referred to for the process of evaluating diamonds. 
What is a Square Emerald Cut Diamond?
A diamond with an elongated shape molded into the appearance of a square, the square emerald cut gemstone has linear facets which feature chiseled step cuts that are arranged in a parallel manner down the stone. Additional cuts are provided to the corners of the stone to provide the gem with extra security and stability so that it retains its shape and position in a ring and does not get easily fractured.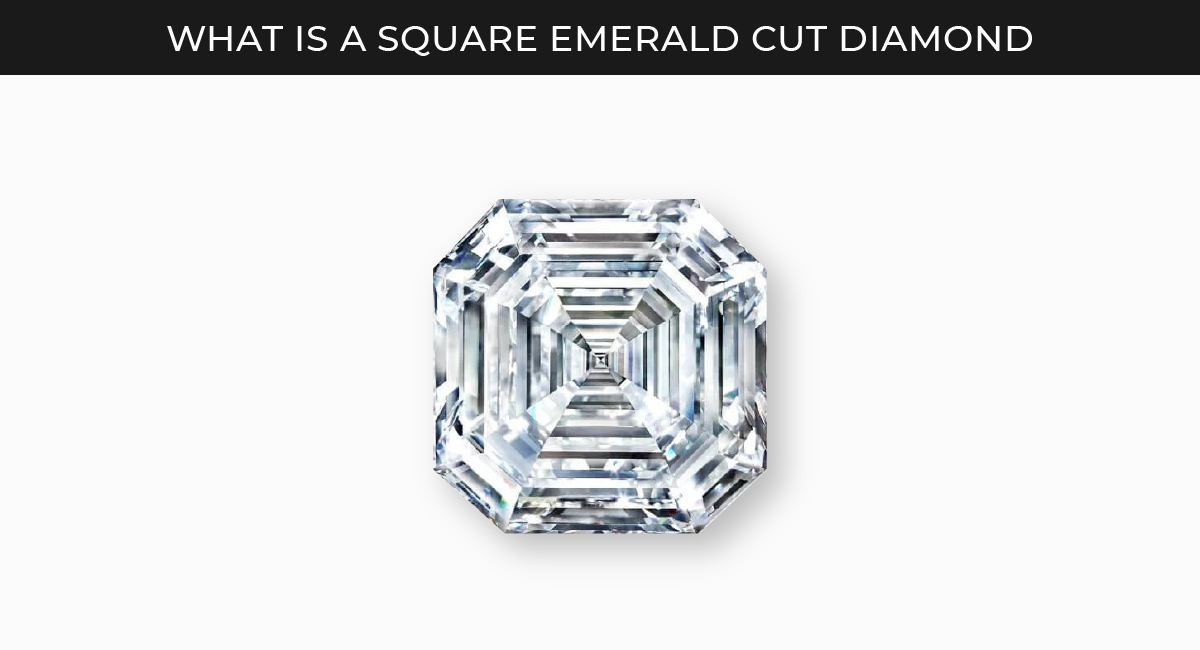 With a huge surface table, the square emerald cut diamond is one of the largest diamond cuts out there and also provides its wearers with exceptional clarity. It is well known for appearing larger than the actual size and carat weight of other shaped diamonds and hence, makes for a popular option for customers who want to spend their bucks in a budgeted manner but on a large stone. Another effect created by the cut includes its ability to abundantly reflect white and colored light due to the presence of long step cuts.
Although emerald cuts are generally found in rectangular shapes due to better prominence in them, they are also available in squares for customers who are attracted to the particular shape. 
| | | | | | | |
| --- | --- | --- | --- | --- | --- | --- |
| Shape | Carat | Cut | Color | Clarity | Price | |
| emerald | 2.08 | Ideal | H | SI1 | $1003 $752 | View |
| emerald | 2.07 | Ideal | H | VS1 | $1217 $913 | View |
| emerald | 2.04 | Ideal | E | VS2 | $1377 $1033 | View |
| emerald | 2.05 | Ideal | G | VS1 | $2260 $1695 | View |
| emerald | 2.01 | Ideal | F | VVS2 | $2076 $1557 | View |
| emerald | 2.04 | Ideal | F | VS1 | $1300 $975 | View |
| emerald | 2.01 | Ideal | E | VS1 | $1564 $1173 | View |
| emerald | 2.06 | Very Good | F | VVS2 | $1600 $1200 | View |
| emerald | 2.01 | Ideal | G | VS2 | $1147 $860 | View |
| emerald | 2.03 | Excellent | D | SI1 | $1760 $1320 | View |
| emerald | 2.04 | Ideal | H | VS1 | $1009 $757 | View |
| emerald | 2.05 | Ideal | G | VS1 | $1831 $1373 | View |
| emerald | 2.00 | Ideal | G | SI1 | $1133 $850 | View |
| emerald | 2.01 | Ideal | G | VS2 | $1137 $853 | View |
| emerald | 2.02 | Ideal | F | VS2 | $1283 $962 | View |
| emerald | 2.01 | Ideal | D | VS2 | $3389 $2542 | View |
| emerald | 2.07 | Ideal | G | VS1 | $1271 $953 | View |
| emerald | 2.05 | Excellent | I | VS2 | $816 $612 | View |
| emerald | 2.07 | Ideal | H | VS2 | $1071 $803 | View |
| emerald | 2.04 | Ideal | F | VS2 | $1169 $877 | View |
History of Square Emerald Cut Diamond
One of the oldest diamond shapes to exist, the emerald cut can be traced back to the table cut of the 1500s from which the emerald cut was furthermore developed. Originally termed as the multi-faceted table cut, the cut was first and foremost used on emeralds as the name suggests and was only a lot later on brought as another variety into the world of diamonds. 
With the term 'emerald cut' emerging in the 1920s, it has often been associated with the era of Art Deco wherein clean lines and symmetry were in trend amongst the people and enjoyed their own class of popularity. Then in the 1940s, the cut was furthermore more refined and standardized which could be done with the invention of much more advanced and systematic diamond-cutting tools.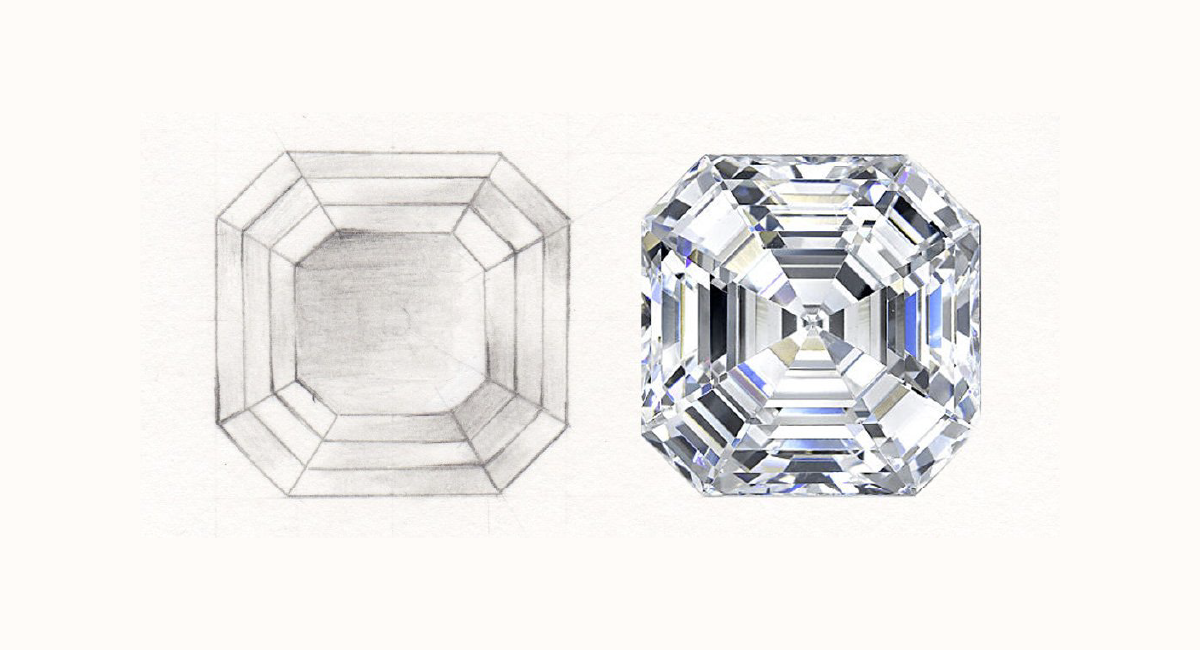 Once emerald cuts were refined as much as they could be, they began being designed in shapes other than rectangles by many jewelers and designers and hence, the square emerald cut diamond was conceived. 
Facets of Square Emerald Cut Diamond
The square emerald cut diamonds have a square outline and the corners are cut in a particular manner. Depending on the dimensions of the gem, the emerald-cut diamonds can be home to 50 to 58 step-cut facets.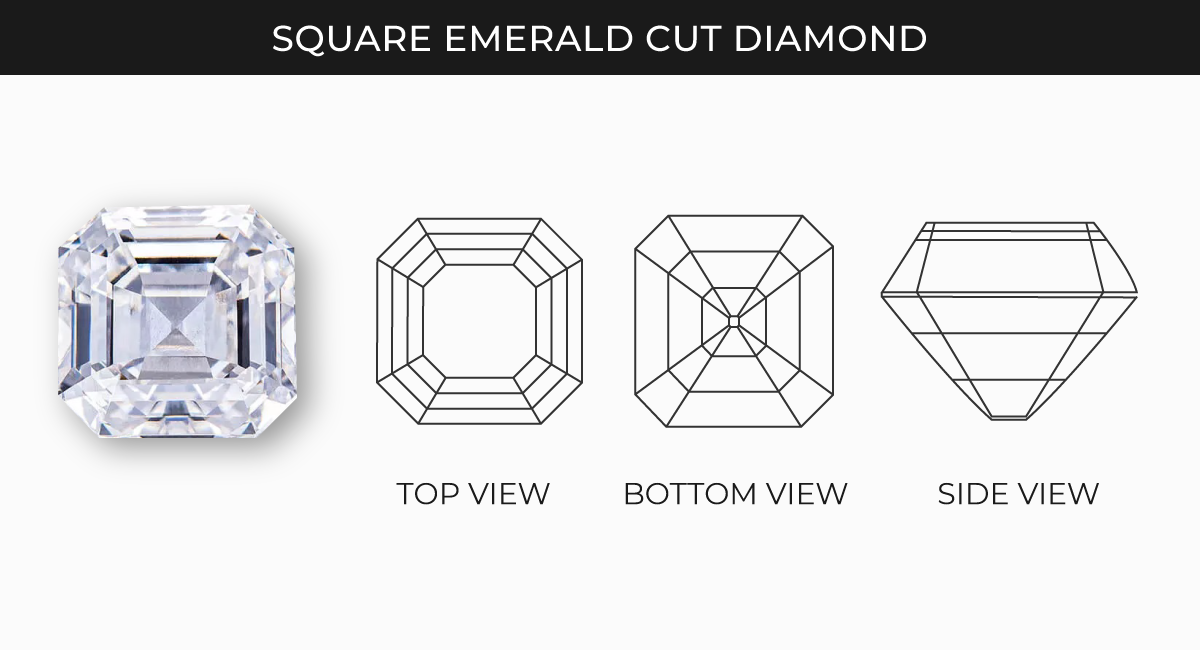 The step cuts are arranged parallelly and this leads to the creation of stunning flashes of light which in turn causes a "hall of mirrors" effect. This cut is known to be slightly more elegant than radiant cut diamonds and also exhibits a more sophisticated sparkle.  
Difference Between Square Emerald cut diamond & Asscher cut diamonds:
Many times people tend to propose a question "What is the difference between an emerald cut diamond and an Asscher cut diamond?". The reason both of these types of diamonds are put up for comparison is that they both belong to the step-cut family. In this family of diamonds, each diamond has some or the other sort of step-like cutting the ones you see on staircases.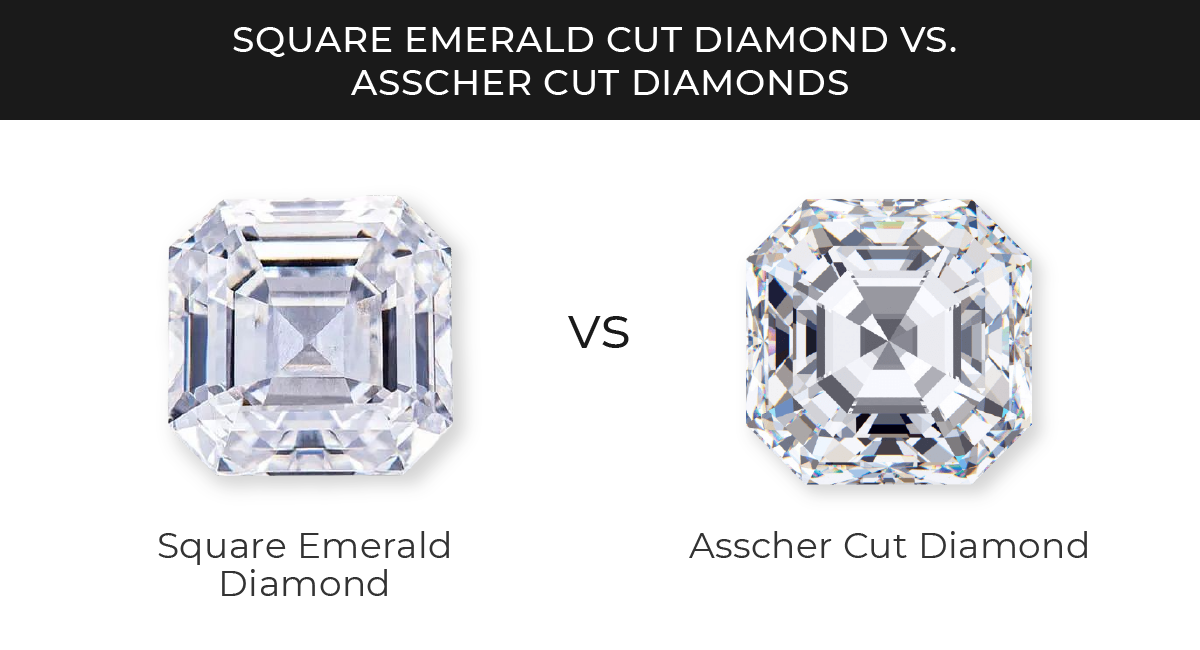 This family consists of Emerald cut diamonds, Asscher cut diamonds, Baguette-cut diamonds, and Carré cut diamonds. Each of these diamonds has its own specialty and reason to buy. But coming to the emerald and Asscher cut diamond.
Firstly, the emerald-cut diamond is rectangular in shape as it is elongated. The Asscher cut diamond has equal sides and appears as a square. And at times when the corners of an Asscher cut diamond are cut thoroughly, the gem appears to take an octagonal shape. 
Coming to the length of these diamonds; the length of the sides of both the diamonds vary. The ratio of length for the emerald cut diamond can be 3:1:1 (length: width: thickness), 6:1:1, and even 4:1:1. This is why when one wears an emerald cut diamond their fingers appear to be elongated, a phenomenon which is seen when wearing marquise, ovals, and pear diamonds. 
These are not fixed but rather ratios that will give the diamond an elegant look. The sides of an Asscher cut diamond will however be at 1:1. Making this diamond has a bulky look and appears to be bigger in general.
Pros & cons of Square Emerald cut diamond
Now that you have got a broad idea about emerald cut diamonds let us mention reasons why you should buy this gem (pros) and reasons why you might back out in buying an emerald cut diamond (cons).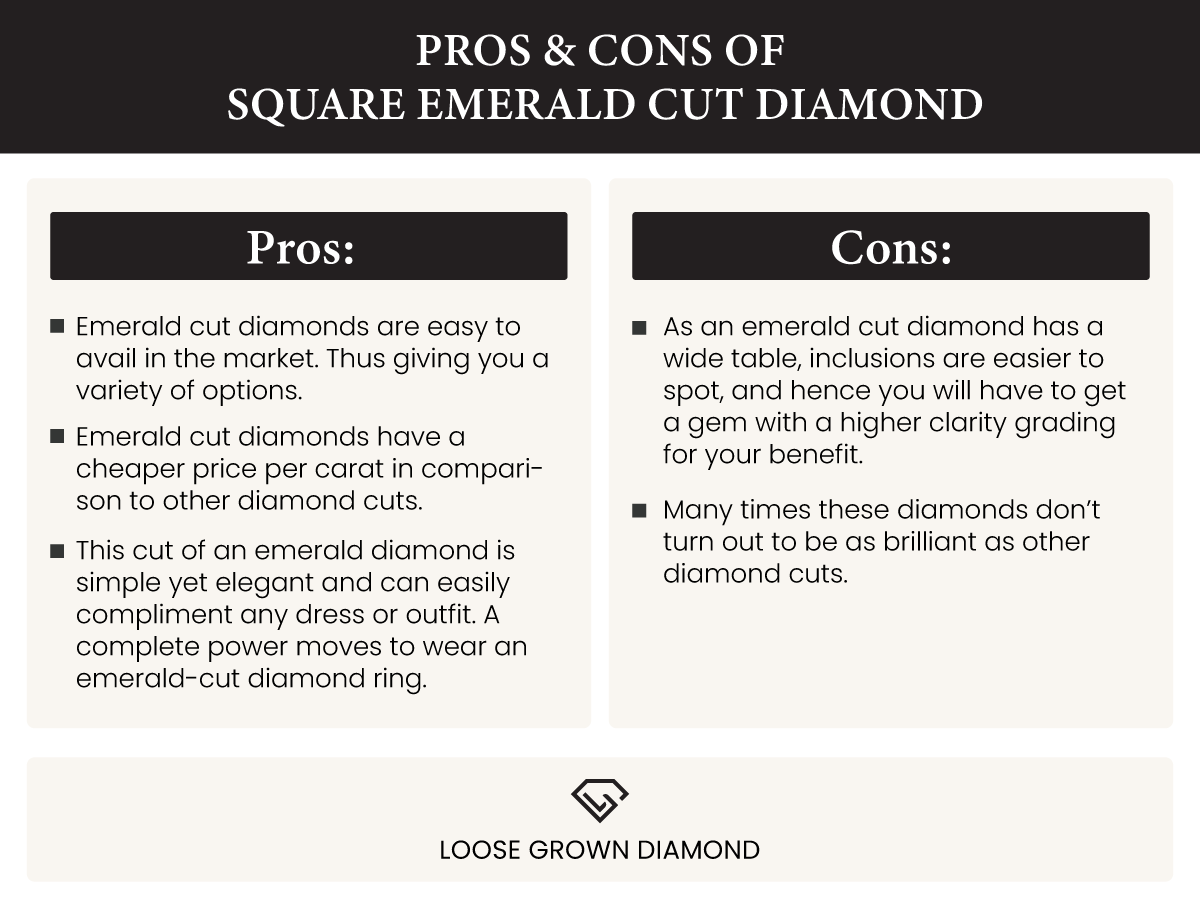 Pros:
Emerald cut diamonds are easy to avail in the market. Thus giving you a variety of options.

Emerald cut diamonds have a cheaper price per carat in comparison to other diamond cuts.
This cut of an emerald diamond is simple yet elegant and can easily compliment any dress or outfit. A complete power moves to wear an emerald-cut diamond ring.
Cons:
As an emerald cut diamond has a wide table, inclusions are easier to spot, and hence you will have to get a gem with a higher clarity grading for your benefit.

Many times these diamonds don't turn out to be as brilliant as other diamond cuts.
Things to consider before buying a Square Emerald Cut Diamond Ring:
The square emerald-cut diamonds are being prominently used in engagement rings by customers who are intrigued by the uniqueness and subtlety expressed by this variation. Even though the guidelines to judge square emerald cut diamonds are pretty much the same as the rules applied to the other diamonds which were mentioned before, it is still essential to keep in mind the few specifications that are characteristic features for the emerald cut gems. 
Cut:
Since reputed organizations like the GIA do not grade cuts in fancy shapes and only evaluate the polish and symmetry of the surface, customers can only utilize certain ranges in aspects of the cut of an emerald cut diamond to achieve maximum luster. The ranges are given in the following table.  
Clarity:
Customers are often advised to select a square emerald cut diamond that does not have any inclusions present in the middle of the stone since the clear window on the table surface of the diamond allows observers to directly view the diamond. The most minimal flaw would be clearly visible in a square emerald cut diamond also because of its comparatively shallow pavilion and crown. Hence, it is safe to say that blemishes and imperfections in an emerald cut diamond would be a lot more noticeable and visible than the ones found in a round cut or cushion cut diamond. 
Customers are, therefore, advised to select a stone with VS2 clarity grade to invest their money into the most worthy emerald-cut diamond ring.
Color:
Like the other aspects, even color in a square emerald cut diamond is a noticeable factor that customers need to take care of while making the purchase. A diamond with a grade of I or lower is the best option when it comes to square emerald-cut diamonds. 
The color of the diamond must also complement the setting it will be based within. Hence, customers should also let the setting be an influential factor in the decision-making process regarding the color of the diamond.
Carat:
Described simply as the weight of the diamond, it is an aspect related to the size and physical appearance of a precious stone. A carat that best fits the frame of the customer's face and also falls within the budget must be kept in mind while making the purchase. Although a bigger size is sometimes preferred, people should consider the diamond's cut above the carat weight as most times larger diamonds lack the luster and sparkle because it has been poorly cut. 0.50-carat stones are a preference for many.
Best Settings for Square Emerald Cut Diamond:
An emerald cut diamond though gives a benevolent and class vibe it tends to have a more gracious appeal when the gem is mounted on a particular setting. Now out of the many settings which are the best? Let us answer this question for you.
Square Emerald Diamond Solitaire Setting: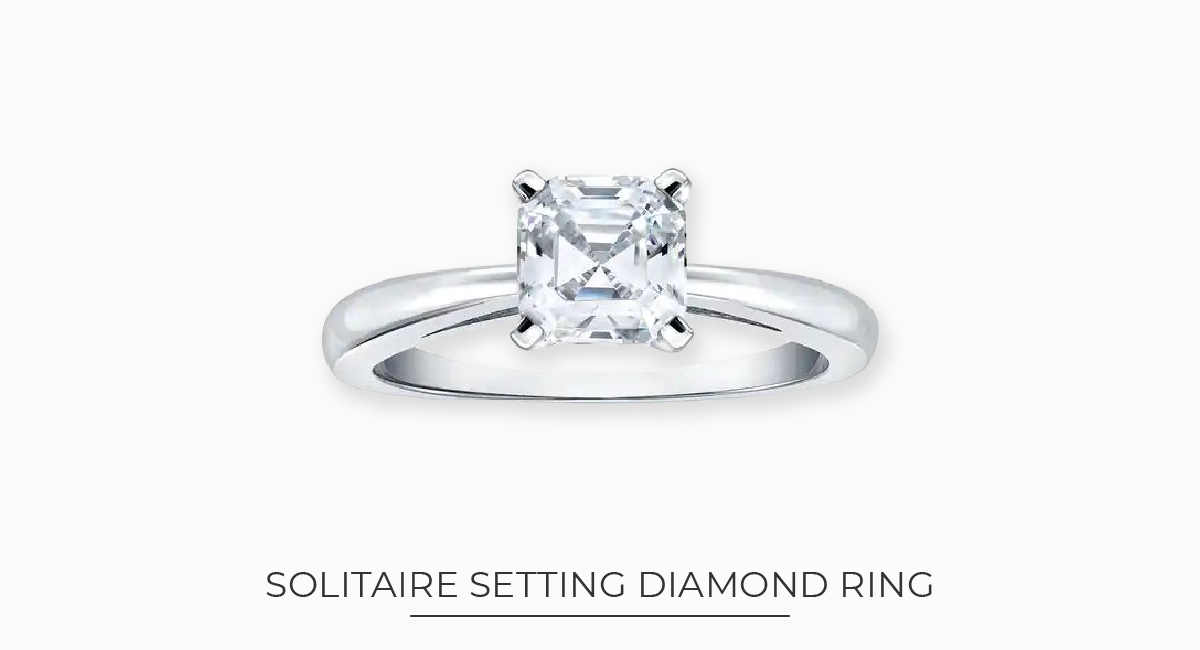 A setting in which the dazzling emerald cut diamond will be placed as a center stone without any adjacent stones is termed as a solitaire setting. This setting is recommended for when you are willing to place a diamond that has an appreciable size. As the stone alone will carry the ring, keeping the carat size too small might be the best fit. The solitaire setting is considered to portray how an individual considers themselves powerful enough to stand alone.
Square Emerald Diamond Pave Setting: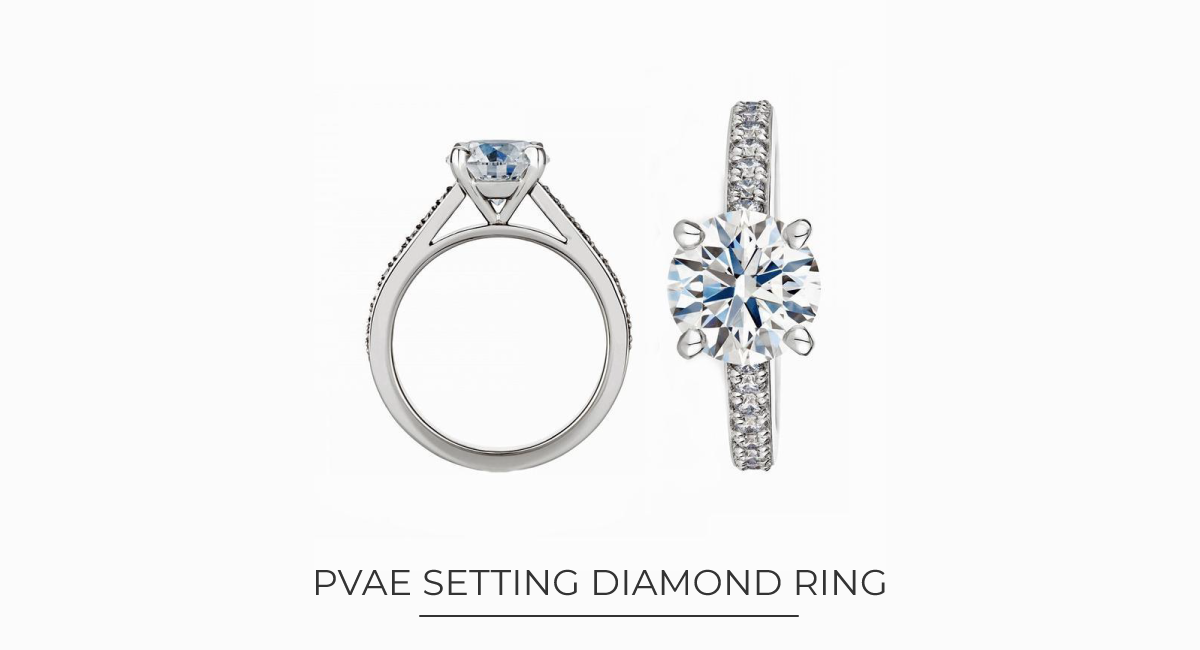 If you are one to flaunt your jewelry as you consider it to be absolutely lovely then this emerald-cut diamond setting will be a treat for your eyes. Consider a solitaire ring with a metal band consisting of small diamonds lined up adjacent to each other to give the whole ring a more wealthy look. The pave setting may be a bit heavy on your pocket but the happiness it will provide will be so worth it.
Square Emerald Diamond Halo Setting: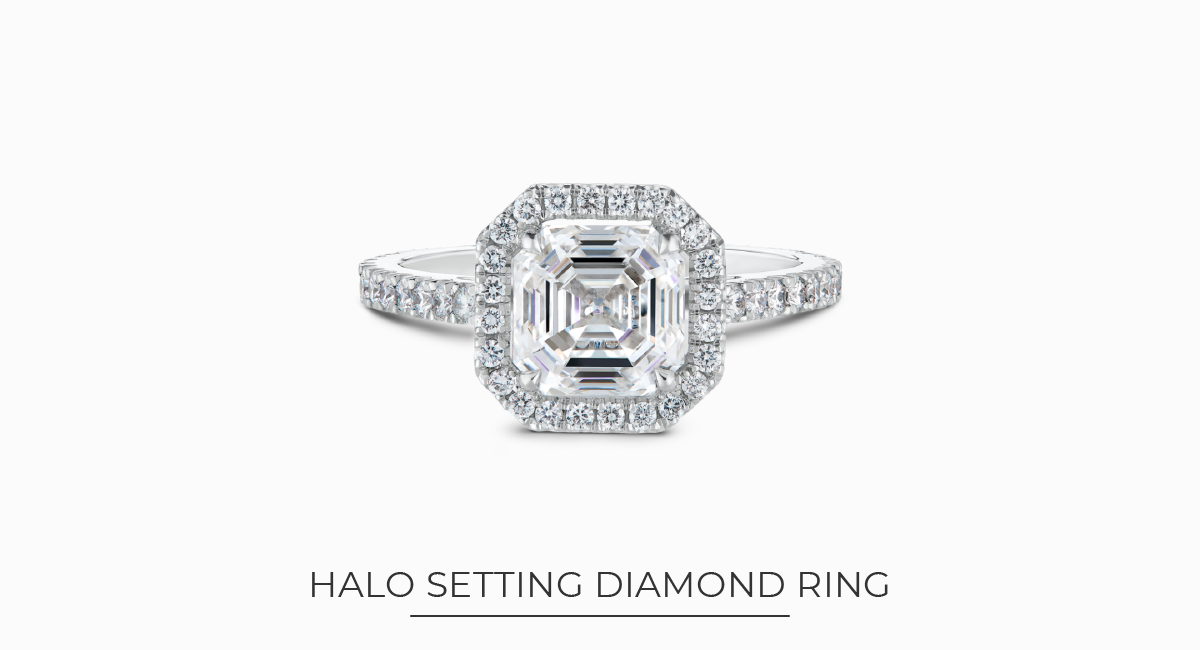 An amazing setting that screams richness and prosperity. The halo setting is one of a kind setting that can be increased, you can have one halo or two. You can even take it up a notch and have 3 halos, but be sure to note that as soon as you add a halo the price of a ring is bound to skyrocket. An emerald-cut diamond when placed in a halo setting is likely to be good with one or two halos. These halos are metal circular bands placed around the centerpiece (the emerald cut diamond in this case) and they have diamonds studded on them. Thus making the whole ring appear slightly bigger than it actually is.
Square Emerald Diamond Bezel Setting:
The bezel setting for an emerald cut diamond is one of the most secure settings there is. In this setting, the centerpiece diamond is covered from all sides by the metal. It is basically like a solitaire ring (as there is mostly one diamond) wherein the metal is extended to the side of the diamond. This setting is good for people who want higher durability of their diamond and are planning to keep it in the long run.
Square Emerald Diamond Three Stone Setting: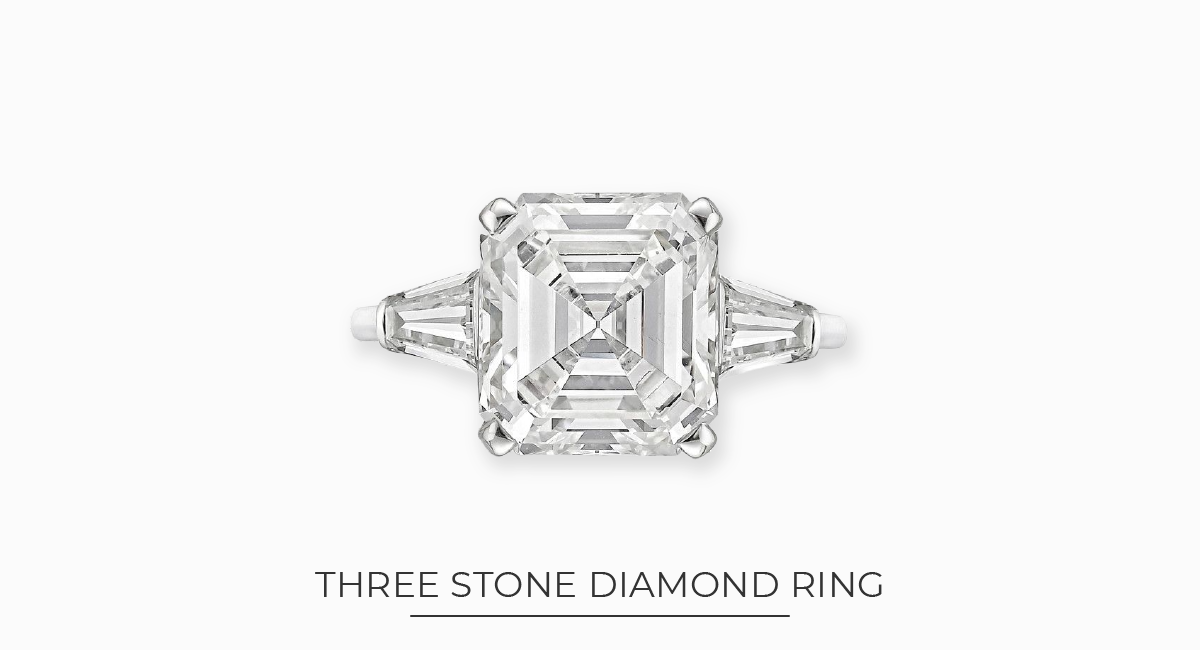 This type of emerald cut diamond setting is for those people who just love emerald diamonds and want to have more than just one stone. In this setting, there are a total of three emerald diamonds in which the centerpiece is bigger than its adjacent side pieces. This diamond ring setting makes the ring look expensive and is, in general, more expensive than the rest due to the use of more than 1 diamond.
Who should buy Square Emerald Cut Diamonds?
The square emerald-cut diamonds must always be considered by customers who are seeking gemstones that exhibit a perfect combination of two varying cuts in a beautifully subtle manner. The bonus here is the fact that jewelry made with this diamond is available at affordable prices and hence customers can get their hands on one of the best cuts in diamonds for comparatively lower prices. Hence, it is safe to say that the square emerald cut diamond is a real catch for many.