VS1 vs VS2: Which is better VS1 or VS2? A Complete Guide to Differentiate Them
While selecting a diamond we tend to compare the 4Cs that ultimately make up a diamond and its existence. The 4Cs are carat, color, clarity, and cut. While each of these can be divided into a whole set of categories, here we shall focus on clarity.
A diamond can be segregated based on 8 types of clarity. The topmost is flawless and internally flawless. Then there are VVS 1 and VVS 2, which are very very slightly included in 1 and 2 respectively.
Then VS1 and VS2 are gradings for very slightly included 1 and 2, respectively. Lower below, there are SI 1 and 2, for slightly inclusive 1 and 2 respectively, and I 1, 2, and 3, which stand for inclusive 1, 2, and 3 respectively.
VS1 vs VS2 diamonds fall into the classification of affordable and good-quality diamonds. Very slightly included means that the inclusions in these diamonds are not visible under a 10x magnifying microscope. These inclusions are hardly visible under the microscope and not at all visible to the unaided eye.
Some of these inclusions might be visible to the eye, but it is a common thing for diamonds over 1 carat. Hence, understanding the classifications of a diamond and its clarity can be of great assistance while actually selecting the right kind of diamond on a budget.
Vs1 vs Vs2: Which One Is Best?
Overall, the VS variety of diamonds is an ideal range of diamonds that are budget-friendly along with being a higher quality diamond.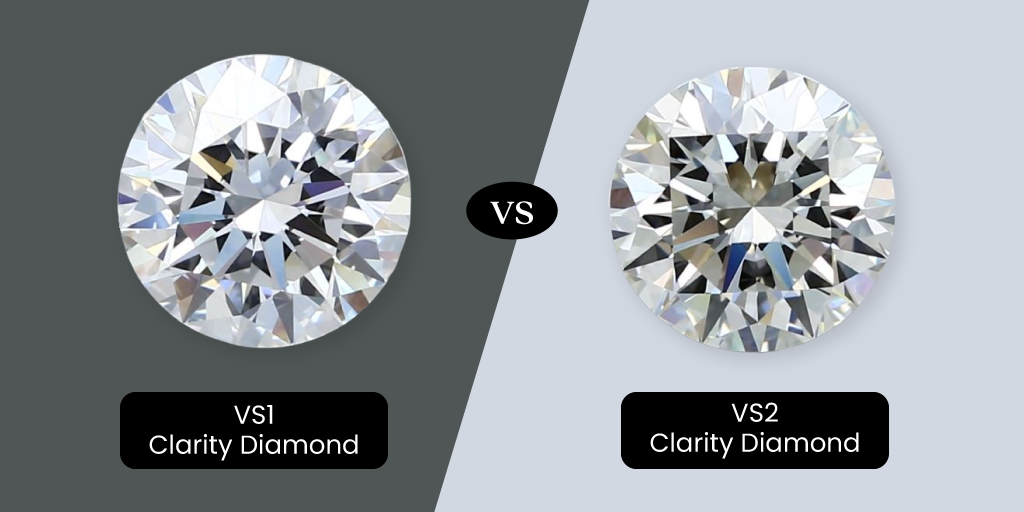 VS1 is very slightly included 1 and VS2 is very slightly included 2. These can be considered one of the highest quality diamonds you can buy on a budget.
The size and number of inclusions overall can be used to differentiate VS1 from VS2. VS diamonds are preceded by VVS diamonds, and hence are very close to the best clarity of diamonds. VS1 has better quality than VS2, but on a budget, VS2 is preferable since it contains a maximum of 5% inclusions in the diamond, which is a fair enough percentage.
Usually, VS1 ranks higher than VS2, which means that the quality of VS1 is better than that of VS2, but yet again, in terms of budgetary importance, VS2 can cost slightly less than VS1.
The investment value of a VS diamond is said to increase over time due to the beautiful color and light play that occurs on the inside of a diamond. This happens due to certain inclusions in the diamonds, which make them innately beautiful while being affordable.
From the quality of VS1 vs VS2, VS1 is usually preferred, but there isn't much of a quality difference when observed from the point of view of the naked eye.
VS clarity is slightly lower than VVS, and despite having inclusions, they do not have any chances of chipping as compared to the SI quality of diamonds.
Also Read: VVS/VS/SI Diamonds
Advantages

of Vs1 and Vs2

The greatest advantage of VS1 and VS2 is that there are absolutely no highly visible inclusions in this clarity of diamonds.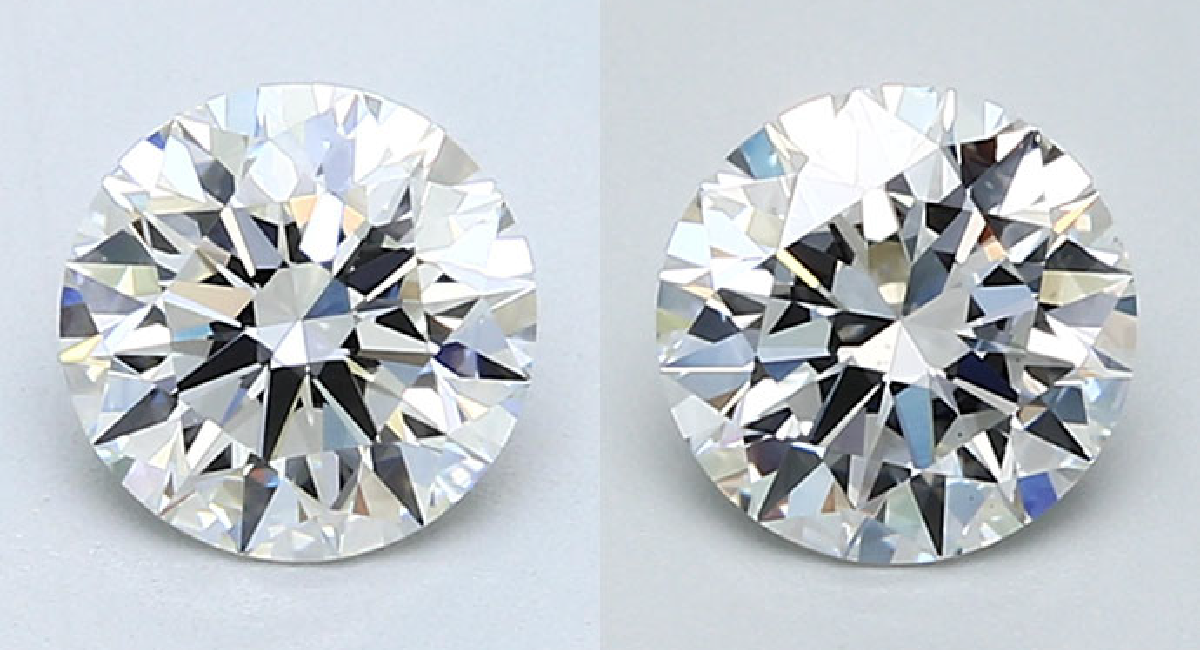 The only inclusions in there are up to 5%, and that is only when viewed under 10x magnification. This is a highly beneficial preference since they cost way less than the flawless VVS range of diamonds while imparting almost similar beauty.
The investment value of VS2 is less compared to VS1, but nevertheless, it will turn out to be good over time. These additions give VS1 and VS2 distinct identities, and if one is preferred over the other aesthetically, that is not a bad choice either.
Vs1 vs Vs2: The Difference Between Both of These
In terms of the clarity of diamonds, VS1 and VS2 fall under the same category, but as we go on further to subdivide them, we see the difference between them.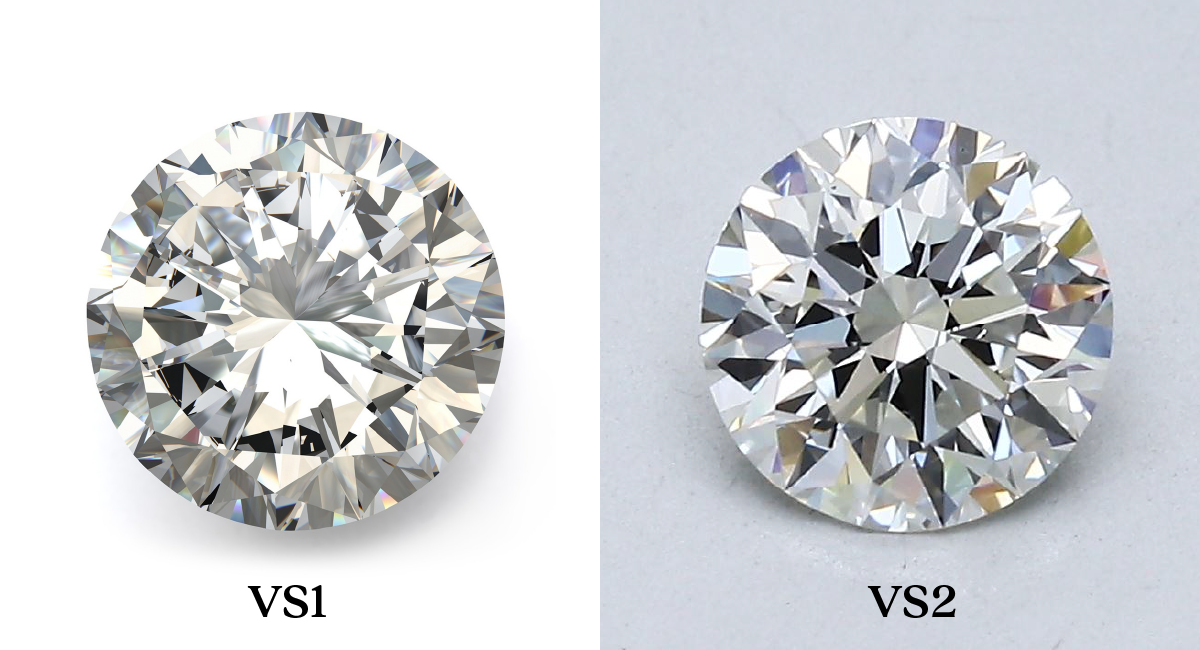 The VS category of diamonds falls between VVS and SI, which means that the inclusions in these diamonds are between the very very slightly inclusive ones and the slightly inclusive ones.
It is very difficult to spot the difference between these as the inclusions are only minutely visible under a microscope at a range of 10x magnification. While examining these through the naked eye, it is almost impossible to tell the difference, and even professionals might skip out on actually segregating them.
Some of these diamonds can also have similar inclusions, but both are placed at different ends of the VS1 vs VS2 scale. This is because some inclusions tend to be located in positions where they do not interfere with the brilliance of the diamond and it is absolutely not evident.
This position might be at a corner or an edge, and hence not be a very crucial benefactor in deciding the clarity of a diamond.
VS1 vs VS2: Price: Overall, VS diamonds can be bought at a price of 10% less as compared to VVS diamonds. The higher the quality of diamonds, the cost is certainly going to be higher as well.
When a person goes to buy diamonds, they have to select their personal preference because that will ultimately determine which clarity they prefer from VS1 vs VS2. Since the VS1 is of a higher quality than the VS2 clarity of the diamond, the price of the VS1 is more than that of the VS2.
VS2 vs VS1 clarity can have a considerable impact on the price factor based on its carat size and cut, and hence a comparison should be made before buying the diamond.
The prices of these will greatly differ when they are compared to the other Cs of each of these diamonds. Of course, since clarity is just one of the factors among the other three, cut, carat, and color.
The higher the values of the other three, the prices certainly make a huge difference when scaled on the highest and lowest of each of these individual factors, keeping the other three constants.
VS2 vs VS1: Quality: In terms of quality, both fall into the category where they are not of the highest quality but still brilliant, and that too on a budget, which is almost 10% less as compared to the highest quality of diamonds.
In the comparison of VS2 vs VS1, the latter is said to have higher quality as it is closer to VVS. VS1 has very minute inclusions, which are almost close to negligible since they cannot be perceived by the naked eye.
The clarity of VS2 has slightly higher inclusions when viewed as compared to VS1, but is still very hard to view by an unaided eye. The quality of both of these clarities is brilliant, and it is also chip-free (relative to shape) since it can withstand pressure of sorts.
VS1 vs VS2: People's Preference: The preference of people when choosing a diamond of VS clarity can be difficult to come up with since this is very subjective. When a person buys a VS diamond, they will consider the difference in the price ranges and the highest clarity quality. Within the budget, these diamonds are an exceptional choice.
But, even if one is okay with a slightly lower clarity quality, they can go on to choose the VS2 variant, which will be less expensive as compared to the highest variant of Vs, which is VS1.
Also Read: Top 10 Stunning Affordable Engagement Rings In Your Price Range
Why VS Diamonds Are a Good Choice
VS diamonds seem like a good choice to the buyer since they are said to have a higher investment value, meaning the value of these diamonds will increase over time after being bought.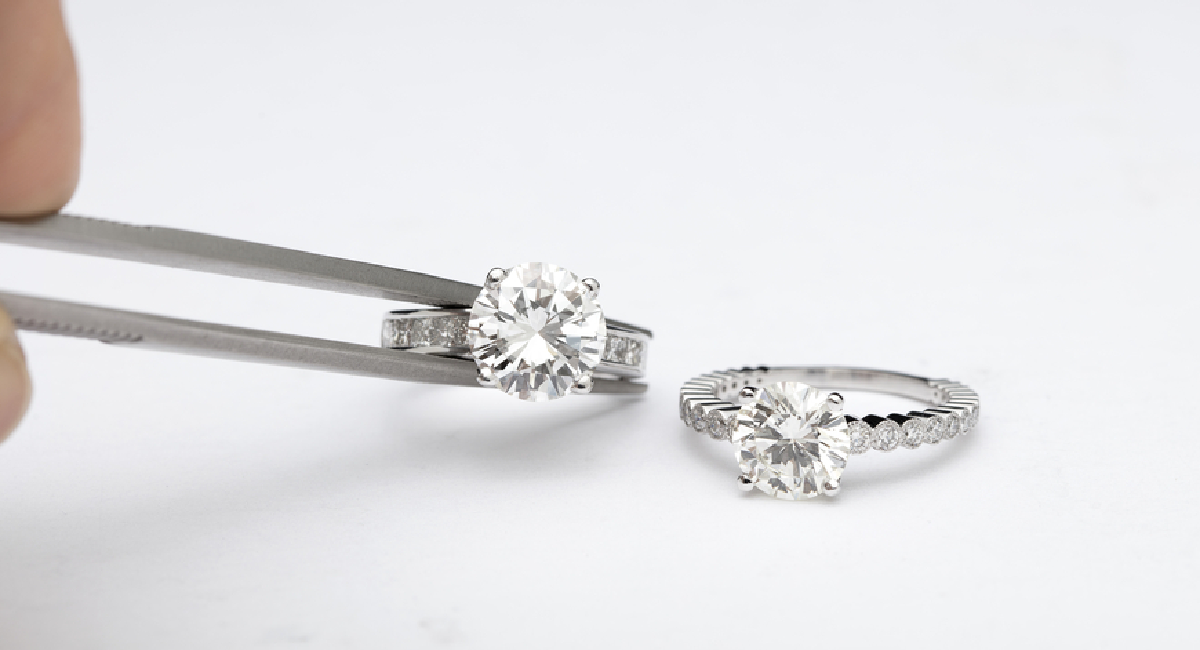 A little less clarity would not be of greater significance when selected over VVS, since the diamonds tend to appear as brilliant as VVS to the naked eye.
The second reason is that definitely, these range between the expensive very very slightly inclusive (VVS) and a little more inclusive range of the Slightly inclusive (SI) clarity. This range is always preferred since it has the closest quality to the higher clarity of diamonds while being at a budget price range that does not go heavy on the pocket.
| | | | | | | |
| --- | --- | --- | --- | --- | --- | --- |
| Shape | Carat | Cut | Color | Clarity | Price | |
| pear | 2.61 | Ideal | F | VS1 | $1142 $1088 | View |
| cushion | 2.28 | Ideal | F | VS1 | $1036 $987 | View |
| cushion | 2.15 | Ideal | G | VS1 | $798 $760 | View |
| oval | 2.06 | Ideal | E | VS1 | $1032 $983 | View |
| pear | 2.13 | Ideal | I | SI1 | $731 $696 | View |
| cushion | 2.34 | Ideal | E | VS2 | $1320 $990 | View |
| round | 2.57 | Ideal | H | VS2 | $2262 $1923 | View |
| oval | 2.51 | Ideal | G | VS1 | $3093 $2320 | View |
| cushion | 2.20 | Ideal | G | VS2 | $1271 $953 | View |
| princess | 2.30 | Ideal | F | VS2 | $1413 $1060 | View |
| princess | 2.34 | Ideal | F | VS1 | $1569 $1177 | View |
| pear | 2.47 | Excellent | I | VS1 | $1276 $957 | View |
| oval | 2.06 | Excellent | H | VS1 | $1103 $827 | View |
| cushion | 2.07 | Ideal | G | VS1 | $1307 $980 | View |
| cushion | 2.07 | Ideal | G | VS1 | $1307 $980 | View |
| cushion | 2.03 | Ideal | I | VS1 | $833 $625 | View |
| oval | 2.22 | Ideal | H | VS2 | $3989 $2992 | View |
| cushion | 2.68 | Ideal | H | SI1 | $4809 $3607 | View |
| pear | 2.55 | Ideal | H | VS1 | $1171 $878 | View |
| pear | 2.55 | Ideal | F | VS1 | $1993 $1495 | View |
How to Choose Between VS1 and VS2 Diamonds?
With the choice of VS1 vs VS2, there is not much distinction, and a person cannot differentiate based on these with the naked eye. Some of these inclusions are only visible after putting gems under magnification, and hence not much of a difference can be seen between them, unless very closely observed or seen on the diamond certificate.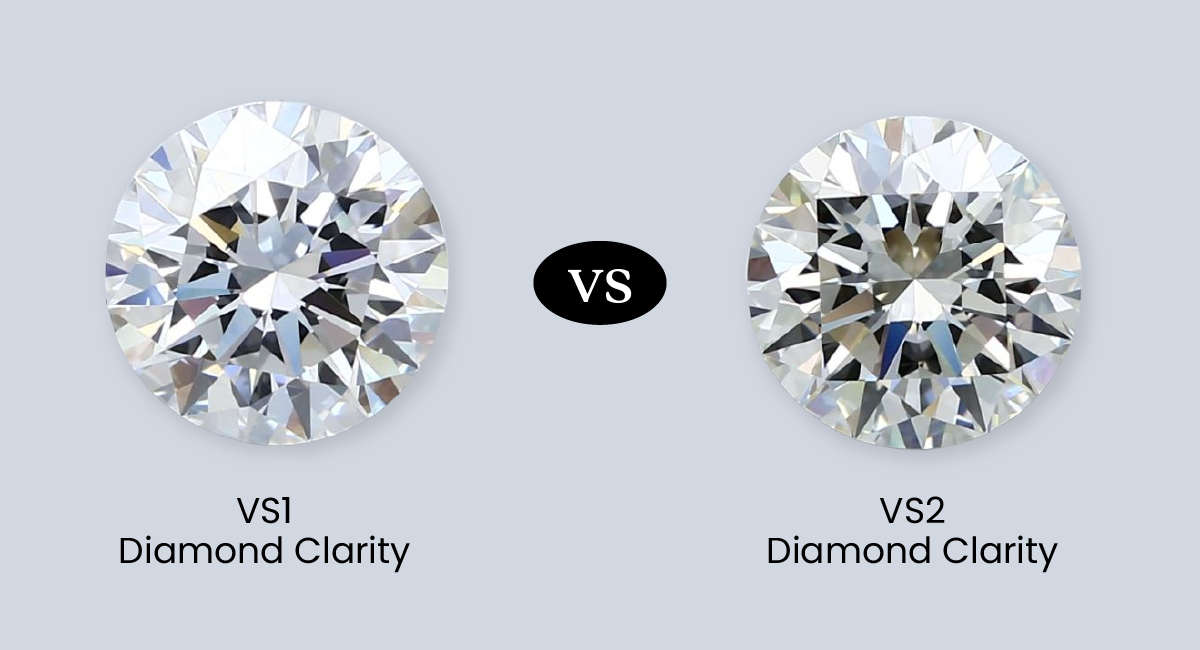 If the diamond is above 1 carat, it is preferable to choose VS1, since the inclusions will be clearly visible if any. But, if you go with an option of less than 1 carat, then the choice of VS2 will not make much of a difference.
This choice is still a matter of preference since a lot of these might depend on the other 4Cs of a diamond. While a buyer might select based on the importance of budget and brilliance, other factors like carat, color, and cut play as much of an essential role as clarity. The carat weight can make it either VS1 or VS2.
If one chooses a larger carat, then VS1 is preferred, or else VS2 is as good a choice as VS1 for diamonds less than 1-carat weight. A good choice is subjective based on what the preference is, so VS2 vs VS1 is not an open decision that can be made.
How To Buy A VS1 and VS2 Diamond?
If you are particular about having the clearest possible diamond, VS1 might be more suitable for you, as it offers slightly better clarity than VS2.
The diamond's cut and the way it's set in the jewelry can significantly impact its overall appearance. An expertly cut diamond can mask minor inclusions, making the choice between VS1 and VS2 less critical.
Always opt for a certified diamond. Purchase your diamond from a trusted and reputable jeweler. They can guide you through the selection process, ensuring you get the best quality diamond for your budget.
Use promo code offered by LGD. These can help you save money without compromising on the quality of your diamond.
Conclusion
The diamonds we see are rated on various charts for various factors. They can be graded on the basis of clarity, as shown above, and on factors like the type of cut, the carat weight, and the color of the diamond. Each of these factors is as important as the other, and they eventually sum up to create the value of the individual piece of diamond. Each diamond has its own identity and these factors make it up.
The beauty of every diamond lies in the way it has been crafted, including the unique inclusions. These inclusions add a unique touch to each diamond and end up enhancing the beauty, which gets appreciated as time passes.
Frequently Asked Question (FAQs)
What is clearer VS1 vs VS2?
The clarity of VS1 is higher than the quality of VS2, owing to fewer inclusions. Although these inclusions are not visible to the naked eye, they are slightly visible under 10x magnification, hence the difference.
The inclusions in both categories can be similar but still be labeled as VS1 and VS2, based on the position of the inclusion, which affects the brilliance and light reflection inside the diamond.
Is VS2 a good quality diamond?
VS2 is a very good quality diamond that one can avail of on a budget. The quality of this diamond is such that it is extremely close to the brilliant quality of diamonds, but with inclusions that do not interfere much with the quality of the diamond.
One may prefer to choose VS2 over VS1 if they are going for a size of the diamond less than 1 carat since the inclusions are barely visible at this carat weight.
Which diamond clarity should I buy?
The diamond clarity which is preferable for one to buy is either VS1 or VS2, as these are very brilliant diamond clarity scales alongside being very much within a good budget, making sure you do not overspend on buying diamonds.
Which is better VS or VVS diamond?
VVS is comparatively better than VS because they have almost no inclusions. When a buyer sees a VS diamond, it will come off as similar to a VVS diamond, but in quality, VS does possess some inclusions visible under a microscope.
This perception is not seen by the naked eye, hence we can conclude that VS diamonds are much better when seen from the budget point of view. But, if one is looking for a higher quality of diamonds, then VVS is the option to stick by.