EGL vs GIA Diamond Certification Comparisons: A Comprehensive Valuable Guide 2022
In the rivalry of EGL vs GIA, which grading institutions prosper? Read ahead and find out.
When looking for a diamond evaluating everything, such as color grading, carat weight, and how the cut affects the price, can be pretty overwhelming. On top of that, the question, of whether "you should buy a lab-graded diamond or not?" keeps revolving around your head. 
The absolute answer to that question is yes, always. You should always buy a lab-certified diamond to be safe against any scam, whilst getting the best value for money. 
You probably would know that the color, carat weight, clarity, and cut (the 4Cs) are what you should look for while buying a diamond since these things determine the value of the diamond. 
For example, suppose you are going to buy a large diamond, in which if you even change the clarity or color by only 1 grade, the price difference would be immense. 
So it is necessary that you only buy a diamond that has been certified by an independent grading lab and not by the house (or seller). Because the house has graded it, there is a fair chance that it will not be accurate, and you will end up paying way more than the actual value of the diamond. So it is important to only look for an independent lab certification. 
Now, since you have decided that you will buy only lab-tested diamonds, you must have a question, which is very common. What is the name of these labs, and which lab certification is the best? 
There are quite a few labs, but in this article, we will be focusing on two in particular; GIA and EGL. Both are independent laboratories that grade diamonds, and we will tell you the differences between their certifications so you can make an informed decision. 
EGL vs GIA: Which Lab Is Better?
The answer to that question is very forthright, and there's a fair chance you already knew the answer but just wanted to re-affirm it. GIA (Gemological Institute of America) is the gold standard of diamond testing in the diamond market, and everyone trusts its certification. 
Whereas the EGL (European Gemological Laboratories) is not known for its quality testing; instead, a diamond with its certification is mainly frowned upon by reputed jewelers. 
You must ask, why is that? GIA is an independent non-profit organization known for its strict testing methods. A diamond with a GIA certification is sure to have the quality and grading they claim in their certificates.  
It doesn't mean that the EGL certification is always inadequate or perhaps worthless. The reason why they are not trusted by many is because of their inconsistent reports. 
The EGL is not a centralized organization and has many branches. Such as EGL India, EGL USA, EGL Canada. While you might think that all of them are branches of the same organization, their reports must also be identical. But that's not the case; their certificates are always inconsistent compared to one another, which is why people deem them primarily unreliable. 
While EGL doesn't have a good reputation as a whole, EGL USA is a little better and is still trusted by some. The form of testing of EGL USA comes out to be more strict and reliable when compared to other EGL branches. 
While all of that is true, you'd still be better off buying a diamond with a GIA diamond certification, although it will cost you more. 
The GIA diamond certification costs much more when compared to EGL certifications of the same grade diamond. We have already explained the reason for this. But if you want a diamond that should be certified and don't care about the resale value and want to save some money, you can go for EGL-certified diamonds. 
However if you want a strictly certified diamond of the same grade as it claims to be on paper, and if you see yourself ever re-selling it. We recommend you go with GIA-certified diamonds.
EGL vs GIA: Grading Differences
As we have stated earlier, when we compare both the laboratories, there is a significant difference between them. GIA diamonds are known to have gone through rigorous testing, and then they are certified. 
Whereas when we talk about EGL USA diamonds, even though they have stricter methods to grade a diamond than other EGL branches, they still don't catch up to the quality and testing GIA diamonds provide.
EGL diamonds are known to have had some quality issues in the past, but they were still graded higher by 3-4 grades. Which can cost or save you a lot of money when we talk about a bigger diamond. 
GIA's diamond certification process is consistent and streamlined throughout all branches, and they have managed to deliver the same quality testing and certification to every department. 
Although out of topic, you will be interested to know that GIA was the laboratory that invented the 4C's; cut, clarity, color, and carat weight. If you don't know what the 4C's are, they are the criteria the diamond's price depends upon. 
Also, if you are wondering why we don't talk about the other EGL branches, then the reason is that the other branches are not reliable at all. Their grading is off the charts and not in a good way. 
Differences In Color Grading
The color of a diamond is one of the most critical aspects. The color grading is also a significant factor that contributes to how expensive a diamond would be. 
While you don't certainly need the best color-graded diamond, it is necessary to have a higher-grade diamond so that it shines like a diamond. 
Also, if you are confused about how color grading works, then it is a measure of how white the diamond is. A diamond is a color graded between the alphabet 'D' to 'Z,' where D is the best color grading, and Z is the absolute worst. 
As we have mentioned many times, the GIA diamonds are color graded accurately. In contrast, the EGL diamonds have a reputation of being two grades higher even though they are of the same color grade. 
In brief, if a diamond is graded H according to the GIA certification, the EGL may grade it as an F. This then means that although for you, it might look like you are paying less money for a higher grade diamond, in reality, you are paying more money for a lower grade diamond. 
Differences In Cut and Clarity Grading
As you might have noticed, the pattern of GIA certificate being accurate and EGL being inaccurate, it's the same when it comes to cut and clarity. 
For example, suppose a GIA-certified diamond has a clarity of VS1 and a cut rating of very good. In that case, there's a good chance that the EGL-certified diamond will have a VVS1 clarity grading and a cut rating of Excellent. 
The difference is that the EGL-certified diamond has one grade-up advantage in both the gradings, even though both diamonds will be the same. 
Also Read: Lab-Grown VVS Diamond versus VS Diamond: What's the Difference?
Differences In Carat
We have talked about GIA vs EGL in almost every grading throughout this article. But this is where we will not speak about GIA vs EGL because while everything else in the 4c's is subjective to grading, carat weight is not. 
Carat weight is simply the measurement of how big and heavy the diamond is; the EGL vs GIA doesn't apply here as both do not play a role in carat weight. A diamond certified by GIA and the same diamond, if approved by EGL, will not differentiate in carat weight. 
EGL USA vs EGL International
If you are asking, what about the other EGL branches? Are they not even comparable? Yes, they are not.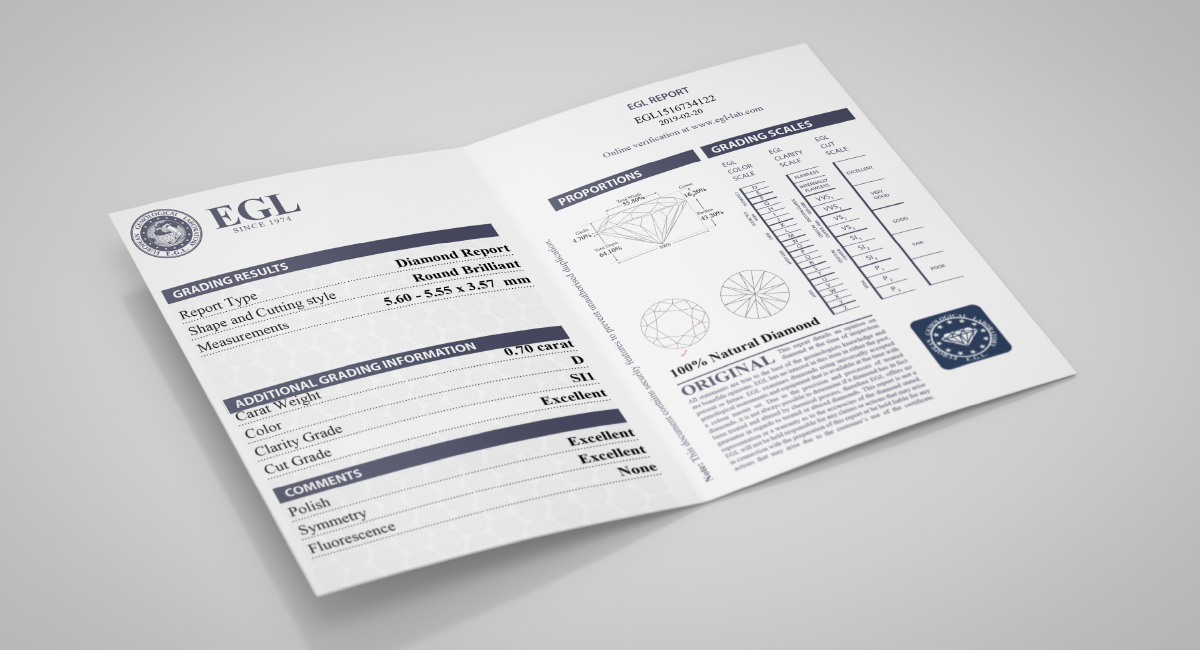 EGL USA has maintained a decent position in the diamond market, but the other branches are an absolute disaster. Since EGL is not a centralized body, the other EGL branches, such as EGL Europe and EGL Israel, are so poorly managed that they are considered frauds by many. 
Through this article, we gave you the information you needed to know about these diamond laboratories so that it would help you make an informed decision. But if we were to recommend you, we would not recommend buying an EGL-certified diamond since they are unreliable. 
Even though we have said that the USA branch of EGL is somewhat reasonable, it is still not up to the mark. There have been many instances where when organizations put the EGL diamonds to the test, they were found to be graded 2-3 times higher than they should have been. 
This means that even though you might not want to sell your diamond shortly if you ever decide to, you would be very thankful to have a GIA certificate. And the other perk of having a GIA certificate is the peace of mind that comes with it by being sure that you have precisely what the paper says. 
Also Read: Igi vs Gia: Comparison on The Basis of Color Grading, Pricing, and Diamond Reports 2022

Conclusion
The bottom line is don't buy an EGL-certified diamond and only look for GIA-certified diamonds. You will be led to believe that EGL has a higher grade and GIA diamonds have a lower, and thus you will be charged more. 
Remember that the 2-3 grades higher EGL diamond has the same value as the 2-3 grades lower GIA diamond. This means you will pay less money if you go for a GIA-certified diamond since the diamond will be rated accurately and have a lower grade. 
In contrast, the same diamond can be 2-3 grades higher when it is EGL certified, and you will have to pay more money, which benefits the seller and fools the consumer.