How to Choose Best Diamond Shape for Your Beloved?
Lab-created diamonds can be cut into various shapes, these shapes are similar to what many natural diamonds are cut in. So many choices confuse consumers and make them second guess their first choice.
It is essential that you choose the best diamond shape and cut which fits the type of jewelry you're looking for. Man-made diamonds have such clarity and brilliance that if you don't choose the right shape, you won't be able to get the best shine or sparkle out of them.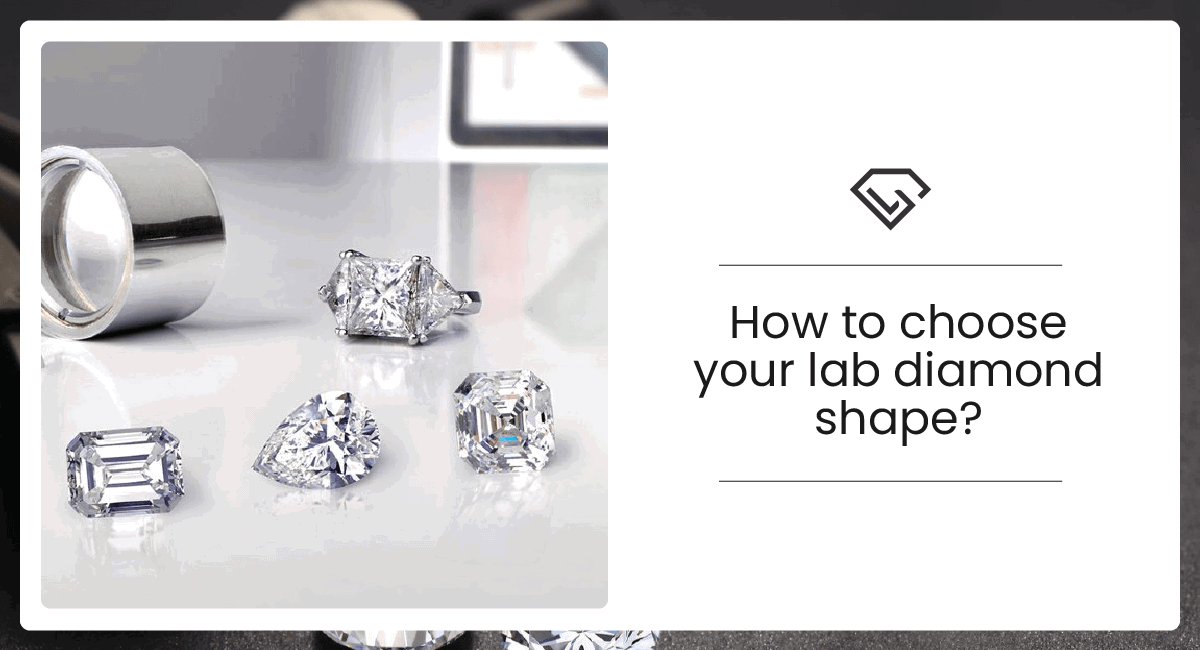 Let us help you understand all factors you should be aware of before choosing your lab grown loose diamond's shape.
How Lab Diamonds Are Made?
Lab-grown or cultured diamonds have the same chemical make-up, atomic composition, and dazzle as mined diamonds, with the added advantage of costing more than 40% less than the latter. There are various methods through which diamonds are made in labs, however, all of them use some fusion of heat, pressure, and carbon to gradually form crystal layers and grow diamonds.
The finished stones cannot be called artificial or synthetic at the risk of being considered inferior in any way  from mined diamonds. You can put your faith in lab-grown diamonds since they are subject to the same test of authenticity and specifications by independent gemological institutes as mined diamonds are. 
Every cultured diamond, weighing more than .25 carats, has an original laser attached to its girdle as a means of certification from a gemological institute. 
Lab-grown diamonds not only sparkle the same way as mined diamonds do but also come in an array of colors that are not always available when nature is in control of the crystallization process. 
Speaking from a strictly scientific point of view, lab-grown diamonds are purer than mined diamonds with respect to clarity, strain, and quality as their chemical composition comes into being in completely monitored conditions. 
Moreover, cultured diamonds have the same optical attributes, physical features, and crystal composition as mined diamonds do. In this sense, what are "real" diamonds between these two becomes a virtually futile question? 
What is left then is to make a selection in terms of the quality of the diamond, with the help of the 4 Cs.
Understanding the 4 Cs
The 4 Cs of evaluating diamond quality has not only become a globally accepted language but also a handy set of parameters for any consumer lacking in-depth knowledge of diamond selection. 
Established system of grading by the Gemological Institute of America (GIA) in 1953, these 4Cs are Color, Clarity, Cut, and Carat Weight which help make a very unas an official biased, objective, and reliable assessment of diamond quality and its worth.
These components interact with each other and might even be codependent in a diamond, making a comprehensive and holistic assessment necessary rather than an isolated inquiry into an individual component. 
Each component is thus important and needs to be well-balanced with the other features, only then can a diamond be truly worth the investment. The key is to spend wisely on every feature so as to get a well-rounded diamond. 
Here's a little about every component to give you a foundational understanding of evaluating your diamonds:
Color
Diamonds are usually graded in terms of how colorless or white they are. The ones with a tint of color (blue, pink, yellow, green) are usually termed "fancy" and fall outside the typical color grading system followed everywhere.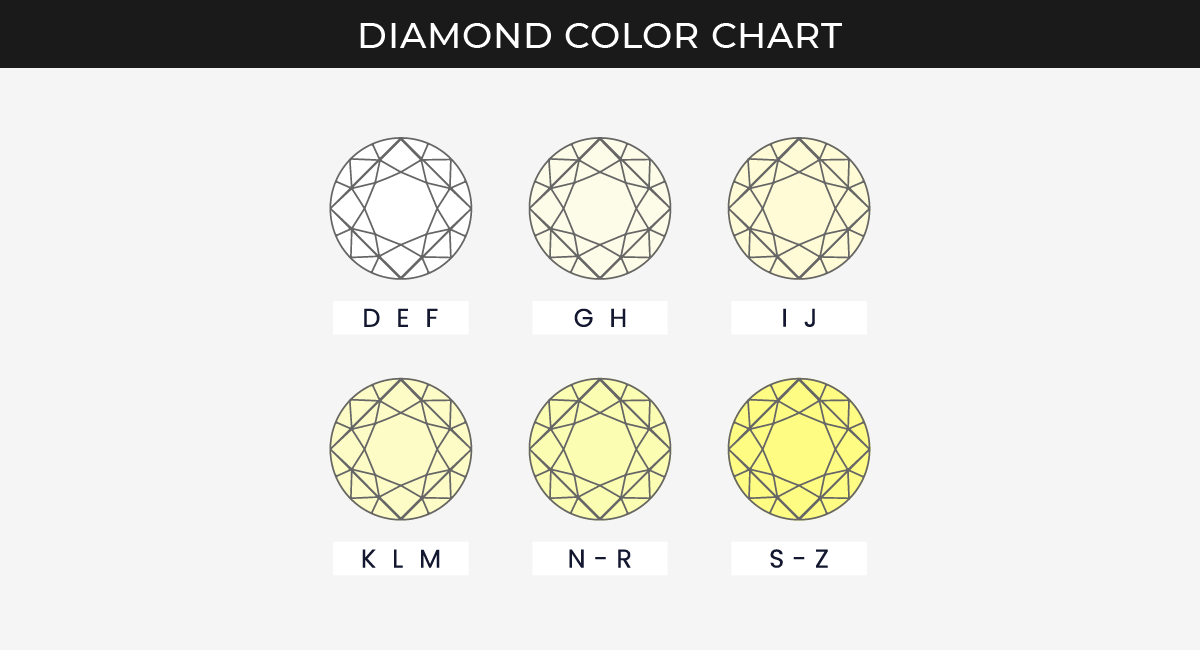 The GIA classifies diamonds from D (the most colorless) to Z (light yellow or brown). Although you may find examples of the difference in the color of diamonds in each grade, the cut, clarity, and carat weight can have a big impact on the visibility of the color of a finished stone. 
For instance, the brilliance or a dazzle exuded by the diamond largely depends on the cut, making the grade essentially insignificant in comparison. The pricing of a diamond is in direct correlation with the color grade, however, two adjacent grades can hardly be recognized by the naked eye. 
Colored diamonds or "fancy" diamonds, on the other hand, cannot be found on this grading chart made for white diamonds and have to be evaluated separately due to their apparent distinctiveness. 
Lab grown diamonds obtained through the CVD process are mostly inclined towards the D-scale as they are very pure and lack any impurities. While the majority of mined diamonds on the other hand tend to have a slight yellow tint in them. 
Clarity
Both mined diamonds and lab-grown diamonds are vulnerable to crystalline infirmities, known as 'inclusions' or 'blemishes', the former being small crystals or atomic impurities trapped within the diamond that might come to the surface and affect the appearance whereas the latter appears on the surface of the diamond.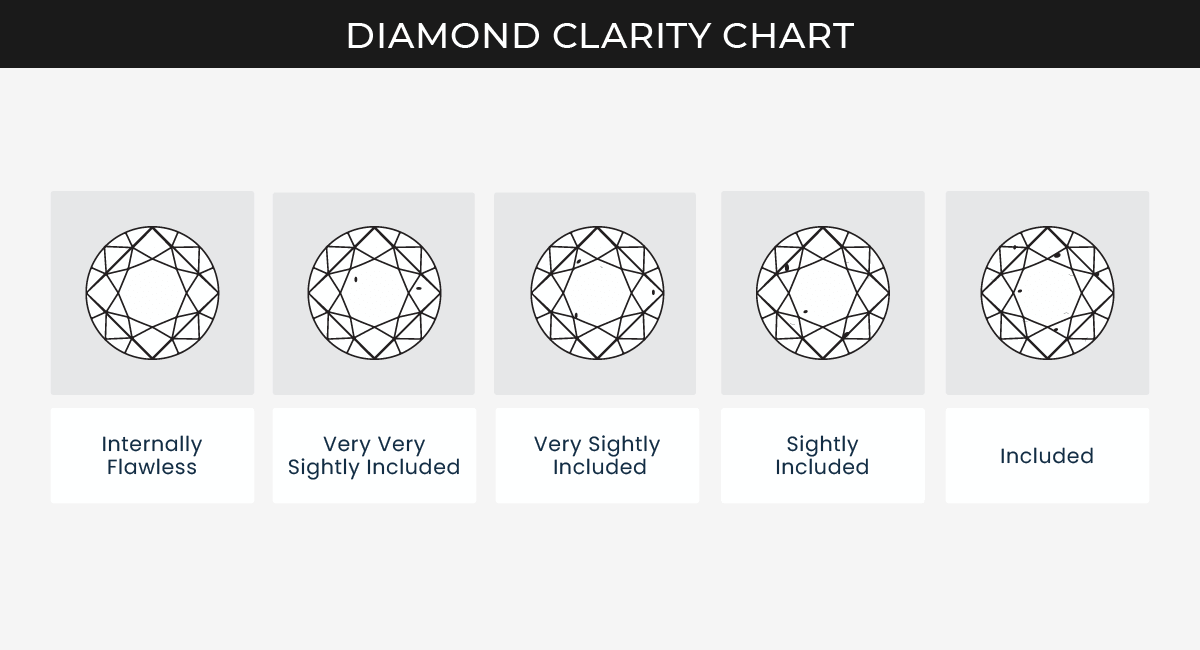 Inclusions and blemishes have a direct impact on the clarity and light reflection properties of a diamond and form the basis of calculating the clarity of diamonds. The clarity grading scale offered by GIA can be branched into 6 main categories as follows-
These grades act as a common measure for every jeweler despite what their nationality is. Since the difference in this scale is minuscule, one is advised to see if the inclusions or blemishes are visible or stark in appearance. 
While the presence of inclusions and blemishes are seen in both lab-grown and naturally mined diamonds. Lab-grown diamonds are cheaper, made on-demand, and thus can be modified when needed. 
| | | | | | | |
| --- | --- | --- | --- | --- | --- | --- |
| Shape | Carat | Cut | Color | Clarity | Price | |
| oval | 2.52 | Ideal | D | VVS1 | $5331 $3998 | View |
| round | 2.52 | Ideal | H | VS2 | $973 $827 | View |
| round | 2.58 | Ideal | G | VS1 | $1227 $1043 | View |
| oval | 2.53 | Excellent | E | SI1 | $1584 $1188 | View |
| oval | 2.59 | Ideal | F | VS2 | $2369 $1777 | View |
| oval | 2.59 | Ideal | F | VS1 | $2660 $1995 | View |
| round | 2.51 | Excellent | D | VS2 | $2865 $2435 | View |
| round | 2.51 | Excellent | D | VVS2 | $4045 $3438 | View |
| round | 2.57 | Excellent | D | VVS2 | $4141 $3520 | View |
| oval | 2.51 | Ideal | E | VS1 | $3077 $2308 | View |
| oval | 2.52 | Ideal | D | VVS1 | $5331 $3998 | View |
| oval | 2.50 | Ideal | E | VVS1 | $5380 $4035 | View |
| oval | 2.59 | Ideal | D | VVS1 | $5477 $4108 | View |
| round | 2.53 | Excellent | D | VVS1 | $5788 $4920 | View |
| round | 2.54 | Excellent | I | SI1 | $1044 $887 | View |
| round | 2.53 | Ideal | I | VS1 | $1518 $1290 | View |
| round | 2.55 | Excellent | I | VS2 | $1709 $1453 | View |
| round | 2.57 | Ideal | H | VS2 | $2262 $1923 | View |
| oval | 2.51 | Ideal | G | VS1 | $3093 $2320 | View |
| oval | 2.51 | Ideal | G | VS1 | $3093 $2320 | View |
Cut
The cut of a diamond is perhaps the most important feature as it weighs heavily on the overall look of the finished gem and can also make or break the charm of the other components.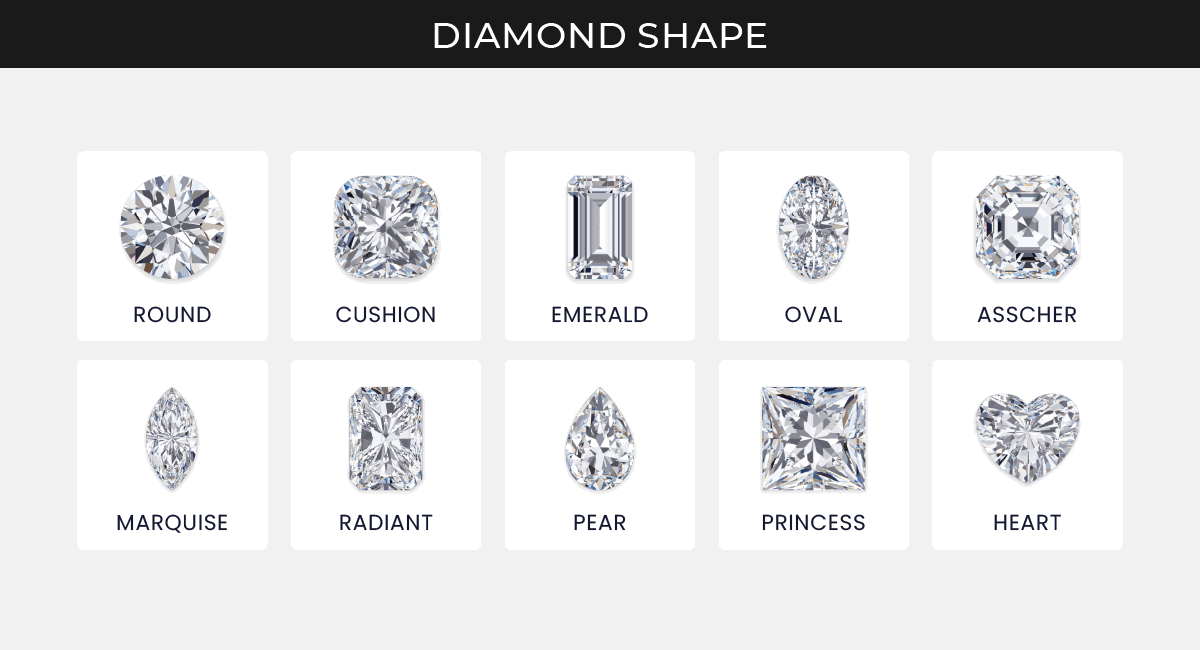 Diamond cut is not merely the final shape of the diamond but is meticulously concerned with: –
The angle of every cut

Symmetrical dimensions

Proportions 

Brilliance (the reflection of internal and external white light) 

Scintillation (the dark areas produced through reflections and the general dazzle)

Fire (the scattering of white light into a rainbow)

Finishing touches
Cut decides the most important aspect for a consumer i.e. the sparkle factor. The GIA grading scale for diamond cuts ranges from Ideal, Excellent, Very Good, Good, Fair, and Poor. 
However, the end result of a cut depends on the intention of a cutter, for instance, the maximum carat weight may be the concern but that might result in the diamond being too shallow to reflect light. 
While deciding on a cut, even the negligible increments in prices are worth it as the difference in cut will make a big difference, fundamentally, on the aesthetic appeal of the diamond.
Carat Weight
There is a common misconception that the carat weight is indicative of the size of the diamond. On the contrary, its meaning is only restricted to the weight of the stone. A diamond of 1 carat roughly weighs 200 milligrams, the same as the quarter of a small raisin. 
1-carat diamond can be of different sizes depending on the cut. However, a 1-carat diamond will always be better to purchase than a 1.5-carat diamond no matter how much it weighs, as the latter may not hold the same dazzle.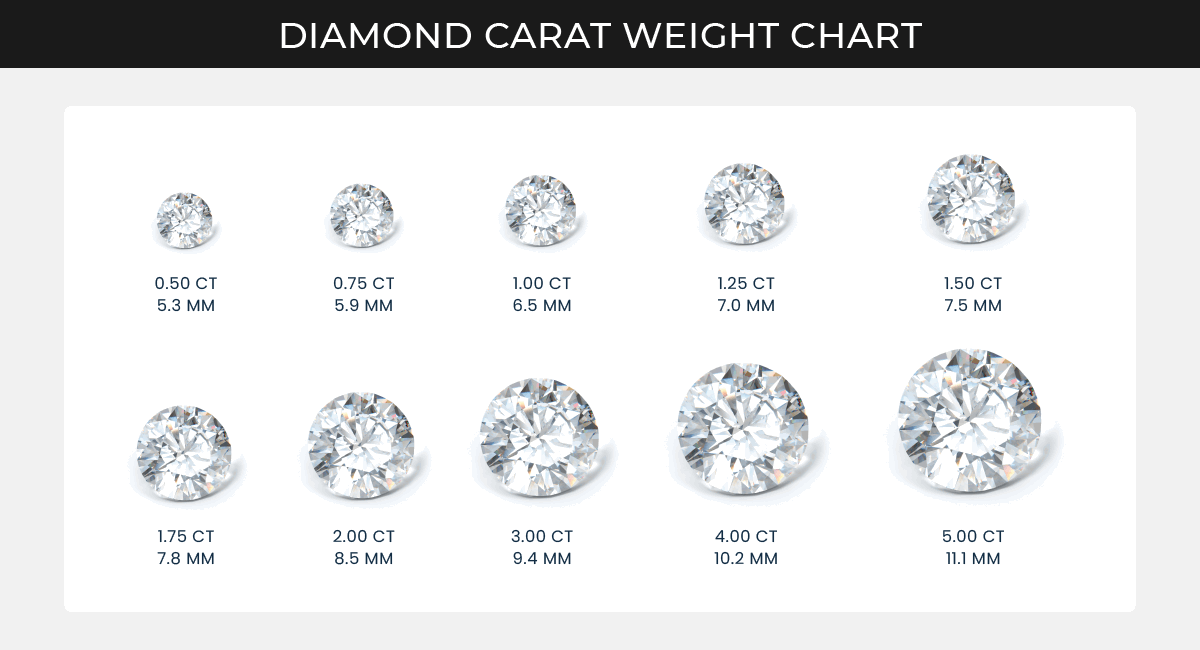 The price of a diamond is directly proportional to its carat as larger diamonds are obviously more sought after. 
Overall appearance and brilliance carry much more leverage for a diamond than the carat weight. 
Different Types of Diamond Shapes:
Here is a brief on some Best diamond shapes which are most popular.
Round Brilliant Diamond
Being the most popular diamond shape of all time, round diamonds constitute almost 75% of the total diamonds in the market. One of the major reasons for this is that a round shape best accentuates the brilliance of a diamond, and, what better, it goes well with vintage and contemporary designs of jewelry due to its symmetrical proportions and stunning brilliance. It is formally called Round Brilliant Cut (RBC) and was invented by Marcel Tolkowsky in 1919. A round cut has 58 facets and allows the light to go to the bottom of the diamond all the way back up.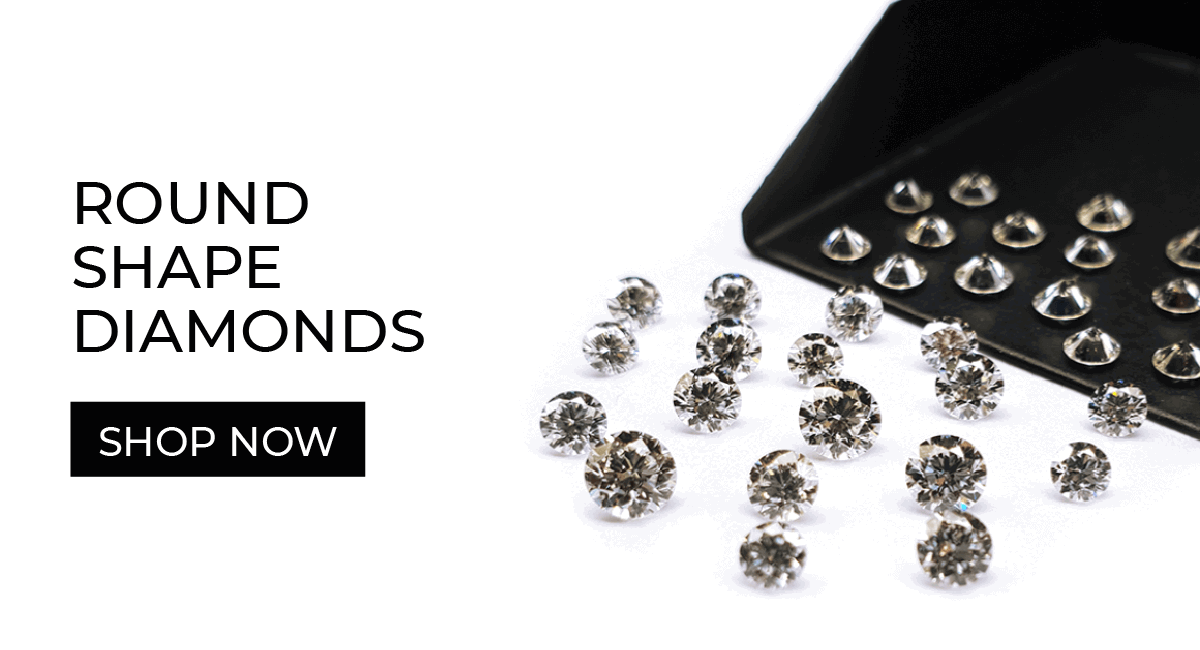 Princess Cut Diamond
Invented in 1961, the princess cut has a rectangular or square shape face-up and looks similar to an inverted pyramid with four beveled sides. It is the second most popular diamond shape after round, with almost 30% of the engagement rings being princess cut. This cut is lower in price as it is easier to carve out, with almost 49 to 144 facets. An increase in the amount of facets makes the flaws less discoverable. However, this shape is not as brilliant as round and is very vulnerable to damage due to its sharp corners.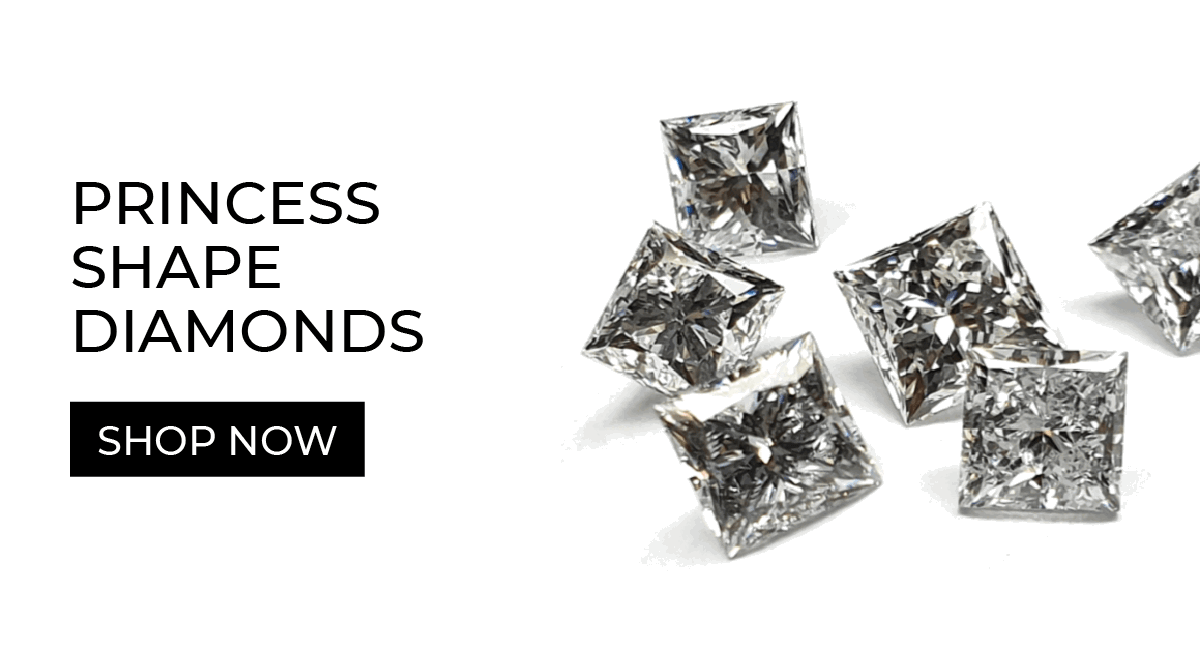 Emerald Cut Diamond
Popularly referred to as the shape of glamor, the emerald cut is a rectangular shaped cut with angles analogous to that of a staircase, known as 'stair cut'. These angles allow the light to pass with dramatic, wider flashes and make the brilliance unique.
Initially devised to suit emeralds due to their brittle composition, the emerald cut is not as brilliant or fiery as the round cut, but gives off a playful hall of mirrors illusion with the light and dark planes playing together. The flat table or top of the diamond allows a good look into the clarity of the diamond. It is a very vintage look, as the cut was most famous in the 1920s.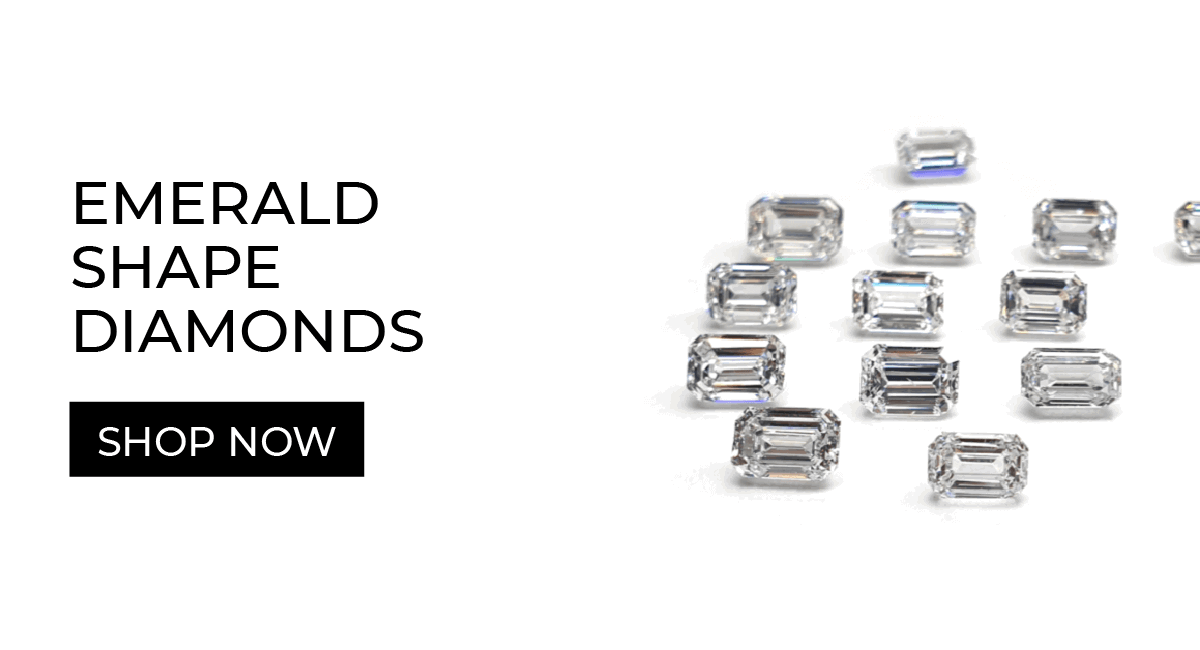 Ovals have all the brilliance and curved edges of a round cut but are more unique due to a simple alteration in shape. The elongated shape not only adds character to the stone but also makes it appear to have more carats and is far less prone to chipping.
It also fits the bill much better than the round cut. The design has unknown origins but was only recently mastered in 1957, by a Russian diamond cutter by the name of Lazare Kaplan.
One thing to remember is that the oval shape must be chosen with the perfect ratio. A larger ratio can give a more elongated look but there are risks of the light not bouncing off of the middle of the diamond, giving the appearance an undesirable 'bow-tie effect. A perfect ratio is 1.30 to 1.45 to make sure the light is not split within the diamond and it shines as a whole.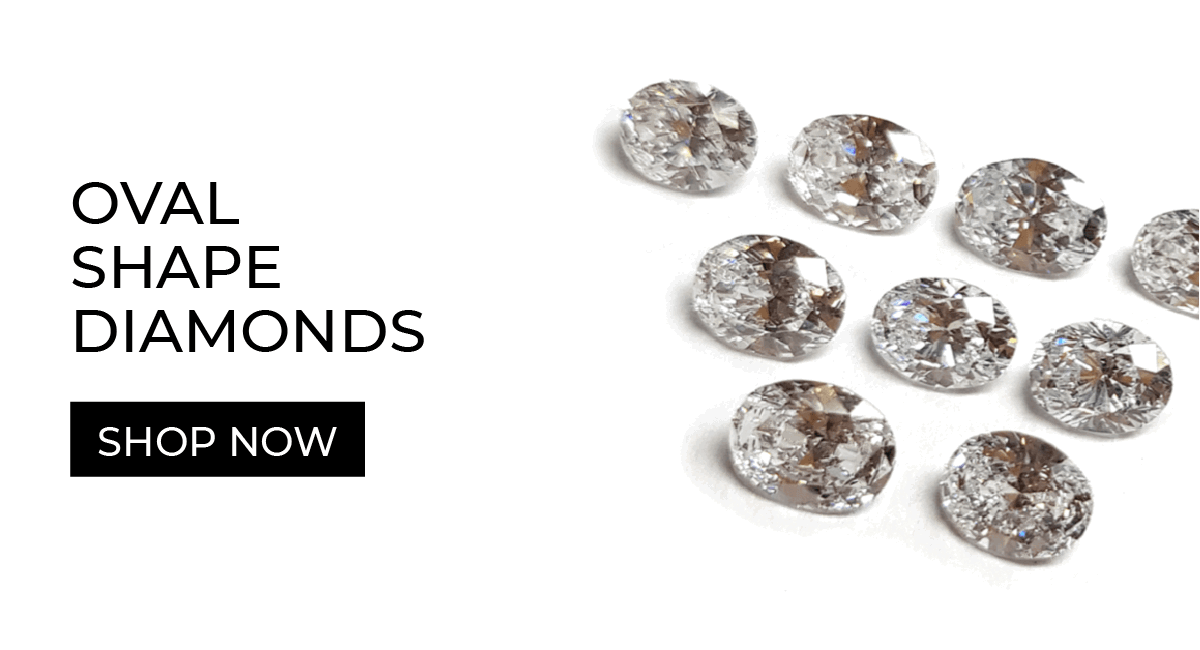 Marquise Cut Diamond
Resembling the arc of a smile, the marquise cut has been a timeless favorite among diamond lovers. It was invented back in the 18th century during the reign of Louis XIV and named after his famous mistress, Marquise de Pompadour. They are also called eye-shaped or boat-shaped. However, these are rarely seen in engagement rings, which makes them all the more unique.
It has almost 60 facets and can make the fingers appear thinner and longer when worn on a ring. One added advantage of the marquise cut is that it makes the diamond appear to have more carats due to its elongated body. It has become a recent trend to wear the marquise cut in a halo setting, meaning horizontally.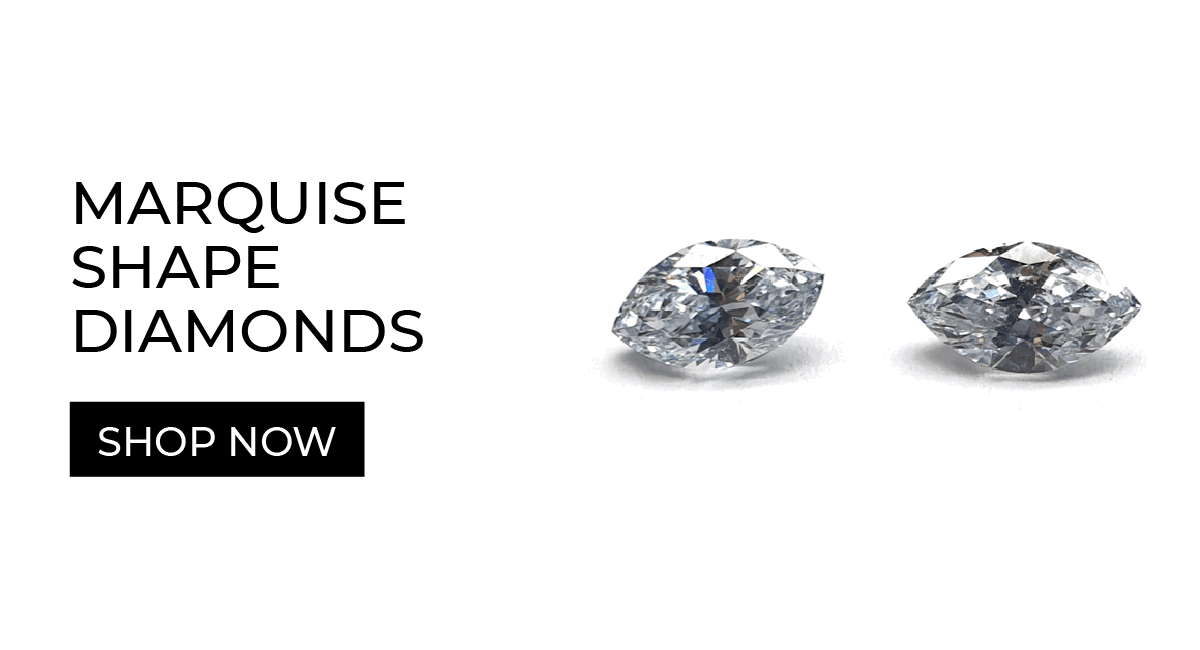 The pear shape resembles a teardrop or a pendeloque and has some appeal to it as it usually points towards the owner when put on a ring. Its signature outline is immediately recognizable.
It is donned by many celebrities, most recently being Ariana Grande with her engagement ring. However, since it is a fancy-shaped diamond, it is not allotted a cut quality grade from GIA and is incredibly hard to master. More so, it is also vulnerable to damage at the tip.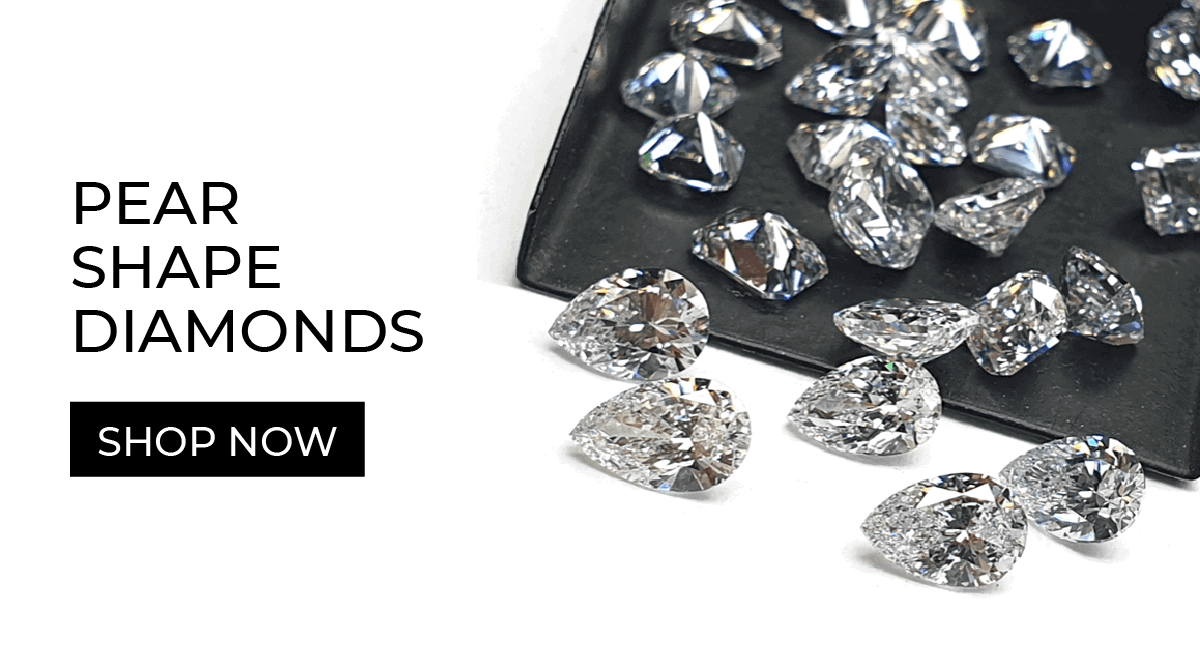 Cushion Cut Diamond
Also known as the pillow-cut due to its cushion-like shape, is essentially a square cut with rounded corners. It has become the de-facto diamond shape in the 20th and 21st centuries. Since it has a large open table, cushion cuts must be stones with higher clarity and a colorless palette.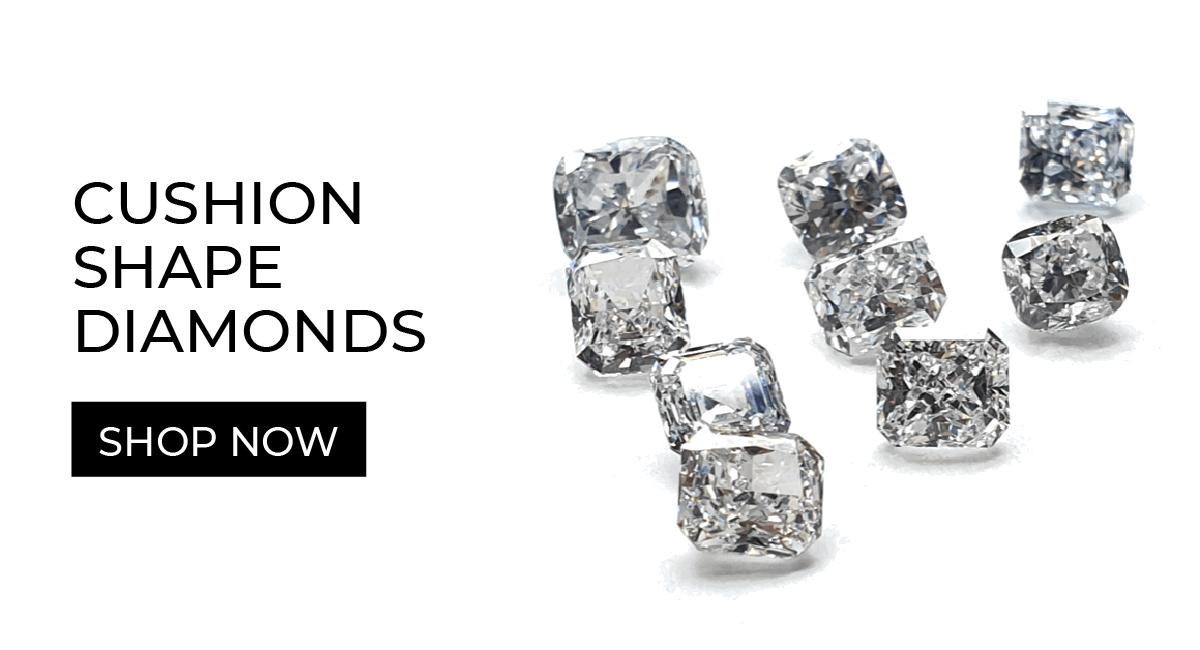 Radiant Cut Diamond
This fancy diamond shape resembles a square with rounded corners. With 70 facets, the radiant cut has an extraordinary sparkle due to its cut. This fancy diamond shape is used to maximize the effect of its original color, it is not a common cut. A man-made diamond of radiant cut will look great on rings and earrings.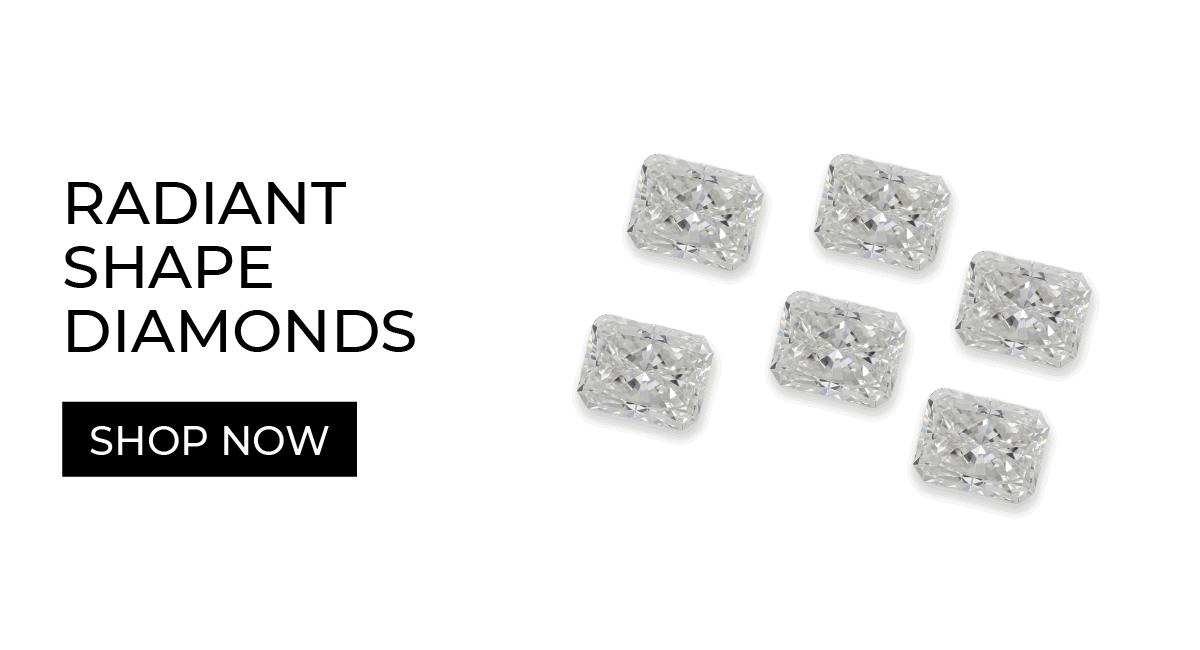 Heart Cut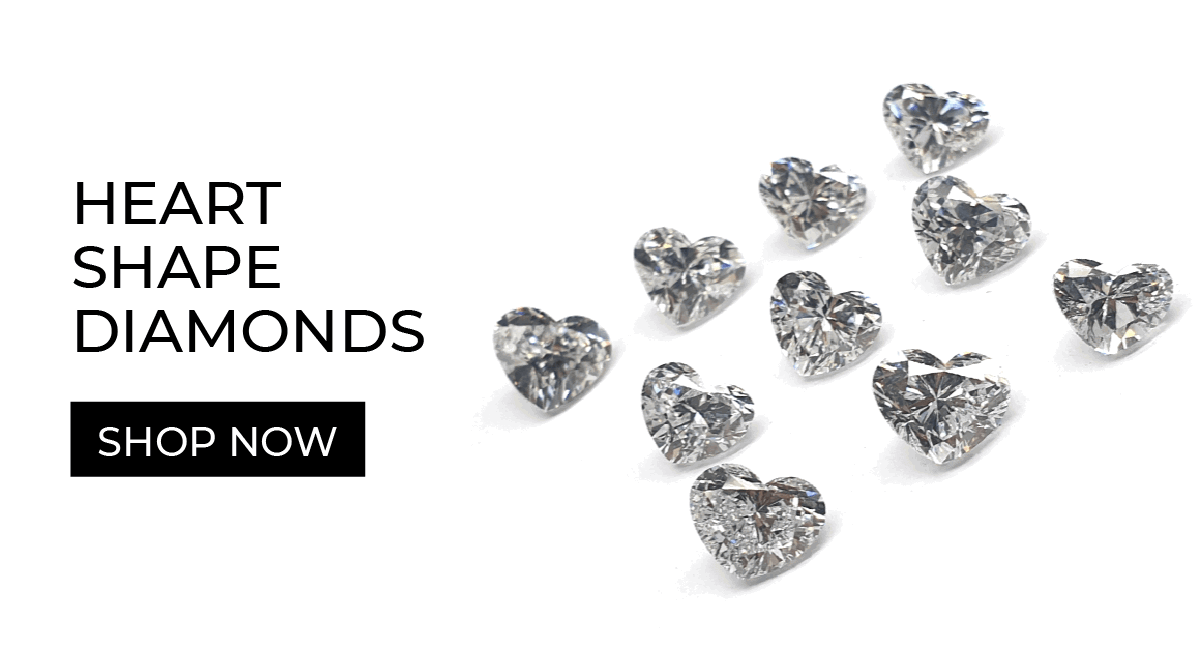 This cut is a modified version of the round cut. It usually has 56 to 58 facets, very close to the round cut. A forever symbol of love, the heart-shaped cut is in itself a declaration of love. However, visibility can be a problem with a cut having a very specific shape, or rather, representing a symbol.
A length-to-width ratio that is close to 1.00 is ideal and the stone must weigh more than 1 carat or it will risk having a confusing appearance. It can serve all purposes, with the earliest well-known example being a ring of heart cut famously gifted as a symbol of friendship from Mary Queen of Scots to Queen Elizabeth in 1562. 
Things to Consider while choosing a Best Diamond Shape:
We know one question, "what is the best diamond shape?", will come to your mind whenever you think of purchasing a new diamond. But don't worry, we are here to answer your question.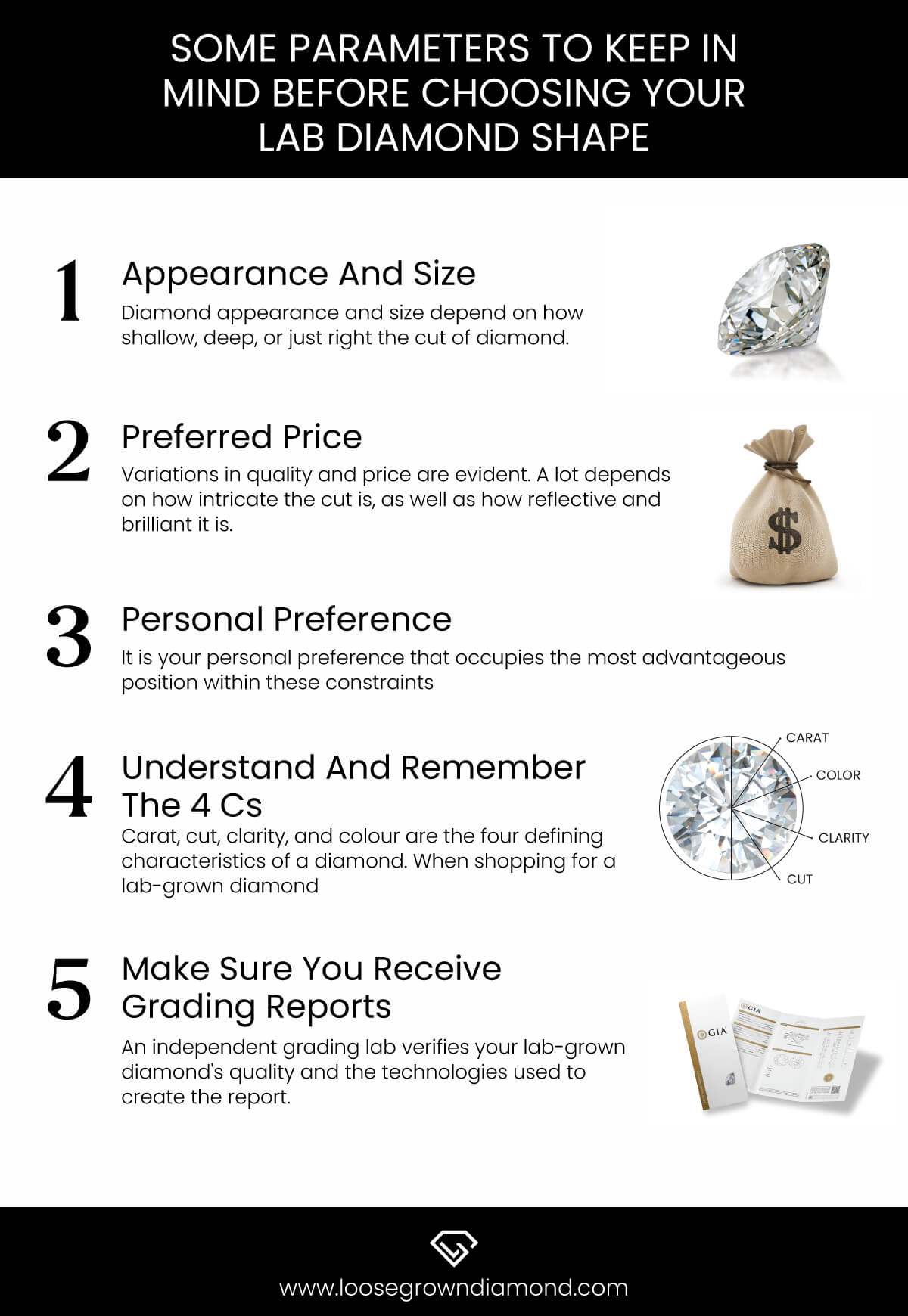 Appearance and Size
The appearance and size of a man-made diamond are widely dependent on the cut which is given to it. A cut of the diamond can make it look bigger or smaller depending on how shallow, deep, or just right the cut is.
The table of a diamond is the flat surface on top, which resembles a table. At times diamonds are faced with their table facing upwards, this gives a sense of clarity to diamonds. This is present in shapes like emerald or Asscher. But due to this shape, the diamond may not look as large as a diamond with the same carat weight. According to experts the princess and marquise are cut to maximize the size of a diamond.
Preferred Price
Different cuts have different prices. It all depends on the complexity, and the shine and brilliance the cut provides. Many fancy diamonds that have oval or emerald cuts are seen to be cheaper than other cut diamonds. These cuts also allow a larger carat weight in the finished man-made diamond. The reason is that less part of the diamond will be wasted in these cuts, while if a fancy cut were to be given more parts of the diamond are wasted.
Other shapes like pear or heart can help in the removal of more inclusions from the rough diamond; this leads to less wastage of the rough diamond. Cuts like the marquise, princess, and Asscher are expensive cuts.
Personal preference
While the price and appearance of the diamond matter significantly, it is your preference that has the optimum place in these parameters. What type of man-made diamond would you like to wear? Or what type of lab-grown fancy diamond would you like to buy? Buying a man made diamond or a diamond, in general, is an investment, hence such questions matter.
Make Sure You Receive Grading Reports For Your Diamonds
One must ask before deciding to purchase a diamond is the lab-grown diamond grading report. An expert, or yourself, must peruse and be satisfied with the same to ensure the quality of the diamonds from an authoritative and recognized gemological institute. 
This report will contain and certify all the minute details of the 4 Cs of a diamond, identify your lab-grown diamonds as those made in the laboratory and list out all the proportions, identifications, measurements, and finish of the stone. 
These reports also verify the process of creating the diamond and make sure only the best technologies are used in the laboratory. 
Conclusion
When it comes to lab-grown diamonds, their specifications are easy to trace and point out, making the purchase an easily well-informed one. You must endeavor to ensure whether the company making the diamonds has legitimate interests and whether it is really sustainable. 
With the perfect company, no matter what the cut, the diamond will always be a green option and an ethical purchase. The people facing hardships in diamond mines can have other career options whereas demand for a sustainable alternative in the same business will also grow simultaneously, making it a win-win.
We Hope, you would like this guide "How to Choose Best Diamond Shape for Your Beloved". We at Loose Grown Diamonds create high-quality lab-grown diamonds which are eco-friendly and certified by GIA/IGI. Each of these stones is made with love and care to meet our customer's needs and exceed their expectations.
Be sure to check out our diamond inventory if you are interested in purchasing a lab-cultured diamond at the most affordable price possible.