Where can I buy Lab grown diamonds?
Diamonds are a girl's best friend, but as the world around us becomes more ethically responsible and environment friendly, traditionally mined diamonds are seeing less and less customers.
Instead, lab created diamonds or lab grown diamonds are emerging as the number 1 choice. Besides being more ethical and sustainable compared to their natural brethren, they are also cost-effective. This means that their retail price is less, making them even more desirable for the modern customer.
If you, too, are thinking of getting such a stone for yourself or that special someone in your life, choose Lab Grown Diamonds, the best place to buy lab created diamonds. Indeed, it is one of the few brands that has ethics and sustainability at the heart of what they do.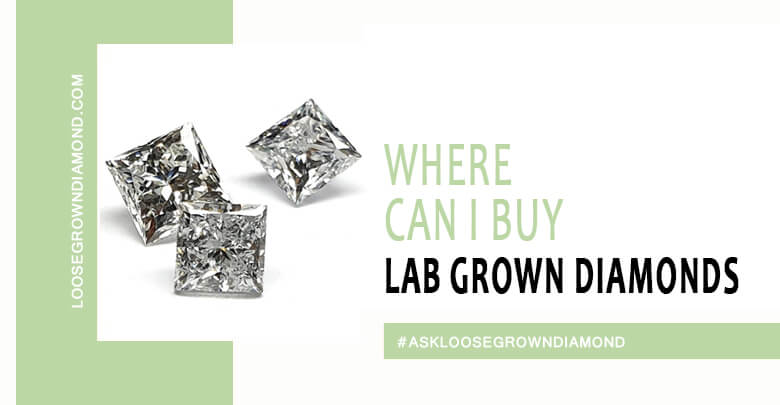 About the Brand
Established in 1964, Lab Grown Diamonds has been in business for more than 55 years. Naturally, they have a lot of experience in the field. But that is not the only reason why they are widely regarded as the best place to buy lab created diamonds.
Here are five reasons that make this brand stand out:
When you buy diamonds from Loose Grown Diamonds, you are buying directly from the manufacturer. This allows the company to sell you the stones at a wholesale price, without factoring in overhead costs like inventory and storage.
As a result, you pay only a fraction of what you would pay in the market, making Lab Grown Diamonds one of the most affordable and truly the best place to buy lab created diamonds.
The unpolished and uncut diamonds are sourced from the best wholesalers in the world, allowing Lab Grown Diamonds to take their pick of the best stones before anyone else.

All the diamonds are made to order so that no two pieces are alike and your jewelry is truly one of a kind.

Lab Grown Diamonds ship worldwide, so no matter where you are located, your precious stones will reach you in time.

They offer a lifetime guarantee on all their orders. When you purchase diamonds from Lab Grown Diamonds , you protect yourself against manufacturing issues or any other problems – for a lifetime! If you not satisfied company will refund the full amount.
The 9-Step Buying Guide for Lab Created Diamonds
For a layperson, buying a loose diamond is an uphill task. There is just so much to think about, and you often end up either overpaying or buying something you don't even require.
To simplify the process, we have developed this 9-step buying guide. We generally recommend buying from reputed sellers to ensure that the stones meet all the criteria mentioned below, and Lab Grown Diamonds is indeed the best place to buy lab created diamonds using this criterion.
The Shape
This is the very first step in figuring out the design of your ring or jewelry piece. There is no shape that is better than another, it is totally a matter of personal preference. For instance, round diamonds are the most popular choice for lab created diamond engagement rings, but many people also like unique shapes like oval or Asscher cuts.
Figure out what you or your partner likes and start from there.
Carat weight
Does your fiancé want a 1-carat diamond or a 2 carat one? Does she want something that looks good without being over the top?
You must choose the carat range that you think will work for you. Be mindful of the fact that as the carat weight of the diamond increases, the price does too. In addition, it is this feature that will influence how big a diamond looks, along with the shape and cut quality of the diamond. You can also check out the average diamond size that most people like.
Cut quality
One of the most important aspects that determine the beauty of the diamond is the cut quality. However, it should be noted that the card grades of a diamond are not standardized among different vendors. But it is generally recommended to only choose diamonds that have either an excellent or ideal cut.
If you're looking for a round brilliant diamond, it is better to stick with ideally excellent grade ones, but if you want a fancy shape like an oval cut, it might be worth paying for the premium cut. Cut quality is extremely important for determining the look of the diamond, so it's worth paying attention to the one you pick.
Color grade range
When choosing the color of the diamond, the most important thing is that the diamond should appear white. Of course, it is not applicable if you are shopping for salt and pepper diamonds or any other kind of stone with inclusions.
For colorless stones, you can go for diamonds that appeared in the G to I range. You don't have to get a D or E grade diamond to get a beautiful colorless stone. It should be noted that the different shaped diamonds reflect color differently and at different strengths. That is why the appearance of the diamond is largely dependent on the shape you choose.
Clarity grade
For optimum clarity, look for a stone that is eye clean. This means that the inclusions of the diamond should not be visible to the naked eye. You do not need to pay extra for an FL or IF diamond for the stone to be eye-clean. Diamonds that fall in the VS1-VS2 range are perfectly good enough.
With Lab Grown Diamonds, you can verify the clarity of the stones using high quality photographs and the reliable information available on the website, which makes it one of the best places to buy lab created diamonds.
We believe that the customer should try to find the cheapest eye clean diamond possible while keeping in mind their desired cut and shape. There are many diamonds that are usually rejected by customers because they are not certified clean because of the presence of inclusions that are visible only under a magnifying glass or a microscope.
We believe that this is not the right approach. An eye clean diamond is one that shows no inclusions with the naked eye and it is perfectly good enough to be set in jewelry. Lab Grown Diamonds is the widest catalog of lab grown diamonds that are eye clean and available at a fraction of the market price, making it one of the best places to buy lab created diamonds.
Compare similar diamonds
Once you implement all the criteria mentioned above, you will have narrowed down the preferred specifics to the stone that you want. Now the next step is to compare similar diamonds and find out which one is best suited for you.
You should think of aspects like whether the diamond is eye clean if it is brilliant enough for the price you're paying, and what your budget is. You can also look at other characteristics like the polish of the diamond, symmetry, and fluorescence. To an extent, all of these factors affect the appearance and value of the diamond, although their impact is not as significant as that of the four C's mentioned above.
You can read more about the four C's and other aspects of buying diamonds here.
Certification
When looking for the perfect loose diamond for your ring, you should be careful enough to ensure that the certification of the diamond is also accurate. There are several certifying agencies like GIA and IGI.
Contact an expert
Before you spend a lot of money on buying a diamond, connect with an expert who can review your choice and give you some advice. You can contact the knowledgeable diamond makers at Lab Grown Diamonds, the best place to buy lab created diamonds, to get some advice. Getting the opinion from an expert will make sure that your money is spent wisely and you get the best stone for the budget you have set aside. You will also feel much more confidence in your purchase.
Place an order
Once you have made the decision and you're sure that the stone you're buying is well suited for you, you can place an order with Lab Grown Diamonds and have your diamond delivered to any corner of the world. You can also buy melee diamonds, black diamonds, and rough diamonds here. Choose Your Lab Diamond Now.
Conclusion
Although there are many aspects you need to keep in mind when buying loose diamonds, the truth is that if you follow the steps mentioned above, you can arrive at a decision that ensures that you get the best value for your money and a beautiful stone.
Also Read: Real facts about Lab created diamonds.
Lab Grown Diamonds is dedicated to ensuring that all our customers get the most out of their purchase with us. With our large collection of diamonds and wholesale prices, diamond jewelry doesn't have to be an expensive endeavor anymore. Indeed, this is the best place to buy lab created diamonds in the world.