Different Types of Lab Grown Diamonds: A Complete Guide
What are the Lab-Grown Diamonds?
Lab-grown diamonds, alternatively called lab-created, synthetic, cultured, man-made, or engineered, are optically and physically indistinguishable from mined diamonds, yet provide a more sustainable, affordable, and ethical option. 
The natural process that takes place for millions of years under the crust of the Earth is now replicated to perfection in closely monitored laboratories within a matter of a couple of weeks. Despite this, these finished stones are priced 40% less than mined diamonds.
Ever since HPHT synthetic diamonds and CVD diamonds came into existence, they have given natural diamonds good competition. There are a variety of man-made diamonds available in the market, and if you're interested in buying these loose diamonds then you should be fully aware of the types of lab-grown diamonds.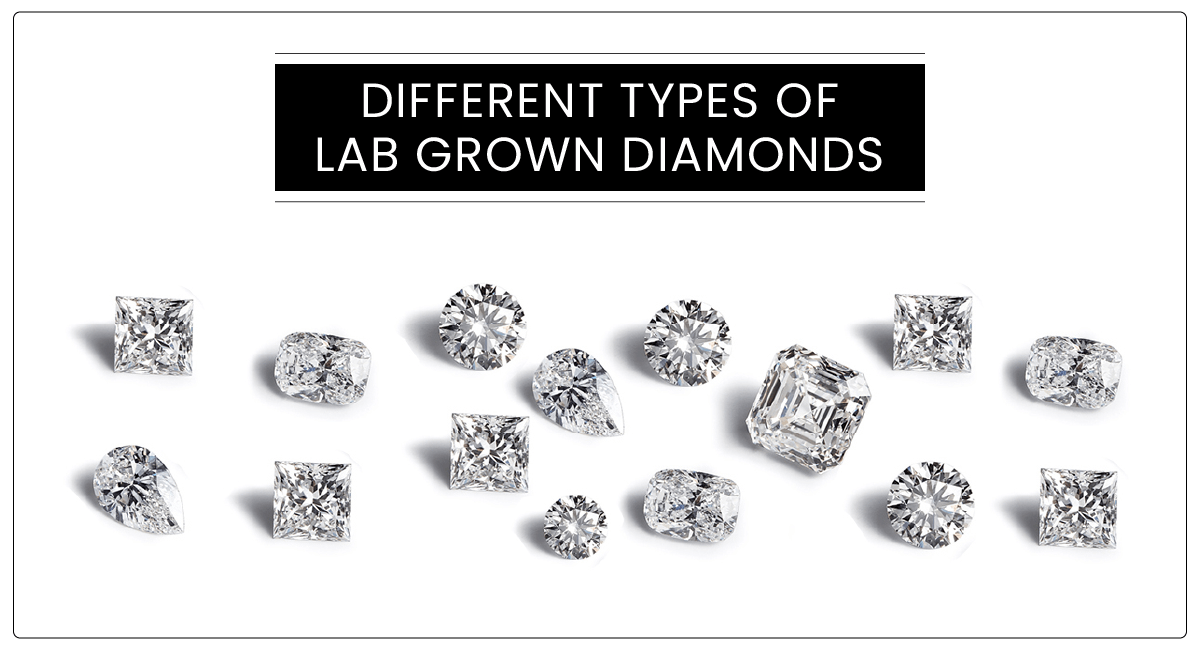 The key reason man-made diamonds have created such a massive impact on the diamond market is due to their easy availability and cheap prices (in comparison to natural diamonds). The creators of man-made diamonds have stepped up a level and are able to create Type IIA diamonds manually. To give you an idea, Type IIA diamonds are those which qualify as high-class diamonds; Koh-i-Noor and Cullinan are a few examples.
Now to help you distinguish between the different types of lab-grown diamonds, we have mentioned all the types of man-made diamonds below.
Types of Lab Created Diamonds
What are the types of man-made diamonds, you ask? Well here are all of them.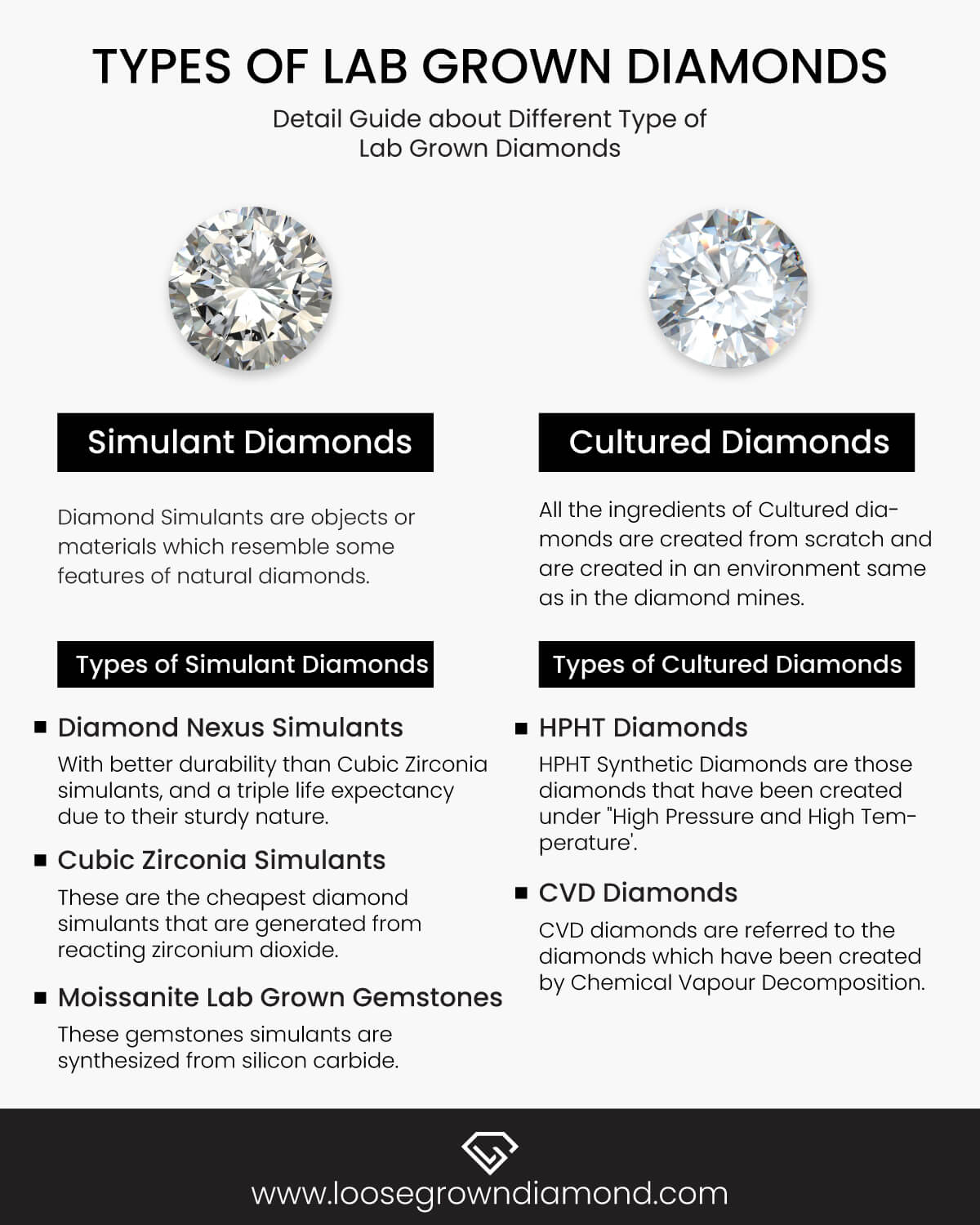 Lab-Grown diamonds can be divided into two types:
Let's learn about both major types in detail.
1. Simulant Diamonds
Diamond Simulants are objects or materials which resemble some features of natural diamonds, they look similar but they are not exactly pure diamonds. The difference between a diamond simulant, a natural diamond, and a man-made diamond cannot be seen by the naked eye, but rather by specialized types of equipment. 

Diamond simulants have different chemical, physical, and optical properties in comparison to natural diamonds. A diamond simulant only possesses the same gemological characteristics as that of a natural diamond. These diamonds are also referred to as diamond imitations and are fabricated from alternative materials.
Some diamond simulants are; cubic zirconia and moissanite, these two have a similar resemblance to natural diamonds but are not true diamond crystals. These diamond imitations were introduced at the end of the 20th century, as an alternative for natural diamonds. 
Simulant diamonds can be divided into three types:
Cubic Zirconia Simulants
Diamond Nexus Simulants
Moissanite Lab-Grown Gemstones
Cubic Zirconia Simulants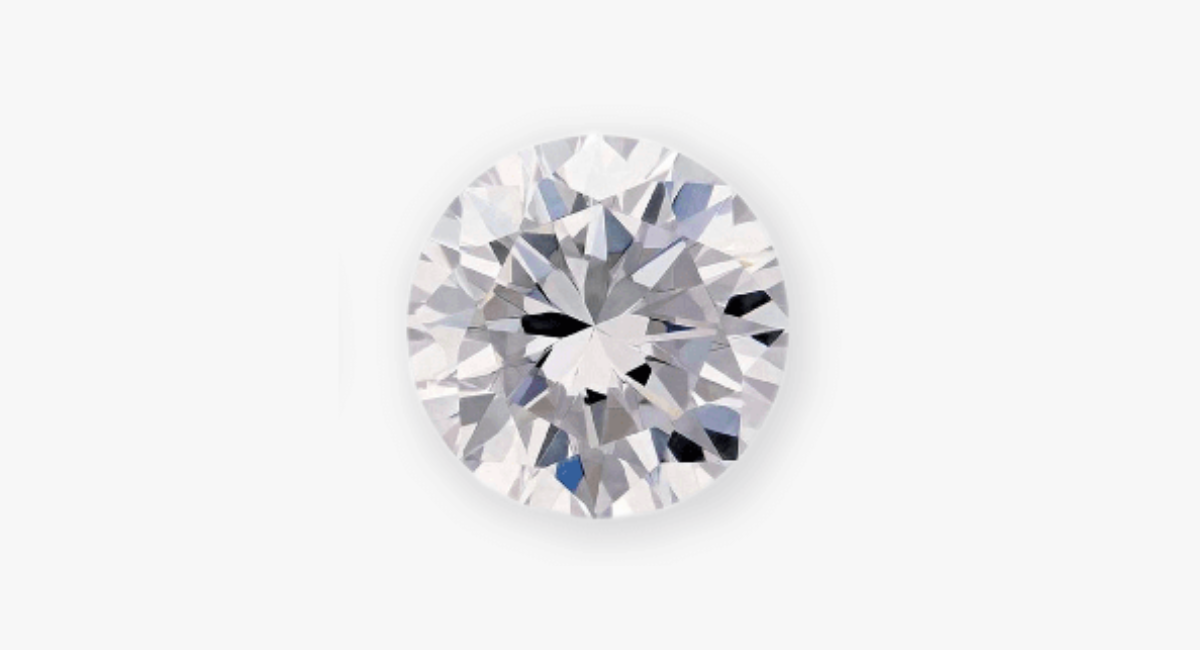 These are the cheapest diamond simulants that are generated from reacting zirconium dioxide. This simulant has a resemblance to diamond crystals but is not long-lasting.
Diamond Nexus Simulants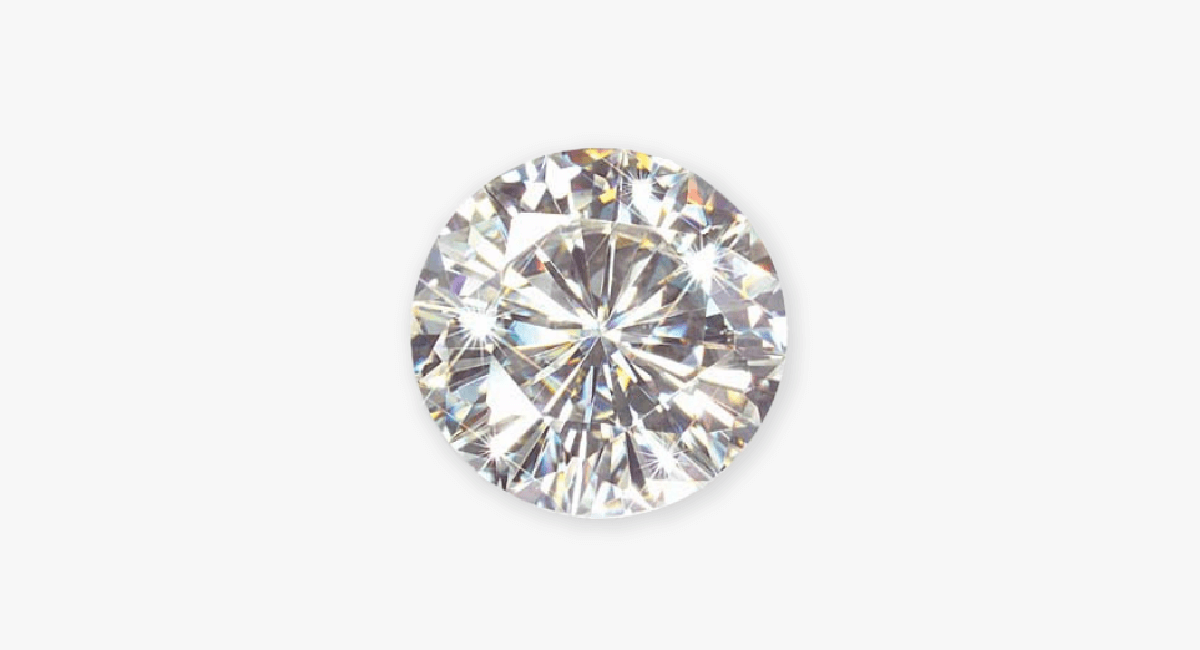 With better durability than Cubic Zirconia simulants, and a triple life expectancy due to their sturdy nature. Diamond Nexus simulants are preferred more. These simulants are made from a mixture of carbon and other substances.
Moissanite Lab Grown Gemstones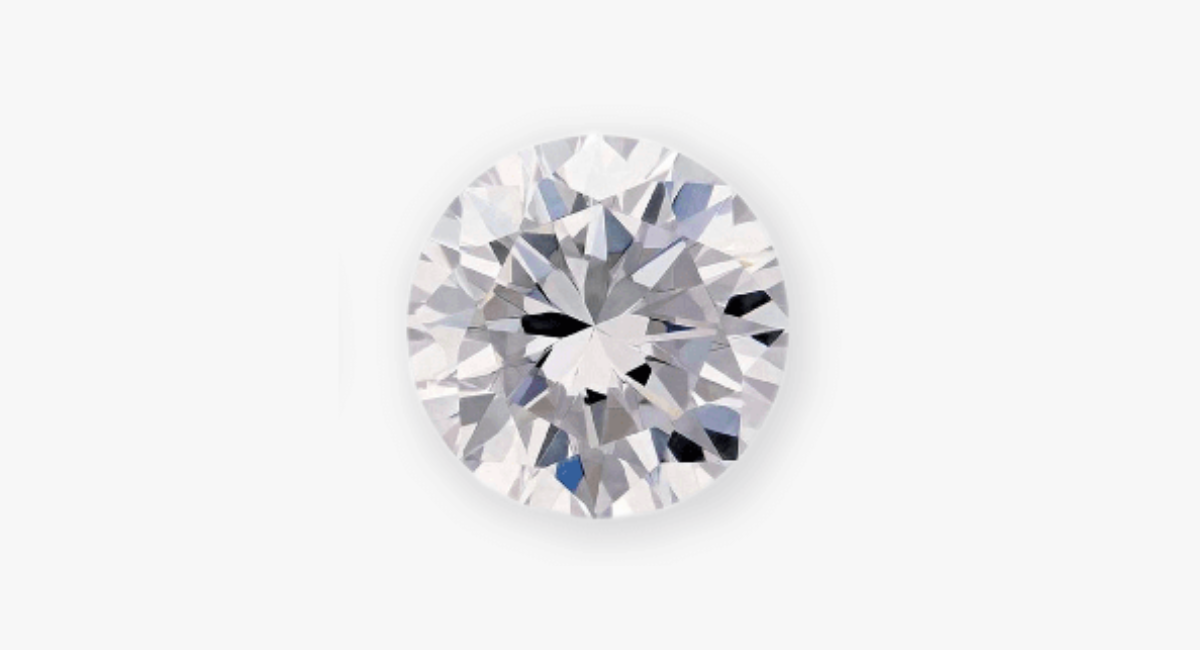 These gemstones' simulants are synthesized from silicon carbide.
2. Cultured Diamonds

Cultured diamonds can be divided into two types:
HPHT Synthetic Diamonds

CVD Diamonds
HPHT Synthetic Diamond 
HPHT Synthetic Diamonds are those diamonds that have been created under 'High Pressure and High Temperature'. These are the same conditions that are required to form a natural diamond from scratch. Man made diamonds which are made from the HPHT method, have the same optical, physical, and chemical properties as natural diamonds.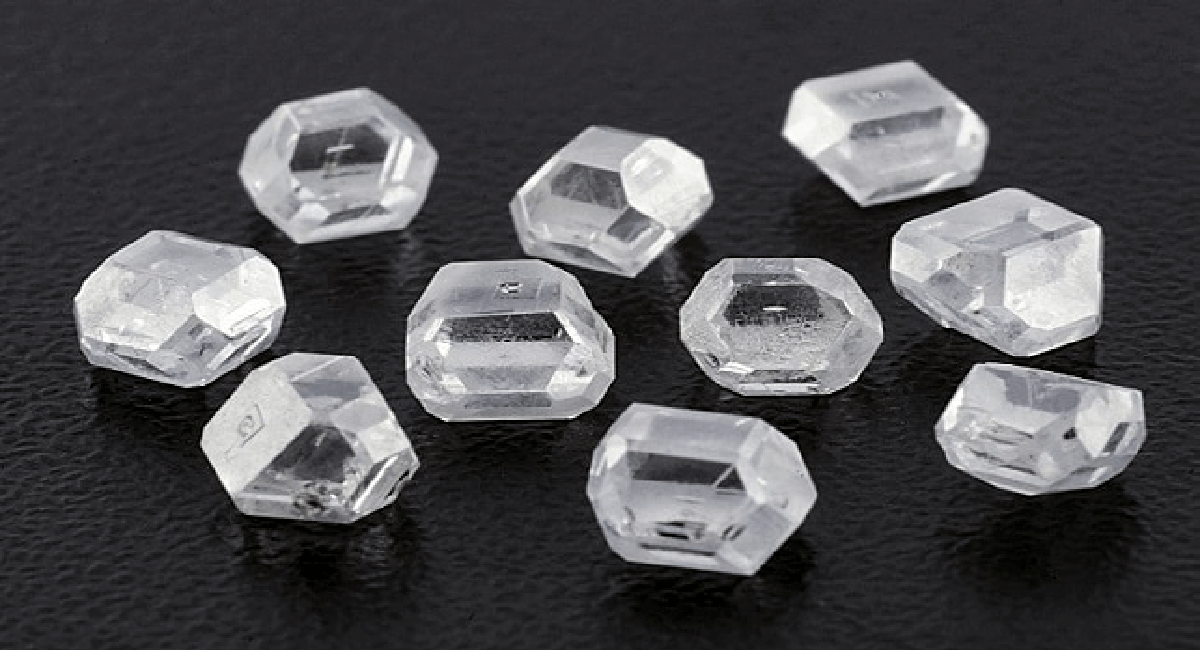 To apply high pressure and high-temperature different press machines are used. There are three major types of press designs that are used to produce HPHT synthetic diamonds. These are the belt press, cubic press, and split-sphere press. The man made diamond formed will be of the same quality, have the same chemical and physical properties, irrespective of the type of press design you choose.
The diamond seed is put under one of these press machines, and then with the proper application of high-pressure high temperature and the right amount of carbon, a perfect HPHT synthetic diamond will be formed. 
CVD Diamonds
CVD diamonds are referred to as the diamonds which have been created by Chemical Vapor Decomposition. In this method to form a man-made diamond, with the help of a hydrocarbon gas mixture, a carbon plasma is created over the substance onto which the carbon atoms will be deposited to form a man-made diamond.
The hydrocarbon gas mixture contributes to providing carbon atoms for this method to form these loose diamonds and fancy diamonds. The CVD diamond-making method also helps to keep control over the chemical impurities. 
Though the HPHT synthetic diamond method is preferred for the mass-production of man-made diamonds/fancy diamonds, the CVD diamond-making method is still glorified for its profound industrial applications. This method is simple and is flexible regarding what the output may be; a fancy diamond, a basic color diamond, a normal loose diamond, a white diamond.
The man made diamond created by the CVD diamond-making method ensures that the physical, chemical, and optical properties remain in line with that of natural diamonds.
Meaning that even after being fabricated in a lab-based environment, these loose diamond which was created, will still be of the same quality and possess the same characteristics as that of natural diamonds. 
Why Lab Grown Diamonds?

Mining Free
"NO MINING" is required for Lab created diamonds. Elevate your jewelry with mining free Lab Growm Diamonds

Quality
Lab created diamonds have the same
quality and optical properties as natural diamonds.

Valuation
Lab-created diamonds contribute excellent value,
and are more affordable than natural diamonds
Conclusion
In summary, there are basically two types of man-made diamonds that have the same chemical, physical, and optical properties similar to that of natural diamonds. These two types are created by the 'CVD diamond' making method and the 'HPHT Synthetic Diamond' making method. A diamond stimulant and a natural diamond will look alike but will be completely different regarding their quality, strength, optical properties, and composition.