Mistakes to avoid when Buying a Lab Grown Diamonds
You may be wondering as to what is the best type of diamond you can get in a given price range? Or what is the best region you can get fancy diamonds from? Do such questions come to the mind of new buyers?
The diamond market is a mixture of good loose diamonds, bad quality diamonds, and a variety of diamonds that have made their way from all over the globe. It's a complex system of trade and transactions, which can trick an ordinary person to purchase a diamond of less value for a high price.
In many cases, people end up buying a blood diamond or a diamond stimulant in place of a fancy diamond. Now how to prevent yourself from getting conned?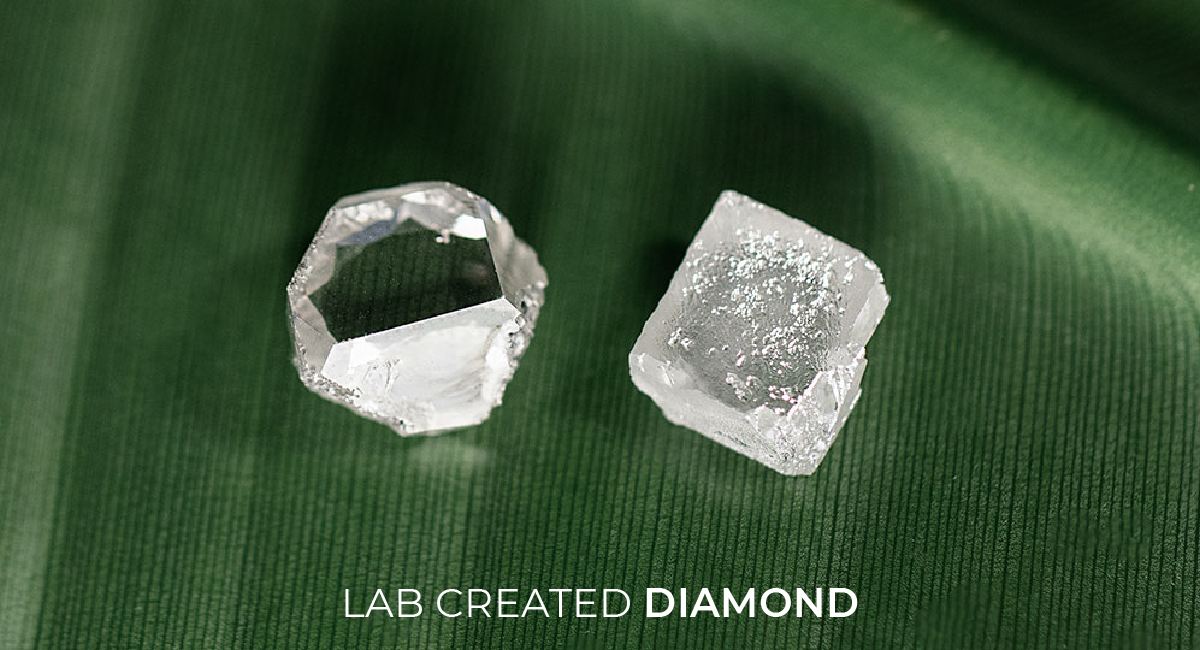 If you are a regular buyer or have enough knowledge about diamonds, then there should be no issue in particular. But if you are new to the diamond industry and want to get the best lab-grown diamonds for a given price then, you came to the right place.
Well, there are a few aspects that you should take into consideration whilst going to buy a white diamond, fancy diamond, loose diamond, and a lab-grown diamond. These are the 4C's, certification, the origin of the diamond, the seller, and other factors that we have mentioned down below. We have also mentioned below some common lab diamond buying mistakes.
Lab-Grown Diamond Buying Mistakes to Avoid: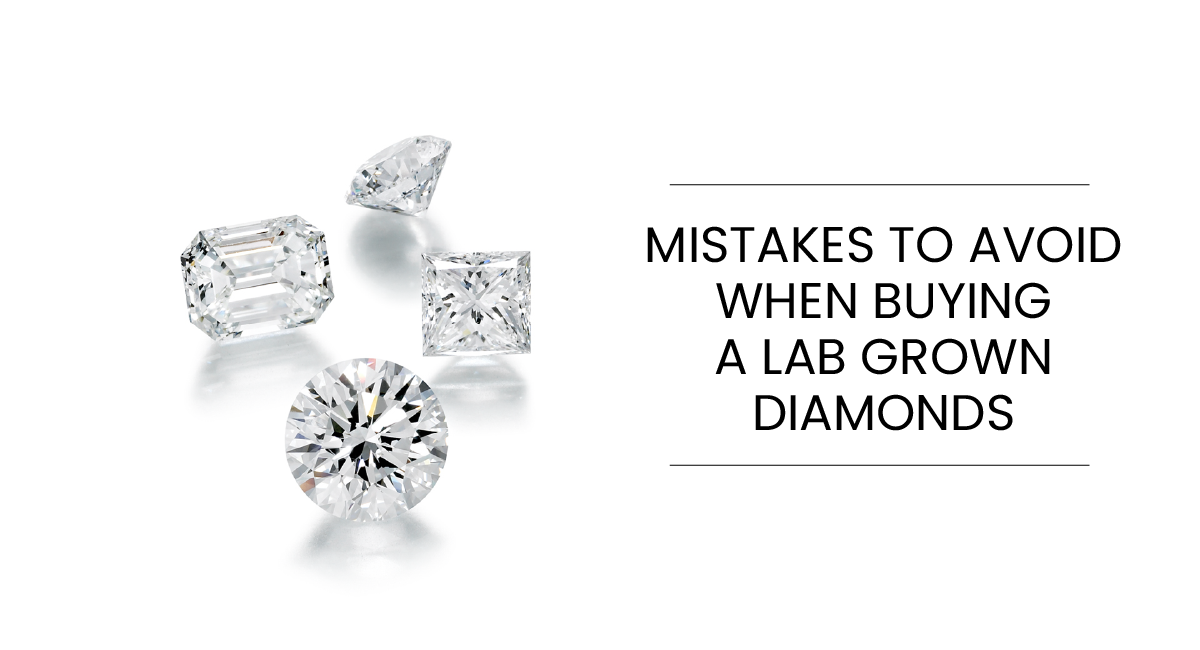 1. Not Checking the 4C's
Cut, Carat, Clarity, and Color are the 4C's which determine the price or value of a diamond. Not any two diamonds are exactly the same, they will differ in cut, carat, clarity, and color. If you are well versed with the 4C's you will easily be able to identify which fancy diamond is worth your money and which is less valuable. The knowledge of the 4C's also comes in place during the grading and certification of a loose diamond or a man-made diamond. Here is how to define the 4C's
Cut:
Every diamond has a different cut. The cut of a diamond impacts how the diamond will disperse light. The refraction of light, brightness, luminous shine, dispersion, scintillation, and contrast are all affected by the cut of a diamond.



Carat:
It is what determines the diamond's weight and size. Diamonds with an average cut but bigger carat will be worth more than a smaller diamond with less carat. An A-1 carat of diamond weighs 200mg, but there is no perfect size for a diamond. It depends on the buyer how many carats of diamond would the buyer like.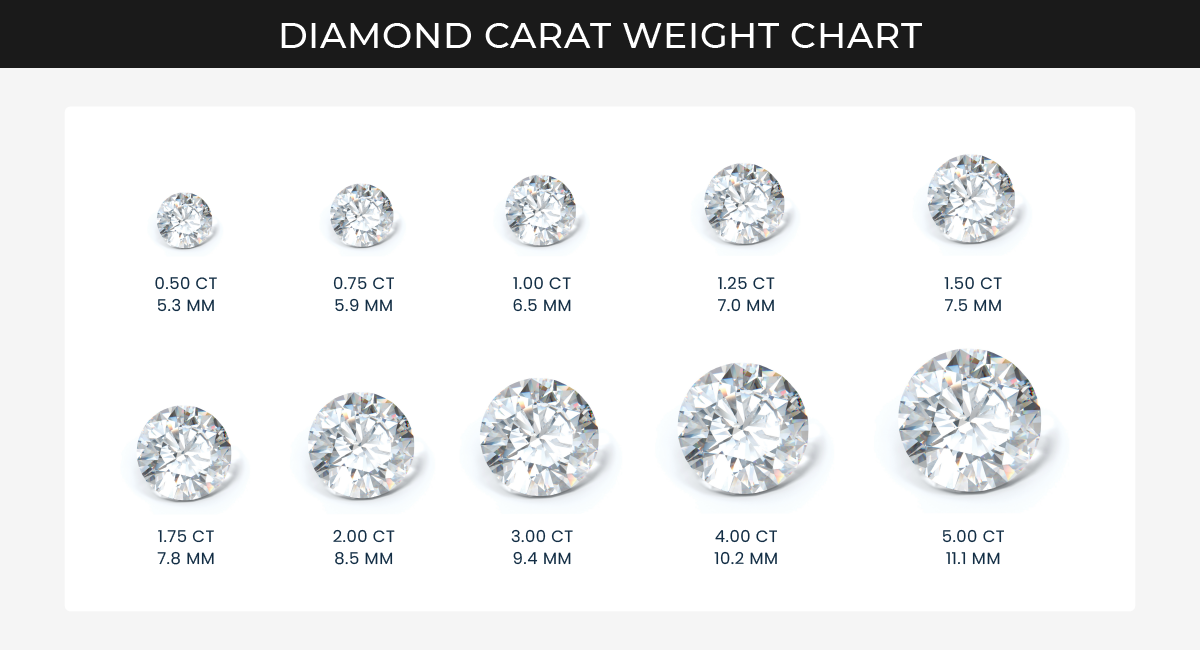 Clarity:
The flaws present in a diamond are measured by clarity. The other name for these flaws are inclusions, which are tiny spots, air cavity, clouds, etc. A diamond is said to be flawless if it has no inclusions and is categorized as FL or flawless.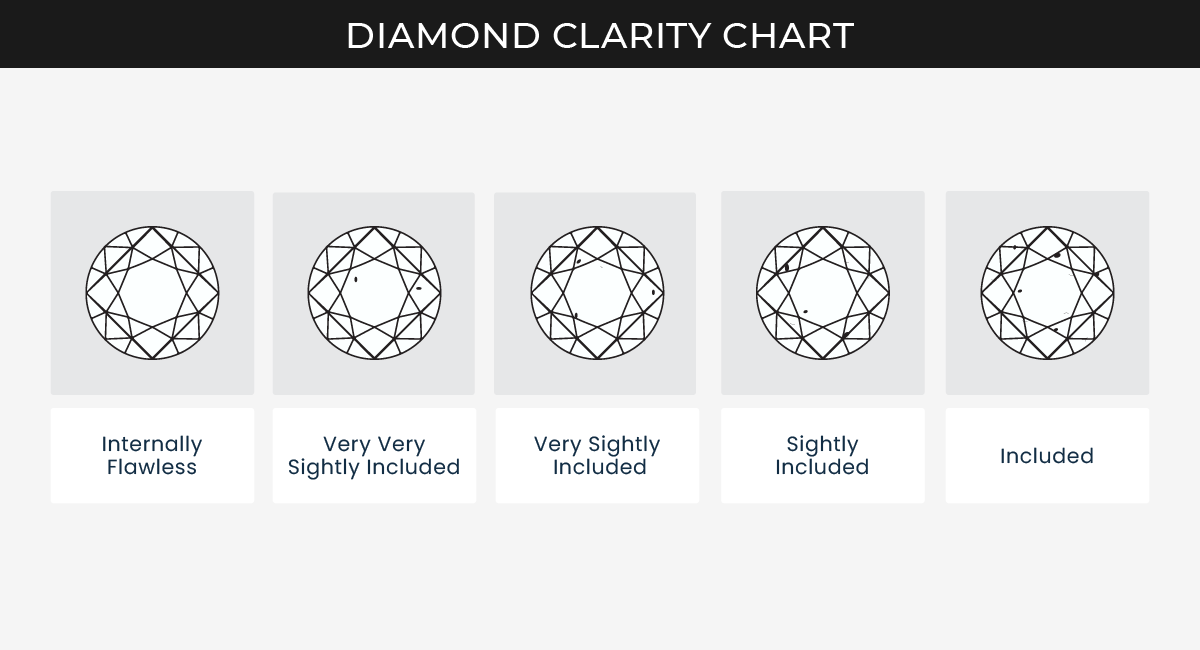 Shape
Carat
Cut
Color
Clarity
Price
round
2.51
Excellent
E
VS1

$3382

$2875
View
round
2.60
Ideal
G
VS1

$1394

$1185
View
round
2.55
Excellent
G
VVS2

$1404

$1193
View
round
2.50
Ideal
G
SI1

$1029

$875
View
round
2.50
Excellent
J
VS1

$1451

$1233
View
round
2.50
Ideal
E
VS1

$1851

$1573
View
round
2.52
Excellent
E
VS1

$2382

$2025
View
round
2.53
Excellent
F
VS2

$2106

$1790
View
round
2.55
Excellent
D
VVS2

$4744

$4032
View
round
2.55
Ideal
F
VS2

$1296

$1102
View
round
2.50
Excellent
J
VS1

$1451

$1233
View
round
2.56
Excellent
E
VS2

$2571

$2185
View
round
2.52
Ideal
G
VVS2

$1486

$1263
View
round
2.60
Ideal
G
VVS2

$1627

$1383
View
round
2.52
Ideal
F
SI3

$5276

$4485
View
round
2.54
Excellent
D
VS1

$3738

$3177
View
round
2.50
Ideal
J
VS1

$1451

$1233
View
round
2.50
Ideal
G
VS2

$1388

$1180
View
round
2.51
Excellent
H
VVS2

$1855

$1577
View
round
2.50
Excellent
F
SI1

$1188

$1010
View

Color:
Different colors of diamonds have different values, depending on how rare they are. This is graded from D to Z, in which D is the rarest and colorless diamond white diamond.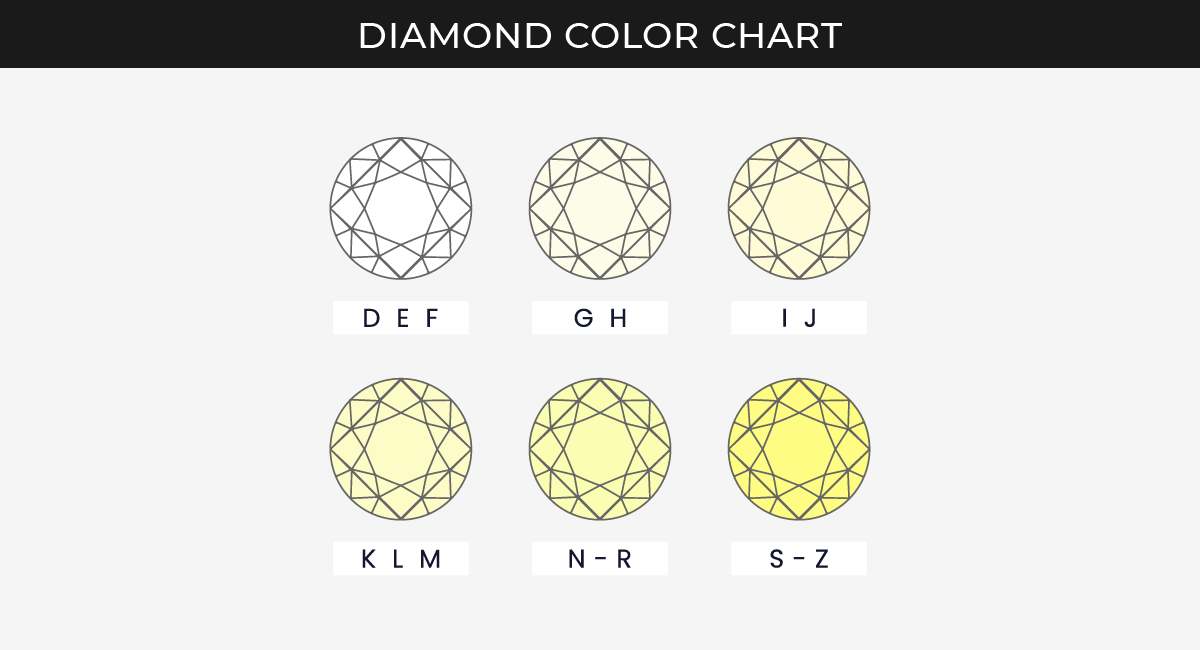 I recommend you to read the detailed guide on a detailed guide on the 4C's Of Diamonds
2. Not Seeking a Certificate for a Lab Grown Diamond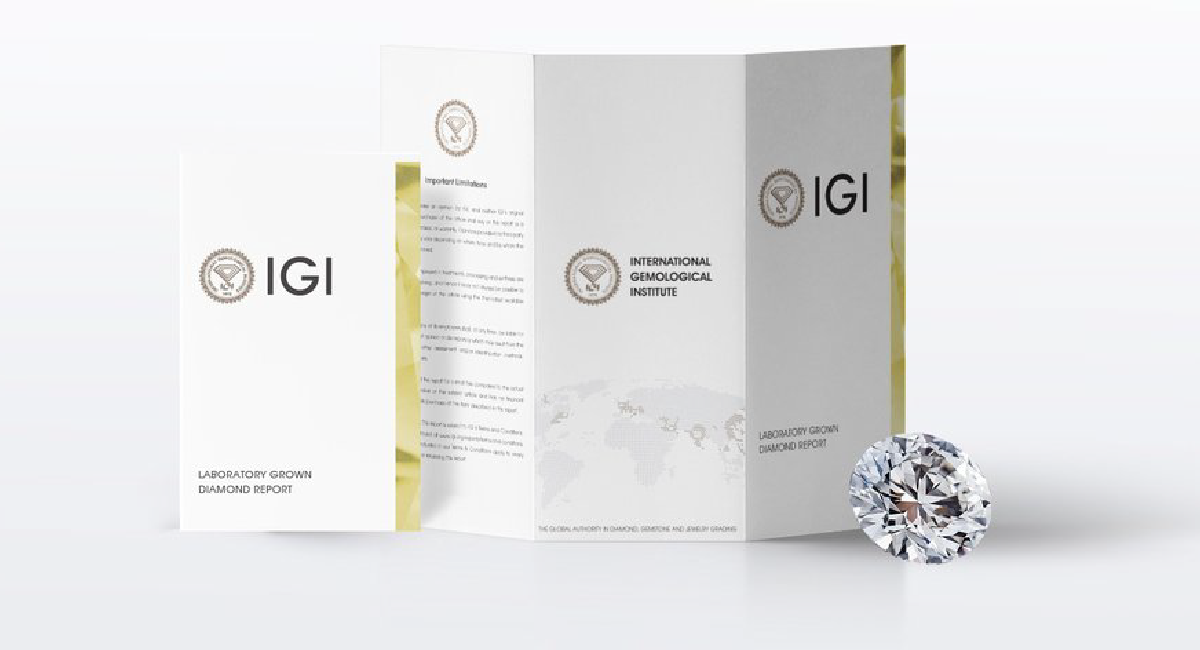 This is one common mistake that is carried out by many buyers. Every man-made diamond is graded and certified by certification institutions like International Gemological Institute, GIA, and  GCAL, if not certified it is not worth buying.
A diamond certificate guarantees the proper grading of a man made diamond against the 4C's. This certificate also protects the buyers and sellers of man made diamonds, by stating that the loose diamond is up to the desired standard and quality. This makes the buyer or consumer have faith in their purchase.
While buying a man made diamond the buyer should demand a certificate. The seller should willingly provide its customers with certificates, along with their diamonds. On obtaining a certificate by a proper certification institution, transparency is guaranteed. The consumer will be sure that the man made diamond they have is real and worth it. But, be sure to buy man made diamonds from recognized sellers, as they can verify the accuracy of the certificate.
3. Not knowing the Origin of Man Made Diamonds
When buying lab grown diamonds it is mandatory that you know the origin of your diamond. The reason being, that the origin can tell a lot about a diamond. Ever since the discovery of blood diamonds and conflict diamonds that were used to fund war zones, the world has become cautious. Several government organizations and NGOs had come together to eliminate blood diamonds from the face of the earth.
They succeeded in removing 99% of blood diamonds, but 1% still persists in the markets. Many consumers have a conscience that doesn't allow them to purchase goods or diamonds that were obtained through violence. It becomes vital for them that they know the origin of the diamond. Most people prefer to buy man made diamonds, as these are grown in labs in a controlled environment. Man made diamonds are certified real diamonds, and are marked as lab-grown.
Also Read: Why are lab-created diamonds called blood-free diamonds?
4. Not Doing Enough Research About Lab Created Diamonds
One of the main reason consumers end up buying the wrong loose diamonds or white diamonds is that they don't research enough. First, you should research what type of diamond do you want? What carat, cut, color, and size should the diamond be?
Before purchasing from one shop or place, be sure to check out other stores or online. You will get better deals this way. Purchasing the first diamond that you see, is the wrong approach. Also set a budget, as to what price range should the diamond lie in?
For example, if your main priority is the size of a diamond, you can buy a bigger diamond for a particular amount, if you go for a lighter color and less clarity. This is if the size is a priority. So, research on man-made diamonds a bit and then go buy a diamond, this way you won't end up getting conned.
5. Buying Diamonds from Unknown Sources
Buying a diamond is a good investment in itself, you should choose your seller well. An established diamond company, a diamond seller who has been in this business for years, a decent diamond company is a better choice than unknown sources.
Unknown sources are those sellers whose reputation can be questioned or who are not reputed. The dangers of buying from an unknown source are that you can be misguided, sold a fake diamond or blood diamond, or even conned for large amounts of money.
Many of these unknown sources don't provide diamond certificates, so you can't be sure you're getting an original man made diamond. Some who do provide certificates, their authenticity can be questioned. So it is better if you buy man made diamonds from a reputed seller.
6. Not looking at the Man Made Diamonds under Natural light
If you visit a normal jewelry store you will see that they are well-lit, with white and yellow lights. This light affects the shine your diamond gives and makes the diamond appear shinier. It is recommended you check out the diamond under natural light, so you can appreciate its true beauty.
7. Buying Lab Grown Diamonds at Big Discounts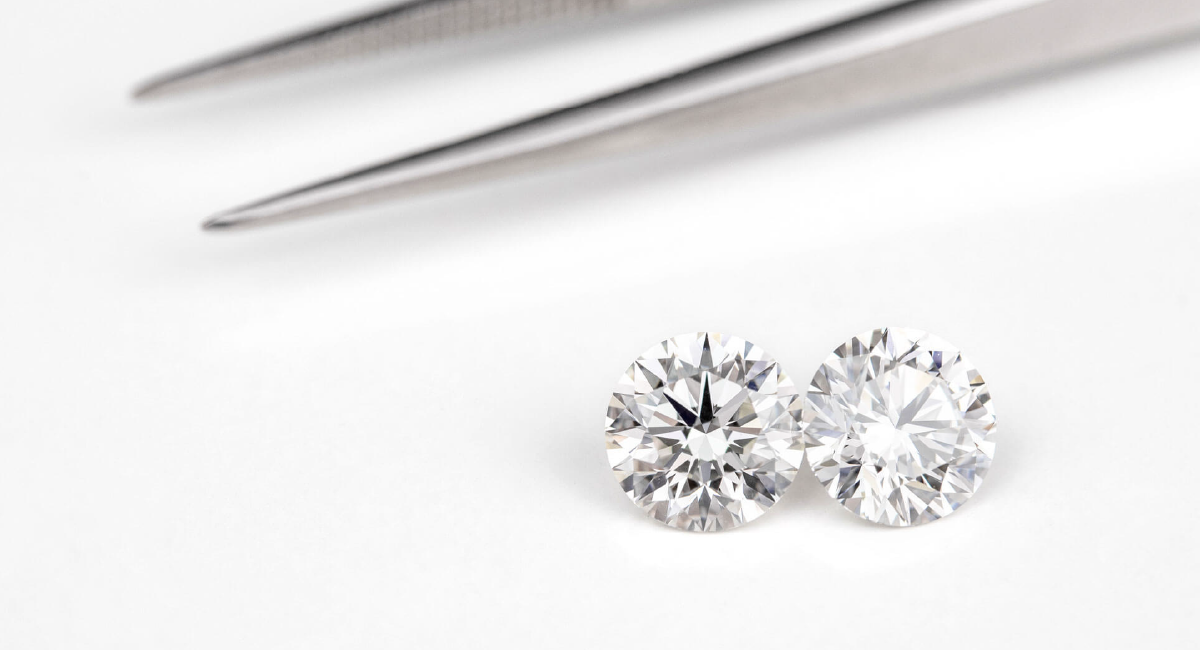 We know that those big discounts that sellers offer look tempting, but we recommend that you don't go for it. The reason is that you are buying a diamond which is of poor quality or maybe even a fake. Prices of diamonds only go down during seasonal sales, festivals, or if you purchase from another place.
It is recommended you stick to the original rates which are set according to the 4C's. This way you will get the best man-made diamond for your money.
8. Buying Lab Made Diamonds Certified by Unknown Labs
Just because a diamond has a certificate that doesn't mean it is authentic. The authenticity of the certification lab is also required. Certain certification labs which are eligible to certify diamonds and are authentic are the International Gemological Institution (IGI), Gemological Institute of America (GIA), and Gem Certification & Assurance Lab, Inc. (GCAL). Now that you are aware of the 4C's and common mistakes made while buying man-made diamonds, you might feel that buying diamonds are tough. Well research a bit more, and it won't seem tough after that.
If you still need help before buying diamonds, do not hesitate to contact us, Our Expert will guide you.