The Millennial Choice: Lab Grown vs Mined Diamond
According to a survey, around 82% of brides receive a sparkle as their engagement ring before they walk down the aisle. To remember the biggest and best moments of life, nothing beats a traditional diamond ring.
Has the thought of the origin ever come across your mind? Some take the conventional route i.e, composing in-depth of the surface of the earth for millions and billions of years until a man found it. While others take a more distinct route- they are grown in a lab.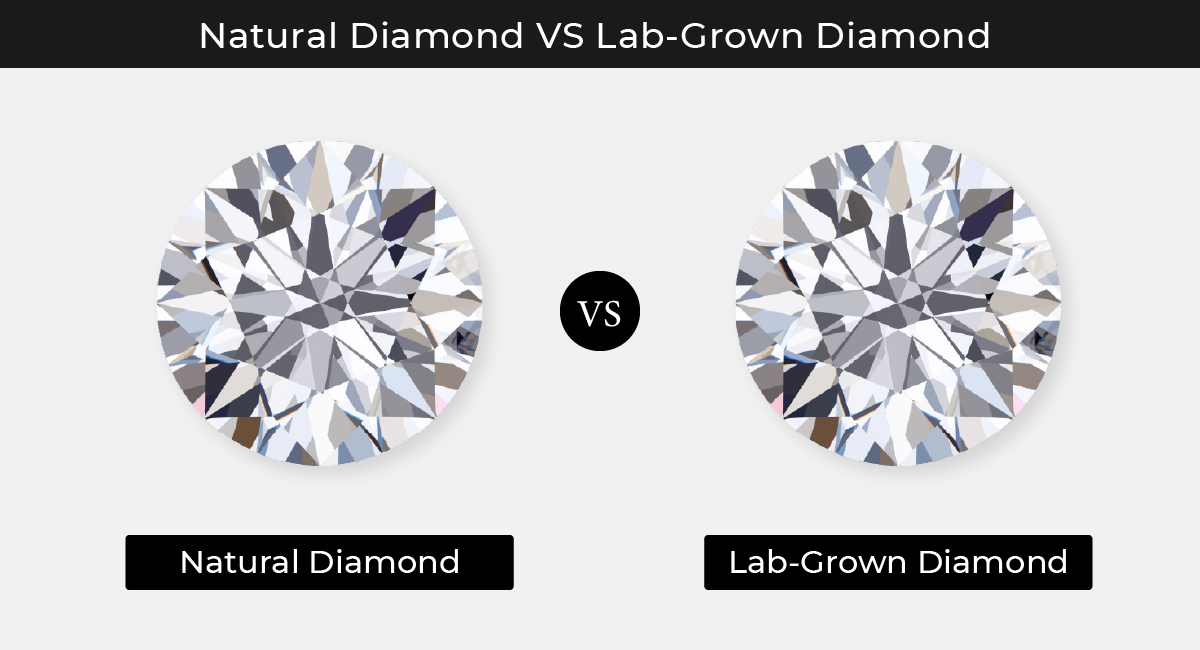 Lab-grown Diamonds and Mined Diamonds look identical, so much so that even a trained geologist can't tell them apart with a naked eye.
This article will provide you with accurate information about lab grown diamonds vs mined diamonds.
What are Lab-Grown Diamonds and Mined Diamonds?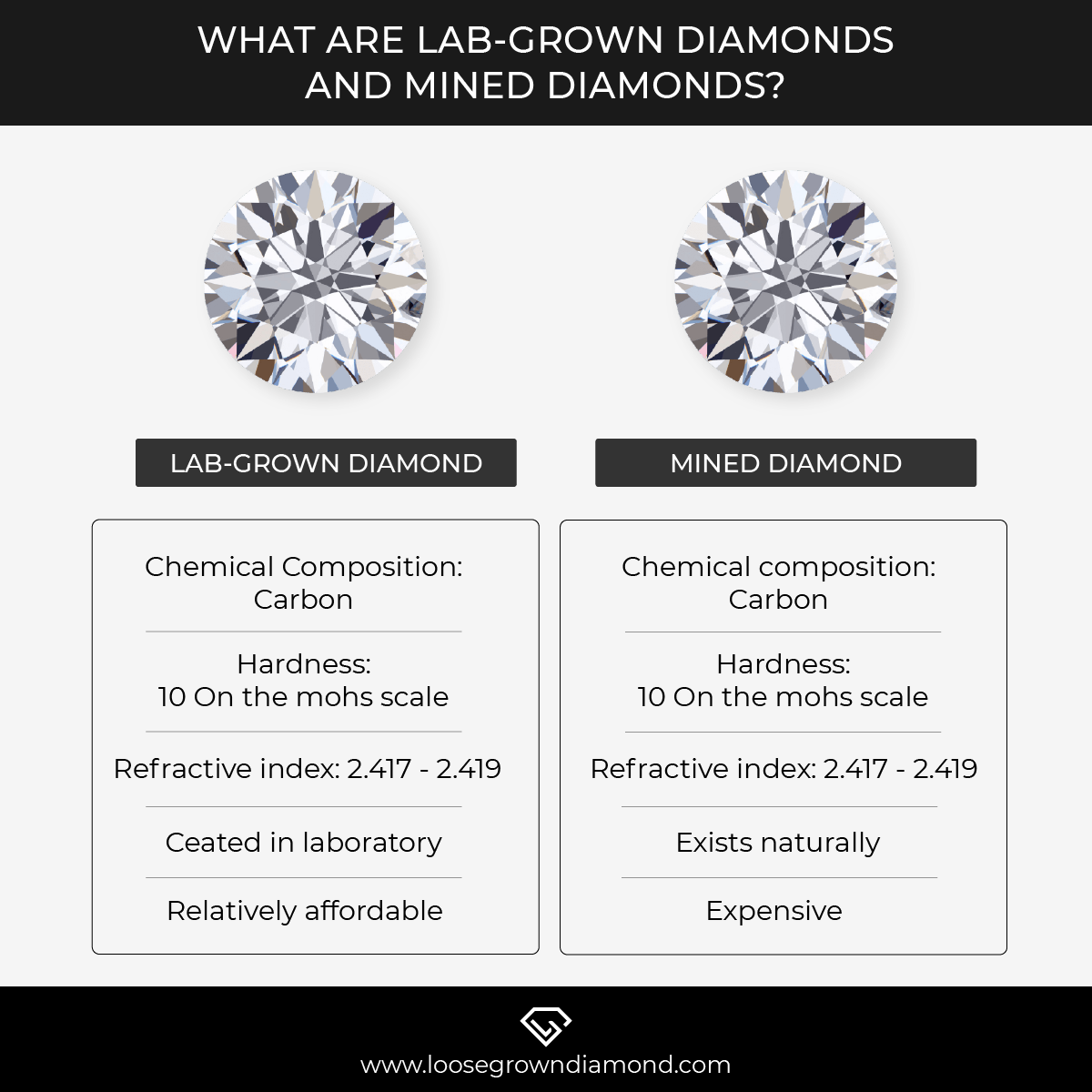 1. Lab-Grown Diamonds
As the name suggests, diamonds are grown in a lab. Where organic diamonds take thousands of years to form, lab-grown diamonds just take a few days or weeks. There are 2 main methods for making Diamonds  — high-pressure, high-temperature (HPHT) diamonds and chemical vapor deposition (CVD) diamonds.
High-Pressure, High-Temperature (HPHT)
To create HPHT diamonds, scientists expose carbon to high pressure and temperature similar conditions to that of the mined diamonds. First used by General Motors in the 1950s.
This method tends to produce yellow to brown diamonds mainly due to the interaction with gases and vapors. However with advancements in technology colorless diamonds can now easily be formed by this method. This diamond is typically expensive due to its massive energy and equipment requirements. 
Chemical Vapor Deposition (CVD)    
To create diamonds, workers start with a bud of diamond and grow it into an expanded crystal through layers of deposits of chemicals. In this method, hydrocarbon gas (methane) is pumped into a vacuum chamber. Microwaves are then sent through to separate H2 and CO2. The carbon atoms build up and are deposited on the diamond seed.
This process has been around for more than a decade, therefore making it less costly Requires less energy and equipment because it requires less temperature and pressure. It produces clear, colorless diamonds.
2. Mined Diamonds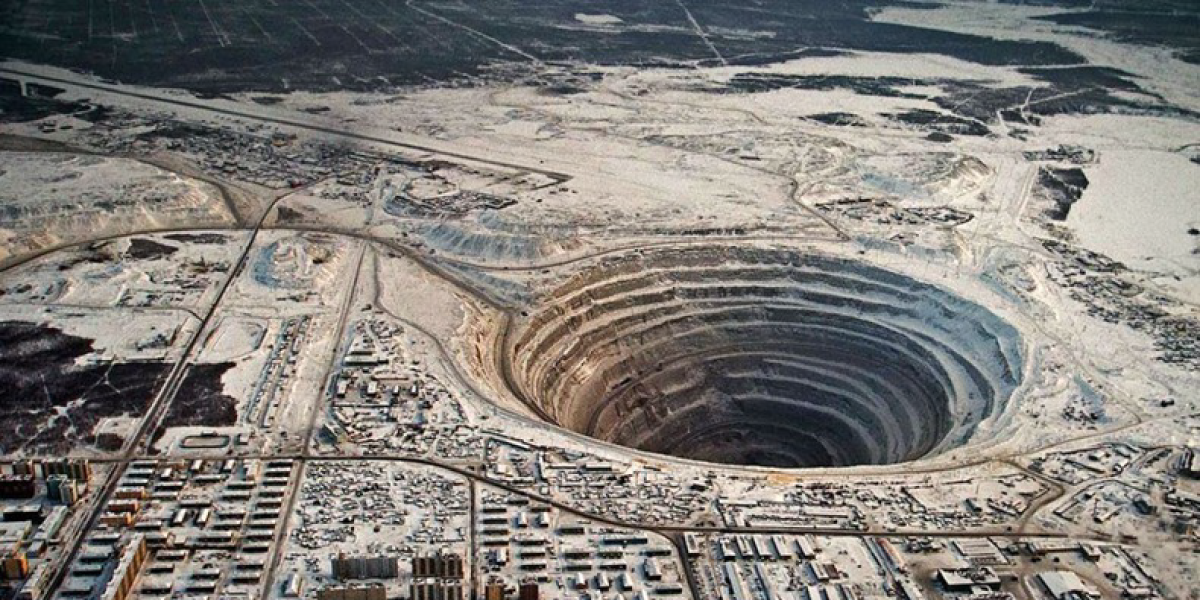 Mined Diamonds come from beneath the earth — the mantle. They are formed over millions of years where pressure and temperature turned carbon into lumps of crystallized carbon or diamonds. Diamonds are found in the form of kimberlite, a native rock named after a town in Southern Africa namely Kimberly. To extract these diamonds, companies have to set up extracting mines and dig the earth using specialized equipment and extract the crystals.
Lab Grown vs Mined Diamond: Physical Differences
No two sparkles are alike, lab grown and mined diamonds both differ only in a way that isn't visible to a human eye.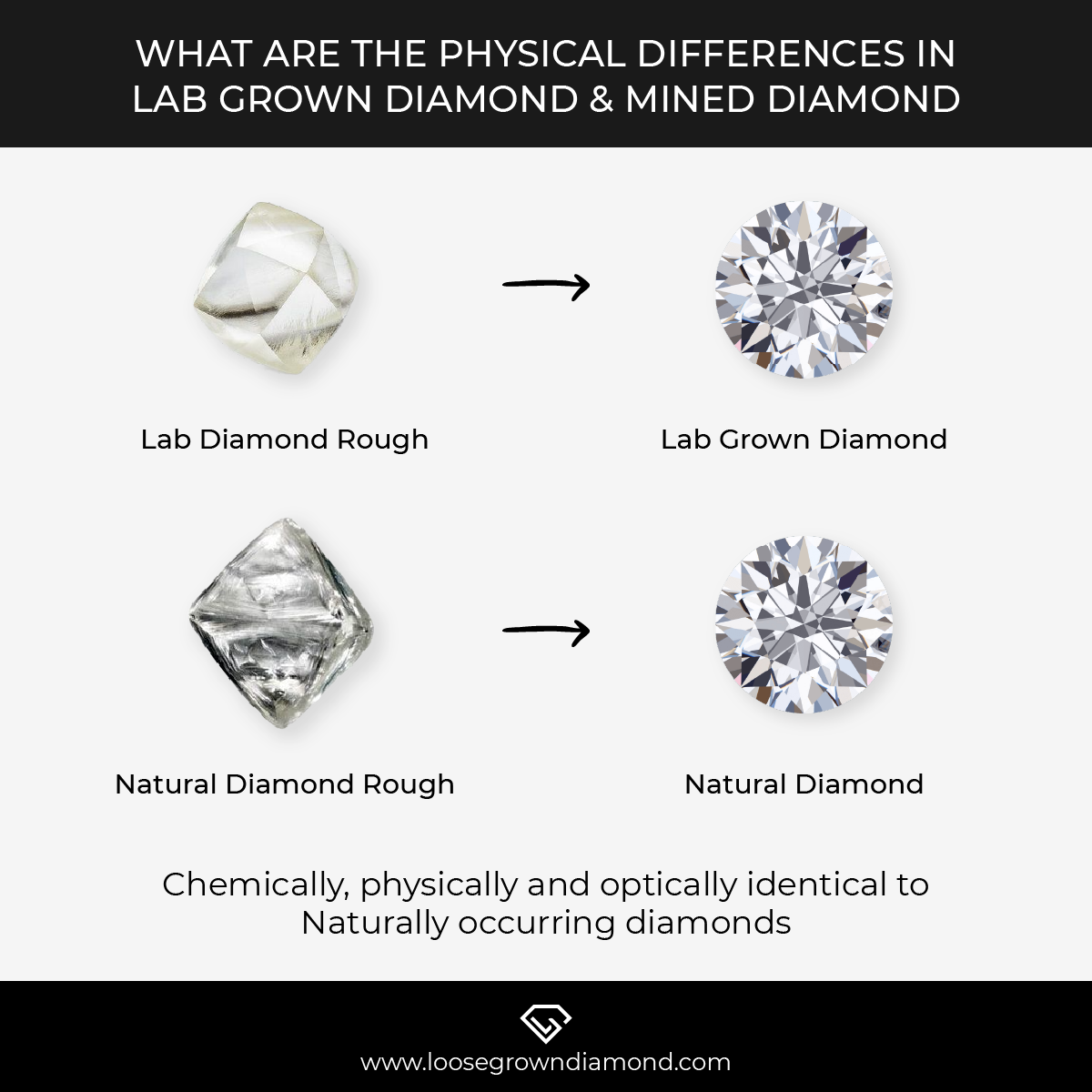 Lab Grown vs Mined Diamond: Inclusions
No diamond is flawless. These imperfections are so common that even jewelers work their whole life without seeing a diamond getting a flawless rating. Specialized laboratories like the American Gem Society (AGS), International Gemological Institute (IGI), and Gemological Institute of America (GIA) grade all diamonds, organic and lab-grown alike, based on their flaws. 
There are mainly two types of flaws that are looked out for blemishes and inclusions. The imperfections visible on the surface of the diamond are called blemishes. And flaws within the diamonds are termed inclusions. 
Lab Grown vs Mined Diamond: Distinctions are microscopic
It takes professional training to identify lab-grown diamonds from organic diamonds. Specific scientific equipment is required that amplifies the size of the diamond by 10x. To the naked eye, the imperfections are merely visible. The only way to tell them apart is by telling them the truth about the origin of the diamond.
Do they look alike?
1. Color 
It is possible to compare diamonds based on their color. Mined diamonds are commonly found in yellow and brown color due to the geological conditions surrounding them. The diamonds under formations mix up with nitrogen giving them a yellow/brown tint. Colors beyond yellow and brown are very rarely found in nature.
With grown diamonds, experts can introduce minute amounts of gases to create stained diamonds. These gases such as nitrogen and boron are introduced in small quantities during the growing process, they can create yellow, brown, green, or even pink colored diamonds.
GIA grades their colored diamonds with the following scale.
Faint

Very Light

Light

Fancy Light

Fancy

Fancy Intense

Fancy Vivid

Fancy Dark

Fancy Deep
2. Sparkly Appearance 
Diamond graders use different optical terms to grade diamonds' sparkles. They evaluate qualities based on their brilliance, fire, and scintillation. Brilliance or brightness is the reflection of light seen in the diamond. Fire and Scintillation are the flashes of color contrasting between dark and light areas. Grown diamonds cannot be differentiated from mined diamonds. Specific cuts can enhance the above grade and optical illusions. Both the diamonds come in different shapes such as oval, emerald, princess, radiant and more.
| | | | | | | |
| --- | --- | --- | --- | --- | --- | --- |
| Shape | Carat | Cut | Color | Clarity | Price | |
| oval | 2.53 | Ideal | F | SI1 | $1713 $1285 | View |
| emerald | 2.52 | Ideal | H | VS2 | $1429 $1072 | View |
| oval | 2.60 | Excellent | F | VS2 | $1857 $1393 | View |
| oval | 2.50 | Excellent | G | VS2 | $1537 $1153 | View |
| emerald | 2.56 | Ideal | G | VS1 | $2107 $1580 | View |
| emerald | 2.55 | Ideal | H | VVS2 | $1737 $1303 | View |
| oval | 2.55 | Ideal | D | VVS1 | $6060 $4545 | View |
| oval | 2.57 | Ideal | D | VVS2 | $4864 $3648 | View |
| radiant | 2.59 | Ideal | G | VVS2 | $3629 $2722 | View |
| radiant | 2.51 | Ideal | G | VVS2 | $3289 $2467 | View |
| oval | 2.53 | Very Good | F | VS2 | $2540 $1905 | View |
| radiant | 2.54 | Ideal | J | VS1 | $1704 $1278 | View |
| oval | 2.50 | Ideal | G | VS1 | $3296 $2472 | View |
| oval | 2.55 | Excellent | G | VS2 | $1704 $1278 | View |
| radiant | 2.55 | Ideal | F | VS1 | $2100 $1575 | View |
| princess | 2.50 | Ideal | F | VS1 | $2667 $2000 | View |
| emerald | 2.53 | Ideal | H | VS1 | $2260 $1695 | View |
| oval | 2.50 | Ideal | G | SI1 | $1400 $1050 | View |
| oval | 2.59 | Ideal | G | VS2 | $1527 $1145 | View |
| radiant | 2.52 | Ideal | E | VVS2 | $4447 $3335 | View |
Pros and Cons of Lab Grown vs Mined Diamonds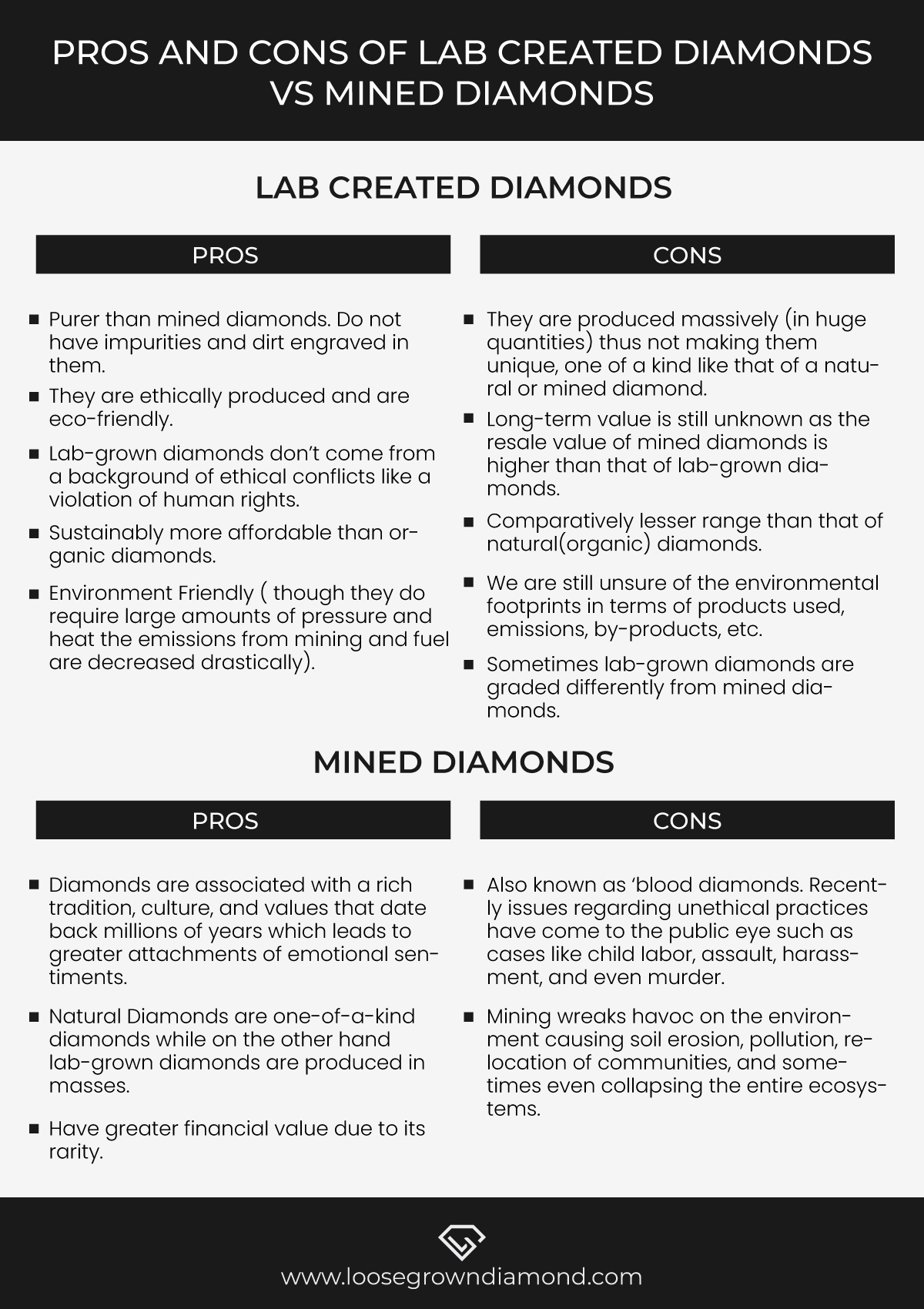 Lab Grown Diamonds
PROS
Purer than mined diamonds. Do not have impurities and dirt engraved in them.

They are ethically produced and eco-friendly.

Lab-grown diamonds don't come from a background of ethical conflicts like a violation of human rights.

Sustainably more affordable than organic diamonds.

Environment Friendly ( though they do require large amounts of pressure and heat the emissions from mining and fuel are decreased drastically).
CONS
They are produced massively (in huge quantities) thus not making them unique, one of a kind like that of a natural or mined diamond.

Long-term value is still unknown as the resale value of mined diamonds is higher than that of lab-grown diamonds.

Comparatively lesser range than that of natural(organic) diamonds.

We are still unsure of the environmental footprints in terms of products used, emissions, by-products, etc.

Sometimes lab-grown diamonds are graded differently from mined diamonds.
Mined Diamonds
PROS
Diamonds are associated with a rich tradition, culture, and values that date back millions of years which leads to greater attachments of emotional sentiments.

Natural Diamonds are one-of-a-kind diamonds while on the other hand lab-grown diamonds are produced in masses.

Have more excellent financial value due to its rarity. 
CONS
Also known as 'blood diamonds. Recently issues regarding unethical practices have come to the public eye such as cases like child labor, assault, harassment, and even murder. 

Mining wreaks havoc on the environment causing soil erosion, pollution, relocation of communities, and sometimes even collapsing entire ecosystems.
Why do Millennials Prefer Lab-Grown Diamonds?
However, price is not the only reason why millennials prefer lab-grown diamonds for diamond jewelry and engagement rings. They are more commonly preferred for the following reasons: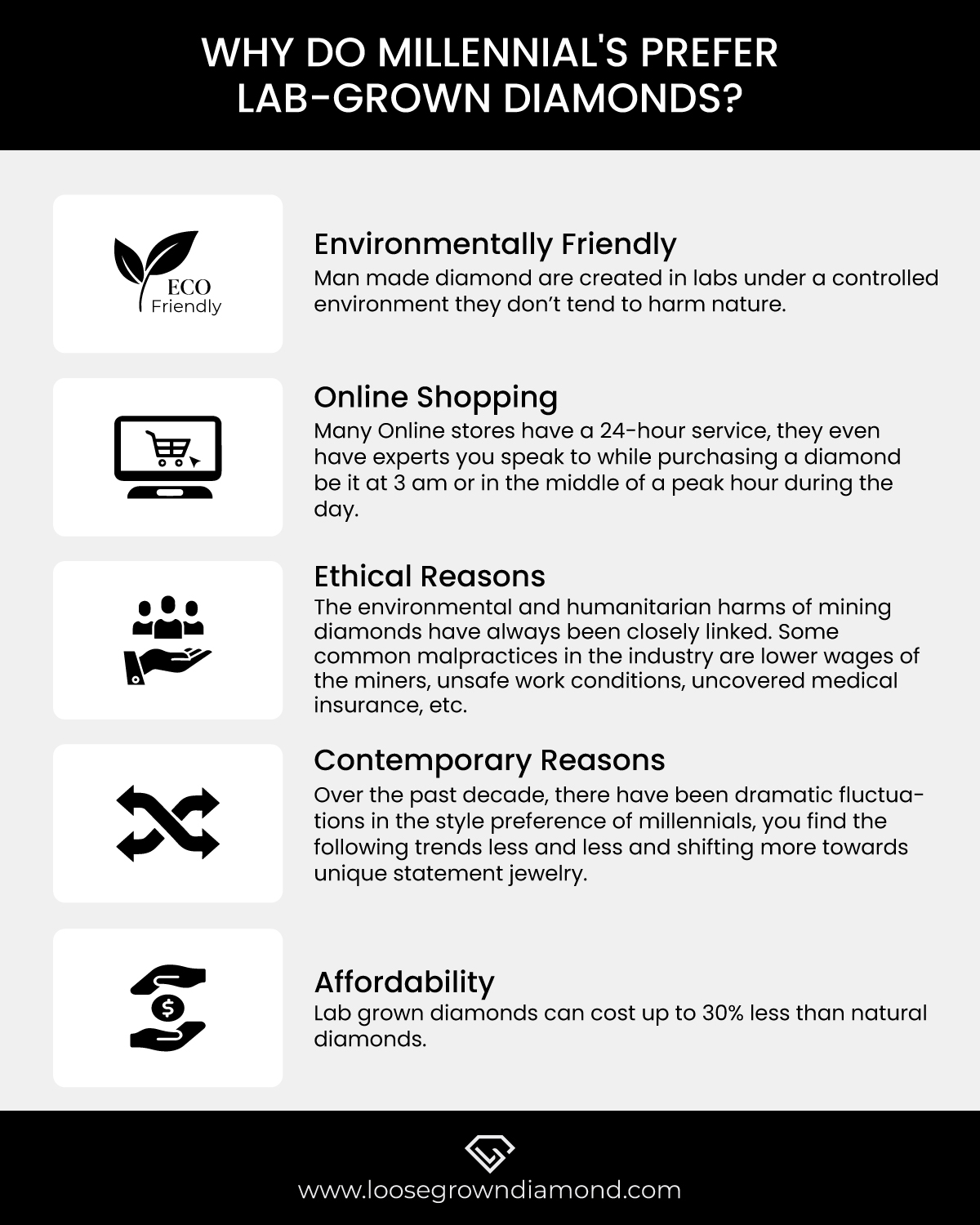 1. Environmentally Friendly
According to most of the reports concerning the problems faced by the world, Climate Change has to be at the top of the pyramid. With the worsening condition, more and more companies, traditional and modern have come to recognize this issue as a global catastrophe and decided to shift this work in support of treating climate change. In some companies, the changes haven't been as drastic as it has been in the diamond industry.
To break it down in simpler terms. The energy required for mined diamonds is exponentially more than for lab-grown diamonds. In recent years ocean mining gained popularity, however, only in a short period were we able to see its drastic harmful effects on the environment. The increased ship traffic, noise, light, and pollution in the sea waters are some of the main reasons for disrupting marine life. 
But with the growing industry of lab-grown diamonds. It might be more than just possible. Lab-created diamonds can be used in transistors in order to reduce the energy lost as heat as electricity. According to reports from the US Department Of Energy, the diamond-based components reduce these losses by up to 90%
Lab-grown diamonds can also be made applicable to mechanical parts of cars to windmills. A thin coat of diamond can reduce friction in moving mechanical parts of machines. According to reports, friction can be reduced by 40%. Mined diamonds do not have the purity that is necessary for all these applications
2. Online Shopping
In the wake of recent conditions, the pandemic, and growing technologies, almost everything has shifted to online platforms, So why not purchase diamonds? As a matter of fact, the historical timeline of online shopping has perhaps never been this glorious and is bound to only grow according to experts. Many companies have made it so much easier to shop from the comfort of your home by opening up online stores.
Many online stores have a 24-hour service, they even have experts you speak to while purchasing a diamond be it at 3 am or in the middle of a peak hour during the day. Or you could choose to not interact with anyone until the checkout process. 
Online shopping has never been preferred for mined diamonds, as no number of high pixels and graphics show you the exact image of what you are about to buy. In fact, many of the diamond's characteristics may even be subjective hence it's always preferred to have done a physical inspection before buying them. 
3. Ethical Reasons
The environmental and humanitarian harms of mining diamonds have always been closely linked. Some common malpractices in the industry are lower wages for the miners, unsafe work conditions, uncovered medical insurance, etc. The corruption practiced in the production of diamonds is worse than our imaginations. 'Blood Diamonds' can be considered as a sub-average version of the reality faced by miners and other professionals involved. Violence and conflict can be commonly seen due to unethical practices in this field. 
The Kimberly processes established in the early 2000s tried to curtail the unethical practices of this industry and reduce conflict in the trade of diamonds. The origin of such conflicts is obscure.   Even with the Kimberly process in place, there are gaps in the system that cannot be filled. Even though they tried to drastically decrease the percentage of illegal diamond mining; however, it is apparent that the tier is broken beyond repair. The abuse of human rights has crossed a line beyond which it cannot return. 
For example, there was a huge discovery of diamonds in Zimbabwe in the mid-2000s, costing hundreds of miners their lives. These diamonds were traded in Antwerp and Dubai. They were freely circulating in the international market. 
Hence you can no longer guarantee if you are mined naturally diamond is ethically sourced. The growing attention towards the unethical practices in various fields and the revolution against them has also caused a drastic shift to lab-grown diamonds, as you can be sure that they are ethically sourced.
4. Contemporary Reasons
Over the past decade, there have been dramatic fluctuations in the style preference of millennials, you find the following trends less and less and shifting more towards unique statement jewelry. Moreover, a trend that is followed is most likely set by a celebrity and changes as soon as another celebrity picks up something new.
Traditional natural diamonds do not offer such flexibility to the millennials. Simple settings are no longer everyone's cup of tea. More developed styles such as different metal colors, and ring stacks have become more prominent. For engagement rings, more unique cuts and settings are preferred. Lab-created diamonds offer the variety that the public seeks
5. The last most Important Reason is Affordability
Ex-traditions have become less popular where engagements and weddings are concerned as new millennial couples have surfaced. Most people put off buying diamond jewelry till they can afford it.  To get the most out of your money, a lab-grown diamond is an optimum choice. 
One would expect lab-grown diamonds to be more expensive considering that they are more ethical, however that does not seem to be the case here. Lab-grown diamonds are 20-30% less expensive than mined diamonds. This means that you get a bigger size for your money. For example, say you have the budget for a 1.5-carat, round-cut diamond. You can get a 2-carat diamond within the same budget at a competitively priced lab-grown diamond jeweler.  
Conclusion
Mined diamonds are associated with a rich heritage and might seem very hard to get over them easily, on the other hand, there are lab diamonds that are grown in laboratories literally at a fraction of cost and contain the same properties that even experts find difficult to tell them apart.
Both have their pros and cons and no one diamond can be termed superior. It depends on the individual to make their choice. Either choose something environment-friendly or something that is connected with the heritage. What are your thoughts regarding both types of diamonds?