Buying a Radiant Cut Diamond? Consider This Vital Advice
Life is like a journey and every unforgettable event, an event that changed your life to some extent symbolizes a station. You've probably waited for the station to arrive soon where, eventually, you'll board the train with your better half. 
From that day onward, the two of you would have the same destination, which will make the journey even more enthralling. And what better way to engrave such momentous moments than to get the ring of your dreams, or maybe something even better? How about a radiant diamond ring?
However, in today's times when diamonds are available in innumerable designs, choosing a ring on your own could be an intimidating task. The 4C's of diamonds, i.e., cut, clarity, color, and carat of a diamond impact their overall appearance.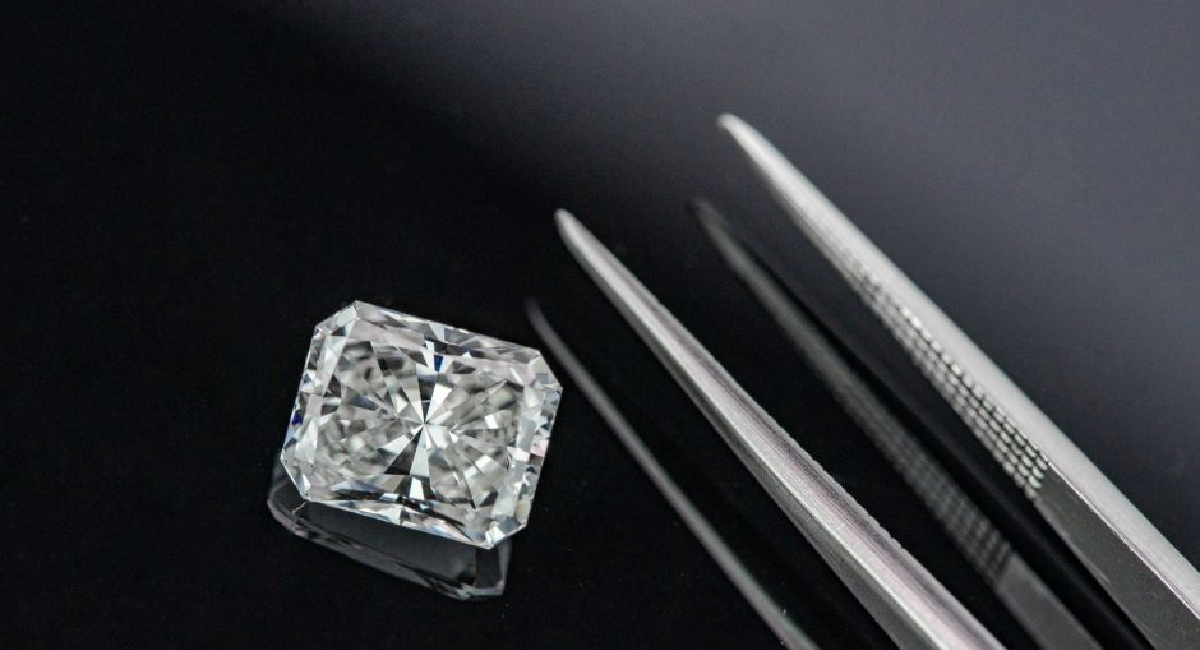 A lot of people focus on the carat of a diamond but are dismissive when it comes to selecting a particular cut. Keep in mind that the cut of a diamond is the only factor affecting the fire, brilliance, and scintillation of the diamond.
After all, who doesn't want a ring that has everyone's envious eyes on it because of its unparalleled splendor? Even the slightest bit of carelessness while cutting and polishing a diamond could render appalling results. 
Having been cut in ideal proportions, the fire, brilliance, and scintillation of a diamond are maximized, making it one of the most mesmerizing things in the world.
What is a Radiant Cut Diamond?
This gemstone is one of the best diamond cuts to go for. We are talking about the Radiant Cut diamond. A radiant cut diamond is similar to an inverse pyramid in appearance. The hypnotizing fire and scintillation it possesses is the result of 70 finely crafted facets. 
The more precise the facet, the fierier the diamond portrays itself. The stone of a radiant cut diamond acts as a prism and disperses the light passing through it. You just can't take a look at it, and not be bewitched by how it disperses light and emanates rainbow colors.
Although technically it is a square or rectangular-shaped diamond, its facets are cut similarly to that of a round-cut diamond, which makes it the magnificent diamond it is!  A radiant cut diamond spectacularly combines the fire and brilliance of a round cut diamond with the elongated elegance of an emerald cut, creating a breathtakingly dazzling and radiant diamond.
This makes it one of the most promising choices for an engagement ring or a wedding band. On top of that, it is surprisingly durable against breakage because of its beveled edges, which are a further adornment to this masterpiece. This makes it perfect for people who prefer to wear their rings and jewelry on a daily basis. 
| | | | | | | |
| --- | --- | --- | --- | --- | --- | --- |
| Shape | Carat | Cut | Color | Clarity | Price | |
| radiant | 2.01 | Ideal | H | VS1 | $944 $708 | View |
| radiant | 2.01 | Ideal | H | VS1 | $1229 $922 | View |
| radiant | 2.04 | Ideal | G | VS1 | $2351 $1763 | View |
| radiant | 2.02 | Ideal | H | VVS2 | $1324 $993 | View |
| radiant | 2.02 | Ideal | G | VS2 | $2020 $1515 | View |
| radiant | 2.05 | Excellent | D | VVS2 | $2927 $2195 | View |
| radiant | 2.08 | Ideal | H | VS1 | $1164 $873 | View |
| radiant | 2.05 | Ideal | G | VS1 | $1480 $1110 | View |
| radiant | 2.01 | Ideal | F | VS1 | $2536 $1902 | View |
| radiant | 2.00 | Ideal | H | SI1 | $1131 $848 | View |
| radiant | 2.08 | Ideal | H | VS1 | $849 $637 | View |
| radiant | 2.10 | Ideal | H | VS1 | $1887 $1415 | View |
| radiant | 2.02 | Excellent | G | VS1 | $1543 $1157 | View |
| radiant | 2.00 | Ideal | G | VS2 | $1227 $920 | View |
| radiant | 2.09 | Ideal | G | VVS2 | $1373 $1030 | View |
| radiant | 2.09 | Ideal | D | VVS2 | $3969 $2977 | View |
| radiant | 2.04 | Ideal | G | SI1 | $1011 $758 | View |
| radiant | 2.01 | Ideal | G | SI1 | $1076 $807 | View |
| radiant | 2.02 | Ideal | F | VS1 | $2356 $1767 | View |
| radiant | 2.06 | Ideal | G | VS1 | $1243 $932 | View |
Types of Radiant Cut Diamonds:
This cut can be considered a hybrid of three cuts because it combines the benefits of the three most important shapes of a diamond. There's the exposure of an emerald cut, the blaze and sparkle of a round brilliant cut, and the truncated corners of a beautiful Asscher cut. If anyone is looking for a modern fusion and a gem that will make heads turn, then the radiant cut is the way to go.
Traditionally, radiant diamonds are cut to a rectangular outline, but there are also other cuts that produce a square-looking border. Very often, people confuse cushion-cut diamonds with radiant-cut diamonds because of their square outlines. But you differentiate them by looking at the angle. Radiant cut diamonds have straight edges, and cushion cut diamonds have curved edges, which give them a more modern look.
This is also why radiant cut diamonds are technically classified by the GIA as two types: "cut corner rectangle modified brilliants" and "cut-cornered square modified brilliants". A radiant cut diamond can also be thought of as a princess-cut diamond with four corners cut. The desired length-to-width ratio of the radiant cut is 1.0 to 1.3.
The wide, flat design of the radiant cut allows more of the diamond to be seen when set in a ring, making it appear larger. The radiant cut is a perfect gem for engagement rings that radiate sparkle and fire due to the presence of 70 facets.
History of Radiant Cut Diamond
As astonishing as it might be, the radiant cut diamond has been in the market for only about thirty-nine years. Since then, it has gained substantial popularity in the market. 
It was first designed in the 1970s by Henry Grossbard, a master diamond cutter, who had spent nearly thirty years in the diamond cutting industry. 
He then decided to create the most brilliant diamond ever, by fusing the fiery brilliance of a round cut diamond with the long, silhouette shape of a long cut diamond, like an emerald cut. 
Without a doubt, it turned out to be a roaring success. And Mr.Grossbard became a true explorer of the diamond industry. The brilliant, radiant-cut diamond brought an irrevocable change to the diamond industry. 
More and more people wanted the cut and its demand rose exponentially. Despite being relatively new, as compared to other diamond cuts such as princess, emerald, round, etc, which have been in the market and the diamond industry for over hundreds of years, the radiant cut diamond surpasses every other cut. 
You don't need to mull it over to figure it out, though. This cut is so popular because it encompasses the characteristics of square/rectangle cut diamonds (emerald, princess) as well as round cut diamonds.
4Cs of the Radiant Cut Diamond :
The 4C's of any diamond are the reasons for the diamond to be expensive or cheap. It can't be just the size, color, or clarity cut that single-handedly decides the price of a diamond. All the 4Cs matter and thus let us explain them to you in detail.
Cut
The cut of a diamond stipulates how well the gemstone is cut and polished, while also deciding the positioning of the stone. The cut quality determines the fire and brilliance of a diamond. 
The radiant cut diamond, renowned for its faceted pattern, needs to be cut with impeccable precision at the crown as well as the pavilion. An improperly cut diamond is lackluster, more so a radiant cut diamond, and nobody wants that.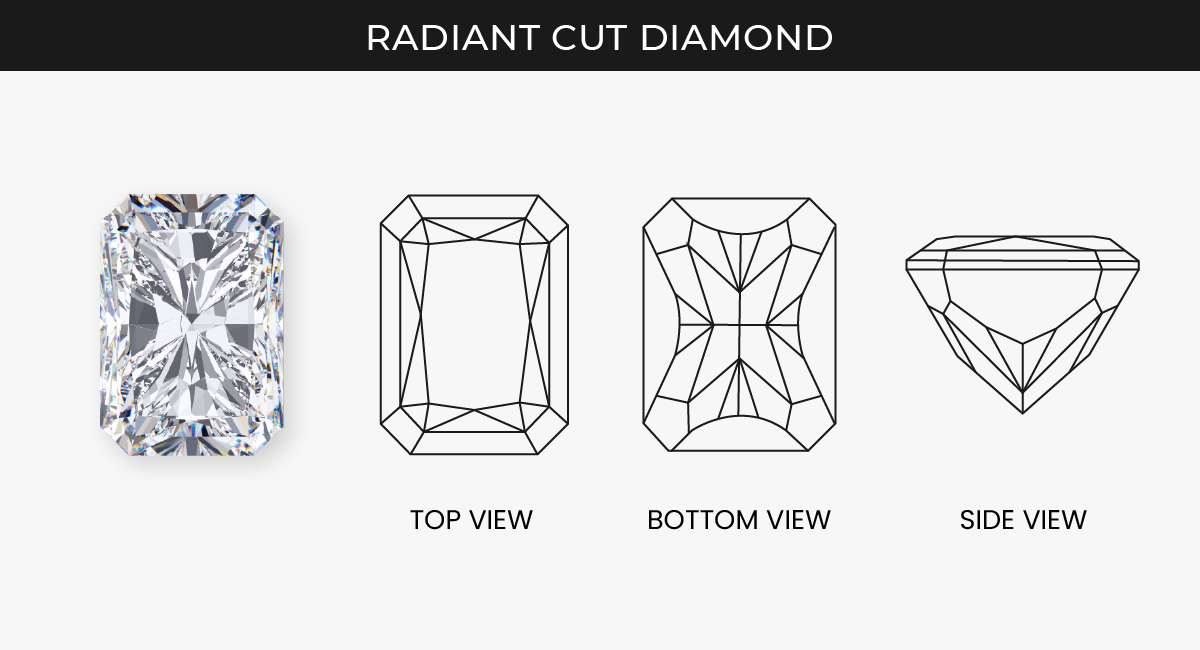 Therefore, anyone willing to buy a radiant cut diamond must carefully examine its cut. The cut quality of only round cut diamonds is graded by GIA. As in, GIA has taken out its own grading scale for round diamond cuts.
Therefore, a GIA certificate for a radiant cut diamond might be irrelevant. But if you wish you can take an expert's opinion if you decide to purchase a loose radiant diamond.
Clarity
Since diamonds are formed deep under the Earth, each diamond has its own distinct imperfections. These imperfections can either be inclusions or blemishes. If these imperfections are not-present it is then referred to as diamond clarity.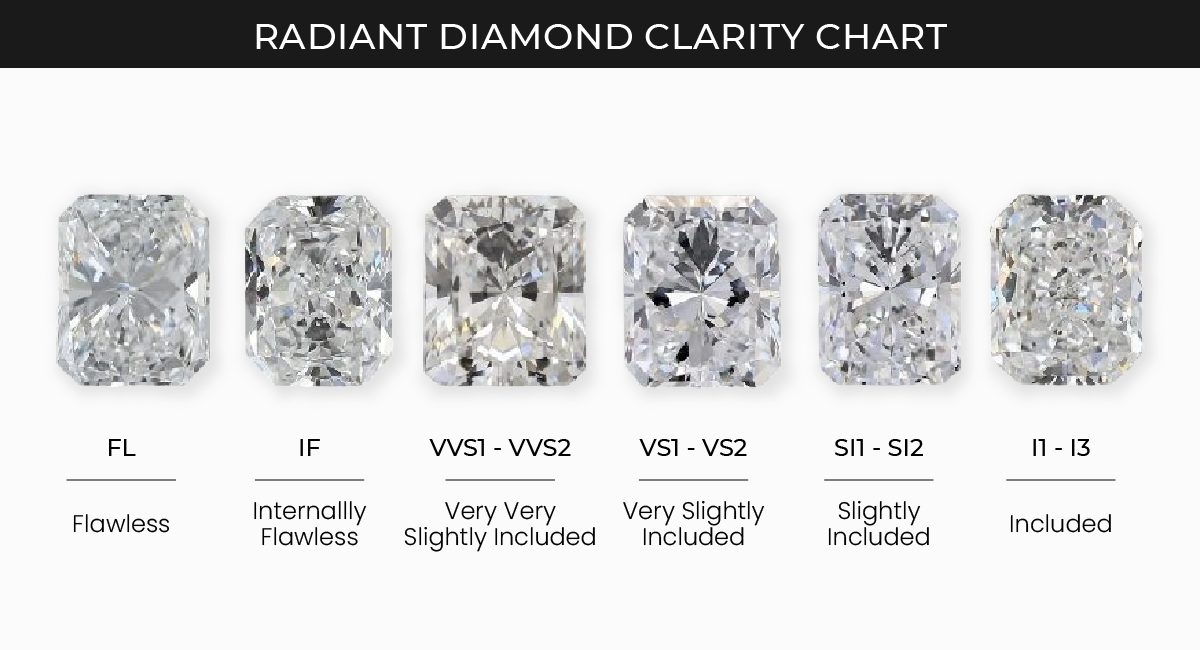 Diamonds without these imperfections are scarce, which drastically affects their value making them immensely expensive. According to the GIA, there are eleven levels of diamond clarity. These are:
o   Flawless (FL)
o   Internally Flawless (IF)
o   Very, Very Slightly Included (VVS1 and VVS2)
o   Very Slightly Included (VS1 vs VS2)
o   Slightly Included (SI1 and SI2)
o   Included (I1 clarity, I2 clarity, and I3 clarity)
Interestingly, the multiple faceted patterns of a radiant cut diamond, which resembles numerous shards of glasses clubbed together, conceal the flaws of diamonds better than other diamonds. Diamonds, which are not flawless or internally flawless, are therefore recommended while opting for a radiant cut diamond.
Color
Color is another one of the characteristics which tend to deeply affect the worth and quality determination of a diamond.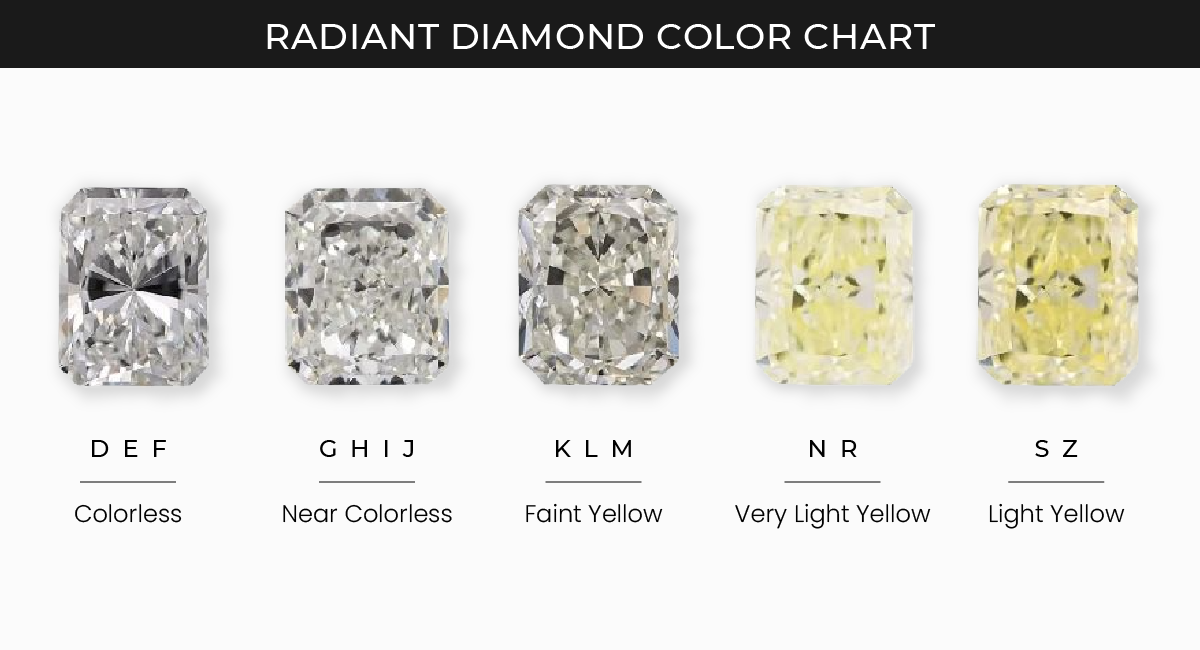 The GIA grades diamonds on the basis of color, from D to Z. D is the grade for clear, colorless diamonds. On the other hand, diamonds having a yellowish/brownish tint are graded Z. The other grades in between determining the spectrum between colorless and yellowish/brownish tint.
Carat
While buying any stuff, we are told to be woken about the prices. A similar case happens with diamonds too. But the terminology used here is called carat(s).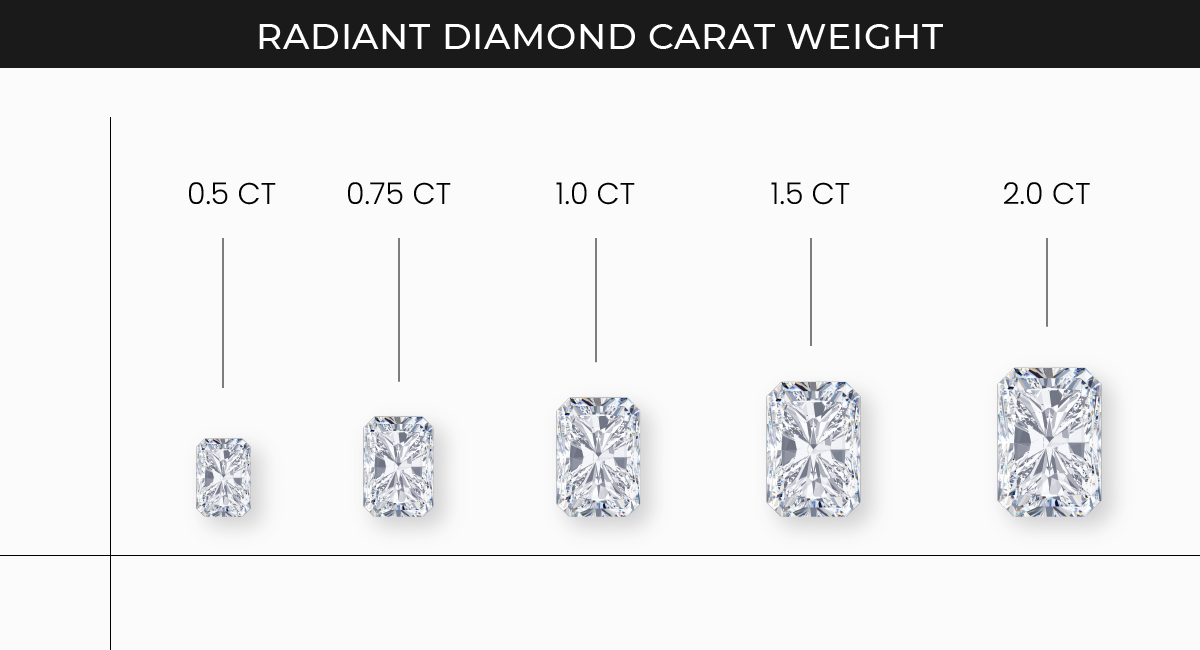 It is simply a unit measuring the diamond's weight. 200 milligrams of the diamond is the same as a 1-carat diamond.
Pros and Cons of a Radiant Cut
Pros:
The embodiment of brilliance
All of us love sparkly diamond rings, radiant cut diamond rings take this sparkle to another level with their exceptional fire, brilliance, and scintillation. As you've read before, this diamond is a dazzling combination of round-cut and emerald-cut diamonds. This brings out the best characteristics of both diamonds.
It doesn't cling to clothing
Square and rectangular diamonds are likely to get stuck to clothing or hair because of their sharp edge. A radiant cut diamond, on the other hand, has beveled edges, which prevents it from getting entangled with hair strands and clinging to clothes and other things.
Made of mettle
Diamonds are very hard to break and we all know that, but the square-shaped and rectangular-shaped have a tendency to cling to things because of which their edges might become uneven. As opposed to this, a radiant cut has trimmed corners, which essentially make the diamond break-resistant. The diamond is able to be positioned in the prongs more efficiently so that the ring doesn't fall off.
Can be a square or a rectangle
By now, it is clear that the defining characteristics of a radiant cut diamond are straight-edged, with beveled corners and multiple facets. With this being said, a radiant cut is available in a square and a rectangular cut.
Comparatively cheaper per carat
After reading about such a marvelous creation, you might have felt like a ring like this would definitely cost a lot, right? While cutting and polishing a radiant diamond is a mammoth task, it is astoundingly cheaper than the other cuts.
That is because the cutting process of a radiant diamond requires a substantial portion of the diamond to be rough, so not a lot of diamond is wasted. Moreover, because of its excellent scintillation and brilliance, the blemishes of the original diamonds get concealed, which allows people to go for not-so-clear diamonds.
Can be aptly positioned in different kinds of settings
You would be pleasantly surprised to know that this cut perfectly fits in a variety of settings like a four-prong setting, rounded prongs, double-clad prongs, etc.
Cons:
No GIA Cut Certificate
Well, well this was pretty obvious. A certificate by the GIA is trustworthy and reliable. Getting a good GIA grade indicates the diamond cut, color, clarity, etc. is good, without further suspicion, you can proceed to buy what you want. However, the GIA does not grade the cut quality of a radiant cut diamond, so the only way left to assess the cut of a radiant diamond is by yourself. Don't forget to take an expert opinion.
This may not be a big concern for some people because the diamond already is utterly beautiful. But as we promised to stay honest, we are listing this con here. The gradings of a radiant cut diamond are not defined by authorized organizations like GIA. Hence, it is difficult to judge its quality.
It showcases the true color of the diamond
If you're planning to pick a radiant cut diamond ring then make sure that it doesn't have even the slightest bit of yellow or brownish tinge because the radiant cut is notorious for showing the tinge more aptly than other cuts. 
Bow-tie effect
So, for all the newbies to the diamond industry, there is a visual impairment effect in diamonds. It is called a bow-tie effect. It persists in many diamond cuts and the radiant cut is one of them. Due to this effect, a bow tie-shaped black region is developed on the diamond surface. This makes the diamond look a little clumsy.
Length to width ratio of Radiant Cut Diamond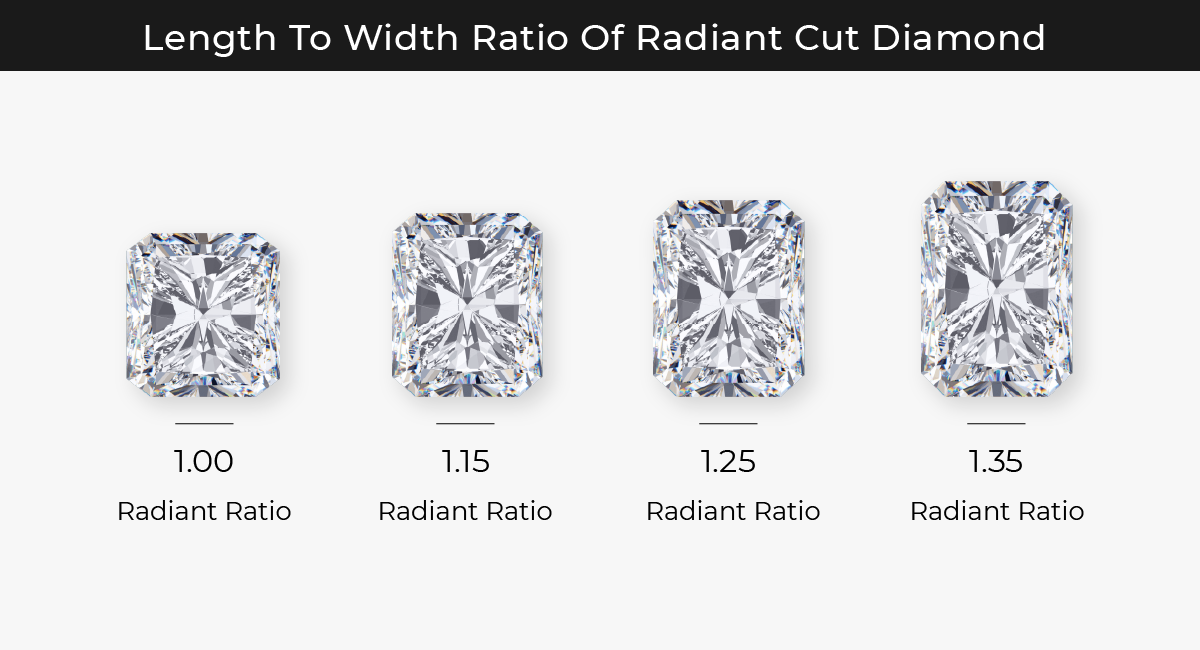 The radiant cut diamonds are available in two shapes, that is, the rectangular radiant cut and the square radiant cut.
Whether a radiant cut diamond is rectangular or square depends on the cut's length-to-width ratio. 
Both of them are breathtaking with their otherworldly brilliance, which leaves people spellbound. 
The rectangular radiant cut is more traditional, while the square radiant cut is more unconventional and has a contemporary look to it. However, out of these two splendid cuts the one you may pick depends on person-to-person. After all, the best cut for you is what you like. 
Different Settings for a Radiant Cut Diamond:
1. Halo Setting Ring
The Halo Setting in diamond rings is super popular and rightly so! The setting enhances the beauty of the central diamond. The reflection of the light increases and hence your diamond appears with a much brighter allure. Halo setting means you also have to choose diamond accents that surround the primary diamond. It is a glamorous design indeed one which enhances the bearer's fingers.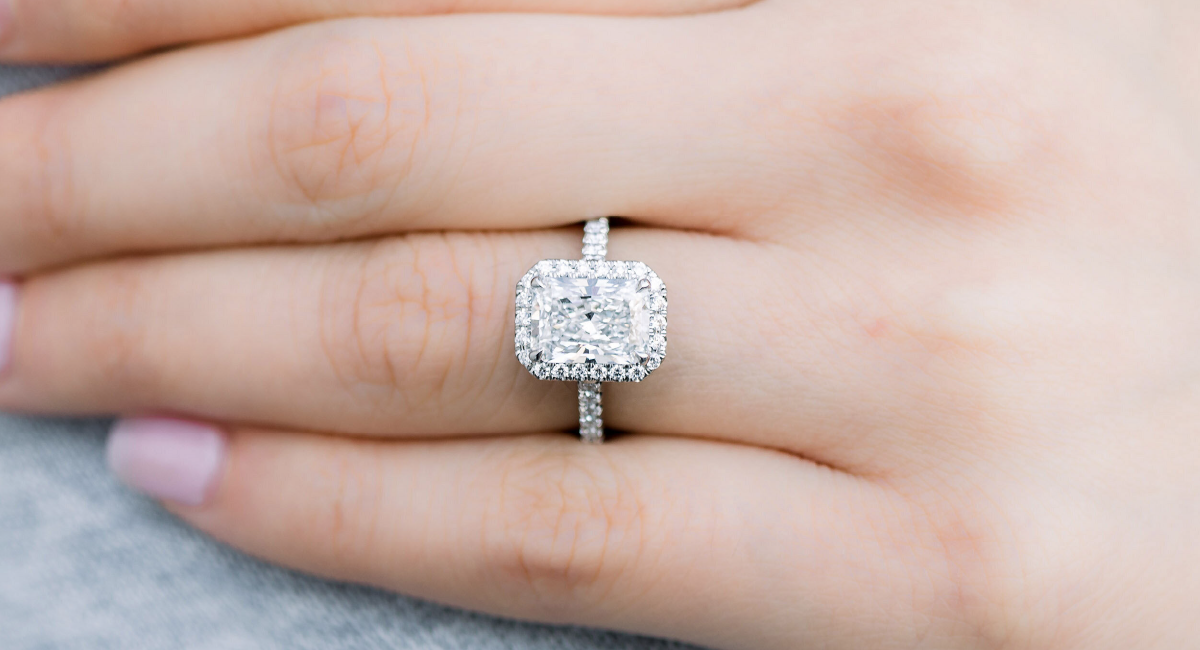 2. Prong Setting
The Prong setting is the oldest and most classical setting for diamond rings. It is clean, structured, and gives a classy look to the ring. There are two types of prong settings that are commonly used, the 4 prong setting and the 6 prong setting. Mainly used in solitaire rings, it makes for the perfect engagement ring.


3. Pave Setting
Pave settings gained popularity in the last decade due to their minimalistic style and clean finishing. The pave setting embellishes the diamond into the metal. Generally used alongside the primary diamond, smaller diamonds are paved into the band of the diamond to give any ring a grand look.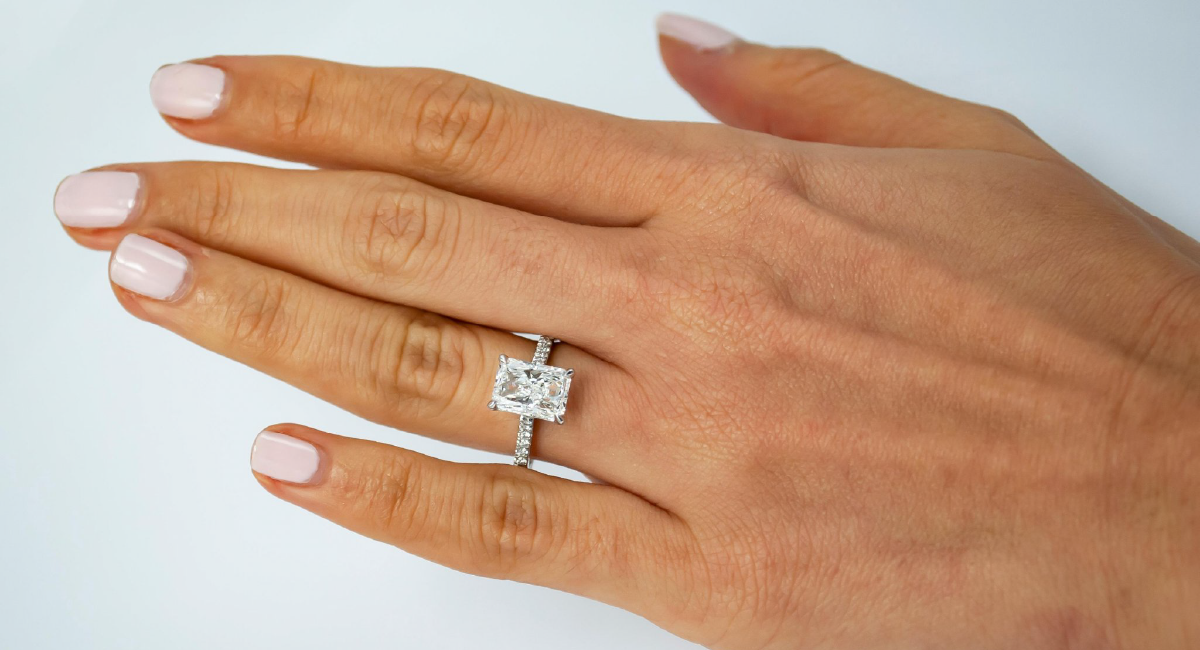 4. Three Stone Setting
When two side stones support your main stone, it is a three-stone engagement ring. Three stone rings signify the couple's history, present, and future together and are in general deeply meaningful. It is a timeless design, well looked out for in the market, and looks stunning as an engagement ring. Hence, an optimal choice for lovers.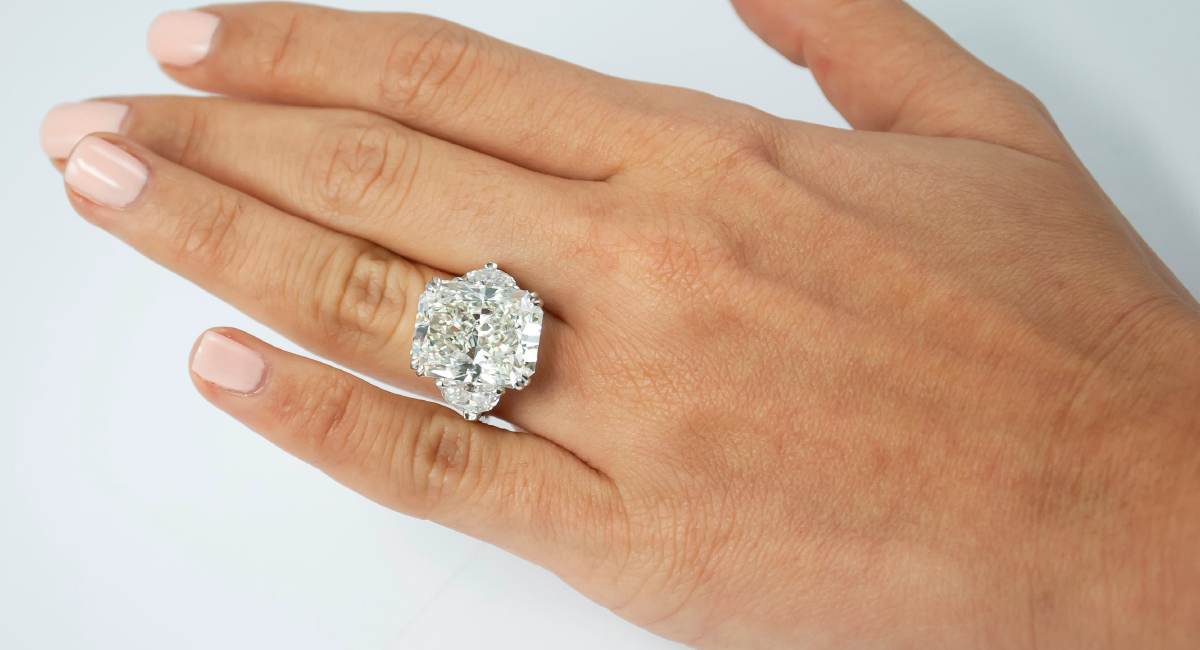 5. Solitaire Setting
The radiant and well-cut diamond is the main emphasis of the solitaire engagement ring, which has a simple band. As they are just metal bands with no diamond decoration or glitter, solitaire engagement rings are usually a budget-friendly and popular option. If you enjoy a simple, timeless, and elegant look, then a solitaire engagement ring is ideal.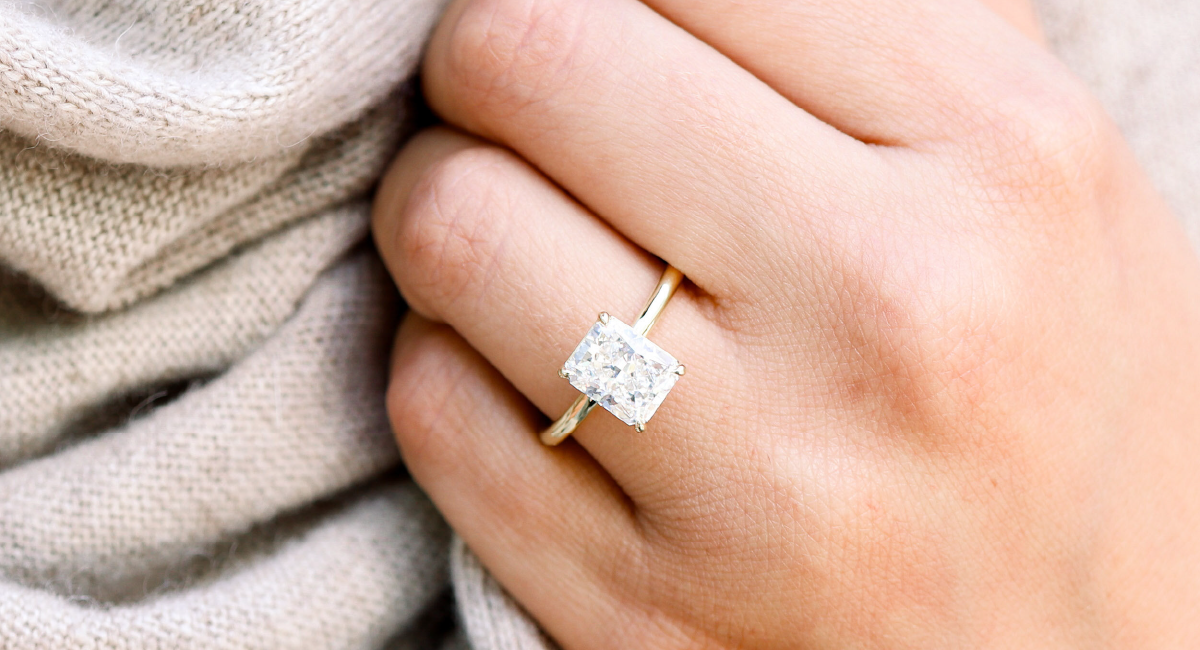 Conclusion
While each diamond cut is unique and magnificent in its own way, the radiant cut diamond is the perfect blend of fire, brilliance, and scintillation. 
Its multiple faceted patterns give it an edge over the traditional square and rectangular cut diamonds, like a cushion, princess, emerald, etc. 
Similarly, what makes it more preferred over round cut diamonds is its square-like or emerald-like shape. A similar faceted design on a rectangular or square cut diamond makes it the chic-looking sibling of the round cut diamond and gives it a more contemporary look. 
If you have made the decision to buy one of these mesmerizing stones then don't hesitate and get yourself a radiant cut diamond today! Keep outshining others with your dazzling ring and attitude! And don't forget that smile!