A VS1 Diamond Clarity Guide: Brilliance on a Budget!
A VS1 Clarity Diamond is a 'very slightly included 1 diamond' as per the GIA Diamond Clarity Grading Scale. A VS1 clarity grade diamond is possibly the most popular diamond grade with customers all over the globe. It offers a great deal of balance of price, beauty, and variety. However, as you might know, getting a VS1 grade diamond requires a little knowledge, as it does with almost any diamond grade.
In this article, we will tell you everything you need to know before purchasing a VS1-grade diamond. 
When you start scouring the Internet for clues about how, where, and when to start looking for an engagement ring, you've probably noticed that the topic of diamond clarity pops up more than anything else. However, chances are you don't fully understand what clarity means and why it is so important to future diamond engagement rings.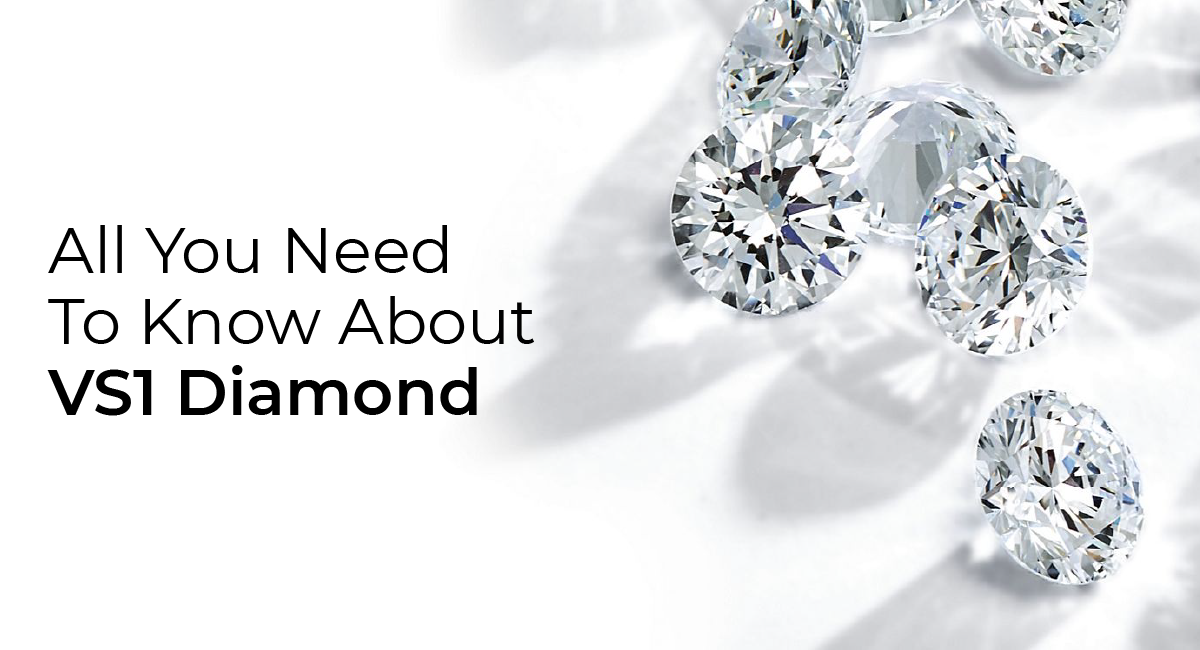 The term "clarity" only refers to one aspect of a given diamond, but it is quite significant. It indicates the absence and presence of defects in a diamond, so understanding the clarity grade provides a reliable, quick, and simple judgment of the quality of any diamond. 
These imperfections are called inclusions, which may be too small to be seen without a magnifying tool, or large enough to completely ruin or undermine the beauty of the stone. For this, it can be small enough to result in high prices, or large enough to make diamonds much less valuable in the market.
VS1 lab diamonds, by definition diamonds with inclusions, are still one of the most desirable categories of diamonds on the market today. While not perfect, the VS1 clarity cleanliness is because it provides a high level of confidence that most inclusions are barely visible to the naked eye.
What Is Vs1 Diamond Clarity?
First, you need to understand what the clarity of a diamond is. It is one of the 4C diamonds, in which case transparency means the presence (relative term) or absence of inclusions and defects.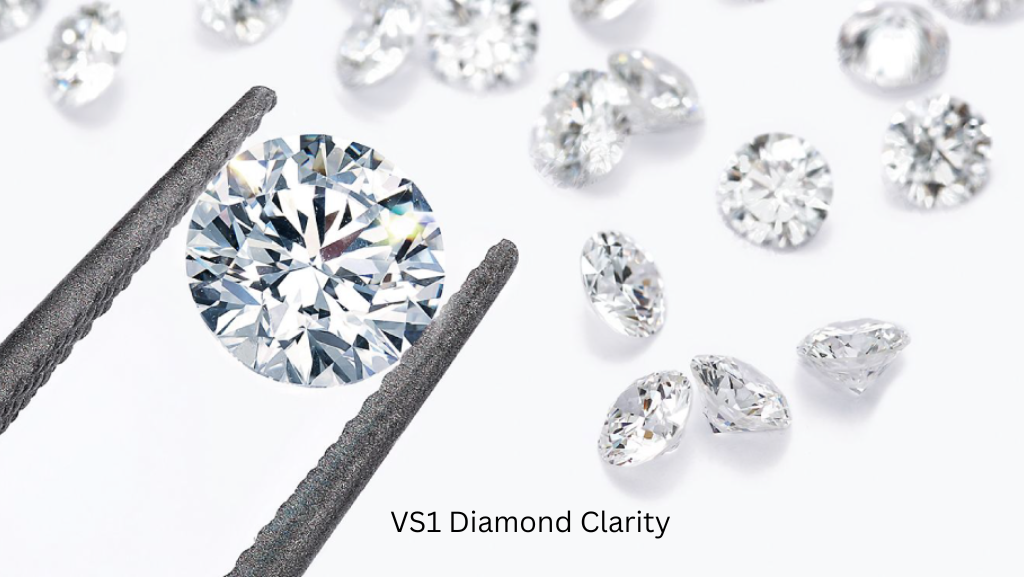 VS1 stands for Very Slightly Included 1. As already mentioned, lab made diamonds are not completely flawless, but it doesn't mean that inclusions pop out when anyone looks at the stone. In perspective, all Gemological Institute of America (GIA) professionals should be trained to distinguish between VS1, VS2, VVS1, and other categories. 
This is because grading diamonds consistently can be very difficult given the fact that inclusions can be quite big or very small. The formation of natural diamonds occurs in the earth's crust. Due to this reason, some impurities are almost always unavoidable and only a small percentage of diamonds are flawless (FL).
GIA's Clarity Scale:
Flawless (FL)
Internally Flawless (IF)
Very Very Small Inclusions (VVS1)
Very Very Small Inclusions (VVS2)
Very Small Inclusions 1 (VS1)
Very Small Inclusions 2 (VS2)
Small Inclusions 1 (SI1)
Small Inclusions 2 (SI2)
Inclusions 1 (I1)
Inclusions 2 (I2)
Inclusions 3 (I3)
GIA is the authority that developed the 11-step Diamond Clarity Grading Scale (I3 clarity to Flawless clarity), and VS1 is the higher level. Note that even under magnification, defects can be difficult to see, especially in small diamonds (under 2.00 carats). But if you want to see it, you can take out a jeweler's magnifying glass (10x magnification) and inspect the diamond. Once the entire stone is in focus, you may have to look for a few seconds to find the flaw.
All inclusions are not the same because they differ in size, characteristics, number, and location. The larger the defect, the lower the grade, and the smaller the inclusion is to get a VS1 grade.
Nature is determined by the type of inclusions and imperfections deep within the diamond that are common in VS1 gems. For example, the VS1 diamond may have been trapped in a small patch of mineral during its long formation process. 
However, if the imperfection does not permeate the stone, it is a blemish, not an inclusion. This is not the case if the VS1 diamond is professionally cut. For VS1 stones, 45 very few inclusions are allowed, present usually toward the girdle. This gives a lower grade closer to the central table. This is because the closer you get to the belt, the more difficult it is to see the inclusions. 
By the way, the inclusions near the diamond pavilion are reflective. This makes the facets act like mirrors, reflecting inclusions. And we have diamonds of the same clarity and weight but with different inclusions. Diamonds with less visible inclusions (near the girdle) can be expected to be about 5% more expensive if the remaining 4 Cs are matched.
The relief indicates the level of impurities relative to the host diamond. Without too much detail, the higher the relief, the darker the diamond, and the lower the quality. Again, the VS1 Diamond has little or no relief. 
VS1 Clarity Diamond Cost
So, although you know where the VS1 is in the spectrum and how it compares to other clarity classes, chances are you're still looking for more specific terms. For that, here's what you need to know about the actual payout for VS1 diamonds.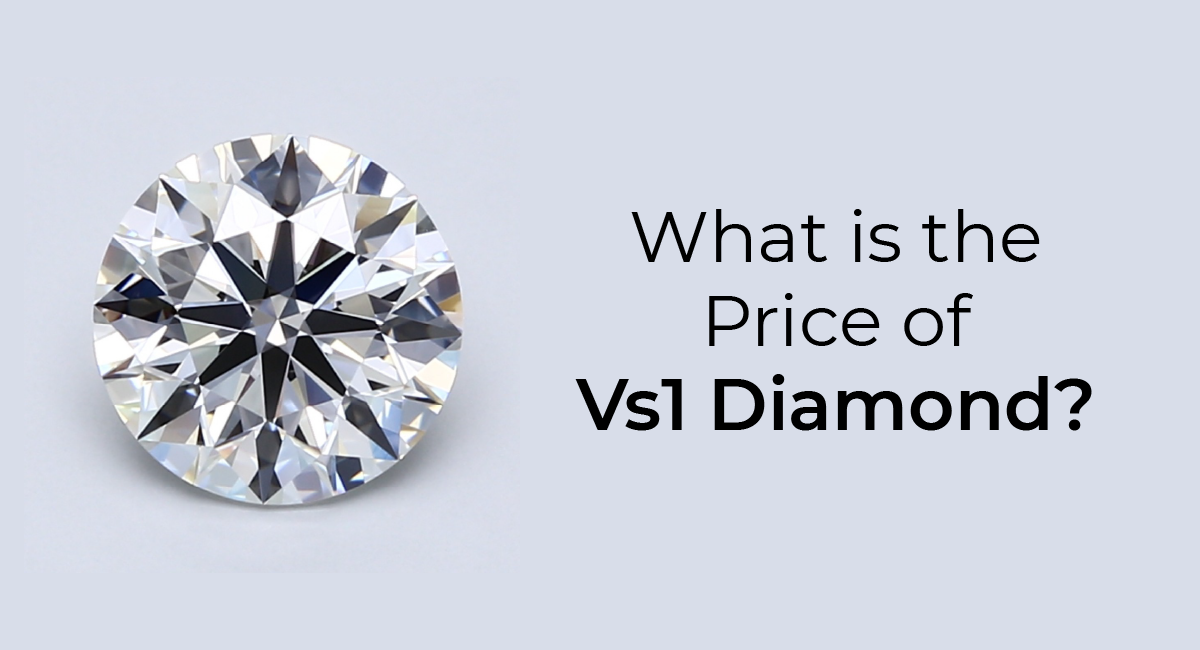 It is difficult to determine the price based on clarity alone. As you know, the carat weight, color, and cut of a diamond affect the VS1 diamond price, this can get pretty expensive. 
For example, a 1.00-carat diamond with VS1 clarity and color D (colorless) can cost over $11,100. However, in terms of value, VS1 Diamonds are often in the best position to get the best value when it comes to buying a diamond engagement ring. 
VS1 diamonds are still highly priced in the market despite their inclusions as they are generally considered eye-clean lab-created diamonds. They are more common than IF and FL diamonds but are popular enough among those looking to purchase an almost flawless diamond engagement ring worth a premium price. Still, VS1 diamonds remain much more affordable than other diamonds, which are rated a notch higher than VS1. 
The most common mistake people make when buying diamonds is to buy diamonds with a clarity grade that is too high to rate. A clear-eyed diamond VS1 clarity looks identical to a Flawless-grade diamond, assuming all other diamonds are the same, but much cheaper. 
For example, a 1.2-carat round cut diamond has VS1 clarity, and E color, and is priced at $4,000. Similarly, a 1.2-carat round cut diamond, is rated VVS2 clarity and E color and is priced at $4,600. VVS2 Diamond is 20% more expensive than VS1 Diamond. Both diamonds are eye-clean with no visible blemishes or inclusions. In such a case it is recommended that you buy a VS1 clarity diamond and you'll get the same results when it comes to aesthetics but for 20% less.
In a similar case, if you were to take a VS1 diamond and a VS2 diamond, the VS2 diamond would be more affordable and similar in terms of being eye-clean to the VS1 diamond.
VS1 clarity diamonds are always pleasing and eye-clean, so if it's in your budget you can go for it. VS1 diamonds are good engagement ring stones, but VS2 diamonds are almost always eye-clean as well. Even most SI1 diamonds look perfect to the naked eye. The lower the clarity grade, the lower the price, so you can invest the money you save in higher-quality diamonds and more complicated settings. However, this does not mean that VS1 clarity Diamonds should be avoided. In some cases, limiting your search to a lower clarity stone may not find a better option.
| | | | | | | |
| --- | --- | --- | --- | --- | --- | --- |
| Shape | Carat | Cut | Color | Clarity | Price | |
| princess | 6.03 | Ideal | H | VS1 | $9127 $6845 | View |
| round | 6.00 | Excellent | H | VS2 | $3939 $3348 | View |
| round | 6.00 | Ideal | F | VS1 | $6706 $5700 | View |
| round | 6.01 | Ideal | G | VS2 | $6196 $5267 | View |
| round | 6.00 | Excellent | G | VS1 | $4585 $3897 | View |
| round | 6.01 | Excellent | G | VS1 | $4592 $3903 | View |
| round | 6.04 | Ideal | G | VS1 | $4614 $3922 | View |
| round | 6.00 | Ideal | F | VS1 | $5673 $4822 | View |
| princess | 6.03 | Ideal | E | VS1 | $10337 $7753 | View |
| princess | 6.05 | Ideal | E | VS1 | $10371 $7778 | View |
| princess | 6.05 | Ideal | E | VS1 | $10371 $7778 | View |
| emerald | 6.05 | Ideal | H | VS2 | $5317 $3988 | View |
| round | 6.01 | Excellent | H | VS2 | $6059 $5150 | View |
| round | 6.09 | Ideal | G | VS2 | $5326 $4527 | View |
| round | 6.02 | Excellent | G | VS1 | $6071 $5160 | View |
| round | 6.04 | Excellent | G | VS1 | $6091 $5177 | View |
| round | 6.01 | Ideal | F | VS1 | $7382 $6275 | View |
| round | 6.05 | Excellent | F | VS1 | $7432 $6317 | View |
| emerald | 6.07 | Excellent | G | VS2 | $6037 $4528 | View |
| emerald | 6.03 | Excellent | H | VS2 | $4920 $3690 | View |
Eye-Clean VS1 Diamond 
It's a diamond that looks perfect to the naked eye, except finding one isn't as easy as you might think. As mentioned, the heavier the stone, the more obvious the defect is.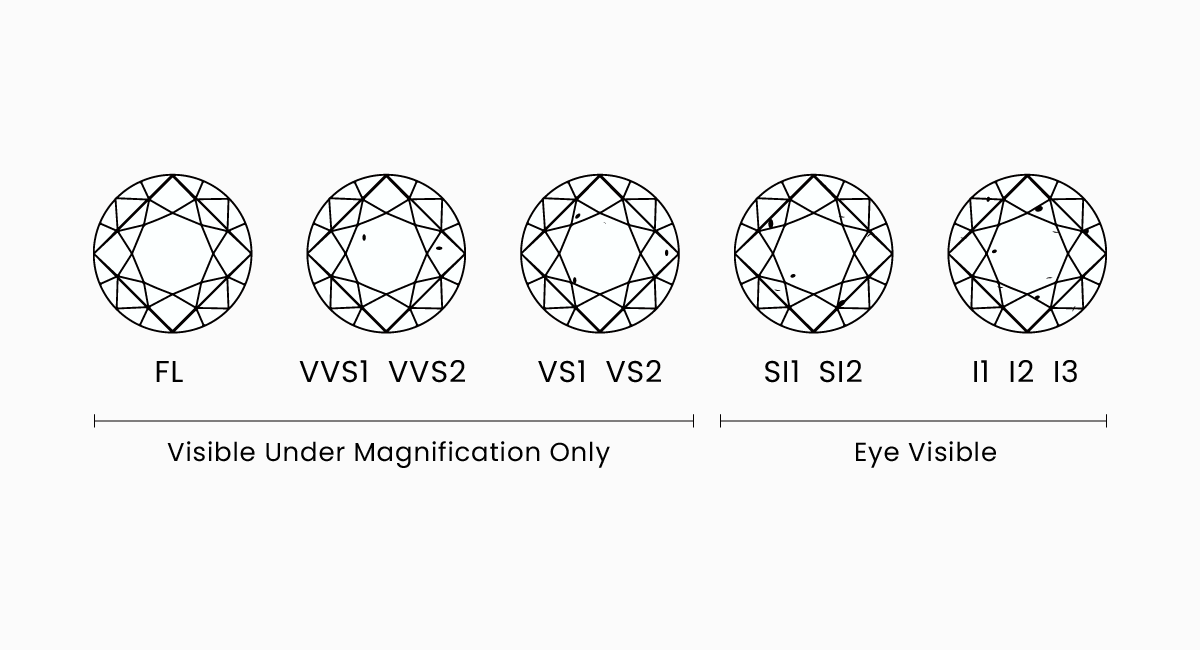 Also, in addition to the cut, the position of the defect plays an important role. Emerald and Asscher cuts have step cuts. This means it can be square or rectangular and has many parallel faces. The downside is that the edges highlight inclusions and make them easier to find. 
Then there is the inclusion of color and cut quality. The best cut, regardless of shape, has the best light output and can hide inclusions. Also, VS1 diamonds usually have colorless inclusions, but this depends on the diamond's color grading. 
Inclusions can also be seen under certain lighting and certain angles. You should look at the diamond from a different angle and possibly in a different light. But there's more to this diamond than we can deliver on screen, and seeing this diamond in person can take you in a whole new and unexpected direction. 
Use the GIA Diamond Report as a way to ensure that your diamonds meet your standards, but keep your eye clarity at the center of your final choice. If a diamond is rated VS1 by a reputable laboratory such as GIA, you can be assured that the diamond is eye-clean. I have never seen a VS1 diamond with inclusions visible to the naked eye.
When purchasing a diamond, the reliability and source of the rating report are very important as it gives you confidence in the product you are purchasing. Don't be fooled by the "big deal" associated with buying diamonds with questionable certificates.
Is Vs1 Clarity a Good for Your Diamond?
VS1 has a very high level of clarity to aim for, and in our opinion is a clear sweet spot between "too much" perfection and too many flaws. Nevertheless, its beauty is comparable to a VS2 diamond with a slightly lower clarity grade.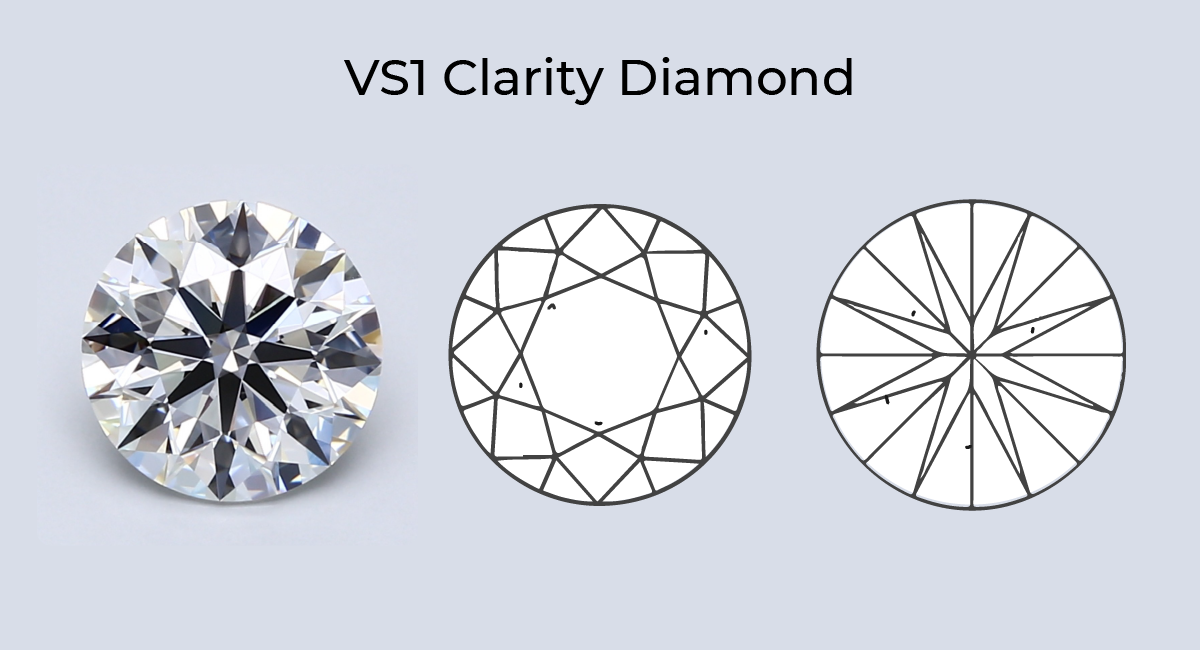 The fact that VS1 is widely considered to be midway between the two ends of the GIA clarity Scale means that it fetches its own highest price on the market, even at a significantly lower price than VVS Diamond. 
The high reputation of VS1 diamonds among jewelers is worth the additional investment in our opinion. Of course, that's provided it doesn't sacrifice any of the 4C's. When it comes to color and clarity, I usually think that clarity is a bit more important, but that doesn't mean you can completely forget the color. 
A diamond without visible inclusions will disappoint with its distinct yellow tint. A stunning 4-carat gemstone will disappoint due to poor cut quality that prevents it from shimmering as much as possible.
In other words, VS1 diamonds are a great choice when paired with other "sweet spots" in terms of color and cut, and are high enough in carat weight to make them worthy of expressing their love for the bride-to-be. If this turns out to be a problem, the VS2 diamond can rival the beauty and clarity of the eye if it isn't too big.
Should I Buy a VS1 Diamond?
VS1 Diamond is a safe choice for engagement rings and diamond jewelry. It offers an affordable option for buyers with clear eyes who want peace of mind regarding diamond clarity.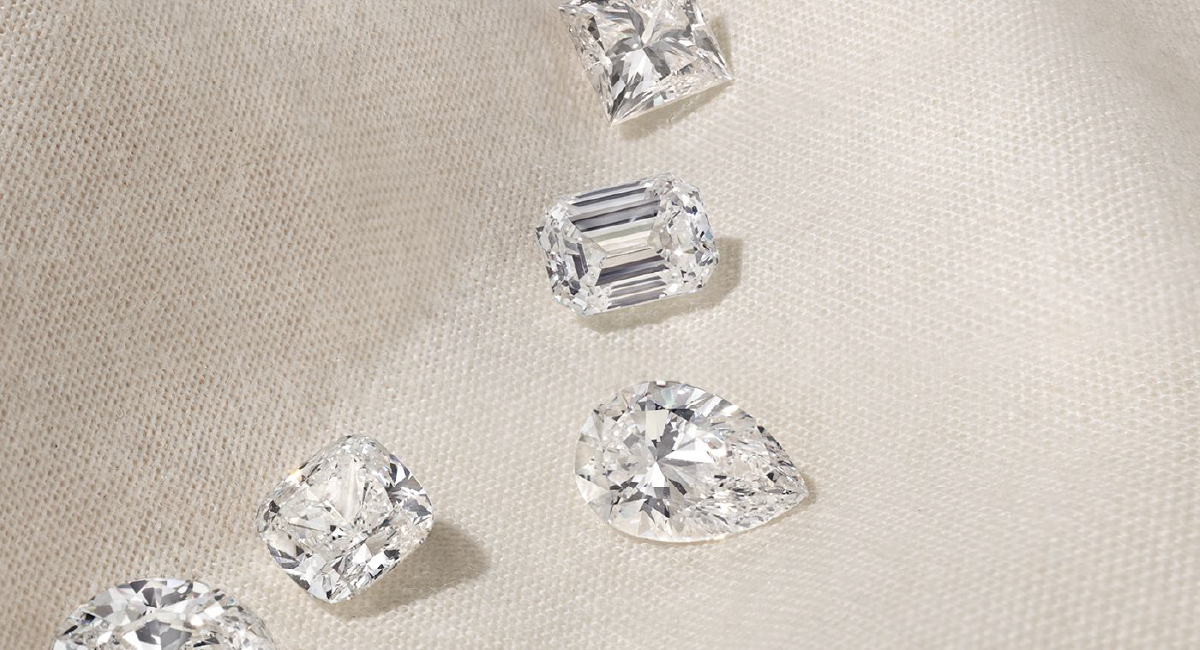 In the end, it all depends on your taste and what you like. In general, VS1 clarity is recommended when buying large diamonds (2 carats or more) or step-cut diamonds, such as emeralds and Asscher cuts, which tend to have more prominent inclusions.
Here are some points you should know before buying a VS1 diamond:
Considering that almost all properly graded VS1 clarity diamonds are eye-clean, you might think that you can safely buy VS1 lab diamonds and look for winners. This is the case if other conditions regarding color, cut quality, and transparency are met. However, diamonds can have microscopic properties that potentially reduce their clarity.
These diamonds can potentially have performance issues due to slight haze. This is most likely an issue with Si and imperfect diamonds, but can potentially affect VS diamonds. 

Not all sellers are so attentive, so we recommend using high-resolution images and HD videos of diamonds when purchasing special diamonds. 

The shape and carat weight of the diamond is also important when choosing a clarity grade. Diamonds over 2.00 carats may more easily have inclusions, so a higher clarity rating may be required. It is still very possible to find larger VS1 lab diamonds that are clean to the eye, but the larger the size, the more careful study is required. 

Step cuts, such as the emerald cut and the usher cut, are meant to show clarity. It features a long, straight facet pattern that gives it a truly hypnotic and elegant allure, rather than shimmering like a brilliant cut. But those facets act more like windows than mirrors, allowing the presence of inclusions to be revealed more easily. 

The VS1 clarity is a great starting point when buying a step-cut diamond. Some VS1 clarity step-cut diamonds, especially larger gemstones, are technically not as eye-clean as possible, but they are generally more than acceptable.

Whether you are purchasing your engagement ring online or in person, you should preferably request a certificate from the GIA. If this is not possible, AGS, EGL, GCAL, and IGI certifications may be good alternatives. Still, you may have to zoom in a lot to see what's going on. A certificate here can give you peace of mind in this regard.

Ask to see the stones up close when shopping at a real jewelry store. The gifting jeweler may also provide you with a microscope or magnifying glass that allows you to look closely. By now you should know enough about what to look for and where to look.
You can get your hands on the VS1 diamonds at the best price at Loose Grown Diamonds. A diamond wholesaler who cuts out the middleman and sells directly to you. You can go to our inventory page and filter it based on your preferences.
Conclusion
In conclusion, a VS1 diamond offers a great balance of value, beauty, and clarity for those seeking an engagement ring. It's a popular choice due to its eye-clean quality and affordability. When buying a lab diamond, consider various factors like cut, color, and carat weight to make an informed decision.
Frequently Asked Questions (FAQs) 
How Much Is a 1 Carat VS1 Diamond?
The cost of a 1-carat VS1 diamond can range from $3,000 for a low-color diamond to $13,000 for a completely colorless diamond with perfect cut quality and proportions. However, the price also depends on the quality of the cut and the shape of the diamond.
What Difference Between VS1 vs VS2?
VS1 is a clarity rating that allows experienced technicians to easily detect minute inclusions at 10x magnification. Defects or inclusions cannot be seen with the naked eye unless the magnification method is used. VS2 clarity inclusions, on the other hand, are most often visible at 10x magnification.
VS2 diamonds generally look clean, but there are slight variations, especially for larger diamonds. These spikes usually rarely exceed class SI1 and have inclusions visible to the naked eye. That's why we emphasize the importance of viewing enlarged photos and videos before making a purchase.
Is Vs1 Better than VVS1?
While it's easy to say that the VS1 diamond is an excellent choice in terms of value and eye clarity, the fact remains that the VVS diamond is objectively better, at least if you go according to the GIA scale. VS1 diamonds are cheaper than VVS diamonds. Although both diamonds are transparent to the eye, the inclusions of the VVS diamond are more difficult to see than the VS1 diamond. If clarity is more important to you, VVS diamonds are a better choice.
What Is a VS1 Diamond Worth?
VS1 diamonds are still highly-priced in the market despite their inclusions as they are generally considered clean-eyed. They are more than IF and FL diamonds but are popular enough among those looking to purchase an almost flawless diamond engagement ring worth a premium price. However, it remains a much cheaper option than the lab-created diamond, which is priced a notch higher than the VS1.
Which Diamond Clarity Is Best?
The highest grade of diamond clarity is FL or Flawless. The GIA only evaluates a diamond as flawless if it has no inclusions or blemishes visible to the appraiser even at 10x magnification.
Things get a little more complicated and subjective when it comes to the perfect clarity level for every diamond shape and budget. Because diamonds come in many different shapes and cut qualities, there is not one "best" clarity grade for all types of diamonds.