What Are I1 Clarity Diamonds and Should You Buy Them? – An Expert Guide About I1 Clarity in 2022
When someone says the word "bling," what comes to mind? Do you see donning a diamond engagement ring on your wedding day as well? Are diamonds your passion, but do you lack the knowledge and ability to tell them apart? You are, in fact, in the right place. Think of diamonds as humans.
Just like humans come in all forms, each having its own unique characteristics that leave no two people alike, so do diamonds vary in their characteristics.
Continue to read further to know all about I1 diamonds, diamond gradings, and takeaway free tips on choosing and avoiding diamonds. But first, it is important to grasp an understanding of how diamonds are created in order to truly understand what I1 diamonds are and other relevant concepts like diamond clarity.
Natural diamonds are formed when carbon is subjected to extreme heat and pressure in the earth's interior. Lab-grown diamonds are formed in laboratories by replicating the natural environment. Numerous internal qualities referred to as "inclusions" and outward characteristics referred to as "blemishes" may be produced as a result of these processes.
Now, you must be wondering at this point what inclusions could indicate in this context. Small crystal fragments that become stuck inside a diamond when it's emerging are called inclusions. A crystal's atomic structure may occasionally become uneven as it grows. The size, location, and presence of inclusions can significantly alter the clarity of a diamond.
However, inclusions and blemishes might serve as a gentle, subtle reminder of the incredible journey a diamond advances through to make its way to our lives in the form of jewelry or precious stones. The correct diamond clarity grade would be a critical factor in determining how much you can spend without compromising the diamond's brilliance. To help you achieve this, we have answered some crucial questions below.
What Is I1 Clarity?
The absence of inclusions and blemishes is referred to as diamond clarity. When a report is published for a diamond, independent laboratories like the GIA provide grades for clarity. The GIA diamond clarity system (discussed below) assigns a ranking to diamonds based on the existence or density of clarity properties that a diamond possesses.
These traits are often referred to as inclusions by jewelers. Therefore, I1 stands for "Included 1." I1, I2, and I3 diamonds make up the included range of diamonds. Diamonds with an I1 clarity rating are considered to be on the lower end of the clarity spectrum.
This is exactly what is meant by "I1 diamond clarity". The important feature of an I1 diamond is that flaws are clearly visible under a 10X microscope and to the human eye. Even an amateur using the magnifying glass for the very first time will find this to be true.
In some instances, diamond clarity I1 may have imperfections that compromise their durability and increase the likelihood that they may chip easily. However, if one is equipped with the proper knowledge, using such diamonds can be one of the best approaches for customers on a tight budget to receive the most value. These imperfections might occasionally lessen the diamond's radiance and beauty. These defects can occasionally reduce their durability.
There is, in fact, more to it. The noteworthy fact is that a diamond can be classified as an I1 included stone with just one discernible inclusion. In other words, a diamond may have 10 defects, only 1 of which would be apparent, which can prove to be just enough to reduce the clarity and grade of the stone and bring it down steeply to an I1 (including ranking).
| | | | | | | |
| --- | --- | --- | --- | --- | --- | --- |
| Shape | Carat | Cut | Color | Clarity | Price | |
| round | 2.01 | Excellent | G | I1 | $8639 $7343 | View |
| round | 1.01 | Ideal | E | I1 | $426 $362 | View |
| round | 1.20 | Excellent | I | I1 | $567 $482 | View |
| round | 1.42 | Ideal | H | I1 | $629 $535 | View |
| round | 1.82 | Excellent | D | I1 | $3788 $3220 | View |
| round | 1.04 | Very Good | H | I2 | $3104 $2638 | View |
| round | 5.00 | Very Good | J | I2 | $1438 $1222 | View |
| round | 1.71 | Excellent | D | I1 | $1168 $993 | View |
| round | 4.00 | Excellent | G | I1 | $1809 $1538 | View |
| round | 2.00 | Excellent | D | I1 | $996 $847 | View |
| round | 1.79 | Ideal | F | I1 | $609 $518 | View |
| round | 2.27 | Ideal | G | I1 | $1061 $902 | View |
| round | 2.53 | Ideal | G | I2 | $2144 $1822 | View |
| round | 1.90 | Ideal | F | I1 | $971 $825 | View |
| round | 3.21 | Excellent | F | I1 | $2202 $1872 | View |
| round | 2.76 | Ideal | H | I1 | $3051 $2593 | View |
| round | 2.84 | Ideal | H | I1 | $1621 $1378 | View |
| round | 0.50 | Excellent | I | I1 | $979 $832 | View |
| round | 1.00 | Good | H | I1 | $444 $377 | View |
| round | 2.02 | Ideal | F | I1 | $1200 $1020 | View |
The Gia Diamond Clarity Scale
The diamond clarity scale is a scale that helps in grading how pure a diamond is. There are very many technicalities while checking out the diamond clarity in general and I1 diamond clarity in particular here, so read further to know its A to Z's with the help of the universally recognized I1 diamond clarity chart. But, before hopping onto understanding the GIA Diamond Clarity Scale, let us give you some interesting insights about GIA itself.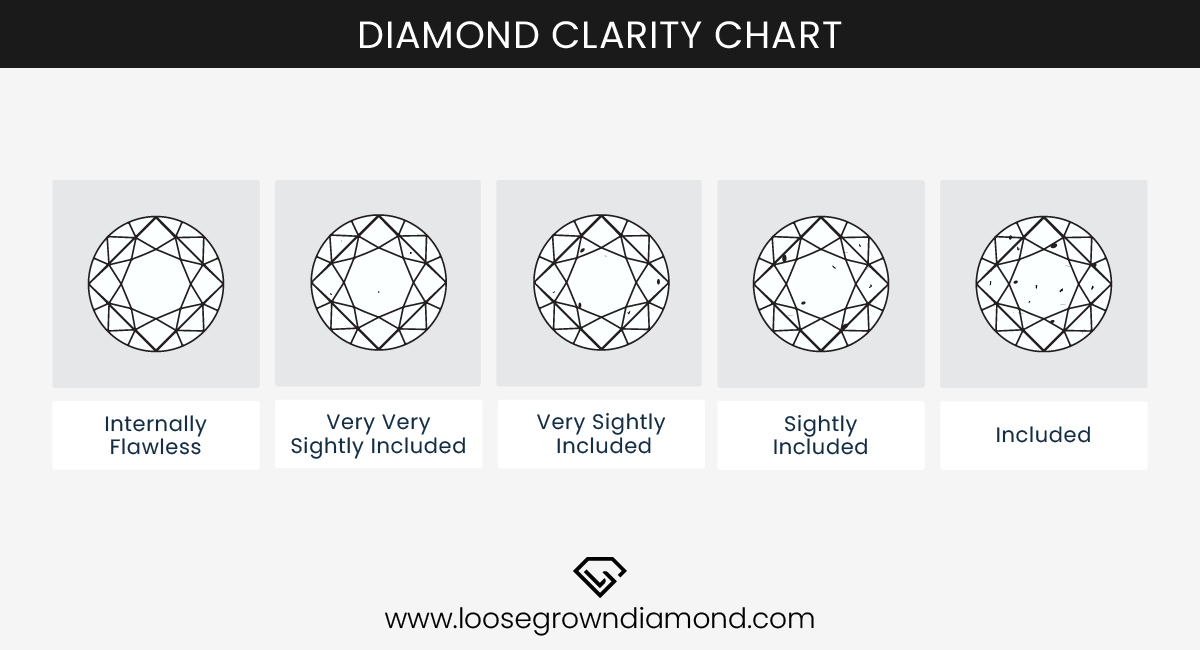 The GIA Diamond Clarity Scale
Similar to the color scale, the GIA's clarity grading system was created as a result of jewelers using phrases like "piqué" and "loupe clean" that could be misunderstood. Irrespective of what language the jeweler speaks, they would most certainly use words like VVS1 or SI2 to describe a diamond's clarity if you purchase it anywhere in the world.
There are a total of 11 distinct grades on the GIA Diamond Clarity Scale/Chart, divided into 6 categories :
Flawless (FL): No imperfections or inclusions apparent at a 10x magnification
Internally Flawless (IF): Under 10x magnification, there are no inclusions to be seen.
A Very, Very Slightly Included (VVS1 and VVS2): Inclusions are so tiny that a skilled grader would struggle to detect them at 10x magnification.
Very Slightly Included (VS1 and VS2): It is difficult to view inclusions at 10x magnification, which can be described as small imperfections.
Included (I1 diamond, I2 diamond, and I3 diamond): Under 10x magnification, inclusions are visible and may reduce transparency and sparkle.
To evaluate, grade, and verify the quality of gems, the world's most reputable retailers, institutions, online sellers, and individual buyers all rely on the knowledge of GIA grading charts. They have full faith in GIA to give complete, unbiased, scientific information because they know how important it is for evaluating gems.
Also Read: Lab-Grown VVS Diamond versus VS Diamond: What's the Difference
Where Does I1 Clarity Fall Within the Scale of Clarity?
I1 diamond clarity lies at the ninth spot on the clarity scale, consisting of 11 grades in decreasing order. The GIA diamond clarity system assigns diamonds a ranking based on the existence or distribution of clarity features within a diamond. These traits are often referred to as inclusions by jewelers. In this case, I1 stands for "Included 1." Even less clear diamonds are called I2 clarity diamonds or I3 clarity diamonds. On the GIA diamond clarity scale, I3 is the lowest clarity grade that can be given to a diamond.
Tips for Choosing I1 Clarity Diamonds
Identifying suitably included diamonds can be complex. However, doing so is essential if you are on a tight budget. The procedure can go more smoothly with proper examination, investigation, and appraisal of the diamond.
Firstly, take note that any large or larger I1 grade diamond won't be eye-clean as flaws are easier to find in larger stones due to their larger surface area. Hence, don't get fooled by sellers telling you that a bigger diamond is the best way to go.
If you want to purchase an I1 diamond, look for stones with imperfections that are widely dispersed or have a few prominent ones near the edges/girdle so that they can be hidden behind a

jewelry

setting's metal covering.
When mounted on a ring, an I1 diamond's inclusions will be concealed from general view. In these circumstances, you may wish to utilize larger prongs to help you cover the obviously included sections.
Note that an I1 diamond guarantees a low price that cannot be matched by any other perfectly cut diamond with comparable qualities.
If there is inclusion at the stone's center, it will be easily visible and you should avoid buying such a stone. However, if it is near the girdle, it can be seen from the center of the stone, but only by an expert.
If a diamond has a faint cavity inclusion, it is graded at an I1 diamond clarity level or lower. Its positioning is crucial in deciding if the diamond is worth the money or not. If the

jewelry

setting masks the cavity or if it is on the girdle of the diamond, then it can turn out to be a good deal.
Finally, get an eye-clean diamond, but just don't invest more than you have to in order to get the most for your money.
What Are the Benefits of I1 Graded Diamonds?
Though most people prefer to buy eye-clean diamonds over included diamonds, let's understand why people are buying low-clarity diamonds. What could be the potential benefits of I1 diamond clarity?
The two main advantages of purchasing an I1 diamond appear to be:
Cost: Evidently, the general public is drawn to cheap long-range diamonds. This is because the majority of customers prioritize carat count or cutting, so sacrificing clarity might result in larger diamonds being more reasonably priced. An I1 diamond can give excellent value in terms of pricing and appearance if it is properly chosen.

Clarity:

Your diamond's attributes of clarity serve as a blueprint. As a result, your diamond will be instantly identifiable.

Purpose:

When purchasing a piece of

jewelry

for a specific purpose, one can willingly choose not to prioritize the clarity of the diamond or to prioritize the cost-effectiveness over the clarity. Clarity may not be as important because an observer will look from a distance, which means that a large gem with low clarity will look amazing from afar.
I1 Diamonds and Shapes
Inclusions are well-hidden by diamond shapes such as the Oval Cut & Cushion or Crescent. To find an eye-clean I1 diamond, you would need to sift through hundreds of diamonds. The inclusions may be less obvious or perhaps hidden by the ring setting if they are dispersed throughout the diamond.
Diamonds with an I1 clarity make excellent round brilliant cuts. They also work well with princess-cut diamonds. Excellent faceting often makes inclusions appear hidden by facets. Because they are cut in steps, emerald-cut and baguette-cut diamonds may not be as forgiving.
The Value of An I1 Diamond
I1 diamond is the one for you if you're on a tight budget. The price increases as one move up the diamond clarity chart. You can make an informed decision by understanding how the diamond's clarity affects cost. Prices for diamonds can vary by 15 to 25% when moving up or down the clarity scale grade, and by 5 to 15% within the same scale grade.
The main benefit of stones that lie in this grade category is that the I1 diamond price really makes "spend less for a big buy" appear true. When compared to gem grades, I1 clarity diamonds sell at huge discounts. Be wary of this temptation, though, and choose your diamonds after a detailed evaluation.
Shape
Carat
Cut
Color
Clarity
Price
emerald
1.44
Ideal
E
SI1

$817

$613
View
pear
1.50
Ideal
J
SI1

$849

$637
View
pear
0.92
Very Good
F
VS2

$476

$357
View
pear
1.50
Ideal
F
VS2

$951

$713
View
emerald
1.01
Ideal
E
SI3

$511

$383
View
pear
1.42
Ideal
E
VS2

$1171

$878
View
pear
1.00
Ideal
E
SI3

$476

$357
View
radiant
1.05
Ideal
H
SI1

$504

$378
View
radiant
0.86
Ideal
G
SI1

$469

$352
View
emerald
0.70
Ideal
G
SI1

$393

$295
View
emerald
1.50
Ideal
H
VS2

$597

$448
View
pear
1.44
Ideal
F
VS2

$864

$648
View
pear
1.00
Ideal
E
VS2

$611

$458
View
emerald
1.01
Ideal
E
VS2

$647

$485
View
pear
0.76
Very Good
I
SI1

$411

$308
View
emerald
1.17
Ideal
H
VS2

$613

$460
View
emerald
0.92
Ideal
F
SI3

$416

$312
View
radiant
0.96
Ideal
G
VS2

$680

$510
View
emerald
1.14
Ideal
I
VS2

$900

$675
View
emerald
1.01
Ideal
E
VS2

$813

$610
View
Conclusion
We're certain that by this point you've realized how complex it is to grade a diamond's clarity. Finally, we firmly recommend that buying an I1 diamond is a good option to save a ton of cash. The best deal is an I1 diamond that is eye-clean. And if it allows you to afford a better cut, it's a reasonable choice. Simply never purchase one without at least viewing magnified images. All diamonds warrant a closer look and comparison, regardless of their purity, size, hue, or cut.
Frequently Asked Question (FAQs)
Is an I1 diamond good?
Talking of quality, I1 diamonds lie between low to moderate in acting as center stones. Blemishes that diminish the stone's richness and shine are pretty evident. However, in terms of cost-effectiveness and to be used as small stones, I1 diamonds are a preferred choice.
Which is better, I1 or SI2?
The slippery slope is that I1 and SI2 both lie in the ideal range between reasonable cost and respectable quality. A diamond with a clarity grade of SI2 (slightly included) frequently has a variety of inclusions. Where I1 Diamonds are less costly and have more noticeable inclusions, SI2 diamonds can indeed be eye-clean and are much more durable, a feature greatly lacking by I1 diamond clarity. Starting with an SI1 clarity grade and moving up is advised if you desire a diamond without obvious inclusions. Ultimately, in deciding between an I1 and SI2 diamond, knowing what factors are most significant to you is the deciding factor.
How much is a 1 carat I1 diamond worth?
The price range for a well-cut, 1-carat, a round diamond with G-I coloring and I1 clarity is between $2,100 and $3,500. But because I1 diamonds aren't very good, not every diamond store sells them.
Should you buy an I1 diamond?
If you have budget constraints and are okay with buying a diamond that will have visible inclusions to the naked eye, then you should buy an I1 diamond. If you want something eye-clean or more clear, then it is advised that you go up the diamond clarity scale.
Do I1 diamonds shine?
The cut of a diamond determines its shine, not clarity. This is a needless worry because a diamond's inclusions have little impact on shine. The cut quality of the diamond controls the amount of light returned, as well as, how evenly brilliance (white dazzle) and dispersion are distributed throughout the stone (colored sparkle).