Princess Cut Diamonds: What Every Buyer Must Know
The relationship an individual has with a diamond is something out of the ordinary. The sparkle it brings in one's life is accompanied by the promise of togetherness and an auspicious bond. People always debate as to which diamond shape is the greatest and most appropriate option.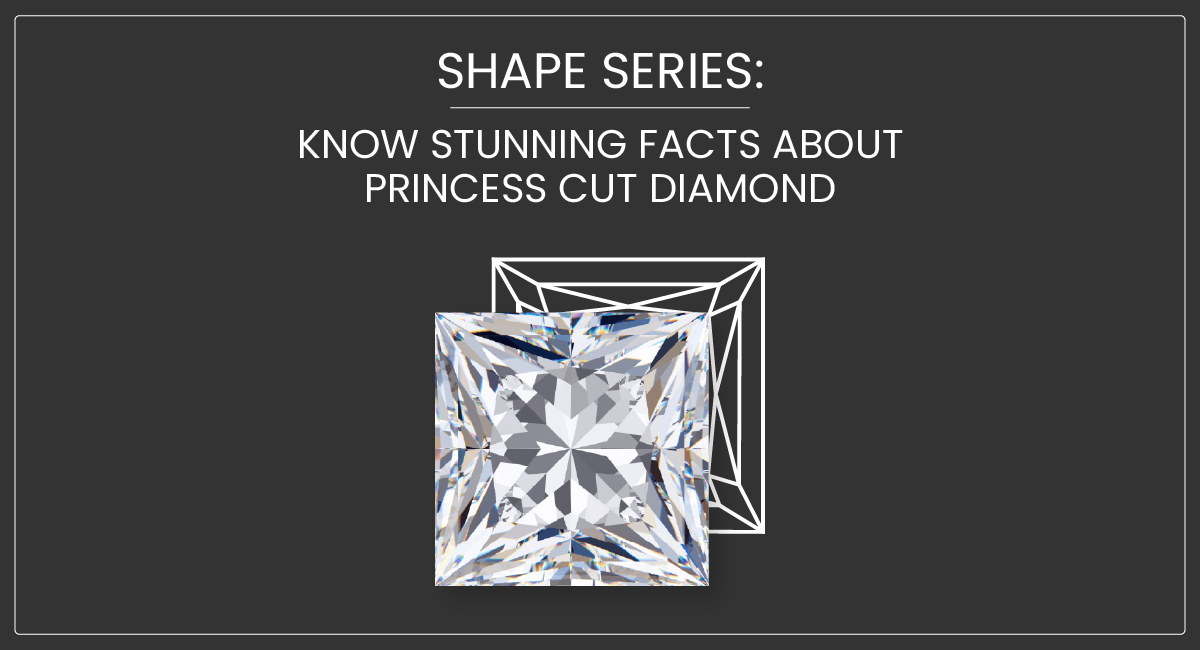 Yes, round-shaped diamonds might be popular and more favorable but a princess cut diamond on the other hand has all the properties and features of multiple diamond shapes combined. The princess-cut diamond symbolizes one's undying devotion and commitment with its spectacular brilliance and exquisite shape for wedding bands.
What is a Princess Cut Diamond?
The princess cut diamond is one of the most prominent diamond cuts, has a brightness and luster that other square-shaped gems lack. Thus putting it above all. A Princess cut diamond is often described as Square Modified Brilliants as they are frequently linked to round gems; this is in terms of sparkle and brilliance.
Princess-cut stones are also called Rectangular Modified Brilliants or Square Modified Brilliants based on the length-to-width proportion. 
This pattern disperses more light than any other square-shaped diamond, giving the princess cut a stunning and generally preferred brightness. Princess-shaped diamonds are also frequently cut from exceptionally well-formed raw diamonds. This implies that princess-cut diamonds are much more probable than other forms to be fashioned from a finer raw stone.
| | | | | | | |
| --- | --- | --- | --- | --- | --- | --- |
| Shape | Carat | Cut | Color | Clarity | Price | |
| princess | 2.08 | Ideal | F | VVS2 | $2024 $1518 | View |
| princess | 2.10 | Ideal | G | VVS2 | $1607 $1205 | View |
| princess | 2.02 | Ideal | H | VS2 | $3297 $2473 | View |
| princess | 2.06 | Ideal | H | VS1 | $1257 $943 | View |
| princess | 2.10 | Ideal | G | VVS2 | $1947 $1460 | View |
| princess | 2.01 | Ideal | H | VS1 | $1953 $1465 | View |
| princess | 2.08 | Ideal | G | VS2 | $1591 $1193 | View |
| princess | 2.07 | Excellent | E | VS2 | $1464 $1098 | View |
| princess | 2.08 | Ideal | G | VVS2 | $1591 $1193 | View |
| princess | 2.07 | Ideal | E | VS2 | $1523 $1142 | View |
| princess | 2.09 | Ideal | F | VS1 | $2237 $1678 | View |
| princess | 2.00 | Ideal | D | VVS2 | $4077 $3058 | View |
| princess | 2.04 | Ideal | G | VVS2 | $1547 $1160 | View |
| princess | 2.08 | Ideal | H | VS1 | $1591 $1193 | View |
| princess | 2.01 | Ideal | I | VS2 | $987 $740 | View |
| princess | 2.02 | Ideal | F | VS1 | $1936 $1452 | View |
| princess | 2.05 | Ideal | G | VVS2 | $1511 $1133 | View |
| princess | 2.08 | Ideal | E | VVS2 | $2936 $2202 | View |
| princess | 2.05 | Ideal | H | VS1 | $1991 $1493 | View |
| princess | 2.02 | Ideal | F | VVS2 | $4389 $3292 | View |
History of the Princess Cut Diamond
Inspired by a "French Cut", a princess diamond shape provides brilliance greater than most of the shapes having a similar cut. Nonetheless, the modern princess-cut diamond is a pretty recently-developed cut. Numerous global designers contributed to and improved it throughout the second section of the twenty-first century.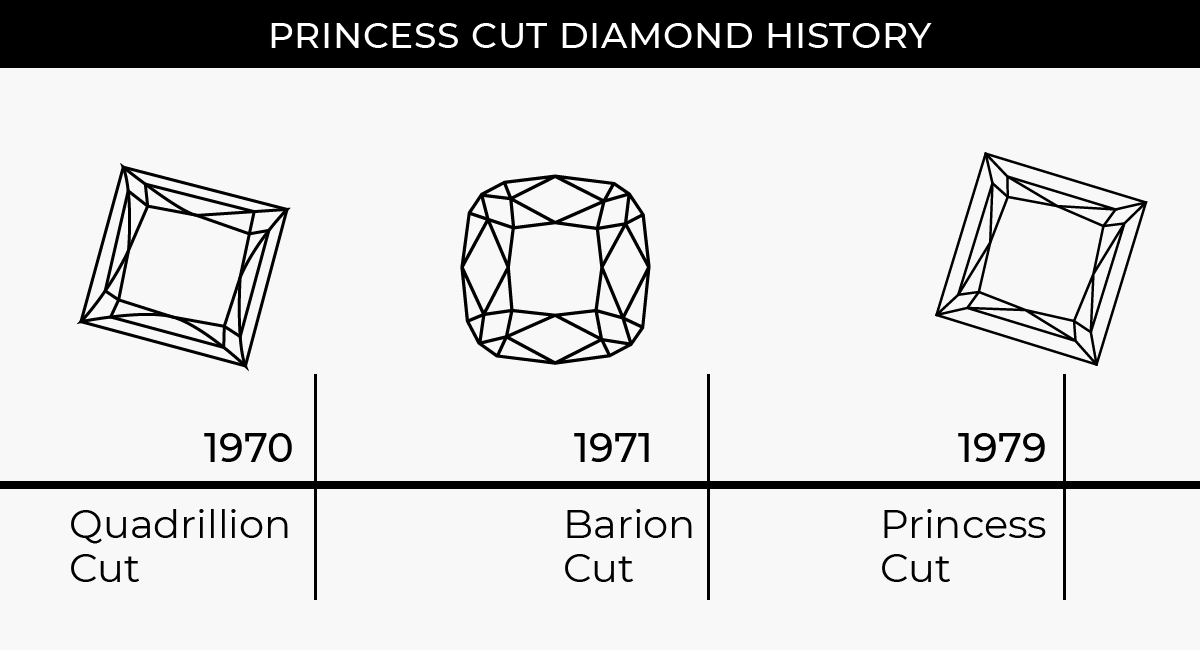 An early form of this design, first conceived in the 1960s, was used in conjunction with some other cut: the profile cut. 

In 1961, a London gem designer named Arpad Nagy was known for inventing the profile cut. 

Ambar Diamonds in Los Angeles started cutting and marketing the quadrillion diamond of 1970; a stunning square cut with 49 facets, just about ten years later. 

The Barion cut of 1971 was then developed by skilled South African cutter Basil Watermeyer. This gem cut had rounded sides and a square shape. 

Ultimately, Ygal Perlman, Betzalel Ambar, and Israel Itzkowitz, Israeli stone cutters, popularized the French cut. They invented the modern princess-cut we recognize today in 1979.
How many Facets does a Princess Cut Diamond have?
Based on how well the diamond is cut, a Princess Cut diamond contains about 50 to 58 facets. The canopy and crown have the most facets, with some on the girdle. Princess Cuts are also known for having 2 4 chevron designs, which are cross trends seen when looking at the diamond above it.
When a diamond contains two chevron designs, it radiates more bright and colored light more intensely. These patterns come together to cause more refraction of light thus making the diamond shine more.
What are the 4Cs of a Princess Cut Diamond?
Clarity
Just like people, even diamonds aren't flawless, they all have their own blemishes and inaccuracies. The clarity rating describes the extent to which these flaws are obvious. An SI1 or VS2 stone will provide eye-clean brilliance on a decent budget. SI2 and I1 diamonds can also be eye-clean, making them good choices for individuals on a limit.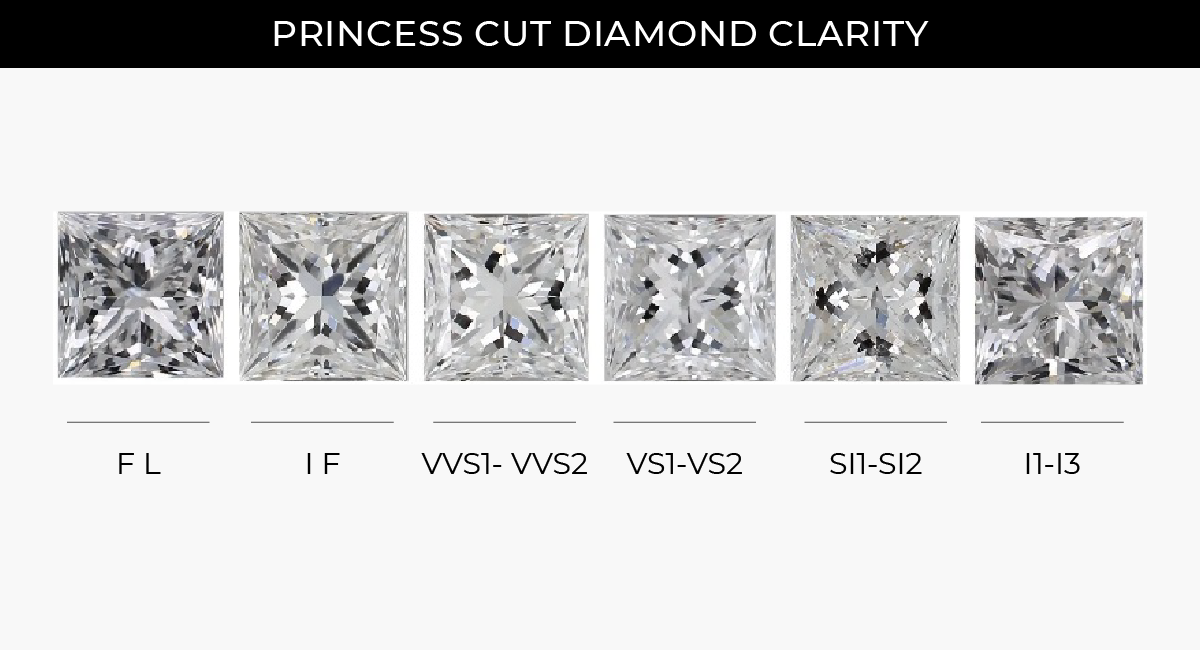 However, you will discover very few princesses cut diamonds in these clarity gradings. Avoid heavy imperfections in the center of the diamond when you're shopping according to these clarity grades. As any inclusions or blemishes in the center will be easily visible and will ruin the look of the diamond. In particular, keep an eye out for irregularities in the princess cut's edges. Inclusions in these regions weaken the edges and increase their likelihood of breaking/chipping/damage.
Color
Princess-cut diamonds, as well as other exotic varieties, have a wider range of hues than round gems. Even so, there's no point in paying a premium for the highest color grades. Even if there is a little hue variation, it is tough to discern unless you compare the gems beside each other.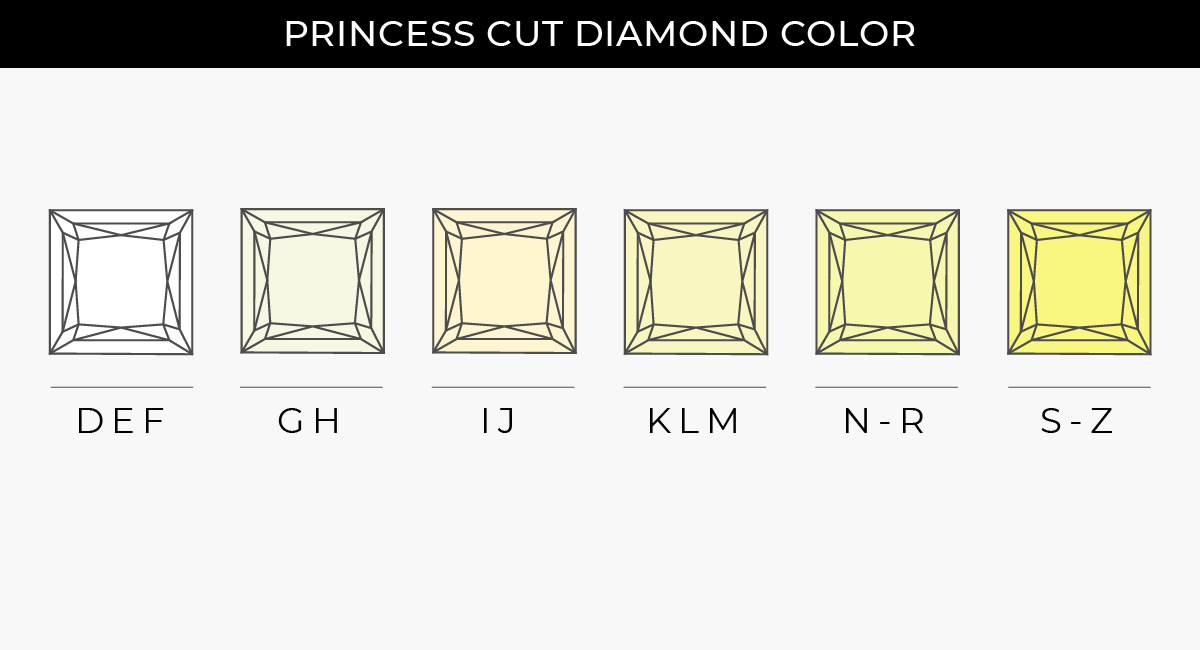 The color here is referred to in terms of the GIA color grading chart which goes as follows:
Colorless-

D,E,F

Near Colorless-

G,H,I,J

Faint-

K, L, M

Very Light-

N, O, P, Q, R

Light-

S,T,U,V,W,X,Y,Z
To optimize your spending, we recommend an H or I-color stone for princess-cut stones set in white gold or platinum. A J-color stone, on the other hand, will look excellent in rose gold and yellow gold bands.
Because diamond color grades are based on body color rather than face-up color, certain diamonds with lower color grades will appear whiter. Though it will take considerable time and energy, people on a low budget may find that looking for these jewels is worthwhile!
Because the genuine distinctions in color are hard to recognize in an environment without diamond color grading, the price premium for better scores would be dramatically lower.
Carat
The carat system is used to determine the gems' mass. Gem Studies Laboratory employs sophisticated weights to obtain accurate weight measurements, with masses measured in hundredths of a carat.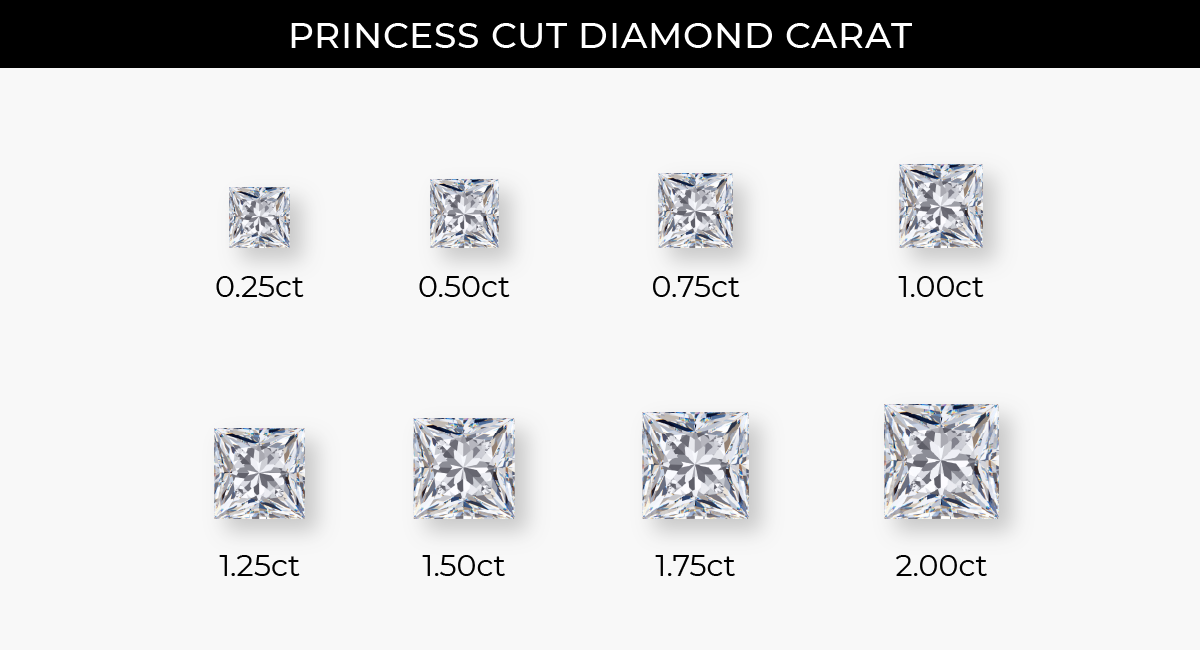 One metric carat equals 0.2 grams in the carat standard. That's why, when it comes to establishing gem grades, skilled examinations and precise equipment are crucial. Princess-cut diamonds, when compared to their round-cut competitors, have a greater carat weight for their volume due to their form.
Cut
The degrees, facets, and clarity of a gem are all considered while evaluating its cut. Overall, the purpose of a great stone cut is to create a stone with the correct ratio to allow the most amount of light to pass in.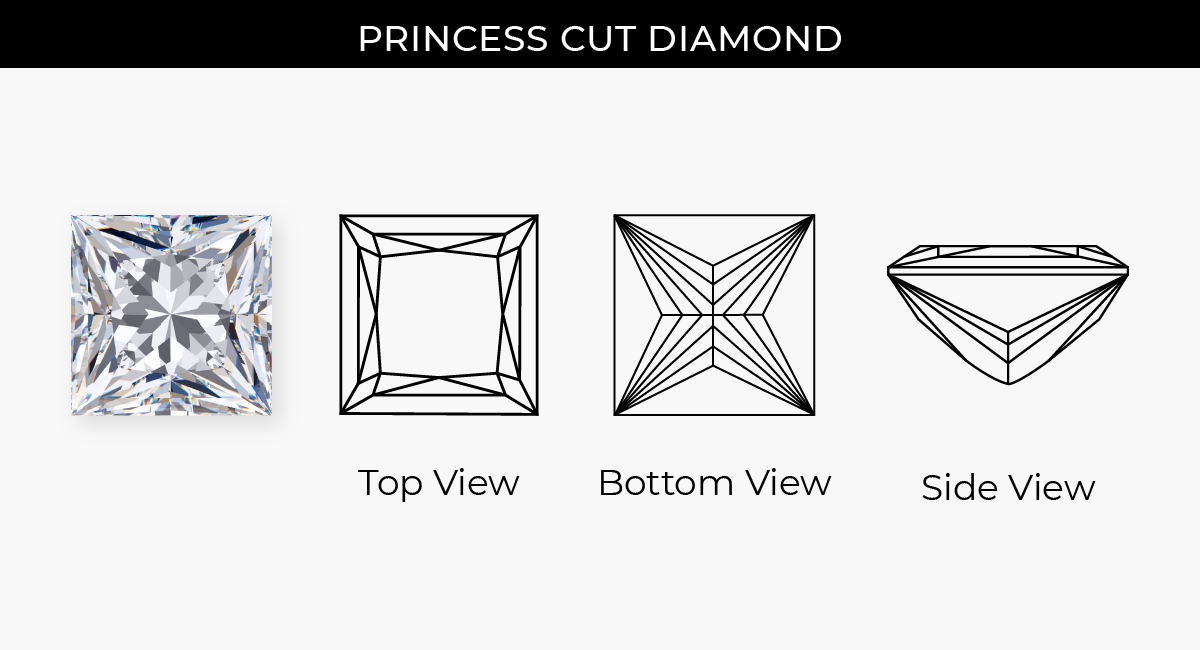 It will add a lovely gleam to the gem, which the lover will like. While cutting a princess gem, the objective is to produce a completed product that is neither too broad nor too deep, with an equivalent amount of chevrons.
What is the length to width Ratio of a Princess Cut Diamond?
Adhere to length-to-width ratios (L/W) of 1.05 or less for a symmetrical princess cut. The gem seems off-shape anything above 1.05. Princess-cut stones must be adequately square so that they do not appear to be off-shape. The gem will seem rectangular if the L/W ratio is at least 1.2.
Pros & Cons of Princess Cut Diamonds:
Price
A Princess-Cut diamond is at least 30% less expensive than round-shaped diamonds because cutting a princess-shaped diamond produces minimal wastage. This can not only be very helpful for people with a limited budget and the value that a princess-cut diamond provides is incredible because the shape typically looks bigger compared to the same carat weight of a round-shaped diamond.
Sparkle
Princess cuts are known for their sparkle. In terms of light efficiency, they surpass any sophisticated cut. This diamond has exceptional brilliance when compared to other diamonds. One needs to know that a round-cut diamond still surpasses the sparkle and brilliance when compared to other diamonds. 
Size
When comparing the face-up surface area of a princess and a round diamond of the same carat weight, the round will have a slightly bigger face-up contact area. Princess cuts, on the other hand, usually appear broader due to their huge orthogonal dimensions. Nonetheless, it'll be possible to have a princess cut that is much bigger than a round cut while staying within your diamond ring limit.
Durability
The corners of a princess-cut diamond are vulnerable to snagging and flaking. Hooks must be used to safeguard the crystal's edges to prevent it from being damaged. Round diamonds can still chip, but they don't have any weak areas that make them susceptible to scratching. With a diamond shape like a princess-cut-shaped diamond comes the responsibility to look after it.  
Best Engagement Ring Settings for Princess Cut Diamonds:
Princess-Cut Diamond Solitaire Ring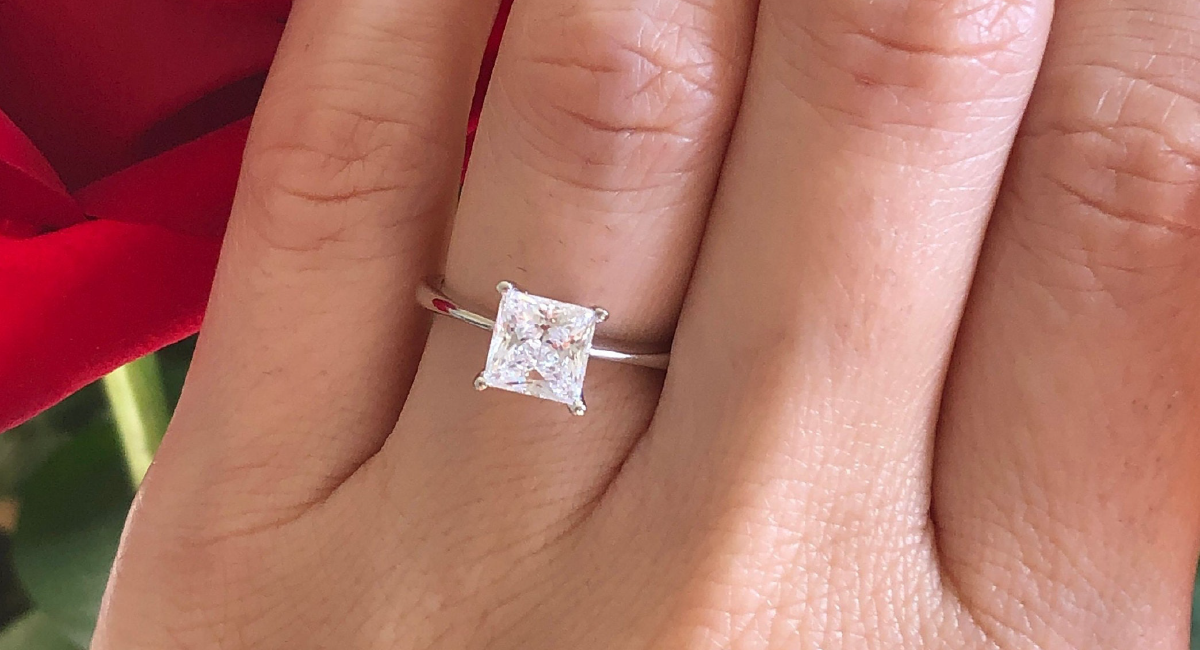 The Princess Cut can take center stage in a solitaire setting, allowing the most light to enter. The solitaire arrangement helps the diamond to be the center of attention and gives the sparkle it deserves.
Princess Cut Diamond Channel Band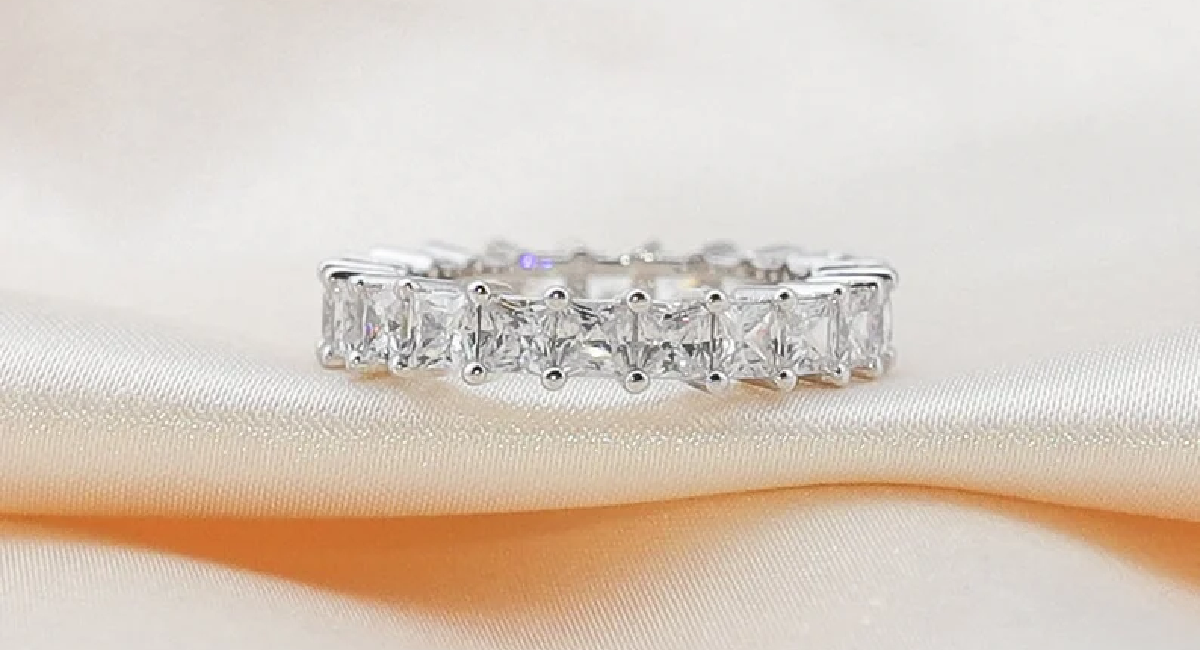 Princess Cuts can be protected by using a channel configuration. Because we know that princess-shaped diamond cuts are prone to breakage, this setting is ideal for practically everyone.
Princess Cut Diamond Halo Ring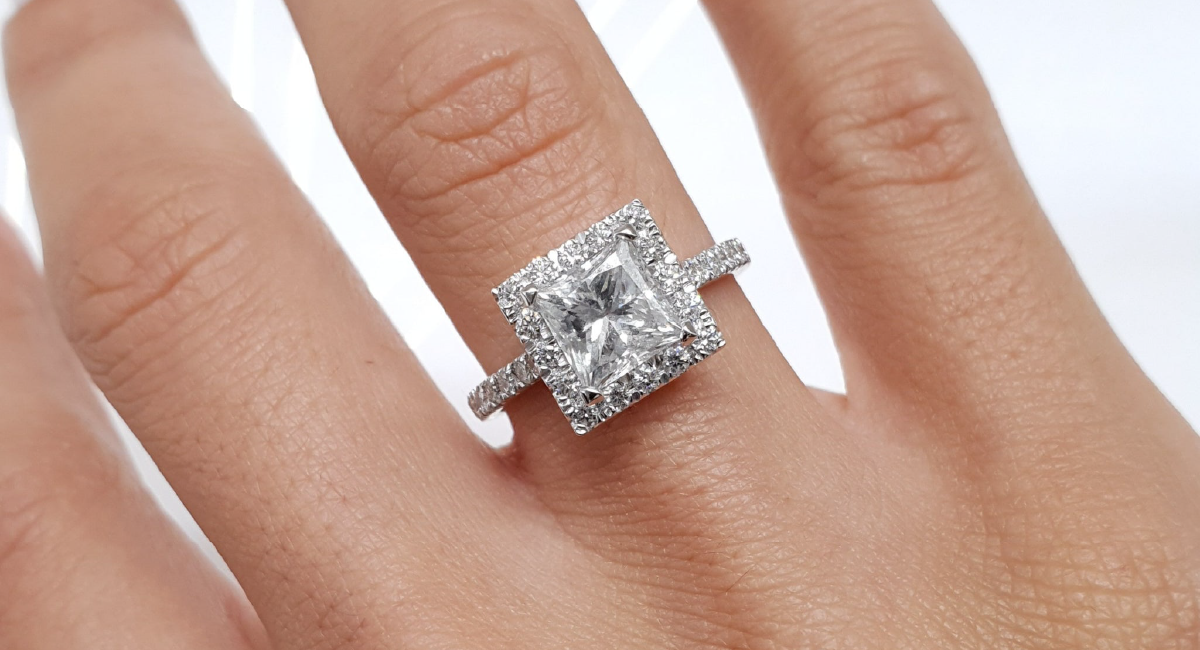 Smaller gems encircle the center stone in Halo wedding rings, making it look much bigger. Not only is a princess-cut shape big enough but the smaller gems that are arranged around the diamond not only make it look extra big but provide too much sparkle.
Princess Cut Diamond Vintage Band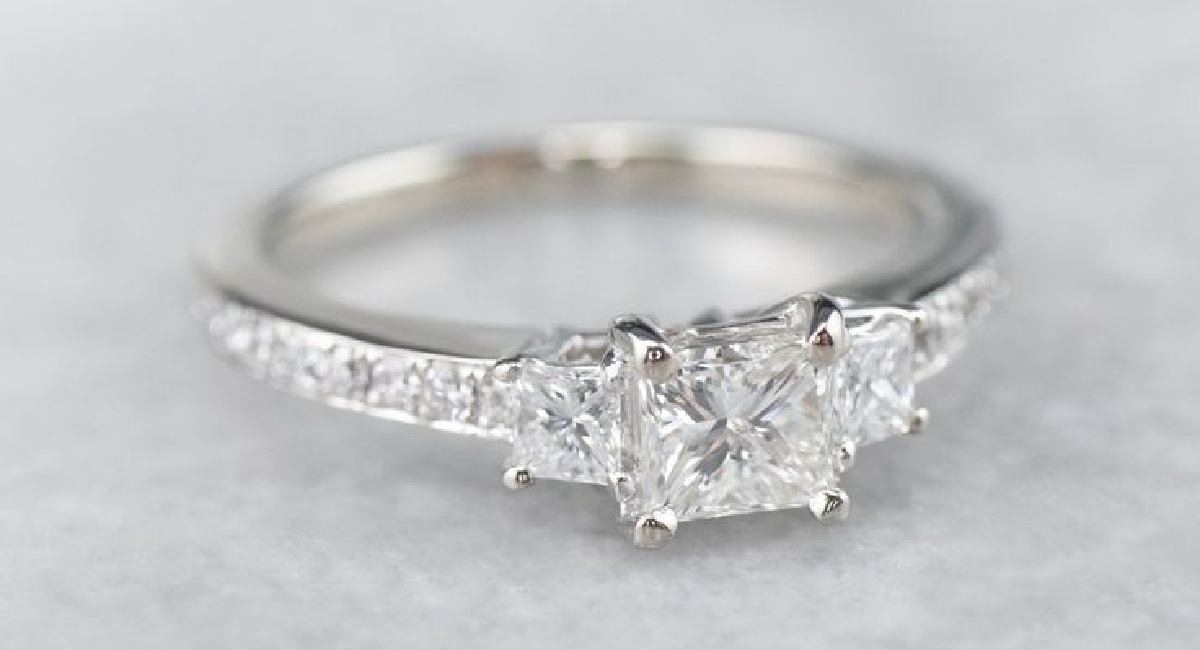 The ancient arrangement on a princess-shaped diamond is a wonderful choice for anyone looking to spice up their look. This arrangement has become very popular in the last few years and will surely be of the top favorites for the coming years.
Princess Cut Three Stone Engagement Ring
The design that defines the eternal boundaries of your past, present, and future is known as the Princess Cut Three Stone Engagement Ring. It is a Three stone setting where the central diamond is in a square or a rectangle shape, and the other two stones are attached on both sides, enhancing the beauty of the ring.
Princess Cut Bezel Setting Engagement Rings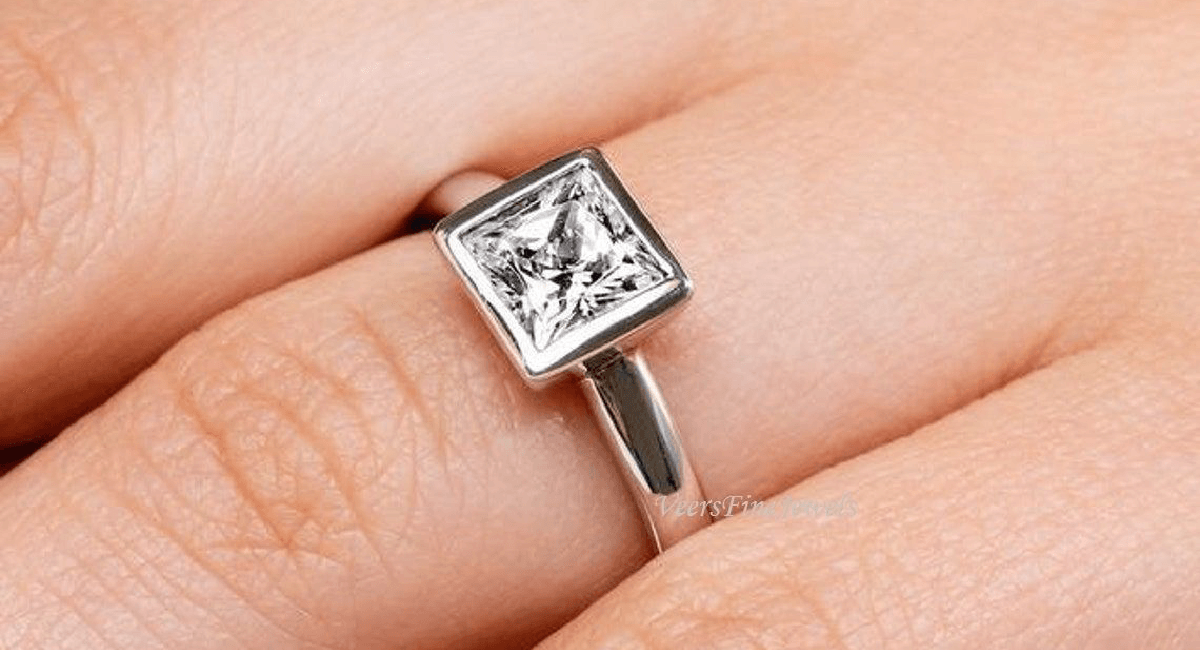 The setting where your princess-cut diamond remains the center of attraction which is held high and around by the custom-made metal rim in the center of the band is the Princess Cut Bezel Setting Engagement Ring.
Princess Cut Cluster Setting Engagement Rings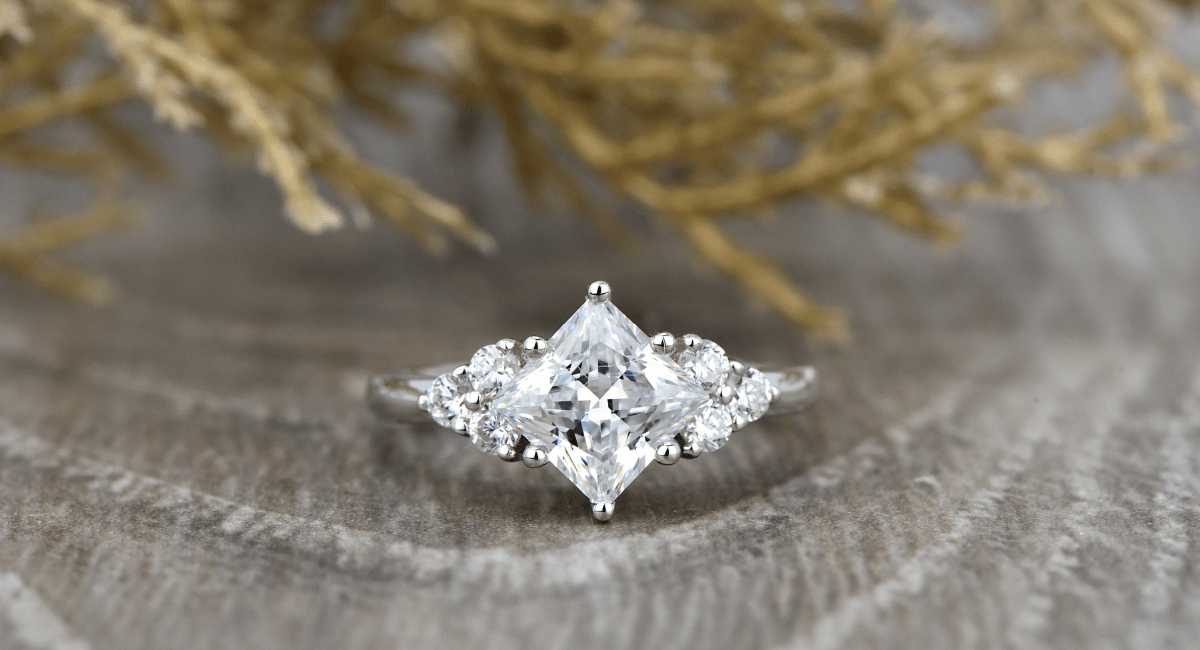 Princess Cut Cluster Setting Engagement Ring is highly defined by its name itself just where the princess-cut diamond is in the center with the many other small stones around it forming a structure of Cluster, enabling the shine to sparkle more.
Princess Cut Diamond Band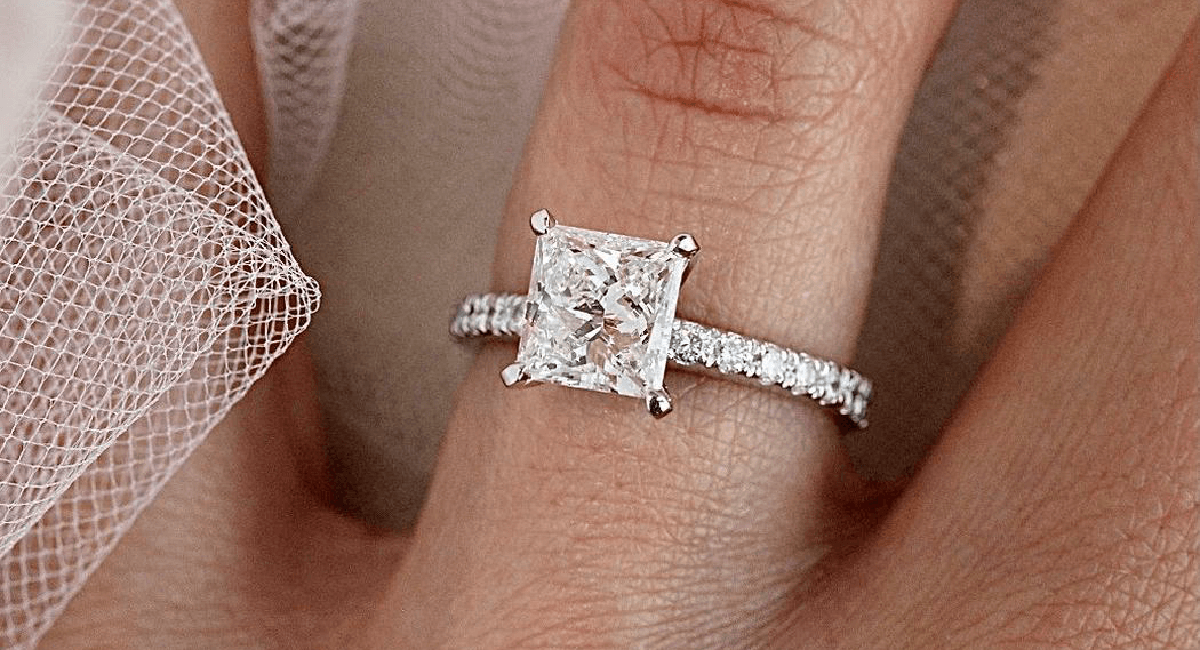 This style delivers an elegant vintage look with aesthetic charm in it as the whole band is covered with small princess-cut diamonds. It strengthens the look of the ring and this design formation is subtle yet heart pouring. A very minimalist setting that offers a lot of it.
Conclusion
The second most popular diamond shape in the market, with all the best features of shapes like round, square, and rectangular. This shape is one of the most distinctive shapes and very exquisite compared to others. Also considered one of the most brilliant cuts out there. 
Despite being commonly likened to the round form, the princess-cut has distinct faceting techniques that are not found in round-cut gems. Princess-cut gems can also have diamonds put side-by-side with really no spaces because of their more rectangular shape. As a result, princess-cut diamonds are preferred for commitment and marriage rings, particularly eternity bands, which are among the most famous band designs nowadays.