Shape Series: Know Stunning Facts About Princess Cut Diamond
Princess cut is known as the most amazing cut in diamond shapes and dimensions. One can find this cut in a square diamond that offers excellent fire and brilliance. This shape is made from an inverted pyramid from a rough shape diamond.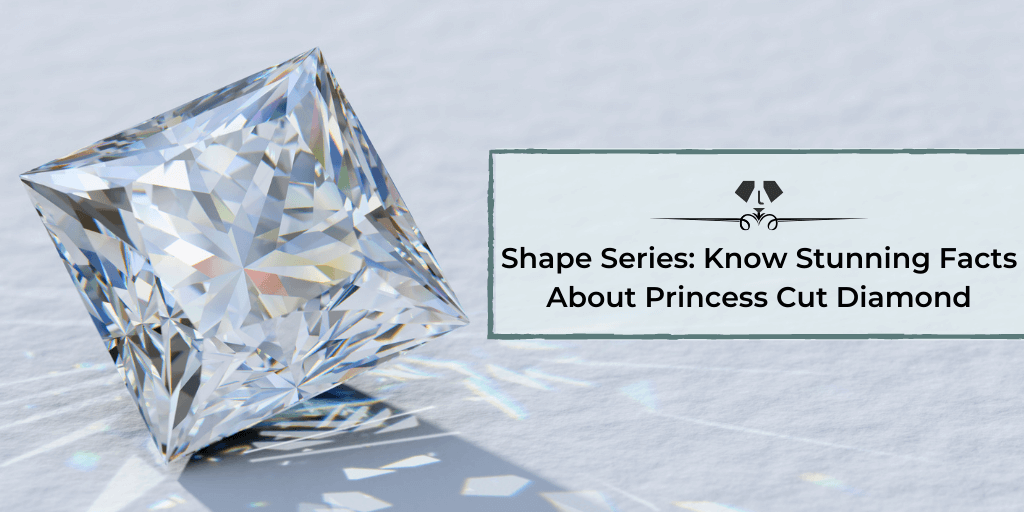 Princess cut exporters are providing a better service in the market. Competition is very high and princess cut traders are asking for more and more princess cut diamonds from princess cut suppliers. 
Modern cut with more Popularity
As per the internet, this princess cut was first introduced by A. Nagy of London in 1960. This cut is round-up to the Round Brilliant in the current market. This cut has 23% of searches on the site that is why it is so popular. 
Diamond Manufacturer Dream
There are so many diamond manufacturers who want to cut a pyramid into two just to make a princess cut diamonds. It is a process where a princess cut manufacturer converts rough diamonds into a princess cut diamond with smooth edges. 
Now imagine just how much diamond material you would lose if you were to cut a Round Brilliant out of that piece of rough. The difference is quite stark.
Why Princess Cut is cheap
A Round Brilliant has a yield usually around 40% whereas a Princess cut yield in 80-90% range. This is one of the reasons why princess cut diamonds are cheaper than other diamonds in the queue. 
Another reason you can add is its shape and cuts. A princess-cut is made from a rough surface diamond. 
Clarity Grades
Every time you select a clarity grade for princess cut diamonds they will be skewed to the high end. You are never going to get a large selection of SI2 and I1. 
Talking about the fact, one of our former employees was supplying the majority of the princess cut diamonds to the princess cut wholesaler. Most of the time he sticks in maintaining the princess cut diamonds' SI2 and I1.
Eye-Cleanliness is Paramount
A normal human being cannot see any defect in diamonds with his bare eyes. If we talk about our own opinion, then you might feel odd but we feel that consumers should go for the cheaper diamond. 
A diamond with an internal defect and you can say diamonds that do not have any defect by looking from human eyes would be great and cheaper for you to buy. A normal human cannot make a difference between a perfect diamond and a defective diamond with bare eyes. 
Also  Read: Shape Series : Make Cushion Cut Diamond Precious With Your Beloved
Best Diamond for a Princess Cut Engagement Ring
We have discussed that what is a princess cut and princess cut suppliers are creating these rings at a very cheap rate. Now, this is the time to tell you about the different sizes and carats.  
You can follow the picture below for weight and carat reference. 
Color
Color is also one of the main aspects of a diamond when you are planning to purchase one. As both Princess cut diamond and Round Brilliant both are having smooth cuts and amazing quality.
In any case, since the light profit for the Round Brilliant is predominant, it is additionally better at staying quiet about the genuine nature of your jewel. Along these lines, I suggest when purchasing a Princess Cut precious stone that you either pick an H or I Color jewel for the best worth.
Things to Consider
If you think H is not more for you, then you can go with a diamond that has a value higher than H. If you listen to our recommendation then you should not spend your more money for just more whiteness in a diamond.
There are a lot of factors when choosing a color. But one thing keeps in mind that the color of the center stone in your engagement ring should be matching the color accent of diamonds. 
If you are choosing a rose gold or yellow gold then you should not go with the J color in princess cut diamond engagement ring.
Clarity
When it comes to clarity, princess cut and round brilliant both are similar. There is no such difference between both of them. But, keep one thing in your mind that the princess cut diamond is having an issue with durability. So, choose accordingly. 
Since Princess Cuts have four sharp corners, they are inclined to chipping. In the event that consideration is in one of the four corners of the precious stone, that will extraordinarily expand the odds of the jewel chipping. 
If you're purchasing a jewel previously set in a ring, this is less of an issue except if you imagine that you should have the stone reset in another ring later on. The princess cut wholesaler is going to tell you these points that there are no such big differences between SI1 and I1s. 
Recommended Clarity for Princess Cuts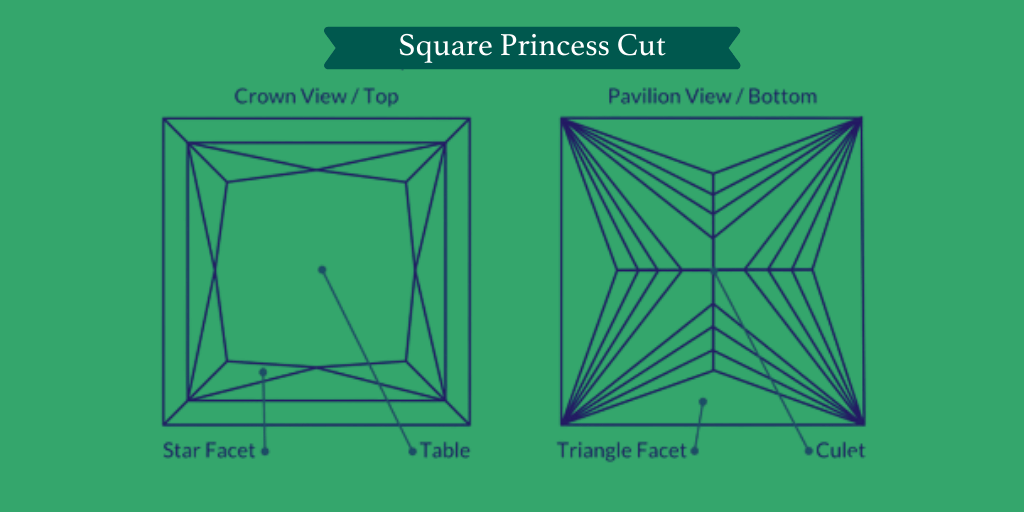 In Round Brilliant cuts we would like to recommend you SI2s or even I1s. These two varieties are clean to bare eyes. When it comes to princess cut it is a bit harder. 
Coming to princes cut, you can go with VS2 and SI1 clarity diamonds. SI2 and I1 are very few in the market because there is a high demand for these diamonds in the market. 
VS1, VVS2, VVS1, and IF/FL are best. But as we said to you before it is not a good decision to spend more and more on the white color of diamonds. Because all look the same with a normal human eye.
Cut Quality
Yes, it is true that the best engagement ring is the one that has very good cuts. 
There is a valid justification for this, obviously. As I referenced before, the entire beginning of this slice sprang from a craving to limit jewel misfortune on the cleaning wheel. Instead of premium cut Round Diamonds, Princess Cuts are sliced to fit the state of the harsh, and not the converse.
Diamond Rough
Yes, we all know that in the starting phase a diamond is always a rough piece of stone. But even after cutting it down and giving a proper shape to diamond, you are experiencing the same roughness on the surface then the stone has some defect in the quality.
Jewel cutters would prefer not to be compelled to hold fast to one explicit norm of Princess Cut precious stones exactly along these lines. They need the adaptability to have the option to adjust their cleaned precious stone to the harsh jewel. To know more shapes of diamonds you can consider our shape series.
Best Setting for Princess Cut Diamond Ring
Channel and four-prong are the best settings for a princess cut diamond. One of the most important things in a princess cut diamond is its edges because these are thin areas that are going to hold the ring inside its frame. If these edges are damaged and chipped then one cannot make such quality diamond engagement rings. 
Solitaire
Classic solitaire is the perfect example of this ring. This setting helps the princess cut diamonds to gain more and more light when it is placed in the center stage. 
Channel Set
If you want to secure your diamonds more then ask the princess cut manufacturer to use channel settings. The gold channel setting is a good choice. 
Halo
This ring features smaller diamonds that have a center stone. 
Frequently Asked Questions about Princess Cut Diamonds Engagement Ring
Do Princess Cut diamonds sparkle?
These diamond engagement rings are having high-level brilliance. These things make these diamonds more sparkly and let light pass through them so that they can reflect more and more light.
Also Read: Real Man-made diamonds vs Cubic Zirconia (CZ)
Are Princess Cut diamonds more expensive?
These diamond rings are cheaper than Round Brilliant diamond rings. This comes second in the list of most popular diamond cuts. Princess cut diamonds ring is affordable and one can easily buy this as for their engagement ring. 
Do Princess Cut diamonds look bigger?
Princess cut diamonds are having different dimensions and shapes. So, it looks a bit smaller when it is compared to the stone that has some weight and carat. 
How much is a 1 carat Princess Cut diamond?
There are different prices for different classes. If you would go with a 1-carat princess cut diamond with I color, VS2 clarity, and normal cuts then it will cost you around $3,500.