Diamond Carat Comparison: A Visual Guide To Different Carats
Purchasing the perfect engagement ring can be a daunting process with customers often feeling conflicted regarding which aspect of the diamond they should concentrate on more and accordingly direct their investments. 
Since a ring is an essential commitment to someone and one's own fiancé/significant other/special someone, searching for the most suitable ring is rudimentary. 
Hence, the diamond shoppers and enthusiasts must pour in a good amount of thoughtful consideration into the process and have a clear idea of where their personal preferences lie. 

Many factors must be kept in mind when heading out to discover a beautiful and suitable diamond engagement ring.
Such factors include budget, preferences regarding style, and the most important factor of all: the 4Cs of grading diamonds which are cut, clarity, color, and carat weight. 
One of the Cs that will be discussed in length in this article will be the carat weight since it is an important factor that tends to cause the most confusion for some of the customers. 
Definition of a Carat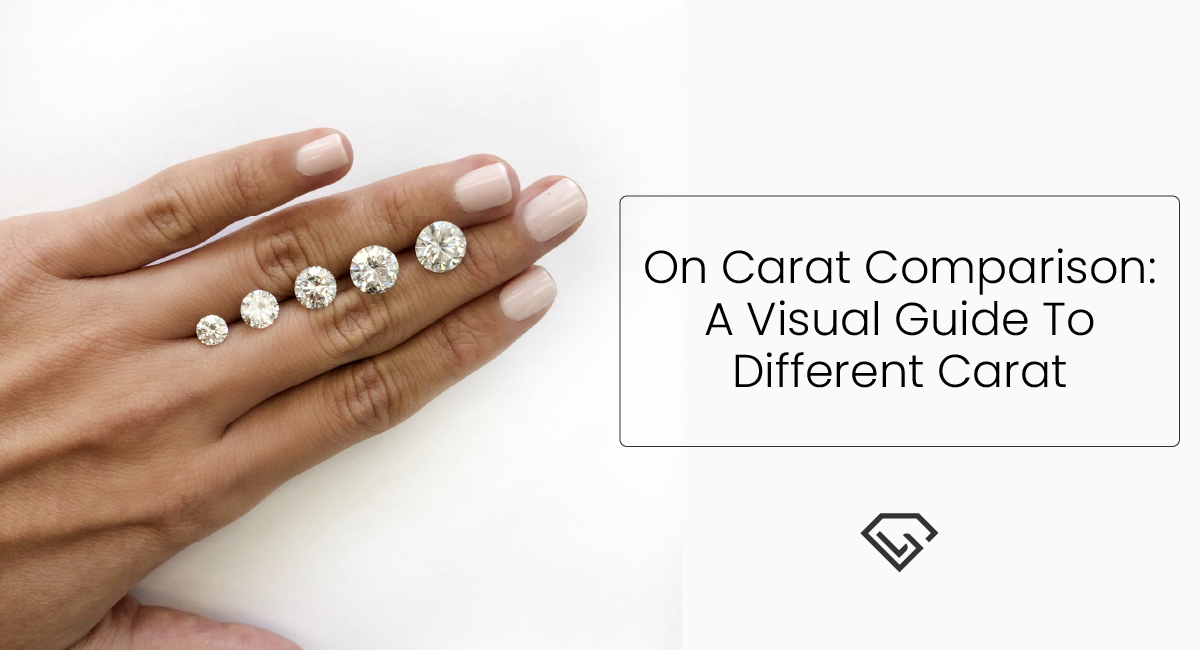 The standard unit of weighing a diamond is termed carat which was introduced in 1907. It is important to understand that the visual representation of the diamond is not its carat but the carat is the weight that is determined by many different factors like its cut, density, formulation, etc.
It's also linked to dimension, but carat mass isn't the same thing: 2 stones of the same form and diamond weight might seem drastically deviating significantly on the cut.
The Importance of Carats in Diamonds
The carat determines and influences the price of the diamond. Carat is important because it gives more space to work onto and hence affects the price. While the carat of the diamond is very subjective, some people might prioritize it over other factors such as color, clarity, brilliance, etc.
Carat also doesn't justify the weight or the appearance the diamond might have. Many people assume that a heavily weighted carat diamond might appear bigger and better. It isn't true in most cases. The appearance depends on many factors of the diamond for saying the cut and arrangement. 
Typically a diamond is weighed using a simple technique called the carat point system and most likely not heard by the general public. The weight of the diamond is referred to as having y-numbers of point or y point. For example, if a diamond is 90 pointer, it is just another way to refer to a .90 carat diamond. 
Carat Weight
Often confused with visual size, carat weight is more of a scale of measurement used to determine the actual physical weight exclusively of gems and diamonds. It is a unique unit that is only applicable to precious stones. 
How each carat weight appears on the outside will vary on multiple factors such as the shape and type of precious stone as can be observed through the example of a 1.00 ct round diamond which will measure up to 6.5mm whereas a round sapphire of the same carat weight will measure around 6.5mm. 
This difference in size even though the carat weight is the same is due to the varying density of the gemstones.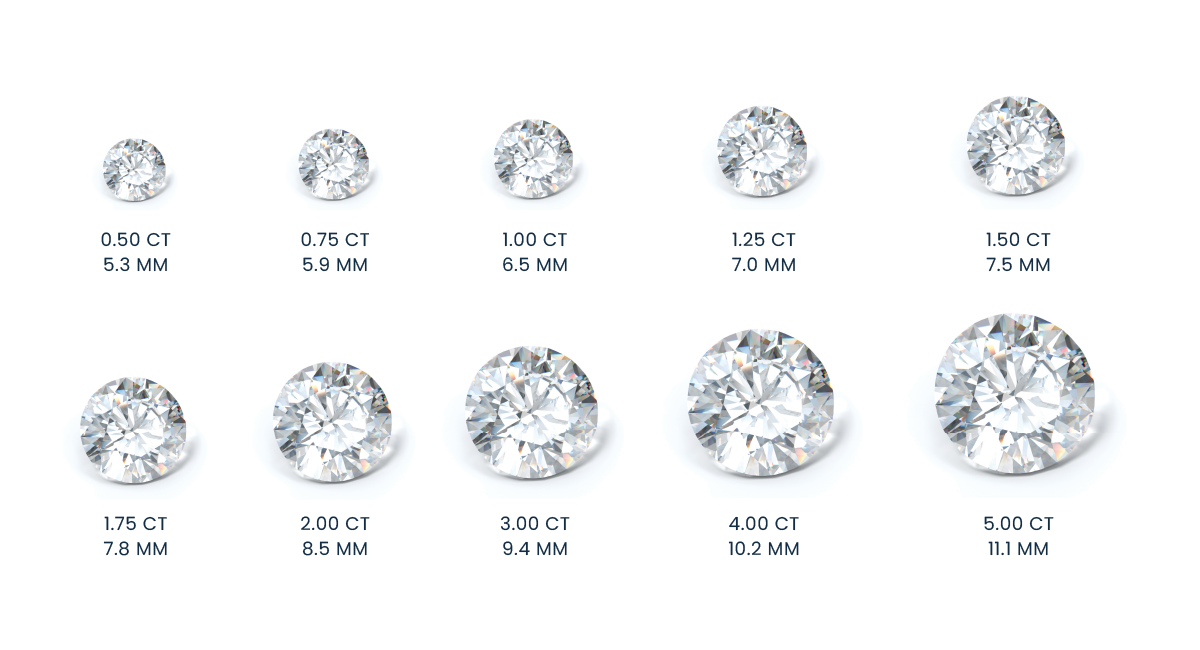 Another extension of the carat weight is the total carat weight (t.c.w) which is a unit used to represent the total weight of all the precious gemstones that are embedded in a piece of jewelry in cases wherein more than one gemstone has been used. Earring of the diamond solitaire kind generally uses this form of measurement which indicates the total weight of all the diamonds in both earrings.
Hence, although carat weight is an important aspect of every diamond's identity, it must never be confused with the diamond's visual size because a diamond of heavier carat weight does not translate to it having a bigger size. The other physical dimensions of a diamond such as the size are actually dependent on how the stone has been proportioned. 
How does the Carat Weight Impact Budget?
Customers with a fixed budget who cannot afford many variations generally have to sacrifice on an aspect of the diamond if they wish to improve on another.
Amongst the 4Cs of the diamond, many people feel that carat weight matters more than the cut of a diamond. And they keep concentrating on getting their hands onto the biggest looking diamond that falls within their budget. However, most jewelers hold the opinion that the cut of a diamond should never be sacrificed for its size or carat weight. 
A good strategy for the customers confined by a budget is to follow the method of 'buying shy', which basically includes the purchase diamond that is close to a set of carat weights that appear the same when viewed physically and the customer also has the luxury to remain within the lower price bracket and avoid any extra premium. 
It is observed that prices generally jump at every tenth decimal mark such as 0.40, 0.50, 0.60, etc, and a lot more significantly at the quarter marks such as 0.50, 0.75, 1.00, etc. Hence these are the sets of carat weights that customers with a tight budget should wander around to get the best buy at the lowest cost. 
To help readers with this concept, customers can consider the case wherein a 0.90 ct diamond will have measurements of 6.20 mm x 6.20mm while a well-cut 1.00 ct stone will measure up at 6.50mm x 6.50mm. The customer can save up to 30% in price if they decide to select the former option because both the stones of the above-mentioned carat sizes are hardly distinguishable unless compared nearby.
However, for customers who have their mindset on larger carat weight diamonds can always compromise a little on the clarity and color since grades of clarity that fall in the range of SI1-SI2 and grades of color in the range of G to I will not make much of a difference since these respective grades closely resemble a clear and colorless diamond. 
Comparing Different Diamond Carat Sizes:
There is no fixed explanation or answer to the question of which diamond carat size is the best since this is a heavily varying factor for different people depending on their personal preferences. Carat weights that are considered too big or small by one may be the ideal size for another. 
However, as an observer, it can be safely said that there is a particular carat size that is suitable for fingers of different sizes. 
Since most finger sizes usually lie between US 4 and US 7, it is advised by jewelers to select a diamond falling in the range of 0.5 ct – 1.5 ct as they would complement these finger sizes the best.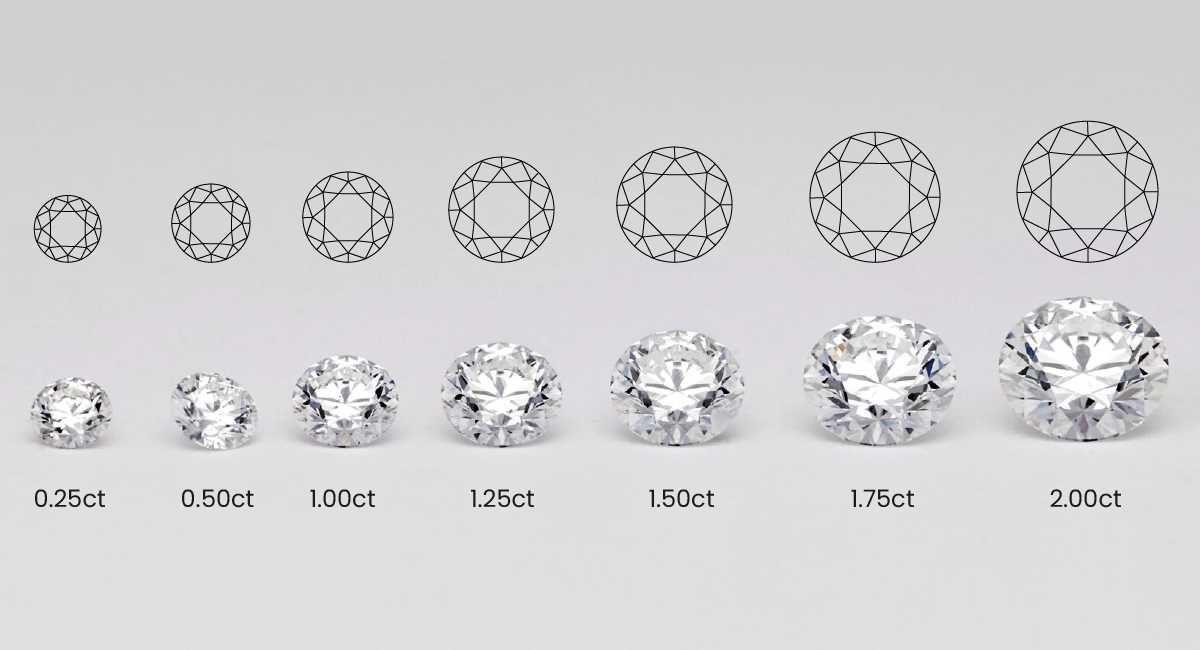 Generally, diamonds of carat weight below 0.30 ct look small when compared to finger sizes, however, a halo setting is enough to amplify the size and add some additional brilliance to the engagement ring. 
Customers who are attracted towards larger carat weighted diamonds such as a diamond of 1.5 ct can make use of the solitaire setting for the ring since this setting will prevent an overbearing appearance that could be expressed by the large diamond of the ring on a finger. 
Such guidelines must only be taken as a source of inspiration and customers must at the end of the day rely on their personal preferences if they wish to be content with their purchase. 
Comparing Diamond Carat Sizes in Popular Diamond Shapes
To get the best idea about a diamond's carat weight and size, customers must compare the point of difference and similarities regarding these aspects in different shapes of diamonds.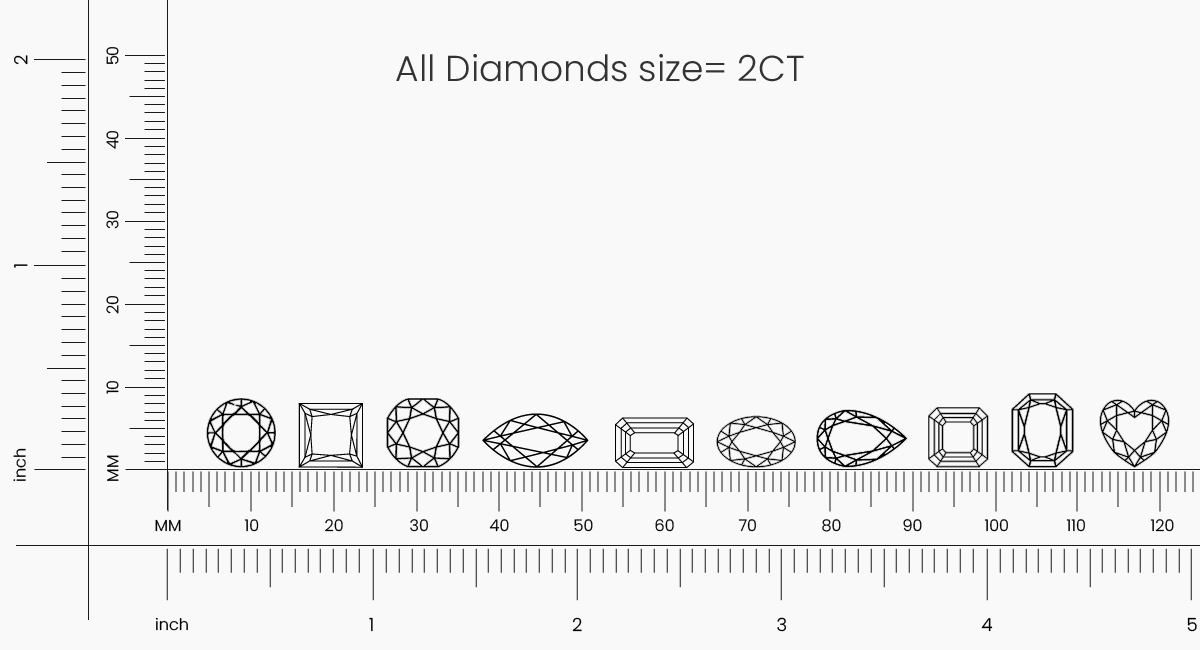 Cushion-Cut Diamond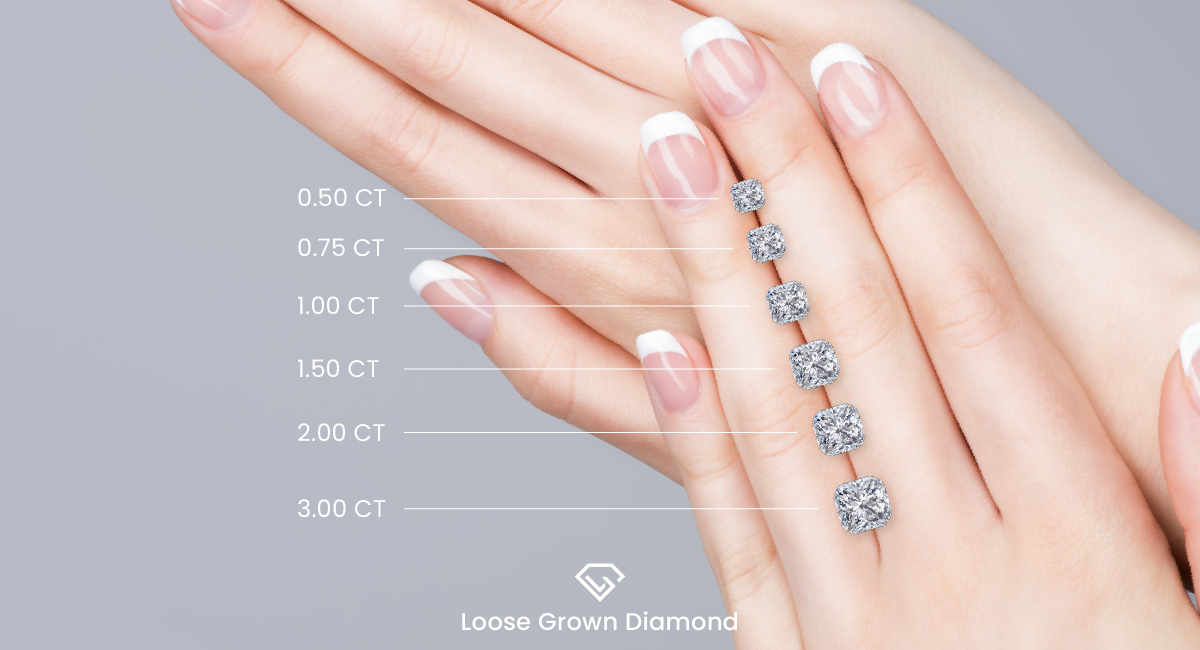 Showing similarities with the round brilliant cut, cushion diamonds are a beautiful choice for customers who wish to add a wide sparkle to their fingers. The lightly squared edges, however, tend to increase the carat weight of the diamond resulting in the nexus diamond appearing bigger.
One advantage of this shape is that it can make a smaller center stone look more substantial and beautiful than a round brilliant cut stone of the same size. Bands of either width of thin or thick will complement this shape well. 
Emerald-Cut Diamond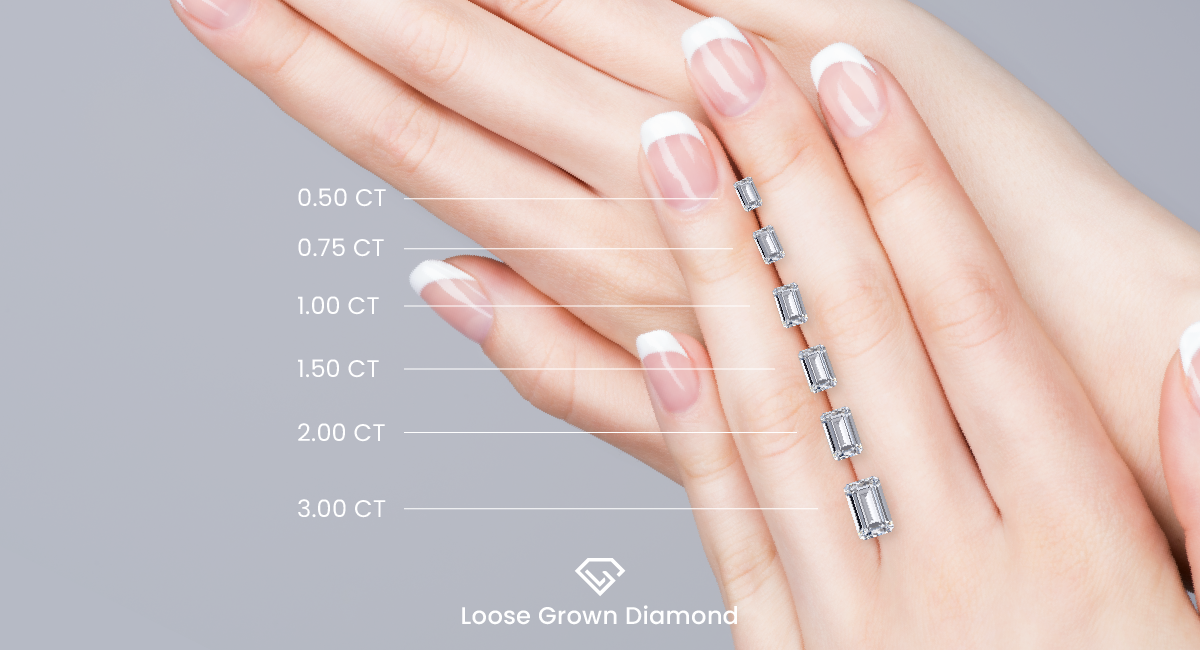 A vintage-style cut, the emerald-shaped diamonds are appealing to many women across the world, including the celebrities of Hollywood like Jennifer Lopez, Jennifer Lawrence, Beyonce, Amal Clooney, etc. who have been seen sporting this design on their fingers. 
An emerald cut is one of the shapes that appears true to its carat weight. It has been noticed to complement bands of wider measurements along with the split shand bands or baguette diamond accents. 
The rectangular shape of the diamond produces an elongating effect on the fingers and can also make a smaller stone appear larger with a slim band. Along with being a popular choice for vintage-inspired engagement rings, it also bodes well with colored gemstones like sapphires, morganite, and the most obvious one, an emerald! 
The emerald cut sets itself apart from its fancy cut counterparts like the radiant diamonds, by presenting observers with a distinguished kind of beauty and impeccable clarity while providing engagement rings with a peculiar look. 
Round Cut Diamond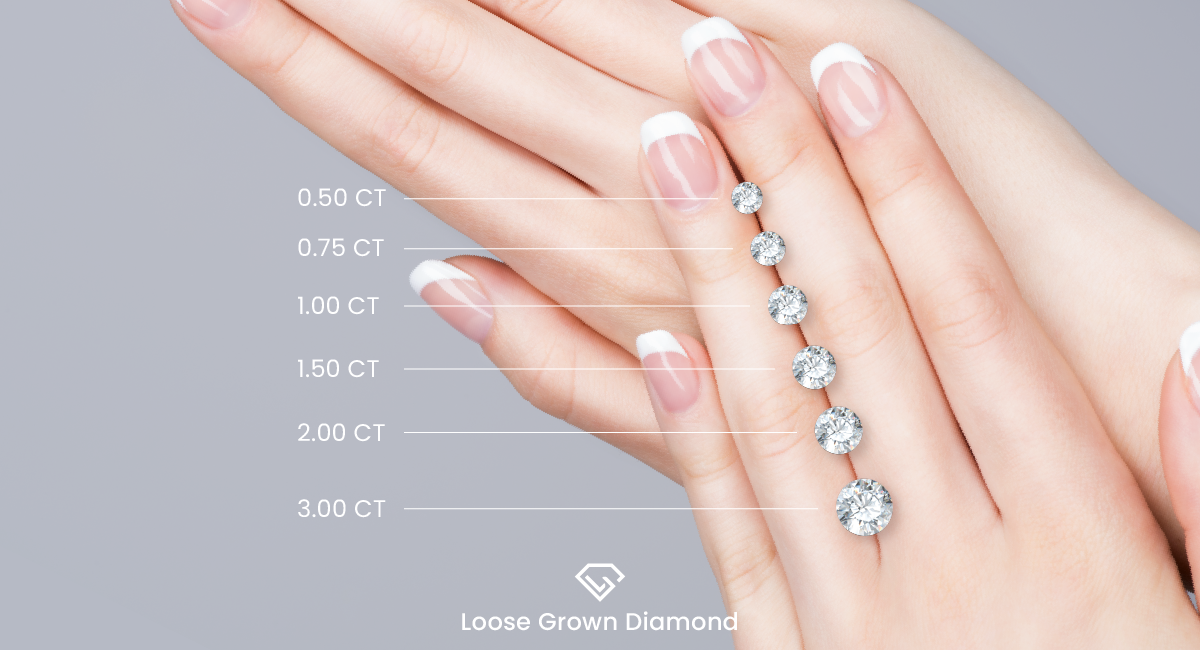 One of the most classic and famous shapes, the round shaped diamond is made to be placed on excellent and stunning engagement rings because of the sparkle and fire they exude. Solitaire engagement rings often use round shaped diamonds as the centerpiece because of the glittering brilliance that these diamonds offer. 
However, these diamonds come under the category of expensive diamonds since a large amount of rough stone needs to be cut away to make this shape. Although customers who want this particular shaped diamond can save some money by opting for a smaller diamond that is combined with a halo of accent diamonds or a pave diamond band since these combinations will give the illusion of the round diamond being bigger. 
Oval-Cut Diamond
Engagement rings of the oval shape are a highly popular choice for people since it appears to be inspired by the best qualities of a round brilliant cut diamond which is its sparkle and the elongated effect that other fancy shaped diamonds provide. While selecting suitable oval diamond customers must focus on the stone's length to width ratio along with the carat size. 
Shopping Advice and Money Saving Tips before you buy a Diamond:
Select a Halo Configuration: Did you know that halo wedding rings give the appearance of a bigger center rock? Choose a band with a single or double halo set with a relatively shorter center diamond to get more sparkle for your dollar.
Select a Gemstone Created in a Laboratory: Lab-created diamonds are 40% cheaper than mined ones. While earth-mined gems have long been the preferred gemstone for wedding rings, lab-made diamonds have gained considerable attention and desire.
Remove the colorless parts: Would you like to acquire a colorless stone but don't have a lot of money? Try a relatively close stone in the H to J range instead, which will save you a lot of money! When viewing a gem with your unaided eye, you won't notice much of a change in color until you compare two separate colored diamonds beside each other.
Reduce your size: One can save hundreds or even thousands of bucks by choosing a stone that is somewhat less than your intended weighting factor. Furthermore, there is no discernible visual change. If you want a 2.0ct stone, for instance, a 1.91ct gemstone with identical specifications will probably cost cheaper.
Wrapping Up
Carat weight is an important aspect that needs to be kept in mind by diamond shoppers in the sense that they must not spend inadequately on this attribute and miss out on the other more fundamental and influential dimensions that give diamonds their peculiar brilliance and fire. 
Every customer can confine to their budget even if they want a larger diamond if they follow the strategies of choosing the perfect setting and other elements of a ring that can help in making the diamond appear larger.