How to tell if a diamond was created in a lab?
The diamond industry is striving with the flourishing supply of all types of diamonds. This includes man made diamonds natural diamonds, diamond hybrids, and even clarity enhanced diamonds.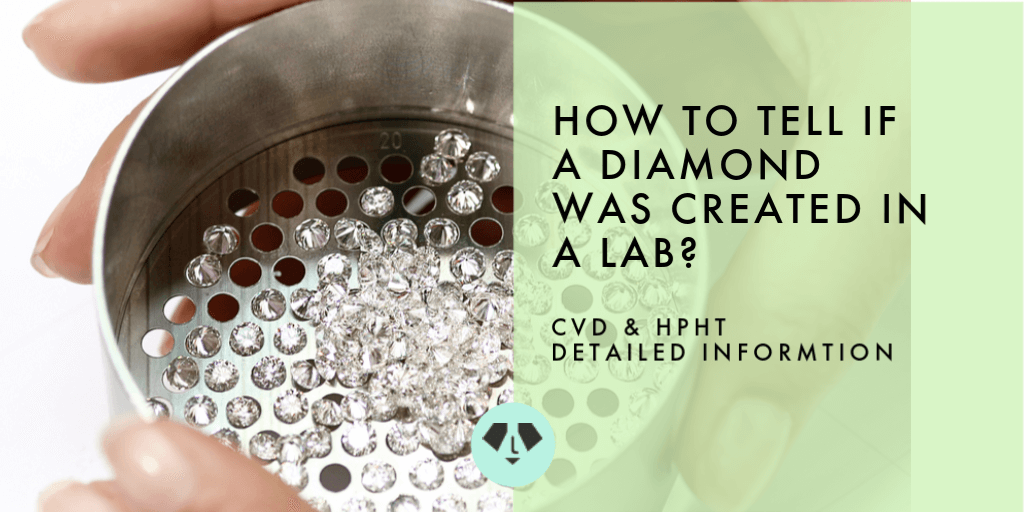 As lab grown loose diamonds are produced by two methods, CVD diamonds & HPHT synthetic diamond making methods. It has led to a sufficient supply of man made diamonds among the market. However, this has also increased the level of difficulty for retailers and customers to differentiate between lab grown loose diamonds and natural diamonds. It is easy to determine which is a diamond stimulant, or an enhanced diamond or even a diamond hybrid, but distinguishing between lab grown loose diamonds and natural diamonds is a hard task.
As many consumers have become conscious and aware, they prefer to purchase man made diamonds because of the esteemed benefits; Eco-friendly, cheaper than natural diamonds, doesn't fun conflicts. This results in concern among jewelers and consumers to identify man made diamonds, and whether lab grown fancy diamonds can be identified by expert gemologists or gemological labs.
Let us see a few parameters and characterizes which will help in distinguishing a lab created loose diamond from a natural diamond.
Visual properties of man made diamonds
Diamonds have the same physical, chemical, and optical properties as natural diamonds. However there are some characteristics of CVD diamond & HPHT synthetic diamond that trained gemologists with special types of equipment, can distinguish.
CVD diamond
Abnormal fluorescence colors
Fluorescence color patterns detected
Even distribution of colors
Graining patterns not detected
Banded strain patterns detected
Intermittent dark pinpoint-size inclusions
Inscribed on the griddle by a diamond grading institution
The diamonds created by the CVD diamond making method show a red-orange fluorescence under U.V light. These CVD diamonds have intermittent black pinpoint-size inclusions and contain some particles of non-carbon in them. All CVD diamonds can be determined by looking under a UV light irrespective of what treatment it might have gone through.
Also Read: CVD Diamonds: All That You Need to Know
HPHT synthetic diamond
Irregular color distribution within the diamond
Abnormal fluorescence colors
Graining patterns detected
No strain patterns detected
Intermittent phosphorescence
Metallic flux inclusions detected
Inscribed on the griddle by a diamond grading institution
The HPHT synthetic diamonds can be distinguished from natural diamonds, by the metallic flux inclusions they possess. HPHT synthetic diamonds can be white diamonds or even colored diamonds. Their carat size varies between 0.5-10 carats.
Also Read: Why CVD Diamond Pass Tester and HPHT Can't?
Declaration
'Inscribed on the griddle by a diamond grading institution' means that a reputed diamond grading institution/organization has graded the man made diamond. As proof of grading an inscription on the griddle of the diamond is done. Many man made diamond producers and sellers do business with honesty and prefer transparency.
Institutions/Organizations which grade diamonds
The International Institute of Diamond Grading and Research (IIDGR)
The International Gemological Institute (IGI)
Gemological Institute of America (GIA)
Categories of diamonds
Man made diamonds can be categorized into different types, depending on the clarity and the type of impurity it consists of the carbon lattice. Powerful equipment such as an infrared spectrometer (used to determine functional groups in molecules).
The 4 types of classification based on impurities are: 1a, 1b, 2a, 2b
Type 1a: In this type of white diamond, there are nitrogen clusters within the diamond crystal lattice. Type 1a diamonds are pale yellow and 95% of the diamonds which are mined worldwide are of this type.
Type 1b: In this type of loose diamond, single nitrogen atoms are present throughout the carbon lattice of a diamond. All lab created loose diamond which is yellow are of this type, while 0.1% of mined diamonds are this type.
Type 2a: This type is the purest form of fancy diamond that can be found, (Type IIa)consists of no or marginal impurities in its crystal lattice. All lab grown white diamonds or colorless diamonds are of this type, while 1%-2% mined diamonds are of this type (white to pink).
Type 2b: A type 2b (type IIb) loose diamond has the presence of boron impurities in it. All lab grown blue fancy diamonds is of this type, while in the case of mined blue diamond only 0.1% are of this type.
These categories help in determining a man made diamond, but not all man made diamonds possess these qualities. Here is the answer to some of your queries.
Does the size of a diamond affect the identification process?
Larger the loose diamond it will be easier to examine, smaller the loose diamond it will be difficult to examine the fancy diamond.
How to distinguish between man made diamonds from natural diamonds?
Created under different conditions: Man made diamonds are created by the process of CVD diamond & HPHT synthetic diamond making method. While natural diamonds are mined from underneath the earth's crust. Due to different growth patterns, with the help of special tools, they can be told apart.
Presence of inscription: Man made fancy diamonds will have an inscription on the griddle, made by a diamond grading intuition.
Whether it is Type 2a or not: Type 2a or IIa is the rarest form of diamonds as they have barely any inclusions or impurities. Only 2% of mined diamonds are of this type. Due to advanced technology man made diamonds can be attained of this type, making it easier to differentiate between the two.
Different surface fluorescence: With the use of special tools fluorescence can be determined of a fancy diamond. Man made diamonds give out an orange fluorescence, while natural diamonds will give out a blue fluorescence.
What method is used to differentiate between a man made diamond and natural diamond?
There are several advanced and technological methods used to distinguish between lab grown fancy diamonds and natural diamonds, one such method is Photoluminescence Spectroscopy and UV Radiation.
What are Photoluminescence Spectroscopy and UV Radiation?
These processes are used by grading institutions and diamond labs to test man made diamonds and natural diamonds. Machines called 'DiamondCheck', 'DiamondView', and 'DiamondSure' are being used by GIA and DeBeers to check and test diamonds.
These machines test loose diamonds by putting them through radiation and studying the results; different results for different diamonds. As diamonds have different characteristics the analyzed reports help to determine what type of diamond is it.
In the spectroscopic analysis, some characteristics of the diamond show up as peaks and troughs at certain wavelengths. For a CVD diamond, a DiamondView machine is good enough to analyze it, as it helps experts see microscopic growth lines within the diamond.
Also Read: INSPIRATION: Vintage Inspired Engagement Rings
Should consumers be worried?
Should you be worried about the identification process? Well, there is a mixed response for that, yes and no. Yes, because given how people are keen on getting their profits, they might sell you a diamond worth something much less than what you're paying. Be sure to ask for a proper certificate of your man made diamond, which is certified by an authentic diamond grading institution (GIA, IGI, IIDGR).
No, because most diamond producers are making sure their man made diamonds are graded and inscribed. This makes it easier for buyers to buy lab grown fancy diamonds without having to be worried about what they are buying.