What Are Type IIA Diamonds: Should You Buy Them?
They say that diamonds are just chunks of coal that did well under pressure. This nearly miraculous process previously possible only under the crust of the earth for a hundred million years has been shortened to a mere few weeks with recent breakthroughs in the diamond industry; talking about lab-grown diamonds. 
One such grade of these stones is the Type IIA diamonds, which are generally known as the purest and most valued diamonds. These grades can now be prepared by humans, in labs, but before discussing the diamond grade in concern, the process of growing diamonds in labs and whether the same is worth purchasing or not must be addressed. 

Lab-grown diamonds are twin natural diamonds in their chemical make-up that is also pure carbon compressed to pure crystalline disposition. The only distinguishing feature of lab-grown diamonds, as made evident by their name, are made in labs in the span of a few weeks. These diamonds are chemically grown and tweaked until they are optically identical to real diamonds as finished stones.
Although the difference in growth cycles stretches overages, lab-grown diamonds hold the same undeniable sparkle and, scientifically speaking, an identical synthesized structure. 
What are Diamond Types?
Diamond types do not refer to the shape or size of the diamond, rather it is concerned with the scientific classification of diamonds based on the number and type of impurities they carry. A diamond usually consists of 99.95% of carbon and the rest of 0.05% of trace elements, for instance, nitrogen. 
It is these elements that give a diamond its unique set of color and shape. Diamonds are usually bifurcated into Type I and Type II, wherein the latter refers to rarer stones that contain little to no nitrogen impurities. Type II diamonds are further dissected into Type IIA and Type IIB, where the former is of higher quality.
What are Type IIA Diamonds?
Type IIa diamonds also called "Golconda diamonds", named after the Indian mines that famously gave the world some of its first Type IIa diamonds in the 16th and 17th centuries, exist without any impurities like nitrogen or boron, and for this reason, they are usually fully or almost colorless. 
Type IIa stones can be light pink, gray, light brown, and light yellow. Since they are mostly colorless, they do not absorb ultraviolet light but allow it to completely pass through, making them the most dazzling diamond of them all. 
They also remain the purest diamonds to be found and they have high thermal conductivity. Type IIa diamonds constitute a minute 1-2% of the total amount of diamonds mined from Earth. 
Adding value to their rarity, Type IIa diamonds are only found in the extreme depths of the Earth's mantle, around 360 km to 750 km below the crust as opposed to the range of 150 km to 230 km where other diamonds are usually mined. 
Their beauty has been mystified by our society by some of the most famous diamonds in pop culture, be it Elizabeth-Taylor's Asscher-cut diamond ring or the Koh-i-Noor. However, most lab-grown diamonds are Type IIA, as the man-made process of making diamonds has been pushed to achieve the level of purity that is so rarely provided by nature itself. 
It is for this reason that, especially for the most expensive type of diamond, a switch to lab-grown diamonds was endeavored, achieved, and even encouraged in modern times. 
The level of impurities carried by Type IIA diamonds, be it mined or lab-grown, will remain negligible even to microscopic scrutiny. It is only the atomic impurities that an infrared spectrometer can pick up, which make a difference, although only in terms of composition and not appearance. 
Why Choose Type IIA Diamonds Over the Rest?
It is now clear that Type IIA diamonds are not only different from a purely geological or scientific perspective but also because their impurities as such are invisible to the naked eye and typical magnification. 
Usually, because of their sheer sparseness, every stone of Type IIA also has a story attached to it, something that is also similarly sought after as their quality. To add to this, Type IIA diamonds are usually large, meaning more than 10 carats. 
To bring the discussion back home, the obvious superiority of Type IIA diamonds, paired with the safer composition of lab-grown diamonds and its cheap prices, will be a better purchase than any other type of diamond in the market. 
While making a purchase, it is important to focus on the grading report for the diamond by the International Gemological Institute (IGI) which will guarantee and outline the diamond's measurements, clarity, composition, etc. 
Famous Type IIA Diamonds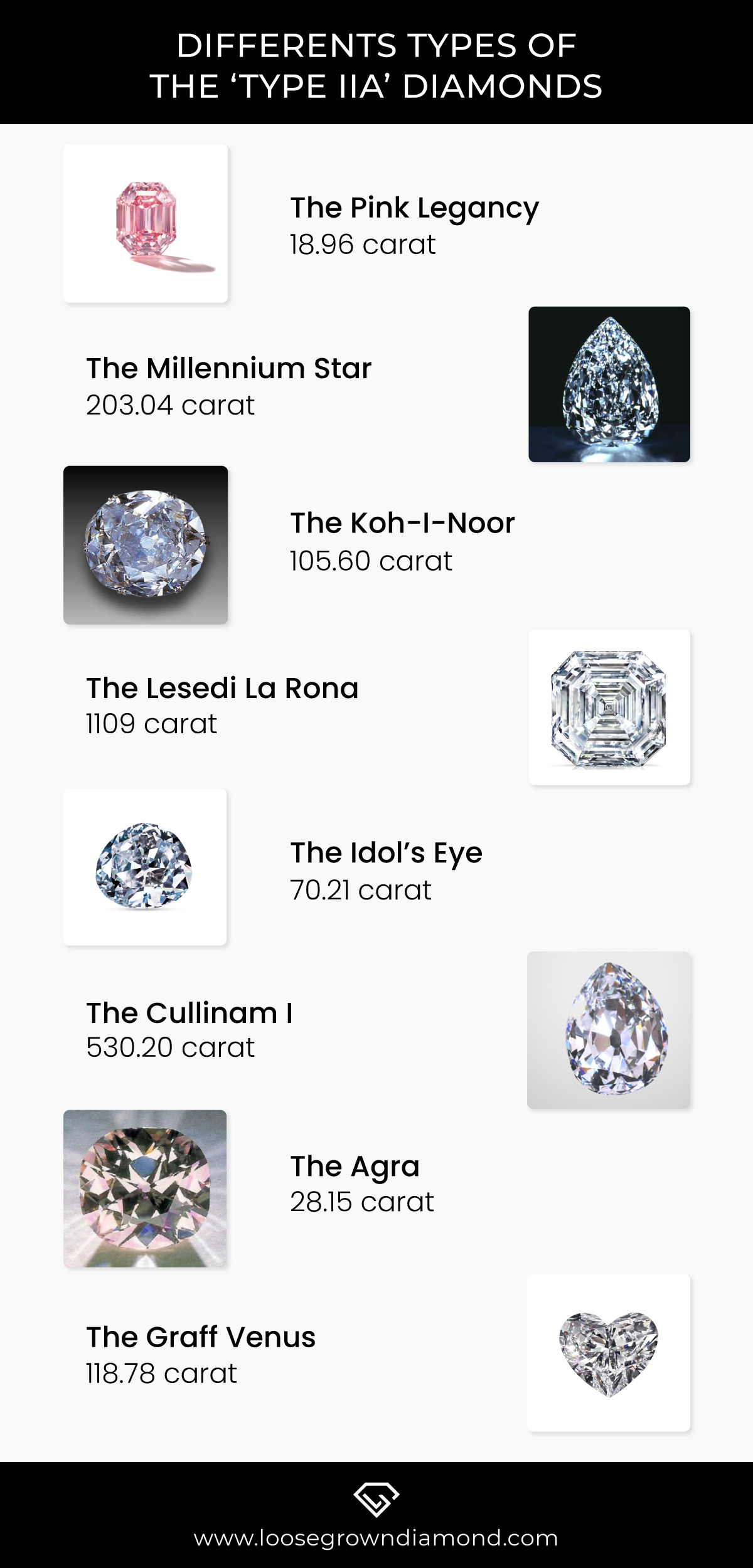 The Pink Legacy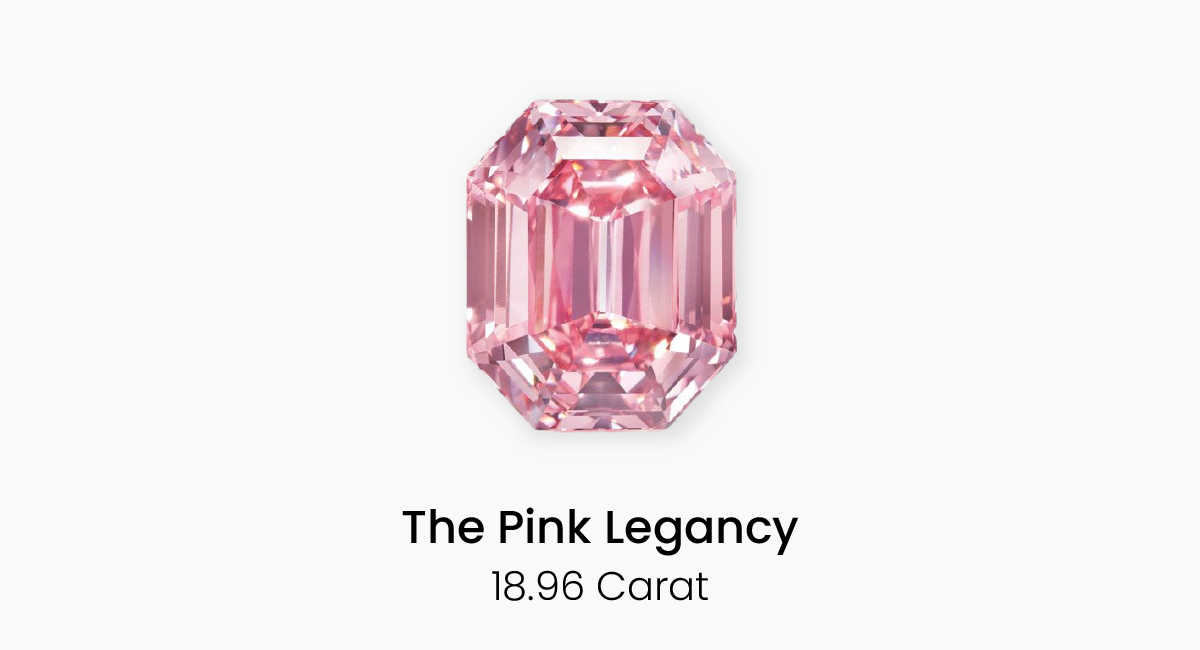 This 18.6-carat pink fancy diamond-type IIA was mined in South Africa in 1918. The mine was owned by the same family that ran De Beers. The Pink Legacy was later purchased by Harry Winston for $50 million in 2018, at Christie's auction house in Geneva.
This auction made The Pink Legacy the world record holder for the most expensive pink diamond ever auctioned ($2.6million/carat). It is a cut-cornered rectangular-cut diamond that is mounted on top of a platinum ring.
Koh-I-Noor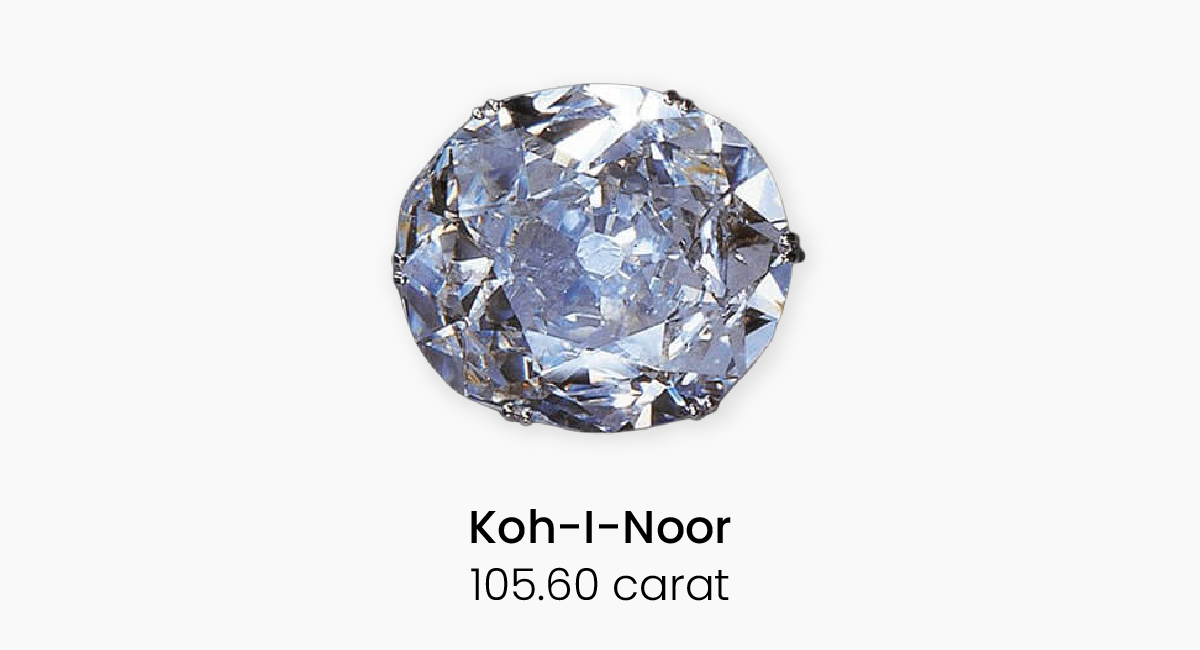 The Kohinoor is a 106 (105.6)carat diamond which is one of the largest diamonds in the world. It was mined in Kollur (India) and referred to as the 'Persian Mountain of Light'. The diamond was originally 793 carats, but over the years it lost its weight due to being cut and polished again and again over time. It had been passed on from India to Britain during their Colonial Rule. The Kohinoor is a diamond Type IIA with such purity and clarity that it can make anyone fall in love with its beauty. At present, it is located in Britain and is part of the crown jewels, held by Queen Elizabeth.
Archduke Joseph Diamond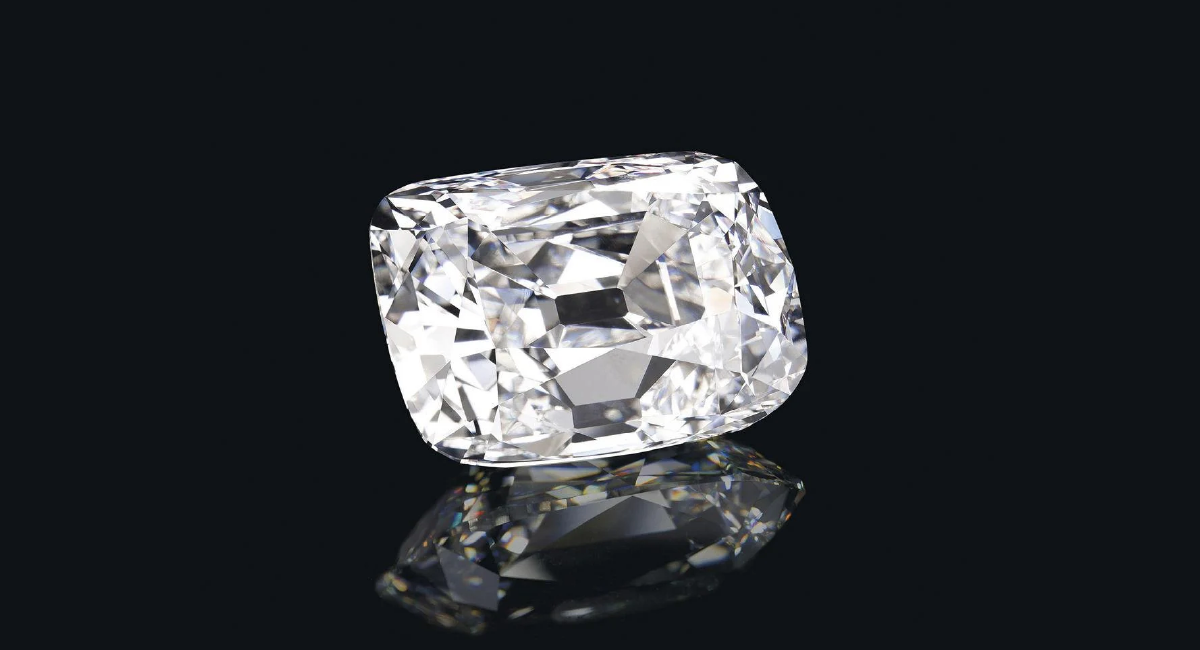 This 78.54-carat diamond got its name from its original owner, Archduke Joseph August of Austria (who died in 1916). The diamond was found in India's Golconda mines. It was claimed for the first time by Austria's Archduke Joseph August, after which he deposited it in a Hungarian bank vault in 1933.
This type of IIA diamond was purchased by Molina Jewellers in Arizona and re-cut to 76.45 carats. The re-cut and re-polish were done in order to improve the clarity and symmetry of the fancy diamond.
Similarly, there are many type IIA diamonds out there, including The Oppenheimer Blue, The Dresden Green Diamond, The Agra, Darya-I- Noor, Beau Sancyand many more. Type IIA diamonds are going extinct and are getting difficult to find. This has also contributed to a decline in the production of natural diamonds, which is why it is referred for you to switch to man-made diamonds like CVD diamonds and HPHT synthetic diamonds.
Also Read: IGI vs GIA: Comparison On The Basis Of Color Grading, Pricing, and Diamond Reports 2022
Conclusion
You will be prudent to select a diamond only when the price of the stone matches its IGI/GIA grading report. Since the DNA makeup of lab diamonds is already at par with the naturally found Type IIA, the ethical and economical decision will then be to buy the former. 
Without being created under the earth's surface, none of the impurities like nitrogen, boron, debris, and sediment can enter the chemical production of a diamond, all the while you get to reduce your carbon footprint and the environmental damage as well as labor exploitation so infamously effectuated by mining. 
Answering the question of rarity, Type IIA will still remain a fraction of the diamonds in circulation around the globe, as most of the stones we encounter in shops are Type La, with an aggregate percentage of around 98% market share. 
Hence, for green customers looking for ethical, eco-friendly, and conflict-free diamonds, with the added advantage of multiple choices, lab-grown diamonds are the way to go. After all, these are diamonds that did well under pressure too.