Should I Buy Platinum Wedding Bands?
Finding love is hard, but finding wedding bands shouldn't be! What better than a stunning white metal to be worn as a wedding ring, symbolizing the purity of love?
Over the years, platinum has taken over the market of gold in the wedding scenario. Platinum metal is ideal for setting your wedding band in due to its neutral tone and durability. Let us look over to find out why a platinum wedding band is an ideal choice.
Why Choose Platinum Wedding Bands?
A platinum wedding band is something you would undoubtedly choose if you were given multiple options, and we will tell you why. Platinum is a metal that is very durable when it comes to jewelry, especially wedding bands. The strength of platinum is such that it can withstand the wear and tear of regular usage. This strength is a result of the density of the metal. Platinum bands stay the same color and don't even turn yellow, so you might pass it on generations after you, and the vintage platinum wedding bands will stay as eternal as ever.
Platinum rings provide enough strength to hold a diamond in place, as it is not brittle. Another reason one should choose Platinum wedding bands is their hypoallergenic nature, which causes no harm to the skin and can be worn by everyone. Most of the ring is made with pure platinum with very few additions.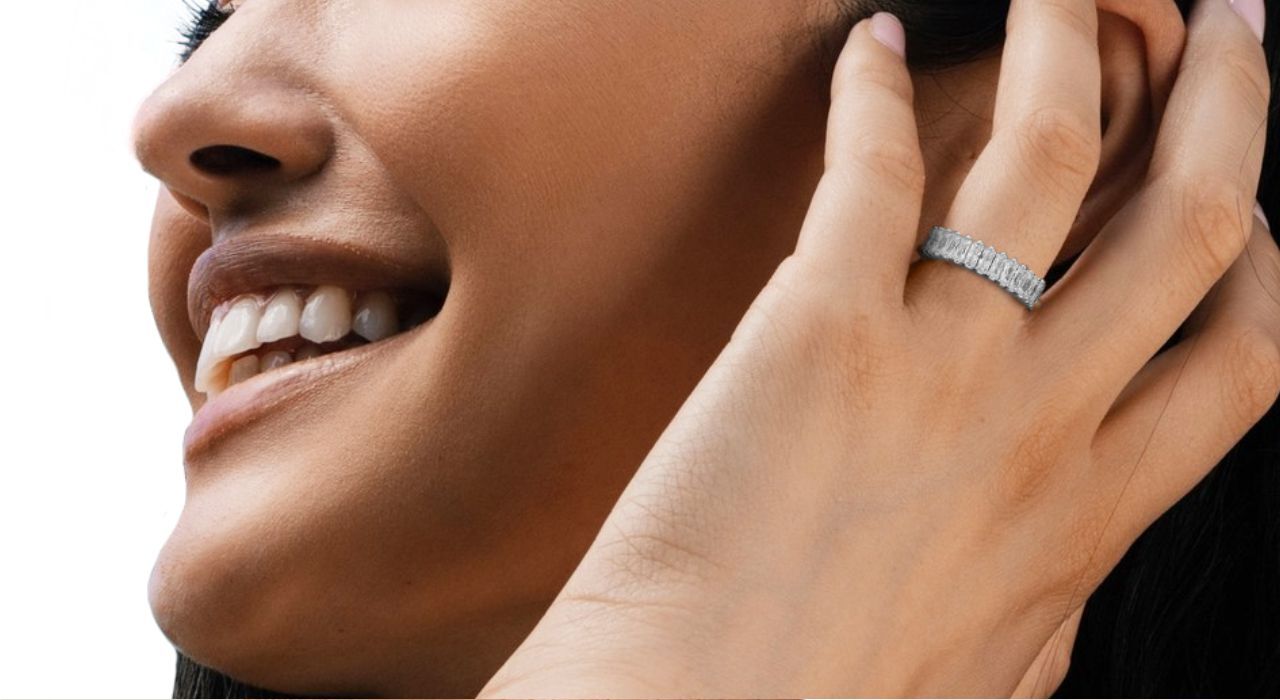 Platinum and Wedding Bands: The Perfect Match
The pure white metal is extremely durable; yes, a Platinum wedding band is the best option. One can opt for a wedding band. The purity of the color of the metal and its durability is a metaphor for the love it represents. It is a perfect fit for the idea of wedding bands.
When one finds love, it is surely looked upon as something that will last forever. The best platinum wedding band is something that will last forever. As a circle, it stands for eternity, as it is never-ending. Imagine giving your significant other this platinum ring that radiates purity and togetherness. Such a moment would be eternal for them.
The longevity and low-maintenance nature of platinum are such that it can be passed on to generations without its appeal getting ruined. These classic vintage platinum wedding bands will remain an heirloom without losing their brilliance and charm.
What to Look for in a Platinum Wedding Band
Plain platinum wedding bands are the simplest type of platinum wedding bands. They have a classy and elegant feel to them. However, you should take your time with the process of buying such a ring. Before you go out looking for the perfect platinum wedding band for them, let us give you a few pointers to keep in mind. A certification is a minimum requirement that one should look for. That document will certify platinum as original and also shows you the percentage of platinum that the constituent of the ring has.
The terms of purity are represented by a number, such as 950, which means the ring possesses 95% platinum. This is the purest type of platinum ring on the market. The remaining 5% are alloys that make the ring durable and easy to work with. Platinum rings are also known to maintain their color and not fade out. The hard metal resists any scratches while keeping the luster and shine of the platinum wedding band to make it look good as new even after years go by. Here are a few questions and answers you should know before purchasing platinum wedding bands.
How to choose men's platinum wedding bands?
Men's platinum wedding bands make a very bold statement. Men usually prefer plain platinum wedding bands since they are easy to care for in the active lifestyle and varied conditions. Despite choosing plain platinum wedding rings, there are many minimalistic options. These options are based on the type of finish given to the ring. You can get a matte finish, certain stripes, engraved names, added melee diamonds, and more. To complement the woman's chosen design, one can look for a similar design with a wider band or precise lines.
How to choose women's platinum wedding bands?
Choosing platinum wedding bands for women is a challenging task due to the presence of numerous options available. The variety of brands allows various designs that cater to every choice. This is both a blessing and a boon. Platinum curved wedding bands are designs that a lot of women prefer owing to their minimal and elegant pattern. Another favourite set is princess cut platinum wedding bands, which enhance the wearer's fingers and adorn them with the brilliance of the princess cut and a stunning white metal. You mainly have to pay attention to the width of the band, the style, if there are stones, then where they are placed, whether it will be comfortable to wear, and how the band will look on your finger.
Do platinum wedding bands maintain their color?
Platinum wedding bands do not lose their color and maintain the same beauty from the beginning. These rings do not lose their shine or brilliance either, making them a favourite among people.
What are the levels of platinum purity?
The purest level of platinum purity is 1000. The usual level of platinum jewelry contains 95% platinum, making it a level 950. A variety of levels that range from 850-950 are available in the market, corresponding to the percentage.
What is the best type, quality, purity, etc?
The best quality platinum to buy is 95% platinum, known as 950 platinum. Some other alloys like Ruthenium and Palladium are added to the metal to keep it corrosion-resistant and durable.
Is platinum good for the diamond band?
Platinum is the best option for a diamond band since its strength and durability allow the diamond to stay in position despite regular usage. Its color enhances the beauty of the diamond, making it appear sparkly.
Example of Platinum Bands Collection
A wide variety of Platinum bands are available in different styles. The solitaire platinum wedding band is a classic option. The infinity platinum and half-pave bands are very sought-after options for their simplicity and grace. These types of rings are also gifted as platinum wedding anniversary bands.
Other options for platinum diamond wedding bands are platinum stackable and platinum eternity wedding bands, symbolizing the abundance of love and the eternal nature of love, respectively. There are diverse design options, wherein some can be customized as well. This offers the user some freedom to shape the jewelry piece they have in mind.
Here are some examples of platinum wedding band designs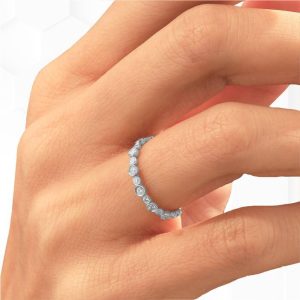 Eternity Platinum Bands
A platinum eternity wedding band is a band that holds a series of diamonds all through the ring, hence enhancing the shine. This is a very classic option if larger diamonds are not preferred.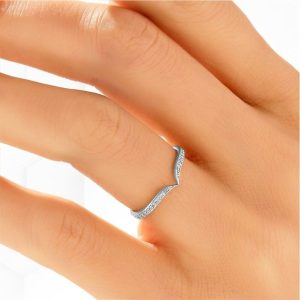 Stackable Platinum Bands
More is better is one of the most heard statements. You can apply that logic to platinum jewelry with this staggering design of stacking two to three platinum bands on top of each other. This makes the ring look bigger and shine even brighter.
Infinity Platinum Bands
An Infinity platinum band that has diamonds placed one after the other without any gap in between. On viewing from the side you will see a U-cut style emerging. An infinity band will sparkle brilliantly whether it is worn alone or paired with another ring.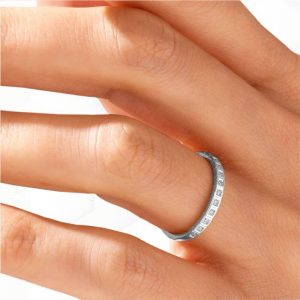 Classic Platinum Bands
The classic platinum diamond band is an elegant and very sought-after option for its simplicity and brilliance. These types of rings are also gifted as platinum wedding anniversary bands.
Reasons to Prefer Platinum Wedding Bands
The beauty of Platinum Wedding bands is boundless. Despite the aesthetic aspect, the functional aspect of these wedding rings outshine everything in their path. Some reasons that will make you prefer Platinum wedding bands are,
•  The color and the shine do not wear out or fade at any time.
•  The durability of the metal makes it suitable for everyday usage.
•  The strength of Platinum wedding bands allows the stone to be set very firmly and is very safe.
•  Platinum is naturally hypoallergenic and will not cause skin damage or reactions on regular wearing.
•  Platinum does not tarnish or catch rust at all.
•  You can pass it to future generations as a vintage platinum wedding band.
•  Cleaning platinum is very easy and only requires some dish soap and warm water, which saves on cleaning costs.
Pros of Platinum Wedding Bands
•  The durability of platinum makes it a good option for wedding rings.
•  The density of platinum is higher than gold or silver and hence does not fade out over time.
•  Platinum is hypoallergenic and can be worn by everyone without causing rashes or skin issues.
•  The shine of platinum enhances the beauty of the diamonds embedded in it.
•  The safety of the diamond is certain since the strength of platinum keeps it secure.
•  Easily cleaned at home.
Cons of Platinum Wedding Bands
•  Platinum wedding band prices are higher than any other metal band, making it expensive.
•  Platinum cannot be easily resized because it is as hard as glass, so applying pressure to it may cause it to crack.
The Resale Value of the Platinum Band
Platinum tends to have a low resale value because there are few buyers in the resale business. Limited businesses are open to buying platinum, which reduces its resale value to a large extent. And selling to individual buyers does not guarantee good prices
Platinum Wedding Bands Celebrity Favorite
If you feel Platinum rings are not in trend, you are wrong there. Some of the most famous celebrities have chosen to wear Platinum wedding bands. Our very own Mariah Carey adorned a beautiful Platinum wedding band with an Emerald cut diamond and baguettes. Sofia Vergara carries a beautiful Vintage style platinum wedding band with a halo around a Cushion cut diamond. Other than these, Kim Kardashian, Kourtney Kardashian, Beyonce, Chrissy Teigen, Megan Markle, Blake Lively, and many more in showbiz.
Conclusion
The platinum wedding band has gained much momentum in recent days due to its durability and sheer beauty. It is something that fits into every idea of a wedding band, with the only downside being the expense initially. This expense can be managed since it can be considered a long-term investment with no maintenance requirements in the coming future. With the variety of wedding bands in the market, get your hands on the best platinum wedding band that combines beauty and elegance.
FAQ
Is platinum better than gold for wedding bands?
Platinum is a much better option than gold for a wedding ring due to its durability. The neutral tone of the metal is also another one of its advantages.
What unique qualities does a platinum wedding band have?
Platinum is very durable as compared to other metals, and it is also naturally hypoallergenic, making it very safe for usage. It is extremely low maintenance.
What are the benefits of platinum wedding bands?
Due to its durability, the platinum wedding band will never fade or change over the years. They also come with a color guarantee that makes them more expensive.
Why are platinum bands more valuable than gold?
The rare nature of platinum bands makes them more valuable than gold. Platinum metal is also more durable as compared to gold. The density of platinum is greater than gold, which makes it more durable.
Can you wear a platinum band all the time?
Yes, one can always wear a platinum ring since it is very durable. Due to its higher density, it will not fade or wash out over time.
How much should a wedding band cost? 
The price range of a platinum wedding band starts from almost $347 to anywhere around $5000.
How to choose platinum wedding bands?
Platinum bands can be chosen from a wide variety of brands and designs. One should choose 950-level purity of platinum. Certification is also something that should be seen while selecting a platinum band.
Is platinum good for a wedding band?
Platinum is an excellent option for a wedding band as it combines the beauty and durability required for daily wear.