Everything to Know About Old Mine Cut Diamond
Lately, old mine cut diamonds have gained a new found popularity due to a shift in interests towards more vintage styles. They have gained the spotlight with their stand out appearance having a squarish shape and curved edges giving that in-demand vintage touch.
But what makes these diamonds so special? Aside from their place in the history of diamond cutting, the fact that these diamonds are cut and polished by hand makes every cut unique and one of its kind.
With their very distinct and interesting history, and appearance that stands out, old mine cut diamonds open the doors into the world of vintage glamour each with a unique story and a mesmerizing sparkle that transcends time and a definite choice to add to your collection.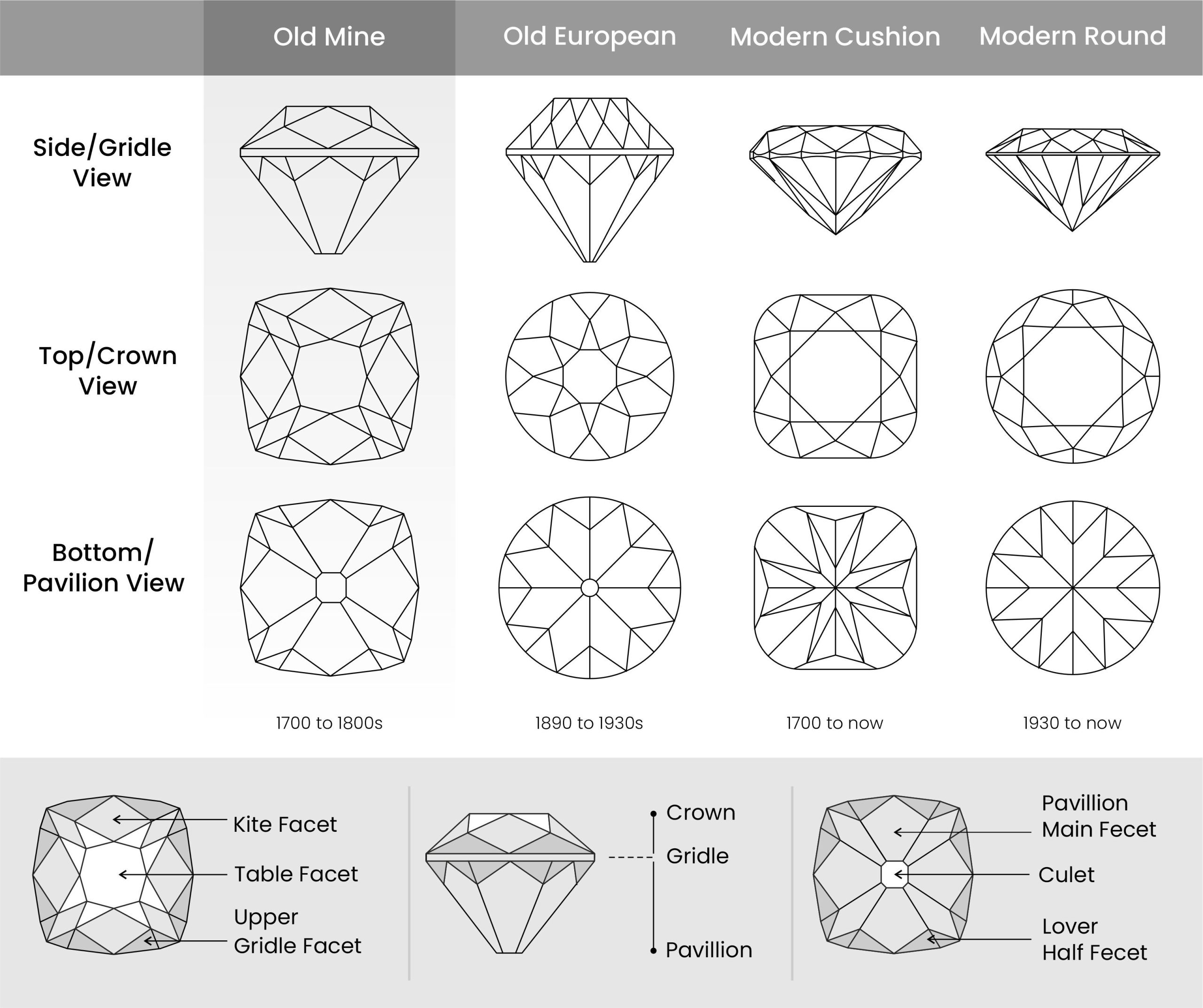 What is an Old Mine Cut Diamond?
Old mine cut diamonds are diamonds that were cut by hand before modern cutting techniques were developed. They were typically cut during the 1800s and early 1900s, and were shaped to maximize carat weight rather than brilliance and fieriness. 
They have fewer facets and a more subdued sparkle compared to modern diamonds, but their unique asymmetrical shapes and romantic appeal have made them highly sought after by jewelry collectors and enthusiasts alike.
Old Mine Cut Diamonds: Visual Characteristics
Old mine cut diamonds

have a distinct appearance that sets them apart from modern diamonds and gives them a unique identity. 

They have an irregular shape as they were cut by hand, often resulting in an asymmetrical appearance. 

These diamonds also have a smaller table. For those who may not be familiar, the table is the top facet of the diamond. The smaller table of these diamonds can result in less light reflection.

These diamonds have a higher crown- the crown is the part between the table and the girdle. This makes them appear larger in size. 

They also have a deep pavilion, the lower part of the diamond which often gives a more subdued sparkle. 

These diamonds are defined by lesser facets- being 58 or less.

Another charming aspect of their appearance is the open cutlet- that is the bottom point of the diamond which gives it a cross-shaped 'X' pattern when viewed from the bottom.
Are old Mine Cut Diamonds More Valuable?
Old mine cut diamonds have their own vintage charm. But whether they are more valuable than modern diamonds depends on various factors, like the 4Cs of diamond- cut, color, carat, and clarity grades, as well as the diamond's age, rarity, and demand. 
These diamonds have a distinct appeal and aura that makes them an amazing catch for vintage collectors. However, old mine cut diamonds often have fewer facets and a less brilliant and fiery appearance compared to modern diamonds, which can affect their value.  In some cases, the rarity and historical significance of old mine cut diamonds may increase their value, while in other cases, their lower cut grades may decrease their value. Ultimately, the value of a diamond can only be accurately assessed through a professional diamond appraisal.
You can use our old mine cut diamond value calculator to get an idea of what your choice of the stone may cost.
Old Mine Cut Diamond Value/Price
The pricing of these vintage collectibles is usually dependent on the carat weight of the piece. 
The price can usually range from $1,800 per carat for a 0.5 carat diamond to $5,800 per carat for an approximately 3 carat diamond. 

The price range for a 0.5 to 0.69 carat diamond is usually $1,800 to $2,000 per carat. 

For a 1-1.4 carat diamond it increases to about $2,700 to $3,300 per carat. 

The price increases further for 1.5 to 1.99 carat at $3,300 to $4,100 per carat and then at $4,500 to $5,800 per carat for a 2 to 2.99 carat diamond.

Old Mine Cut vs Old European Cut
So, here's the deal with Old Mine Cuts and Old European Cuts. When it comes to Old Mine and Old European diamonds, the main difference is their shape. 
Old Mine Cuts have that gorgeous cushion-like shape, while Old Europeans are more of a classic round shape. Old Europeans are round, which makes them brighter and sparklier, while Old Mine Cuts have a more distinct shape, faceting, and overall appearance.
A fun fact about both these diamonds is that they both have cutlets. But the cool thing about antique diamonds is that they have something called an open culet, which means that the point is polished flat, resulting in a visible circle within the stone.
Tips for Buying Old Mine Cut Diamonds
If you're looking for an old mine cut diamond, you might face a bit of a challenge as they're pretty rare. Only a handful of diamond dealers still sell them, which means you'll need to do your research to find one.
Here's a hot tip for you: focus more on whether you personally find the diamond attractive rather than its GIA certificate. After all, what really matters is that you pick a diamond that you truly enjoy looking at.
And when it comes to settings for your old mine cut diamond ring, consider pairing it with rose gold or yellow gold. Why is that? Well, it turns out that many of the colorless antique diamonds (graded D-H) have been recut over the years into modern diamonds. So the ones that remain are the ones that have a bit more character and history. These metals can complement the warm color of the old mine diamond cut, making it look even more beautiful. Luckily, you can find this setting with most antique engagement rings.
The key is to choose a diamond that looks attractive to your eye. The warm color of an old mine cut diamond is actually part of its charm, so it's not fair to judge these diamonds by modern standards. So go ahead and embrace the unique beauty of these antique diamonds!
Conclusion
Old mine cut diamonds are an enchanting reminder of a forgotten era. With their distinctive shape, unique faceting, and warm color, they offer a glimpse into the past while still dazzling in the present. While they may not meet modern standards, their character and history make them highly prized by collectors and those who appreciate the beauty of antique diamonds. Whether you're seeking a unique engagement ring or a rare addition to your collection, old mine cut diamonds are sure to captivate any individual.
FAQs
What is an old mine cut diamond?
An old mine cut diamond is a vintage style diamond which is cut by hand and was typically done so in the 1800s and 1900s.
Where to buy an old mine cut diamond?
You can buy old mine cut diamonds from antique jewelry stores, specialized dealers, or online retailers/auction sites. Be cautious when buying online and only purchase from reputable sellers with detailed information and certification. Consider consulting with a diamond appraiser or expert to ensure a fair price and quality diamond.
Are old mine cut diamonds more valuable?
Old mine cut diamonds can be more valuable than modern diamonds, depending on their rarity, size, quality, and historical significance. However, their cut grades may be poorer than modern diamonds, which can decrease their value. A diamond expert can provide a better understanding of the diamond's value through an appraisal.
Are old mine cut diamonds sparkly?
Old mine cut diamonds have fewer facets and different cutting techniques compared to modern diamonds, resulting in less sparkle. However, they have a warm glow and a romantic vintage feel that many find attractive.
What do old mine diamonds look like?
These diamonds have a unique appearance with a slightly rounded square or rectangular shape, fewer facets than modern diamonds, a larger culet that creates an "X" pattern in the center, and larger and more irregularly shaped facets that give them a more subtle sparkle and a soft, romantic glow. Overall, they have an alluring vintage charm and character adding to their value.
What does old mine cut diamond mean?
Old mine cut diamonds are diamonds with a vintage look that were traditionally hand-cut in the 1800s and 1900s. The phrase "Old Mine" describes the fact that these diamonds were typically mined by hand utilizing old techniques that are now seen as antiquated. As a result, they frequently have distinctive shapes, with each diamond being unique in its own manner.
Are old mine diamonds rare?
Old mine cut diamonds are considered rare and highly valuable due to their historical significance and unique appearance. They gained popularity during a particular era in history, and many have since been lost or damaged, making them more difficult to acquire. Besides that, Old Mine Cut diamonds were frequently hand-cut utilizing vintage cutting methods that are no longer common, making each diamond special. The irregularities in shape and cut also mean that it is difficult to find a matching pair or set of Old Mine Cut diamonds, which adds to their rarity.