Old Mine Cut Diamonds: Everything You Need to Know
Diamonds with an old mine cut are recognized as antique diamonds. The old mine cut diamond has distinct proportions and a unique fire about them due to which they are having somewhat of a renaissance.  This cut was prominent in the 18th and 19th centuries among nobles and voracious diamond collectors throughout the Georgian, Victorian, and Edwardian eras. 
Their distinctness can also be attributed to the fact that, unlike modern cut diamonds, these were cut only-by hand, giving the diamond the warm appearance that people love about antique engagement rings.
Sometimes today the old mine cut is also referred to as the 'miners cut'. Even though they are cut by hand and modern cut diamonds utilize modern technology and brilliant machinery, the aesthetics of these diamonds are quite similar with certain key differences that make each one unique. 
What is an Old Mine Cut Diamond?
The 'Cut' of a diamond means the design in which it has been shaped. The cut is not the same shape as pear, princess, oval etcetera; like the name suggests. This way of naming diamonds dates back centuries and is still very much popular. It belongs to the mid-18th century and remains a timeless piece. It is one of the oldest cut types that the diamond industry knows of. 
For any antique or vintage lover, this type of cut is a jackpot. It has the hints of 18th-century Europe, making its appearance a historic piece attached with value. 'Old mine cut' was first used to refer to diamonds from India and Brazil and they used to be square in shape with sparkle. However, later on, diamonds were sourced from Africa because of their better quality in terms of color, hence were recognized as 'old mine cut diamonds. These are all hand-cut diamonds. 
As compared to other diamonds, the old mine cut diamond has a higher crown with a table smaller in size and a larger cutlet. The cutlet is placed below the pavilion and this does allow light to escape. This in return makes deep circles that reflect. Modern cut diamonds do not usually have a cutlet. If they do, the size is quite small. The appearance of this diamond is cushion-like and square-ish.
The similarity between old mine cut diamonds and modern cut diamonds is the number of facets on each. Although they remain popular, they do not beam like a modern cut diamond. Old mine cut diamond also have facets that are rough and unruly in shape. The old mine cut diamond were made with a grandeur so they would shine in candlelight, which was a major source of light at the time, hence the large proportions. These diamonds are ethical as they are available in plenty and can be reused. 
Trends come and go, but when making an investment, especially in jewelry your interests have to be in timeless and classic pieces. They are here to stay and will be embraced by the younger generations in new and different ways. There will surely be variations to this old mine cut diamond. Most people prefer timeless stones for their collection because wearing them is never a risk but a statement!
History of Old Mine Cut Diamonds
Their origin can be dated back to the 18th century. In this period the dimensions of diamonds were measured and cut by hand, as technology and machinery were not as advanced as it is today. The skill of a diamond cutter was unmatched, while the lack of science in the field gave great importance to the aesthetic perceptions of a diamond cutter. 
This cut was quite popular amongst the people up until the end of the 19th century, where we saw a shift from the old mine cut to the modern brilliant-cut and the European cut diamond which was a hybrid of the previous two cuts. These became the popular choice then, however, regardless, it is commendable that the old mine cut managed to stay in trend for more than a century. 
An old mine cut diamond is sure to pop up when you're looking for an original vintage engagement ring. They have a squarish form with soft, curving edges, like contemporary cushion-cut diamonds. During the 18th and 19th centuries, old mine cuttings were fashionable.
India was the world's initial, largest supplier of diamonds. Most of these diamonds were mined from mining-centered cities such as Golconda. Whereas that changed when diamonds were first discovered in the city of Belo Horizonte in Brazil, in the year 1724. Hence throughout the entire period of the 18th century, India and Brazil enjoyed the glory of being the only countries to supply high-quality rare diamonds. 
However, in the 1860s with the discovery of diamonds in South Africa, a massive shift of attention in the trade of diamonds took place. 
Hence initially even if the term "old mine" was used for diamonds mined from India and Brazil, over time it was used for any diamond that had this style of cut. Once we reached the 20th century, all kinds of antique diamonds cut were left for more modern diamond shapes such as the round brilliant and other such unique cuts. The advancement in diamond technology surely aided the process.
How many old mines cuts still exist?
As mentioned earlier, the old mine cut diamonds are hand-cut. Surely, the process would have been tedious, energy, and time-consuming. This gives the customer the assurance that their piece is special, irrespective of any of the factors. Surely, an issue arises that diamonds that are this old still exist? And if yes, then are they scarce? Since these are old pieces, they have been obvious victims of loss, theft, wars, and change in the political and social structure of the world. 
Many diamonds have been lost at the advent of various revolutions and the era of modernization and later globalization. Most diamonds that are in the market for the last two decades are mostly cut by machine. As they are produced with the help of a machine, their number goes up and so does the circulation. 
The Visual Characteristics of Old Mine Cut Diamond:
Old mine cut diamonds are very similar to today's Modern cushion cut diamond with a square shape and soft slightly rounded corners. However, they still tend to differ majorly from modern cut diamonds in terms of their cut and symmetry.
Relatively small table. Old mine diamonds have a relatively small table common to all antique diamonds. It is visibly apparent when the diamond is viewed from above. It is visibly even more distinguished when it is kept beside any diamond of modern cut for comparison purposes.
A large Culet. The mine-cut diamonds tend to have a unique appearance thanks to their large, very obvious culet. The culet is large enough to be visible through the table.
Short lower half facets. The old mine cut has a good number of 58 short lower half facets.                               
A high crown and deep pavilion. Despite its deep pavilion, it is largely due to its large culet. They have a high crown (the upper part of the diamond, above the girdle) and a deeper pavilion (the lower part of the diamond).
Imperfect symmetry. The old mine diamond has asymmetrical symmetry and imperfect facets, much similar to other antique styles of cuts by hand. When compared to a modern cut diamond, the old mines can seem large and bulky at the first glance. 
However, it was once considered a deliberate part of the design because unlike the sleek cut of the modern diamonds, old mine cut diamonds were cut to be seen under candlelight, a definite stark contrast to today's bright LED.
Are old mine cut diamonds more valuable?
The value remains in terms of the legacy the old mine cut diamonds carry. They belong to a golden era of history. Patrons and lovers of art and jewelry as well as others who feel passionate about these items, do believe in collecting and cumulating their personal collection. You will find many such items belonging to the same era being auctioned amongst the people who can and want to afford them. Going into the technicalities, the value of an old mine cut diamond is measured in terms of the four C's: cut, color, clarity, and carat weight, like any other diamond.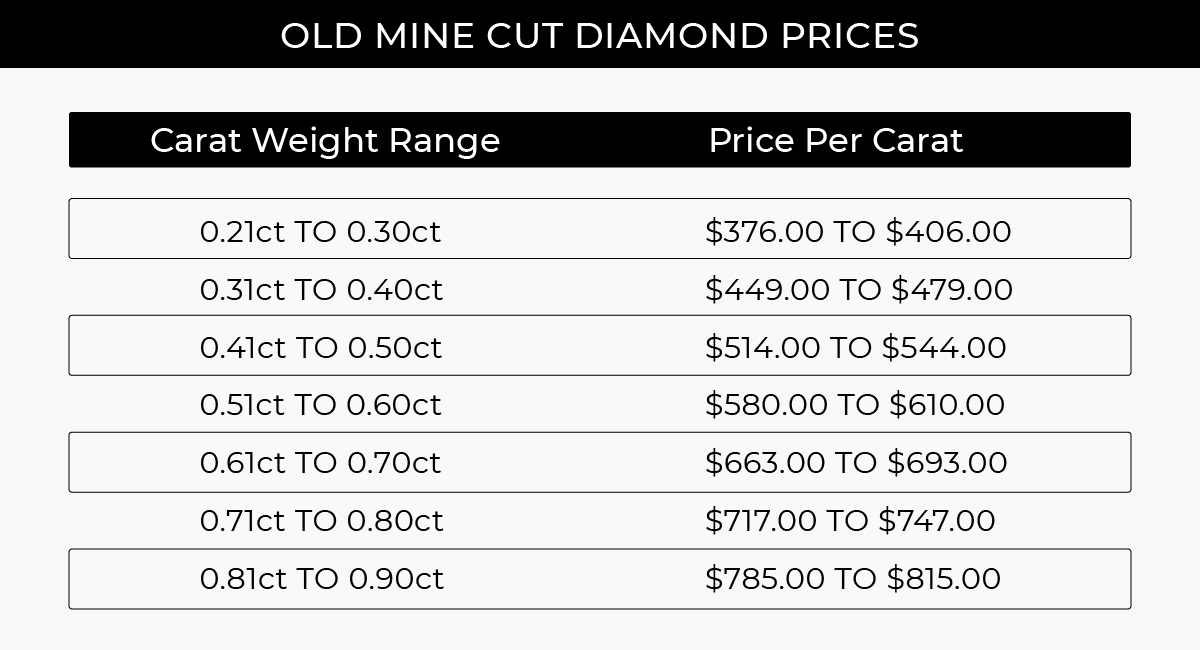 They are also graded by the GIA. Many of the old mine cut diamonds do have rough cuts and less clarity making them less valuable. Old mine cut diamonds have also been sold for a lesser price because there was modification leading to the original diamond being lost in the process. Another point that affects their value is that old mine cut diamonds are larger than most diamonds and when fitted for an engagement ring then it fulfills the purpose. People who are interested in the extra-bling, opt for such a piece. 
How Different is an Old Mine Cut from a Round Brilliant cut?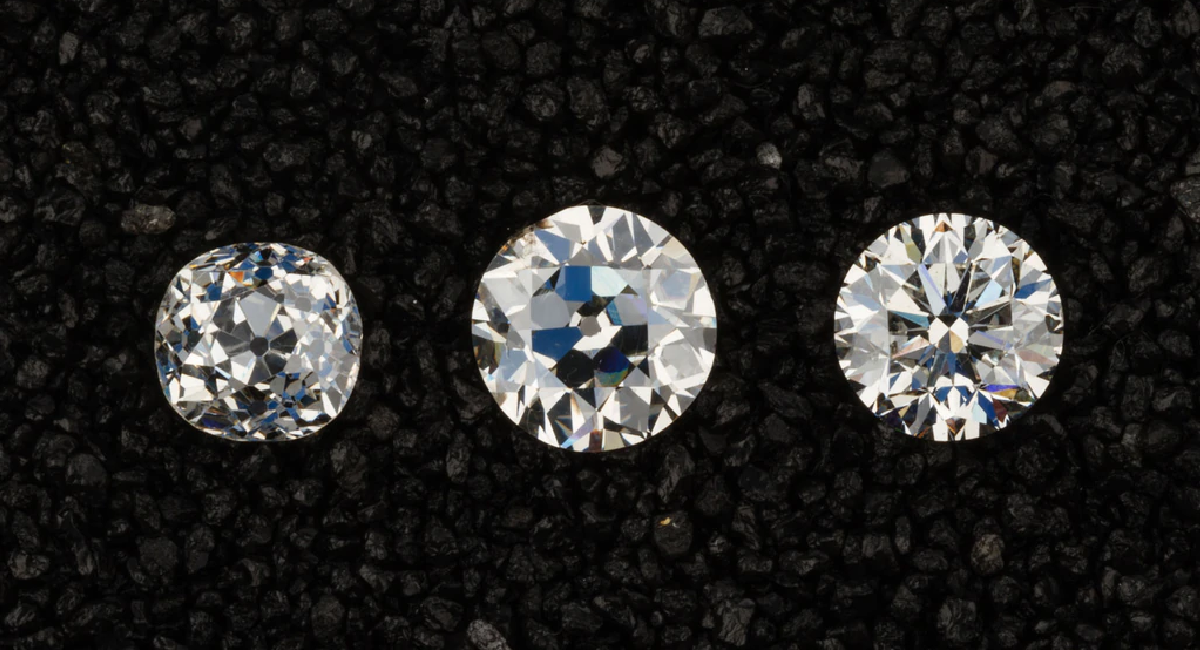 Table size: Old Mine cut diamonds account for 38 – 45% of the diamond's total diameter which is a relatively smaller table size than a round cut more than average 52 – 60%. However, the ideal table size of a diamond according to most gemologists should rest from somewhere between 54-59%.
The Culet size: The old mine diamonds have a large easily visible culet attributed to their deep pavilion. Their culet size is only so much larger than the modern cut diamonds because it was merely impossible to cut smaller cutlets without cutting technology. Round cut diamonds do have a culet, that can only be observed under a microscope.

When it comes to the girdle finishing, antique cut diamonds have a frosted girdle in contrast to the round cuts faceted girdle.

Since the old mine diamonds were cut by hand, it was almost impossible to attain impeccable precision and symmetry. Their asymmetrical facets and unequal symmetry appeal to the taste of many who seek to purchase antique diamonds. Since modern cut diamonds do not hold such imperfections in high regard.

As far as brilliance and color are concerned the brilliant round cut diamond as the name indicates is quite renowned for its brilliance. The facets and dimensions of a round-cut diamond are designed to take in all light giving it a sparkly appearance. In contrast to the old cut diamond, which was designed to produce a warm glow under candlelight, a far more subtle appearance that many prefer.
Choosing the Perfect Old Mine Cut Diamond
The struggle with buying old mine diamonds begins with the simple fact that this style of cut is antique and vintage, and hence no longer manufactured, it has a limited supply with only a couple of diamond vendors selling them. Certain things you can keep in mind while buying a diamond of this cut are:
The diamond's GIA certificate no matter how important should not deviate you from keeping your preference a priority. When it comes to modern diamonds, it is certainly recommended that you at the very least go through it with an AGS or GIA certification as those are pretty dependent on the 4c's – cut, color, clarity, and carat. The color and clarity are still considered paramount features when purchasing a diamond of an old mine cut, however, it is cut quality grade can be neglected. 

Old mine cut diamonds are a spectacle of what we in today's terms call imperfections, however, unlike modern cut diamonds these imperfections only add allure to the antique stone. How much ever recommended a diamond certification maybe, the best advice with these cuts is to always go for what appeals to your eye. 

Unlike modern diamonds, the color may not pose such a problem, as the old mine cuts are meant to have a warm color suitable for the era, they were popular. Most of the stones with this cut have a visible color grade of K or below.  This is mainly because most of the higher color grade diamonds have been recut and redesigned over the years into brilliant modern diamonds.

Hence it should be obvious to you by now that a diamond of an antique cut cannot be judged according to modern parameters, as they were never initially designed for this decade.

It is always advised that because of the warm glow of antique cut diamonds, a yellow or rose gold setting is bound to beautify an old

mine cut diamond ring

. However, there is no such compulsion, and you can always go for whichever metal appeals to your tastes and looks attractive to the eye. 

The last and most important detail is that you buy it from the right vendor, modern-day retailers, and companies that fashion in antique cut diamonds; hence it is best if you buy an antique cut diamond from an antique jeweler. 
Conclusion Thoughts
Old Mine cut diamonds belong to the 18th and 19th centuries, these diamonds tend to have a warm glow to them which makes them perfect for a candlelight setting. These diamonds are dated for an era where they are crafted by hands, they cannot be graded by the same scales used for modern cut diamonds.
Their rugged appearance has all the more beauty compared to laser-cut modern diamonds. You can always keep them side by side and compare them. Old mine cut diamonds have large facets which produce great fire in the diamond and that is hence why it is still preferred by some people in the 21st century. 
However, dating its origin back to a couple of centuries it is always recommended that you buy an old mine cut diamond from an antique diamond jeweler to get the most out of your buck.