Round Cut Diamonds: Everything you need to know
They say that size doesn't matter but does shape? A case must be made for round cut diamonds here, for they are both traditional and everlasting, and are generally the cut that comes to mind when people think of diamonds. 
From time immemorial in the history of the diamond, permutations of this famous sphere-like form have been tried and tested. Round cut diamonds have a  glimmering radiance like no other which makes them ubiquitous, and the round cut is regarded as the common currency in diamond cuts for investors, jewelers, and consumers.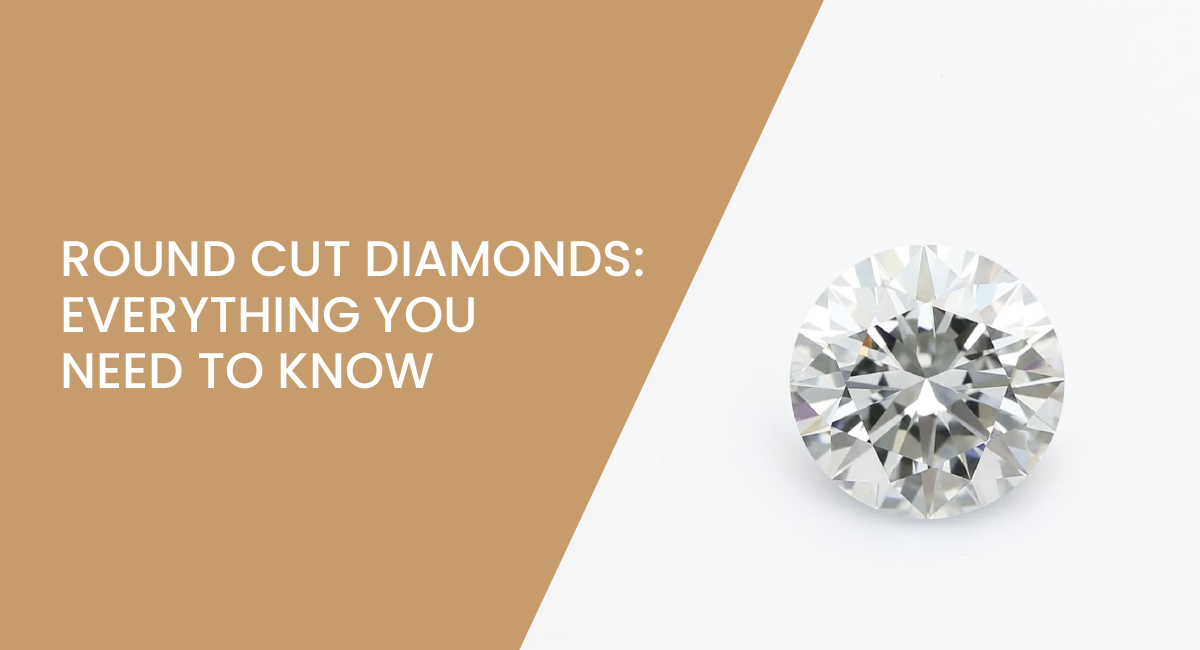 Coming into the 21st century the round cut saw a few modifications and the already shiny cut now had enhanced brilliance due to technological advancements. The Round brilliant cut is now a timeless classic diamond cut.
Surprisingly, a round cut sheds most of its carat weight during shaping and polishing as compared to other cuts, making it comparatively more expensive as well.
The brightness of a round diamond is boosted when decided by refinement techniques conducted by professional diamond shapers.
What is a Round Cut Diamond?
The round cut is the most famous diamond of all and is even commonly referred to as the ideal cut. It can fit into engagement rings, earrings, necklaces, and just about anything else. 
the round-cut diamond has been refined to have 58 facets. Its round design accentuates all of these 58 various glittering facets by optimizing and capturing light coming from all directions. Being the most common design is the circular cut, the cut can not only be effortlessly spotted, but also adapt to every occasion's needs, daytime or nighttime, and the bearer, youthful or aged, modern or antique.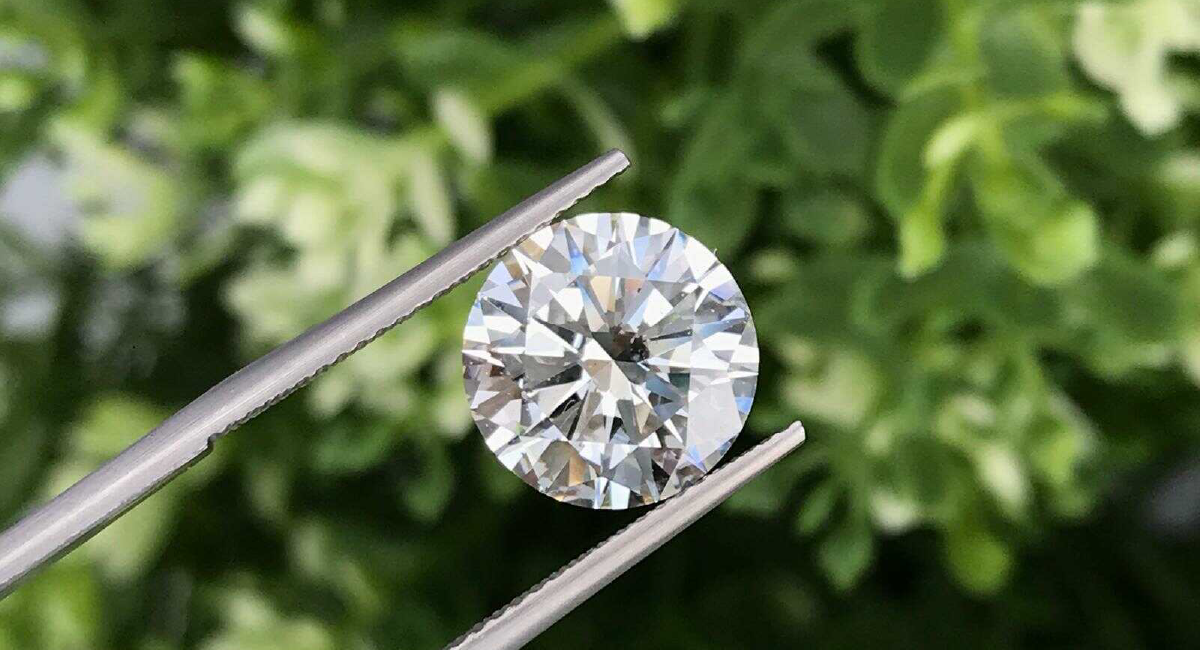 The quest for the perfect cut to highlight all the facets of the gemstone's stone's luminosity and brightness has resulted in the development of several unique cuts over the years.
Round cut diamonds are the only gems having a separate grading system on its GIA diamond grading report is the round brilliant cut. Since GIA is the largest and most successful diamond certifying laboratory, it has considerable power in the business. 
| | | | | | | |
| --- | --- | --- | --- | --- | --- | --- |
| Shape | Carat | Cut | Color | Clarity | Price | |
| round | 2.08 | Ideal | H | VS1 | $1065 $905 | View |
| round | 2.06 | Ideal | E | SI3 | $955 $812 | View |
| round | 2.01 | Excellent | G | I1 | $8639 $7343 | View |
| round | 2.01 | Excellent | D | VS1 | $2602 $2212 | View |
| round | 2.01 | Excellent | F | VVS2 | $2426 $2062 | View |
| round | 2.01 | Excellent | I | VS1 | $1004 $853 | View |
| round | 2.01 | Ideal | F | VVS2 | $1491 $1267 | View |
| round | 2.00 | Excellent | F | VS1 | $1529 $1300 | View |
| round | 2.04 | Ideal | G | VVS2 | $1459 $1240 | View |
| round | 2.00 | Ideal | G | VVS2 | $1432 $1217 | View |
| round | 2.01 | Ideal | F | VVS2 | $1792 $1523 | View |
| round | 2.01 | Excellent | G | VS1 | $1241 $1055 | View |
| round | 2.10 | Ideal | G | VS1 | $1320 $1122 | View |
| round | 2.01 | Ideal | G | VVS2 | $1556 $1323 | View |
| round | 2.00 | Excellent | G | VS1 | $1292 $1098 | View |
| round | 2.00 | Excellent | E | VS2 | $1114 $947 | View |
| round | 2.01 | Ideal | H | VS1 | $1259 $1070 | View |
| round | 2.00 | Ideal | D | VS1 | $2015 $1713 | View |
| round | 2.00 | Excellent | G | VS1 | $1059 $900 | View |
| round | 2.04 | Ideal | F | VS1 | $1585 $1347 | View |
History of Round Cut Diamonds
Over many centuries, the expertise or technological apparatus needed to make a round-cut diamond were nowhere to be found and practiced. 
The round brilliant diamond cut was made a reality with the development of the bruting machine at the close of the 19th century. Prior to the invention of the spherical cut, cushion cuts were more famous throughout Europe. 
Due to the 'Diamond Design Thesis' by Marcel Tolkowsky, the round cut underwent another change in 1919 through his carefully calculated mathematical formula to angle the facets in a way that reflects the most light.
What Do You Call a Round Cut Diamond?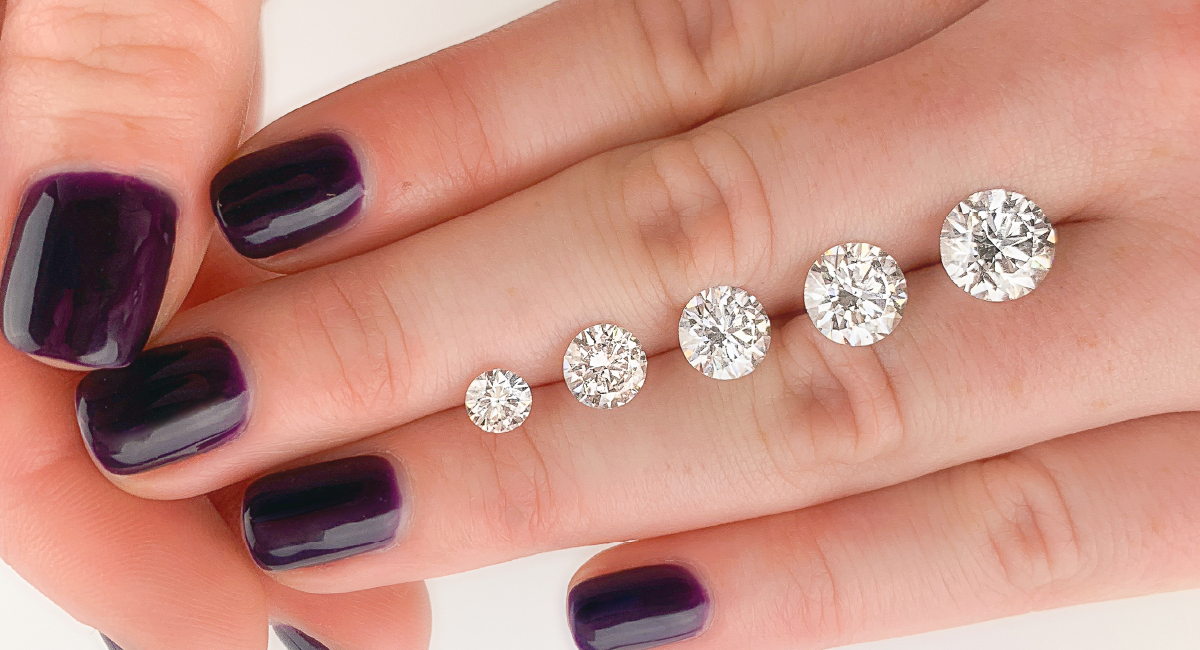 A round cut diamond has 57 or 58 facets on the sides depending on whether it has a culet or the flat face at the bottom of the diamond. The facets of an evenly cut diamond would simply converge at a critical location, making no space for a culet.
There are Two Types of Round Cut Diamonds:
Brilliant Cut Round Diamonds 
This cut makes excellent use of its edges to reflect not absorb but throw out infinite flashes of light. Contours and dimensions interact with each other to refract spectacularly and be the brightest. The brilliant cut round diamonds have a culet that ranges from average to big and an underside holds up 65% of the diamond's total durability and strength.
Brilliant cut round diamonds are a fantastic selection for contemporary jewelry with stunning glitter.
Old European Cut Round Diamonds
The antique European cut round diamond was prevalent before the twentieth century as well as meticulously manufactured before contemporary diamond processing. As a result, these cuts have greater depth in dimensions than brilliant cut round diamonds. Diamonds of the Old European cut were principally fashioned due to their hue. 
The fundamental distinction between brilliant cut and old European cut diamonds pertains to their facets since the old European cut had facets with triangular frames, whilst the round brilliant diamond has narrower kite or ace-shaped facets. Both the cuts have their own special way of reflecting light.
4cs of The Round Cut Diamond
The 4Cs of diamond quality measurement have not only become a globally understood vocabulary among jewelers, but also a handy checklist for any customer lacking expertise in picking the perfect diamond for their requirements. The Gemological Institute of America (GIA) created the Cs as an official grading method in 1953.
It encompasses Color, Clarity, Cut, and Carat Weight, to provide an objective, effective, and reliable appraisal of diamond excellence and cost. These aspects interact and might be reliant on each other within a diamond, needing a holistic examination rather than a concentrated inquiry of one feature.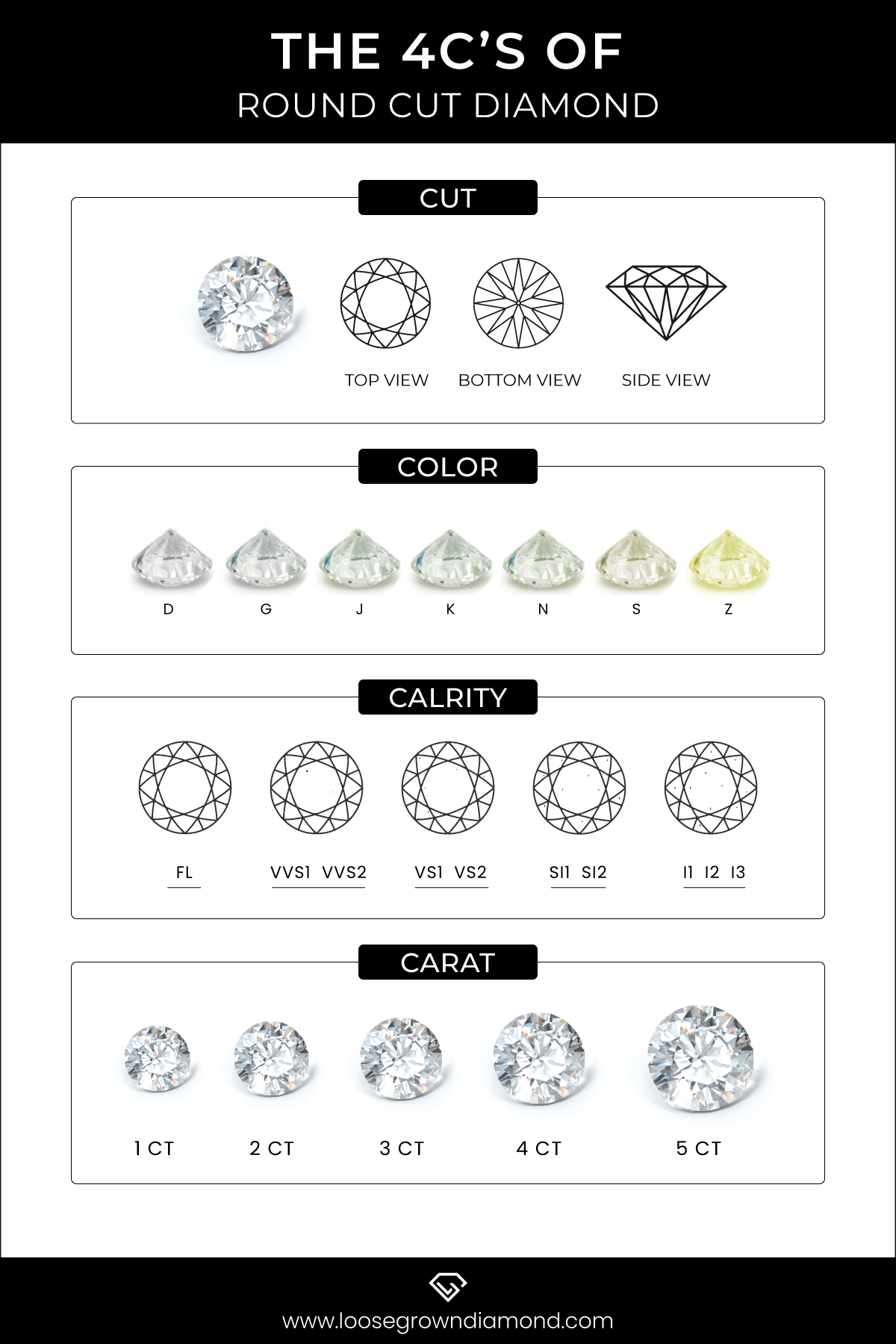 Mostly, people who prefer round cut diamonds will be benefitted as these stones will always seem to be more carat weight than the other cuts. Moreover, unlike other cuts that require a minimum carat size to maintain the integrity of their shape, round cuts can go as small as possible without making their shape obscure. 
The GIA divides clarity into six key subcategories, which are mentioned below from highest to lowest-
Very Very Slightly Included (VVS1 and VVS2)
Very Slightly Included (VS1 and VS2)
Slightly Included (SI1 and SI2)
Included (I1, I2, and I3)
The most crucial factor in determining a diamond's clarity is whether or not the diamond appears to be clear to the naked eye. Many imperfections may be apparent only to a trained specialist using highly sophisticated equipment.
For round diamonds, most of the decision-making procedure depends on the onlooker since some individuals might want to know that their stone is confirmed as perfect, while some are fine with the idea of slight defects which are not easily observable. 
Diamond color grading is the accepted practice for classifying round diamond tints as a scale that starts from a D grade (translucent) and progresses to a Z grade. Diamonds are tested to match specified color categories all of which are carefully selected and tested before usage.
The hue of the diamond tends to be directly related to the size and setting of the round cut. Small variances in the color of the cut are harder to identify with the naked eye, yet they can constitute a significant change in the diamond's cost. Furthermore, the color and substance of the rough diamond chosen can create a significant impact on the finished stone.
The cut quality of the diamond must be considered too. The dimensions of a round cut dictate how vividly it will sparkle. The cut of a diamond is graded by assessing its edges and gloss. The purpose of achieving a decent cut is to pick the one with all the proper proportions to have the greatest passage of light, giving the stone a gorgeous glitter that your companion shall adore.
The cut of each diamond is graded as Ideal, Excellent, Very Good, Good, Medium, Fair, or Poor. A good round cut will have measurements that permit ideal reflectivity through the crown and table, resulting in a stunning, bright shine. 
Why should you choose a Round Cut Diamond?
There are certain advantages that a Brilliant round cut diamond has and why you should prefer buying it. Here are the pros of buying a round cut diamond.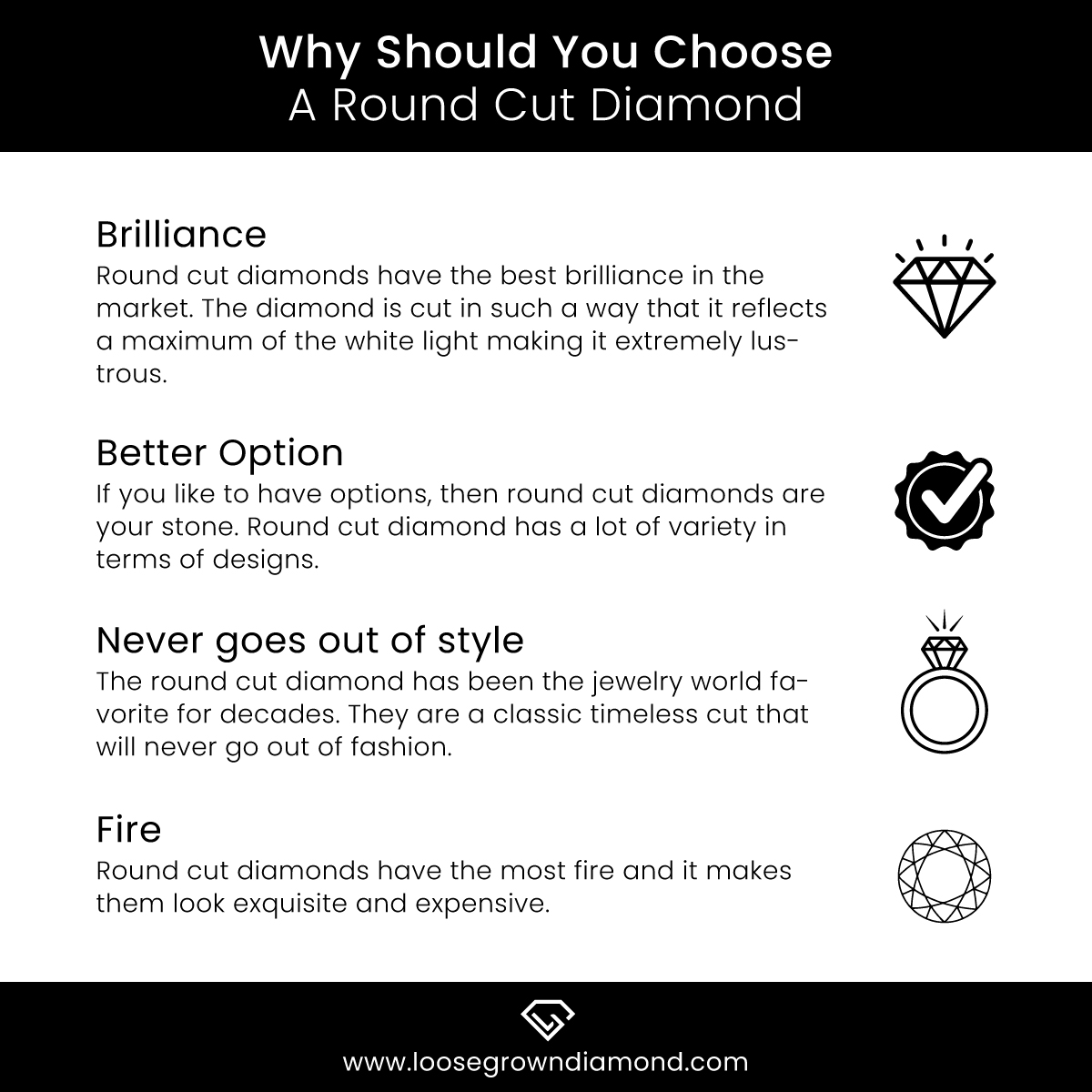 Brilliance: Round-cut diamonds have the best brilliance in the market. The diamond is cut in such a way that it reflects a maximum of the white light making it extremely lustrous. As the name suggests, brilliance is the top priority of the round cut.
Better Option: If you like to have options, then round-cut diamonds are your stone. Round cut diamond has a lot of variety in terms of designs. They can be adjusted and added to any jewelry design and this is one of the reasons why they are so widely used.
Never goes out of style: The round-cut diamond has been the jewelry world favorite for decades. They are a classic timeless cut that will never go out of fashion. Your jewelry piece will always be in trend if you buy a round-cut diamond.
Fire: Have you ever looked inside a diamond? If you have, chances are you would have seen a rainbow-like light inside the diamond. This is known as the fire of the diamond, one of the beauty factors the stone has. Round cut diamonds have the most fire and it makes them look exquisite and expensive.
Conclusion
Round diamonds were the most favored diamond cut in the marketplace for generations, notably for engagement rings, pendants, and studs. This magnificent diamond cut is designed to match new artistic principles while maintaining an ageless and traditional appearance.
Round cuts have remarkable brightness and flare, which flashes under lighting, thanks to stringent rules for optimal dimensions. To define the quality of a round diamond, these rules look at its facet shapes, girdle breadth, culet, luster, and evenness.
The appropriate ratios of round cuts give universality and grace, along with superb sparkle, and prove a traditional yet attractive diamond alternative.