Trapezoid Diamonds 101: All About Its Side Stones
You may have heard the term "trapezoid diamond" from someone. You may have come across this term while researching. Have you ever wondered if there is such a thing as a trapezoid diamond? Are trapezoid diamonds side stones? Then let us explain in detail what these stones are and why people are inclined to buy them.
Brilliant-cut diamonds with a similar shape to a trapezoid were developed from either the tapered or the baguette cuts. The multiple-sized trapezoid diamond has two inward-slanting edges and a top and bottom that are equal. A triangular shape with missing edges will result in the resultant shape.
Some people consider trapezoids a fantastic substitute for the increasingly popular trillion or baguette-shaped diamonds because they possess a comparatively large area and produce more sparkle when placed in jewelry.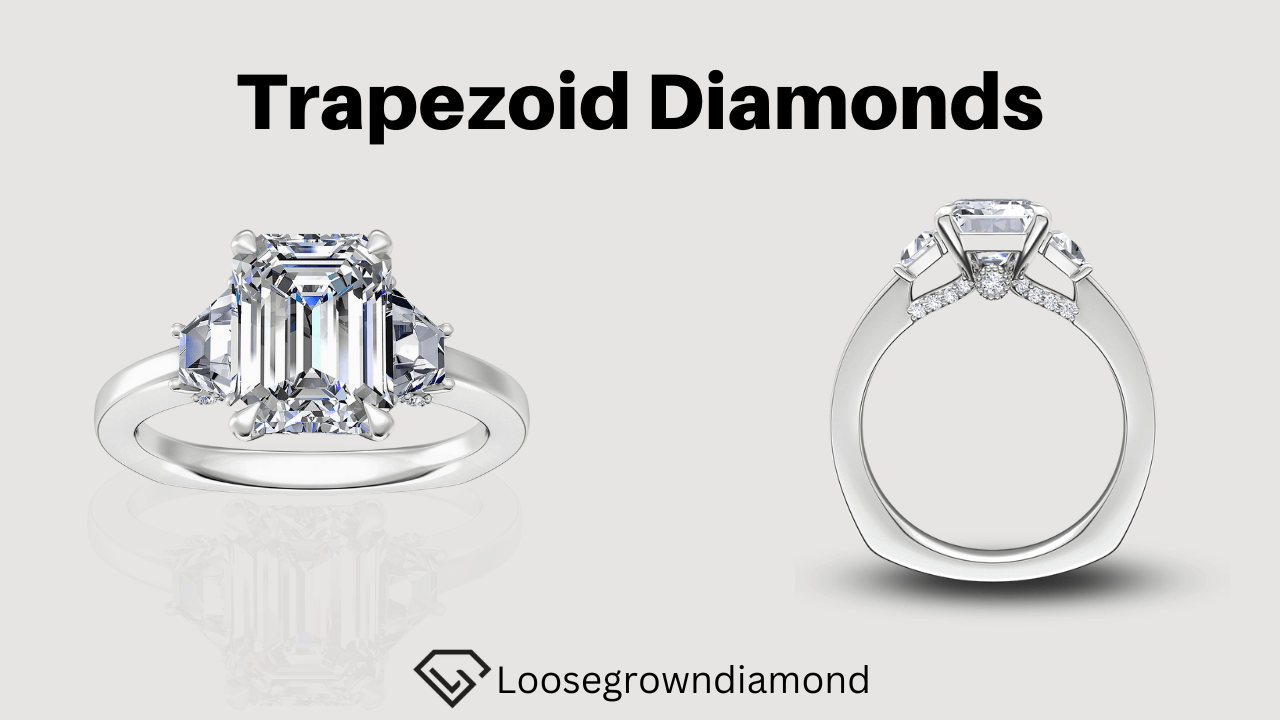 In addition to adding shine, trapezoids generally exude refinement and style. The swinging canvas that became renowned inside the carnival is likely where the word "trapeze" originated.
In the last few decades, as the need for dazzling jewelry has grown, the trapezoid cut has become more and more popular with traditional gems.
Trapezoids can be used as main stones, but they are more often used in pairs as side stones to match the size and shape of a larger core diamond. Due to their adaptability, trapezoids are quite desirable since they may accompany a variety of center shapes, including emerald, radiant, princess, asscher, and round diamonds.
What Is a Trapezoid Diamond?
Many people think that these shapes are a better match than the more common trillion or baguette cuts because they have a larger total surface area and still shine brightly.
Diamonds are known for their shine, and so are the trapezoid diamonds, but apart from adding sparkle to any jewelry's look, these side stones add class to the piece. They make any ring or pendant look unique.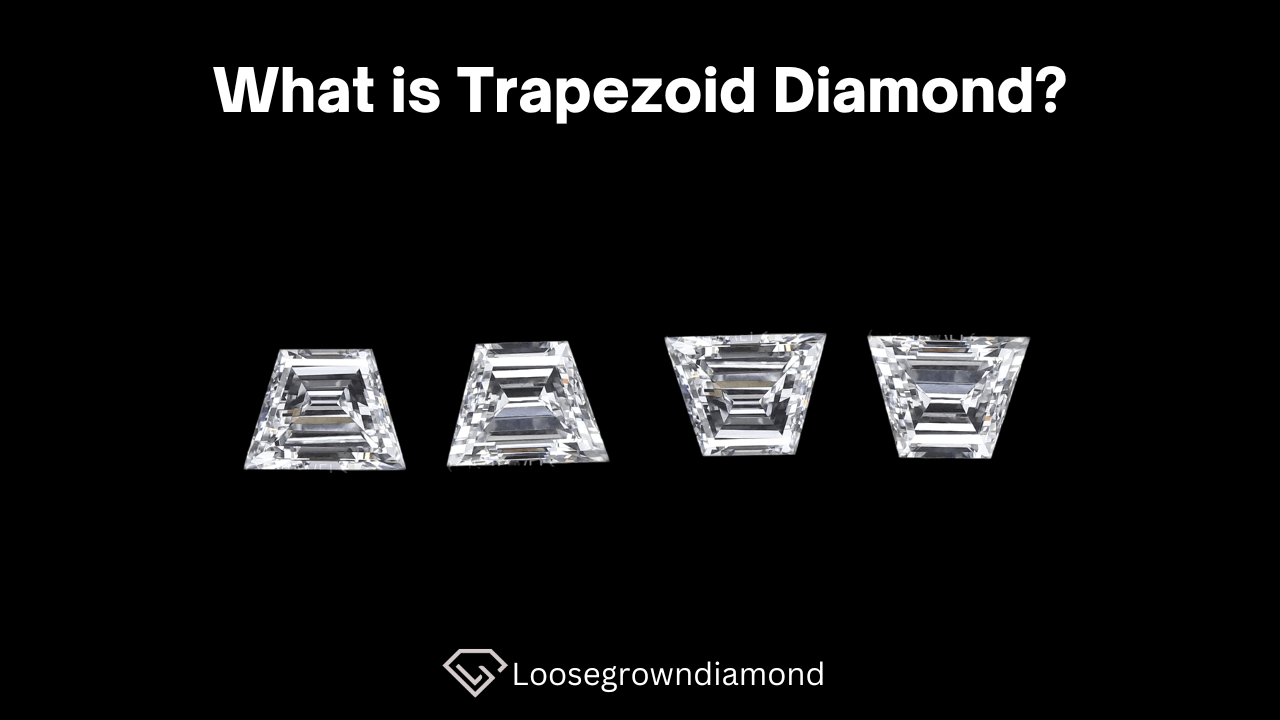 The step-cut trapezoids are famous and are usually paired next to the Asscher– or emerald-cut center stones. When placed next to any of these gems, a step-cut trapezoid diamond will give off a "parallel set of stones" look. This, in turn, can make any engagement ring look sharp and give off a royal vibe.
A brilliant-cut trapezoid pairs fairly well with a princess– and radiant-cut center diamonds. As all these shapes have more facets, they tend to look like a maze of reflections, making the ring look complex yet stunning.
In general, individuals are inclined towards going for baguettes or trillion-cut diamonds, as they are the more common choices available to jewelers. But with time, the use of trapezoid diamonds in engagement rings and pendants has increased tenfold.
Of course, all measurements and dimensions should be made clear about the center stone before deciding which companion stone will work best with a ring style.
The Trapezoid Diamond and Its Center Stone
Depending on the selected jewelry design, you can opt for trapezoidal side stones. Knowing the center stone's measurements is a must for using any type of trapezoid diamond.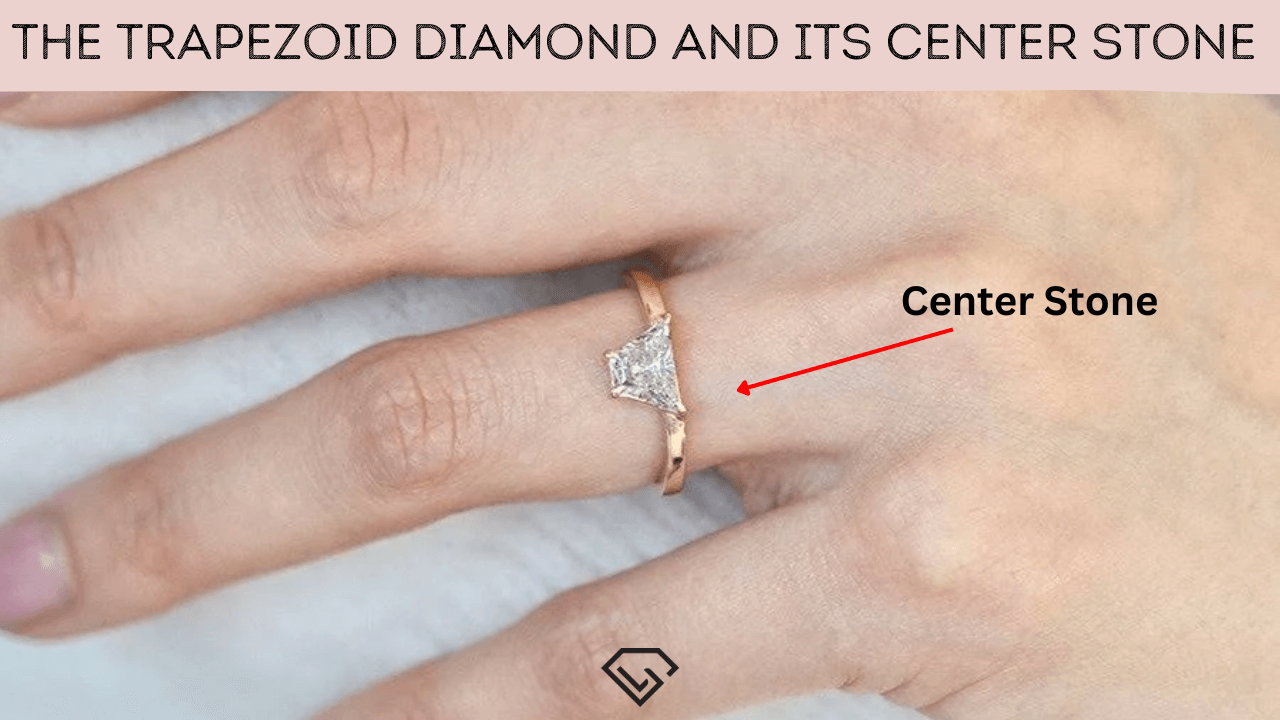 You wouldn't want an engagement ring in which the side stone looks bigger than the center stone. Because trapezoid diamonds are so versatile, they can be set in many different ways without taking away from the main stone.
For any change to be undetectable to the naked eye, both stones must be the same color and clarity grade. Thus, first, decide the color and clarity grade of the center stone. Based on that, have the trapezoid diamonds, which will work as side stones, made. The side stones can have a color and clarity grade that is 1–2 grades lower than the main stone.
There shouldn't be more than one color grade difference between the side and center stones. The adjacent stones cannot have a color grade lower than H, for instance, if the center stone has a G color grade.
Trapezoid Diamonds Cost
It is seen that trapezoid diamonds are used to enhance the brilliance of center stones and jewelry pieces. Trapezoids are known as versatile stones because their unique design allows them to compete with all other stones as side stones.
As you get such a nice option to pair with your selected center stone, knowing about the prices of trapezoid diamonds is important to set a budget for your engagement ring.
Talking of an average rate, trapezoid diamonds are roughly available at $1000 per carat. Of course, size, color, and many other factors determine its actual price.
Prices may differ depending on the 4Cs. We can only give you an estimate of the prices so that you can budget accordingly.
Your engagement ring's total cost will be the sum of the following: the cost of the center stone plus the cost of the side stone plus the cost of metal plus the cost of making.
When it comes to trapezoid diamond prices, a standard-size trapezoid diamond with base colors and design will cost you around $700-1000 per carat (at the very low end).
A trapezoid diamond can cost $400,000 or more depending on its features for a high-end design with unique composition and large size. Additionally, we have a tool for you to determine the trapezoid diamond price.
Types of Trapezoid Diamond
Contrary to other diamond cuts, the trapezoid lacks what is regarded as an optimum dimension-to-height ratio, making it more adaptable to individual pieces. Thus, diamond cutters can produce stones with the right size and lighting reflection.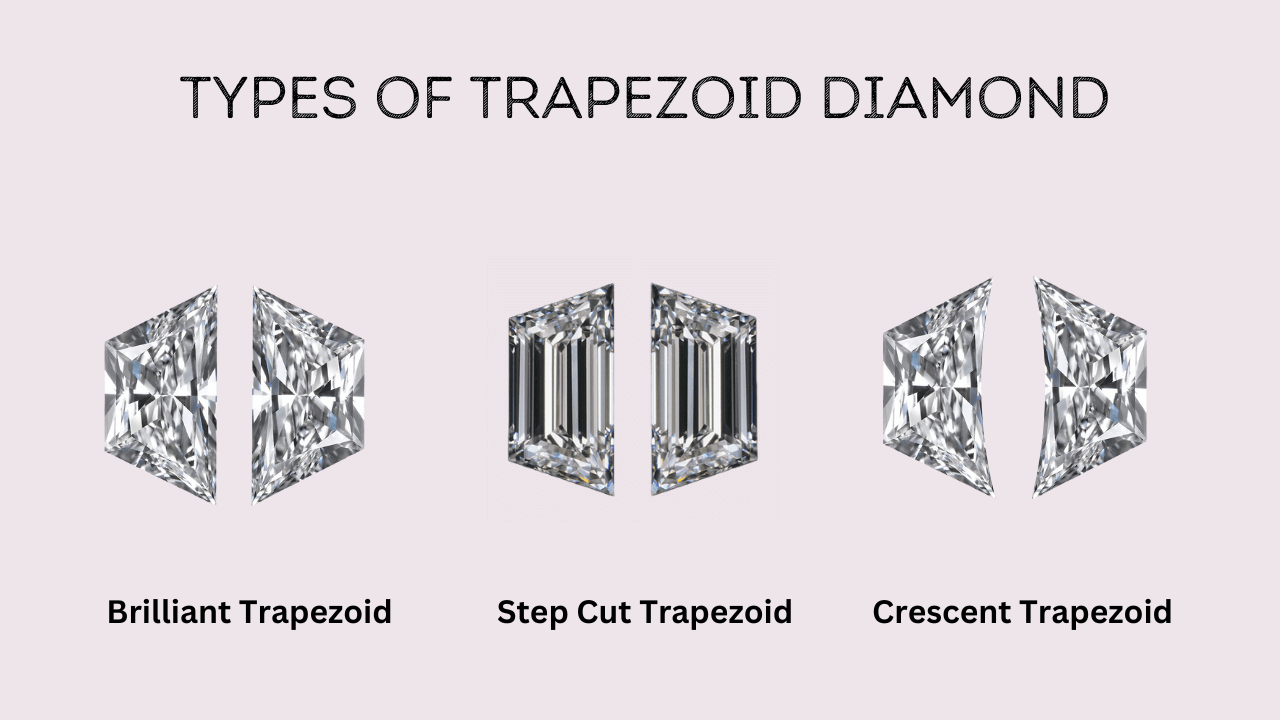 There's more to it, though. Finding the ideal center stone to go with it as an accent stone will require patience and skill.
Diamonds with a trapezoidal cut are typically used as side stones and come in brilliant-cut or step-cut varieties. At the same time, step-cut trapezoids are typically observed beside the emerald or Asscher-cut center stones.
The brilliant trapezoid cut diamond complements brilliant-shaped, rectangular center stones such as radiant and princess diamonds beautifully. Since it is wide enough to fit a nice little side diamond somewhere between the cut costs, the rectangle emerald form is perfect for notch trapezoid diamonds.
There is also a third type of trapezoid diamond called a crescent trapezoid diamond. Let us explain in detail.
Brilliant Trapezoid Diamond
Compared to step-cut trapezoids, brilliant-cut trapezoids are a far more recent cut. They emit a significant amount of light and fire compared to step-cut trapezoids. They are ideal when paired with emerald or Asscher-cut diamonds.
The diamond's bottom reflection is maximized thanks to the shape, which simulates a conical appearance.
Also, with contemporary methods, carving and cleaning a rough diamond always causes a significant loss in weight. On the other hand, these brilliant-cut trapezoid diamonds are either made from broken larger diamonds or produce less waste.
Step Cut Trapezoid Diamond
The trapezoidal cut that is utilized more commonly is the step-cut trapezoid diamond. In contrast to the Brilliant Cut Trapezoid, with more edges, the Step Cut technique has a stunning purity and sense of beauty.
It features parallel lines on each side that are significantly bigger than those in a brilliant-cut diamond, as is typical for step-cut diamonds.
The angles of the diamond consequently bounce light off one another, making the gemstone incredibly transparent.
Step-cut trapezoid diamonds have more obvious flaws when contrasted with brilliant-cut trapezoid diamonds.
So, we suggest that you choose a mix of step-cut trapezoids with excellent color and at least VS2 clarity.
Crescent Trapezoid Diamond
The brilliant-cut crescent trapezoid is the most commonly encountered new trapezoidal shape. It has curved sides to fit round center diamond types, including round, cushion, oval, and marquise diamonds.
It has a comparable brightness and sparkles to the brilliant-cut trapezoid diamond. Crescent trapezoids require a professional diamond craftsman to make their beautifully curled tips. And then, place it firmly in an engagement ring around a round-cut diamond without chipping its edges.
While picking the brilliant-cut trapezoid stone, you can select a lower-quality gem since the flaws aren't as noticeable, optimizing your budget on side stones.
Compare and Select
Step-cut trapezoids are excellent side gems for both an Asscher-cut and an emerald-cut center stone. In 3-jewel settings, step-cut trapezoids are frequently utilized, with the trapezoidal diamonds serving as a gradient to the central diamond.
Step-cut gems are only suitable for use in conjunction with step-cut trapezoids to complement each other.
Step-cut trapezoids next to an emerald center stone provide a stylish choice for side stones in an engagement ring.
Asscher-cut center stones look stunning when placed beside white, clear, and excellent purity-grade step-cut trapezoids.
Similarly, brilliant-cut trapezoids provide a lot of sparkle and brightness, accentuating the central stone's fire.
As a result, they'd be most commonly used as accent stones for diamonds with dazzling geometric shapes, such as princess and radiant cut diamonds.
And if both of these don't tend to work, you can always opt for the crescent trapezoid diamond ring.
Any of the trapezoidal shapes will be ideal for you when you have finalized a center stone.
Conclusion
With a relatively wider structure than a conventionally cut stone, the trapezoidal cut has become popular among diamond buyers, which is not surprising. In this article, we have tried to cover each aspect of a trapezoid diamond, from its price to its types and features. This is all you should consider when going to a jewelry shop to ask for a trapezoid diamond.
You can also take a look at our inventory at Loose Grown Diamond. If you like any of our trapezoid diamonds, be sure to connect with us.