Asscher Cut Diamonds: The Elegant Dazzling Cut of Diamonds 
When it comes to diamond cuts in the mainstream market, they are either brilliant cuts that just steal the spotlight with their dazzle, or they are the non-brilliant cuts that have a subtle elegance to them.
Asscher cuts lie in the middle of that spectrum. Their cut is the perfect combination of princess cut diamond, round brilliant diamond, and emerald cut diamond. They have the shape of a princess cut with the brilliance of a round cut and the cuts and facets of the emerald cut.
In other words, they are a bit more sparkly versions of an emerald cut diamond, just square in shape.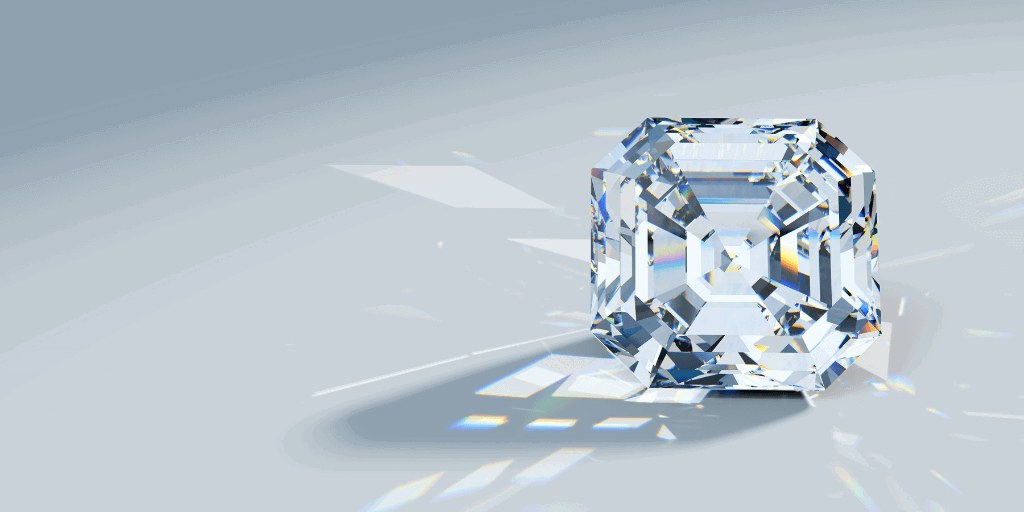 Asscher cut diamonds are step-cut diamonds with bold, angular facets and have exceptional clarity with a very unique look due to their symmetrical geometric shape. The faceted corners of an Asscher diamond increase the light entry within the diamond that makes the diamond sparkle on top of the 'hall of mirrors effect. When viewed from the top, there's a very visible 'X' pattern on the diamond.
Asscher cut diamond is of two types: the regular Asscher cut and the Royal Asscher cut. The only difference between the two is the number of facets. The regular Asscher, also simply called Asscher cut diamond, only has 58 facets. The Royal Asscher cut diamond has 74 facets, which makes it more brilliant than the regular Asscher cut.
Some of the noteworthy celebs who own Asscher cut diamonds are Zooey Deschanel, Jessica Alba, Gwyneth Paltrow, and Kate Bosworth.
Asscher Cut Diamond History
Asscher cut diamond was invented by Joseph Asscher in 1902, who named the cut after himself. It gained popularity around the 1920s when the Art Deco period was raging. Asscher cut's symmetry, linearity, and shape appealed to a lot of Art Deco fans.
About a century after this cut was first introduced, the great-grandnephew of Joseph Asscher modernized the classic Asscher cut. He improved the number of facets, increasing them from 58 to 74, which not only enhanced the look of the Asscher cut diamond but also made it sparkle more. This new, improved Asscher cut was called the Royal Asscher cut.
The 4Cs to Keep In Mind
When it comes to buying a diamond for you, the four most important qualities to keep in mind are Color, Clarity, Carat, and cut. These factors define the overall value of the diamond. The poor quality of even of these factors can prove detrimental to the overall look of the diamond.
COLOR: Compared to other diamond cuts, this makes it easier to spot the color variations in the diamond. While some people prefer a warmer H grade quality diamond for their jewelry, especially engagement rings over the colorless quality of D to F grade quality diamond, each of these diamonds have their charm and charisma that makes them unique.
CLARITY: Asscher cut diamond has a large table up top, which makes it easier to look inside and light to refract within. This also makes spotting inclusions and blemishes within an Asscher cut diamond a very easy job. Sometimes they are visible to even the naked eye. Therefore, it is best to carefully check the entire diamond for any inclusion and blemish that may affect the overall look of the diamond.
CARAT: Asscher cut diamonds are cut with depth. This makes them bigger per carat compared to a brilliant round diamond. Asscher cut diamonds to make use of the maximum amount of rough diamond with only a very small amount of wastage, which makes the price per carat lower.
CUT: Cut, is therefore the most important factor of all 4. The Asscher cut diamonds are famous and popular due to their cuts. Their step cuts are similar to Emerald cut diamond. Hence it is important to make sure that the diamond you are buying has straight and sharp cut edges with excellent symmetry.
Despite what these 4Cs say, they do not measure up the overall quality of the diamond. An Asscher diamond with a warmer color might be the one you look at. Or it may be an Asscher diamond with a slightly distorted cut but has an appeal to you.
The point is, it all comes down to your personal preference more than these 4Cs dictate.
Also Read: Should You Consider  Buying An Clarity Enhanced Diamond
Asscher Cut Diamond vs Emerald-cut Diamond
Asscher cut diamond is often called a square emerald cut. While they do have some similarities between them like their step cut feature and their straight and linear facets, they have more differences than similarities.
The most striking similarity is the size and shape. Emerald cut diamonds are long and primarily rectangular in shape. Asscher cuts are square-shaped diamonds with trimmed corners.
Asscher cut diamonds have long narrow facets compared to the wide facets of an emerald cut diamond. Emerald cut diamond's cuts give it a hall of mirror effect while The facets of Asscher cut give it a kaleidoscopic and iridescent effect.
Asscher cut has more facets than emerald-cut diamonds. They also have a lesser number of tables than emerald cut diamonds that contribute to their subtle brilliance.
Emerald cut diamonds have an elongated appearance while Asscher cut diamonds have a symmetrical larger appearance with a square silhouette.
Setting Variations for Asscher Cut Diamonds
Asscher cut diamonds have a vintage vibe to them, which makes them perfect for women who wish for that aesthetic to be reflected in their jewelry.
Asscher cut diamonds serve great as solitaire studs. Their elegant glimmer immediately draws eyes upon when they are donned by you. That stud look can be upgraded by going for drop earrings where drops are Asscher diamonds. They can be upgraded further with halos of small accent diamonds.
Asscher cut diamond also works amazingly well as a solitaire pendant and adorns the neckline quite well. Wearing it in layers with other diamond cut pendants just makes the overall look ingenious and glamorous.
When it comes to engagement rings, Asscher cuts are one of the top 10 most popular diamond cuts to be chosen from. Their antique vibe pleases a lot of brides who like something subtle yet luxurious in their rings. The two most favored engagement ring settings are the Solitaire setting and the three-stone setting.
The solitaire setting, especially a colorless or near-colorless diamond, on a white band makes a graceful engagement ring. This kind of setting showcases the beauty of the center diamond by putting it into the spotlight.
Three stone setting uses two more stones on either side of the center stone. The Asscher cut engagement ring looks great with side stones. They increase the brilliance of the Asscher diamond and make it sparkle. 
For choosing the side stone, there are baguettes, triangles, marquise, trillion and even smaller Asscher cut diamonds.
Adding a paved band with an Asscher diamond in a ring gives the whole ring a regal look and makes it look lush and exciting.
These settings only enhance the brilliance of the central stone and make it appear sparklier. Standalone stones in solitaire rings also work great but compared to a 3-stone setting, they may appear a little simple.
The prong setting is one of the favored settings when it comes to holding down the stone. Four metal prongs hold the diamond in place by its trimmed vertices. This secures the diamond quite well. This setting is favored since it allows the maximum amount of light to enter the diamond from all four sides, which along with the way it is cut just makes it sparkle.
Another popular setting is the bezel setting. This setting also works swimmingly with Asscher cut diamonds and embraces the contrasting planes of step cuts of the step cut diamonds. This also provides quite the protection to the diamond as a metal layer covers it on all the edges. The only side effect of the bezel setting is that it moderates the amount of light that is supposed to enter the diamond. This directly affects the sparkle capacity of the diamond.
The bezel setting is quite popular among women who like a chic and modern touch with vintage and antique diamonds.
If you are looking to increase the dazzle factor of the central diamond in an Asscher cut diamond ring, then consider adding a halo to it. The halo is a row of small diamonds on the perimeter of the center diamond which gives the diamond oomph when viewed. Halos not only increase their brilliance, but they also create an illusion that can make the diamond look about 1.5 times bigger in size.
To make the ring even more extravagant, you can even go for a double halo. If the ring wouldn't grab attention left and right before, it will surely now.
Halo and Bezel settings also are the best options if the person wearing has an active lifestyle. They act as a safety buffer and heavily reduce any damage that can be done to the diamond
While many women prefer the glimmer of the diamond, many women also like the subtlety of the diamond. That makes Asscher cut diamonds a perfect choice.
Also read: Embrace The Lab-Created Fancy Cut Diamonds
What Makes Asscher Cut Diamonds a Great Choice?
Other than its appearance, Asscher cut diamond offers a lot of other plus points that make them worth their price.
– They are a perfect blend of emerald cut diamond's elegance and brilliance of a princess cut diamond, which makes these Asscher cut diamonds quite unique and one of a kind.
– In proper settings, Asscher diamonds may look bigger for their carat value. This can be further enhanced by adding a halo around the center diamond. Hence you could end up with a much bigger diamond compared to the price range.
– Asscher cut diamonds have a clean, neat, fine, and elegant look. Their perfect blend of vintage and modern makes them quite an excellent choice for any piece of jewelry, especially an engagement ring.
– Asscher cuts diamonds have pruned vertices. This makes their odds of getting chipped or damaged less and makes it a safer option for people with a healthy and active lifestyle.
– Due to their large facets and tables, the body color is easily refracted from within the Asscher diamond. This makes the Asscher diamond perfect for every skin tone. Coupling the warmer-hued diamonds with yellow gold or rose gold might just enhance its vintage and timeless appeal. By going for white gold or platinum with a colorless diamond, the overall look may appear very elegant and sophisticated to anyone who would look at it.
– Asscher cut diamonds are one of the most affordable diamond cuts. Since the amount of wastage that occurs while the diamond is cut is very low, it also makes the price of the diamond drop. If you'd like to make the diamond even more affordable, you can go for lab-grown diamonds. They are real diamonds that are manufactured synthetically in machines.
Lab diamonds are about a quarter times or cheaper than natural diamonds which makes them budget-friendly and great substitutes to the real diamond without having to trade off clarity and quality for the diamond.
Winding up, Asscher cuts are vintage diamond cuts that are still thriving in the modern world. They are elegant, sophisticated, and antique that have quite a high appeal to the contemporary crowd. Lab-grown diamonds sweeten the pot further as they are natural diamonds grown in man-made conditions that yield the same results. It is impossible to tell the difference between earth-mined diamonds and synthetic diamonds without their grading certificate. Lab-grown diamonds reduce the price of the diamond. 
They make a great substantial, ethical and amazing substitute to natural diamonds. These budget-friendly diamonds look great in a wide variety of settings. They are less bound to get damaged or chipped which makes them perfect candidates for brides with an active lifestyle.  
They are obliged to catch the attention of everyone around them if anyone's who's wearing them. Be it earrings or engagement rings, Asscher cut diamonds will make you stand out with their subtle brilliance.