Asscher Cut Diamonds: Everything you need to know
In the diamond world, there are many different cuts to consider before buying. Every different cut signifies different aspects of a diamond and you need to explore every cut in detail before you make a final choice. The Asscher cut diamond is considered to be one of the most symmetrical and eye-pleasing cuts in the world of diamonds. 

If you're someone who has been exploring cuts for pure diamond engagement rings for a significant diamond pendant then this article is perfect for you to understand what an Asscher cut is and what are the different aspects of the Asscher cut.
What is Asscher Cut Diamond?
The Asscher cut diamond has 8 edges and hence is often known as the octagonal diamond as well. The main identifying features of an acid cut are it is square in shape and has a significantly small table. All the facets of the diamond are rectangular in shape and this is what gives the effect inside the diamond.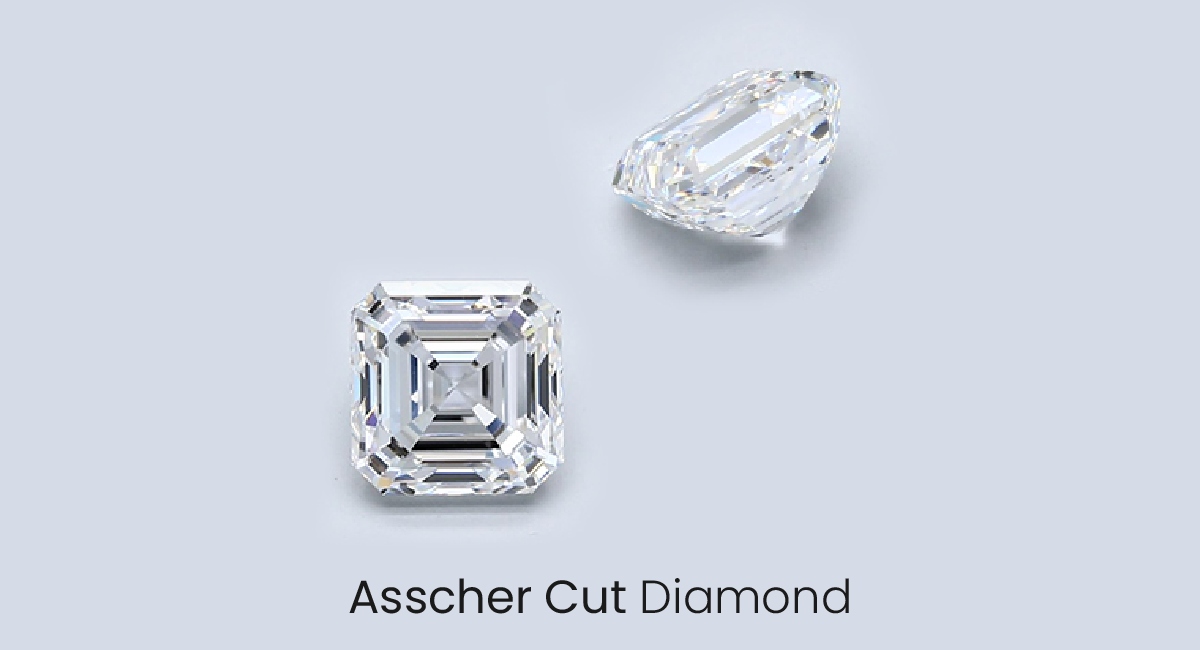 The Asscher cut is also known as a step-cut diamond because the diamond is cut at different levels exactly like a staircase. The diamond is also often compared to the emerald cut and the Princess cut because of its shape and similarity in cutting style.
There are two types of Asscher cut diamond 1 is the classic Asscher cut which has 58 facets and the other one is known as the Royal Asscher cut diamond which has 74 facets. Both these cuts are identified as having a tall crown and a deep pavilion. 
| | | | | | | |
| --- | --- | --- | --- | --- | --- | --- |
| Shape | Carat | Cut | Color | Clarity | Price | |
| asscher | 2.04 | Ideal | G | VS2 | $1880 $1410 | View |
| asscher | 2.01 | Ideal | G | VS1 | $2687 $2015 | View |
| asscher | 2.07 | Ideal | H | VS2 | $1089 $817 | View |
| asscher | 2.01 | Ideal | E | VVS1 | $3349 $2512 | View |
| asscher | 2.00 | Ideal | D | VS1 | $2347 $1760 | View |
| asscher | 2.04 | Ideal | H | VS2 | $1363 $1022 | View |
| asscher | 2.02 | Ideal | D | VS1 | $1924 $1443 | View |
| asscher | 2.04 | Ideal | D | VS1 | $2391 $1793 | View |
| asscher | 2.06 | Ideal | I | VS1 | $1303 $977 | View |
| asscher | 2.05 | Ideal | E | VS2 | $2103 $1577 | View |
| asscher | 2.00 | Ideal | E | VS1 | $1651 $1238 | View |
| asscher | 2.08 | Ideal | F | SI1 | $1123 $842 | View |
| asscher | 2.07 | Ideal | D | VS1 | $3100 $2325 | View |
| asscher | 2.05 | Ideal | E | VVS2 | $2573 $1930 | View |
| asscher | 2.00 | Ideal | F | VVS2 | $2457 $1843 | View |
| asscher | 2.02 | Ideal | G | VS2 | $1433 $1075 | View |
| asscher | 2.09 | Ideal | G | VVS2 | $1600 $1200 | View |
| asscher | 2.03 | Ideal | D | VS1 | $1933 $1450 | View |
| asscher | 2.03 | Excellent | E | SI1 | $1277 $958 | View |
| asscher | 2.01 | Ideal | H | VS1 | $1500 $1125 | View |
History of  Asscher Cut Diamonds
The Asscher cut diamond is named after its founders which were the Astor brothers and specifically the diamond is named after Joseph Aster who founded the cut. The diamond cut is only 120 years old and was discovered in the early 1900s. 
The Asscher cut diamond became super popular very early after its conception because in 1920 the art deco period started which is an era that was popular for geometrical and symmetrical pieces of art. Many say that the popularity of the Asscher court was heavily influenced by the ongoing industrial revolution.  
Geometry and Modernity were seen as a sign of prosperity and the Asscher cut which is highly symmetrical of course gained popularity in terms of design.
Till today as Asscher cut diamonds are considered an elegant choice because of their unique cut. Throughout history, Asscher cut diamonds favorite of the royal families around the world and are still the highlight of many historical pieces. 
Length to Width Ratio of Asscher Cut Diamond
The Asscher cut is known for its symmetry and geometric appearance. The best ratio is 1.00-1.05 when it comes to the Asscher cut.

A ratio of 1.05-1.10 is considered the second-best side-to-side ratio for an Asscher cut. A 1.10-1.15 ratio is considered poor but if you have no other option, you can consider this as the last resort.
What Makes Asscher Cut Diamonds a Great Choice?
Other than its appearance, Asscher cut diamond offers a lot of other plus points that make them worth their price.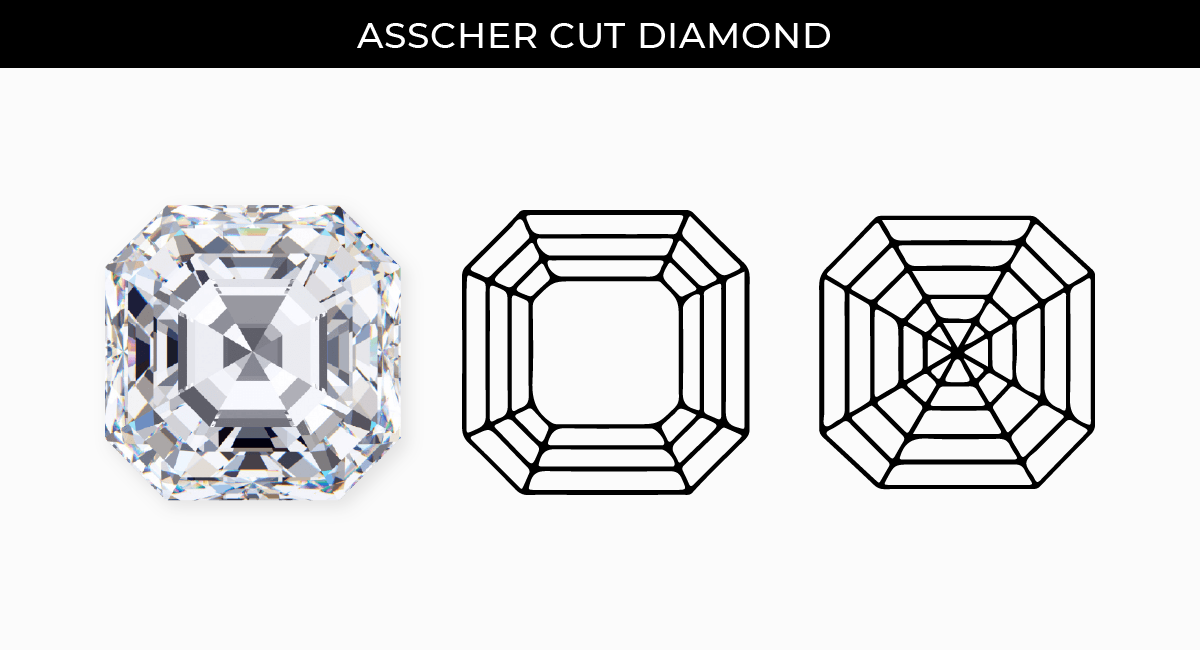 – They are a perfect blend of emerald cut diamond's elegance and brilliance of a princess cut diamond, which makes these Asscher cut diamonds quite unique and one of a kind.
– In proper settings, Asscher diamonds may look bigger for their carat value. This can be further enhanced by adding a halo around the center diamond. Hence you could end up with a much bigger diamond compared to the price range.
– Asscher cut diamonds have a clean, neat, fine, and elegant look. Their perfect blend of vintage and modern makes them quite an excellent choice for any piece of jewelry, especially an engagement ring.
– Due to their large facets and tables, the body color is easily refracted from within the Asscher diamond. This makes the Asscher diamond perfect for every skin tone. Coupling the warmer-hued diamonds with yellow gold or rose gold might just enhance its vintage and timeless appeal. By going for white gold or platinum with a colorless diamond, the overall look may appear very elegant and sophisticated to anyone who would look at it.
– Asscher cut diamonds are one of the most affordable diamond cuts. Since the amount of wastage that occurs while the diamond is cut is very low, it also makes the price of the diamond drop. If you'd like to make the diamond even more affordable, you can go for lab-grown diamonds. They are real diamonds that are manufactured synthetically in machines.
Asscher Cut Diamond Ring Settings
Asscher as mentioned before are highly symmetrical and have a lot of texture in themselves already. This is also the reason why simple settings are considered best for Asscher cut diamonds. If you are someone looking for an engagement ring setting for Asscher cut diamonds we suggest you go with pave set bands and a 6 prong or a 4 Prong solitaire setting.
Asscher cut diamonds look best with white gold and platinum bands because they enhance the brilliance of the Asscher cut. Simple small diamond accents in a pave setting or a gypsy set band look great. You can also opt for Asscher cut diamond in a Halo setting where the central diamond is complemented by a fancy colored diamond like a green diamond or maybe another precious stone. 
When it comes to fancier setting variations designs in the band itself are our favorite. Small engravings on the band look minimal and do not take the spotlight away from the diamond itself. 
Another few setting variations you can go for are old vintage art deco designs. Since the Asscher cut was the highlight of the Art Deco era, these designs complement the cut beautifully. The three diamond ring with trapeze-shaped diamond accents is a great design. 
Another famous design from the Art Deco age would be the Jessyca ring design which features a big Asscher cut Centra diamond, multiple types of diamond accents, and intricate grain design on a platinum band. 
Conclusion
Asscher cuts are vintage diamond cuts that are still thriving in the modern world. They are elegant, sophisticated, and antique that has quite a high appeal to the contemporary crowd. Lab-grown diamonds sweeten the pot further as they are natural diamonds grown in man-made conditions that yield the same results. It is impossible to tell the difference between earth-mined diamonds and synthetic diamonds without their grading certificate.
They make a great substantial, ethical and amazing substitute to natural diamonds. These budget-friendly diamonds look great in a wide variety of settings. They are less bound to get damaged or chipped which makes them perfect candidates for brides with an active lifestyle.