The Surprising Look Of Halo Craze: Double Halo Rings
When it comes to engagement rings, the wide variety of styles and settings can overwhelm anyone. But if you have a tight budget but still wish for a dazzling statement engagement ring that will grab the attention of everyone around with its sparkle then double halo rings are your new best friends.
Halo rings have a simple aesthetic, in an addition to a luxurious and ornate design. In double halo style, two concentric loops of metal and small accent stones encompass the center stone to give the appearance of a double halo
Halo engagement rings are a voguish, chic, and popular choice for an engagement ring. They have a long-lasting charm and a value for their price, making them quite worth the money you are paying. In the last few years, their popularity has exploded. This has made them a luxurious choice for a wedding band.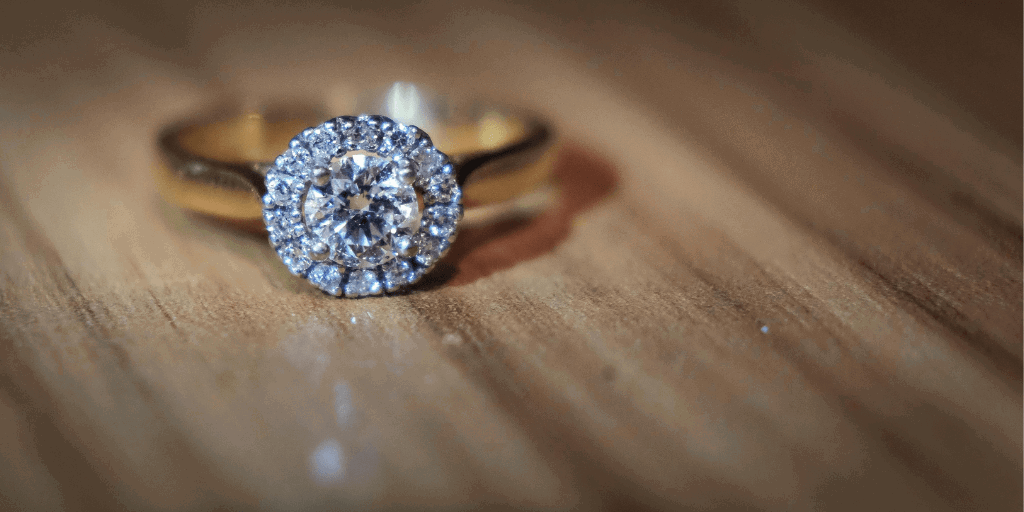 Double Halo rings are gorgeous and highly admired. Going for a double Halo engagement ring is also an amazing way to bump up your budget. Sure they cost a little more than other styles and settings but the loose diamonds adorning the halos make the significant rate of the diamond drop to a reasonable price.
This Double Halo setting can improve the overall sparkling effect of the engagement ring by making it appear a lot more detailed. It also balances the mystique and simplicity of the ring. All these factors make the overall effect neither subtle nor flamboyant.
Mad Men and Community actress Alison Brie is one of the celebrities who dons a dazzling double halo engagement ring. Natalie Portman and Ashley Tisdale also own double halo engagement rings.
Retracing Its Steps
Halo ring setting may have gotten its fame in recent years but this style has been in fashion for nearly 300 years.
Some of the earliest designs were made in Georgian era England where smaller gemstones or pearls were used as accent gems to surround the large center stone. By the Victorian era, halo rings grew in popularity as colored stones were then being used to imitate floral designs on the rings by creating halo and double halo settings.
The halo and double style got their current setting and design during the Art Deco period. That period paid major emphasis on symmetry, geometry, and linearity in jewelry. The two concentric circles were a great Art Deco aesthetic.
The popularity of halo and double halo settings decreased during the Great Depression and World War II. Following that, halo settings came into their spotlight during the 1960s when Art Deco fashion made a rebound for the spotlight. And it has been a popular choice for rings since.
TYPES OF DOUBLE HALO ENGAGEMENT RINGS
While the double halo engagement ring itself is a style statement, in the past years, people have openly experimented with this design and made some excellent designs.
Top Double Halo Setting: This is the classic halo ring style. Two adjoined rows of diamonds encircle the center stone, increasing its size and dazzle. This type of double halo instantly grabs the attention of both the rows of the diamonds, making the illusion of a bigger ring.
Double Halo with Pave Setting: If your preference is drama, sparkle, and magnificence, a double halo setting with a pave setting on the band will get you all that. This kind of ring may appear as a diamond overload and steal all the focus from the center stone, but it does make up for its collective dazzle that. It is a highly extravagant look and not something everyone can pull off. 
Antique Double Halo Setting:

If you favor a subtle yet glimmering double halo setting, then a classic Art Deco era double halo setting might be just for you. These rings offer the geometric and formal appeal with the signature sparkle of the double halo engagement rings. 

Floating Double Halo Setting:

 Floating double halo setting is similar to the Top Double Halo setting. The only difference is the presence of a gap between the rows of diamonds. These rows have metalwork underneath which is not very visible and give the appearance that the center stone is not joined to the ring and as if it is 'floating'.

Gemstone Double Halo Setting:  If you think having diamond accents for two halos around a central diamond is too much, try another gemstone as either the center stone or accent stones. This type of setting will create a contrast and give the 'white' ring a hint of color. For example, ruby is a central stone with diamond halos

. Or, a central diamond with one or both sapphire halos. 

Hidden side Halo Setting: Double halo setting can be too typical at times. To add a twist and up the game, try choosing an engagement ring with a hidden side halo. In this style, the second halo is added to the side of the first halo rather than next to it. This can make the ring a little less luxurious and not too on the nose. Also, opting for colored stone as hidden halo stones can add a healthy glow to the ring. 
Unique shaped Halo Setting: 

 For a one-of-a-kind ring, go for a different shaped halo combined with different diamond shapes. This will upgrade the ring to a more sophisticated and Art Deco vibe. You can try a double hexagonal halo for a round brilliant cut diamond as the centerpiece. 
The 'Perfect' Double Halo For An Engagement Ring
When it comes to an engagement ring for women, 'perfect' is a highly subjective quality. What might be a perfect engagement ring for one woman may not be pleasing to another at all. With 
Double Halo engagement rings, there exist so many designs and flairs that you are bound to find one that will make your eyes light up.
Double halo engagement rings don't have to feature just round cut diamonds or princess cut diamonds are centerpieces. You can literally have any kind of diamond as the centerpiece in any setting.
You can always opt for different colored gemstones to make the halos. This would create a variance to focus which will only enhance the overall look of the ring. Mixing stones like sapphire, emeralds, rubies, or even colored diamonds to go with white colorless diamonds improve the look of the engagement ring and makes it appear vivid.
A pure diamonds look with a central diamond and diamond halos will make a classic and timeless piece of engagement ring.
Halos make any engagement ring look better. Double halos, double that effect. No matter what diamond is chosen as the center diamond, the halos around it make it a lot more luxurious.
The double Halo setting looks best when paired with 14 Karat white gold, giving the engagement a versatile white icy air. It can also be paired with Platinum for the same. But Platinum is not only rarer than white gold but also expensive. Such a setting will instantly boost up the price of the ring. Hence, white gold remains a budget-friendly option. But not the only option.
If you favor a little vintage-ness for the ring, you can go for 14 Karat rose gold. 14 Karat yellow gold will give a classic and sophisticated look to the double halo engagement ring.
You can always mix and match the metals, creating contrasting backgrounds for the diamonds and make your engagement ring even more dramatic and glamorous. White gold and Rose gold combination are one of the favored designs for double halo engagement rings.
Adding a solitaire band with the double halo ring will give the entire ring a smooth, polished, and modern air. It will also increase the collective sparkle of the ring and make it more awe-inspiring. These embellished bands own more of an old-world charisma.
If not a solitaire band, you can opt for a double band with a double halo feature. This will make the engagement ring look quite extravagant and fantastic.
If embellished bands are not up to your alley, engraved bands can be a wholesome alternative. These engravings can be custom and personalized to each person, making each ring, even more, one in a million styles.
Double Halo engagement rings might lie on the expensive side of the spectrum due to a large amount of sparkling and dazzling. Substituting natural diamonds for lab-grown diamonds can help you lower the entire cost of the ring without having to compromise the quality, glimmer, and glitz of the engagement ring.
Lab-grown diamonds make a healthy alternative to natural earth-mined diamonds. They are real diamonds that are made synthetically in laboratories using chemicals, intense heat, pressure, and irradiations on a diamond seed. 
These synthetic diamonds tend to be just as strong, hard, and brilliant as the natural earth-mined diamonds, except for the negative side effects. They reduce the damage done to the earth via mining and other harmful activities which makes these diamonds a sustainable, ethical, and stylish choice.  
WHY THE DOUBLE HALO ENGAGEMENT RINGS ARE GREAT?
Double Halo rings have earned a lot of brownie points that make the whole piece of jewelry worth its money.
Double Halo setting around the central diamond creates an illusion with a larger surface area and makes the central stone appear larger than it is. This is a great option as you can choose a 1 Carat diamond for the center and with the double halos, the center diamond may appear 1.5 carats or even more. So without increasing the carat or the expense, you are getting a bigger diamond.

The double halo setting maximizes the brilliance of all the diamonds on the ring. The halos refract the incoming light into the central stone, which is then refracted some more, which elevates the brilliance of the central stone, without having to upgrade the clarity or cut of the central stone.

The combined dazzle of the ring can boost up the appeal and appearance of the center stone, making it more attention-grabbing worthy.

Double Halo engagement rings give a detailed and segmented look that gives off a chic and contemporary vibe. 

The double Halo setting leaves a ton of room for personalization that suits your taste. Mixing and matching stones, metalwork, metal colors, stone shape, halo shape, and a lot more, each woman can find a double halo engagement ring that will speak to her and her only. So much customization also makes each ring a unique and unparalleled piece of jewelry.

The double halo is a highly versatile style. You can literally make it work with any and every stone of your choice.

The halos can be of any shape. Be it the ones along with the shape of the diamond or a while different shape, they will look great due to their unrivaled geometry and linearity.

The double halo setting around the central stone acts as a buffer and protects the stone from all kinds of dents, scratches, and other damages. This causes this style of ring to go a long way just the way they are without needing to be tended regularly.
Also read: The most popular lab created diamond engagement rings
Double Halo Engagement ring is an extraordinary choice for a diamond engagement ring for women. They offer a great deal of finesse and glimmer. They boost up the brilliance of the entire ring.
Such a setting also helps damage control by minimizing the impact of the damage. It also complements a wide variety of diamond shapes, styles, colors, colored gems, metal works, metal type, and could still leave room for personalization. The more you can personalize your double halo engagement ring, the more unique the final product becomes.
Double halo engagement rings are such a versatile piece of jewelry that they are not bound to get out of fashion any time soon. One cannot go wrong with a double halo setting for an engagement ring. All in all, you get a big classic, timeless, versatile, and evergreen piece of jewelry for a smaller budget that will be a show-stopping engagement ring.