Stunning 2 Carat Diamond Ring that Set the Fashion Frenzy
Were you looking for a stunning 2-carat diamond ring to propose to your girlfriend? but don't know where to start? We at Loose Grown Diamond have articulated this guide to make the selection process easier.
Going on a search for 2-carat diamond rings is a challenging task, and not everyone can get the correct ring instantly. It needs extra focus on the details to ensure that the diamond has no visible flaws in its size.
A 2-carat diamond ring can be glamorous and draw everyone in the room towards it. only if purchased correctly.
In this article, you will also learn about the unique features of a 2-carat diamond and how to get it placed on your ring. A 2-carat diamond ring's price isn't the only thing determining its appeal; there are numerous factors that we will be explaining ahead.
Let us start with the basics.
What Is a 2 Carat Diamond?
Before purchasing a 2-carat diamond ring, we should first answer some basic questions about the gem: what is a 2-carat diamond ring? Or what makes a 2-carat diamond so unique?
If we say it simply, then a 2-carat diamond shows the weight of the stone. Generally, people get misled by the term "carat." The truth is that carats are the standard measurement for weighing all precious gems.
1 carat of diamond weighs about 200 milligrams or 0.2 grams; therefore, a 2-carat diamond is 400 milligrams or 0.4 grams. Diamonds are always cut depending on their carat weight. Because of this, one can expect different surface areas among different shapes.
The second most popular choice in the jewelry industry regarding carats is 2-carat diamonds. These diamonds look elegant and remarkable when worn. Many buyers would love to get these diamonds.
If you buy a 2-carat diamond ring, there are a few essential things to consider. Diamonds of this carat size have a good cut and are very rare. Thus, great care and attention are required to keep them shining. To get good value for your money, you should have good skills in analyzing the 4Cs of diamonds.
A 2-carat diamond is the best way to illustrate your undying love for your better half. You may face additional pressure when buying a 2-carat diamond engagement ring, but it will be worth the effort.
How Much Does a 2 Carat Diamond Ring Cost?
While shopping for any kind of diamond, price plays an important role. Depending on the shape, cut, quality, and other features, the price of 2-carat diamond rings can vary greatly.
A 2-carat GIA-certified diamond can cost anywhere between $3,500 and $65,000.The lower segment consists of lower grades like K, L, and M color grade and VS or SI clarity grade, thus the diamond can lie in the $3,500 to $9,000 range.
Similarly, for higher grades like D grade for color and IF clarity grade, a 2-carat diamond ring will cost around $35,000 to $60,000. This varying price range is due to the 4Cs and because we at Loose Grown Diamond offer the most affordable 2-carat lab-grown diamonds the world has ever seen.
It is not mandatory that the higher the price of a 2-carat diamond ring, the greater its appeal will be. Any individual can find a diamond with a lower grade (relatively speaking) and hardly any visible flaw for a reasonable price with a little skill and research.
Personally, we wouldn't recommend you go towards either extreme grades or price ranges, but rather stick in the middle to get the best of both worlds. If you can spend a little bit more, move towards the higher price range and higher clarity grade. You will end up with a stone that you will cherish for a lifetime.
To give you a better idea, diamonds with SI2 clarity and M color grade are considered lower grades. Hence, the diamond might not offer the spark you want. Similarly, diamonds with IF clarity and D color grade are in the upper range but will set you back a fortune.
Getting a 2-carat diamond ring within this range would be the ideal choice. A stone with a G or H color grade, VS2/VS1/SI1 clarity grade, and an "ideal cut." This 2-carat diamond ring would cost between $20,000 and $60,000. If you are still confused to determine the cost, here is our diamond value calculator.
It should be noted that this price range will vary greatly depending on the ring setting and metal choice. A solitaire ring will cost around $10,000. A halo ring with melee diamonds on its band might cost close to $30,000. Basically, the price of a 2-carat diamond ring will depend on your style and choice.
2 Carat Diamond Ring Size
What is the perfect 2-carat diamond ring size for my fiance? If you have a similar question in your head, let us help you out.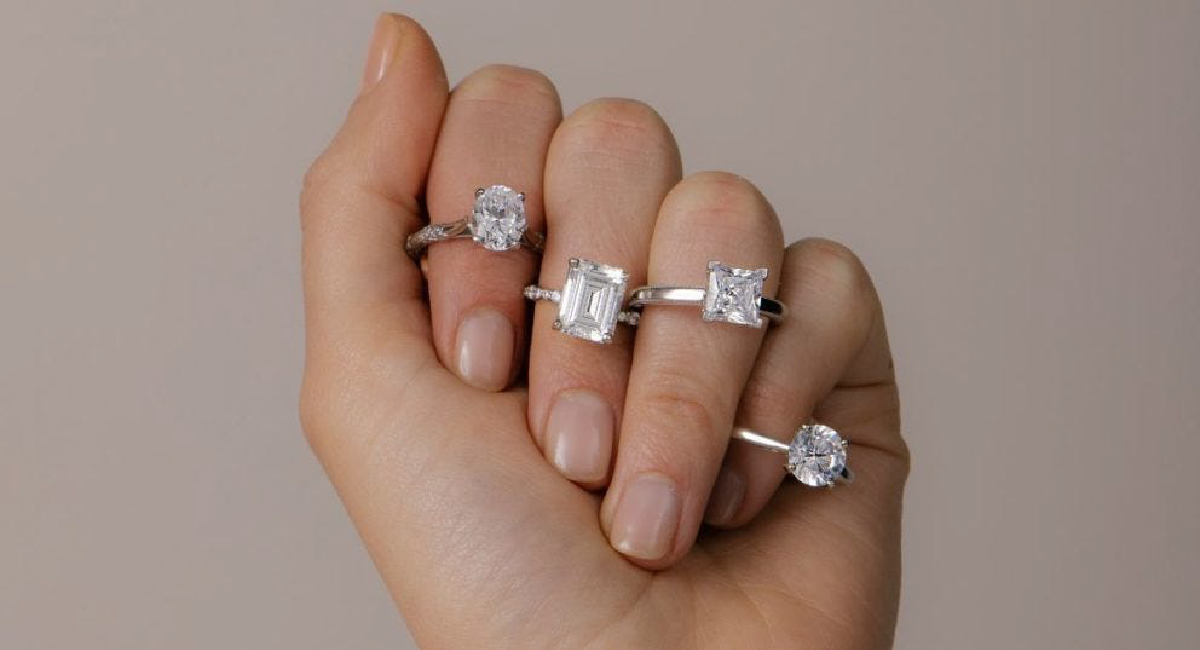 Once you know the parameters and size of a 2-carat diamond, you will surely be able to choose the most optimal diamond within your budget.
The value of a diamond is mainly defined by the grade of the 4Cs: clarity, cut, color, and carat. And the diameter of a diamond can tell you its exact size, which you can then compare with the width of your finger to get an idea of a 2-carat diamond.
To better understand the parameters and size of the ring, you can refer to comparison carats, which show estimated diameters for all shapes of diamonds, along with their height and depth.
As different shapes of diamonds, they will appear different in size. It can also be possible that a diamond of lower carat weight appears to be bigger than a diamond of higher carat weight. This can be because some of the weight is used in the depth of the diamond. As an example, a 2-carat round-cut diamond may appear smaller than a 1.90-carat marquise diamond.
To give you a mathematical idea, the brilliant 2-carat round-cut diamond weighs 400 milligrams and has a diameter of about 8.0–8.2 millimeters. This measurement is averaged and estimated.
These measurements can be adjusted depending on the cut grade and shape. All these are the practical answers to the question "How large is a 2-carat diamond?" but at the end of the day, when it comes to such a tremendous and important purchase, it's what you find to be the best.
Below are some shapes for 2-carat diamonds with their approximate measurements in millimeters.
SHAPES:
ROUND: 8.1 mm
PRINCESS: 7 mm
CUSHION: 7 mm
OVAL: 9X 7 mm
EMERALD: 8.5 X 6.5 mm
HEART: 8 mm
PEAR: 9 X 7 mm
MARQUISE: 13 X 6.5 mm

ASSCHER

: 7 mm
RADIANT: 8 X 6 mm
2 Carat Diamond Ring on Finger
If you want a dazzling ring with fire and shine, then a 2-carat diamond is one of your best options. Let us dig into some more details about a 2-carat diamond ring that will look perfect on your finger.
You will have to look through plenty of diamonds to get the right size and weight. The bigger the diamond, the more it will sparkle. However, this rule can have some exceptions. A 2-carat diamond must have many characteristics other than carat weight in order to look good on your fingers.
As we mentioned above, the 2-carat diamond is about 400 milligrams in weight. 2 carats is almost similar to a raisin. Its size is at a sweet spot with eye-catching ability without being so big as to dominate your fingers. The diamond can seem significantly bigger to the person sitting next to you.
Buying a diamond is big talk for everyone. Choosing something that is timeless and priceless would not depend on anything other than your personality. The overall look of the diamond ring on your hand depends on multiple factors, like the ring's setting, the diamond's cut, the color of the diamond, and its clarity.
Fancy diamond shapes like pear, oval, heart, and emerald will always look larger on the hand because the large table top and shape will also contribute to it. In comparison, a round diamond of the same carat size will look a little smaller than these fancy shapes. The settings, like a halo, will make the 2-carat diamond ring look bigger.
Going for a 2-carat diamond with an elongated cut will make your fingers appear slim and long. While a chunky diamond like that of a cushion cut will appear royal but take up a major portion of your hand. And you can always go for a neutral look by selecting a brilliant-cut, 2-carat diamond ring. Choose the design that best complements your style.
2 Carat Diamond Shapes
There is no single optimal shape for a 2-carat diamond. It will be very hard to suggest a single shape perfect for all hands. Every hand is different, and everyone's choice also varies. Below are some types of diamond shapes listed. You can refer to it to discover the perfect shape for your beautiful 2-carat diamond ring.
2-Carat Round Brilliant Cut Diamonds – A round brilliant cut is the most famous diamond shape worldwide. A 2-carat diamond ring can be passed down through generations as a family heirloom because these are elegant and timeless. It offers the most incredible sparkle due to its 57–58 facets.
2-Carat Oval Shaped Diamonds – The oval shape has become increasingly popular in the last few years because of its modern look. This shape can appear bigger on the finger than the same carat round-shaped diamond because an oval is a little more elongated. This shape is best for people who want a traditional style with a modern twist on their engagement ring.
2 Carat Emerald Cut Diamonds – The emerald cut is also present in the world's list of oldest diamond shapes. It is popular mainly for its clean lines and step-cut facets; these facets create a beautiful hall-of-mirror effect. It can look longer than a round cut because of its elongated sides. This diamond has a timeless beauty.
2-Carat Pear Shaped Diamonds – This shape is known for its symbolic diamond shape as a teardrop shape. The elongated shape will help to make the diamond look bigger than a classical round. The pear shape is romantic, vintage, and perfect for couples.
2 Carat Princess Cut Diamonds – The princess shape is one of the newest shapes, discovered in the 20th century, and its popularity as the central stone is still growing. This shape looks a little smaller on fingers due to the length-to-width ratio. At the same time, their large table helps to make the room appear larger. For a modern and sophisticated look, a princess-cut, 2 carat diamond ring would be perfect.
Where to Buy a 2 Carat Diamond Ring
Commonly, there are two ways to buy a 2-carat diamond ring. The first is to buy from standard retailers in nearby jewelry shops, and the second is to buy online. Generally, 2-carat diamonds are not readily available in jewelry stores, and if they are, they won't be of the highest quality.
Online stores can provide you with an exceptional 2-carat diamond ring at a lower cost. While shopping, make sure to keep the following points in mind:
Always go for a diamond with an ideal cut or a GIA grade of "excellent cut." To maintain beauty and brilliance, do not sacrifice this area of the diamond cut.
Before purchasing, compare the price, brilliance, and cut with other diamonds.
For a diamond review, you can ask a diamond expert for help. In this way, you will be safe from poor purchases.
You can contact our expert gemologists at Loose Grown Diamond if you feel that you need some guidance. They will assist you at no cost.
Our Best 2 Carat Diamond Rings
2-carat diamonds are a great choice for your ring. It will look perfect in almost all designs. Some people like to show the diamond area more, and others like to line the diamond with metal. The design of your engagement ring depends on your taste and personality. You can add color, metal, and different types of settings as per your choice.
Below are some of our best 2-carat diamond ring designs. You can take an idea from it and even modify it if needed.
2 Carat Solitaire Engagement Rings
A single stone is kept in place by prongs. To highlight the beauty of the 2-carat diamond ring, the solitaire setting would be perfect for your diamond engagement ring. The 2-carat solitaire diamond ring is the best mixture of a traditional setting and a contemporary look. It looks great with a variety of outfits.
2-Carat Halo Engagement Rings
This setting is made for you if you like a vintage style taste on your diamond ring. Halo settings are popular for Art Deco engagement ring styles. The setting has small diamonds called melee diamonds on the setting around center one. This will add an extra shine to your 2-carat diamond ring. Also, it makes the diamond appear significantly larger.
2-Carat Three Stone Diamond Rings
Three-stone rings are one of the most classy and elegant engagement rings. But a little carelessness can spoil the look of your ring. Make sure to know the kind and shape of the center and side stones.
2-Carat Cluster Diamond Rings
This setting is similar to the halo one, as they have a big central diamond surrounded by small ones. The main attribute is that a small diamond should follow the same shape as a central diamond to be called a true cluster ring.
2-Carat Bezel Diamond Rings
This setting is mainly used to hold the diamond in place. Bezel settings have a slight metal overlap with the edges of the stone. This setting is perfect for keeping your diamond safe.
Conclusion
Searching for a 2-carat diamond might be a hard job, but it can be simplified and improved by concentrating on the factors responsible for its beauty and value. With a little hustle, one can find a diamond having the perfect combination of brilliance, size, and color in a good price range. These diamonds can be purchased at a lower cost from online stores rather than traditional jewelry stores.
Frequently Asked Questions (FAQs)
Are 2 Carats Good for An Engagement Ring?
Yes, a 2-carat diamond could be a good engagement ring. But the engagement ring should be selected based on the person's taste, personality, and budget. However, suppose you are a big fan of an average spark or want an eye-catching diamond without being overpowered. In that case, we recommend you go with a 2-carat diamond engagement ring.
Is a 2-Carat Diamond Noticeable?
Yes, a 2-carat diamond is big and noticeable. The brilliant round diamond is little more than 8 millimeters in diameter at this weight. In general, finding a diamond with a good cut of this size is difficult. If you want to make your 2-carat diamond look bigger, you should go for fancy diamond shapes like emerald, oval, pear, and heart. They always look large.
Which 2-Carat Diamond Looks the Biggest?
The fancy diamond shapes like pear, oval, heart, and emerald will always look larger on the hand because the large table top and shape will also contribute to it. In comparison, a round diamond of the same carat size will look a little smaller than these fancy shapes. However, you can make your overall setting look bigger by adding a suitable setting like a halo.
Is There a Big Difference Between 1.5 and 2 Carats?
If we talk about 2-carat round brilliant diamonds, they will be roughly around 8 millimeters in size and about 400 milligrams in weight. On the other hand, the 1.5-carat diamond is 7.25 millimeters in diameter. This makes the 2-carat diamond slightly larger than the 1.5-carat diamond, but not by much.
How Many Carats Are Considered Big?
For many people, clarity, cut, and other aspects are more important than size. For an average person, a diamond of 2 carats or above is considered a big diamond.